Best Baby Changing Units Reviewed & Rated for Quality
In a Hurry? Editors choice: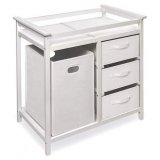 Test Winner: Badger Basket

Whether you are expecting a baby of your own and are perfecting your registry or you are unhappy with the baby changing unit you currently have, do not despair. There are many options available that make changing quicker, easier, cleaner, and more convenient. From
safety
to ease of use, baby changing units have come a long way. Now, it is simple to change your baby's diaper in a sanitary, secure and pleasant setting. If your baby should have an "oops" moment on the changing station, cleaning is simple. If he or she should accidentally roll to the side when you momentarily have your back turned, the risk of an accidental tumble is gone. Modern ingenuity has greatly improved baby changing units.
In this article, 10 popular baby changing stations are reviewed. The major pros and cons of each are listed; however, happily, they are all great choices to consider.
Standout Picks
Criteria Used for Evaluation
Effectiveness
Of course you want a baby changing station that works well. You need a station that has enough room for you to be able to comfortably change your baby's diaper. You need to be able to use wipes, powder, and have a disposal unit nearby where the soiled diapers can be stored in a sanitary, odorless manner.
Additionally, the changing station has to last. This means it needs to be protected from exposure to your baby's normal bodily functions. A thick mat and a waterproof liner are needed to keep wood from being damaged. If the station is made of plastic, it must be sturdy, durable, and able to support your baby until he or she is potty trained, which can mean weights of up to 40 lbs.
The station must also have adequate storage space for the above-mentioned relevant items, such as clean diapers, wipes, powder, clean clothes and so forth. You need to be able to stay organized to ensure that you have everything you need for your baby, and you can take stock of your supplies at a glance.
Style
Let's face it; everyone loves a beautiful nursery. From the crib to the wall color, you pay attention to every single detail; all the decor has to be perfect. The changing station is no exception. While functionality is indeed the most important factor, the changing station is something that you will use and look at every single day, and you certainly don't want an eyesore.
The changing station doesn't need to be "loud" or ostentatious. It can be simple and chic, modern or classic, dark wood or painted bright white. What matters most is that you like the way it looks (because, honestly, your baby probably doesn't have too many decorative preferences just yet).
The other thing to keep in mind is that there are many different kinds of baby changing stations. Some are designed to be portable so that you can have a changing station with you when you travel, that you can hang from a hook or a wall. Others are more like carts and sit on wheels. The, there is the classic baby changing station, which is essentially a small dresser with a padded surface on top designed for changing.
Safety Hazards
As a rule of thumb, the more safety features a baby station has, the better. Check to see if the baby changing station you are considering purchasing has ever been the subject of a product recall, or if any of the other items sold by the manufacturer have been problematic. Paradoxically, in some instances, safety features have resulted in accidental injury.
Read the reviews carefully. See what other parents' experiences have been. If the changing station lacks a safety belt or proper railing, there is a high risk your baby could accidentally fall out and be seriously injured. Indeed, baby changing stations have been recalled in the past. Do your homework when it comes to product safety, from cribs to strollers to changing stations. Be sure to check out this article published by the CPSC regarding federal regulations applied to baby changing stations.
Value
"Value" means much more than the pricetag of the item you're purchasing. Value also includes the life of the product, the usefulness, the quality and the versatility.
Many of the changing stations reviewed here can be repurposed to serve as small dressers. This greatly increases their value; they become timeless pieces of furniture used for convenient storage. Also taken into consideration is the quality of the materials the station is composed of. Cheap, flimsy materials bring the value of an item down; whereas sturdy, dependable wooden pieces hold their value.
Durability
A changing station that is not durable is not worth your money, period. If a changing station is flimsy or poorly built, you are effectively putting your baby's safety at risk by using it. Cheap, poorly made changing stations should be ignored altogether and not considered.
There are some items that are worth spending extra money on. When it comes to your baby's safety and well-being, this is not the time to cut corners. You want, and deserve, the very best for your child in terms of durability, strength and longevity.
10 Best Baby Changing Units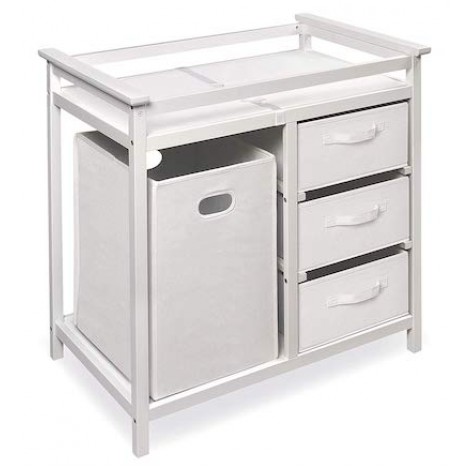 The Badger Basket is classy and convenient. It is made of wood and painted bright white to brighten your nursery. It features ample surface area on which to change your baby, a safety belt and a washable, waterproof pad. There are multiple pull-out bins for storage and a large waste container area.
Keeping Baby Safe
The four sides of the tabletop feature protective railings, so there is no change of your little one accidentally taking a spill. These safety rails have been tested by experts and successfully keep even the most adventurous little climbers in. Like the rest of the unit, the railings are painted bright white.
Plenty of Storage
In addition to the waste container unit, which keeps unpleasant odors trapped and contained, a hamper also fits in the unit to hold laundry, along with three baskets. The baskets are designed to pull out like drawers and can be used to hold clean diapers, fresh clothes, wipes, powder, hand sanitizer, sanitary surface clean-up wipes and whatever else you may need.
Cost and Value
This products price is quite fair. Its customer reviews are positive, it features ample room for storage, it includes a washable pad and safety belt and overall, it looks nice, and would make a pleasant addition to any nursery. All in all, it's a good value.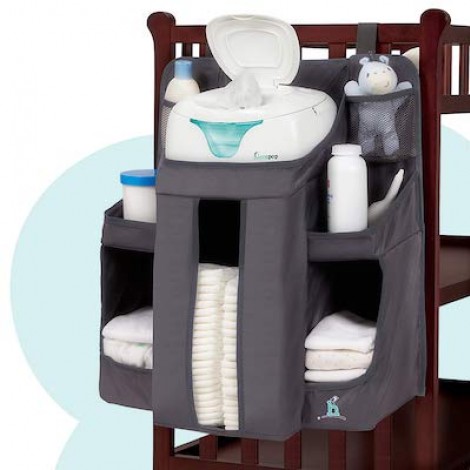 The hiccapop is, in a word, impressive. To call it an organizer would be an understatement. The hiccapop design team did a great, job of using every square inch of material wisely. Every pocket, sleeve and pouch serves a purpose. It's like the Swiss Army Knife of diaper caddies. The caddy will help you stay organized, and keep you aware of how well stocked your supplies are.
Holds Everything
What sort of storage capacity does the caddy have? There are six spacious shelves along with two pockets. How many diapers does the caddy hold? Up to 72. Add your clean clothes, lotion, wipes, power and so forth, and there's still plenty of room. Everything is in its right place.
Washable
The caddy is incredibly easy to keep clean. The caddy, which hangs from a piece of furniture or the wall, can be wiped down or spot cleaned with a wet paper towel. Periodically, the entire caddy can be placed in the washer for deep cleaning. Simply empty the caddy out and throw it in the wash.
Cost and Value
The caddy is incredibly low-priced. With its low price, high convenience, ultimate organization and low maintenance, it's an exceptional value. It comes highly recommended and would make a great baby shower or "just because" gift, or a purchase for your own home if you happen to have a little one. No more struggling to find the wipes, and no more guesswork about how many diapers you have left.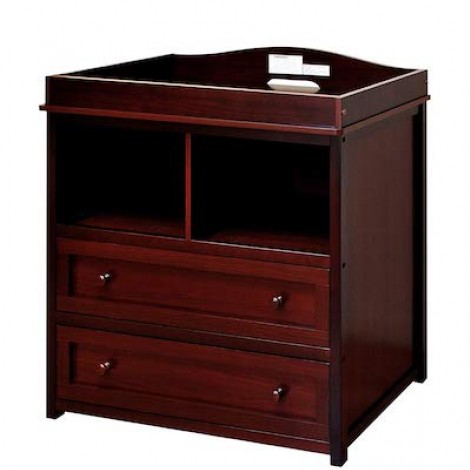 Athena Leila is a beautiful piece of furniture. It is made of dark, stained cherry wood. It adds a touch of class to any room, nursery or otherwise. In fact, it's quite possible that once a changing unit is no longer needed, the Athena could be repurposed into a nightstand, bookcase, mini dresser or otherwise.
Ample Storage
The Athena includes two deep drawers as well as two cubbies. The cubbies are perfect for fresh diapers, wipes, powder or otherwise. Or, small laundry baskets could be stored in the cubbies as well. The drawers could be used for fresh clothes, towels, washcloths and so forth. Everything you little one needs can be neatly stored and organized in the Athena's discreet design.
Sustainably Made
The wood used to make the Athena is sustainably sourced and JPMA certified. Instead of buying a product made of questionable synthetic materials, the Athena is made of beautiful, natural, sustainably-sourced cherry wood. It's a piece of furniture you can feel good about owning.
Cost and Value
The Athena is a bit on the expensive side. However, as previously mentioned, it is made of sustainably-sourced cherry wood. Materials such as these often drive up the price. Is the Athena worth the high cost? With customer reviews averaging 3.2 out of 5 stars, home runt quite a homerun.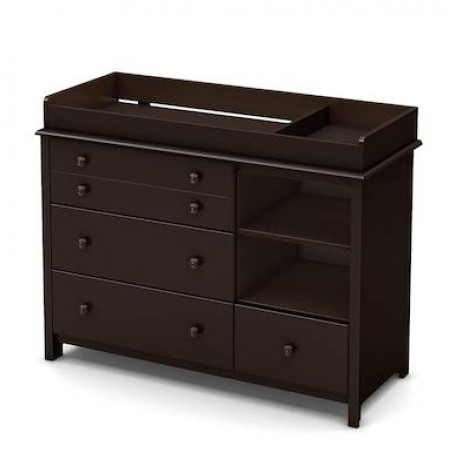 The South Shore Little Smiley's is yet another beautiful, classy piece of furniture that in no way resembles a changing table. Rather, it looks like a sophisticated chest of drawers that could be found in a carefully designed, well-decorated room. In fact, it is as practical as it is attractive, and it is quite an impressive changing station.
Warranty
The changing station comes with an impressive five-year warranty. This includes all workmanship and defects on parts of furniture for a period covering five years after the date of purchase. Additionally, there is a responsive customer service team available seven days a week, ready to help you.
Repurposing
Repurposing the changing station is easier than ever. The changing top can be easily removed. You instantly have a beautiful dresser or storage unit that would look good virtually anywhere within your home. This disassembly can be done in mere minutes with a screwdriver. In terms of care, the unit simply needs to be wiped down with a damp cloth periodically.
Cost and Value
The Little Smiley's is on the expensive end of the spectrum. However, it is well-built and can be repurposed. Its average customer rating is 3.4 out of 5 stars, which again begs the question of whether the hefty price is worth it. It all depends on what you are looking for. If you are simply looking for something functional, then no, it's not worth the cost. If you are looking for something that you can repurpose and keep, then yes, it's worth spending a little more and winds up with a fine piece of furniture that you will keep for years to come.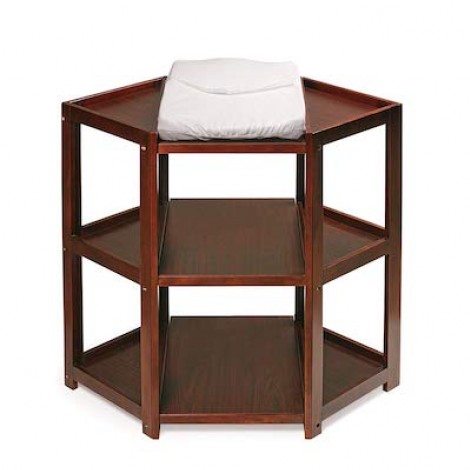 The corner baby changing table certainly does not look like what it actually is. It looks like a very elegant, if not regal, accent table. The three tiers add to the overall sophisticated appearance, and this is one baby changing table that will take your nursery to the next level. Who said baby changing stations can't be artistic?
Cherry and White
The station is available in both cherry and white. Both look gorgeous; it simply depends on what will fit in your nursery the best. The three-tiers each serve a purpose. Changing your baby, cleaning your baby, applying powder and then putting a new diaper on is a breeze. Everything baby-related is just where you need it, exactly where you can see it.
Abundant Storage
Even with surface space for changing your baby, a pad, a liner, wipes, powder, clean diapers, extra clothes, so on and so forth, there is still extra storage space. The three tiers offer abundant room for storage and can be arranged in a variety of ways to best meet your needs. From stacking to adding trendy, whimsy storage baskets, you can really get creative with this one.
Cost and Value
The corner baby changing table is competitively priced. It's solidly built, perfectly functional, features abundant storage, and is nice to look at. Once your little one has outgrown diapers, you will absolutely be able to repurpose the table. Based on its customer ratings, it has earned 3.6 out of 5 stars; not a perfect score, but a decent one. Overall, the corner table is mediocre in terms of functionality, but nice to look at.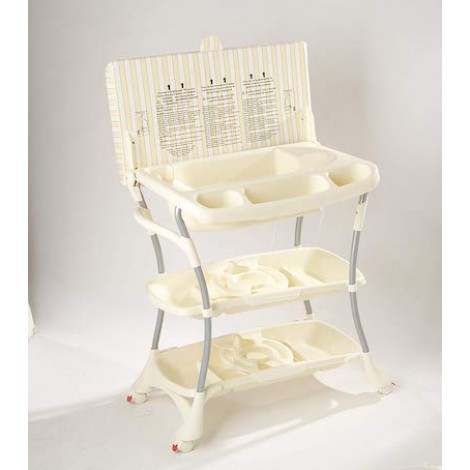 The Primo EuroSpa is the ultimate in convenience. It's on wheels for easy mobility, the trays are easily removed for cleaning, changing and rapid restocking. It even includes a baby bath station; virtually everything you need to get your baby changed and ready to rock.
Baby Bath
The EuroSpa features a two-position baby bath, which makes washing your baby a breeze. No more struggling with the sink or tub; your baby will be stable, safe and secure during bathtime. There is also plenty of storage for your baby's soap, shampoo, towels and so forth. Pampering your little one has never been easier.
Adjustable
Unlike other changing stations, the Primo is suitable for infants to toddlers aged 18 months. The station can be easily modified and adjusted to perfectly fit your baby, whether you have a newborn or a young toddler. You will get a lot of use out of the changing station, and you can repurpose it for a variety of uses once your toddler finally does outgrow it.
Cost and Value
The Primo is moderately priced, and has a customer rating of 4 out of 5 stars. It's a nice product sold at a fair price, making it a very good value. If you are interested in convenience, practicality and efficiency, consider this changing station, smartly designed to keep you and your little one happy.

7

. Badget Basket Estate 3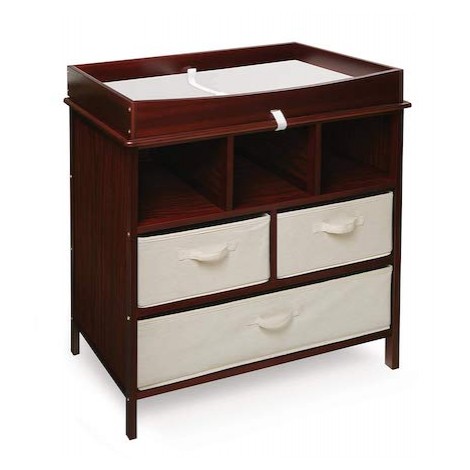 The Estate 3 is a beautiful piece of furniture that is both fashionable and functional and would look great in any nursery, regardless of decor. It features natural wood and a white painted finish for a unique, sophisticated look. It also has ample room for changing your baby, along with plentiful storage space.
A Unique Appearance
While the aesthetic appeal of your baby changing station may not be your top concern, the Estate 3 is quite eye-catching. With its two-tone finish, it appeals to both modern and classic sensibilities. It would look great in a nursery finished in all white, or full of color; it would blend in anywhere and look perfectly at home. Its design makes it versatile and unlikely to clash with virtually anything, which is rare among baby furniture.
Possibilities
The station would be easily repurposed. The top area, which serves as a spacious changing location, can easily be removed, leaving you with a beautiful bureau for clothing storage. While the Estate 3 is being used as a changing station, the thick padding and protective liner keep the wood completely protected from damage.
Cost and Value
The Estate 3 is very reasonably priced. The customer reviews are overwhelmingly positive, and the piece itself is quite impressive. While some changing stations are clearly designed to be disposed of once the baby outgrows then, the Estate 3 is absolutely a keeper, easily repurposed. All in all, it's a smart buy, a good investment, and a very good value

8

. South Shore Fundy Tide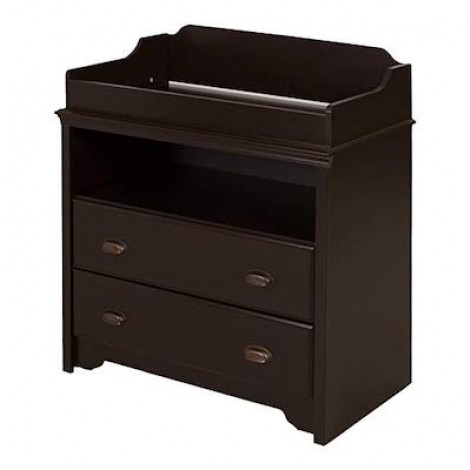 The South Shore Fundy Tide is absolutely gorgeous. Stately and sophisticated, it features delightful accents such as handles with an antique bronze finish that bring out the richness of the table's espresso colored wood. Nothing about the table screams "baby changing station," it's subtle and classic and will look beautiful in your home.
Like an Heirloom
The Fundy may be a brand new item, but it has the classic look of a well-maintained family heirloom. Nothing about it looks cheap or prefabricated. It has the stately look of a heavy mahogany piece, along with the convenience of a light, easy to move, and simple to take care of changing station that you will love.
Safety Beyond Measure
The changing station is loaded with safety features to keep your little one secure at all times. From a high rail to a safety strap, you will not have to worry about any accidents. However, the station is designed so that the safety features are subtle and not obvious, yet they work perfectly. The engineering, design and manufacture of the station are truly impressive.
Cost and Value
The changing station is moderately priced, well-reviewed, practical and looks great. Overall, it is a high-value item that could easily be repurposed and kept for a number of uses. Whether you're storing clothing, toys, diapers, wipes, towels or otherwise, you'll appreciate the Fundy's ample room and subtle appearance. To reiterate, it's a great value and a smart purchase.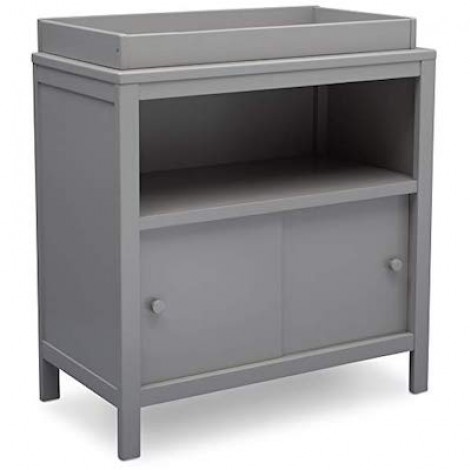 The Delta is simple and chic. It almost has a retro look to it, though it is designed with all the modern conveniences and features that you would look for in a changing table. It is a subtle, warm shade of grey that would work in any nursery, regardless of whether the baby is a boy or a girl. It's practical, nice looking and sturdy, and is absolutely a keeper.
Thoughtful Design
At first glance, the Delta looks pretty simple. However, careful thought was put into its design and manufacture. Its neutral grey color would work in a baby girl or boy's nursery. The top portion features plenty of room for changing your baby, and he or she will be safely strapped in and not at risk of falling. The bottom doors slide open, giving you easy access to the storage compartment, and adding to the Delta's overall convenience.
Strong and Sturdy
Like any piece of furniture, not all baby changing stations are created equal. While some items of furniture are flimsy and thin, the Delta is just the opposite. It is composed of solid, heavy wood of the highest quality. You do not have to worry about the station adequately supporting your baby; you will recognize it immediately.
Cost and Value
The Delta is a bit on the expensive side; most likely due to the quality of wood used to construct the station. However, it is reviewed positively and the vast majority of customers are quite happy with it. So, is the extra cost justified? In this case, yes. The solid wood, smart construction, neutral appearance, and pleasing design all make the Delta a high-value item.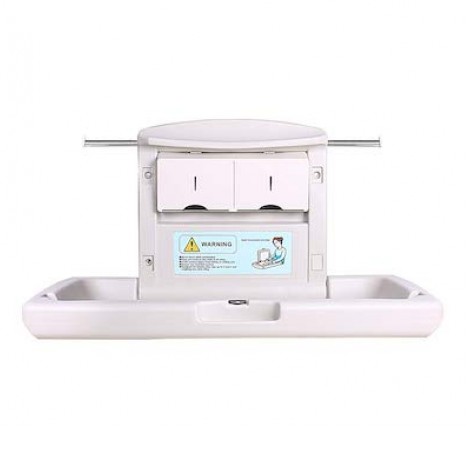 The AB Baby Changing Station is wall-mounted and can go virtually anywhere in your home. It is removable and portable and can be taken with you on the go. In terms of convenience, cleanliness, and simplicity, the AB is in a league of its own. You no longer have to worry about finding a sanitary baby changing station with you while you're traveling; you can bring your own with you.
Ergonomic
The AB is ergonomically designed. Virtually all aspects of the changing station can be maneuvered with one hand. Everything is designed for smooth, easy, smart operation, and the least amount of work (and mess) possible.
Antimicrobial
All parents worry about exposing their babies to germs as their immune systems are not yet developed. The AB is treated with an antimicrobial agent that inhibits the growth of bacteria and the spreading of germs and viruses. The AB is still completely safe for your baby, despite being fully treated with its unique antimicrobial properties.
Cost and Value
The AB is competitively priced, highly rated and overall smart purchase. When you travel with your baby, you can have the peace of mind of knowing that you will always have a sanitary, safe changing station available to you. The ergonomic design makes the AB incredibly easy to use, for an overall stress-free experience. The AB, therefore, is an excellent value.

Subscribe to our Newsletter