Best Flatware Sets Reviewed and Rated for Quality
In a Hurry? Editors choice:
Test Winner: Oneida Mooncrest 45-Piece

Picture this: it's Thanksgiving and you have your friends and family that have flown in from all over the world
at your dinner table
. You have a perfectly cooked turkey with all the sides. You brought out the good china, and your guests are famished and can't wait to dig in. But wait, you realize that you don't have a full
set of utensils
for everyone to use, so you hurriedly search through every drawer you have and mix and match all the utensils, only to fall short of a few and ultimately have to use plastic forks and spoons for your guests. We're here to solve that problem for you.
Standout Picks
Criteria Used for Evaluation
Materials
You may have noticed that most of the flatware and silverware on this list were made of heavy-duty, durable stainless steel or had handles made of ABS plastic. You want to look for silverware that are rust-resistant and will not corrode over long periods of time, especially if you are spending a pretty penny for them. If you have a pantry or cabinet full of bent and out of shape knives, rusted spoons, or forks with the prongs broken, then you know that either the quality of the silverware was not great, or they have outlived their shelf life.
Stainless steel is the best durability for silverware because they are made to last long, be scratch resistant, and not be warped. You want to look for "18/10" stainless steel, which refers to the components that the stainless steel is made up of. It refers to 18% chromium and 10% nickel for the stainless steel, and most of the flatware that we have listed are made from 18/10 stainless steel.
Nickel is commonly used in most home appliances or accessories because they are averse to corrosion and rusting. The last thing you want is your silverware to have dreaded rust or even mold. The material that the silverware is made up of also make up the weight and heft of the silverware. A good quality utensil made from stainless steel should feel moderately hefty, enough so you have stability and support when you are cutting into a big, juicy steak or pork chop. The weight shouldn't be so heavy that it's uncomfortable and causing an arm workout when you're simply trying to eat.
You should be able to tell the difference between a durable, hefty stainless steel utensil that is easy to use and nice to eat with. This also ensures that your utensils don't bend or get damaged in the dishwasher. You also want to look for material that is food-grade and BPA, lead, and chemical-free. These qualities are important because you will be putting this equipment under high heat when using them for hot dinners or washing them in the dishwasher, and you want to make sure they are safe even during high temperatures. Most of the ones on this list also offer a lifetime warranty or several months of return policy because they know you want to invest in a quality product.
Ease of Use
You've seen a number of different types of designs on the list that range from contemporary and modern, to whimsical and eclectic. For many, a kitchen is an expression of their own personal style and personality, and the right kitchenware can extend as a visual representation of that. If the rest of your home is sleek and modern, then you most likely want to invest in some contemporary flatware that has minimal patterns but provides luxurious finishes that can mesh well with all your kitchen appliances and dining ware.
If you have a more eclectic aesthetic with a mix and match of all different types of home furnishings, then there's flatware that can suit your home style. You may want several different types of flatware in different designs depending on the day or event. For everyday use, you want a classic design that serves its purpose- to eat food. These should be easy to use and easy to clean, dishwasher safe, and highly durable since they will be used and washed daily.
For special, once in a while events, you may want festive flatware that goes with the event at hand. For example, interior designers or party event planners love to use cutlery with bamboo or wooden handles for outdoor events, such as a backyard dinner, to match with the ambiance and theme of nature. For holidays, you may want to use elegant gold, long-stemmed flatware that evokes a sense of high-end luxury.
For a child's birthday party, you may want to bring out the rainbow-colored utensils or utensils that are kid-friendly with wide handles. The type of design you choose to get should also factor into how comfortable it feels in your hand, how heavy or how light it is, and how well it picks up your food.
Value
If you are a college student moving out on your own for the first time with a limited budget, then you most likely aren't looking for high-end designer flatware to serve your guests. You're most likely looking for a no-frills classic set that can withstand many used in the dishwasher because you won't have time to be handwashing each individual utensil.
There are many flatware sets out there that are budget-friendly, especially if you are buying single sets or sets of 4. Some of the ones on this list are extremely budget-friendly, and even made from high-quality stainless steel. If you are a home decorator and want to add some pizzazz to your kitchen with elegant or eclectic cutlery, then you may be okay with spending a few extra dollars for high-quality silverware that can add to your personal style.
There are still some budget-friendly options that come in a set of 4 that offer variations in design, and there are costly, designer flatware that can cost hundreds of dollars. It all depends on what your needs are and how much you are willing to allocate toward the specific type of cutlery that you have in mind.
Use
Flatware sets can come in sets of 24 to 72 pieces and can include a full range of cutlery that you may not even need. Some elaborate flatware sets can include specific utensils designed for each course. Some can include serving spoons, tiramisu spoons, salad forks, and the list goes on. If you have a small family and just need the basics, you most likely don't want to get the whole set of all-inclusive flatware.
Typically the basic set includes a salad fork, dinner fork, butter knife, spoon, and teaspoon. You can get a set of 20 that can be used by 4 people or go up to 72 pieces to serve even more. It all depends on what your needs are. Going back to the introduction of this article, if you are expecting to host a large dinner party and need the appropriate flatware, you probably want to invest in one that caters to many people. A few on this list above have the option to choose how many you want, which is helpful if you like the design but don't need as many, or need a lot more. This can, of course, affect the cost of the full set, so it is important to decide how many you would need.
Best Flatware Sets
1

. Oneida Mooncrest 45-Piece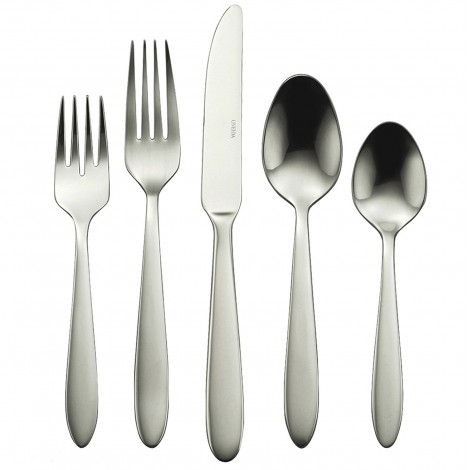 To start our list is a classic flatware set that can belong in any household- the Oneida Mooncrest set. These are a set of high-quality flatware, with a classic, understated silver reflective finish that can match with any china or kitchen decor. Whether you need all 45 pieces or a simple set for your immediate family, the Oneida Mooncrest is sure to shine in your kitchen.
High Quality Stainless Steel
These are made from high-quality stainless steel that is durable and stylish. It is made to withstand years through the dishwasher and even comes with a lifetime warranty that ensures they free from problems or defects.
Set for 8
This is the perfect set if you have an intimate, elegant gathering at home with friends or family. The 45 piece set includes dinner knives, salad knives, fork knives, soup spoons, teaspoons, two serving spoons, a serving fork, a butter knife, and a sugar spoon. The set includes all the appropriate utensils you would need for a full course meal.
Cost and Value
The 45 piece set comes at a reasonable price point, considering the amount of cutlery you get in high-quality stainless steel that has a lifetime warranty. There are different sets you can get if you are looking for a smaller set or larger set that vary in prices.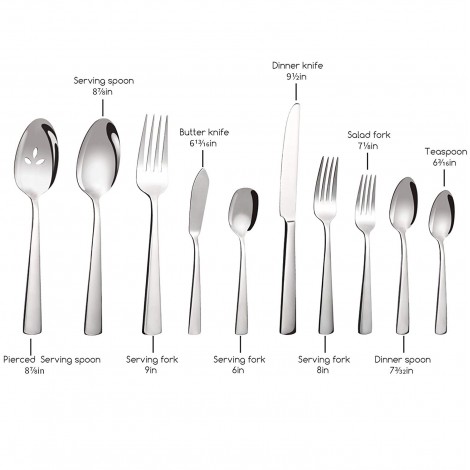 The Brightown Flatware Cutlery Set also comes in a classic, smooth, and contemporary design that is sure to fit in any kitchen and on any dining table. This 45 set piece is designed for 8, with all the appropriate utensils needed for any type of dish or dessert.
Ergonomic Design
The handles of these utensils are unique in that they have curved edges, making them comfortable to grip, enhancing your dining experience. They also have a perfect weight, making them not too heavy and not too light.
Dishwasher Safe
These are made from high-quality stainless steel, making them durable for the dishwasher and easy to clean. You don't have to worry about rusts or marks because they have a nice coating to keep them lasting for many years.
Cost and Value
The 45 piece set comes at a very affordable price point, especially considering that you get a money-back guarantee if you are not satisfied. The price can also vary if you opt to get the smaller set that includes 20 pieces, perfect for a family of four.



If you are not looking for a fancy set, and just need the simple basics for your family of 4, this is the set for you. The LianYu Cutlery set comes with dinner knives, dinner forks, dinner spoons, salad forks, and teaspoons, perfect for the average weekday dinner for your family. They also come in a variation of finishes, so you can choose one that best fits your dining kitchenware.
Variety of Finishes
This set comes in a classic, mirror-finished surface, but also comes in a silver, black, gold, rainbow, and rose gold, so you can find the perfect variation that best fits your household.
Classic Design
These are a no-frills cutlery set that is designed to fit your everyday need- from birthdays to dinners to events, there's nowhere these utensils won't fit at. They also are designed to match your existing flatware.
Cost and Value
These are very cost-effective given the different variations, styles, and high-quality finish. Prices can vary slightly depending on the finish, but the price point of this set is too good to pass up and comes on our list as our best value item.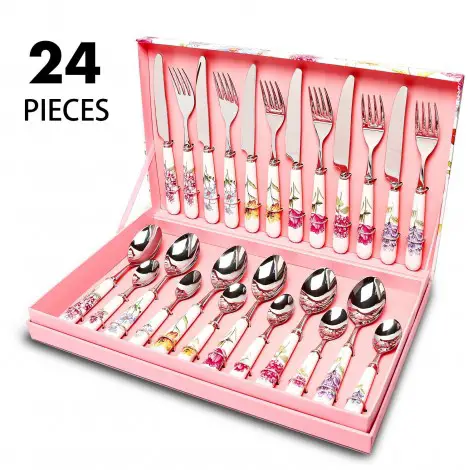 The HOBO silverware set comes in a very unique, ornate design with comfortable utensil grips. The decorative artwork on the handle gives this set a classic, contemporary feel that can work in just about any kitchen. This is also a great gift set as it comes packaged beautifully.
Unique Floral Design
These are not only made from high-quality stainless steel, but they also have a beautiful, interconnected floral design that has both contemporary and vintage feels. The packaging mimics the floral artwork and serves as a great gift set for birthdays, weddings, and housewarmings!
High Quality Material
The handle where the design is made from ceramic and painted carefully, ensuring that there will be no corrosion, chipping, or rust. It is also made from food-grade high-quality stainless steel.
Cost and Value
This comes at a higher price point than the ones on this list so far because of its intricate art design and beautiful packaging. If you are looking for the perfect gift set for a loved one for a birthday or housewarming, this is already packaged to present.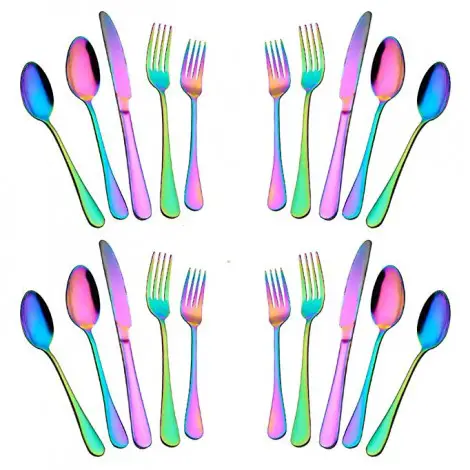 The Woawo-Q tableware set has a stylish, fun finish that can be used every day or for special events. It's rainbow finish has a shiny, colorful exterior that is also durable and made from high-quality stainless steel. Your children, or even the kid in you, will have fun eating with and enjoy this set.
High Quality Material
This product is made from titanium molecules that have been absorbed under high temperature (1200 degrees!) for about an hour, making this extremely durable to use and safe to wash in the dishwasher.
Long lasting Color
The selling point of this flatware set is going to be the unique, rainbow-colored steel that looks great in light and will receive many compliments from your guests. Customers say the color never fades even after many years of use.
Cost and Value
This set for four people comes at a very great price point and comes at a great value. Customers rave about this purchase for themselves and have also purchased this as a gift set for their loved ones for birthdays or holidays.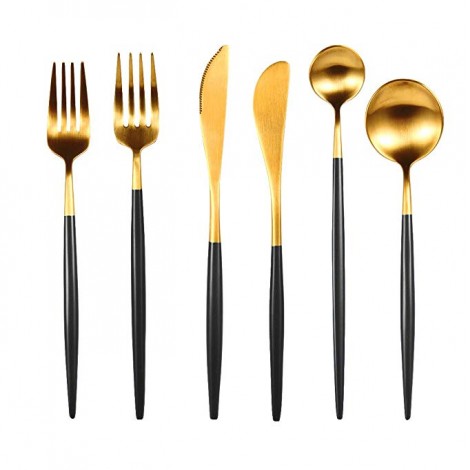 If you have an eye for presentation and want a flatware set that can pop in the dining room, this Tenghebao flatware set is definitely an eye-catcher. With a minimalistic, clean design in a variety of colors, this flatware set can elevate your kitchen experience.
Superior Craft
These utensils have been completely electroplated with the highest grade of titanium metal, making them rustproof and distortion proof. They are also food grade and chemical-free, lead-free, and BPA free, making them very environmentally friendly.
Variety of Colors
Not only is this set stunning in design, but it also comes in a variety of colors that can match every kitchen. This set is offered in gold, blue gold, original silver, pink silver, white gold, and white silver.
Cost and Value
This set of 4 comes at a comparable price point to others on this list, while also being a very reasonable price point. The elegant design makes this look like a designer, one of a kind flatware set.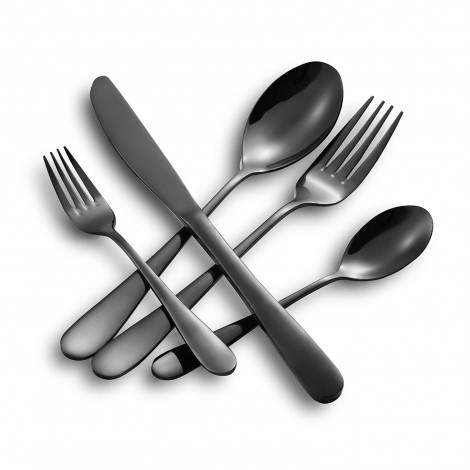 The Hoften Black Silverware Set has a sleek, matte black finish that instantly adds an air of sophistication and class to your dining table. We always think of silver spoons and forks, but a matte black? Talk about eating in style. This set is also offered in gold and rose gold to add another personal sense of luxury.
Electroplated
The Hoften flatware has been electroplated for long years of use and durability. Its design is meant to be free from scratches, keeping the smooth black finish free from any type of discoloration or spots.
Modern Design
Having a set of flatware like this can serve as a centerpiece for your dinner table, with its modern, contemporary feel and stylish coating. It is the perfect set for any event.
Cost and Value
This set is made from higher-quality stainless steel and comes at a slightly higher price point for a set of 4, but it is still very reasonably priced. Customers state that there have been no discoloration or corrosion even after many washes in the dishwasher, and are very happy with how this set looks at their dining table.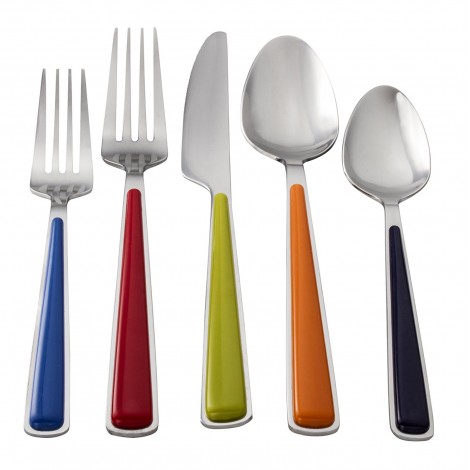 The Fiesta flatware set lives true to its name by being a colorful, fun set of utensils that will add a pop of color to your dining room table. Their handles are wider and easier to grasp and provide the right amount of boldness to any kitchen.
Unique Colors
A set of 5 utensils for each person comes in festive colors from blue, orange, red, green and black. They can add a fun flair for your dinner guests, or even for yourself, for every meal and are eye-catching and bright.
High Quality Material
These sport 18/0 stainless steel heads and ABS plastic that is meant to fit comfortably in your hand. This is also dishwasher safe and highly durable, so they can be used daily or for special events.
Cost and Value
This set is reasonably priced, considering it comes with 5 utensils for a set (salad fork, dinner fork, dinner spoon, dinner knife, and teaspoon) and gives you a festive flavor to your kitchen.

9

. Flying Colors Laguiole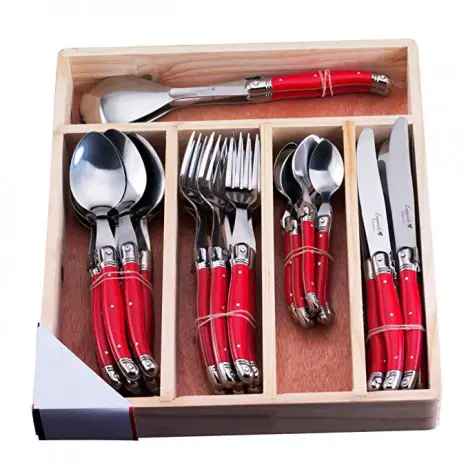 Perhaps one of the most annoying things about setting the table is sifting through the kitchen drawers to find the matching set of flatware. The Flying Colors conveniently come with a compartmentalized drawer case that separates all the flatware into their appropriate sections. This makes sorting a breeze, as well as keeps your cabinets nice and tidy.
Bright Colors
These are perfect for picnics, birthdays, and festive events as the colors you can get are rainbow variations, a bright cherry red, or a mix and match of blue, silver, red, and black. This is a great gift set also.
Great Quality
Laguiole is a leading brand in flatware, so each utensil has been manufactured to be durable, dishwasher safe, and made from safe material. If you are not satisfied, they provide 60-day return policy.
Cost and Value
This set comes at a slightly higher price point than the others on this list. That is expected because you're also getting an organizer cabinet box. Considering the quality of both the box and the utensils, this is a very reasonably priced two in one set.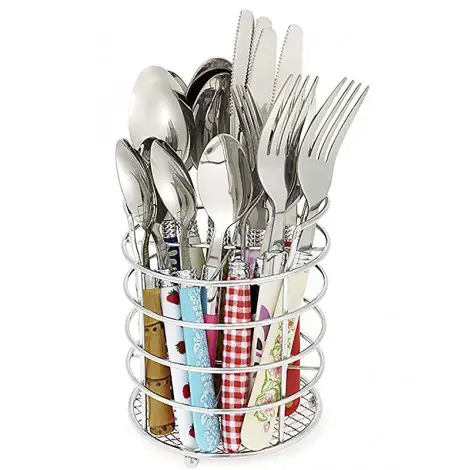 The Gypsy Color Mix is the perfect addition to any kitchen. With a chrome basket case, these colorful and uniquely designed flatware are guaranteed to look great in any kitchen. If you are the type that likes to grab and go, this set is the perfect one for you.
Eclectic Design
The mix and match set comes in 16 different colors and patterns, adding a fun, decorative vibe to your home. There is a strawberry handle to a bamboo handle to floral and polka dots. This set can spruce up any kitchen and serve as a decorative centerpiece for your kitchen table.
Stainless Steel
These are also made from 18/0 stainless steel, making them durable and dishwasher safe. The cleanup is easy with this set- simply dishwash and place in the basket to dry.
Cost and Value
This comes at a fairly inexpensive price point, considering that it comes with a carrying case and an assortment of different styles and patterns. No two are alike!

Subscribe to our Newsletter