Best Bathroom Vanities Reviewed & Rated for Quality
In a Hurry? Editors choice: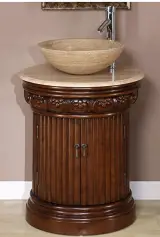 Test Winner: Silkroad Exclusive

Bathroom
renovations
are stressful enough without having the having the added pressure of doing the designing yourself. Unless you're lucky enough to afford a home renovation and an
interio
r decorator, chances are you will be left with the task of selecting the items going into your new lavatory. After a toilet, every great bathroom whether it is a tiny powder room for guests or an expansive master bathroom retreat will also need a new vanity. Since most people don't their
toilet
to be the focal point of a room (for obvious reasons), the vanity is a great place to start when building your design. We have scoured our sources for the best vanities around- for every size bathroom and budget, and to match every interior style as well. Here are our top ten picks.
Standout Picks
Criteria Used for Evaluation
Materials
The materials used to construct your new vanity will vary greatly, based on the style of the piece you select. There are a variety of materials that countertops can be made in. Natural stone such as quartz, granite or marble looks timeless and elegant. These options are generally more expensive as well. There is also the option of a countertop made out of travertine stone. Travertine stone is another natural material that is more durable than marble and also more affordable. The dull finish of travertine gives a unique look to the piece that you may not find in bathrooms often. For a more modern feel, check out vanities that are constructed with materials like chrome and glass. Many of the vanities on our list are constructed with wood, which is a premium building material. Like natural stone, real wood vanities will be higher in price but may be more durable and long lasting.
Color
The color of your new vanity is also an important thing to consider. Since a vanity is like a piece of furniture and will be the focal point of your bathroom it is important to select one in a color that you like. White is a classic choice for bathrooms. It looks clean and bright, and won't distract from colorful accessories such as hand towels and bath mats. There is also the option of going darker, for a more dramatic look. There are options available in gleaming wood finishes that look charming and worldly. Or how about a funky, eclectic mix of black granite, grey hardwood, and glass. You can make the vanity the focal point of your bathroom by selecting one with daring finishes and color combinations. Remember to consider the existing color palette of your home, as you won't want to stray too far from it.
Size
The size of your vanity will depend on how large the bathroom you intend it for is. Bathrooms come in all sizes. A small powder room will not be adequate space to house a large, double sink vanity. Likewise, you probably wouldn't place a small vanity intended for a powder room in a large master bath. The small vanity would look odd and out of place in the large, expansive space. We have included vanities for bathrooms of all sizes on our list, so there is something for everyone.
Style
The style of your new vanity will depend on your personal tastes, as well as the existing decor in your home. If you live in a century home that is decorated in conservative and classic pieces, you probably won't be switching that style up in the bathroom and choosing a modern vanity made from glass and chrome. Likewise, if you live in the penthouse of a chic downtown condo, perhaps a wooden vanity with a stone countertop wouldn't be the most sensible choice. With so many vanities to select from, there is something that will suit every style. Dark wood looks dramatic and sumptuous. All white is clean, airy and bright. Modern pieces with chrome and glass accents will look good in newer build homes or condos.
Capacity
The amount of storage you need in your new vanity depends on a number of things. For one, what bathroom are you placing it in? Powder rooms or guest bathrooms will not need as much storage space as say a master bath, because you don't use them as often. Master baths will need a ton of storage, especially if you are a woman or man who enjoys beauty products. Having ample room to store all your things will make your bathroom more enjoyable and help keep frustration levels low.
Top 10 Picks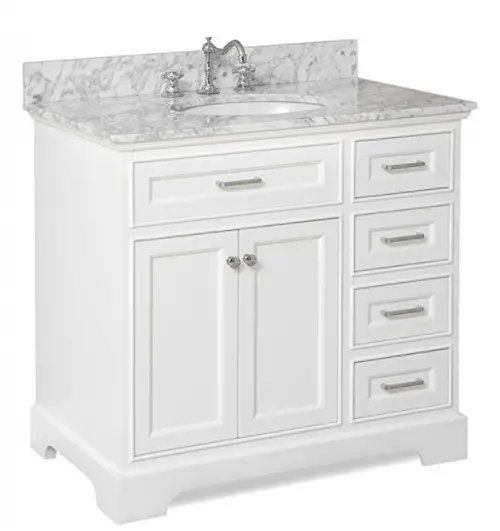 Are you going for a spa-like feel for your new bathroom? This vanity by Aria is the perfect piece to make your renovation look and feel expensive and luxurious. You will love every minute spent in your bathroom with this beautiful vanity that features a clean, white design and imported Italian marble.
High-End Furniture Grade Construction
This vanity is designed like a piece of premium furniture, with quality craftsmanship and high attention to detail. There is only real wood used, and no MDF or particle board which are considered inferior building materials. We love the dovetail drawers which means that the corners are joined in an interlocking fashion, increasing the stability and structural integrity.
Sleek and Elegant Aesthetic
The all white front of this vanity understated and elegant. There is detailing around the edge of the drawers which adds a nice touch, and all the handles are a modern silver. There is plenty of space to store smaller personal items in the drawers to the right, and room under the sink, inside the double doors, to hide larger items such as toilet paper and cleaning products.
Cost and Value
The timeless good looks and quality, long lasting craftsmanship of this piece make it a great investment. It will look good in your bathroom for many years to come. The countertop is made from marble, which is a premium product that is coveted by many for its luxurious good looks. Bonus points for the soft close mechanisms on the four drawers that offer ample storage for all your bathroom necessities.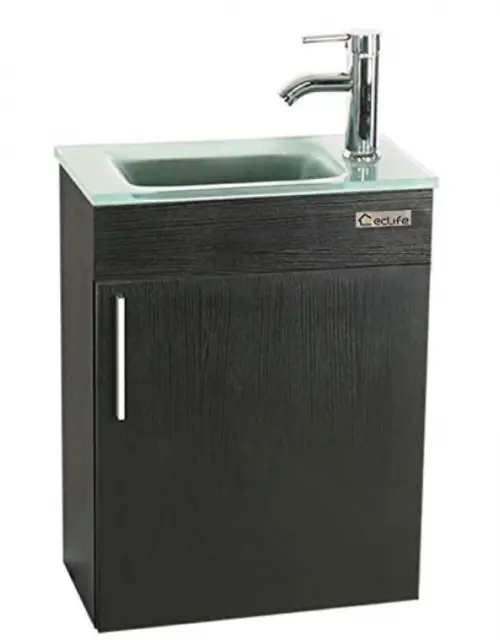 This simple, modern design is a fantastic choice for any powder room short on space. We love that this vanity comes with everything included- the sink, facet and U-drain are all part of the purchase price, which is already super budget friendly. The minimal industrial look of wood grain paired with chrome and glass will be an eye catcher for sure.
Eco-Friendly
This vanity was definitely designed and manufactured with a tree hugger in mind. The MDF used for the front of this product is eco-friendly, so no trees were harmed in the making. MDF is also long lasting and easy to keep clean! The facet is included, and has a 1.5GPM aerator. This will save water, which is great not only for the environment but also for your wallet when you get your water bill.
Everything Included
This vanity from eclife comes with the water saving chrome faucet, glass sink and the U-drain as well. Many vanities you have to purchase your own hardware, which adds one more thing to worry about on your long list of renovations to-dos.
Cost to Value
You would be crazy not to agree with us what a great deal this vanity is! With its stylish and modern good looks that feature a tempered glass sink paired with chrome hardware and accented by black wood-grain MDF, it will be a showstopper in any powder room re-vamp. We give bonus points for the sleek wall mounted design, and the soft close door, two more features that make this piece feel expensive and luxurious. For the price, this vanity is a sure winner.

3

. Simpli Home 3AXCVPAG-20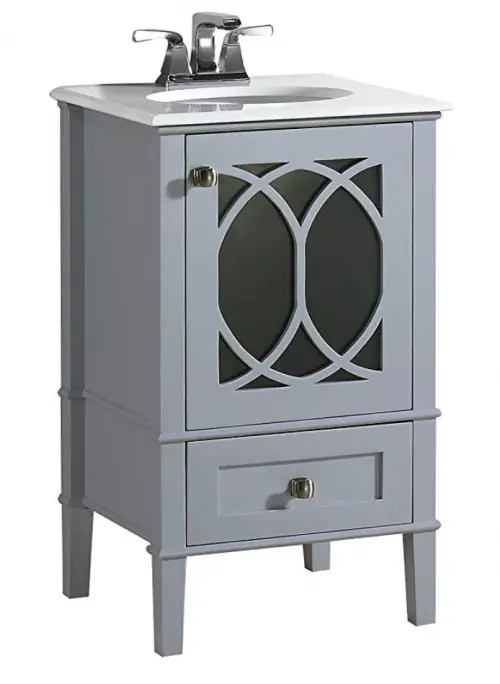 Bold, sophisticated, elegant, dramatic, classy, urban- these are just some of the words that come to mind to describe this vanity. The grey and white color scheme will look rich and daring in any bathroom you put it in.
Engineered Quartz Marble Countertop
The white countertop of this vanity is made from engineered quartz. This product gives the expensive and elegant look of real marble, but at a more affordable price. There are other benefits to quartz counters asides from the affordability. For one, marble is more porous than quartz making it more prone to stains. The resins used to manufacture quartz make it virtually stain resistant, which is perfect for a bathroom where things can get messy. Another bonus is that quartz is harder and more durable than marble or granite, so it will last longer.
Daring Dramatic Design
The grey and white color palette with brushed nickel accents seen on this vanity just scream penthouse chic. On the front panel, the arched cut-out details add a dramatic flair that catches the eye. Top it all off with the expensive marble quartz countertop that is both timeless and durable at the same time, this is one vanity that won't blend in to the background.
Cost and Value
This powder room vanity offers has premium finishes and a trendy, designer look paired with a modest price that won't break the bank. We love that the quartz countertop is more affordable and durable than real marble, but has the same timeless classic marble look that we all crave. This vanity is made from real hardwood and has a drawer underneath for additional storage potential. Adding to the value are 105-degree hinges and soft sliding ball bearings on the drawer.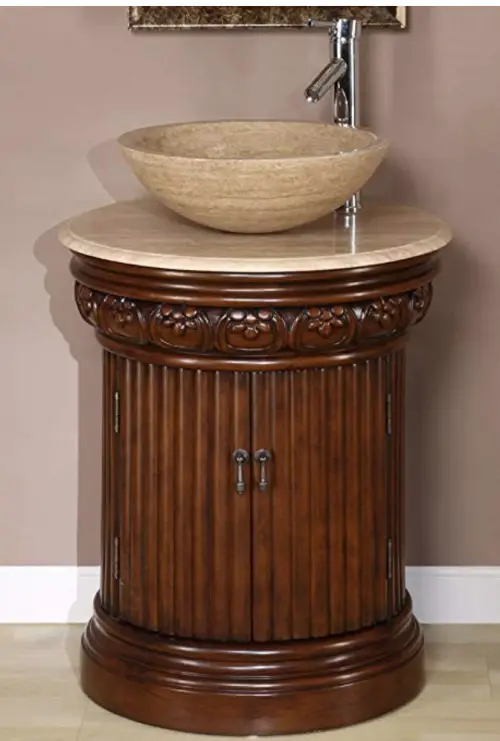 This is one vanity that is anything but boring. The stone top and ornate, carved hardwood base will be eye catching in any bathroom. Are you looking for a statement piece that will add a ton of old world charm to your new powder room? This vanity may be the perfect pick for your renovation.
Pillar Style Vanity
We really like the bold, pillar style design of this vanity. It comes in a rich English Chestnut finish, that will look regal and classic. The ornate carving details also add to the flair and drama of this vanity. The dark wood is perfectly accented by the antique brass handles, which further adds to the vintage, old world feel of this piece.
Travertine Stone Top
The counter of this vanity is made from all natural stone called travertine, more about that later. The sink basin is the same color and material as the counter top. The combination of rich chestnut wood paired all natural travertine stone looks expensive and classic. Travertine stone is an all natural material that comes from limestone. It is more affordable than marble or granite and has a more dull finish.
Cost and Value
WIth the bold, daring good looks of this piece and the sink included in the price we think its offers a ton of value. The rich, dark english Chestnut wood is real, not particle board or MDF. We love that the sink is included with this vanity so there is one less item that you have to worry about purchasing. If you are looking for a vanity that can really be the focal point of your new powder room, we suggest you check this one out.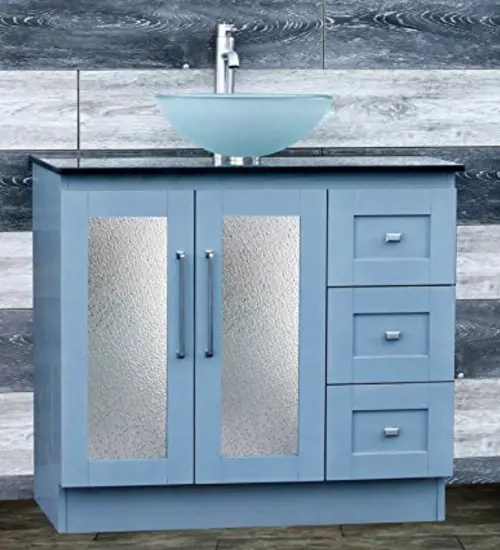 Wow there is a ton going on with this vanity! It certainly won't blend in, and will easily transform your bathroom from boring to fantastic. The edgy color palette of blue, black and grey will be a showstopper in your home.
Granite Countertop
The countertop of this vanity is made out of black granite. We really like granite for the bathroom, because is less porous than marble. This makes it more resistant to staining, which is perfect for a bathroom where things can get messy. The black color of the granite countertop looks striking against the grey oak cabinet color.

Diamond Glass
The two doors on the front of this vanity have diamond glass panes. The diamond glass adds an interesting texture to this piece and keeps all your cleaning products under the sink hidden well. There are also three drawers on this vanity. This is great for additional storage, and the drawers are all soft close which makes them feel expensive.
Cost and Value
This vanity is a great place to start off any bathroom reno. It could easily fit into bathrooms of many sizes. We love the contemporary feel of the glass basin sink pair with a black granite countertop and grey oak base. Bonus points are given that this vanity comes with the basin sink included, and for the option to select your hardware color from either brushed nickel or chrome. There is also a ton of room for storage, which everyone needs in the bathroom. The interior of this vanity is also fully finished, another factor that adds value to the product.

6

. Vinnova 713060-WH-CA-NM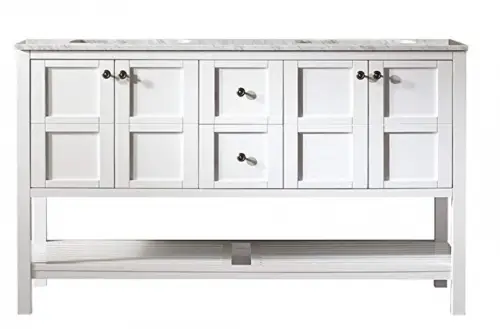 This is a stunning vanity that could easily pass for a piece of furniture. Are you looking to add a ton of storage to your new bathroom reno? Sticking to a clean and light color palette for your new spa-bathroom retreat? This could be the right pick for you.
Tons of Storage Space
This vanity by Vinnova has a ton of storage space. There are a lot of things you want to keep in your bathroom, and having space to store it all is key. You will never run out of room with this vanity. There are two soft closing drawers in the middle, and four soft closing doors so you can easily store items large and small. There is a shelf on the bottom of this vanity where you could store towels or stow items in decorative baskets, further adding to the storage space.
Imported Marble Countertop
The white counter of this vanity is made from stunning imported Carrara marble. Marble has an expensive, luxurious look to it that appeals to many people. This marble is mined in Italy, and is named after the town where it comes from, Carrara.

Cost and Value
This is a large, double sink vanity that is more suited to larger bathrooms, due to its size. The double sink design is great for a master bathroom, or kids bathroom as well. We love the sleek, modern lines that this piece has. There is a ton of room for storage in the two drawers as well as under the double sinks. Adding more value to this vanity, is the two ceramic undermount sinks that are included. Undermounted sinks are prefered by many for the ease of cleaning they provide and the streamlined look.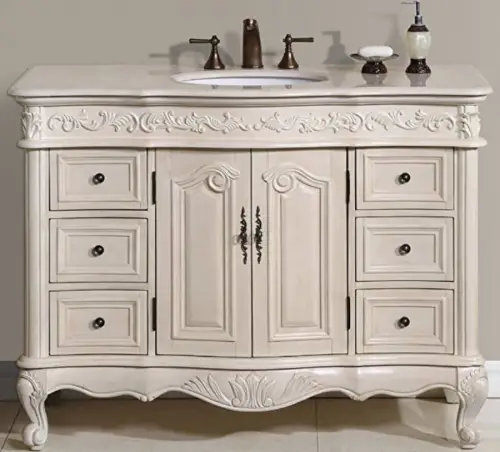 This dramatic vanity is just oozing class and charm, Everything from the off white color to the antique brass hardware looks refined and elegant. This is a great pick for more traditional or conservative tastes.
Ornate Carvings
There is so much detail on this vanity, it really looks expensive and lavish. There is details along the top and bottom of this piece, as well as on the drawers. There is even carving detail on the spanish scroll feet of this vanity.
Ample Storage
You will never run out of room to store all your bathroom necessities with this vanity. There are six drawers, as well as a shelf under the sink that is hidden by doors.
Cost and Value
This vanity offers a ton of value. For one, the countertop is made from Crema Marfil Marble, which isn't really marble at all but limestone. There is a ceramic undermount sink that comes included with this vanity, and the holes are pre-drilled to add any facet of your choice. The carving details look expensive, as does the marble look countertop. Adding even more value to this piece, is all of the storage space that comes with six drawers and one cupboard.

8

. Kitchen Bath Collection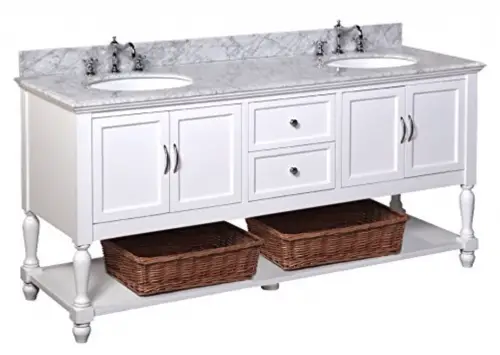 Here we have another stunning double sink vanity that will look great in any bathroom you put it in. The combination of bright white paired with cool grey imported marble looks exotic yet elegant at the same time.
Furniture Grade Construction
This vanity is built to last, using high-end furniture construction techniques and materials. All the drawers are dovetailed, which means the corners have been made in an interlocking fashion for superior strength and structural integrity. Only real wood has been used, no cheaper alternatives such as MDF or particle board. The drawers and doors all operate on soft close mechanisms, another feature of premium craftsmanship.
Bevelled Marble Countertop
The countertop of this vanity is made from imported Italian marble. The bevelled edges of the counter further add to the posh look of the piece.
Cost and Value
There are two ceramic undermount sinks that come pre-installed in this vanity. We love double sink vanities for master bathrooms, so hubby and honey can each have their own sink. The double design is also great for bathrooms that are shared by siblings, so no one has to fight over sink space. The imported marble countertop, and soft close mechanisms also add to the value of this product. Bonus points for the all real wood design that has no MDF or particle board.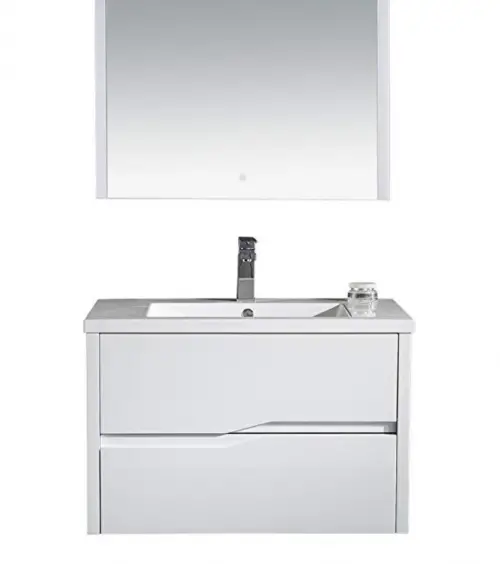 Here is a great pick that will go well in more modern or industrial spaces. The floating design is streamlined and we love the clean, all matte white aesthetic.
LED Drawers
There are two storage drawers on the Ove vanity, that are both illuminated by LED lights. This is a great feature to have. It will save you time and frustration of digging through drawers looking for your desired item. We also love how futuristic and modern this feature is. You will probably be the first of your friends to have this futuristic convenience on your vanity.
Mirror Included
We love that the Ove vanity also comes with an LED mirror. Every bathroom needs to have a mirror, and with this one included there's one less thing you need to worry about purchasing. This isn't just a plain old mirror either. It has the same LED lights that are used to illuminate those drawers, so you can easily apply your makeup or get the perfect shave.
Cost and Value
This unique piece offers a ton of value for money., It is futuristic and modern, and will perfectly complement a minimalist bathroom reno. There are two soft close drawers, that are both illuminated by LED lights so you will never struggle to find things. The floating, wall mount design is streamlined and edgy. Adding further value to this piece is the included LED mirror that is the perfect size to complement the vanity.

10

. Design Element DEC059C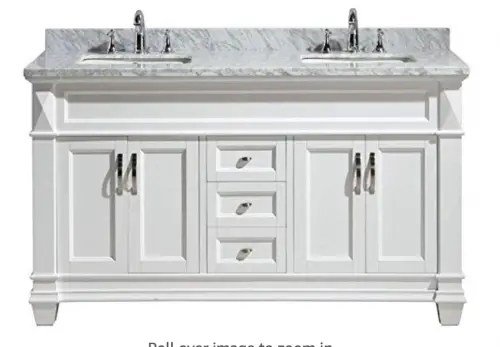 Rounding out our top ten picks is this vanity from the Hudson collection, made by Design Element. Offered in two color choices, this timeless piece has all the storage space you could need and elegant good looks that won't go out of style.
Color Choices
We really like that this vanity comes in three color selections. There is a rich, dark espresso color as well as white and white with grey. Not everyone wants an all-white bathroom, and we love that you can get something other than that with this vanity.
DURA-Lacquer Water Resistant Finish
Bathrooms are known for getting wet. With that being said, we love that this vanity is finished with seven layers of Dura-Lacquer to provide the ultimate in water resistance. Your vanity will stay looking great for longer if it is not damaged by water and other liquids.
Cost and Value
With ample storage, all real wood construction and a timeless design that won't go out of style, it is easy to see how much value there is in this piece. The countertop is made from imported Carrara marble and the base is all solid wood, no MDF or particle board. This is a great investment that will last for many years to come.

Subscribe to our Newsletter