Best Wool Socks Reviewed & Rated for Quality
last updated:
Apr 07, 2020
As adventurers, hunters, and athletes we often focus on the quality of our gear for survival, performance and - let's be honest here - for how we look, too. How often, though, do we pay attention to the seemingly "lesser" pieces of our gear? Here, specifically, we are targeting socks. That's right, socks. How often do you consider the socks that you pop onto your feet? When it comes to hunting, hiking, or chilling out around your campfire, chances are that your socks are a second thought before any other gear that you need. In this guide, we are going to cover why it is crucial to pay attention to your socks, especially when it comes to keeping warm while hunting or hiking in the cooler temperatures. Check out the best options that we pulled together in our list below. They talk about important factors like durability, absorbency, and material.
In a Hurry? The test winner after 16 hrs of research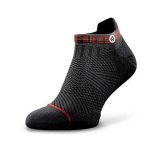 ROCKAY Accelerate
Why is it better?
Made from 100% organic merino wool
Higher tab helps with sock slipping
Many color options
Extremely durable
23
Researched Sources
44
Reviews Considered
16
Hours Researching
57
Products Evaluated
Durability
Water Resistance
Features
By Default
10 Best Wool Socks
Made from 100% organic merino wool
Higher tab helps with sock slipping
Many color options
Extremely durable
Slightly more costly than other products.
If you are in the market for a good pair of wool socks, check out the Rockay Socks. This brand is currently on the rise as one of the most favorable brands and products on today's market. Not only are these wool socks stunning by design - they are comfortable and high-quality. Whether you need them for hiking, running or just everyday use, Rockay will be able to pull through for you.
100% Organic Wool
Each sock from this brand is made from 100% organic merino wool. In specifics, the material is actually from South America and 100% Mulesing free. So, if you are looking for quality, comfort, and durability, this pair is for you.
Comfortable and Breathable
What really makes these shine is how comfortable and breathable they are. While they may be made of wool, the company cleverly designed the sock with padding in the heel and toe, alongside intentional ventilation to prevent any build-up of sweat. Our favorite part about these socks is the higher heel tab, which keeps the sock in place when running or walking.
Cost and Value
As far as cost and value are concerned, these socks are considered one of the most costly items on today's list. Now, before you are quick to judge the price - we want to reiterate how important it is to look at the value embedded in the product. In other words, look at this purchase as far as an investment - what do you get in return? Consumers get performance enhancement features, comfortability, breathability, and even numerous color options. Now, if you look at the competition, can you say the same?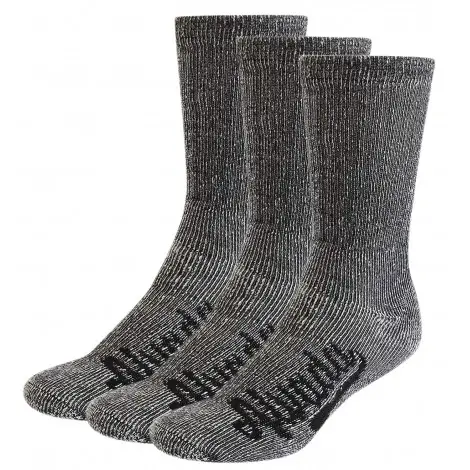 Easy to care for
80% merino wool
Itch-free
Cushioned
Are you searching for a way to make your next hike a little more comfortable? This option from Alvada is made for you with its 80% merino wool build. Let's see what else it has to offer.
No More Itch
If you still think of wool as that itchy material your mom used to make you wear in the winter, you won't anymore as soon as you try the Alvada socks. They are blended with nylon to provide an itch-free user experience.
Warmth
These are designed to keep out the cold and moisture. You won't be feeling chilly during those cold winter hikes if you have these on your feet.
Cost and Value
You'll receive three pairs of socks for one low(ish) price. The Alvada are a great option for someone wanting to keep a little warmer next winter.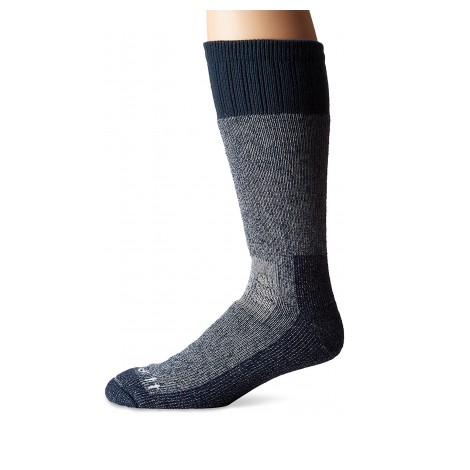 70% Acrylic / 15% Wool / 14% Nylon / 1% Lycra Spandex
Made In The USA
Machine Washable
Sweat-Removing FastDry Tech
Issues With Breaking Apart After Use
Carhartt Incorporated takes its pride in "Outworking them all since 1889." This US-based company, as with all companies that started in that time period, had been through it all; depression, two world wars, and the dangers of the Cold War. But the experience and toughness that came from Carhartt Inc. bore a lot of fruit.
Carhartt's Extreme Cold Weather Boot Socks have been made to work as well and as long as the boots you wear over them. They're the standard for the industry to follow. And they're also reasonably priced.
Insulated
They wouldn't be called cold weather socks if they didn't have what's called insulation. Thick padding within the socks keeps your feet warm when it's too cold.
Odor Fighter
Smelly feet shouldn't have to be an issue. Carhartt utilized their very own technology in order to keep your feet from smelling horrible after wearing their socks.
Cost And Value
Carhartt's Extremes Cold Weather Boot Socks are surprisingly purchasable. You can go to their store online and be amazed at the wide range of colors and choices. Those in the Armed Forces can also take advantage of the company's military discounts.
4

. Darn Tough Hiker Micro Crew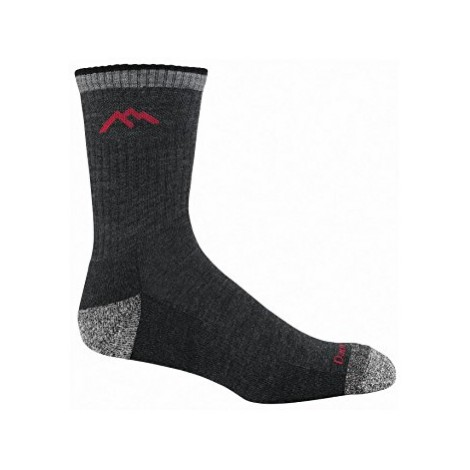 Thick seams
Seamless under shoes
3% is lycra spandex making them stretchy and comfortable
Odor blockers
Darn Tough is headquartered in Vermont; a state that has a weather category of all of the above. So the wool socks created by this company deal with all-of-the-above weather. Darn Tough guarantees that the quality of their workmanship hadn't been outsourced.
61% Wool
36% is nylon, 3% is lycra spandex; all of it naturally treated against odor-causing microbes and bacteria. Mainly focused on the feet's breathability and sweat-wicking, as well as under-feet cushioning.
True Seamless
Darn Tough goes out of the way to avoid that type of mistake made by most sock makers; leaving a few strings of thread sticking out. Said strings will usually get caught on something and end up pulling the sock apart. True Seamless means that something like this will never happen to the socks you purchased from this company.
Cost And Value
Slightly more expensive. But this is the price to pay if you don't want quality to come from some other country. Darn Tough made sure that it's worth every penny you spend on their wool socks.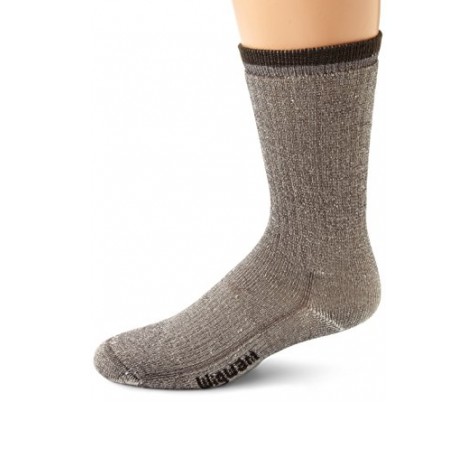 Seamless Toe Area
Elastic Arches
Ventilation
Various Colors & Styles
Works Well In Heat & Snow
Breaks Down After Prolonged Use
Issues With Tightness
Wigwam Mills is yet another company based in the US; Wisconsin to be exact and 1905 is this company's starting point. This means that when you buy from Wigwam, you're buying from a company that has decades of experience. Wigwam takes pride in the wool they get from American sheep. The company also takes pride in being environmentally safe and practicing safe production standards.
Made In The USA
Wigwam Mills had gotten in touch with American wool spinners who get their wool from American shepherd. And their facilities are enviro-friendly and state of the art; working with utilities around the area to help cut down on the carbon footprint being left behind.
Comfort
All of the above and you'll still get a comfortable pair of wool socks to wear. 67% wool, 21% nylon, 7% rubber, and 5% acrylic; these mixtures of natural and synthetic fibers create socks that will last you as long as the care you give them.
Cost And Value
Wigwam Mills' website presents their socks in several colors and styles. And at reasonable prices. But their advice about the care for them shouldn't be discounted: Turn the socks inside out before you wash them. And avoid using bleach.
6

. DG Hill Thermal Hiking


More Wool
Comfort Top
Wicks Moisture Away
Issues With Material Breaking Down
DG Hill is the second company to have little-to-no information about itself. Yet their products have been sold, bought, and reviewed regardless of the origin. Whatever the case, their hiking socks manage to utilize a few tricks to keep up with the rest.
80% Merino Wool
So more wool is used for these socks. But they didn't say what the other 20% is made out of. (Someone else said that it's 17% nylon, 2% spandex, and 1% elastic.) The extra-small child's size socks are listed as 60% Merino wool.
Reinforced Heel
The socks have been reinforced and cushioned at the heel to extend the wear. Arch support had also been added. This type of sock has been created to deal with extreme weather conditions, but they're also good for wearing around the house.
Cost And Value
A reasonably good pair of wool socks, at a reasonable price. And they're only sold via popular stores. I want to say "buyer beware." But the positive reviews are stating something different.
7

. Kirkland Signature Outdoor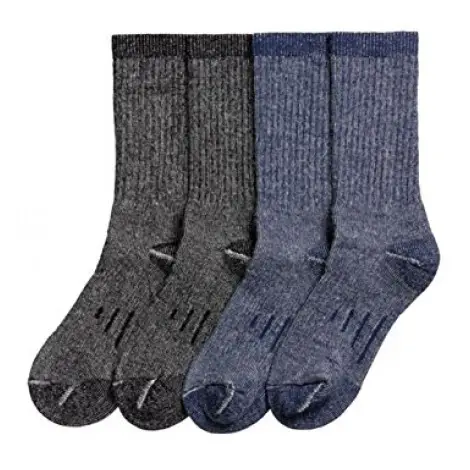 70% Wool
Wicks Away Moisture
Thin Seams
Kirkland Signature was developed by Costco Wholesale Corporation as a private label; the main goal was to provide brand name quality products at discount prices. Not much information can be found about Kirkland Signature's wool socks, so they seem to be going out of date. So it's best to get them when the sales are on.
Made In The USA
Kirkland Signature, and its parent company Costco as a matter of fact, started near Seattle, Washington. So the realization sets in that they can't sell wool socks that don't work in their own home state.
Materials
Breathable, light in weight, and ultra soft. It's 70% wool, 29% nylon, and 1% spandex; able to wick away moisture and keep your feet warm and comfy in all types of weather.
Cost And Value
Reasonably priced. But get them while you can if you want them. They're not listed on Costco's main website. But there are other places and websites that sell them. So get them before they're gone.
8

. Danish Endurance Hiking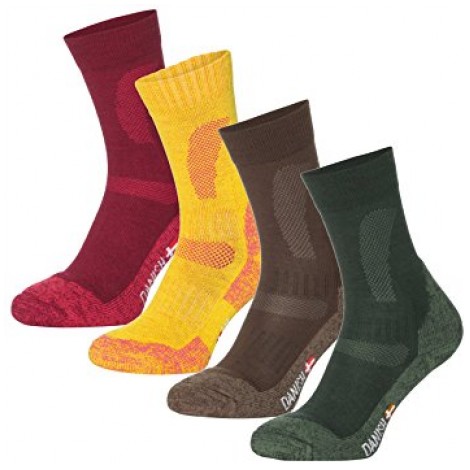 Unique Colors
Unique Style
Soft Yet Light On Feet
Issues With Itching
Issues With Blistering
Seems like the best way to prove that you're serious about whatever you make is to put the name of your company in ALL CAPS. DANISH ENDURANCE is a family-owned company that enlists the help of a former Navy SEAL, Erik B. Jørgensen, and an athlete training for the 2020 Olympics, Stina Troest, to test their high-performance sports brands.
Unique Mix Of Wool & Other Materials
DANISH ENDURANCE uses 33% wool, 33% acrylic, 33% polyamide, and 1% elastane in their socks the yarn being more man-made than natural. This helps with the dexterity and durability of the socks.
Unique Design
These socks have been designed with breathability in mind. Ventilation zones on the socks have been created to allow for constant air flow and evaporation of sweat. So your feet can stay dry while you're on the go. Plus there's extra cushioning to keep your feet from chafing.
Cost And Value
A little pricey but still reasonably priced for something that's made by Europeans. And if you don't believe that these socks are athlete-tested, Navy-approved, there's always that 100% risk-free guarantee.
9

. PureAthlete High Performance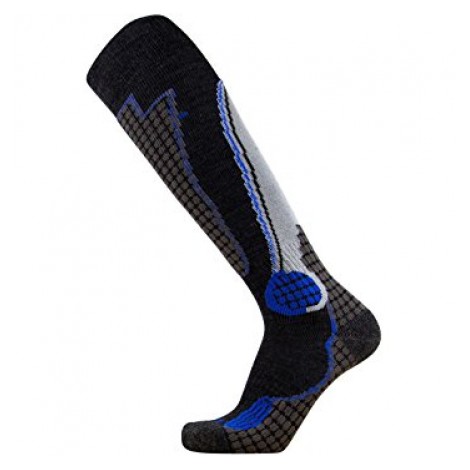 Key Comfort Cushioning
Arch Support
Machine Washable
Various Colors
PureAthlete, along with PureCompression, are both owned by Sharpezone. This company's the leading maker of athletic apparel and medical accessories. Sharpezone wants athletes and outdoorsy people like you to be at your best, or at least get better when you're down.
Enhanced Warmth
This unique blend of polypropylene and wool helps wick moisture away; keeping your feet and lower legs dry as you go skiing down the mountains. (54% nylon, 25% wool, 16% polypropylene, and 5% spandex.)
Socks Stay Up
The elastic at the top of socks makes sure they don't go sliding down when you're up on and sliding down from, the slopes.
Cost And Value
Sharpezone / PureCompression's website has them reasonably priced. So the best thing to do is to take advantage of their deals while it's hot (in these cold times).
10

. EbMore Heavy Thick Winter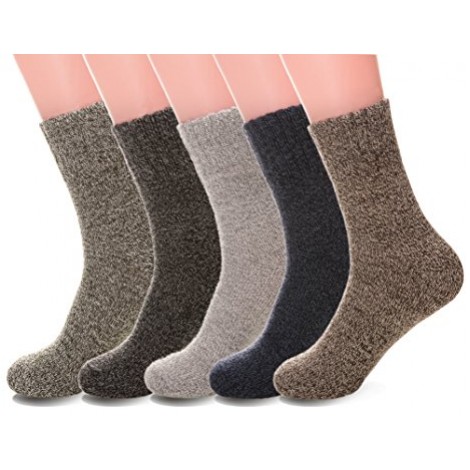 Come In Various Color Tones
Also Comes In Solid Colors
Thickness
EBMORE is the third company that has (on the one hand) little-to-no information about itself. Yet critics have given these type of wool socks a lot of passing grades. So buyer beware, but onto the review.
Multi-Functional
EBMORE's fashion wool socks can be worn everywhere; from taking hikes and being outdoors, to working in the office or at home. You can work, play, and relax in these socks.
High Quality
Made of 35% wool, 24% cotton, 36% polyester, and 5% spandex. These socks are durable, breathable, and soft; with the capability to keep your feet comfortable and warm.
Cost And Value
Reasonably priced, but more quality comes with more care. Avoid ironing them, definitely hand-wash them. Treat them with the same care one would give to the #1 wool socks from this top ten.
Criteria Used for Evaluation

Durability
Wool that's been under great care, freshly sheared off the sheep, and woven correctly, can be bent twenty thousand times without breaking. It's known for its natural elasticity. And with the extra amount of man-made textiles added to it, the wool can become stronger and more durable.

Water Resistance
Wool can absorb 30% of liquid without feeling damp. It's regarded as a natural "sweat picker-upper", but it's still a good idea to wash the wool socks every now and then.

Features
Wool will not melt to your skin like other fabrics or textiles. They have a high burning point. That's why wool blankets are used to snuff out small flames. Interior designer would make use of wool for its ability to reduce the damage left by fires. The high burning point is also why wool is worn by those who travel through the desert. They're natural "temperature regulators," keeping you from the heat during the day and from the cold during the night.
Expert Interviews & Opinions
Most Important Criteria
(According to our experts opinion)
Experts Opinion
Editors Opinion
Users Opinion
By Default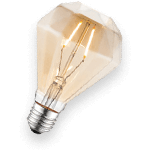 The Percentage Of Materials is important
The wool used in socks is a mixture of wool from sheep and synthetic fibers like nylon, acrylic fibers, spandex, and several versions of polymers. In some wool socks, more of the synthetic fibers are used than the wool itself. Rest assured that the wool being used is the "first-time use" wool. If there's any unused or recycled wool, they would be mixed in with the first time use wool; cutting down on waste but at the same time avoiding the creation of shoddy and useless wool products.
The location of the wool should be considered
The sheep of Australia and New Zealand had been considered the sheep with the most prized wool ever created. Every other state and country would grow, care for, and use wool from their flock of sheep. But they're considered low quality compared to the wool from Australian and New Zealand sheep. That doesn't necessarily mean that the wool from other sheep can't be used, though.
Frequently Asked Questions
q:

What's A "Micron?"

a:

A micron is the wool fibers' diameter measurement. And wool is about less than 24 micron. The smaller the micron; the less itchy it is, the softer and finer it is, and the more expensive yet durable it is.
q:

Why The Percentages?

a:

100% wool sounds like "the best thing ever." But let's not forget that wool is still an object of nature that's susceptible to decaying and bacteria. Mixing it with synthetic fibers can, in some way, keep the wool fibers lasting a bit longer.
q:

How Is Acrylic Being Used?

a:

Wool is great at getting sweat from off your feet, but it's a better idea not to keep it in the wool. Acrylic is a synthetic fiber that allows for moisture to move along it and evaporate within a show that has breathable mesh. That way, the sweat dries right off.
q:

How Is Nylon Being Used?

a:

Nylon is another synthetic fiber that adds to the elasticity and durability to the wool socks. Nylon adds to the silkiness and bulkiness of the wool socks. It might even make them thinner.
q:

How Is Polypropylenes (Elastane, Spandex, & Lycra) Being Used?

a:

Created by the DuPont company in 1959, polypropylenes replace the rubber that's been used in socks. It helps with the elasticity of the wool socks; keeping its shape and form after being worn for several times.
q:

How Is Polyester Being Used?

a:

Polyester, along with being elastic like nylon and the polypropylenes, is also water-resistant. When certain dyes are added to the wool, the polyester is colorfast; meaning that the color(s) dyed into the wool will not fade away after several washes.
q:

How To Wash Wool Socks?

a:

Wool fabric is different from the rest of the clothes. The instructions tell you to turn them inside out, give them a good hand-washing in cold or warm water, and hang them out to dry in a well heated, well-ventilated place. Heat tends to shrink the wool fabric. So you don't want to do that.
q:

Is Wool Better Than Cotton?

a:

Cotton socks suck up the moisture from the feet, but it ends up being contained in the socks until it's time to wash them. Cotton fibers are usually mixed with synthetic fibers, like nylon, to help with the moisture away. Plus they shrink in the hot wash (unless you wash the socks in the cold), so it's best to buy socks that have been pre-shrunk.
q:

Do They Itch?

a:

 Low-quality wool tends to cause a lot of itching along the skin. That's why there's been this effort towards wool with higher quality.
q:

How Long Do They Last?

a:

Wool socks that have been taken care of tend to last for years. And that's by following a simple set of advice:
*Clip off your toenails.
*Lay your socks flat when storing them.
*Avoid using fabric softener and bleach to clean them.
*Separate the whites and coloreds when washing.
*Avoid ironing the wool socks.
q:

Can I put wool socks in the dryer?

a:

Most wool socks will probably advise that you air dry your socks. They can shrink in the dryer if you are not careful, and since they are already designed to fit snuggly, there's always that risk. However, if you have treated wool socks, these can sometimes succeed in the dryer. They should not shrink if you do this. They are designed to fit a little snugger than other materials, naturally, so that is something to keep in mind as well. When in doubt, check the product tags or choose to air dry them.
Subscribe to our Newsletter