Best No Show Socks Reviewed & Rated for Quality
Going around with nothing between your feet and your shoes may feel nice, but it's generally not a good idea. There are a lot of sweat glands in your feet. And active feet tend to sweat out about 2 cups daily. However; if you're the type of person who's intended on showing off your ankles during warmer days (yet is pretty much against wearing sandals), then no show socks are for you.
Featured Recommendations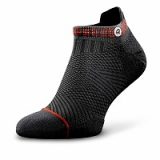 ROCKAY Accelerate

Our rating
Moisture-Wicking
Price:

See Here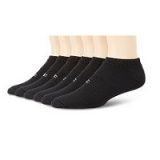 Champion No Show

Our rating
74% Cotton
Price:

See Here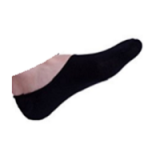 Stomper Joe Quality

Our rating
85% cotton
Price:

See Here

No show socks can do as good a job at collecting sweat as the socks you normally wear. They're as comfortable to wear as regular socks. They're, just, better at hiding within your shoes. That can be an impressive feat, or it can be an issue if you wish to show of the vibrant colors of the no show socks.
10 Best No Show Socks
1. ROCKAY Accelerate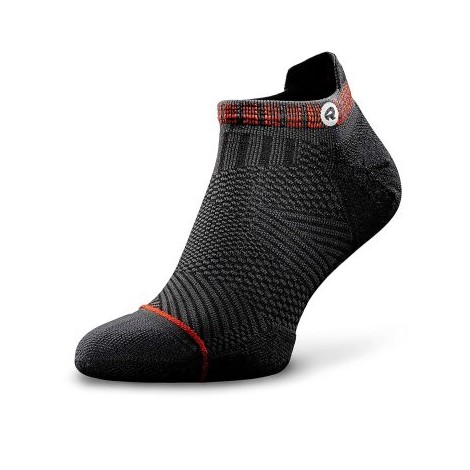 In the past 10 years, no show socks have taken over the industry as the most favorable for running and other outdoor activities. The next big thing is going to be the Rockay No-Show Running Socks. These are, without question, the most fashionable and unique products that we are going to share with you today. Let's explore some features!
Expand to see more
The Best Quality
If you are looking for the best quality, it starts here. These socks are made from 100% organic Merino wool material, which if you are not familiar, is a big deal. This material is great for balancing the foot's temperature, offering a comfortable walking/running experience, and even keeping an individual in control of their own movements.

Moisture-Wicking

Have you ever gone running before with a pair of socks and, all of the sudden, your socks are sweaty? This typically happens with products that do not have moisture-wicking capabilities. This specific socks are infused with some of the best moisture-wicking technology to make every experience in these socks favorable.

Cost and Value

It's natural as a consumer to pay close attention to the price tag. As a responsible consumer, you should be aware of what you are about to pay for. With that being said, this pair of socks is actually slightly higher than some of the competition; however, it's the return on investment that matters. Consumers are, in return, getting a wealth of value that many other competitors do not offer.
This product is made from some of the best materials in the industry.
The sock has a higher heel tab to help prevent the sock from slipping.
The material also has moisture-wicking properties to prevent any build-up of sweat.
Consumers will enjoy picking from a wide selection of colors and designs.
These socks are more expensive than other items on today's list.
2. Champion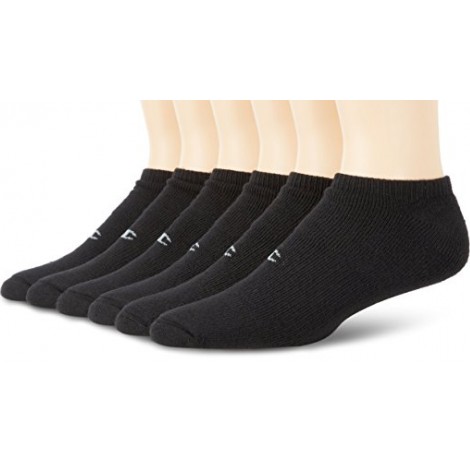 Champion is a sub-brand under Hanesbrands Incorporated. And the company prides itself in creating
clothing and accessories
for the US and the world. Hanesbrands started in 1901 and is based in Winston-Salem, North Carolina; this company was the first to introduce tagless t-shirts and underwear. Their no show socks is one of the latest in their innovations.
Expand to see more
74% Cotton

21% Polyester, 3% Natural latex rubber, 1% Nylon, and 1% Spandex. Ensuring that the socks you get are easy to wash, feels comfortable on your feet, and stay snug on your feet.

Made In The USA

Most of the clothing and accessories Hanesbrands manufacture are from plants and subcontractors based in the US. So take pride in knowing that the products you're buying are American-made (if not American-based).

Cost And Value

These socks are awesomely affordable. Champion must have moved on to no shows socks that aren't just solid black or white in color. However; when you go to their website and see for yourself, they're just as awesomely priced,
3. Stomper Joe Quality Cotton
The good folks over at Totem Trading LLC had done the lot of research over socks for a good 20 years. So they started out in 2013 as "Jays Barely There." Two years later, the company name changed to "Stomper Joe" because the customers loved that name better.

Their website sells their no show socks and, if bought straight from them, always honors their money-back guarantees.
Expand to see more
85% Cotton
Not much is known about the other 15% of the material used in these no show socks. But what is known is the comfort and cushioning you feel when you try them on. Also included are the odor-fighting properties of the socks that keep your feet dry and
odor-free
.
Stays On Your Feet
The good people over at Stomper Joe understand that one size doesn't fit all. So they come in several sizes. They also come with silicon heel grips that keep your socks from moving around and keeping your feet free from blisters.
Cost And Value
Stomper Joe's website has the no show socks at awesomely low prices. They also have sales that can help you acquire the socks you want.
American LLC
Machine Washable
Moisture Wicking
Multiple Sizes
Comes In "Traditional" And "Extra Coverage"
4. Eedor Thin Casual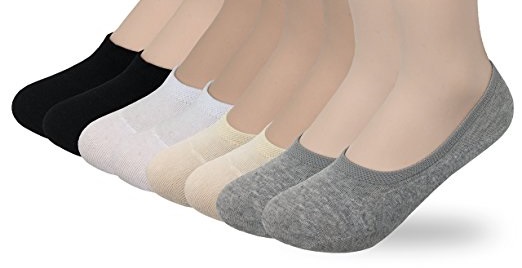 There isn't much information about the Eedor brand. The little that is known is that the product is made in Korea under the trademark of CHOCOMPANY. "Buyer Beware" is what can be said, but the number of reviews for their no show socks have been positive so far.
Expand to see more
80% Cotton, 20% Spandex

The material fits comfortably enough and is elastic enough for the regular indoor and outdoor usage. They're "thin socks" created to maximize comfort.

Silicone Rubber Technology

Silicone rubber had been threaded within the no show socks to keep a nice grip between your feet, the socks, and either the shoe's inside or the ground.

Cost And Value

Reasonably priced. Eedor's blurb states that they're a legitimate seller of their clothing and accessories. And everybody else that use their name to sell their products is lying to you. So be careful.
High Quality Cotton/Spandex
Non-Slip
Moisture Wicking
Several Sizes & Colors
Issues With Material
Issues With Sizes
5. Osabasa Casual Flat Boat Line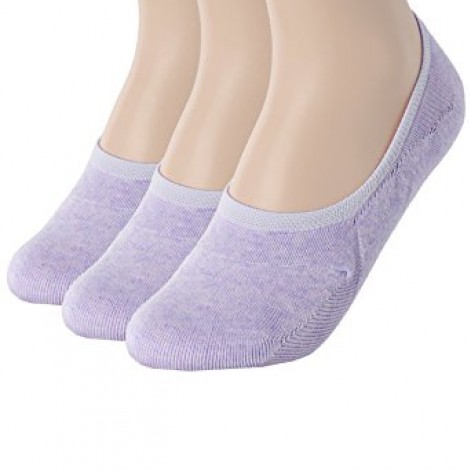 Osabasa is owned by H2H; a company based in Korea and deals with fashion, clothing, and retail. There's no physical website so they sell their items through secondary outlets. They DO have a Facebook site, though. They're also known for putting images of animals and anime characters on their socks.
Expand to see more
78% Korean Cotton

The rest of the material is 20% polyester and 2% polyurethane, ensuring that the no show socks you get are as elastic as they are comfortable to wear.

Comes In Multiple Colors & Sizes

If nothing else, the socks you wear should at least be fun and colorful. Osabasa's no show socks have took that belief and "cranked it pass 11."

Cost And Value

You can get 1 pair, 3 pairs, or 5 pairs; all in the same colors or in different colors. Osabasa's no show socks are in the top 10 not just because they work as well as, if not better than, other no show socks. But H2H goes out of its way to have some fun with their no shows.
Silicone Anti-Slip Heel Grip
Machine Washable
Thick Build
Issues With Materials Breaking Apart
Issues With Shrinking
6. Hanes No Show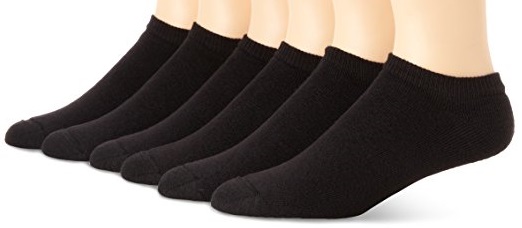 Hanesbrand Incorperated returns to the list; after a review of Champion's no show socks, comes Hanes's no show socks. And yes, they look plain. But they'll work just as well if not better.
Expand to see more
63% Cotton, 34% Polyester, 3% Fiber

Hanes' no show socks got an adjustment in their level of materials used herein. More cushioning is added to the soles of your feet. And more reinforcement had been added to the areas of the toes.

Fresh IQ Odor Fighter

Fresh IQ is Hanes' latest fiber technology that's been created to fight the bacteria that causes odor. With this in play, you'll regain that daily fresh feeling.

Cost And Value

Reasonably priced for something you can get within a larger number of pairs. Don't let that plain old sock look fool you. Nothing has to look out-of-this-world to do a stellar job or two.
Thick Cushioning
Odor-Fighting Tech
Machine Wash
Ribbed Cuffs
Issues With Quality
Issues With Materials
7. Sheec SoleHugger Active

Stylish, Hidden, Essential, Easy, and Comfortable. The first letters of those five words combine together in that order; creating the word that sounds like "chic." Sheec was born in 2012 New York City. "Literally." An in; the no show socks creator had a wife that's giving birth to a child. And the wife / future mother was asking the question, "Why are there no comfortable fashion socks in one of the top fashion capitals in the world?"

Sheec is owned by D'aht World Incorporated, a company known for international distribution. And D'aht is all about "identifying the common needs" and being unique when problems stop being "common." Sheec SoleHuggers are one of those end results from answering an actually common problem.
Expand to see more
Instant Comfort & Invisibility

With a low cut style and smooth, flat seams; Sheec's SoleHuggers are able to hide comfortably inside your sneakers and casual footwear.

Material And Care

An unknown mixture of cotton, polyester, and spandex provides your feet the best in comfort and elasticity. But extra care must be given to them when you're washing them. It's recommended that you wash them in cold water and hang them out to dry.

Cost And Value

Amazingly, the no show socks come off as inexpensive. And this is from an area where "money is no object." Your best bet would be to buy them from their online site.
Non-Slip Silicone Heel Grip
A Variety Of Colors
Great Sweat Absorbtion
8. Thirty48 Boat Shoe Liners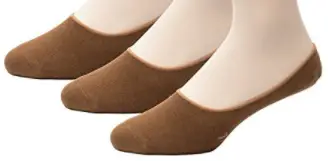 The good people over at Thirty 48 (in Orange County, California) want you to replace those socks you bought from one of those big-box stores with theirs. They're the self-proclaimed "socks geeks;" actively focus on creating better socks so you can keep your worries off of the socks you wear.
Expand to see more
CoolPlus Fiber

CoolPlus is Thirty 48's ultra-breathable, micro-mesh synthetic fabric. 79% of this (along with 19% polyester and 2% lycra) helps with airflow and keeps your feet cool and dry all day long.

High-Tech Synthetic Fabric

The no show socks are durable and long-lasting. And it's "contrasting color" elastic cuff makes sure that it stays on your feet. However; it's another type of fabric that needs extra care. So wash in cold water and hang them dry.

Cost And Value

A little more expensive than your average no show socks; because they're above-average high-tech socks. But don't worry. This Southern Californian company cares for what they make as much as they care for those in need. They're regular supporters of the Special Olympics and other charities.
Non-Slip Silicone Heel Grip
A Variety Of Colors
Moisture Wicking
Stays On Your Feet
Issues With Materials
Issues With Elastics
9. Under Armour HeatGear Solo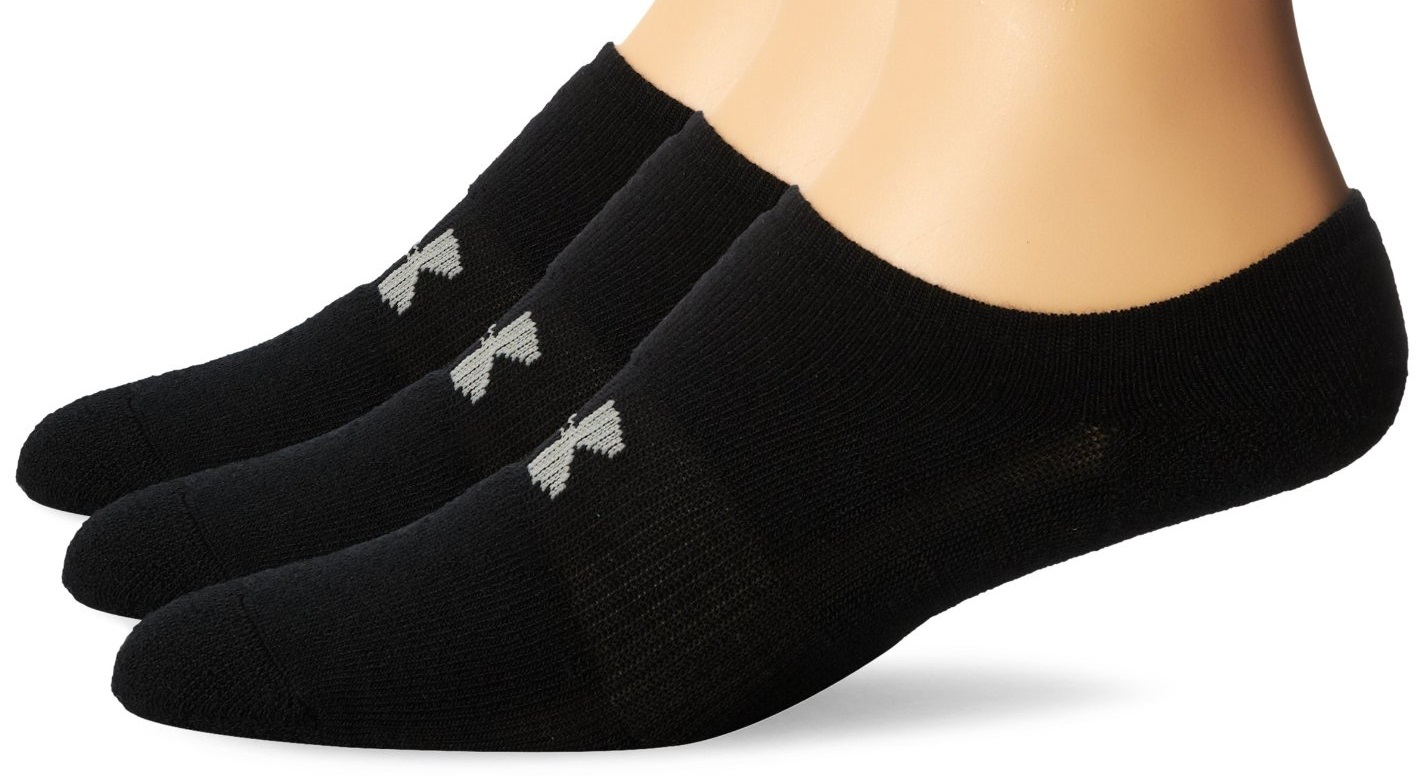 Kevin Plank, former football player and student over at the University of Maryland, started
Under Armour Incorporated
in 1996 over the need of a better t-shirt. One that can wick perspiration off the body instead of having the fabric absorb it. The end results: gear and apparel you can wear when it's extremely hot, extremely cold, or in-between the extremes.
Expand to see more
92% Polyester / 5% Nylon / 3% Spandex
Under Armour's Heatgear Solo no show are specifically designed with the
"moisture transit system"
in place; which wicks the sweat off the feet and off the socks themselves.
Anti-Odor Tech
Under Armour has technically designed their textiles to make sure that odor-causing bacteria and microbes don't form on their socks.
Cost And Value
These socks don't come cheap. But since they're high-performance no show socks created for the athletic people in the world, of course they aren't.
Embedded Arch Support
Seamless Toe
Contoured "Y" Heel
Thick But Not Too Thick
Issues With Shrinkage
Issues With Fitting
10. Adidas Superlite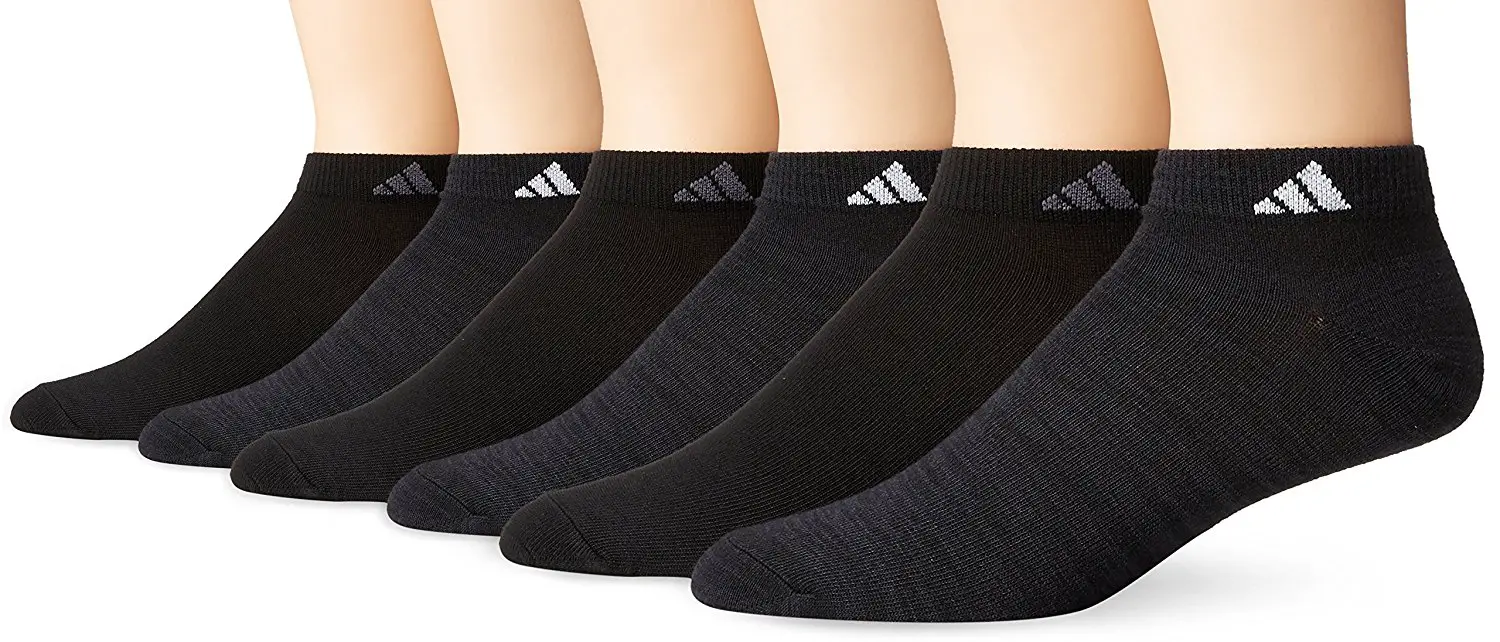 The last on the top ten list is a surprise; one of those famous names that was more known for the shoes than the socks they make. Adidas keeps going strong with their entry into the category of no show socks.
Expand to see more
A Variety Of Colors & Designs

Adidas breaks the rules of "having your socks be in boring colors and designs." They must've read the playbook created by Skittles; having folks wear the rainbow instead of tasting it.

97% Polyester / 2% Spandex / 1% Latex Rubber

Adidas Superlites have been technologically designed with Climalite; wicking the moisture away from your feet and away from the socks themselves.

Cost And Value

These athletic no show socks don't come cheap. But they're worth every buck. You'll also enjoy wearing a pair of no show socks that speaks about you as much as they speak about the company that makes them.
Super-Lightweight
Climalite Moisture Wicking
Arch Support
Stays On Your Feet
Issues With Materials
Sizes Are Limited
Criteria Used to Evaluate the Best No Show Socks
Durability
No show socks, like it should be with every sock that's created, have been reinforced to make sure they last as long as they can. But sometimes, their longevity depends on the wearer(s). Toenails that haven't been clipped well enough can cut the front of the socks. And improper washing can ruin the materials used in the socks. So proper care must be considered.
Absorbency And Moisture-Wicking
The main job of the socks is to remove the sweat that's formed from the feet; whether by absorption or ventilation of perspiration. No show socks are no different. So they must be cleaned constantly; else bacteria will form on them. (And those of us who had taken biology in our lifetime know that bacteria are dangerously stubborn creatures to deal with.)
Elasticity
Because of the greater use of synthetic fabrics, socks are able to stay on your feet and legs longer than before. So there's less of a hassle of having to pull them up every time. So show socks seem to benefit the most from synthetic fabrics; being able to keep their shape after being stretched out and stay on your feet without making any unneeded adjustments.
Percentage Of Materials
Most of the no show socks are made of cotton. Sometimes, nylon is used. Companies like Stomper Joe had recently taken full advantage of bamboo, an organic material that's been certified for use as wearable fiber. The primary job of socks is to keep your feet comfortable and dry. Your feet contain several sweat glands. So the socks need to either absorb the sweat or evaporate it away from your feet.
FAQ
Frequently Asked Questions
What's The Point Of No Show Socks?
There was a time when people wanted to wear shoes without socks. They didn't realize that the foot contains over a hundred thousand sweat glands; leaving the insides of your shoes with a messy collection of fungus and bacteria that would render the shoes unwearable. No show socks are the stopping point between the feet and the insides of your shoes. They're for, amongst other types of people, those who want to show off their lower legs.
Who Invented No Show Socks?
Currently unknown. Their creation was probably a holdover from the general creation of socks that started in the 8th century BC. The first recorded socks of this length, probably "ankle socks," have been found in Oxyrhynchus at Egypt's Nile River region; dating between the 3rd and 6th century AD.
Why Are They So Popular?
They were popular during the heydays of the 1980s pop culture trends; when MTV first appeared and started playing music videos throughout the world. ZZ Top's "Legs" featured attractive women wearing ankle socks over their stockings and under high heel shoes.
We can either say that "now they returned with a vengeance" or "they never left." The reason being is that the technology is better. The materials and the process exist to that better, less boring, and more practical no show socks can be made. Also, there are people out there who don't need socks longer than is required during hot summer days.
How Do They Keep From Slipping?
Elastic bands built within the opening of the socks, as well as silicone gels built within the toe and heel areas of the socks, keep them from moving around. They form the strong grip between your feet and your shoes.
How Do You Wash Them?
Some of them are machine washable. "Just throw 'em in with the other clothes." Others shrink during the wash. So it's better to wash them by hand in cold water and hang them out to dry afterwards. Cotton, especially cotton that hadn't been pre-shrunk, and other synthetic fabrics are guilty of most of the shrinking from in improper wash.
What's The Role Of Cotton In No Show Socks?
The use of cotton existed during the birth of humanity; some 6000 years BC. Cotton had been grown, harvested, refined, and used to make clothing. It's mainly an absorbent. However; cotton is area-based since it grows in the tropics. It's weak to cold weather and attacks from insects.
Used alone, clothing made by cotton does well. But the mixtures of synthetic fibers help strengthen it and prolong its use.
What's The Role Of Nylon In No Show Socks?
Nylon is a synthetic fiber that's known for its elasticity and durability. Sometimes, it's mixed with the cotton to add to the clothing's strength and stretching. But it can also do well when something's made entirely of nylon. It's also helpful in wicking moisture and sweat away.
What's The Role Of Polypropylenes (Elastane, Spandex, & Lycra) In No Show Socks?
Polypropylenes can help improve the elasticity of no show socks. Invented by Du Pont in 1959, this synthetic fiber is mixed with the main fibers of the socks to help keep their shapes. It also helps read the shape of the feet when in constant use.
Somebody Said That Bamboo Fiber Is Also Used. Is That True?
Yes. But the process is messy and, when chemicals are used, dangerous.
Bamboo cellulose fiber is extracted from natural bamboo and naturally fabricated. But what generally happens is that synthetic rayon is extracted from bamboo. The chemical used to create viscose rayon, carbon disulfide, is highly volatile. The people who worked around this chemical end up suffering from ailments like heart attacks, blindness, liver damage, and psychosis. However, the end products contain no harmful traces of the carbon disulfide.
Another way to extract the fiber is by crushing the bamboo and "retting" it. Retting is a controlled process where you immerse the crushed bamboo in water for 6 to 14 days. The retted material is then dried, cured, and separated to form strands of fiber.
Where's the best place to buy no show socks?
At stores or online. The better, and more expensive, bet is to buy from the specialty shops.
Sources