Top 10 No-Show Socks Reviewed & Rated
last updated:
Mar 25, 2021
Socks are one of those things. You need them you want them but there are times, in the balmy days of summer, when you simply don't want socks riding halfway up your leg. Maybe it's because you don't want socks to ruin your tan, or maybe it's because you hang out with a virulently anti-sock crowd who will mock you mercilessly if they see a hint of cotton riding out of your shoes. But believe it or not, there are reasons beyond fashion to wear no-show socks. Generally, they're better at ventilation because there's less fabric to deal with. Also, if you're caught in rain they're less likely to get soaked during a run. And finally, if you buy the right pair they'll stay put on your leg and won't ride up and down on your leg. Here are some of the best no-show socks.
In a Hurry? The test winner after 11 hrs of research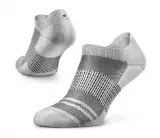 Agile
Why is it better?
Eco-friendly
Arch support
Compressive
Breathable
15
Researched Sources
12k
Reviews Considered
11
Hours Researching
10
Products Evaluated
Durability
Breathability
Features
Materials
Value
By Default
10 Best No Show Socks
Eco-friendly
Arch support
Compressive
Breathable
Taking the first place spot is this brand new product from Rockay. This company is truly carving a name for themselves in the realm of sports clothing and their new Agile sock is no exception. Let's look closer at what benefits this no-show sock can provide.
Ultra-Thin Construction
Are you one of those people who strip their socks off the second they walk through their front door? Do you hate the feeling of wearing socks? You're going to love the Agile, then. These are Rockay's thinnest socks, but don't let their minimalist design fool you. They still provide the compressive qualities Rockay has become known for.
Eco-Friendly
We need more manufacturers like Rockay In this world on the brink of mass climate change. The Agile is made from 100% recycled materials, making them something you can feel good about wearing. They're also made with a special kind of fabric that makes them resistant to odors. This means you'll have to wash them much less often which equals less energy use in your home. It's a win-win.
Cost And Value
These socks are awesomely affordable. This is especially true when you consider all of the value Rockay has managed to stuff into such a tiny package.
Cushioned for comfort
Breathable
Recycled materials
Lifetime guarantee
A little pricier than other options
If you take a quick glance at these, they almost look identical to the Agile sock above. But there are some stark differences between these two socks. Let's take a closer look.
Your Everyday Solution
If you're not a performance athlete but are looking for a comfortable sock that you can wear every day, the 20four7 is for you. But if you ARE an athlete, guess what? You'll still be able to enjoy wearing these. They provide performance cushioning that will help you out during your most gruelling workouts.
Stays On Your Feet
The good people over at Rockay understand that one size doesn't fit all. The 20four7 comes in several size options so you can find just the right fit for you.
Cost And Value
Rockay's website has these no-show socks at a very fair price. We loved how versatile these are for both athletes and someone just looking for an everyday sock.
This product is made from some of the best materials in the industry
The sock has a higher heel tab to help prevent the sock from slipping
The material also has moisture-wicking properties to prevent any build-up of sweat
Consumers will enjoy picking from a wide selection of colors and designs
These socks are more expensive than other items on today's list
In the past 10 years, no-show socks have taken over the industry as the most favorable for running and other outdoor activities. The next big thing is going to be the Rockay Accelerate. These are, without question, the most fashionable and unique products that we are going to share with you today. Let's explore some features!
The Best Quality
If you are looking for the best quality, it starts here. These socks are made from 100% organic Merino wool material, which if you are not familiar, is a big deal. This material is great for balancing the foot's temperature, offering a comfortable walking/running experience, and even keeping an individual in control of their own movements.
Moisture-Wicking
Have you ever gone running before with a pair of socks and, all of a sudden, your socks are sweaty? This typically happens with products that do not have moisture-wicking capabilities. These specific socks are infused with some of the best moisture-wicking technology to make every experience in these socks favorable.
Cost and Value
It's natural as a consumer to pay close attention to the price tag. As a responsible consumer, you should be aware of what you are about to pay for. With that being said, this pair of socks is actually slightly higher than some of the competition; however, it's the return on investment that matters. Consumers are, in return, getting a wealth of value that many other competitors do not offer.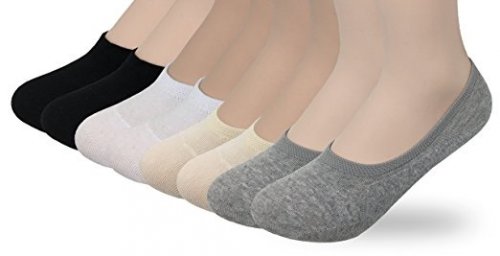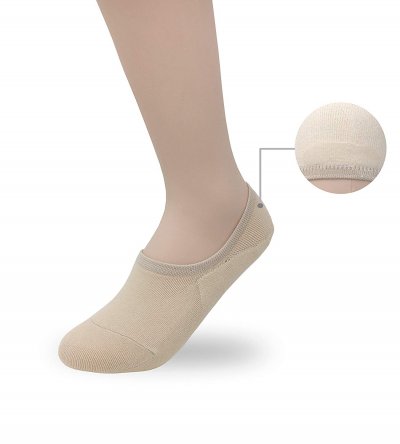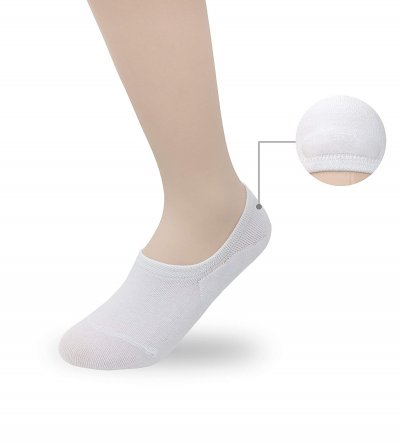 High-Quality Cotton/Spandex
Non-Slip
Moisture Wicking
Several Sizes & Colors
Issues With Material
Issues With Sizes
There isn't much information about the Eedor brand. The little that is known is that the product is made in South Korea under the trademark of CHOCOMPANY. "Buyer Beware" is what can be said, but the number of reviews for their socks have been positive so far.
80% Cotton, 20% Spandex
The material fits comfortably enough and is elastic enough for the regular indoor and outdoor usage. They're "thin socks" created to maximize comfort.
Silicone Rubber Technology
Silicone rubber had been threaded within to keep a nice grip between your feet, the socks, and either the shoe's inside or the ground.
Cost And Value
Reasonably priced. Eedor's blurb states that they're a legitimate seller of their clothing and accessories. And everybody else that uses their name to sell their products is lying to you. So be careful.
5

. Osabasa Casual Flat Boat Line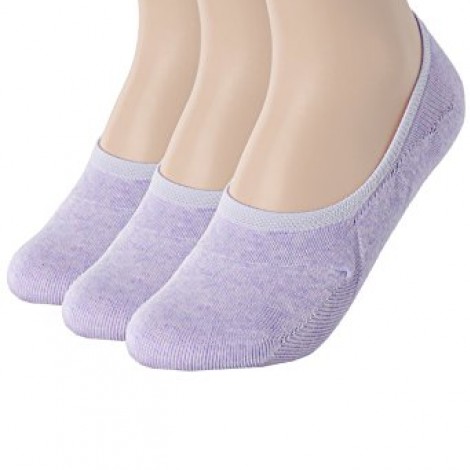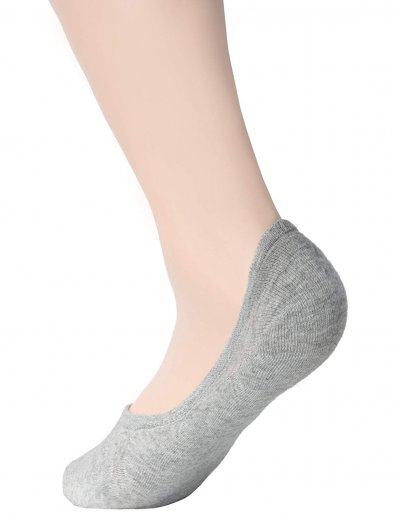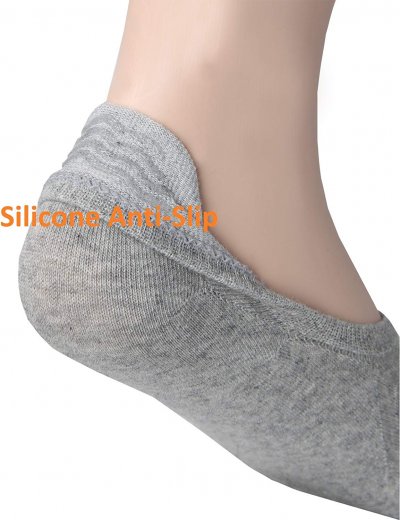 Silicone Anti-Slip Heel Grip
Machine Washable
Thick Build
Issues With Materials Breaking Apart
Issues With Shrinking
Osabasa is owned by H2H; a company based in South Korea and deals with fashion, clothing, and retail. There's no physical website so they sell their items through secondary outlets. They DO have a Facebook site, though. They're also known for putting images of animals and anime characters on their socks.
78% Korean Cotton
The rest of the material is 20% polyester and 2% polyurethane, ensuring that the socks you get are as elastic as they are comfortable to wear.
Comes In Multiple Colors & Sizes
If nothing else, the socks you wear should at least be fun and colorful. Osabasa's have taken that belief and "cranked it pass 11."
Cost And Value
You can get 1 pair, 3 pairs, or 5 pairs; all in the same colors or in different colors. These are in the top 10 not just because they work as well as, if not better than others. But H2H goes out of its way to have some funs.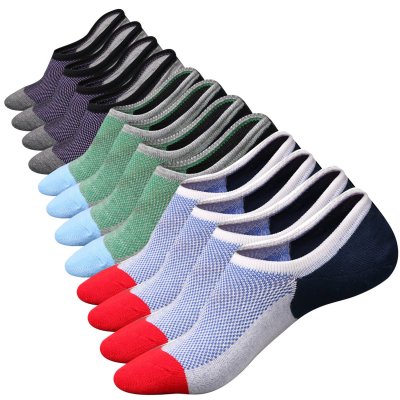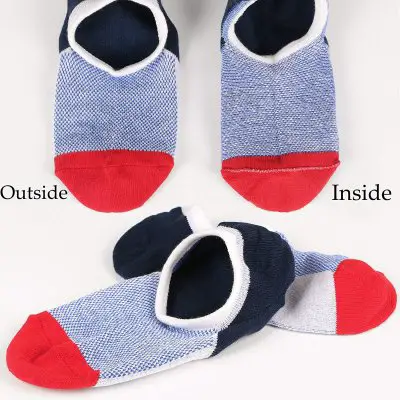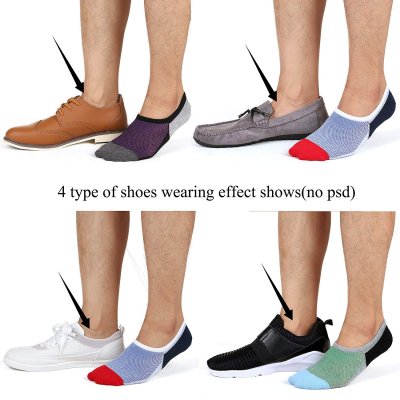 Cotton, Poly, Spandex Blend for Comfort
Wicks Moisture Away
Silicone Pads Keep sock in Place
Good Ventilation
Visible With Loafers or Top-Siders
Not just a good pair of socks these are just about as great a pair of socks as you're going to find anywhere. Not only are they tough but they're easy washing and stand up to repeated washings really well. We love the material which wicks water away from your feet and we also really love the silicone rubbers at the hell that are going to keep these socks exactly where they belong and keep them from slipping away from your heel. We also like the fact that you get 5 or 6 pairs for a great price.
Great Material
These socks are made of a cotton, poly, spandex blend that ensures that all that moisture produced by your sweaty feet isn't going to stay on your sweaty feet but rather get whisked away by these socks. But at the same time, it gives you the great feel of cotton, while the poly and spandex material keeps the sock from sliding away from your foot. So all said and done these are a great choice if you're looking for a great no show sports sock.
Rub Proof
One of the problems that we find is that all too often they tend to slide down around the heel of the foot. But these socks have a special silicon insert that keeps the sock right where it should be and so you can run to your heart's content comfortably knowing that your sock will stay put. The sock also is a bit higher than some of the others on our list to ensure the sock will cushion the tongue of the shoe.
Cost and Value
These socks come in at a great price. It's hard to beat getting this many pairs of socks this well built for this price.
7

. Sheec SoleHugger Active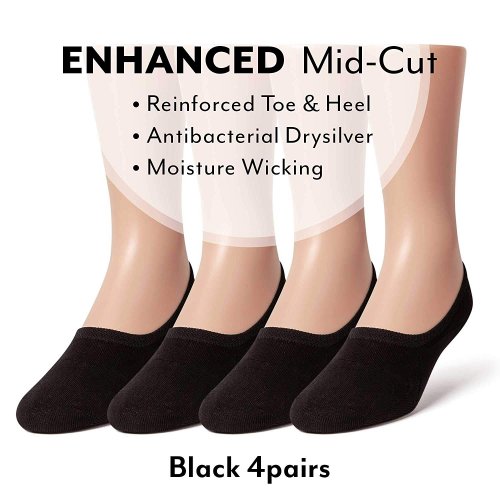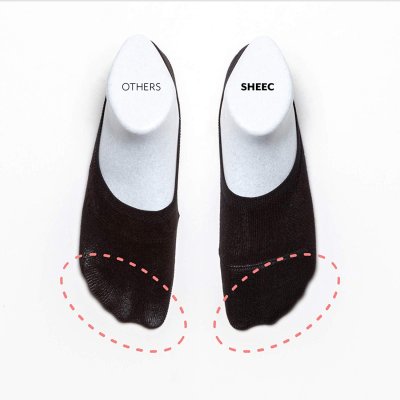 Non-Slip Silicone Heel Grip
A Variety Of Colors
Great Sweat Absorption
Stylish, Hidden, Essential, Easy, and Comfortable. The first letters of those five words combine together in that order; creating the word that sounds like "chic." Sheec was born in 2012 in New York City. "Literally." An in; creator had a wife that's giving birth to a child. And the wife / future mother was asking the question, "Why are there no comfortable fashion socks in one of the top fashion capitals in the world?"
Instant Comfort & Invisibility
With a low cut style and smooth, flat seams; Sheec's SoleHuggers are able to hide comfortably inside your sneakers and casual footwear.
Material And Care
An unknown mixture of cotton, polyester, and spandex provides your feet with the best comfort and elasticity. But extra care must be given to them when you're washing them. It's recommended that you wash them in cold water and hang them out to dry.
Cost And Value
Amazingly, these come off as inexpensive. And this is from an area where "money is no object." Your best bet would be to buy them from their online site.
8

. Thirty48 Boat Shoe Liners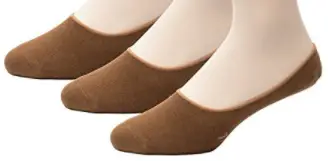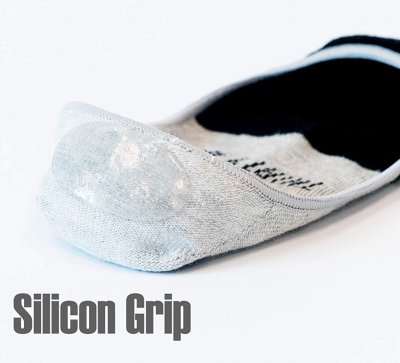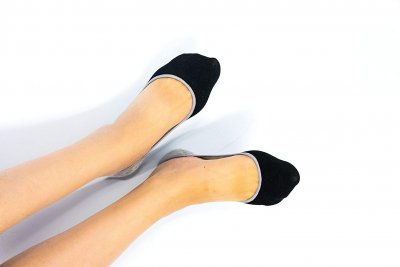 Non-Slip Silicone Heel Grip
A Variety Of Colors
Moisture Wicking
Stays On Your Feet
The good people over at Thirty 48 (in Orange County, California) want you to replace those socks you bought from one of those big-box stores with theirs. They're the self-proclaimed "socks geeks;" actively focus on creating better socks so you can keep your worries off of the socks you wear.
CoolPlus Fiber
CoolPlus is Thirty 48's ultra-breathable, micro-mesh synthetic fabric. 79% of this (along with 19% polyester and 2% lycra) helps with airflow and keeps your feet cool and dry all day long.
High-Tech Synthetic Fabric
The socks are durable and long-lasting. And it's "contrasting color" elastic cuff makes sure that it stays on your feet. However; it's another type of fabric that needs extra care. So wash in cold water and hang them dry.
Cost And Value
A little more expensive than your average pair; because they're above-average high-tech socks. But don't worry. This Southern Californian company cares for what they make as much as they care for those in need. They're regular supporters of the Special Olympics and other charities.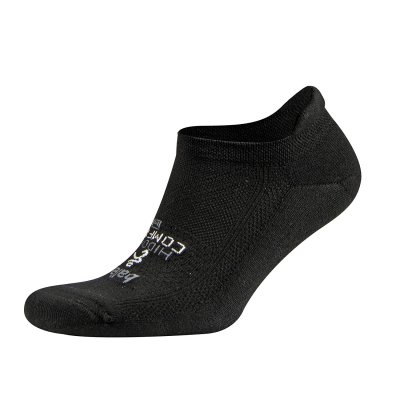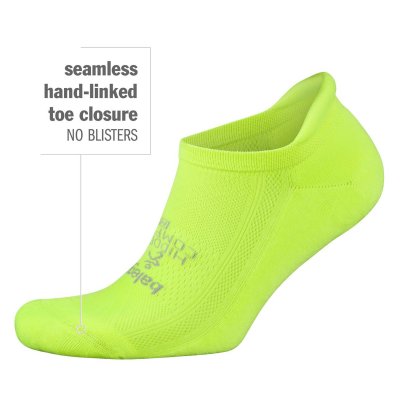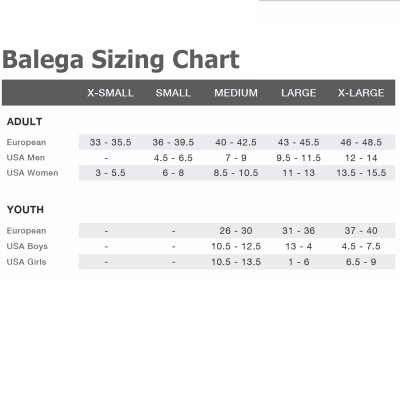 Ventilated
Drynamix Fabric
Seamless Toe
Padded Heel
Another sock that's meant to be used with running or athletic shoes so they're a bit higher than some on our list. But if you're wearing sneakers and want a sock that's going to stay put while you're exercising but be nearly invisible on your feet then these are a good choice. If you're a runner you're also going to like the reinforced heel and toe.
Drynamix Fabric
This specially patented fabric is designed to whisk water away from your feet and keep your feet ventilated and dry because of the specially designed vented fabrics.
Designed for Movers
Everything about this sock is built for people who exercise a lot. There are vents sewn into the sock that will help keep your feet dry and ventilated. There are specially built pads in the toe and heel of these socks and a seamless link to keep the socks from rubbing against your toes.
Cost and Value
These socks are a bit pricier than some of the others on our list, and you only get one pair at a time. That being said these socks are incredibly well designed and well built so we do understand why the price point is a bit higher than some of the others we're showing off on this list.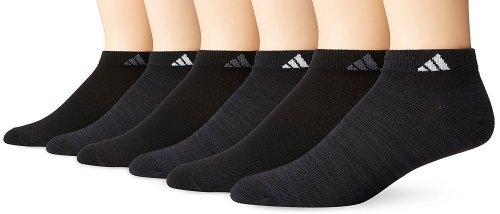 Cotton, Poly, Spandex Blend
Padded at Heel and Toe
Machine Washable
Tough
Another great running sock these Seesily's have a silicone grip on the heel to keep them in place and they have a great cotton, poly, spandex blend that's going to ensure that they stay in place no matter how strenuous your workout.
Machine Washable
The cotton, poly, spandex blend will not only keep your foot dry but will also stand up to numerous washings and never who too much wear.
Contrasting Colors
You get a nice selection of colors with these socks so you can mix and match at will. It's just nice to have a lot of options to choose from.
Cost and Value
This is a great and cheap set of socks. You get plenty of socks for a great price.
Criteria Used for Evaluation

Durability
This type of sock, as it should be with every sock that's created, have been reinforced to make sure they last as long as they can. But sometimes, their longevity depends on the wearer(s). So take into consideration what you are using them for? Do you need socks to wear with your sneakers to the gym or socks to wear with your dress shoes? The more active you are in your socks, the thicker they should be.

Breathability
No-show socks, like other socks, should remove the sweat that's formed from the feet by absorbing or ventilating sweat and moisture. So they need to be cleaned thoroughly after each use or bacteria can form on them causing your socks to be smelly. No one wants that!

Features
The more elasticity, the better socks will stay on your feet without sliding down. So this way there's less hassle of having to pull them up all the time. This sock design seems to benefit most from elasticity. They are able to keep their shape after being stretched out and stay on your feet without making any unneeded adjustments.

Materials
Most are made of cotton, but sometimes, they are made from nylon or a blend. Companies like Stomper Joe have recently taken full advantage of bamboo, an organic material that's been certified for use as wearable fiber. Pretty cool huh? The primary job of socks is to keep your feet comfortable and dry so your new no-show socks will help you do just that!

Value
Finally, we're always going to take the value of the socks into account. We want you to get the most for your money. Now that doesn't mean that what we suggest will always be the cheapest it means that we're looking for products that best balance their price point with their durability and quality. We've done our homework so you don't have to.
Expert Interviews & Opinions
Most Important Criteria
(According to our experts opinion)
Experts Opinion
Editors Opinion
Users Opinion
By Default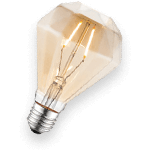 Stay Put
When it comes to these socks, the one thing that's going to matter the most is are they going to stay put on your foot? And that means that they have to be strong enough to stay in place, primarily on your hell through a long day outside, or at work. This is no small thing because these socks are so small they can tend to get pulled down to your heel when they're rubbing against the heel of your shoe. We've done the work for you here, and tried to ensure that the socks we're recommending aren't going to ride up or down.
Frequently Asked Questions
q:

What's The Point Of No-Show Socks?

a:

Sometimes people want to wear shoes without the look of socks. And some people would just go barefoot, but they didn't realize that the foot contains over a hundred thousand sweat glands; leaving the insides of your shoes with a messy collection of fungus and bacteria that would render the shoes smelly and unwearable. They are for those who don't want to go barefoot in their shoes but don't want to rock regular socks that you can see
q:

Who Invented No-Show Socks?

a:

That's a good question and is currently unknown. Their creation was probably a holdover from the general creation of socks that started in the 8th century BC. The first recorded socks of this length are probably the "ankle socks," which have been found in Oxyrhynchus at Egypt's Nile River region; dating between the 3rd and 6th century AD.
q:

Why Are Ankle and No-Show Socks So Popular?

a:

They were popular during the heydays of the 1980s pop culture trends; when MTV first appeared and started playing music videos throughout the world. ZZ Top's "Legs" featured attractive women wearing ankle socks over their stockings and under high heel shoes. We can either say that "now they returned with a vengeance" or "they never left." Who knows? But we are glad they are a trend and hopefully one that is hopefully here to stay.
q:

How Do They Keep From Slipping?

a:

Elastic bands are built right into the socks. These bands keep your socks on your foot without slipping down which can be, oh so, annoying. Some also feature silicone gels built into the toe and heel areas of the socks, keeping them snuggly in your shoe so they don't move around too much.
q:

How Do You Wash Them?

a:

Most of them are machine washable. "Just throw 'em in with your other clothes." But be cares, some may shrink during the wash or drying. So make sure to read and follow the directions carefully. If you think they might shrink, it's better to wash them by hand in cold water and hang them out to dry.
q:

What's The Role Of Cotton In these?

a:

The use of cotton existed dates back to 6000 years BC. Cotton had been grown, harvested, refined, and used to make clothing over the years. It's absorbent and comfortable, so it makes good socks. Used alone, clothing made by cotton does well. But the mixtures of synthetic fibers help strengthen it and prolong its use.
q:

What's The Role Of Nylon?

a:

Nylon is a synthetic fiber that's known for its elasticity and durability. Sometimes, it's mixed with cotton to add make clothing stronger and durable. But socks can also be made entirely of nylon, which is helpful in wicking moisture and sweat away.
q:

What's The Role Of Polypropylenes (Elastane, Spandex, & Lycra)?

a:

Polypropylenes can help improve the elasticity of the socks. Invented by Du Pont in 1959, this synthetic fiber is mixed with other fibers in the socks to help them keep their shape.
q:

What's With Using Bamboo Fibers As Sock Material?

a:

It's true but the process is messy. Bamboo cellulose fiber is extracted from natural bamboo and naturally fabricated. But what generally happens is that synthetic rayon is extracted from bamboo. The chemical used to create viscose rayon, carbon disulfide, is highly volatile. The people who worked around this chemical end up suffering from ailments like heart attacks, blindness, liver damage, and psychosis. However, the end-product does not contain any harmful traces of the carbon disulfide. Another way to extract the fiber is by crushing the bamboo and "retting" it. Retting is a controlled process where you immerse the crushed bamboo in water for 6 to 14 days. The retted material is then dried, cured, and separated to form strands of fiber, which is a better and safer process.
Subscribe to our Newsletter