Best Danner Boots Reviewed & Rated for Quality
In a Hurry? Editors choice:
Test Winner: Tachyon 8" GTX

Danner Shoe Mfg. Company was started by Charles Danner in the early 1930's, in Wisconsin, with the simple goal of designing and manufacturing the perfect working boot for the insanely large forestry industry living and working there. The footwear that used to be "real proof that a lumberjack was worth his salt…" has since become a bit of a cult classic. The hunting, hiking, uniform, and lifestyle boots made in Portland, Oregon now, are still clearly one of the easiest choices for quality, comfort, and toughness. Let's head down the logging trail, and pluck the best of the best, from the gigantic pool of classically inspired, and modern made footwear.

Standout Picks
Criteria Used for Evaluation
Materials
When you truly get to the point of breaking down the core elements of a perfect shoe for one of the many reasons you'd want one of these, it's very easy and important to focus a bit (if not a majority) on the materials. They, in totality, mean a whole lot to the quality, comfort, and use-case/protection of the product themselves. Whether you're looking to replace your footwear for use on a construction site, for those long backpack or hiking trips, or you're simply seeking some awesome footwear to rock around town, the build and make-up of specific pairs can and will adjust your view on your options.
The most common build of footwear made in the 21st Century (at their fancy, more recently built, Portland, Oregon headquarters) consists of a full-blown, 100% Leather top and core, with a full 100% Rubber sole. These can vary depending on the exact model, but don't stray too far away from leather and rubber. Sometimes, this company puts a good large portion of cordera materials on the sides, making for strong abrasion or cut resistance.
Other models will include suede exterior tops, steel or mock steel toe shells, and there are a few variants regarding the shoestring rivets, or hoops.
Keeping in mind the type of activity that you're intending to use these for, will greatly improve your wide range of vetting options, and may dwindle it down just slightly. However, in a lot of cases, you're not going to sift down to a small number, because the majority of those products have very similar builds when it comes to the base materials used.
Style
Whether you want them to be, or not, almost everything you wear (regardless of the reason) will be judged and reviewed by the standards of style. It's a pretty weird concept, especially when considering the purchase of some rugged work or hiking footwear. Style is something that makes every clothing purchase more difficult. Mostly because style is subjective, and beyond that, the styles of generations can sometimes be so volatile that they change from month to month.
We mentioned it a few times in the specific product descriptions, that fashion has clung to work boots like a hot towel, and particular styles like the Timberland Classic, or the Women's Cascade Mountain Boot, are iconic now, and do just as much for your status as a stylish human being, as they do for any sort of protection.
The latter of those two examples, the Women's Mountain Light Cascade is so iconic as of late, that the company even uses that pop culture status symbol in their product page. The Women's Mountain Cascade boot from this company was featured front-and-center in the Searchlight film from 2014 titles Wild, starring Reese Witherspoon, instantly making it one of the hottest hiking footwear options of the 21st Century.
Other formidable fashion choices include the popular silhouette of the Acadia boot, The Bull Run Moc Toe Danner, and the USA Quarry Boot. They, along with almost everything that those designs and manufactures, can easily be worn out in the normal world, though some of them might be a large weight burden to strap to your feet for just a walk, or a jaunt around the local mall.
Finally, the colorways, and raw material colors used in most of these footwear Company offerings give almost all of their products a rustic, hipster, and natural look to them.
If you're on the hunt for footwear that may or may not be worn in public as a normal shoe/boot, then the style of your ideal pair might take front-and-center in the platform of vetting.
Fit
As with all things that one wears, the fit is a pretty important aspect of that choice list and vetting process. And nothing poses a more difficult sizing effort than that of hand-made high-quality leather-based pairs.
These are, the most difficult purchase you might have to make when gearing all the way up for long treks through the brush, or for your new construction gig. However, it is important to note that almost all handmade leather shoes will fit tight upon purchase, and take some time to work in. If you're purchasing these for an epic hike, or a jobsite, we highly suggest working them in prior to wearing them for long stints, or for work. The absolute last thing you want to do is wear high-quality footwear on day 1, to a jobsite, or up a mountain. It will ruin your feet. This sounds weird, and counterproductive, us telling you not to wear them for the reason you bought them, but it's only temporary. Wear them to take the garbage out. Wear them to the grocery store. Break them in a little.
Some products will fit a little larger than they should, and that's due to every footwear manufacturer using different size charts and layouts as every other brand. Most of their products will fit as intended. But, you might run into something a little off. This is where the Amazon footwear purchasing system comes in great handy because due to overwhelming complaint about shoes not fitting properly, there is and forever will be, a "FIT" designation at the top of the product page. You can see, clearly, right above the dropdown menu where you select the size you want, a brief description (based on actual consumer feedback) regarding how the shoes fit.
You will, and should, be familiar with your shoe size in US shoes to choose an accurate size, because those products are made in the United States of America, that will be the most accurate size chart number.
This company does have some footwear that fit a little thinner or fit wide at the toes, so be sure to peek into the customer reviews to get a personal glimpse as to how the shoes themselves fit once they're off the shelves.
Value
While purchasing a well-crafted, expensive, and long-lasting pair can seem like a huge mountain to climb for your wallet, almost every reason why you'll need to spend some premium dollars on those products is clearly seen in the manufacturing, and materials used.
Fans of this Company have (on occasion) reported that their favorite products have lasted up to a decade in length, enduring daily rigorous strain on work sites, or trotting around the globe. The high-quality materials used in the crafting of their footwear, and the absolute adoration for attention to detail, all spell magnificent quality, which translates into higher prices.
However, we will give the company's huge props for not being out of the realm of possibility. Some rare, unique sneakers can go for tens of thousands of dollars, but you won't be finding shocking, or awe-inspiring price tags. They could easily fall back on their historic brand, their iconic looks, and their artisan-style of craftsmanship, but they don't. They want to make the best options for hiking and working, with fair price tags, and a hefty fanbase.
That being said, there are a few different kinds of prices on those products, and the amount in between the top and bottom of their selection can be a few hundred dollars. So, if you're heading into this adventure with a set dollar cap in mind, it's always a good idea to continue vetting based on your budget.
10 Best Danner Boots


There's truly no better place to start that what is considered the quintessential number one footwear for any sort of extreme hiking and workspace. They are one of the most trusted options for those that spend a lot of time on the range, and might come as close to official army fatigue pair that the general public has access to.
Quick Lace
Due to some very clever designing, the Tachyon is one of those small marvels that makes a huge difference in the wearing of the high footwear. Because it's one of those products that go well high above the ankle, there are eight lace loops, but thanks to the use of a particular kind of loop, one can tighten the entire thing with just the single tug of the shoestrings from the top.
Gore-Tex
There's that name again. The popularity and overall reach of the Gore-Tex brand, and the extended quality of the water and weatherproofing of the stuff makes it a match made in heaven for an option as versatile, and tough as this. Feet stay dry, and safe, all in a moveable and breathable shell.
Cost and Value
It might surprise you, as it did us, that the fabulous Tachyon GTX is near-ish the bottom end of the footwear marketplace when it comes to price point, and that's probably a large part of why we put it all the way at the top of the entire list. It's an astounding pair.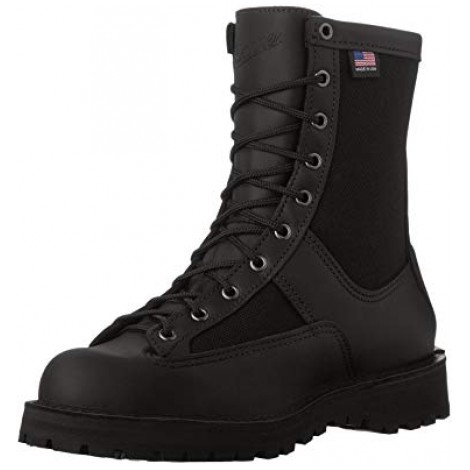 The Acadia holds something of an epic position within the company. Currently, it's like the brands Jordan Air 1's, or classic Timberlands. It's a precise, and contemporary take on one of the simplest, and toughest work shoes on the market pretty much available anywhere. This American-made option are iconic at this stage.
100% Leather
As part of the big goal in the sights of the company while making products like their Acadia is the toughness and rugged protection one would expect from solid work pair, every tiny bit of leather on the Acadia is made from 100% leather. The rest, the non-leather bits, are cordura, another very durable material.
Airthotic Bed
The proprietary technology developed by Danner themselves, the Airthotic sole is a wonderful piece of additional comfort and glam. The tiny pinholes in the sole provide an extraordinary level of breathability and air to your feet, all while designed to add an essential level of arch and heel support.
Cost and Value
Now, we're finally getting a peek at the more reasonable average from the priceline when it comes to this brand, the classically wonderful Acadia is one for the ages. It's got enough toughness to withstand almost anything you need to put them through, with the added extra comforts.

3

. Mountain Light Cascade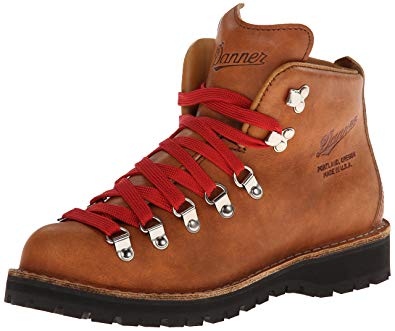 It might not be classically iconic like that of the Acadia, but the Mountain Light Cascade is the holy grail among hipster hikers in this stage of the 21st Century. One of the most popular options among women looking for a great, strong, and fashionable hiking companion.
Status Symbol
Plenty of things in the fashion industry act as sort of a statement, and this has been the case for dozens of decades. The appearance of oneself makes more than just a statement regarding the financial status, but also the character of the wearer. The designer, and more importantly, the Mountain Light Cascade, have acted as a very big statement in fashion for those generally calling themselves hipsters, or similar.
Handcrafted
One of the biggest reasons folks are shocked when their standard sized product arrives and feels a little different, and a majority reason why they are so well durable, is that each of these products are still handmade. This, plus the incredible quality of the materials, make the impeccable shoes just as grand, as they are greatly iconic.
Cost and Value
Nearer the top end of the weight system, this relatively pricey option could very well be the cream of the crop if you're looking for a crazy tough, and well-made product that can also make one heck of a statement.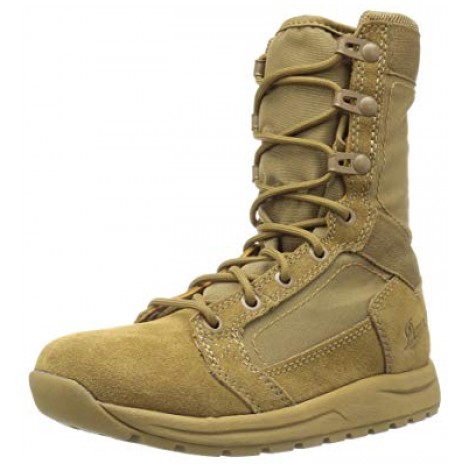 Much like the number one on this list, this Tachyon Coyote Military product shares the stage as one of the most comfortable, versatile, and beautifully crafted options on the market with or without the Danner insignia. They might be a bit older than the newest products, but the Tachyon, either in the Gore-Tex fashion, or these Military versions, are stellar options.
Feather Light
Thanks to a whole lot of ingenuity in the design and comfort factors, this company truly takes the cake when it comes to the tough and rugged boots, being light enough to not stress out your muscles. The Tachyon is one of the lightest options across the board, let alone products made by this designer.
The Full Fatigue Look
Even though there aren't any currently serving armed forces that adorn their soldiers with those products, we can't help but wonder why. What, with their absolutely stellar builds, and this, the Military and Tactical version of the Tachyon, is the spitting image of a stellar fatigue addition.
Cost and Value
Much like the Gore-Tex version of the Tachyon 8 Inch, the Coyote Military and Tactical are on the cheaper end of the marketplace. This is partially due to the fact that the Tachyon 8 Inch is a few years behind in their years. This is not a judgment on how absolutely fantastic these are manufactured.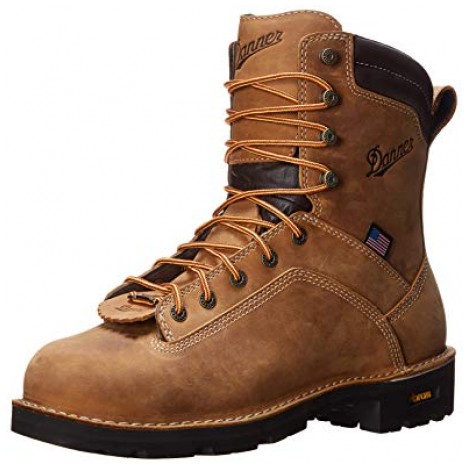 The Quarry is a fascinating pick at the number five spot, mostly due to the fact that had this been any other list, the Quarry might have landed a lot higher up. But as this is strictly a Danner Company list, there isn't enough room on the podium for all of the amazing items in their collection.
Cushioned Footbed
Nothing spells more of an exact difference between pain and outstanding comfort than that of the footbed. Plenty wearers of this brand spend upwards of 8 to 12 hours per day, and it makes a huge difference having a nice, and soft cushion on the footbed.
Vibram Soles
It seems that almost all of those products have an outer sole designed and built by Vibram -- an athletic and shoe company making huge strides in the ergonomics of footwear all over the globe -- and the Quarry USA is no different. This slip and oil resistant sole is one of the best soles on the market right now, and almost all products have it.
Cost and Value
At slightly below the normal average price for the mainline options, the amazing Quarry USA stands up really tall, even among its own family, and with a slightly smaller price point than some of the newer models, they make for a really solid value.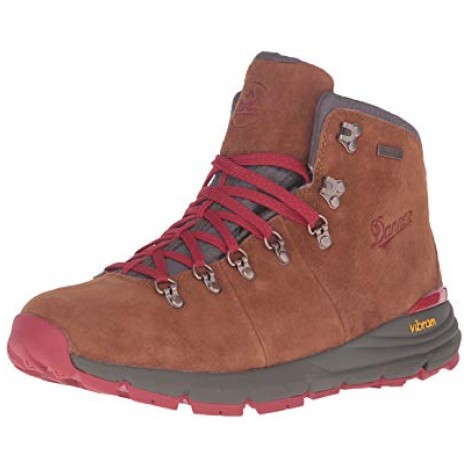 The Mountain 600 is very much like the Mountain Cascade, though it's missing a few of the finer details in the design. They may be just as astounding in foundation, but the Mountain 600 slips a bit on the presentation. There's nothing wrong, per-say regarding the look, it's just not the icon that the Cascade is.
100% Suede
Compounds and materials like leathers and suedes are made for very precise purposes, and used in situations like the crafting of hiking and work boots. The suede, in the case of the Mountain 600, is used primarily to repel and dissuade water from soaking in.
Cushioned, Open Cell Insole
Like we continuously mentioned, over and over again, the cushioning of your insole might be the most important factor in the design in regards to the actual comfort of wearing the shoe themselves. The Mountain 600 is equipped with a high-quality cushioned insole, with open-cells for maximum breathability.
Cost and Value
Just slightly above the general budget end of the scale, the grand, and stellar Mountain 600 is a once-a-decade product that takes very little of your hard earned dollars to obtain and can last for a very long time.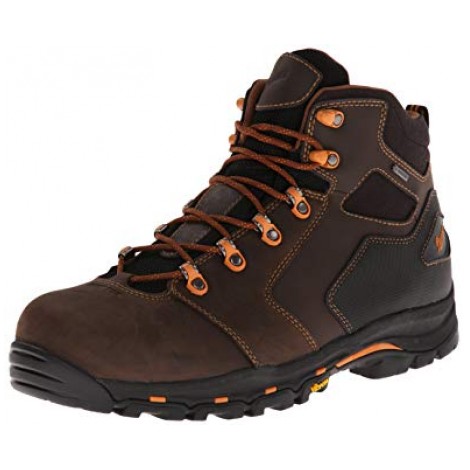 The ultimate in this company's workforce options, the Vicious Non-Metallic Toe is probably one of the most widely recognizable short-collar work boots on the entire planet. The look and build of the Vicious are near radiant with its classic construction site motif, and insanely overbuilt comforts and protection.
Gore-Tex
Here's that name again, cropping up in all the right places, at all the right times, just like we like it. There's nothing more comforting to see in the process of vetting work pair, or waterproof footwear than the sweet and simple logo for the Gore-Tex company. It stands proud, assuring consumers that this product is nearly flawless in keeping the water and weather from getting inside.
A Lighter Toe
Almost every single safety pair has a steel toe. This prevents major foot injuries in workplaces where heavy things are moved. Construction and factory permits usually come with the promise that all those on the premises will comply to their safety gear regulations. Well, thanks to a hybrid compound, the Vicious has a toe cap that exceeds standard certification tests, making the Vicious one of the lightest toe-guarded options on the market.
Cost and Value
Perhaps we may have overspoken when it came to the average prices of the entire line-up at this brand, because we've managed to collect some of their best offerings, and there is a very strong case for this being the median price point. But the abundant quality in the Vicious could ask for such a higher fetching price.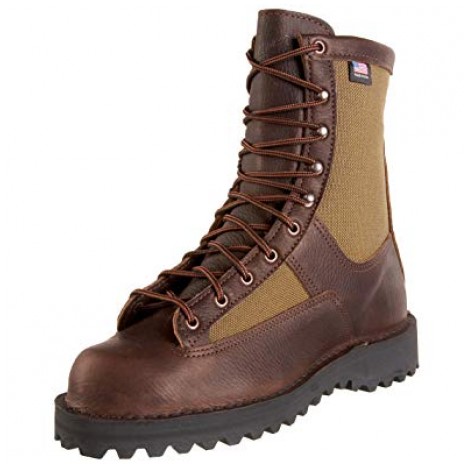 We hear what you're saying, why would a company with a longstanding history in crafting well-made hiking, and work footwear make something specifically for hunting, and beyond that, why that specific product would be made for a specific type of hunting. Well, let's just say that Grouse hunting is something that tracks across many different terrains, and it sure could use its own, finely-crafted, pair of footwear.
Tall and Waterproof
Grouse live in all sorts of locations, but they're mainly found in the underbrush of lush forests. This means that in order to hunt and track them, one will have to make their way through mud, and muck, and puddles, and more. Having high-collar footwear, one that is waterproof is essential to the dry and comfortable hunt of grouse.
Abrasion Resistant
Being that we just mentioned the environment in which you will be hunting said grouse, then hopefully you understand that there are a lot of things gunning to cut and scrape up your legs and ankles. Luckily, this company put extra care into the exterior of their products, making them extremely abrasion resistant, and scuff resistant, and tear resistant.
Cost and Value
Slightly higher in price than the last few options we've put on this list, the Grouse Hunting option is an amazingly punchy and ruggedly designed product. There is a mountain-high pile of value, and even style to go along with all of that.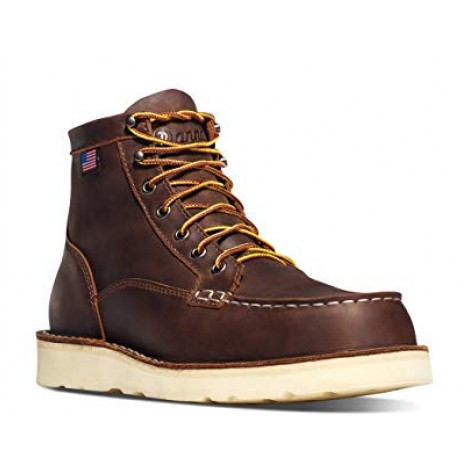 If Timberland has their basic option -- the standard style that is widely worn on the street and out on the town -- then this shoe company has their Bull Run. This, the Bull Run Moc Toe is a whole lot of fashion, without a whole lot of actual protection when it comes to construction work, or other strenuous activities. .
OrthoLite Footbed
People often go out of their way to add extremely expensive, and fairly worthwhile orthopedic insoles into their footwear, but they have helped you skip a step, and have included OrthoLite Insoles already inside, bringing a small version of the big game, directly to your doorstep with the purchase of these.
Great Sole
Along with their already stellar ability to not slip or skid on oily or slippery surfaces, these fabulously made soles are specifically treated versions of rubber soles meant to cause no skids, or marks on any surface or floor. This can be extremely important, especially for those looking to wear these as a fashion piece.
Cost and Value
At our newly divulged average price range, there's not a whole lot that isn't tempting about the Men's Bull Run Moc Toe. It's a piece of fashion history and would look good at almost any outfit, at nearly any location you could possibly want to wear them to.

10

. Mountain 600 EnduroWeave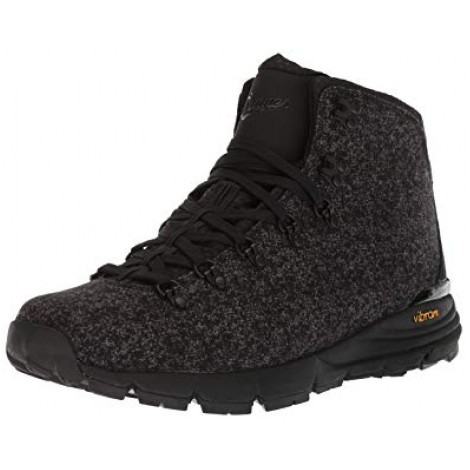 Every now-and-then a clothing or accessory company attempts to step out of their lane and do something that mixes more than just the world that they know so well. That's where the Men's Mountain 600 EnduroWeave comes in. It's an absolute stellar product for both fashion statement, and looks, but it was a bit of a miss in the actual Enduro portion, but we thought it such an awesome shoe in general, we had to include it on our list.
Vibram Mega-Grip Outsole
In what proves to be the most lucrative, creative, and probably best collaborations between Vibram and this brand yet, the Men's Mountain 600 EnduroWeave is the highlight of the ambitious branding and manufacturing crossover. It's a very well-built option that is very much a fashion statement shoe as well, mimicking some of the more recent trends in sneaker design of late.
Everyday Hiker
Speaking of that classically relevant 21st Century sneaker fashion, the Mountain 600 EnduroWeave is pretty much the Yeezy of the mountain. And while we do think these make a fantastic option for hiking, they should be considered more of a sturdy everyday shoe. An around-town option.
Cost and Value
Perhaps the lack of robust work-site build in the Mountain 600 EnduroWeave plays a direct role in it being slightly cheaper than almost any other product on their shop. It's a fantastic product but doesn't have the make-up on the exterior that a proper work or hiking shoe needs.

Subscribe to our Newsletter