Best Tennis Skirts Reviewed and Rated for Quality
In a Hurry? Editors choice: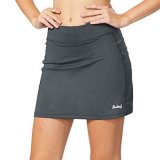 Test Winner: Baleaf

When
tennis
first started to become popular in the 12th century, women were forced to wear long skirts that made it difficult to move in and thus make it harder to play the popular
sport
. Luckily for women,
fashion
and sports dress have changed over the years allowing women to wear clothing that helps them play their best. A good tennis skirt can make or break your game and you want to make sure you are finding one that is comfortable and easy to move in. Technology has helped develop breathable materials that can also absorb sweat, prevent chafing, and allow easier movement. And we wanted to make sure that picking out the best skirt for you is easy and fun. So we put together a list of our top favorite tennis skirt to help you find something that matches your style while accommodating your skill level.
Standout Picks
Criteria Used for Evaluation
Materials
At first, tennis skirts were made exclusively with cotton, but as the game got faster and more physical the need for a lighter and more breathable fabric became necessary. Today's sportswear is usually made from cotton, polyester, spandex, or some sort of combination of these materials. Here are some pros and cons of these fabrics to help you make a better decision:
Cotton – This is a natural fiber that is softer and gentler on your skin than polyester. It is a very breathable fabric that absorbs moisture and helps keep your body's temperature balanced so you don't overheat. It's also biodegradable and made with little chemicals, which is a big plus if you have sensitive skin. It also holds dye very well to provide a deeper, truer color.
On the negative side, cotton tends to shrink when washed and will lose its shape over time. And although it is great for absorbing sweat, it doesn't dry very fast and that can cause the fabric to stick to you. Although cotton can be very strong, it is not as durable as synthetic fibers.
Polyester – This man-made fiber was made to be tough and durable and can withstand the wear and tear sportswear face during active physical activities. It also does a great job of holding color and fades less than cotton. However, it doesn't produce the same type of richness in hue as its counterpart. Also unlike cotton, polyester doesn't absorb moisture as well, which means it dries very quickly. Unfortunately, polyester doesn't have the same breathability as cotton. However, modern technology has allowed it to be engineered to wick away sweat in order to keep you cool and dry. This fabric also has the benefit of being resistant to wrinkles, which means it is easier to care for and saves time by not needing to be ironed.
Spandex – Spandex is another man-made fiber that is popular in sportswear. It is a very strong and lightweight material that also stretches easily to fit your body's form. It is resistant to wrinkles and holds shape very well. However, it has its disadvantages as well. It's not very heat resistant and doesn't absorb perspiration. It's also not ideal if you have sensitive skin or allergies.
The best thing to do is look for sportswear that is made with a cotton and polyester blend or a polyester and spandex blend. These tend to provide the most comfort, durability, and breathability.
Style
The cut of your skirt plays a big role in your ability to move and comfort level. The three most popular cute are the straight, A-line, and pleated cuts. Straight cut usually clings to your body which allows you more freedom in your movement. However, if the material is cheap or you have sensitive skin, it can also cause chaffing. A-line cuts are looser and offer a more flattering look since it doesn't show every detail of your body. They can also get in the way and hinder your movement, so they may not be ideal for extreme games. The pleated cut is a classic design that has been worn in tennis for years. They provide you with great mobility, but they also tend to have more fabric and be heavier than the other two. The right cut for your really depends on your level of play and whether you prefer style over functionality.
Comfort
Waistbands also play a big role in how comfortable the skirt is. The two main designs are banded or elastic and each offers their own benefits. Banded waistbands tend to be stiffer than elastic ones, but they also offer more support and move less while playing for a more secure feel. Elastic waistbands are not as tight and feel more comfortable, but they also tend to shift and move the more physical you get. Waistbands also come in different widths as well. A lot of people prefer the wider waistbands because they hug the hips for more comfort and look more stylish. However, your body type may not support a wider waistband and women with fuller figures don't always feel comfortable wearing them.
Versatility
There are many different types of shorts that make up the inner part of skorts and it is important that you know what type of material they are made. The two main types you will find are basic shorts and compression shorts, which are tight-fitting and hug your legs like bicycle shorts. The regular shorts will let more air flow through, but the loose fabric can get annoying when it rubs against your skin. The compression shorts offer easier and more comfortable mobility, but cheap fabric can cause chaffing and they also show all your flaws. Another feature to look for in built-in shorts is if they have pockets. This can be very convenient and a great way to hold your personal belonging, tennis balls, and even a music player if you like listening to music while you play.
Size
Size is obviously one of the most important factors you need to take into account when choosing the right athletic wear. You don't want anything too big and loose because the extra fabric can get in the way and affect your performance. And if you get something too small or tight, then your mobility will be hindered. You also have to keep in mind sizes can vary from one brand to another. This is why it is important to try them on before purchasing if possible. And don't be afraid to move around and really get the feel of it. You may find that after a few steps, the shorts will start to ride up or the material pinches you.
If you can't try them on first, then you should measure yourself so you know exactly what size you need. Take a tape measure and measure both, your hip and waist. For your waist, you'll want to get the narrowest part, and for your hip, you'll want to measure the fullest part.
10 Best Tennis Skirts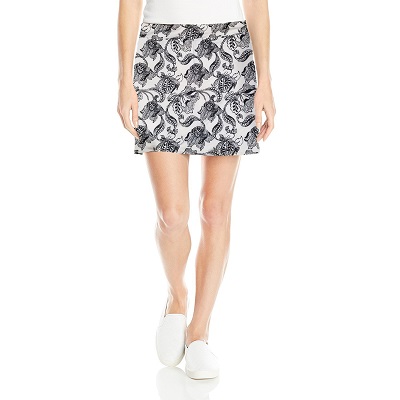 Colorado Trading and Clothing Company take their inspiration from the beautiful outdoor scenery that encompasses the state and the active lifestyle the residents enjoy. They create clothing that is comfortable, fashionable, and revolutionary. Their women's everyday skort is the perfect choice for active sports like golf and jogging, yet fashionable enough to be worn during your normal, everyday activities.
Considering that tennis is a sport that is played during the warmer seasons, it is important that the outfit you wear allows air to circulate and keep your body cool. The fabric used for these skorts are not only breathable, by is lightweight and moisture wicking as well.
Comfort is a major factor when playing sports and can easily affect your performance. The elastic design in the waistband not only prevents it from being too tight but also helps keep it put no matter how much running around you do.
These are easy to care for and can be washed in your washing machine without having to worry about ruining or shrinking them. They are wrinkle resistant which means that they'll always look good without the extra time needed for ironing.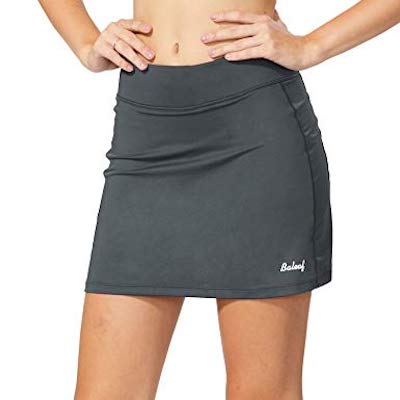 Baleaf designed these skorts with comfort in mind by adding an internal drawcord and a mesh lining that is made with 95% polyester and 5% spandex. The inner shorts gives you the confidence to move without exposure and has a triangle shaped gusset that is double layered and prevents pinching and riding up, increasing your range of movement. You can choose from five different colors, including classic white, black and deep pink.
Not everybody has the same body type, so the ability to adjust your athletic wear is an important feature. The elastic waistband is wide and features an internal drawcord so you can adjust it to fit exactly the way you like it.
The inner shorts feature mesh pockets on each leg providing you a safe and secure place for your personal belongings. And for extra convenience, Baleaf added a headphone cable hole so you can listen to some music while enjoying your activity.
Baleaf uses high-performance fabric that has a moisture transport system to keep your body's temperature balanced while quickly wicking moisture away. The polyester and spandex mix fabric is also very durable and built to last.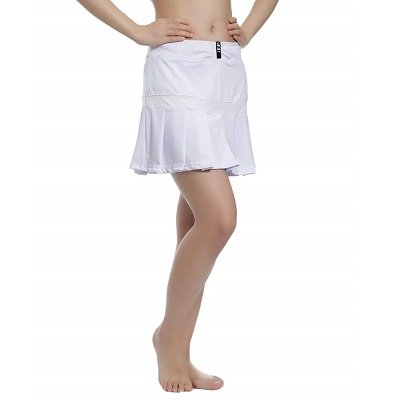 UDIY specialized in women's athletic wear and has a great reputation among female athletes around the world. They use a cotton and polyester blend that allows it to be soft and comfortable on the skin. The two-layer style, with inner shorts and an outer skirt, means that you can look fashionable and still move around and enjoy your game without any worries.
The cotton and polyester blend takes advantage of both worlds. You can enjoy the comfort and breathability that cotton provides, while still taking advantage of the durability and quick-drying capabilities you get with polyester.
Who says you can't look good while playing a sport? The classic pleats design is not only elegant and fashionable, but it also provides an ergonomic design that free and easy movement.
These tennis skorts from UDIY has a great cost to quality ratio and can be used for just about any sport or fitness activity. They also have a wide elastic waistband that can be adjusted for maximum comfort.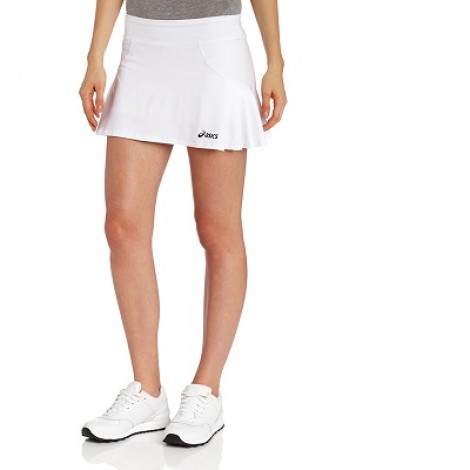 ASICS is a company that believes that the best way to have a happy and healthy lifestyle is through health and fitness. They have been working together with coaches, players, and scientist since 1990 to create innovative athletic apparel that leads the industry. ASICS' Love Skort is just another example of how the company uses technology to create comfortable, yet functional sportswear.
The CoolMax Crotch Gusset is a patented design that is breathable and quick-drying, which not only helps keep your body dry and comfortable but can also keep you from overheating.
Being able to able to move freely and comfortably is important when playing an active game like tennis. The 13 ½ outseam provides you with unhindered movement while the inner shorts protects you from exposure.
ASICS is an industry leader when it comes to athletic wear and these shorts are just one example of the kind of high-quality products professionals and amateurs alike have come to expect from them. You can choose from five different colors that come in sizes ranging from XS to XL.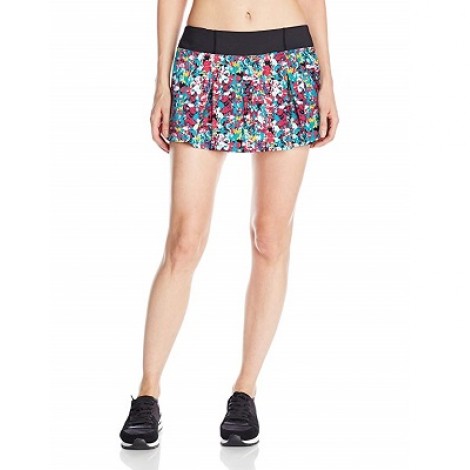 These fun tennis skorts from Skirt Sports come in five unique styles that include Holiday Print, Flyaway Print, and Bubbly Black Print. They are made from a polyester and spandex blend that gives the inner shorts compression while still managing to be lightweight and breathable. It has three pockets, one for each leg and a small hidden pocket on the waistband to hold your keys. These are the perfect blend of functionality and fashion.
Everyone knows that playing out in the sun can be harmful to your skin and can lead to health issues in the future. That is why most people wear sunscreen on exposed skin. However, your clothes don't always protect your from the sun's harmful rays. That is why Skirt Sports designed these to be UPF 50+ for the ultimate protection.
While everyone likes to look good on the courts, you also need clothing that is functional as well. These skorts are made with breathable, moisture-wicking, and lightweight fabric that is perfect for any fitness activity. It also comes with two front pleats, three pockets, and an integrated Sonic Music Port.
These were designed with real women in mind and come in sizes ranging from x-small up to xx-large. The material is not only perfect for physical activities, but it also protects from the sun, sweat, and heat.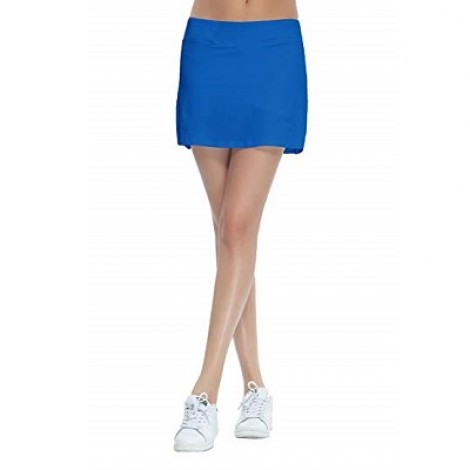 These tennis skorts from Honour Sport feature a chic outer skirt and practical, built-in shorts that give you the perfect blend of fashion and functionality. The fabric is made from a 90% polyester and 10% spandex blend that improves its strength and elasticity while still being lightweight and smooth on the skin to avoid chafing. You have eleven different colors to choose from, including vibrant hues like light blue, yellow, and light pink.
There are some situations in which you need to have easy and quick access to your phone or key. The convenient back pocket and small waistband pocket make this a great pick for circumstances such as this.
This two-layer design provides you with support and comfort. The inner shorts stretch to comfortably fit varies shapes and sizes and the outer skirt features a pleated back that provides unrestricted movement.
These are fairly low priced, yet has many of the same features higher costing athletic skirts have, including fabric that is lightweight and moisture wicking. The color choice is great and allows you to find something that matches your style.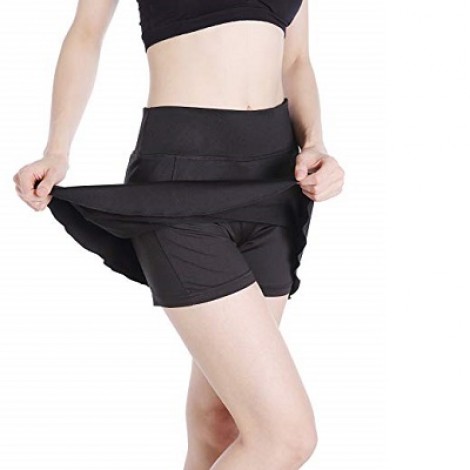 Whether you're playing tennis, golf, or jogging, having the right type of athletic wear can make a huge difference in your performance. Clothing that doesn't allow air to flow through can cause you to sweat profusely and can lead to overheating and dehydration. You also want to feel comfortable while enjoying your physical activity while still feeling confident in the way you look. East Hong's tennis skorts provide all this and more.
Just because you are playing a sport or enjoying a physical activity doesn't mean you can't look feminine and stylish doing it. The two-layer design provides inner shorts that keep you covered and an outer skirt that makes you look chic.
There are ten different patterns to choose from that allows you to find something that matches your unique style. The high waistband also makes them a comfortable wear no matter what sport of fitness activity you are performing.
These skorts from East Hong come in at the lower end of the price spectrum and are made from a polyester and lycra blend that increases their strength. The fabric is also wrinkle-free and easy to care for.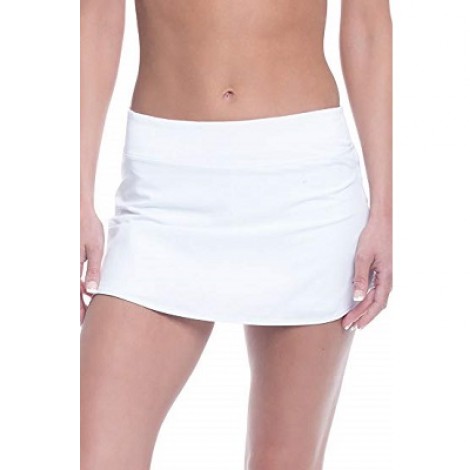 Penn has a long a strong reputation in the tennis world and even makes the official tennis balls for the US Professional Tennis Association. Their clothing line has been worn by some of the best players in the world. Their mini tennis skorts are a prime example of the high-quality fitness wear they consistently produce. They not only wick away moisture for a dry and comfortable feel, but the material was design to move with you and enhance your performance.
You work hard for the body you have. Why hide it with baggy and unseemly clothing that can also cripple your movement. Penn incorporates a streamlined design that not only allows you to move freely but also enhances your natural leg shape with a slimming effect.
Chafing can be a big problem that is not only painful and uncomfortable, but it also hinders your performance. These mini skorts have a flat seams design that prevents chafing and keeps you dry and cool.
Penn is a name that is synonymous with the sport of tennis and recognized all around the world. They have been manufacturing tennis apparel and accessories for over a hundred years and can depend on them for high-quality fitness wear.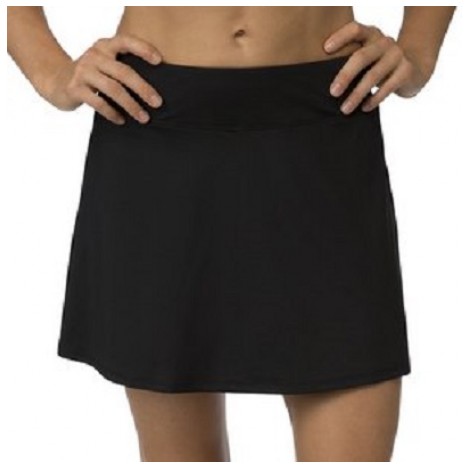 Fila designed the Core Flare Skort to be versatile and stylish enough that they not only work well on the courts, but can also be worn during everyday activities like shopping, running errands, or grabbing a coffee with a friend. At 15 inches, it is long enough to keep you from being overexposed, yet short enough to keep you cool in warm weather.
Overheating is a real problem that athletes face, especially if they are playing outdoors like most tennis is played. The inner shorts come with a patented Coolmax lining that increases breathability and helps prevent this problem.
The Core Flare Skorts were designed to make you look and feel like a woman every time you step on that court. The slight flare is not only flattering but also extends its use beyond the tennis courts to be worn as part of our daily outfit.
This comes in at the mid-price range and has a lot of features that make them a great choice, including moisture-wicking fabric, Coolmax lining, and a style that can be worn both on and off the court.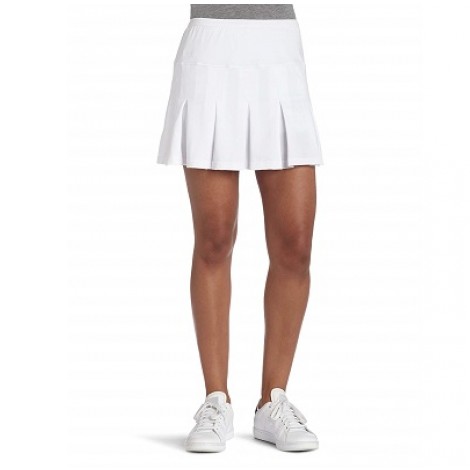 Bolle has a 125-year history of developing and manufacturing sportswear in a variety of different specialty markets, including golf, cycling, and tennis. Their many years of experience can be seen in their multi-pleated tennis skirt, which is a perfect blend of classic style and modern functionality. You can choose from five different colors, including white, navy, and lipstick, allowing you to find a color that matches your personality.
With so many new designs available nowadays, it's hard deciding which is best for you. If you want something that will never go out style, the classic pleated look is the right choice for you.
Bolle takes comfort and style seriously, and it can be seen with the contoured waistband design that hugs your hips for a comfortable, yet flattering look. It also has built-in shorts that wicks moisture away while improving mobility.
The tennis skorts from Bolle are more expensive than most of the other items on this list, but is well worth it. They are wrinkle-free and machine washable for easy care and made from a polyester and spandex blend that increases durability.

Subscribe to our Newsletter