Best Bows For Fishing Reviewed & Rated for Quality
In a Hurry? Editors choice:
Test Winner: Muzzy 7800 Addict

We all know there are bows for hunting but bows for fishing add another element entirely to the mix in that not only do you have to hit your target you have to figure a way to get it back into the boat. A high amount of skill is
required to successfully fish
, and because of that, it is equally important to have equipment that can match the skillset of the user. Previous
experience with archery
is helpful, but won't necessarily translate into you being better bow fisher. All new users start from the beginning, regardless of their background in fishing, archery or hunting. It's truly something you'll fall in love with once you give it a try, and just like the fish on the end of the link, try it and you'll be hooked.
Standout Picks
Criteria Used for Evaluation
Brand
The first things we looked at when judging bows for fishing were the brand or more specifically marketing. None of the choices on the list really stood out in the area, with only a few providing brand-specific features that made them worthy of a purchase. The few that made an effort in this area gained favor on the list, and through the rest of the tests never dropped out of the top ten. This is an important thing to mention, and it shows that some companies are pushing their bow fishing division harder for innovation.
Protection
In a way, the next criterion is tied to branding, and that would be the warranty. A good portion of the companies in the industry provided a good warranty, but our focus was on the impact of the warranty with included accessories. So the focus was off of the bow itself, and went to the line, included arrows, the point and any other materials included with the package.
Brands that had a clear warranty path for their accessories made it into the top ten, which is where a lot of this list was formed. When bow fishing, a lot more stress is put on the accessories rather than the bow itself. Thankfully, those same accessories are priced lower than the bow when you need to make an emergency purchase.
Effectiveness
Power was something that we had to take careful consideration since it favored the compound bow type. In this category we combined power as a pro with weight as a con, leading to a more balanced category. So while compound bows gained several spots for their power, they were also knocked down for excess weight and bulkiness.
Lighter bows moved up the list if they didn't sacrifice too much power, and were also rewarded if they didn't leave out too many of the innovative features of the bulkier bows. Some great brands thrived in this category and made a big splash in the middle of the top ten. They proved to be comparable bows, even to the upper-tier choices on the list. With the right mix of power and weight, consumers could get the most accurate shot possible from a finely tuned bow in the top ten.
Value
There was only a penalty when ranking the bows by price, and it was given to any product that had the exact same features as a lower-priced product. This was also the last time we dropped some products off the list, and at this point had a good idea of what everything would look like. A good portion of the high priced bows was dropped off since they didn't bring anything new to the table. The remaining high priced bows that were on the list can be considered great choices in their approach to bow fishing, and for the number of new features, they bring to the industry.
Use
Our last criteria were based on professional use and gave points to bows that were the most used in competitions. Only three bows were affected by this ranking, as they gained positive traction for their use. This was a much easier category to test since bow fishing competitions are less populated than regular fishing competitions. It also gave some good insight into the features that competitors valued the most and helped to clean up the list a bit on some undecided choices.
10 Best Bows For Fishing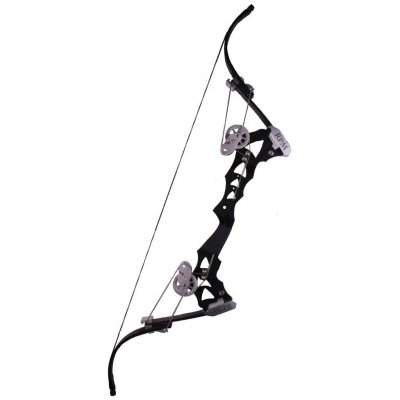 The RPM Nitro is a solid entry into our list. It packs quite a punch has a reasonable draw length and the levers make sure that once it hits the water it's going to zip to its target and get the job done. It's strong built of solid alloys that give it maximum strength and maximum flexibility. For the money, this is a great bow for fishers.
Alloy Riser Construction
What this means for you is that you're going to get a bow that's strong and will take a beating but will also give you enough flexibility so that the draw doesn't pull your shoulders out of the socket on every draw. The timing wheels help this process and so you'll be able to have a long day plugging and pulling fish out of the water.
Full Capture Limb Pockets
Nicely made of aluminum this at least makes it easy to get this bow strung and that makes it easy for you to get out on the water and do some hunting which is all you're hoping to do. And once it's strung it's going to stay put which provides consistency of shot and comfort.
Cost and Value
This isn't a beginner bow but it doesn't come with the price tag that some others on our list and so if you're looking for a low-cost bow that's going to give you a lot of features of much more expensive bows than this, is a great one for your consideration.

2

. Parker STINGRAY OPEN SIGHT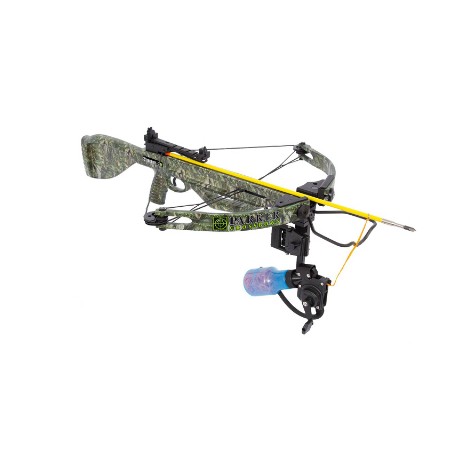 Let's talk about one of the best crossbows in the industry today. This next crossbow may be considered one of the coolest crossbows that are completely worth the purchase. For individuals that want a movie-looking crossbow that is perfectly designed with quality in mind and high durability, users will like and enjoy the Parker Stingray Open Sight crossbow, one of the best available today. Here are two points to consider.
Made Just Right
Using a crossbow is a lot different than a bow, even with the loss of power with the design. The Parker Stingray handles this loss of power well with its design and allows for comfortable bow fishing without sacrificing too much power. Other than that, the bow design is very easy to use and very easy to learn. With a pistol grip that makes it easy to hold and grip, users will appreciate the quality design of the crossbow.
Camo Design
One of the aspects of this particular crossbow is that it is designed with a camo look that looks both aesthetically pleasing and genuine. This style of looks allows individuals to easily use this crossbow out and nature and use it all day long. With that in mind, the camo look is the stock design and it does not come in other color choices.
Cost And Value
As we take cost and value into consideration, we can say that this is one of the best-designed bows in the industry for the price. Now, the style alone makes it ideal for fishing and nature situations, making it a great bow for everyday use for the hunter, hiker, and nature lover. For the price, we can see why it is worth it.

3

. Cajun Archery Fish Stick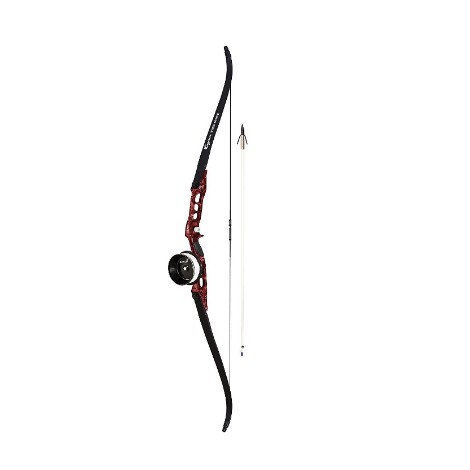 As the third bow on the list, we are eager to share one of the best quality bows available for bow fishing. The design of this bow is durable, long-lasting and users will appreciate the different safety measures that this brand has taken into consideration. With that said, let's talk about the Cajun Fish Stick bow for fishing and what users can expect from this quality bow. Here are two points to take into consideration.
High-Grade Materials
When it comes to the elements of nature, the right gear is detrimental, and the right design only enhances the material design of the gear. With that in mind, users will appreciate the high-grade aluminum material that allows for this bow to take on a lot of abuse. With that said, we can say that users will appreciate the quality of the bow alongside the durability factor that makes it ideal for all-day wear and tear.
Full Out Package
This bow is ready to use from the moment an individual opens the package. With no other factors to take into consideration, users will appreciate that the package includes everything that an individual will need to succeed. The package includes everything from a drum reel with the line to an arrow with Piranha point and roller rest. This is a package deal that only some other brands can match!
Cost And Value
When we take cost and value into consideration, we can say that the quality of this particular bow makes it ideal for everyday use for individuals that want quality and durability. With that said, we believe that the value is worth the price and users will appreciate the high-quality design. Now, it can be considered more expensive than many fishing bows out there, but it is designed for the professional fisher bower.
4

. Mudd Dawg Bowfishing Package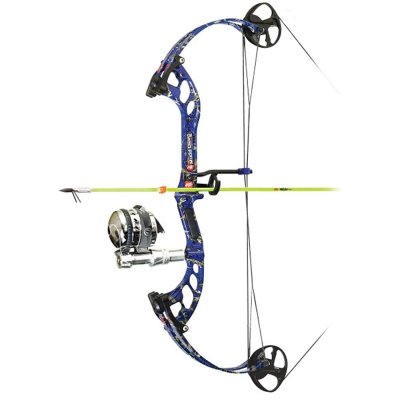 The reason we like this kit so much is that it's a plug and play bow fishing kit. Not only do you get a great Mudd Dawg 32" bow but you get all of the fixings to go along with it so you can get out on the water the moment this bow comes in the mail. This bow also looks really great, it's got a cool camo pattern and it's made in the USA.
Muzzy Bowfishing Kit Included
Muzzy makes a great kit and what you get is a spin reel and seat, one snapshot rest and one fish stick arrow. You won't see a lot of packages coming this fully loaded and even when they do they're don't come with high-quality gear as the Muzzy Kit. Mudd Dawg really wants to get you out on the water and get you fishing as soon as possible.
Long Axle to Axle and Draw Length
This is a big bow with a 32" length and it'll have plenty of power on a full draw and it will speed off your bow and get to your fish with enough strength to bring home dinner.
Cost and Value
A great cheap bow that comes fully enabled and the goal is a simple one to get you out on the water hunting quicky and effectively. If you're looking for a great starter bow than the Mudd Dawg is the way to go.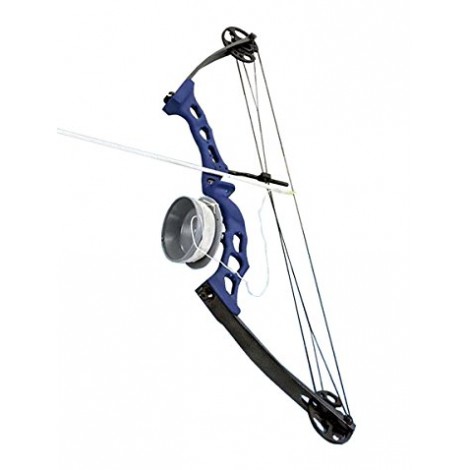 This complete set is underrated but offers many different quality design features that users would not expect. Whether it is the design, the color choice, or the quality of the bow, this bow kit has made it on the top ten for two obvious reasons. Let's talk about the Scuba choice Bowfishing Adult Compound Bow and what users can expect from this quality bow fishing set.
Perfect For All Sizes
The bow isn't too big or too small, striking a very familiar middle ground with its 38-inch length. It can be used by both children and adults and might be a great bow to use when teaching teenagers how to bow fish. With that in mind, it is also very durable, making it ideal for the starter fisherman or individual that may have an accident and drop the bow. With that said, we believe it is better for the beginner or intermediate fisherman.
The Package
This is the perfect starter package for individuals looking to have all of the needed essentials of a quality bow. This bow kit, in particular, comes with a bow, an arrow, and a reel that is about 55ft in length. With that said, users can easily learn how to bow fish with this set that is also inexpensive, in the case of an accident.
Cost And Value
hen it comes to cost and value, we can say that this is one of the best-priced bows in the industry and we believe that users will appreciate the quality design alongside the inexpensive price. For the price, it is ideal for beginnings and users will love learning to bow fish with this particular set. With that in mind, it is valued well and users have mentioned that it does the job that it is intended for.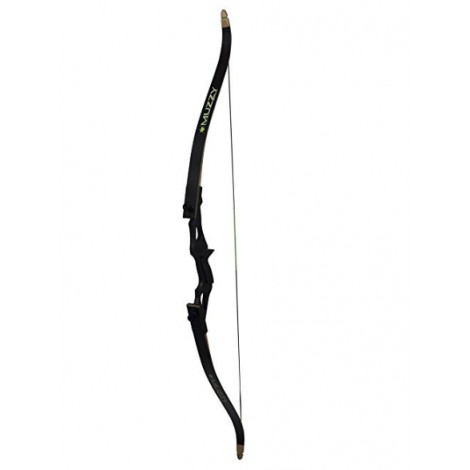 The Muzzy 7800 is a minimalist bow that can be used when you don't want to lug around a heavy fishing bow. It packs everything into a tight package without leaving out essential features for bow fishing. With that said, we are eager to talk about the two quality features that users can expect from this fishing bow set. Let's begin with the first one.
Great Minimalist Design
As a recurve bow, this is exactly what you're looking for in a lightweight piece of equipment. At only 2.25 pounds, it is also suitable for young users that want to get into bow fishing. Other than that, this bow is perfect for beginners and ideal for compact storage or holding it for long periods at a time. Parents will enjoy teaching their kids how to bow fish with this particular bow due to the minimal design that removes any potential danger.
Magnesium Design
What is the purpose of a magnesium riser? Well, we will tell you that when it comes to this particular manufacturer, they took quality design and benefits in a new direction. For example, the bow, in particular, is designed with a magnesium riser that allows for added strength and vibration reduction. Other than that, users will appreciate the quality of the material which allows for better use.
Cost And Value
As we take cost and value into consideration for this particular product, we believe that for the simplistic design, this may be one of the best bows available today. With that said, the value of the bow is well priced and users will appreciate the price considering that it offers minimal features. However, it is still touted as one of the best for beginners and individuals wanting to learn how to bow fish.

7

. AMS Bowfishing Water MOC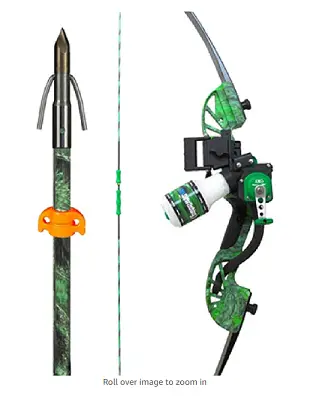 The AMS Bowfishing Water MOC is great looking with an awesome green color and koi accents. This bow is easy to assemble and disassemble which means it takes up little space in the vehicle.
Waterproof Seal
In addition to the look, the limbs are laminated wood and the riser is made with machine magnesium and is sealed. This means there is no need to worry about water soaking in. This also means that the bow is strong and durable.
Easy Accuracy
Finding the best accuracy with this bow is easy due to its structure. This structure also makes it ideal for snap shooting with a brace height of 7.75 inches and a draw weight of 45 pounds at 28 inches, resulting in hard hits to the target.
Cost and Value
When considering the cost and value of this bow kit, if you are willing to let loose a little with your budget this may be the bow for you. It is designed to last years, good for everyday fishing, and comes with plenty of components.

8

. Gen-X Cuda Bowfishing Kit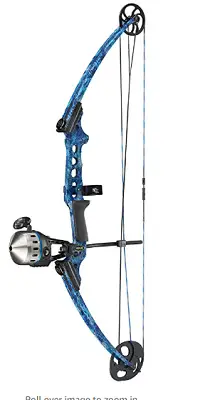 The Gen-X Cuda Bowfishing Kit is ideal for beginner and veteran shooters alike with easily adjusted draw weight from 25-40lbs. This bow is also excellent for snap shooting fish with finger savers included in the kit.
Improved Draw Cycle
Similar to Gen X, the Gen-X Cuda features the same progressive let-off technology. This allows for an improved draw cycle. Draw length is from 21 to 30 inches which is great for adjustability.
Essential Components
This bow fishing kit includes everything needed for a long day of fishing. Kit includes heavier grade reel, fiberglass arrow with safety slide, finger savers, and more.
Cost and Value
One of the higher-priced bows on our list; but, when you consider the cost and value of Gen X Coda it is worth the couple extra dollars. As stated in the cons, one of the only things that could have made this bow better is having a bow stringer included in the kit.

9

. Cajun Bowfishing Sucker Punch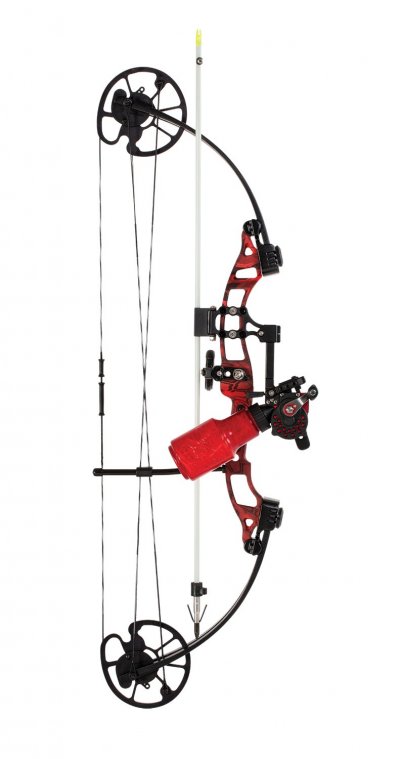 Another great bow that's all ready to go. You have a great 50-pound draw, and a Cajun Winch reel and two arrows so you can be out on the water right away. It's compact and deep cam grooves so you won't have to worry about the string moving off the bow.
Cajun Winch Pro Reel
This is a great reel that also comes with a fishing biscuit arrow rest and two piranha arrows. We really love this add on and we really love that once you have this bow all you need is some water and some fish and you're ready to go.
Blister Buster Finger Pads
This is a huge help if you either forget you're gloves or are just spending a long time out on the wearer.
Cost and Value
A great cheap bow that's all ready to go. It has a powerful draw, it has a great reel package and it compact and ready to go.



Equipped from top to bottom with everything ever needed for bow fishing, this 2017 model may be named one of the best bows in the industry, hence why we left it for last. With that said, there is nothing wrong with having all of the tools an individual may need to properly bow fish. As the last product on the list, we are eager to share the AMS Bowfishing Juice Bow Kit, the best bow kit available today.
The Best Design
The design of this bow may be considered the best design available today. It is extremely appealing, high quality, and has five stars. Other than that, the design is extremely durable and can withstand the test of time. However, it is the color choice that makes it stand out. With a bright orange design and a black frame, users will appreciate the quality design of this bow.
The Features
So what makes this bow one of the best is that it is properly designed with every feature needed for an individual to easily be able to use the bow. With that said, the bow has different features from an AMS Bowfishing Tidal Wave design, to the Nock Point feature and a Chaos Arrow. With that in mind, users will appreciate the quality of the bow alongside the durability.
Cost And Value
For the value, this bow is exceptional. However, the price is extremely shocking and users will be somewhat taken back by the expensive price. With that said, we believe that this is the ideal bow for the professional individual that wants quality and design in one awesome and easy to use quality package.

Subscribe to our Newsletter