Best Browning Trail Cameras Reviewed & Rated For Quality
In a Hurry? Editors choice: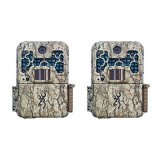 Test Winner: Browning Recon Force BTC7FHD

Technology
is genius, right? It expands our worlds and connects us to others every single day. In addition to connecting with other people, it can also connect us to wildlife. Maybe you are a devoted hunter, or maybe you are an avid outdoors person, either way, it is probably safe to assume that you like to know what is happening with the activity in your favorite area. Is that so? Well, then what are you doing without a
trail camera
! With Browning Trail Cameras you have the ability to check the trails and their activity day and night. Don't you want to
gear up for a successful season
? Capture some rapid-fire movement sequences? Most likely your answer is yes! For those interested in reading further into what Browning has to offer with their trail cameras, keep reading.
Standout Picks
Criteria Used for Evaluation
Effectiveness
It would not be desirable to have a trail camera run twenty-four hours a day. Doing so would consume the battery and the memory of the camera while providing you images that do not even have wildlife. In order to make the trail camera useful, manufacturers have developed solutions that allow the camera to detect if there is an animal nearby. Upon detecting an animal, the camera will either take a photograph of the animal or record video so that when you look at the pictures on the camera, you will see wildlife rather than pictures of a field, marsh, or woods.
A trail requires a mechanism to detect game so that it is only taking pictures of wildlife. This will help the camera save on both battery and memory plus it makes sure that the camera is only taking meaningful pictures. When you are considering the detection features, you will want to think about the detection range, trigger time, and the recovery time. The detection range determines how near an animal needs to be to the trail camera in order to trigger a picture. The trigger time is the lag time between detection and when the photograph is taken and the recovery time is how much time is needed to take another picture after it has taken a picture. Cameras that have long detection ranges with fast trigger and recovery times will cost more so you will need to decide what sort of features you need in the camera's detection.
Visibility
One of the things that you will be advertised repeatedly by manufacturers of trail cameras is the quality of picture that the camera is capable of taking. This is an important part of a trail camera purchase because higher priced cameras will take higher quality images while lower quality cameras take lower quality images. When you are picking out a camera, you will want to think about the quality of the image because the image quality is directly tied to the price. There are some instances where you will want to own high-resolution cameras but on the other hand, having one may not make sense.
Power Source
Trail cameras need a source of electricity in order for them to operate which means that you will need to think about what sort of power source the trail camera uses as well as how long the power source will last. The more energy efficient your trail camera is, the less you will need to go out with the camera to change the batteries. There are a few different power sources that are common for trail cameras which include internal batteries, external batteries, and solar power.
Capacity
Trail cameras need a place to permanently store the pictures and videos that are taken. There are essentially three places where the camera can store an image. The first place is an internal memory store, followed by expandable memory storage such as an SD card. Finally, newer cameras that have a connection to the internet can store pictures in the cloud, which is essentially unlimited storage. The number of memory matters because you will need to come and check on the camera more often if it does not have a lot of memory. You should always be conscious of memory because more memory means less maintenance.
In today's world, memory is normally measured in Gigabytes but it is possible that you may still see some trail cameras that still measure memory in megabytes. More gigabytes means more room for pictures and videos so you are looking for the largest number possible when you are judging memory. When you are shopping, you will notice that a camera can have internal memory and then possibly expandable memory. Whenever possible, you should always get a camera that has expandable memory.
Style
When you starting looking for a trail camera, you will run into one of three types of cameras. The first kind is flash trail cameras which take a traditional photograph. There are also infrared cameras that take an infrared picture of any animals that set off the camera's detection. Finally, you may run into the newer wireless cameras which are capable of streaming images directly to your tablet or smartphone device. All of these cameras are great options for trail cameras but they will differ in price and the kinds of photographs that they will take so you will want to take your time to become familiar with each camera type prior to making a purchase.
All three varieties are great options for trail cameras depending on what your needs as a hunter happen to be. You should always take the time to look at the detail of your camera and decide what sort of camera will work best for you. Some people prefer one sort of camera over another kind but all of them serve the same purpose of taking pictures of wildlife. It is up to you to decide what kind of picture you like best.
BEST BROWNING TRAIL CAMERAS REVIEWED & RATED FOR QUALITY
1

. Browning Strike Force Color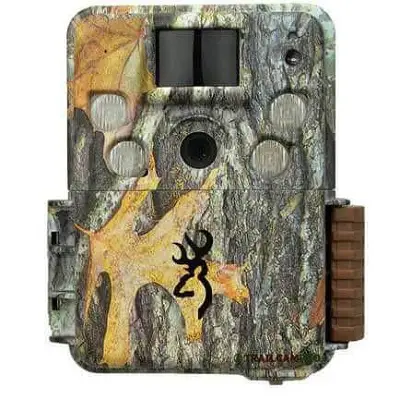 This Browning Strike Force Trail Camera with 1.5 Inch Color Viewing Screen allows you to detect and view the game you are after in many ways that you love. Offering long range detection, high-resolution images and also helpful data on the view screen, you won't be disappointed with how helpful this camera will be. You may just want to pick up a few more to make sure you span the full potential of the area, hunkering down ultimate wildlife coverage.
Moon phase detection
With the moon phase detection that displays on the data strip, you can learn a lot about which animals are active or inactive during a full or nearly-full moon. This data tells you when the moon provides brighter lighting conditions at night that allow certain animals to be more visible to their predators. Also, this feature helps to detect whether the background in your images is brighter due to the fullness of the moon or not.
Long range detection
This trail camera has a motion detection range of up to 80 feet, meaning that you can get a good view of a lot wherever you mount this camera. Add a few more in the area and you will have amazing coverage. Track your wildlife from whatever vantage point with this long-range camera.
Cost and Value
You will feel like you got the best product for your buck with this Browning trail camera, especially because of the high-resolution images and footage and the data that it provides you. Pick up one or a few of these cameras to enhance your next hunting season.
2

. Browning Recon Force BTC7FHD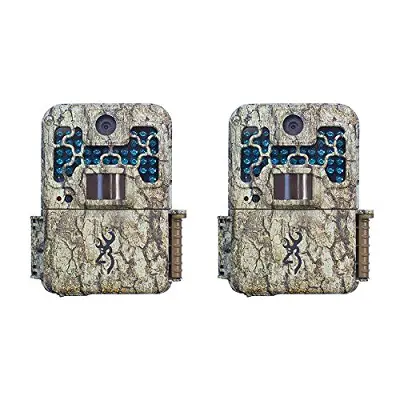 Monitor day and nightlife whenever and wherever with this Browning Recon Force Trail Camera. Its camouflage design keeps it hidden from the wildlife you are keeping an eye on while it helps you keep an eye on them. Included is a Sony 16GB card so you have plenty of memory space to capture the pictures and footage that you need. Simply eject the card from the trail camera and pop it into your computer or other viewing device and see the action at your fingertips so you can devise your plan for action ahead of time.
Clear and silent image capture
It is important that you get a clear image so you know exactly what you are looking at, and this Browning Recon Force trail camera makes sure you get that. It is obvious that the point is to be hidden when capturing the images you want, so for that reason, this camera takes them silently during the day and the night as to not scare away the animals with a shutter sound.
Compact design
This camera is compact and can fit mounted almost anywhere. Because of its compact size, it helps the camera remain hidden. It is easy to carry along with you and your other gear on your hunting trips, too.
Cost and Value
This Browning Recon Force trail camera is a great product for the price. It takes high-quality, long-range HD pictures and video footage both during the day and at night. This camera is a great investment for the reliable performance every sportsman wants.

3

. Browning Strike Force Elite Sub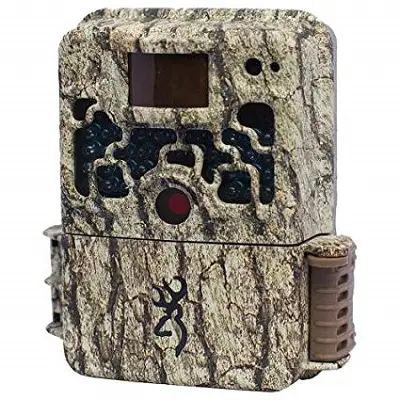 This Browning Strike Force Elite Sub Micro 10MP BTC5HDE Trail Camera is similar to the Strike Force HD 850 and the Strike Force Elite in that they all perform highly. Where this one differs, however, is that the Strike Force Elite Sub Micro trail camera is equipped with a zero blur technology so that all of your images and footage come out clear and it is also water and weather-resistant so you can be worry-free leaving it out no matter which season it is. You will be able to monitor all of the action that occurs all year long with this trail camera.
Zero Blur and quick motion trigger
Get clear day and night shots with this Browning Strike Force Elite Sub Micro trail camera with its Zero Blur technology. Paired with the quick motion trigger speed, you will be able to capture clear movement sequences from anything that crosses the camera's path.
Water and weather-resistant
This camera is in work-mode 24/7 working off of motion detection when it is sunny, raining or snowing. Just because the weather starts doesn't mean the action stops. The water and the weather-resistant designed case make sure your camera is protected in order to continually perform.
Cost and Value
This Browning Strike Force Elite Sub Micro trail camera is super-efficient because it works through all seasons and conditions and produces high-quality and blur-free images and footage. It also has a long lasting life and storage. It is a valuable and great product for the price.

4

. Browning Strike Force HD 850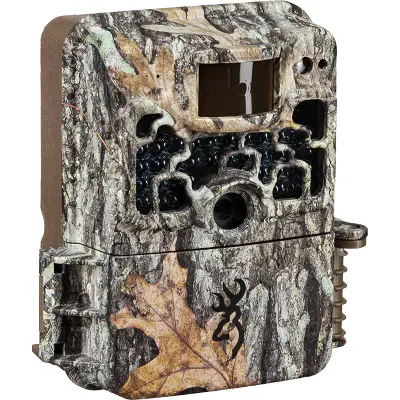 This Browning Strike Force HD 850 Trail Camera is sure to be a useful accessory on all of your hunting trips going forward. It is exactly what you have been missing and need. Easy to carry along and mount upon a tree, this camera will capture high-definition images and footage to be your eyes on the trails 24/7. Day and night, you can see what creatures are around the area, making your sportsman dreams come true.
Rapid trigger speed
With the quick trigger speed on this Browning Strike Force trail camera, you can capture amazing live-action shots in mere seconds. Set it to either the multi-shot mode or rapid-fire mode and catch up to 8 incredible movement sequences almost instantly.
Video with sound
This compact camera hides away easily and captures amazing video footage with full sounds. Hear fawns calling out to does. Hear bucks grunting. You will feel like you are sitting right there in front of any of the creatures you capture on film.
Cost and Value
This Browning Strike Force trail camera is easy to use, lightweight to carry with you and produces high-quality images and footage, therefore making it a great product for the price. You will be amazed at what you capture.

5

. Browning Strike Force Camo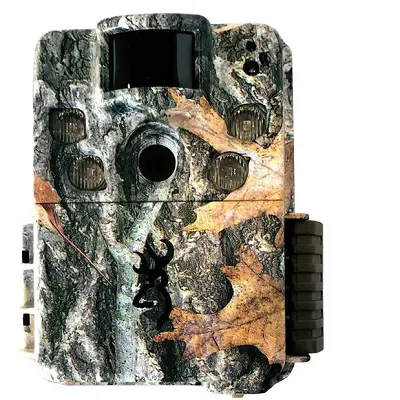 Browning Strike Force HD Camouflage Trail Camera is the perfect hunting tool you have been missing until now. It mounts nicely to a tree, spans a wide range, blends into the surroundings so it is not tampered with and captures images and video footage of anything that crosses its path. Your hunting trips will enhance to a new level once you review the images and video to see which animals are lurking about and what their activity looks like. Then from there, you can start to use these cameras for other things like patrolling your home, too. You will feel all-knowing with this Browning Strike Force trail camera at your disposal.
Clear images
With Zero Blur technology, all of your images and video footage should come out looking clear as if you are sitting right there in front of the action. Whether it is day or night, you will enjoy reviewing the action with non-blurred images. The lightning-fast trigger shot also helps capture precise movement sequences, too.
Full of great range
This Browning Strike Force HD camera is full of great range when it comes to the infrared flash and its detection range. You don't have to worry whether a buck or a bear is face-to-face with your camera (though that could be a cool shot) because the camera range reaches out up to 100 feet so you can still monitor the activity of your game from a distance.
Cost and Value
Since this Browning Strike Force HD Trail Camera is such a handy tool for hunting and patrolling your property, it is a great product and worth the investment. You are sure to feel like your hunting experience is heightened and more successful, and you will feel more aware and secure once you know what activity is happening day and night. And, because it is made to blend in with its surrounds, you won't have to worry about it being tampered with.

6

. Browning Strike Force Elite HD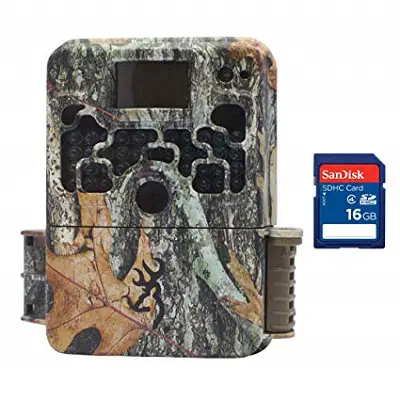 Do not let the name or type of camera fool you. There are the obvious uses for the Browning Strike Force Elite HD Trail Camera and then there are other less thought of ways to use it. Obvious ways include hunting for game or admiring wildlife, less obvious ways include posting it in your yard in order to watch out for theft or for unwanted critters. Either way that you use this trail camera, in admiration or staying alert, you will be pleased with the image outcomes.
Quick response imagery
When it comes to capturing animals, speed is important to capture a clear image. Fortunately, this Browning Strike Force Elite HD trail camera has a quick-fire trigger speed that captures movement well. Whether an animal is sitting, running or flying by, the intersection with the infrared beam range will capture an image. Watch out or it may capture you on camera too!
Useful tool
With this camera set up in your yard our out on the trails, you can begin to learn about the pattern of animals you may otherwise never have known. Capture and study which critters are eating up your hard work in the garden. Then, take the measures to make sure you are prepared to keep them out going forward. This camera will prove to be a useful tool in many ways other than just for hunting.
Cost and Value
This Browning Strike Force Elite HD trail camera is a reasonably priced camera. It is easy to set up and program, it is a useful tool overall and it functions with a high-performance operation. You will quickly learn to love the value of this trail camera.

7

. Browning Strike Force Pro Micro


The Browning Strike Force Pro Micro Trail Camera is similar to the Strike Force HD 850 in that they both highly perform. Where they differ, however, is that the Strike Force Pro Micro trail camera features 18 MP resolution picture quality and offers a 1.5-inch color viewing screen. It takes night-vision images using an infrared emitter that gives off a faint red glow and infrared flash when it shoots videos or photos. It is a highly efficient tool to have in your hunting arsenal or just for viewing activities in your backyard.
High-performance
This Browning Strike Force Pro Micro trail camera is a wonderful high-performance tool to take along with you on your next hunting trip. It has a considerably longer battery life and a spacious memory card. It also has a quality infrared emitter to capture quality 18MP resolution images. It does this by detecting the game's heat and movement from 3-20 feet away, so it won't skip a beat.
Memory and power performance
This camera is incredibly efficient in power and memory. You can store all of the images and video that you gather on the included SD card and from there transfer them to your computer or other smart devices with a card reader. Along with spacious memory, the camera has a 12-Volt external battery jack that runs on 6-AA lithium batteries that can provide up to over 11 months of life.
Cost and Value
This Browning Strike Force Micro Pro trail camera is super-efficient because it is easy to use, produces high-quality images and footage, and has long lasting life and storage. Therefore, it is a valuable and great tool for the price.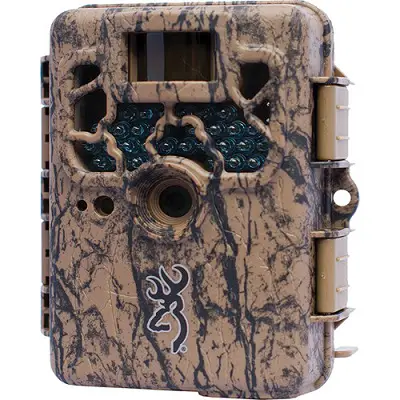 This Browning Trail Camera Range Ops XR camera is perfect for multiple uses: take it out into the woods, put it up in your backyard or have it patrol your driveway. Any way that you choose to use it, you can expect to see the action going on day and night. The undetectable infrared flash catches activity at night and during the day you will get numerous photos of deer, foxes, birds, you name it. Whatever crosses its path. There is no doubt that you will love the end result.
Easy to use
You do not have to be super tech-savvy to figure out how to use this Browning Range Ops XR trail camera, which is an attractive feature! You do not have to be intimidated by technology to reap its benefits, and you should let the camera be a tool to help you out with another successful hunting season.
Long-lasting battery life
This can depend on the temperatures that you put the camera in. Unfortunately, it is true for most battery-operated devices that cold weather can drain them faster. However, this camera holds pretty strong and in moderate conditions, this camera's battery life can last a long time.
Cost and Value
This trail camera is perfect for the sportsman or wildlife lover that is looking for a reasonably priced camera. It is easy to set up and program. It functions with a high-performance operation. You cannot beat the value of this trail camera.

9

. Browning Dark Ops Elite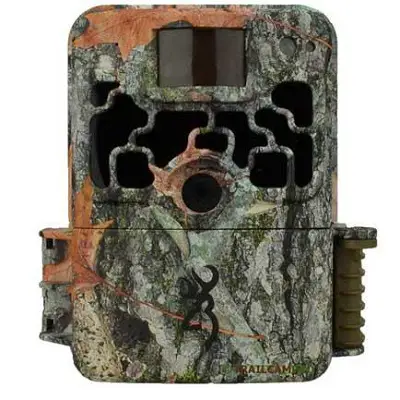 The Browning Trail Cameras Dark Ops Elite trail camera is a great hunting companion, much like all of the rest. You will love this one most in the daytime, though it does offer night vision capabilities as well. Mount it up to a tree in your hunting area or near your post to get the best hunting results this season. With a completely silent performance, no flash to scare off the animals and good quality outcomes, you will be happy you chose this Browning trail camera.
Easy set up and use
This Browning Dark Ops trail camera is easy and quick to set up. Simply mount it to a tree or post with another Browning mounting accessory and you are good to go with rapid response images. It will rest secure wherever you set it up and with its camouflage casing, hardly anyone or anything will notice or tamper with it.
Strong daylight images
Though this camera takes both daylight and nighttime footage, its strength is in daylight images. It produces solid photos and videos with sounds that will make you happy. See all of the wildlife in high resolution with either photos or video footage.
Cost and Value
This Browning Dark Ops trail camera is a bang for your buck! You will get good nighttime footage and even better daytime images. You will be happy enough to purchase a second one

10

. Browning Security Box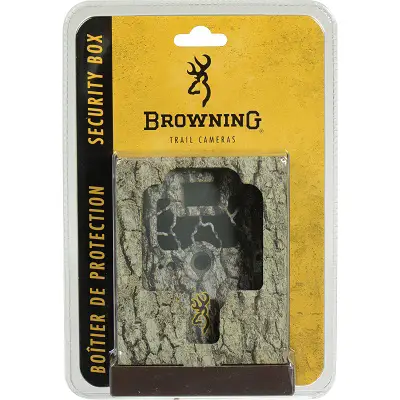 Although the Browning Trail Camera Security Box is not the actual camera, it is an important accessory for your trail camera to have for protection. This security case box protects your trail camera from damage, theft and the outdoor elements that it may face. It is made with heavy-duty construction that is built to last a long time and can accept padlocks to act as an even stronger safety mechanism. Make sure that your camera stays exactly where you positioned it with this durable and easy-to-use Browning security box.
Durable protection
This Browning Trail Camera Security Box is constructed from heavy-duty 16-gauge steel and is powder coated in order to have a long life. It blends well into the tree you choose to mount it on, and it makes sure that your camera is shielded from damage and theft. With two locking channels for Python Cables and up to a 3/8-inch padlock, you will not have to worry about your camera being destroyed or stolen.
Easy to assemble
Since your Browning Trail Camera is made to fit into this security box case, the assembly should be a breeze. Simply encase your camera within the security box, lock it up and strap it to mount it to whichever tree or spot you feel it will give you the best view.
Cost and Value
There is no price for safety. Okay, there is with the Browning Trail Camera Security Box, and it is an affordable one that you cannot pass up for the protection it offers your trail camera. You will surely want to invest in this case if you do not already have one for your Browning trail camera.

Subscribe to our Newsletter