Top 10 Trail Camera for Wildlife & Game Reviewed
last updated:
Apr 07, 2020
Trail cameras come in all shapes and sizes, so it's important to do a lot of research before purchasing one. Higher specifications don't always mean a better camera and going solely by big brands will leave out a lot of great choices. With a small checklist and some facts, finding the best trail camera takes only a few minutes. The two big names to pay attention to on the list are Moultrie and Bushnell. There are other big names in the industry, but these two brands have stood the test of time. Even their older models have something to offer when facing off against newer models from other companies.
This is the best product on our list that is currently in stock: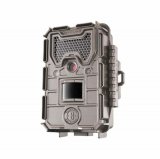 Bushnell 16MP Trophy Cam HD Essential E3 Trail Camera
Why is it better?
Quick 0.3 trigger speed
Durable casing
Detects up to 100ft
Good quality photos and video
Hyper image recovery of 1 second means more photos for you
Long-lasting battery life
In a
Hurry? Editors choice: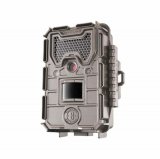 Test Winner: Bushnell 16MP Trophy Cam HD Essential E3 Trail Camera

15
Researched Sources
45
Reviews Considered
16
Hours Researching
61
Products Evaluated
Value
Durability
Model
Use
Battery Life
By Default
Price Comparison
Last Updated (27.09.21)

Price Comparison
Last Updated (27.09.21)

Price Comparison
Last Updated (27.09.21)

Price Comparison
Last Updated (27.09.21)

Price Comparison
Last Updated (27.09.21)

Price Comparison
Last Updated (27.09.21)

Price Comparison
Last Updated (27.09.21)

Price Comparison
Last Updated (27.09.21)

Price Comparison
Last Updated (27.09.21)

Price Comparison
Last Updated (27.09.21)

10 Best Trail and Game Camera Reviews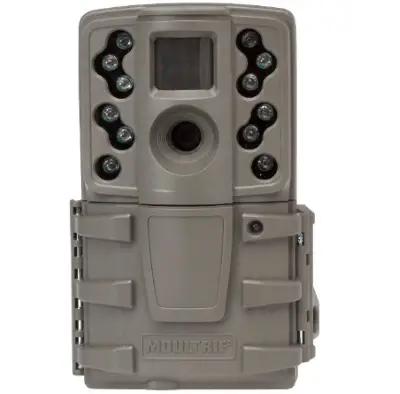 Expandable with wireless options, memory, and power
Long 2-year warranty with excellent customer support
Video is average in day/night
Moultrie game cameras have to always be included in a top ten trail camera list and the company is one of the big leaders in the industry. Barely snatching the top spot away from Bushnell, the A-30 is a rock of reliability out in the field.
The A-5 Gen 2 Reimagined
Their top-selling A-5 unit was everything you'd want in a camera, so they improved it by making it smaller which makes it the best game camera on our list. Along with the new size, they also improved a lot of the features, especially the battery performance.
The Flash
Some love to see what is lurking in the woods at night. While others tend to be creeped out by the mere thought of such things. Here is the solution to the dark photos where you can barely see the animal's eyes. The flash on this provides more illumination so you get a better picture quality.
Cost and value
It's astounding that this is the lowest priced camera on the list, yet one of the most advanced. Customers will definitely get value with this purchase, even as an emergency camera. The top three spots on the list are a tossup, with no bad choice between them. Consumers looking for the most reliable option should settle with the Moultrie A-30 Mini.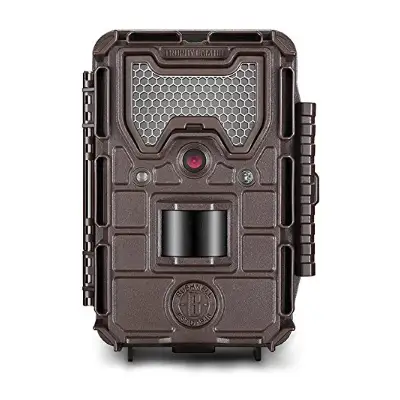 720p video is top-notch for the resolution
Better than the Aggressor in every way except photo quality
Bushnell is on the list back to back, this time with the more conservative Trophy Cam HD Essential. Buyers that don't care much for wireless functionality in their hunting cameras will prefer this model.
Long Infrared Flash Range
With good positioning, you can take advantage of the 80ft. flash range. And with excellent positioning, you can completely monitor an entire zone without missing anything.
Trigger Speed
Having a slow trigger can be a problem in obtaining pictures before the wildlife runs off. too slow and there will be photos of leaves and trees. Bushnell provides you with an option that has a phenomenal speed for capturing pics at a moment's notice.
Cost and value
Since there is no wireless functionality in this model, the price goes back down to average. It is a great tradeoff for the value and keeps a lot of the core features of the Aggressor. Bushnell knows how to make great trail cameras, and was just shy of nabbing the top spot on the list. Buyers won't regret this purchase and will get many years of use out of it.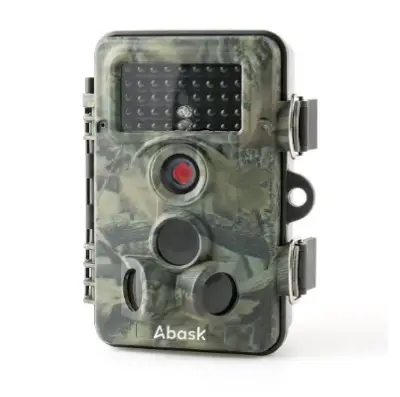 Works as a trail camera or for personal security use
Supports SD cards up to 32GB
Motion control can be tricky to set up
Abask released the best wildlife camera after a positive flow of customer support for the previous model. This version is improved in many ways while still keeping the same great price of the original.
Better Than Before
While the older model was good in its own right, the new version sports an upgraded resolution and better stability. And to top it all, the battery life has been improved.
Range
When placing a camera you want to know what the view range is going to be. This tells you exactly the area that will be covered. It hurts to see wildlife in the corner of the picture because it is simply out of range. This one offers the user a 120-degree field of view. Knowing this you can have an estimate of how much will be covered.
Cost and Value
This is a very powerful camera that sells for an average price. It's everything the original model was but better. When the company decided to improve on their original idea, they created some really good. So far this is the best camera in Abask's lineup, and it will be a long time before it is topped.
4

. Bushnell 16MP Trophy Cam HD Essential E3 Trail Camera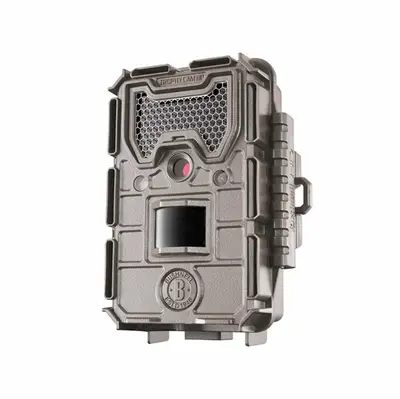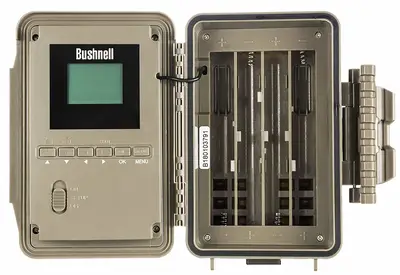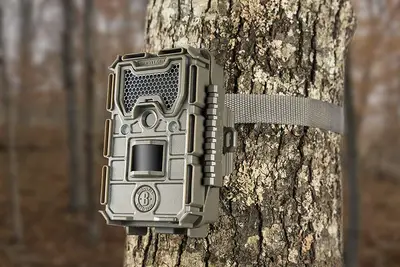 Quick 0.3 trigger speed
Durable casing
Detects up to 100ft
Good quality photos and video
Hyper image recovery of 1 second means more photos for you
Long-lasting battery life
Photo mode might be better than video mode
Taking too many photos in a day could eat through the battery faster than expected
The Bushnell 16MP Trophy Cam HD Essential E3 trail Cost and value camera is a robust and dependable choice for any hunter. It is easy to operate, produces nice pictures and takes them at an impressively fast speed.
Captures wildlife well
As we said, you can depend on this Bushnell trail camera. It captures images and videos of wildlife very well. All of the pictures are colorful in the day time, and the camera can even give you images from at night. The low trigger speed of the camera means that it is faster. The trigger speed is 0.3 seconds with a 1-second recovery. That means that this camera takes a lot of pictures, which means you can become a smarter hunter with all of the information.
Durable casing
This camera has a durable plastic outer casing that can withstand the elements. Again, it's why this one is a reliable choice. The casing has a sturdy latch to keep it closed as well as the USB port cover and batteries cover.
Cost And Value
This camera will give you a bang for your buck for sure. It is robust, withstands all weather conditions and produces great images and video.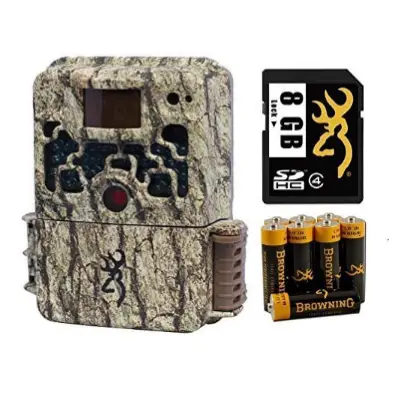 Browning Buck Watch time-lapse viewer software comes packaged
Comes with SD card and batteries
Runs through generic batteries
Browning is the first big name on the list with its popular Strike Force HD. Reliable and fast, this is the camera to use when you want results.
Fast Trigger Speed
The 0.67-second trigger speed will keep all of the important pictures in view. It's one of the fastest available and will make sure that you don't miss any important shots.
Reduces Blur
Long gone are the days of blurry night photos. This one by Browning uses a technology that reduces the blur in the photos. Giving you a clear and crisp view of exactly what is out there.
Cost and value
Average priced, buyers can rely on the years of customer satisfaction surrounding this model. It's still one of the best in its class by Browning. As one of the biggest brands on the list, the Browning Strike Force HD is a must-have purchase. Just make sure to have branded batteries or an external power source, and you're good to go for months.
6

. Moultrie A-25 Game Camera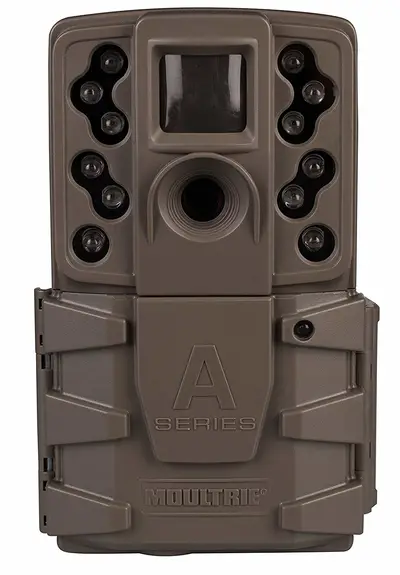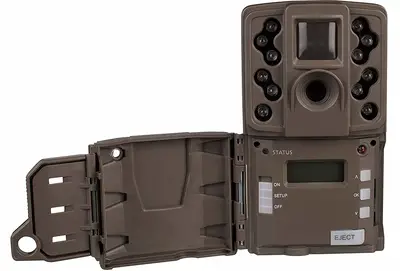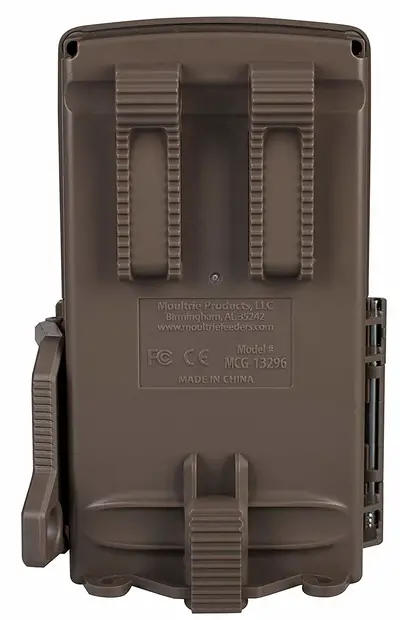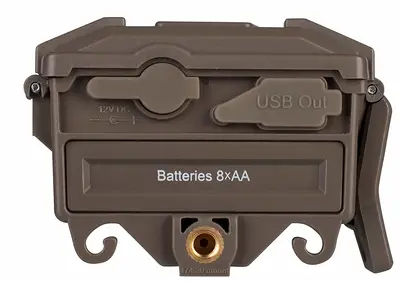 Great image quality
Reliable camera
12-megapixel resolution
720 HD video
Long-range infrared flash
Long battery life
The trigger might be sensitive, resulting in a lot of images (with or without animals)
The Moultrie A-25 Game camera might be a more entry-level one for capturing wildlife in the outdoors, but it's still a reliable choice in our book. With this one, you'll still get crisp images that help you enhance your hunting game.
Fast trigger speed
This trail camera from Moultrie has a 0.9 trigger speed. That's fast. With such a fast performance, there's less of a chance of missing a moving animal. This camera also balances the field of view well, too. Which, combined with a fast trigger speed, means the best images possible for animals that may be moving quickly.
Overall reliable
Moultrie trail cams are known for their reliability. It's a lot of factors rolled up into one. They are quality made, they produce quality images, and they are often technology compatible whether that's with your phone or a solar panel battery hook up. To mention of few. And this one is no different.
Cost And Value
Because it is quality-made and reliable, and because it produces great photos and HD video, this Moultrie camera is worth the price. Which, the price is incredibly affordable. You cannot go wrong with purchasing one (or more) of these trail cameras.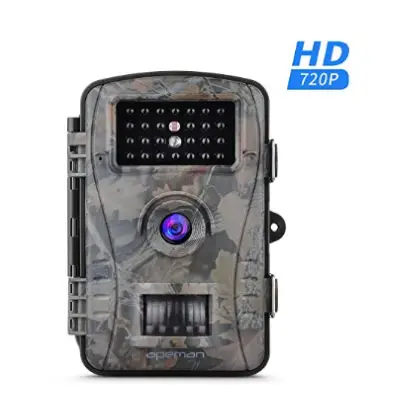 High quality 1080p video
26 Black LEDs with Low glow infrared technology
Only 6 months standby on batteries
Apemen isn't exactly a new kid on the block, but they aren't a familiar name to the average consumer. This didn't stop them from creating one of the best cameras on the list with some pretty respectable specifications.
Water Resistant
Trail cameras will often be left in harsh environments year-round. Apemen housed their camera in an IP66 Spray water protected case, keeping harsh elements away from the camera.
Easy to Use
With a larger screen size, you can set this one up quicker and more efficiently than ever before. It makes for a much clearer display so that you can see what you are actually set on the camera. It also shows better pictures when you are in the field viewing them.
Cost and Value
With some pretty impressive specs, it's hard to believe this is a low priced trail camera. It's one of the lowest-priced 1080p cameras on the market, and well worth the value. The media-rich properties of this hunting camera are a perfect fit for the everyday outdoorsman. Apemen is on the right track with a camera that is already one of the best yet.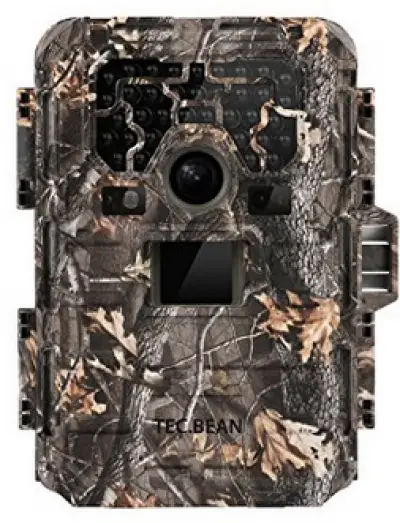 12MP HD full-color resolution
1-9 pictures per trigger (0.6-0.8seg high trigger speed)
1920x1080p HD video with audio record
Protection from rain, moisture, sand, dust, corrosion, etc.
Long night vision range (75 feet)
Alkaline batteries don't last as long
Picture quality decreases as the sun goes down
TEC.BEAN's patent camera counts with HD IR features. Thanks to the highly sensitive Passive Infra-Red motion sensor (PIR), any movement will trigger the camera. Furthermore, the Trail and Game camera counts with a 940nm invisible dark LEDs to support its use in the dark. This camera is very resistant. A tough case and resistance to water, snow, and col make this device an ideal choice for outdoor circumstances like hunting and trace trailing.
Invisible dark LEDs
When things start to get dark, the infrared lights can take clear pictures in black and white in total darkness. The 940nm LEDs can't be noticed by animals or even other people, concealing the device completely while it's active. The infrared system also allows for videos at night. Furthermore, this function is optimized to consume very little power while being used as opposed to other devices that don't last in dark mode.
Motion freeze
The motion freeze patent by TEC BEAN is present in their trail and game camera. This feature is ideal for the surveillance and hunting of reptiles, amphibians, and cold-blooded creatures. Its intuitive engineering reduces the sudden shots provoked by moving leaves or grass; this ultimately reduces the power consumption and the amount of SD card storage space being used.
Cost and Value
The TEC.BEAN Trail & Game is slightly above the average value, but this doesn't speak about its quality. This trail and game camera is suitable for nearly any environment you may need to survey. Invisible LEDs for night activity stay true to their advertisement, producing no bright. An intuitive system makes smart use of the battery, helping the camera last longer. For what it costs, this camera offers a good deal.
9

. Reconyx HyperFire 2 HF2X Covert IR Camera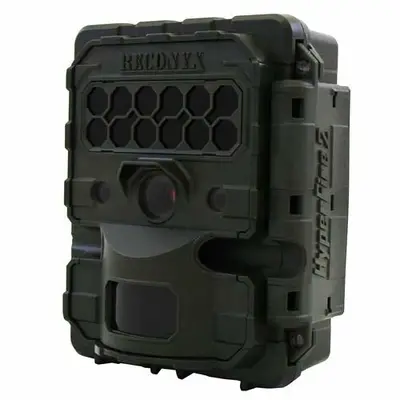 Solid casing
Color day time images
Best-in-class monochrome infrared night time images
Fast trigger speeds
Long battery life
720 HD video
Day images might not be as great of quality as night time ones.
Much like a lot of others on this list, one of the standout features of the REconyx HyperFire 2 trail camera is with its fast trigger speed. That's why we put this one on our list. That, and because it is quality-made, durable and produces good content for hunters all around.
Best-in-class Night Images
Much like others on this list, produce great day pictures with realistic color and clarity. However, where the Reconyx really stands out is with its night images. This camera produces very clear night pictures and has a top-of-class flash range. The contrast of the night images is said to have excellent contrast, too. These are all very handy things when it comes to capturing wildlife at night.
Fast trigger and long detection
The picture trigger speed is 0.2 seconds (one of the fastest on this list. The recovery time is 1 second. So, this camera gives a lot of pictures. The same breakdown for video is 0.24s/4.6s. Also, this camera can detect wildlife at an 80-ft. range, which gives a lot of opportunities to get images of animals around.
Cost And Value
This camera has extra security settings, fast detection, long battery life, and is durably made. It's on the higher price point side, but we still think it's worth the investment if you can make it.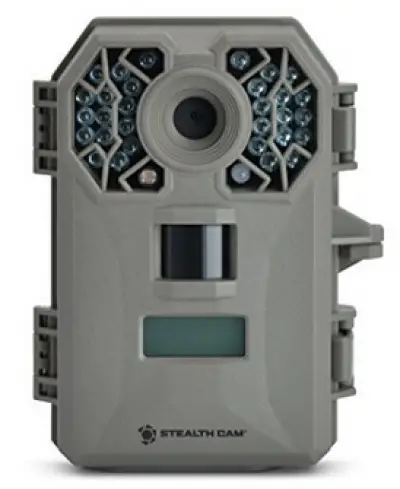 Adjustable resolution and video recording
80ft range infrared emitters with Matrix Blur Reduction
Reflex trigger acts in 0.5 seconds
User-friendly backlit menu programming
Secure lock password protection
Bad customer service from GSM
Several complaints about an early malfunction in the camera
A highly protective case and an intuitive setup come together to form the GSM Stealth G30. This camera gives its users the option to customize their practice with a user-friendly backlit menu programming. Its camo design allows it to blend perfectly into the environment, staying out of sight from pretty much any animal in the surroundings. This camera includes an SD Card slot up to 32GB of space but doesn't include the card itself.
Blacklit menu programming
An intuitive interface lets you access and customizes the settings of the GSM Stealth G30. The backlit menu is easy to read without producing too much brightness, helping you stay on the low while in the trail. Thanks to this menu you can adjust features like the range of focus, the automatization of the shots, the camera resolution and other video recording settings.
Matrix Blur Reduction
Indistinctive photos are no longer a thing thanks to the Matrix Blur Reduction system. It optimizes the camera focus around the target to obtain a clear shot. Its follow-up coordination prevents moving animals from creating a blurry shot. At the same time, this feature helps the quality of the images to stay true to the advertised definition, obtaining live colors and making sure you capture every aspect of the environment.
Cost and Value
The GSM Stealth features a pretty average cost; not too expensive, not too affordable either. It's not the best trail camera out there, but it certainly is good enough for what it costs. The integrated technology, such as the Matrix Blur Reduction and the backlit menu programming really improve this product. Given its quality and the resistance of its components, we believe the price is only fair.
Criteria Used for Evaluation

Value
Price is the first thing we looked at since a lot of the features were similar, even among the best game camera. For products that had higher prices than the rest, they had to show great promise in other areas.
That means a high priced trail camera that made the top ten was exceeded expectations in our other listed criteria. Usually, it would win in the media quality category, but it wasn't unheard of for high priced wildlife cameras to also excel in their durability. Trail cameras are made to be out in the elements for months at a time, so high durability will always be worth the extra cost.

Durability
Durability was our next criteria, and it led to a lot of products being left off of the list. With a lot of the beginning products having incredible media quality, it was a substantial loss of well-known names and generic inclusions. Unfortunately, durability is the one feature that has to be above average, at the very least. This criterion was measured based on the case itself and how well it protected the camera inside. Extra points were given for high weather resistance and long-term warranty programs.

Model
The design was criteria that showed up on our radar and was geared towards how well the products blended into an outdoor environment. By default, the camo was given a high score. Glossy finishes stood out too much and made themselves noticeable when the light hit them at an angle.
So dull finishes were preferred, although we gave the benefit of the doubt to design choices that were made to protect a media-heavy trail camera. Only a few products didn't make the list based on their design. This criterion got rid of trail cameras that were not based on an outdoor premise.

Use
Usability was a criterion that we considered for beginner/intermediate level users. So it covers the product's ease of use, access to advanced controls, quality of the manual and support options from the brand. Trail cameras are powerful devices with a lot of high-end options for capturing media. With so many settings to play with and tweak, consumers may get overwhelmed with the options. A product that doesn't explain these options clearly will put the user in a bad position. The problem with that is bad usability will sour the customer on the entire trail camera experience.

Battery Life
Using bad batteries shortens the amount of time you can leave trail cameras outside. But even good batteries will suffer if the power management features of a device aren't up to standards. We didn't give points out for an average performance with the battery usage criteria. Our points were saved for trail cameras that had exceptional battery usage and options. This includes the ability to use half of the recommended batteries, extended power-saving features, low power modes, low power consumption and access to alternative power options.
Expert Interviews & Opinions
Most Important Criteria
(According to our experts opinion)
Experts Opinion
Editors Opinion
Users Opinion
By Default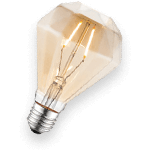 How many trail cameras are enough?
The common consensus is that the hunter will have a better grasp of the hunting trail with more cameras at his disposal. However, some experts will tell you that having a camera in a space of 100 acres is the recommended coverage quantum.
Batteries need quality
If you decide to be penny-wise when buying trail camera batteries, remember that this will make you lose vital images when the battery fails. Lithium batteries are reputed to have longer staying power than the alkaline range. Batteries are also affected by temperature and weather swings. This is a factor that leads to early failure of these prized accessories. Lithium power will save you the aches that come with battery fails associated with cheap products. An added tip you can use is to make sure you are using a camera that is assistive for battery saving power.
Positional changes
A camera can be placed in a different location if you find out that you picked the wrong spot. However, pre-season scouting that is diligently done will aid you in picking the right spot to record the movement of bucks. Knowing a water source, food spot and migratory route will help your positional efforts become fruitful. Animals follow a rhythm like humans; and this means that where they can find food, they will congregate around such spots.
Sunspot
As an amateur cameraman in your high school days or earlier, you would have noticed that images caught facing the sun will give you blurry outcomes. Do not miss this tip when placing your camera during your prey trailing activities. Heat, as well as the wind flow, can also impede your camera focus. So, make sure you pick a spot that will not get deflected by sun rays so easily.
Other Factors to Consider

Advanced Features
Extras was a simple criterion, covering any additional goodies that the brand wanted to include in the package. Usually, this would mean batteries, but it wasn't out of the ordinary for a company to include entire starter sets with SD cards. These were the best, with the cards large enough to be the only storage you need for an entire season.
Starter trail camera packs were given a huge boost on the list, and they simplified a lot of the unnecessary shopping needed after purchase. There weren't a lot of big names that fit into this category, so the ones that earned points for the extras criteria stood out from the rest.

Effectiveness
The last two things we considered when ranking our top ten were quality based; picture and video. This criterion covered resolution, media manipulation options, trigger speed, flash range and night time use. It seems like a lot to cover in one criteria, but these are all of the things that leads to great pictures and video. Trail cameras that falter with their picture and video quality usually score below average in any of the listed subcategories that define them.
Picture quality was easy to sort out and was a lot different than ranking video quality. Without resorting to the strength of the audio, video quality was the hardest to measure. We kept it balanced by not punishing trail cameras that lacked HD options. The standard is still SD for some major brand name trail cameras, so HD is considered a nice bonus for consumers that want a bump in quality.
Video quality compared the day and night capabilities of the remaining cameras. When the video was transferred to a larger screen, we were able to tell the difference in quality from one product to the next. That was the true test for the HD video quality criteria that helped to catapult Bushnell into the top three, multiple times.
Frequently Asked Questions
q:

How Important Are The Megapixels In A Trail Camera?

a:

Buyers should never fall in love with the megapixel count of a trail camera. Although megapixels are important for some parts of the media quality, it is not an end all be all feature. And in some cases, a high megapixel count could be a brand trying to cover up weak areas of their camera.

Trail cameras of all types are capable of great media since the heavy lifting is done on the software side. Without a combination of solid megapixels and great software, the camera will suffer greatly when processing images of higher quality. So use the listed megapixels of a product as part of the buying process rather than the defining feature.
q:

Will The Camera Survive A Drop?

a:

Trail cameras are built with sturdy cases that can withstand bad weather and minor to major drops. Differences in their durability are based on features and the toughness of the case. Media-rich trail cameras with LCD screens are prone to breakage if the case doesn't cover up the fragile bits. Things like debris traveling in strong winds can pose a threat to trail cameras of this type, so it isn't out of the question for buyers to look at additional protection. That means covering up the LCD screen with tough plastic, or even making sure that the back isn't exposed when mounted.
q:

Are Game Cameras Different From Trail Cameras?

a:

No, they are exactly the same. It is similar to how some manufacturers say smartphone while others refer to their products are cell phones. For purchasing purposes, it poses an interesting twist for the customer. Brands sometimes market their products as game/trail cameras when they're actually not.

A Trail camera will always have a reinforced case so that it can withstand the elements. This is the most important part of the product, and it will also keep you from having to call in the warranty at an early stage. To keep it simple, without the durable case, it is nothing more than a regular digital camera.
q:

Is Battery Drainage An Issue?

a:

It's up to a company whether they want to include batteries or not. When consumers are left to get batteries, they can get single-use, rechargeable, battery packs, and wall adapters. Single-use and rechargeable batteries come with their own headaches if you buy them cheap, so be aware of the branding. No matter how good the power saving features are in a trail camera, they won't have much of an effect when paired with generic batteries. Stick to name brand batteries with high energy usage. Buyers on a budget can also use half of the recommended batteries to power the unit (if the product has that feature).
q:

Will A Bad Quality Memory Card Affect The Quality Of The Pictures?

a:

No, low-quality memory cards won't directly lower the quality of the media on the device. Where they will indirectly affect it is with their slow access times. If your trail camera has a fast trigger speed, a slow memory card will end up playing catch up as new media becomes available. When the memory card stalls, so will the entire camera. The end result is a lot of missed pics, blurry pics, and a high-quality trail camera being bogged down by a single bad quality card.
q:

What Are The Differences Between Standard Definition And High Definition?

a:

For trail camera pictures, the details are noticeable in color. On smaller screens, there won't be a big difference in quality, but when you transfer them to screens larger than "20 inches, it is like a night and day difference. For black and white photos it will look the same, so night photos won't really be affected by going to high definition.

Videos are another category altogether, and the difference in quality will vary according to the trail camera. So on one device high definition will look great, but another trail camera with high definition will have washed out colors. So when choosing high definition as a buying point, concentrate on the picture quality of the trail cameras rather than video.
q:

Can Trail Cameras Work Through Glass?

a:

No, they won't work properly if placed on the other side of the glass. One of the things the sensor looks for is changes in temperature. When placed behind glass it renders the PIR sensor ineffective at measuring IR light in its field of view. None of this even looks at how an invisible flash would work through glass, whether in the daytime or at night. Using a different angle is always preferred over using a trail camera behind glass.
q:

Why Is Trigger Speed Important?

a:

When the sensor in the camera catches movement, a slow trigger speed will turn a perfect picture into a blur. Low trigger speed is a must for trail camera setups, even on the low end. High-end trail cameras with slow trigger speed won't be able to reap the benefits of their maxed out specifications.

Targets in their view will be long gone by the time the camera registers the movement. For videos, slow trigger speed is a lot more forgiving even in busy environments. For maximum efficiency, try to stay under 1.5 seconds with trigger speed unless the product has some great features that can't be passed up.
q:

What Are The Benefits Of Having A Viewing Screen?

a:

Media-rich trail cameras are a fantastic buy for users that don't want to fiddle with memory cards. The display on the camera lets you view all of the media on the device, with some advanced setups allowing manipulation of the media. If there are a couple of interesting photos on the card, you can find out without having to eject the card and insert it into a portable viewer. Other uses for a viewing screen are visual appeal when looking through all of the camera options. Trail cameras of this type have a lot of deep options and customizations to personalize the media experience.
q:

How Good Will The Media Look On A Larger Screen?

a:

This is where resolution comes into play for users that want the best picture. Currently, 1080p is the standard for high definition television sets and computer monitors. That means products that market their resolution as HD 1920x1080p or even the lesser 1280x720p will look fantastic on big screens of any size.

The details will be full, and the colors will pop just like a Blu-ray movie. Anything less will look good, but there will be a noticeable grainy texture on the bigger screens since it is in standard definition. For pictures, this isn't a huge issue. Users will have to decide how they want to present their SD videos on larger HD sets since the difference in quality is noticeable.
q:

Does It Matter What Type Of Batteries Are Used?

a:

Using generic batteries will always make the camera underperform. The last thing you want to do is have it shut off months before you planned. Always use branded batteries that are meant for camera use.
q:

Will The Outputs Work With My Television?

a:

If you have the necessary hookups on your television, yes. They will even work with some computers if they have the correct inputs. But in the case of a computer, it would be easier to just take out the SD card and put it in a reader.
q:

How Accurate Is The Motion Detection?

a:

All of the cameras on the list have excellent motion detection. However, they are at the mercy of your placement, so bad placement will always incorrectly trigger the motion function. Always test the area where you plan to put the trail camera to make sure it is optimal.
Subscribe to our Newsletter