Best Trail Cameras Reviewed
Trail cameras come in all shapes and sizes, so it's important to do a lot of research before purchasing one. Higher specifications don't always mean a better camera and going solely by big brands will leave out a lot of great choices. With a small checklist and some facts, finding the best trail camera takes only a few minutes.
Our Top 3 Picks
Best Brands
The two big names to pay attention to on the list are Moultrie and Bushnell. There are other big names in the industry, but these two brands have stood the test of time. Even their older models have something to offer when facing off against newer models from other companies.
Maintenance and Cleaning Tips
Treat trail cameras like any other camera when cleaning them. The outer case is meant as protection against the elements, and is usually water resistant. Whenever you clean the case, there is no need to worry about the camera unless it has been taking blurry pictures and video. And if the case breaks, replacement cases are easy to purchase.
10 Best Trail Cameras
1. Moultrie A-20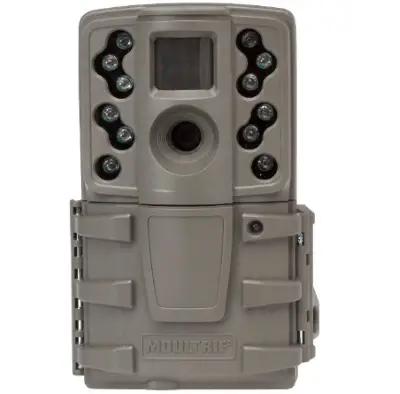 Moultrie has to always be included in a top ten trail camera list, and is one of the big leaders in the industry. Barely snatching the top spot away from Bushnell, the A-20 is a rock of reliability out in the field.


Expand to see more
The A-5 Gen 2 Reimagined

Their top selling A-5 unit was everything you'd want in a camera, so they improved it by making it smaller. Along with the new size they also improved a lot of the features, especially battery performance.

Features and Specifications

12MP camera resolution
Flash illumination

Price/Value

It's astounding that this is the lowest priced camera on the list, yet one of the most advanced. Customers will definitely get value with this purchase, even as an emergency camera.

Decision Time

The top three spots on the list are a tossup, with no bad choice between them. Consumers looking for the most reliable option should settle with the Moultrie A-20 Mini.
Expandable with wireless options, memory and power
Long 2 year warranty with excellent customer support
Video is average in day/night
2. Bushnell Trophy Cam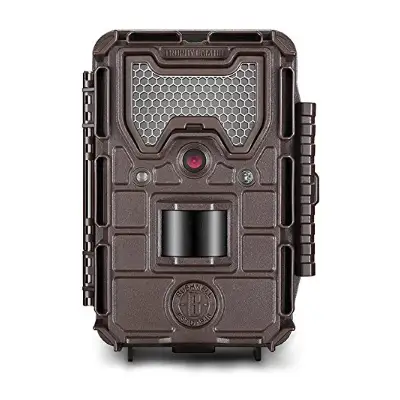 Bushnell is on the list back to back, this time with the more conservative Trophy Cam HD Essential. Buyers that don't care much for wireless functionality in their trail cameras will prefer this model.


Expand to see more
Long Infrared Flash Range
With good positioning you can take advantage of the 80ft. flash range. And with excellent positioning you can completely
monitor an entire zone
without missing anything.
Features and Specifications
Can be set to 3,8 or 12MP camera resolution
3 second trigger speed
Price/Value
Since there is no wireless functionality in this model, the price goes back down to average. It is a great tradeoff for the value, and keeps a lot of the core features of the Aggressor.
Decision Time
Bushnell knows how to make great trail cameras, and was just shy of nabbing the top spot on the list. Buyers won't regret this purchase and will get many years of use out of it.
720p video is top notch for the resolution
Better than the Aggressor in every way except photo quality
3. Bushnell Trophy Cam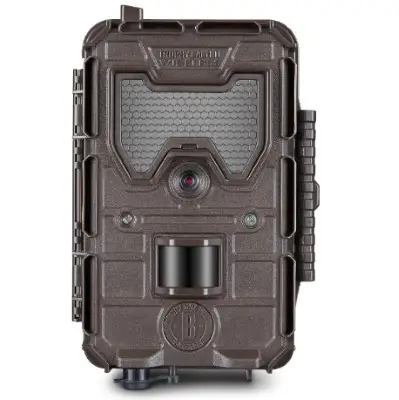 And then entered Bushnell, with one of the most respected camera models in the industry. At the #3 spot there the quality really changes on the list, as the top three are in a completely different ballpark.


Expand to see more
The Best Picture Quality
While it may lag behind some of the 1080p camera in video quality, the Trophy Cam HD Aggressor is second to none on the list with pictures. You'll get crisp pictures that come to life, both in the
night
and day.
Features and Specifications
14MP camera resolution with 720p video
48 No glow black LED's
Price/Value
Even if you can't get the wireless functions working, this is still a top three camera. It's also the highest price on the list, but pays for itself within the first year.
Decision Time
With the unstoppable picture quality of this model, the wireless features were just an added bonus. This is truly one of Bushnell's best, and a must have for trail hunting.
Field Scan 2x with two different time slots
Day/night auto sensor with a motion detection up to 60ft
Built in wireless connectivity is hit or miss from AT&T
4. ZenNutt Mini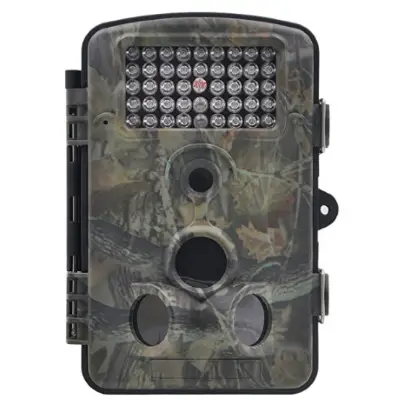 ZenNutt makes the list again, this time for an even more powerful model in their lineup. The Mini can very much be considered their flagship trail camera, as it has everything in it but the kitchen sink.


Expand to see more
Large LCD Screen

ZenNutt just excels in this area over other brands, and once again produces a large display with vibrant colors. You can do the full camera setup from it or look at all of your photos or videos.

Features and Specifications

2 second trigger speed with 12Mp camera resolution
Hybrid mode to catch photos and videos simultaneously

Price/Value

Buyers can get their hands on this model for a low-average price. Deciding between this and the other ZenNutt model will come down to personal taste, but they both hold good value.

Decision Time

If the beautiful screen on this Mini doesn't catch your attention, then nothing will. Anyone with this camera will get a really good deal to use on the trail.
High quality photos and videos during day or night
Photo information can be imprinted on the images themselves
Could use better power saving features
5. Wildlife Camera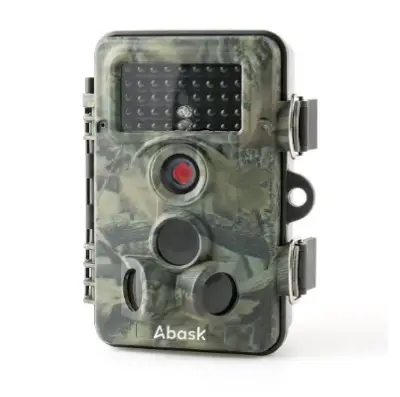 Abask released this model after a positive flow of customer support for the previous model. This version is improved in many ways while still keeping the same great price of the original.


Expand to see more
Better Than Before
While the older model was good in its own right, the new version sports an upgraded resolution and better stability. And to top it all, the battery life has been improved.
Features and Specifications
12MP camera resolution with 5MP CMOS sensor
Five capture modes with various functions
Price/Value
This is a very
powerful camera
that sells for an average price. It's everything the original model was but better.
Decision Time
When the company decided to improve on their original idea, they created some really good. So far this is the best camera in Abask's lineup, and it will be a long time before it is topped.
Works as a trail camera or for personal security use
Supports SD cards up to 32GB
Motion control can be tricky to set up
6. Crenova Game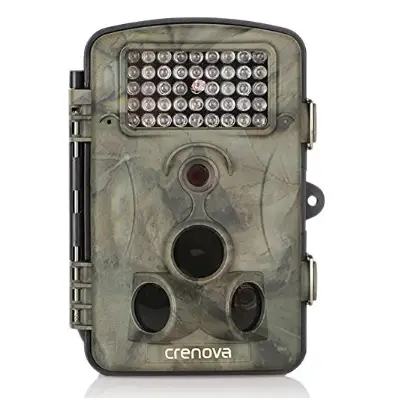 Seeing Crenova this deep on the list isn't surprising, especially with any of their 1080p offerings. To make it stand out more than the others the company added in a few extras.


Expand to see more
The Extras
The camera can be brought by itself or as a bundle. Purchasing the bundle will give you a 16GB SD card, and is well worth the extra dollars.
Features and Specifications
12MP camera resolution with 1080p video
42pcs LED
night vision
with multi-shot
Price/Value
Aimed towards the intermediate/expert crowd, this camera has value for buyers that like to tinker. The price is average across the board so won't hurt your wallet.
Decision Time
Buying the bundle with the 16GB card doesn't add much to the price, so is highly recommended. Crenova can very much be the only camera you need when out on the trail.
IP54 water resistant
2 year warranty
7. ZenNutt Trail
When ZunNutt came out with their trail camera, it didn't blow people away with specs. Instead, buyers were more interested in the great balance the camera had across all features.


Expand to see more
User Friendly Design
Setting up the camera the first time will be no different than the next. All of the options are easy to master, and
beginners
will have no trouble using the selector switch.
Features and Specifications
8 second trigger speed
8MP camera resolution with 720p video
Price/Value
A balanced camera with a low price makes for a great value. Customers will get good value if they want a jack of all trades.
Decision Time
With a full year warranty on this trail camera, it is a low risk buy. Mount it to a tree and enjoy the flawless pictures it takes.
Multiple zone detector sensor with 50ft range
Has support for an external power supply
Some options are too simplistic/lack customizations
8. Browning Strike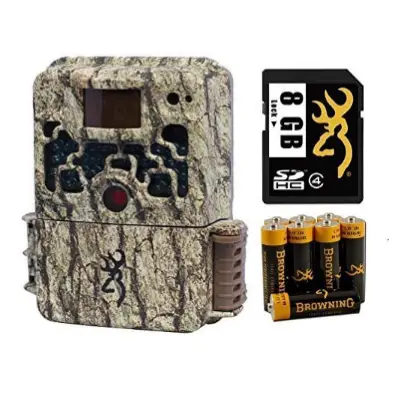 Browning is the first big name on the list with their popular Strike Force HD. Reliable and fast, this is the camera to use when you want results.


Expand to see more
Fast Trigger Speed

The 0.67 second trigger speed will keep all of the important pictures in view. It's one of the fastest available and will make sure that you don't miss any important shots.

Features and Specifications

10MP camera with 720p video
100ft nighttime flash

Price/Value

Average priced, buyers can rely on the years of customer satisfaction surrounding this model. It's still one of the best in its class by Browning.

Decision Time

As one of the biggest brands on the list, the Browning Strike Force HD is a must have purchase. Just make sure to have branded batteries or an external power source, and you're good to go for months.
Browning Buck Watch time-lapse viewer software comes packaged
Comes with SD card and batteries
Runs through generic batteries
9. GoldWorld Mini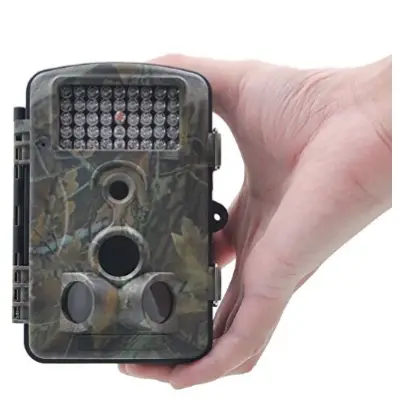 Another little known maker that has been making noise is GoldWorld. Their camera takes some pretty extraordinary steps in bridging the gap in multimedia consumption while outdoors.


Expand to see more
Media Capabilities

With a 2.4 LCD screen on the back the camera also features several buttons to control, manipulate and watch the stored pictures and video. The display is vibrant and colorful so you won't miss any detail.

Features and Specifications

12MP camera resolution
120 degree detection sensor

Price/Value

This camera can be purchased for the low-average price, which is great for what it offers. The value in its multimedia functions are really undervalued, and it can really churn out some powerful photos.

Decision Time

Potential is the main word to think of when looking at this trail camera. Buyers who like to tinker with their media will get the most use out of the Mini Trail.
Takes 1-9 images per 0.2 second trigger
1080p video recording in a smaller than average housing
10. APEMEN Trail Camera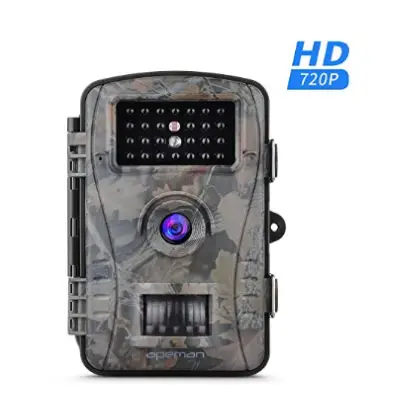 Apemen isn't exactly a new kid on the block, but they aren't a familiar name to the average consumer. This didn't stop them from creating one of the best cameras on the list with some pretty respectable specifications.


Expand to see more
Water Resistant
Trail cameras will often be left in
harsh environments
year round. Apemen housed their camera in a IP66 Spray water protected case, keeping harsh elements away from the camera.
Features and Specifications
8MP camera resolution
4 inch LCD screen
Price/Value
With some pretty impressive specs, it's hard to believe this is a low priced trail camera. It's one of the lowest priced 1080p cameras on the market, and well worth the value.
Decision Time
The media rich properties of this hunting camera are a perfect fit for the everyday outdoorsman. Apemen is on the right track with a camera that is already one of the best yet.
High quality 1080p video
26 Black LEDs with Low glow infrared technology
Only 6 months standby on batteries
How To Make The Best Decision When Choosing A Trail Camera
Look at resolution strength, video quality during night, battery usage and extras. The extras refer to optional wireless, solar power or tripod features. Some cameras like the Moultrie's let you add on wireless options later which is great for the undecided buyer. If you're never going to use the advanced extras then resolution strength and battery usage should be your top two. When a trail camera is out in the field you want to be able to leave it there for at least 8 months before having to swap out the batteries.
FAQ
Does It Matter What Type Of Batteries Are Used?
Using generic batteries will always make the camera underperform. The last thing you want to do is have it shut off months before you planned. Always use branded batteries that are meant for camera use.
Will The Outputs Work With My Television?
If you have the necessary hookups on your television, yes. They will even work with some computers if they have the correct inputs. But in the case of a computer it would be easier to just take out the SD card and put it in a reader.
How Accurate Is The Motion Detection?
All of the cameras on the list have excellent motion detection. However they are at the mercy of your placement, so bad placement will always incorrectly trigger the motion function. Always test the area where you plan to put the trail camera to make sure it is optimal.