Best Sony Video Cameras Reviewed & Rated for Quality
In a Hurry? Editors choice: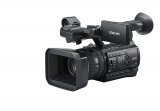 Test Winner: PXW-Z150 4K

Although there are a lot of great multi-purpose cameras on the market today, for the purpose of listing the best video cameras available from Sony, we're going to attempt to stick to single-purpose video cameras only (with one minor, popular exception). These cameras are no good for stills, as they are designed very specifically and carefully for use in recording moving images. Here, we will go over the ten best Sony video cameras that are designed to record amazing videos, while also attempting to bridge the wide marketplace by reaching for each end of the budget, and all kinds of needs.
Standout Picks
Criteria Used for Evaluation
Versatility
This isn't a pure action camera buying guide, so we've gone ahead and thrown durability out of the window. Instead, one should always focus on the versatility of their image recording gear. Whether this comes in the form of the camera you vet or choose being able to record both video and stills, or something that is so capable of recording videos that you won't find an instance where it isn't called for. Both should be considered, if only for posterity sake.
A versatile video camera can be something like our top choice on this list, that is so blatantly talented in the realm of recording video that you could make amazing home videos, stunning action captures, independent films, or even semi-pro and amatuer blockbusters. These cameras don't mess around when it comes to recording crisp, clear, and perfectly balanced moving pictures. Most of the high-end video cameras on the market don't make for easy or viable options for those looking to also take photographs with their camera, but you can always rip some still images from the footage you've shot.
The other side of that versatile coin are cameras that can do more than one thing relatively (or insanely) well. These include things like the Sony line-up of action cameras, that are extremely capable of mounting anywhere, and capturing footage of almost anything, as well as that of the recently earth-shattering line-up of Sony mirrorless full-frame cameras. The latter are so very capable of capturing some of the worlds greatest still images in such a small body, as well as recording high-quality, lossless 4K video.
Regardless of which direction you swing -- towards the fully-fledged video recording device, or the stills camera with video prowess -- you've got a whole lot of options out there, and there is no better company to hone in your search on than Sony. Something we just couldn't have said (or even dreamed of saying if we wrote this only a decade ago).
We sought versatility in all of it's forms for this list, and we suggest that if you cannot narrow down the needs you have for your video capturing device, you do the same.
Features
When it comes to electronics, specifically the type of technology that is often used in the capturing and sharing of video for whatever reason, the features list is common across the board.
Whether you're looking to capture epic moments with an action cam strapped to your head and a bungee tied around your ankle. Or, you're seeking out a star on the Hollywood Walk-of-Fame via an illustrious directorial career. Or perhaps you're just looking to ensure that everyone gets a copy of your niece Janet's fourth grade play for christmas, there are a ton of things that all of those tools will have in common.
Things like a built-in microphone capable of great sound capture, or at the very least an aux input for external microphones, or a monitor and on-board screen for playback, and live view, you should note that these standard features should not be missed, and one can easily put together a list of products to vet that all share these quality features.
That which you should never do without are features like the ability to record video in at least 1080p resolution or higher. It's 2018, and even if you fall back a few years to save some dough on an amazing camera that has unfortunately been made out-of-date via constant iteration in the industry, you should never settle for anything below 1080p. It's just not necessary, and it's a large leap in quality that is extremely noticeable even to the untrained eye.
Keep your eyes peeled for video cameras that include features like high frame rate recording, or specific frame rate recording (for those specific needs). Also pay attention to the recording output. Video cameras from this generation should all include at least one external output port for direct recording to external hard drives, and at the very least a single SD slot or micro. Anything older than that (as far as technology is concerned) will cause more headaches than it soothes.
We sought out all Sony video cameras with the most common of modern technology and features, and you should too.
Value
Value is a very tricky thing to judge when it comes to top-tier video cameras. The market is awfully expensive on a standard basis that one must restructure the way they look at purchasing technologically inclined gear, so to avoid any panic.
Things like the professional quality, large-bodied video cameras nearer the top of our list can run upwards of a few thousand dollars, making it a hard nail to bite. But, the value arrives by the trainload if that's the station you get off at. There are few industries the entire world over that compete with the absolute professional version of themselves, but Sony has a handful of offerings in their catalog that could fit right in on any major film or tv set.
The other end of the tracks sees a few different ways to get the most value out of your purchase. Options like the completely refurbished (authorized even, by Sony) video cameras that are practically brand new, or the outdated and since discontinued cameras that once raked in the thousands, but now might only cost you a few hundred.
Then there are the action cameras and handycams. These take the bottom spot on the bleachers because they just aren't quite as capable of extremely high-quality video recording. Instead, they focus their development efforts on other avenues, like being more portable, or being durable enough to take a skateboard wheel to the noodle.
One thing we know for sure is, that seeing the name Sony on the side of the video camera -- regardless of which section of this market you're shopping in -- spells value in every sense of the word. You can't go wrong with a modern Sony video camera.
10 Best Sony Video Cameras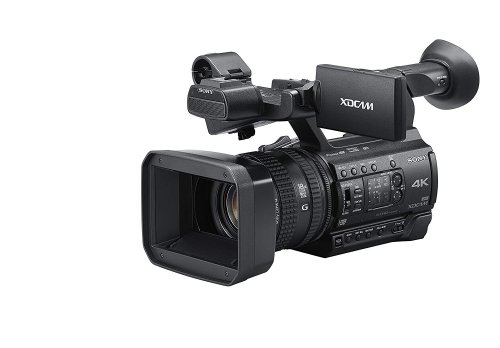 Well, what kind of guide would this be if the number one slot on our rankings wasn't the greatest thing currently offered by Sony? We'll tell you. It would be a bad guide. Now, this is exactly why we've lifted the PXW-Z150 onto the throne, because it may just be the greatest consumer-level video camera on the entire market, regardless of manufacturer.
Stacked Sensor
The astounding PXW-Z150 XDCam is the world's first 1.0 inch Exmor RS imaging sensor, capable of recording, receiving, and viewing lossless and flexible 4K with a high-definition range on 120 frames per second for absolutely stunning slow-motion and high rate video.
Built-in ND Filter
One of the most precious things any cinematographer can add to their gear bag is the life-changing variable ND filters. These bad boys can take your prefered shot set-up out of a potential graveyard, and into the perfectly lit heavens. Opening or closing your ND filter changes the exposure, and the PXW-Z150 from Sony has a built-in ND filter on the end of the lens, making for zero need to attach one.
Cost and Value
Being that it's almost as close as one can get to the real deal, professional film camera, this version of Sony's XDCam is wildly expensive but comes with the guts, and the glass to beat out almost every single other option on the market. The output and the capabilities of this bad boy make it one of the greatest video cameras available today, Sony branded or otherwise.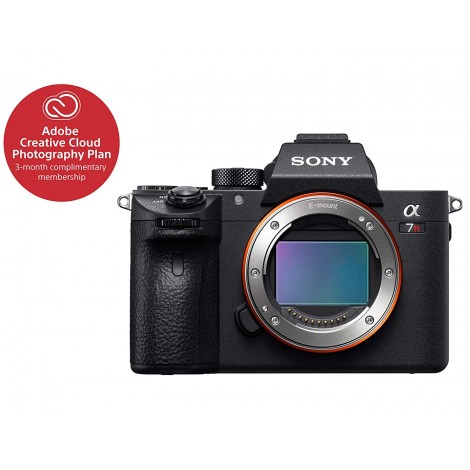 Flipping our intentions only slightly, we had to include the magnanimous a7RIII Mirrorless Camera on this list because it has continued to upturn the dirt of the entire camera and imaging markets since its initial introduction. The third in their illustrious line-up is no different, and comes to the big boy table of video cameras with one of the largest full-frame sensors on the market.
Interchangeable Lens
Something that a lot of people might not truly grasp when shopping for and vetting video cameras in the "camcorder" edge of the market, is that most of those video cameras are fixed lens devices. You see, they're designed to push filmmakers and a capable zoom lens, with a wide bottom end is probably all you'll ever need. But the biggest bonus in getting the a7R III for your video capturing needs is its ability to hold almost all of Sony's mirrorless lenses.
Size
The reason that the a7 range of Sony imaging cameras lit the world on fire is that they were the first heavily popularized mirrorless cameras with a full-frame digital imaging sensor. Meaning that they dissolved the line between small-bodied cameras and gigantic full-frame professional cameras. Making it one of the smallest, and most powerful cameras on earth.
Cost and Value
Being the flagship of the modern Sony renaissance, the a7 and a7R line-ups are not going to be cheap to get into. The a7R III is the premier item in their current offerings, and that is reflected in the pricing, but the value comes in truckloads as it can outperform almost any camera on the market, and at half the size.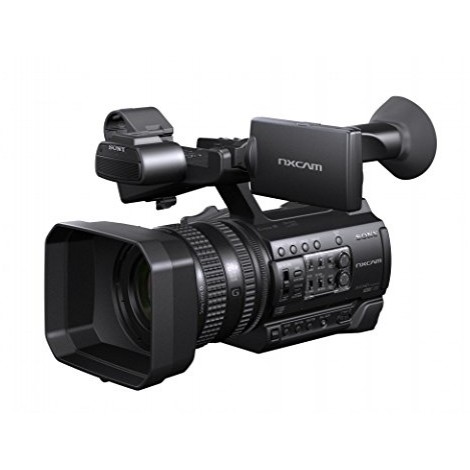 Hopping back on the tracks of proper video recording cameras, the HXR-NX100 is a prime candidate for the budget-conscious, but spare-no-quality of you seeking to dip your toes into the world of high-definition video recording. It's a great tool that will get you into the door, and pretty far into the room.
Corrective Sway
Thanks to a whole lot of on-board software, video recording cameras like these can come with a whole lot of power out-of-the-box. Things like the Sony HXR-NX100 NXCam come chalkful of extra help like their built-in Active Steady Shot, which corrects and smoothers any shake or sway that can occur during movement of walking.
Great Zoom
Like we mentioned earlier with the a7R III, having a fixed lens can be a good thing or a bad thing depending on how much freedom to change perspective you want. One great benefits to most fixed-lens cameras is the quality zoom, and this NXCAM comes with a 24x "clear image" zoom and an astounding 48x digital zoom.
Cost and Value
The cost to jump into the video recording game, for all potential cinematographers and beyond is always going to be a little steep if you want to get the real deal. This Sony HXR-NX100 is an absolutely fantastic starter camera that is so fully capable of putting others in its rear-view mirror.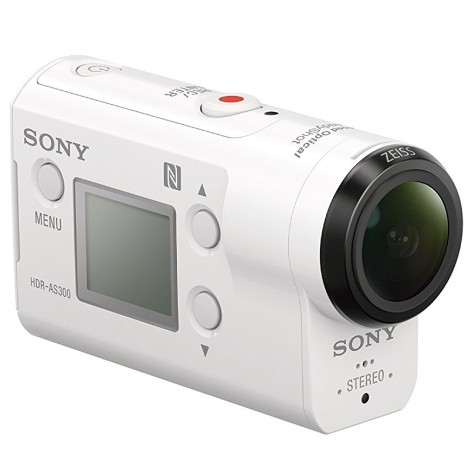 On the backside of the coin for video recording is the modern advancements in small video camcorders. These, the action cams of the 21st Century, are phenomenal options for those looking to have a small mounted camera, capable of capturing extremely high resolution video without a whole lot of the bulk. These aren't "make a hollywood indie movie" kinds of video cameras, but they have insane value in this market right now.
Optical Steady Shot
One of the downsides of early action cameras was that they surprisingly didn't come with built-in image stabilization. Rather, the operator would have to apply such corrections via post-production software. The Sony HDRA Action Cam is paired with Sony's extremely popular image stabilization hardware and hands-off software.
Mount it to Anything
Pretty much the first and greatest reason to get into the Action Camera game is to capture footage -- usually from a first-person perspective -- of an activity or in a situation where a normal handheld camera just can't perform, or even be held. Thanks to it's tiny size, and powerful capabilities, the Sony HDRA Action Cam can be mounted almost anywhere, ensuring you get that shot that would otherwise be impossible.
Cost and Value
At a fraction of the price of most or all of the cameras we've listed above, the HDRA action camera is an inarguable asset to your gear loadout. It won't, in most cases, replace the need for a full-fledged video camera, but it might be the sharpest knife in the kitchen when looking to create those fabulous films. For just a few hundred bucks, that's a whole ton of value.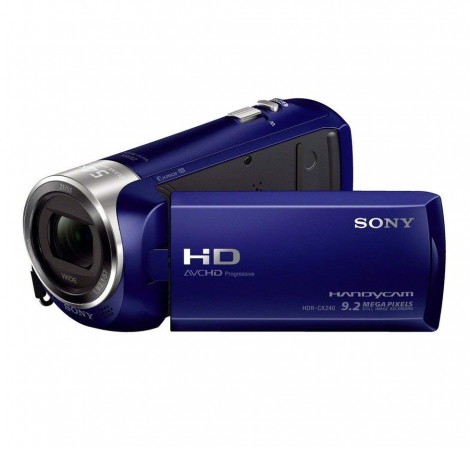 It's at this point in our journey that we'd like to acknowledge that not all those that are shopping for a video camera want to make or break their film careers, and are just looking to make some memories last in a more meaningful and tangible form. For that, we couldn't recommend something like HDRCX240 handycam. Serious though, these names Sony? Com'on.
Full HD
While you're not going to smoke anyone that is out there making insanely detailed and crisp videos or movies in 4K, having full HD at 1080p is still a stunning quality, and all packed into a body that's smaller than your phone, and no fatter than a yam? What a crazy world we live in. The HDRCX240 has a 9.2MP Exmor R CMOS Sensor capable of recording video in 1920x1080 resolution. Perfect for cementing those travels or gatherings.
Wide Angle Zeiss
Sony has long-since established themselves as a formidable portion of the imaging world. They've also had Carl Zeiss -- the image glass and lens manufacturer -- along for most of the ride as well. Almost all of their fixed-lens cameras and video cameras have Zeiss glass, making for an impressive run, with an astounding brand of lenses. This Zeiss lens is an 30mm wide angle, perfect for those POV memories.
Cost and Value
We're not going to juice it up before we throw it on the plate, a video camera like this one is only going to set you back a hundred dollars or slightly more, at the very worst. There's a ton of things we do every year that would make for great home videos, or pet projects, and we don't need to be remortgaging the house in order to make those things happen, which is exactly the best place for hardware like the Sony HDRCX240 to live.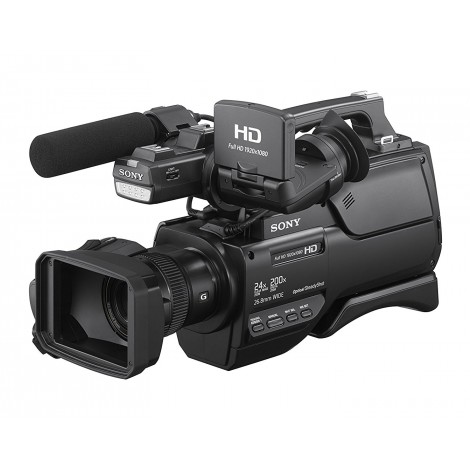 Almost exactly in the same vein as the previously mentioned Sony Camcorder model, the HXR-MC2500 shoulder mounted video monster is a real keener that seeks to put stories into moving pictures. It's got almost the same kit as the previously mentioned model, except for a few of the lower-tier assets that don't normally come with video cameras like these.
Shoulder Mount
Plenty of independent filmmakers struggle to put a lot of gear together in those early years, on those smaller projects. The Sony HXR-MC2500 dissolves the need for one of the most popular attachments to any video camera is the shoulder mount, or harness, and this camera comes with one on-board right out of the box.
On-board Directional Mic
Another one of those crazy great additions to any camera set-up is the directional microphone. In most indie projects there is no place for a boom operator. Which puts a heavy emphasis on on-board directional microphones. A lot of the really powerful Sony video cameras come with the capability to mount a microphone, some even have the mounts empty right out the gate, but the awesome Sony HXR-MC2500 arrives to your doorstep with an on-board microphone already mounted and plugged in.
Cost and Value
As we meander down the line-up of amazing video cameras offered by Sony, we've seen a lot of near masterpieces, but nothing has come as close to being the best package in totality, until now. There's a whole lot of value in getting a slightly less powerful camera that is better equipped elsewhere than their competitors.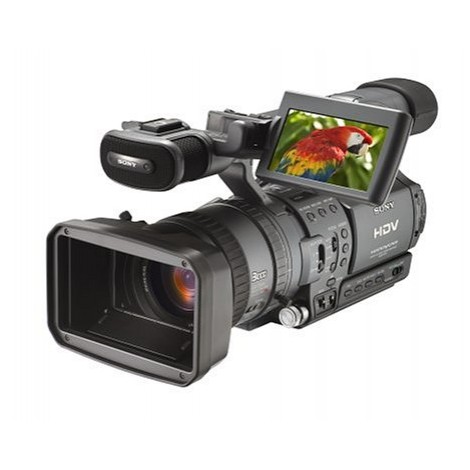 Another avenue we could take -- one that is pretty reliable in the market of video or imaging cameras -- is either certified refurbished products, or discontinued video cameras. Plenty of amazing gear has been cast aside over the years simply on the fact that the company (Sony in this case) has come out with something newer, slightly better, or bolder. Things go "extinct" in the world of imaging technology faster than almost every other industry on earth. Giving ample opportunity for the thrifty filmmaker to get their hands on some amazing products.
On-Board Monitor
The Monitoring of your video capturing is a huge asset. Something that has driven the accessories game for video cameras for a long time. This, the Sony HDR-FX1 has one of the greatest on-board monitor screens of all time. Measuring in at a gigantic 3.5 Inches, that's a bigger display on-board your video camera than most professional-grade stills cameras, making it insanely easy for you to look at what your shooting, while you shoot it.
Zoom and Steady
With Sony's amazing pedigree of interior image stabilization in both digital and technical forms, video cameras like these are almost expected to come with it. Luckily, this one does. It also has a brilliantly sharp and near lossless 12x optical zoom for close-ups, and capturing some distant subjects without much worry of noise.
Cost and Value
Being the value in which this entry truly shines, it's no surprise that it ranks as one of the greatest deals in this entire market, let alone on this list alone. For a quite small investment, one can get into the filmmaking a memory saving worlds just by stepping down a few pegs on the board and opting for something that has been led to the pasture. The value is tremendous if your pride can take the hit.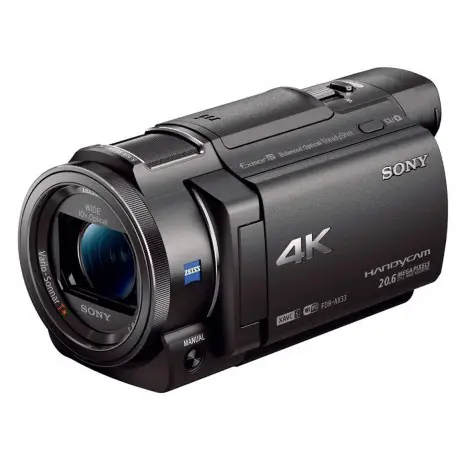 Finally! It took us all the way to number six on our list to bring one of Sony's triumphant Handycams to the table, and we couldn't have a better one here for your browsing needs. The 4K monster that is the FDRAX33 by Sony -- they really need to work on their naming conventions over there at Sony HQ -- is a technical marvel in a tiny package.
It's Handy
Probably the most popular reason for the Handycam side of Sony's business being so well received is that they truly are hand. With video cameras like the FDRAX33 from Sony, you get a powerful video capturing device that can almost fit within a closed hand. It's small enough to fit in almost every single pocket of a jacket, in a bag, and definitely in your gear load. It doesn't get much more handy than that, right?
4K 30FPS
An often inevitable downside to the handycam market is that the smaller packages can't compete with the picture quality of their larger cousins in the "real filmmarkers" aisle. But the FDRAX33 by those crazy folks at Sony boasts a nearly unnatural lossless 4K video capturing sensor in a fully fledged 30 frames per second. That's better than half of the "big boys" we've put on this list so far.
Cost and Value
The final reason that handycams we're the most purchased imaging hardware in the early 21st century is because they're practical and affordable. Cameras like this cost less than a DSLR, or that mirrorless full-frame beast we listed higher up, and it can still hold its own in the resolution game.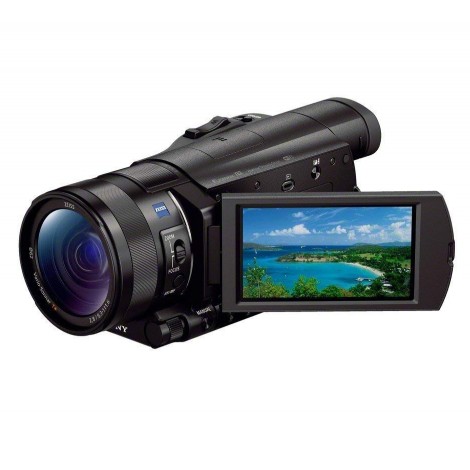 Slightly higher on the food chain in comparison to the Sony FDRAX33 is this monster of a handycam, the Sony FDR-AX100. It's an almost impractical middle-ground between the fire station that is the gigantic video cameras we put on the podium, and the sprinklers that are the premium handycam options. The FDR-AX100 is an astounding piece of technology that pulls a whole lot of weight for such a small, and relatively inexpensive dive into the deep end of handycams.
BIONZ X
Part of the dominance displayed by Sony in both the general video capturing technology market, and the handycam world (to be more specific) is their internal organs. The FDR-AX100 is one of a few handycams the entire earth over that houses a BIONZ X or comparable image processor for stunningly fast video and image capturing, in a peerless and fright-free environment.
4K Blazing Frames
While you've probably gotten pretty used to us bragging about these video cameras being capable of recording in 4K video, don't get it twisted, it still isn't the industry standard. Having something with one of the fastest processors on the planet, and the ability to shoot in 4K is a dream. At lower resolutions, the FDR-AX100 can even clock up to 120 frames per second.
Cost and Value
Being the bigger sibling to the FDRAX33, it's no surprise that it comes out with a bit of a bigger price tag, but the giant leap in lens quality, and processor alone make up for that cost difference. The value of this package comes in it as a whole unit, verses some of the other options which would see you have to run down other avenues to get the complete set-up.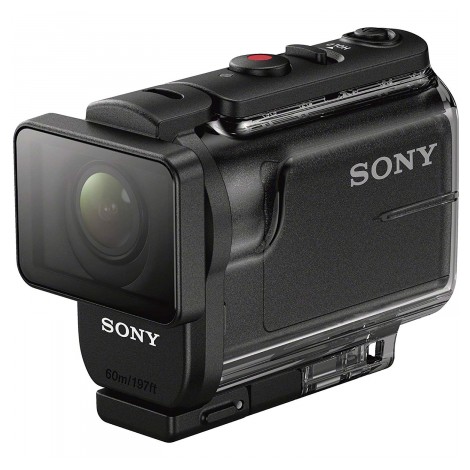 Perhaps if it's the previously mentioned action camera that caught your eye, something a little bit older, just as prolific, and bundles with a full-blown shooting kit is the best place to stop as the last spot on our long list? Well, here you have it. The HDR-AS line of action cameras has a lot going for it, and this, the AS50 model is just as powerful and dynamic in size and capabilities as any other action cam on the market. But you save a bit on heading backward a few years in the release calendar.
The Full Kit
Not only do you get one of Sony's best action cameras to date, at a cheaper than launch price, you also get a whole lot more, because this isn't just a camera, it's a bundle. The full kit comes with 7 addition gear items that include a replacement battery (so you never run out of juice), a Micro SD card and SD card holder, cleaning equipment, memory card wallet, a wrist strap, and a tripod, all in the same box.
The Reading
In the action camera market, not many addition piece of tech are more potent and goodness affirming than the ability to share, download, or edit footage via wifi, and the Sony HDR-AS50 has just that capability. With built-in wifi signal calling, one can see, and send footage from the camera to anyone or anywhere just with a simple connection to the internet.
Cost and Value
At a price that comes in cheaper than almost every single lens in the camera market (yes, just the lenses alone, without camera bodies), the HDR-AS50 is more than capable of being one of the most lucrative and instantaneously imperative products in your video capturing gear kit. This bundle, with all of the extra additions, things you were probably going to have to pick up anyway, is a huge value for a small donation.

Subscribe to our Newsletter