Best Beach Chairs for Kids Reviewed & Rated for Comfort
In a Hurry? Editors choice: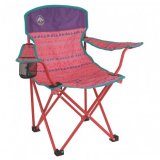 Test Winner: Coleman

Are you planning your first
trip to the beach
with your child? You are most likely aware of the fact that at the seashore, you will want to relax in a comfy chair. Naturally, your child will want their own seat, too. There is a lot to think about when picking the best option.
Do you want one with a canopy shield? Or with a cup holder? Or maybe a cute little seat with vibrant colors and animated themes?
Whereas price, sturdiness, and quality may top the list of your search criteria, a comfortable chair will make junior sit for long. Since there are tons of them, we have compiled a list of ten best to make your shopping delightful.
Standout Picks
Criteria Used for Evaluation
Stability
There are several factors to consider when buying a beach chair for your child, and top on the list is stability. Such options come in different shapes and sizes. It is essential for the seat you chose to be stable since your child's safety comes first above anything else.
The quality of the material used in their construction should be premium and durable. Most often, steel or aluminum provide the best frame while the polyester fabric will give the most exceptional support and resists the effect of ocean salt water. It is similarly easy to clean and fade resistant.
One notable feature is the ability of the seat to fold and open. A locking design is an essential feature since the seat will not fold when your child stands or tries to reach for something. Additionally, it offers support and stability by preventing your child from tipping over while seated or when they want to stand.
The product must indeed pass quality assurance as suitable for use by young children. There are some brands such as Melissa & Doug, who have been in the business of offering high quality children products and the reason why we also considered their seat earlier on.
Whatever you pick, a poor quality, a flimsy seat will surely depress your holiday, and for sure no parent would like a vacation ending with a visit to ER.
Durability
The perfect option for your child should stand the test of time. Undoubtedly most people are attracted by the outward appearance of a product overlooking quality and durability. However first, ask yourself this all-important question, how far off will you go with a good looking seat poorly designed, flimsy and made of low-quality materials? The answer is, you will spend some bucks on a new chair during your next excursion.
How will you know if your option is durable? Well, durability defines the worth of a product, and the quality of the material will determine if it will last for long. Steel and aluminum provide the best support for the frame, are quite strong and build to last. The same cannot be said about plastic frames since it is prone to breakages, although it is generally cheap. However, cheap is expensive, and it's nevertheless costly in the long-term due to replacements.
The choice of the fabric is also an assurance if the seat will last long. Sturdy polyester provides the best support, and it is breathable, easy to clean, and will last for many days to come.
Value
Price alone cannot be a guarantee that your choice of a beach seat will give you value for the money. There usually is a general perception that an expensive product is a high quality and a 100% money back guarantee. Whereas this may be true for some products, it is not entirely the case for most other products. There are some instances whereby you may spend quite some bucks on an item only to be disappointed more so if it fails to meet your expectation.
What value do you get from buying a seat for excursions and trips? During trips, parents typically prefer to relax on a comfy chair, probably reading a novel or even meditate. The children may run around and play with other kids and much more. However, at some point, they need to take some break in between play and take a rest and probably sip some juice. At this juncture, you need a seat where they can relax, be comfortable, and safe. Those are the underlying aspects of any camping seat for your child.
Price aside, the seat should be high quality, quite stable to guarantee safety, versatile and overall durable. These factors combined will clearly give you value for money.
Nevertheless, you don't have to take some credit to buy the highest priced seat the market can offer; there are some affordable options on the market with the same offerings. All in all, your choice still boils down to cost and how much you are willing to spend. The winner here is unquestionably a product which will give you value for money.
Comfort
A standard kid's beach seat for outings, camping, and other excursions is average height and size has everything to do with comfort. Small designs have their advantage in terms of portability and functionality. A practical seat should be a low height type so that your little one can climb up and down without falling or tipping over.
However, it should not be too low in a way they hurt their knees while reaching out for something. The sitting area should be large enough for your child to sit and stretch out while catching some rays or breathing some fresh air. A tiny chair will dampen your child's spirit, and they will feel uncomfortable, while a large seat will make them not surf the sand with their feet.
Notably, a medium sized chair that meets your child's needs should be portable for easy transport. Furthermore, sometimes you want to carry it with the straps like a bag and a large size may inconvenience you. Chances are, you also have your seat, and it's more fun if you carry yours and your child takes theirs.
Size
A child's seat must be comfortable for your child to enjoy to the maximum your outdoor experience. A good seat will bring comfort, and it's essential not to overlook the opportunity to pick one which your child will love and look forward to sitting. The quality of the materials will determine if the seat is comfortable or not.
Steel and aluminum frames provide the best support and stability that ensures your child is firmly seated without the risk of tipping over and falling. The sitting area should be large to give your child more room to stretch and enjoy the weather like a boss! The height should be medium and which your child can climb up and down with ease.
A chair with a locking design is an assurance of durability and comfort. A sturdy fabric that will not cave in when your child is seated is ideal, and in this case, polyester is a good bargain. It is also breathable and perfect under the hot air and will not burn your child. It is also easy to clean and therefore if your child accidentally spills food and drinks, you only need to wipe with a damp cloth.
We cannot forget to mention the armrest, and it should be a soft and gentle place where he can place his hands. Most seats have a cup holder where your child can place his bottle or cup for easy reach.
There are some premium brands such as Rio Beach whose seats feature a contoured pillow at the back where junior can put his head for relaxation. The same brand has adjustable recline positions for added comfort. However, at times you may have to dig deeper into your pocket for extra comfort. To sum it up, a standard seat should be one that offers maximum comfort regardless of price and brand.
10 Best Beach Chairs for Kids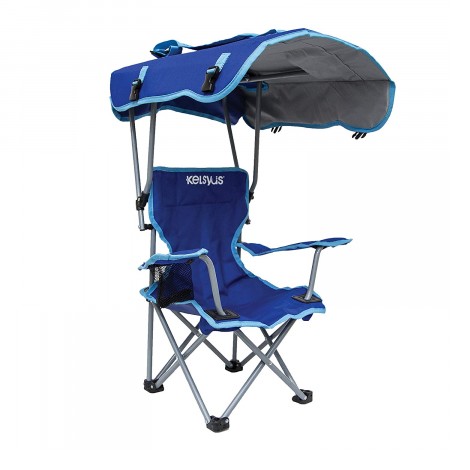 If you have a canopy chair, chances are your child will want to have a mini version. The Kelsyus is multifunctional with a canopy shield that protects your child from harmful effects of the sun rays. It is ideal for a trip to the seaboard, sporting events, barbecue, camping, relaxing at the patio or garden, and much more. It has a compact and foldable design whose dimensions are; 22" in x 15" x 32". It unfolds quite easy and has a lock design that ensures the seat remains sturdy and prevents your child from tipping over. It has an ideal height that makes it easy for the youngster to climb up and down with ease.
Portability
The Kelsyus has a collapsible design that allows you to fold down and close with ease. The canopy quickly converts into a carry bag with high-quality buckles that can easily snap and lock the bag. The armrests quickly convert to shoulder straps, and weighing in at just six pounds makes it easy to carry on your back.
Sturdiness
The Kelsyus is a sturdy seat made of rugged fabric and sturdy steel construction. It is built for outdoor use hence the sturdy frame. Nevertheless, the weight can only support up to 75 lb. and may not be ideal for older kids.
Cost and value
This innovative product has a stylish cup holder for supporting your child's bottle or cup. It is easy to assemble and only requires you to unfold, and you are good to go. Nevertheless, it is a high premium product that is highly priced but one which will give you value for money.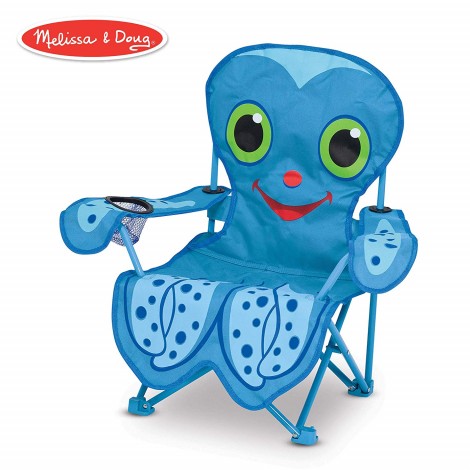 Melissa & Doug presents to you a foldable seat with bright colors that your child will love while outdoors. These beautiful tiny chairs have several themes that children love.
If you are planning to visit the beach with your child, you can choose a theme that blends with the surrounding such as a crab shape on the backrest or an octopus artwork. This unique seat is ideal for kids above three years and is suitable for resting after running around the sand or swimming.
Features
This seat from Melissa & Doug has a foldable design that looks like a little pouch; however, when opened, it reveals a beautiful cozy seat and a cup holder. It also features plastic foot pads that are meant to protect the floor from scratching.
It is lightweight and suitable for travel, versatile and you can also use it for other outdoor activities such as camping, family picnics and much more.
Maximum comfort
This phenomenon seat has a sturdy frame that guarantees safety for your child. The seat fabric is strong and quite stable; besides, it has a smiling face that is friendly and welcoming to the child. Your child will experience comfort and relaxation when seated.
Cost and value
For the price, this simple seat from Melissa & Doug is just what your baby needs to take a rest in between plays. It is pricey, however, it is ideal for young kids since it has vibrant colors and child-related themes. It is also high quality, sturdy, and will last long.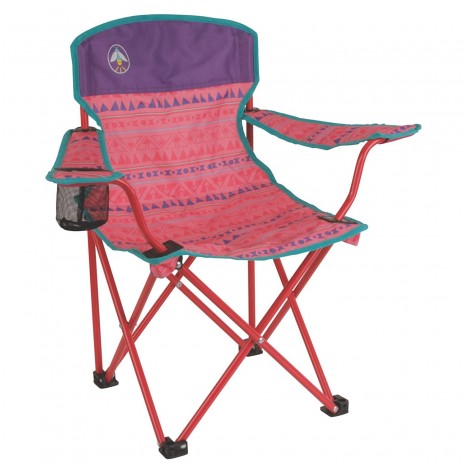 Ensure your little one has a spot to rest when at the beach by buying this seat from Coleman. It is a beautiful chair that will guarantee comfort for your little one and relaxation where they can take sip their drink or take a nap.
It has a low seat design and a sturdy frame that locks to prevent accidental closures. It is lightweight, and the package also comes with a carry bag for easy transport. The colors are adorable, warm, and child-friendly.
Comfortable
This great product has a large sitting area that ensures your kid fit in there perfectly and is comfortable. The Coleman has interlocking legs that lock when unfolded, and this ensures your child does tip when seated.
Versatility
The Coleman has a foldable design that makes storage and transportation a breeze. Once the beach party is over, you can fold it nicely and put it in your trunk.
It is a versatile product where your child can sit and chill out in other outdoor areas too. You can carry it for camping, picnics, barbeques and much more.
Cost and value
Coleman has been supplying high-quality products for many years. You can surprise your kid by buying them this beautiful fancy seat during your next trip to the seashore.
It costs more than Mellissa & Doug since it's a premium product that will last for many days. It's sturdy frame and durability ensures your child can still use it even when they are big. You will not regret the purchase since it is worth the money.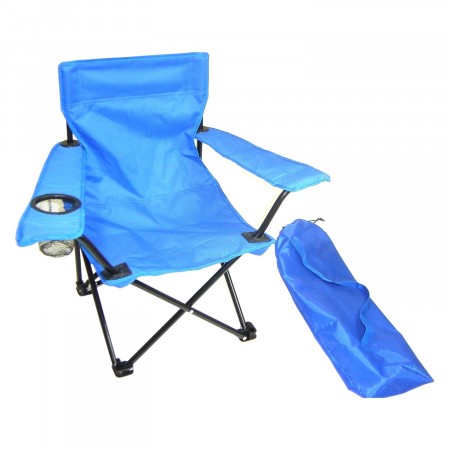 This seat is ideal for children aged between the ages of two and six and who weigh up to 160 pounds. It is made of sturdy frame and polished with a scratch resistant finish.
It measures 14L X 14W X 23 H,and has a cup holder on the side where you can place your baby's bottle or cup. The fabric is made if a PVC coated polyester which is extremely hardy and easy to clean with a wet cloth. It is available in vibrant colors that are attractive to the child.
Portability
The Redmon has a carrying bag with a drawing string for closing and a strap for carrying. It is a versatile seat that you can also take for a picnic, camping or even at the patio or garden. These features make it absolutely easy to travel with to the seaside and have some fun.
Comfort
Your child can sit well on it, relax and get all cozy since it has ideal height and is quite low; therefore, your little one can easily climb up and down without the risk of tipping over. You will not have to worry about him hurting his knees since its medium height which is neither too high nor too low.
Cost and value
The Redmon is a beautiful chair you carry for your little one and allow him to have a rest in between play. The choice of materials determines the quality and durability of a product. With this seat, you don't have to worry since quality is guaranteed. The price is a bit steep when you compare with Coleman; however, it is a super deal worth the money.

5

. Logo Brands Collegiate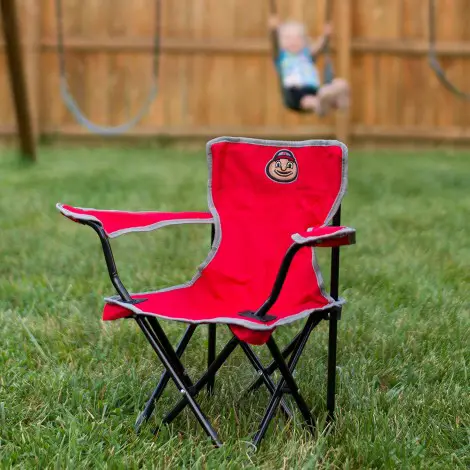 If you are planning to go to the beach and want to go with your child, you may be wondering whether there is a good seat out there that would keep your child relaxed, entertained and comfortable. Well, worry not since this seat is a natural choice.
It is a free sagging seat necessary for a firm feeling and back support. Your child will feel relaxed, which is good for his posture and happier. It is sturdy and can support a child's weight, and that makes it safe for your little one.
Versatility
The Logo Brands Collegiate is an innovative seat that comes in handy when you have a family outing. It is ideal if you would like your child to have hours of relaxation and comfortable seating. It is a versatile option for camping, sports, barbecues days, and any other outdoor events.
Features
The Logo Brands Collegiate has a simple, compact design that makes it suitable for travel due to its portability. It has a dual lock design and is made of premium polyester material which is easy to clean with a damp cloth. The lock design also offers maximum stability and allows for easy transport.
Cost and value
The Logo Brands Collegiate combines, the flexibility of use, comfort, portability, and sturdiness. It is our top pick since its high quality and costs less than the competitor's products. If a comfortable seat sounds useful to you, then you want the best, and this fits the description perfectly.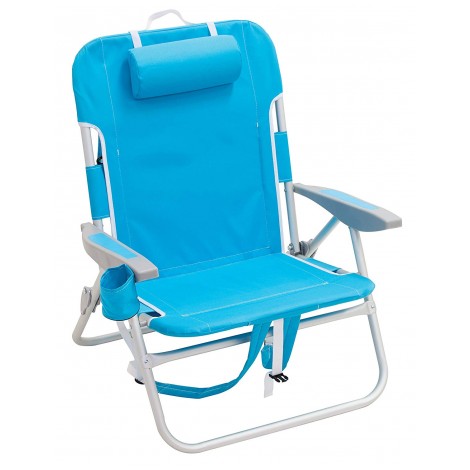 The Rio Beach is a premium seat from RIO Gear suitable for camping and outdoor adventure. It provides a hands-free portable and lightweight design. It is a comfortable seat since it is adjustable and has padded straps that make it easier to travel with since you can strap on your shoulders.
The package comes with a large bag for storage such that when you are traveling out of town, you can tuck it inside your trunk. The large storage bag can also fit other accessories which you may need for your outing since there is plenty of room inside. On the side, you will find a cup holder where you can place the baby's bottle or cup.
Comfort
Rio Beach has a wide seating area that ensures maximum comfort for your child. You can adjust the seat to four recline positions, for an instant, if your child wants to nap, you can incline in a diagonal position.
It also has an armrest where your child can place their hands and the forearm for extra comfort. It has a contoured pillow where your child can support your child's head when in a rested position.
Sturdiness
Rio Beach is made from high quality and durable materials, and this explains the sturdy frame. The combination of the adjustable recline, the armrest, and wide seat makes the Rio Beach a heavy duty seat that can support to a maximum of 300 lbs.
The fabric is thick and dense and also includes sixteen tack stitches for maximum strength. It is durable and endures everyday use. Additionally, it has a locking feature that ensures the seat does not fold when your child is seated or tilt when they stand up.
Cost and value
The Rio Beach seat is a phenomenon product made from high quality materials with a reinforced frame for strength and durability. For the price, it gets the job done. Furthermore, your child will have happier days during your outings since they have a place to relax after running in the sand and playing. It is a pricey seat; however, it is a 100% money back guarantee.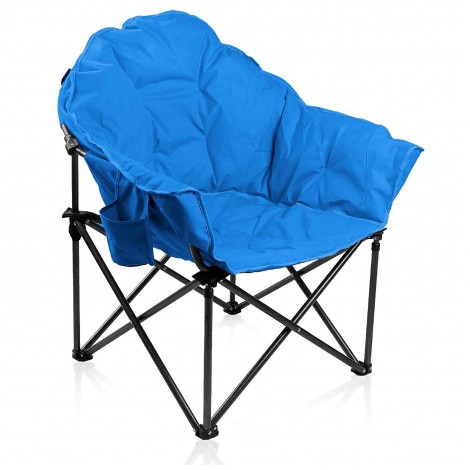 Your child will love the ALPHA CAMP seat since it is large, cozy, and stylish with a dimension or 35.4X32.5X35.4. It is made from high quality Oxford fabric. The armrest and the back are well padded for maximum comfort. It is a suitable chair for both indoors and outdoors experiences.
Portability
The ALPHA CAMP has a foldable and lightweight design that makes it easy to carry. It weighs only 13.9 pounds and comes with a carry bag that makes it convenient to carry for outdoor events, sporting and beach trips.
Additionally, there are some side pockets where you can store a bottle for your kid or any other item for easy reach.
High quality material
This seat is made from high-quality material with a tone powder finish that prevents rusting, scratching or fading. The frame is made from sturdy and durable steel construction, and therefore, it is safe for use, and there is no risk of your child tipping over and falling.
Cost and value
The ALPHA CAMP seat is a premium product that is highly priced. Nevertheless, it is a high-quality product, sturdy, and made to last. It is a safe product that your baby will love and feel comfortable resting.
It is a versatile product you can use at the beach, camping, barbeque, at the lawns and much more. It is a 100% money back guarantee and worth every penny.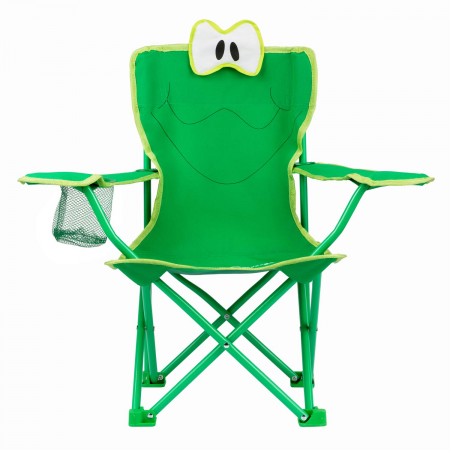 This seat has an attractive warm, and friendly smile of a frog and your child will fall in love with it. It measures 8.7 inches in height and 13.4 inches in width and is ideal for use at home and outdoors. It features a cup holder where you can put a cup or a bottle for junior to sip in between plays.
Safety
The KingCamp seat has a lock design that prevents accidental folding when your child is seated and when he stands up. It weighs 5.5 pounds with the frame made from sturdy metal to ensure stability when your little one sits on it.
The fabric is strong, breathable and has moisture wicking ability; therefore, it does not become damp even when exposed to water. The materials are reusable and environmentally friendly. It also has soft armrests that ensure comfort when junior is seated.
Portability
The KingCamp seat is lightweight, portable and comes with a carry bag for easier movement. It has a foldable design that opens and closes quickly, and therefore you can carry it like a piece of luggage inside the carry bag when going on a trip. It also offers convenience in terms of storage.
Cost and value
This seat from KingCamp is quite versatile, and you can take it along to a trip to the shoreline, camping, excursions, family outings or just a relaxing moment at the garden. It is a moderately priced seat but made of high-quality fabric and sturdy steel.
It is a good buy that will offer convenience during a family trip. You will not regret the purchase since it's a 100% money back guarantee.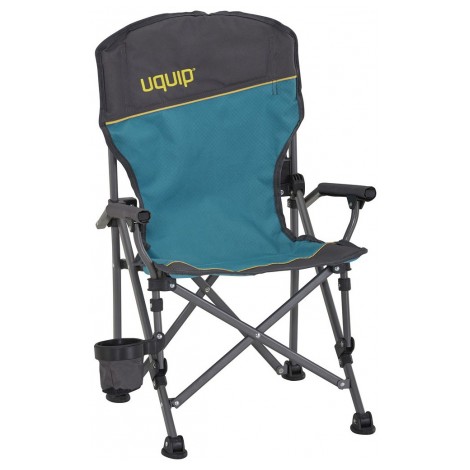 If you are looking for a quality companion on your next family trip, look no further since the Uquip Kirby is a child-friendly seat ideal for camping, family outings, trips to the beach and much more.
You can also use it home in the garden, patio or balcony. It comes as a small package weighing only 4.4 pounds. It has a collapsible design, lightweight and portable; therefore you can carry it along with ease.
Comfort
The Uquip is a luxury seat with a wide sitting area measuring 13 inches X 10.6 inches and a sitting height of 11 inches. It is a quality comfortable seat for your child with an ample seating area and a firm armrest where they can place their hands.
There is also a functional cup holder just under the armrest that gives kids the freedom to reach for the bottle or cup. It has a low height that ensures the child can climb up and down with ease.
Sturdiness
The Uquip is a stable and robust chair that will stay strong and stable since it's made of sturdy construction. The fabric is durable 600d polyester that is also easy to clean and is breathable. The leg area is quite wide for maximum stability, especially when on soft ground such as sand.
Cost and value
This seat is a premium product which will cost you some bucks. It is made from high quality fabric and has a locking design that ensures comfort and stability. It can support up to 130 lbs. Thus suitable for even bigger kids. For the price, it is a good buy since it is built to last.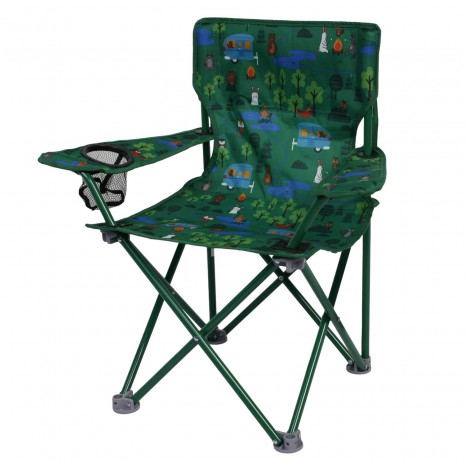 The OZARK is a fun seat with child-friendly colours and cartoon themes. It is suitable for both small and large kids and can support a weight of up to 125 pounds. It measures 22x15x25 when opened and has a large sitting area, and this ensures maximum comfort.
It has a fun design and is fitted with an in-built cup holder underneath the armrest where you can place a bottle or a cup and any other essentials.
Portable
The Ozark is lightweight and only weighs a few pounds. The package comes with a carry bag for easy transport. It is sleek with a foldable design that easily collapses. During travel, you can put it in a carry bag like a small package and squeeze it in your trunk.
Sturdiness
The Ozark is made from sturdy metal construction that ensures safety for junior. The fabric is premium, breathable polyester, wicks away moisture and easy to clean. The lockable design enhances stability and provides your little one does not tip over.
Cost and value
This innovative seat is the best you can get for the price. It is made from high quality material, quite versatile you can use for other outdoor activities such as camping or barbeque. It is also suitable for indoor use and has child-friendly colours.
It is unbelievably cheap and a quick solution if you are planning for a family trip and looking forward to surprising your little one with something fun. It is worth every penny, and a 100% money back guarantee.

Subscribe to our Newsletter