Best Double Strollers Reviewed & Rated for Quality
In a Hurry? Editors choice: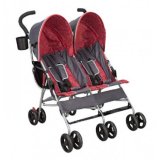 Test Winner: Delta Children City Street

Let's face it--being a parent is an extreme sport and there is no shortage of products out there meant to ease the strains of parenting. So how do you know which products are worth getting and which reviews you can trust? We've done all of that heavy lifting for you.
After looking at thousands of reviews from parents and caregivers alike, we have compiled this list of the 10 Best Double
Strollers
to make your life with (at least) 2 children a little bit easier.
We considered things like weight and size, collapsibility and intended use when compiling our list so that you can be sure to select a stroller that fits all of your family's needs. So whether you're training for a marathon or traveling across the world, we've got you covered.
Standout Picks
Criteria Used for Evaluation
Features
One of the most important considerations we made when compiling our Top 10 List of Double Strollers was the features each strolled came equipped with.
All of our strollers include canopies of varying functionality. Some of them are large while some of them are minimal. Additionally, some of the canopies provide tiered opening options and also have the ability to be removed completely.
Likewise, all of our strollers include secure fastening and belting mechanisms to make sure that your child is safely seated at all times. Some of the mechanisms are more advanced than others and we made sure to point out the functions of each.
We also made sure to point out the functionality of the wheel sets for each double stroller. Most of our products feature non-rotating back wheels with fully rotating front wheel components. This allows for stability and also ease when navigating turns. And of course, the back wheels of our products feature locking mechanisms so your little ones won't go rolling when you're parked.
Finally, we made sure to account for added features like storage and cup holders. While some of our strollers come fully equipped with all the storage capacity a family is likely to need, some require simple and inexpensive add-ons to fully roundout the product.
Size
Size is such an important factor for familes with 2+ kids. Obviously, the more children you have, the more stuff you need to bring with you on your travels and through your every day life. Adding a bulky stroller to your list of things to carry along is not ideal as these products should eliminate stress and add to your daily movement needs.
That's why we made sure to list product dimensions for each of our strollers. We loved double strollers that were still compact enough to fit through a standard sized door. This means easy use in shopping malls, in restaurants, and in airports and bus stations.
We also loved strollers that were super small and compact when deconstructed for easy storage and portability. That means we tried to include strollers that can easily be taken on airplanes as well as car trips.
Weight
In the same way that we considered size, we considered weight. When preparing for daily excursions or when readying your family for long-haul travels, every single ounce counts. That's why we tried to include lightweight options that are supportive and durable while not weighing a ton on top of everything esle you have to carry. We loved strollers that can carry older children while still being constructed from lightweight and durable metals.
Ease of Use
Let's face it--parenthood is hard enough without having to go to war with the products that are meant to make your life easier. That's why we featured strollers that parents rated as being super easy to use.
Under this umbrella, we considered how easy it was to get a child in and out of the seat, how easy it was to break the stroller down, and how easy the stroller was to steer.
Strollers with easily adjusting and multi-harnessing straps got a higher rating in "Ease of Use" than strollers that only had parachute straps. After all, ease without security is a no-go.
Likewise, strollers with one-click collapsing options scored higher than strollers with multi-click collapsing options. Even though it's a double stroller, it should be able to be easily operated by one adult.
And finally, we looked at how easy each stroller was to steer. While some of the strollers on our list are simply intended for travel and every day use, some are meant for running and exercising. These especially needed to be easy to maneuver and very responsive to the user.
Value
As always, we consider the value add of each product that makes our list. As with most products in the baby industry, there are items ranging from the very inexpensive to the very, very expensive. We like to point out that more money doesn't always get you more.
Because we are dealing with children's products, we make sure above all that each company is reliable and that each product is safe for use. Once we have this criteria met, we then look at the quality of each product and consider it's durability and its versatitliy compared to its price. Products made from reliable materials that are long-lasting but more inexpensive get a higher value ranking. Products that are brand-name based, expensive and long-lasting get a lower value ranking.
To ensure that we give you the best information possible, we poured over thousands of reviews from parents and caretakers, working to consolodate our data and making sure that we give you all the info you need to make the right choice.
10 Best Double Strollers
1

. Delta Children City Street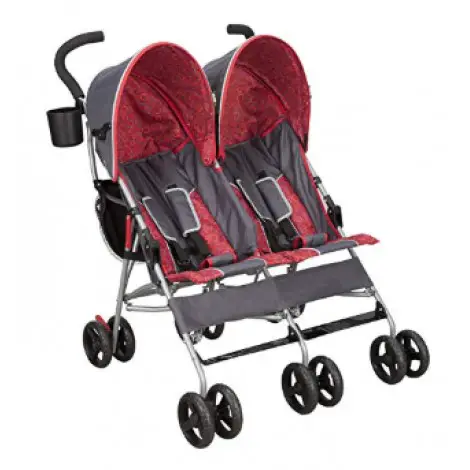 The first double stroller to make our list is the Delta Children LX Side by Side Stroller. Delta Children has been working for years to ensure that all families have access to safe and reliable products for their young children--no matter what their budget. You can find Delta Children products in homes around the world and know that you're getting quality at a price you can afford. This is meant for children weighing 5-35 pounds, so it's a great starter for twins.
Reclines with 5-Point Safety Harness
This double stroller has a whole host of wonderful features. To start, the stroller has a canopy to protect your little one from UV rays and rain. It can also recline to multiple different positions for your child's comfort. The seat features a 5-point safety harness for ultimate security, topped off with padded shoulder straps for even more comfort. On the back of each seat are two large bags for all of your parenting essentials, and even a cup holder for your much-needed coffee. And if that weren't enough, this stroller features 3 sets of front wheels that rotate 360-degrees for easy rolling and shock absorption. This stroller comes in 4 color options: black and orange, grey, lime and green, and night sky.
Can Fit Through Standard Door Frame
What makes this stroller even more appealing is that it can fit through a standard doorway (sized 30 inches wide) for total ease is transition. And weighing in at only about 20 pounds with a handy umbrella-style folding mechanism, this stroller is easy to pack and take with you.
Cost and Value
This stroller rings up on the super low-end of our price range. And what's even better? You can contact Amazon for replacement parts if anything goes wrong with your stroller.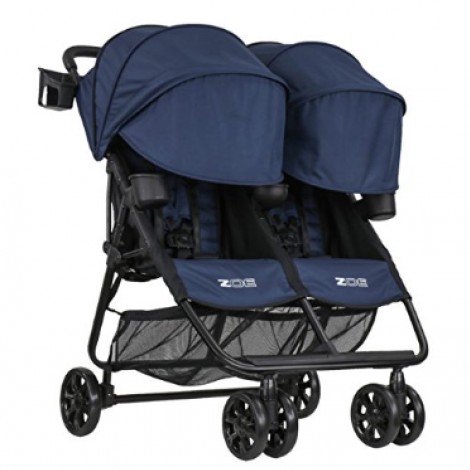 This ZOE Lightweight Double Travel and Everyday could not be more true to its name. You won't believe how lightweight this unit is, and you'll be relieved you shelled out a few extra bucks when you're traveling with this guy. This is meant for kids who are 6 months and older, so don't let the lightweight design fool you.
Features Huge Canopy
This double stroller features a huge double canopy meant to keep your babies safe from the sun and rain. That means you can adjust each child's canopy independently of the other's. Its 3-tiered design allows you to let in as much or as little light as you wish. The stroller has 2 back wheels and 2 sets of front wheels that turn 360 degrees. Additionally, each child seat has a cup holder as well as a cup holder for the busy dad, mom, or caretaker. With 2 mesh storage compartments in the unit, you are sure to be able to pack all of your essential items.
Super Light-Weight
This unit weighs only 11 pounds. That's right--11 pounds! That is half the weight of the last stroller on our list. It folds super easily in on itself and maintains a different shape than most umbrella-style strollers.
Cost and Value
This is in the middle of our price range and is backed by hundreds of positive customer reviews. Parents and caretakers found this stroller to be easy to maneuver and easily portable because of its light weight. However, if you're experiencing issues with your purchase, some reviewers mentioned that customer service was lacking.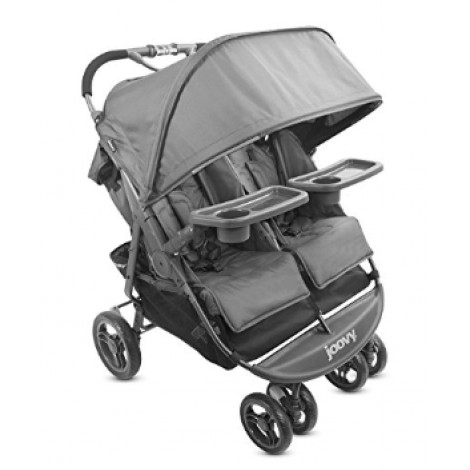 The Joovy Scooter X2 is not the most lightweight option on our list, but it is one of the most fully equipped and outfitted and a price point that won't break the bank. The side-by-side stroller design is meant to support up to 90 total pounds and is best suited for children that are roughly the same size and weight.
Cup Holders and Trays for Each Seat
This features an oversized canopy (boasting one of the biggest on the market) that extends over both seats for easy adjustment with two accordion components. It has a 5-point locking seatbelt on each chair so that you can get just the right fit for your child. Plus, each seat has a full tray with a cup holder so that your babies can drink and snack while on the go. Each seat has the capacity to lay almost totally flat for naps and each can adjust independently of the other while locking securing in place. This stroller also boasts one of the biggest storage compartments on the market with a place to put all of your baby essentials. And for the parent, a cup hold on each side and a zipped compartment in the back to keep electronics and other items that need to be on hand. With set wheels on the back and 2 sets of 360-degree rotating wheels on the front, this stroller is easy to steer. Plus, the back wheels feature tandem locking so you only have to lock one side to keep the stroller in place.
One-Click Fold Up
Even though this is like the Cadillac of strollers, it isn't a big as the Cadillacs of old. It can easily fit through a standard sized door of 30 inches so it is easy to use in shopping centers and while traveling. Additionally, the stroller features a one-click collapse option that makes it super easy to break down and to pop up. We will mention that this stroller weights almost 40 pounds so it isn't the most lightweight option on our list. That being said, it is super sturdy and durable so it's a great option for everyday use.
Cost and Value
This rings up in the middle of our price range. Its heavier weight means that it's more durable and suitable for everyday use. It can also support heavier children at varying weights so it's a good value for the cost.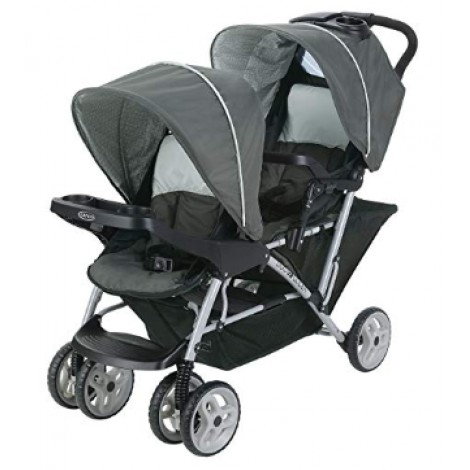 Graco is a well-recognized name in the baby products industry and for good reason. This stroller was meant for maximum convenience in a compact package. Ideal for children of different sizes, this tandem stroller can hold up to 80 pounds total.
Can Accept Graco Carseats
An amazing feature of this product is that it can accept 2 Graco car seats (SnugRide Click Connect). That means maximum convenience and seamless transitions between car rides and strolling. Each of the two seats recline independently and have their own canopies that can be adjusted. The back seat will actually recline into a fully flat position great for naps. Plus, each seat has its own footrests and trays for snacks and drinks. The front wheels rotate fully to allow ease in navigation and also features a huge undercarriage storage compartments for all essential items.
Narrow Tandem Design
The options on our list so far have all been side-by-sides, but this provides a unique tandem design. That means it can accommodate children of different sizes more easily. The tandem design also means that it is narrow enough to fit through almost any door and to navigate in small spaces. Weighing in at 30 pounds, it's not the lightest but not the heaviest on our list either. Of course, if you account for clicking in child seats, the weight will be a bit more. This stroller also features a one-touch collapsing mechanism that allows you to collapse the stroller without having to bend down--great for one parent operations.
Cost and Value
This is in the mid to low range of our price range. We love this value because it is sturdy and can accommodate different sized children. We also love it because it can be paired with Graco car seats for easing the transition between car rides and strolling.

5

. Baby Trend Sit N Stand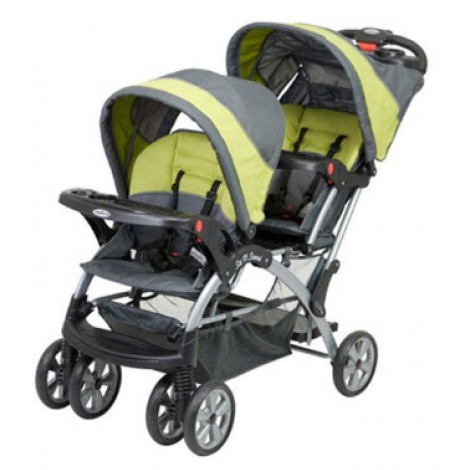 Here's another tandem option that has an extra fun twist--a standing platform on the back. With tons of options to mix and match settings, this stroller has just about everything. It can carry up to 80 pounds.
Standing Platform on Back
This stroller can also accept car seats made by the manufacturer. Each seat has a removable cup holder and tray for snacks and beverages. The canopies collapse independently and there is a full storage compartment underneath that expands the length of the stroller for ultimate storage capacity. The front wheels rotate fully giving the parent or caretaker ease in steering. What's super cool about this stroller is the back platform feature. It is meant for children who are at least 2.5 years old and who don't weigh more than 40 pounds.
Adjustable Configurations
Because this is a tandem stroller, you won't have to worry about it being too wide to fit through standard doorways. It's compact and weighs in at about 30 pounds, putting it in the mid-to-high range for weight. What's more, you can fully remove the back seat to create a traditional Sit and Stand stroller allowing your child to fully stand with space on the back.
Cost and Value
This is on the lower end of our price range and we love it for its value. It is super versatile and has multiple configuration options, plus is can be paired with the company's car seats for incredible convenience.

6

. BOB Revolution Flex Duallie 2.0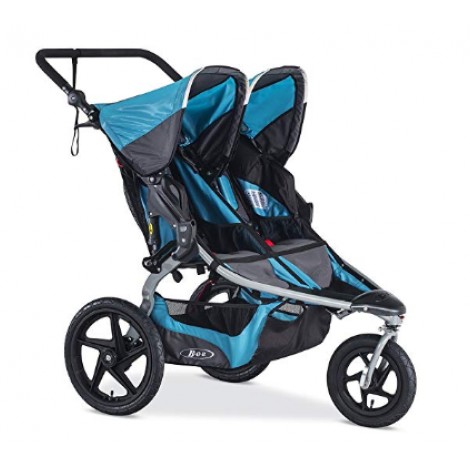 This heavy duty jogging stroller is the first of its kind to make our list, and it is the cream of the crop. You'll be hard pressed find a double stroller that performs at this level. Each seat can hold a 50-pound child--more than any other stroller on our list so far.
Air Filled Tires and Adjustable Handlebar
This stroller comes absolutely loaded with features. The three-wheel design allows for easy steering at higher speeds. Plus, the suspension on the stroller is modeled after a mountain bike so it can absorb shock and provides a nice smooth ride for your little ones. The tires are filled with air and have a nice tread so they can handle anything from bumpy roads to slick winter streets. With a super strong harness and 2 independent canopies that provide 50 SPF, your kids will be safe and sound. Another great feature that this stroller offers is its compatibility with the BOB infant car seat (sold separately, of course). And on top of all of that, the handlebar is adjustable so any parent or caretaker can find a good fit.
Greater Weight Capacity than Other Strollers on the Market
This stroller can hold more than most of the strollers on our list and on the market. Each seat can hold a child weighing 50 pounds. The stroller itself weighs in at about 30 pounds, so it's not light but its heavy-duty design with withstand tons of use. A 2 step collapsable system allows you to break down the stroller easily so that you can pop it in the trunk and head off on your next great adventure.
Cost and Value
This stroller is one of the more expensive strollers on our list, but you get what you pay for. The materials that this product is made from and the research put into it to make sure that it's a stroller that will last for years.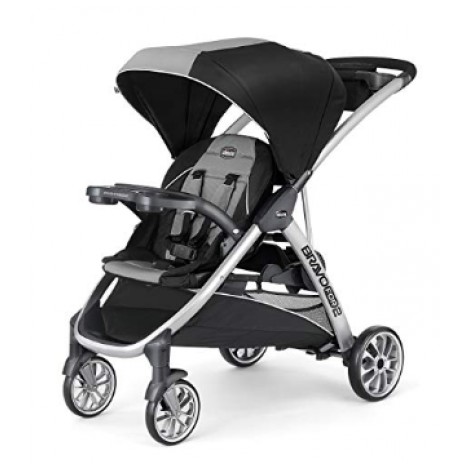 This option is configured a little bit differently than the other double strollers on our list, but we love it because it provides kids and parents with different options. It can support 2 children of up to 40 pounds.
Convertible Seat and Platform in the Back
This double stroller has so many cool features. First, it has a huge canopy for protection and a tray and cup holder for the traditional front stroller seat. The front seat has a 5-point harness and it can accept car seats made by Chicco that make an audible click so you can tell when the seat is securely fastened to the stroller. The back seat folds up and down and has a 3-point harness. It is meant for bigger kids to fold down and sit on when tired and to fold up and stand on the back platform when they're feeling energized. Additionally, there's a large storage compartment underneath the stroller and another 2 more storage pockets--one for kids and one for caregivers.
One Hand Folding and Collapsing Mechanism
The one hand folding feature is a game changer. There is an extra handle that activates the folding and sends the front wheels back as it collapses so that the whole stroller stays standing up. It's easy to pick up and more compact than other strollers of its size. That means easy storage and great for traveling.
Cost and Value
This stroller is in the mid to high range of our price range. It's a little bit more expensive, but it's lightweight and compact and has some features that other strollers don't offer so we like its value.

8

. Britax 2017 B-Agile Double Stroller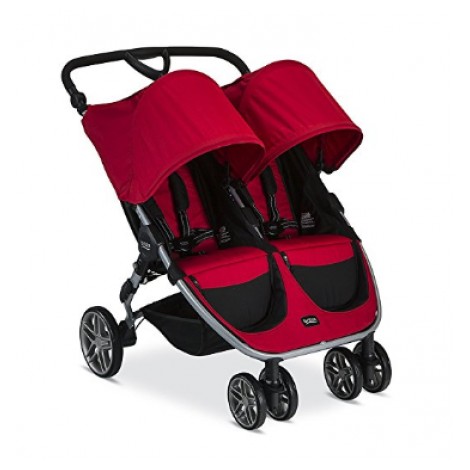 This item has a unique design meant to mimic a 3-wheel stroller but giving you the stability of a 4-wheel stroller. It is lightweight but can hold up to 100 pounds total.
3-Wheel Design in Mind
This stroller has 2 back wheels and 2 sets of wheels in the front that are set closer together to mimic the steering capabilities of a 3-wheel stroller while giving you the security of a 4-wheeler. It has 2 huge canopies that are 50 SPF for maximum protection. Each of the seats has an infinite number of reclining positions that move independently of each other. There is a large storage compartment underneath the seats.
Lightweight and Great for Travel
This option is made from lightweight aluminum so it won't weigh you down and it can carry a lot of weight--up to 50 pounds per child. The stroller itself weighs only 26 pounds and it folds up compactly for ease in traveling. Plus, it's narrow enough to fit through most standard doorways with ease.
Cost and Value
This rings up in the mid-high range of other strollers on our list because it is made from lightweight yet strong aluminum and can carry more weight.

9

. Contours - Options Elite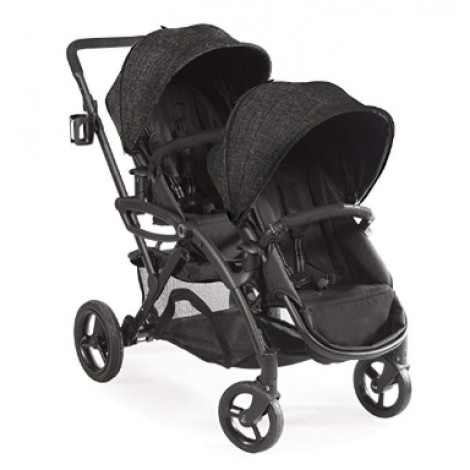 This product provides tons of options and add-ons so that parents can configure seating in different ways. It is meant to hold 2 kids weighing up to 40 pounds each.
Tons of Seating Arrangements
The Options Elite really does provide so many options to the parents. Both seats can face forward, both can face backward, and they can even be moved to face each other. That makes this stroller appropriate for so many occasions. The stroller also features tons of storage underneath with side access zippers and well as 5-point safety harnesses on each seat. The canopy is unique in that it features a peek-a-boo window so that you can check on your little ones without moving the entire canopy.
Adaptors for Traveling
There are adaptors that you can add to accept car seats and make this stroller your best travel buddy. The stroller weighs 34 pounds so it isn't the lightest on our list but not the heaviest either. Plus, because it is a tandem style stroller, it can navigate through smaller spaces.
Cost and Value
This stroller is on the more expensive end of our price range. You're paying for lightweight aluminum again, and also for the variety of seating options. Because this stroller is moderately lightweight and has bonus features that other strollers don't have, we like it for its value.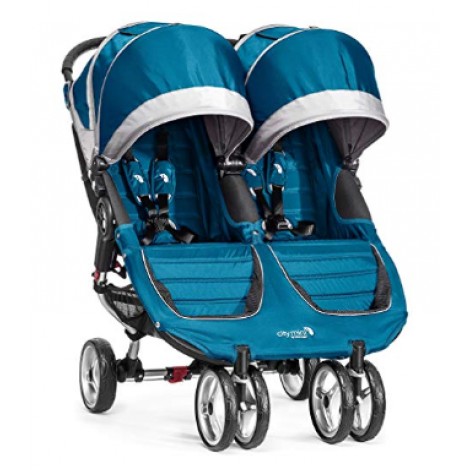 This product was designed for city streets by using research and technology from jogging strollers to ensure that this double stroller can take on bumps and potholes. With a weight capacity of 100 pounds, this stroller will keep up with you and your growing family.
Tons of Add On Options
This stroller comes with tons of standard convenience, but also several add on options to fully outfit your stroller and convert it into a traveling stroller. Standard features include a peek-a-boo canopy that can move independently on each side. Each seat has a 5-point safety harness and can lay almost totally flat. Add on features include a weather guard that fits over the entire stroller, parent trays and child trays, and a nice little bag that the stroller can fit and zip into for ease in transport.
Compact Design
This stroller is lightweight and compact. It weighs just 28 pounds and can hold up to 100 pounds of children. Plus the wheel design makes it easy to steer and navigate through city streets. Did we mention that it can fold and zip into a super compact and convenient bag?
Cost and Value
This stroller is the second most expensive on our list but parents absolutely love it. It's made from lightweight aluminum and strong enough to hold 100 pounds, and it provides add on options so that you can design the stroller that is just right for you. For that, we love its value.

Subscribe to our Newsletter