Best Bottle Warmers Reviewed & Rated for Quality
In a Hurry? Editors choice: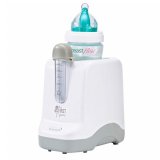 Test Winner: The First Years

Can you imagine waking up in the middle of the night to the sound of a crying, hungry baby? Two options cross your mind, feed him on a cold formula which is definitely a big NO or
turn on the kettle
, and heat some water to warm the milk. The sound of a yelling baby almost driving you insane and you need some instant solution. Yes, time is ripe to give a bottle warmer, some thought.
This useful device is particularly essential in heating milk before feeding a baby and is convenient for use at home and travel. Our research on these products has found perfect options for parents looking for effectiveness, safety, flexibility, and portability. To get an in-depth understanding of these factors, scroll down and read through this guide as we explore the best ten on the market today
Standout Picks
Criteria Used for Evaluation
Effectiveness
In the olden days, parents would warm their baby's milk by placing the bottle in a bowl full of hot water. They would then shake it and pour a little at the back of their hands to test the temperature. While this may have been the only practical solution at the time, it was pretty exhausting to both the mother and the baby.
Fast forward and the contemporary society has derived ways to make life simple and convenient. Bottle warmers are every mom's primary need. They offer convenience and are multifunction for not only heating the milk but also defrosting food and sterilizing bottles and nipples. The main advantage with this device is that they warm the milk to the desired temperature, evenly and without leaving hotspots.
How do they maintain the same temperature level? Well, they are intelligent devices with adjustable settings that require you to rotate the knob or simply dial if it has an LCD screen. After the milk has heat to the desired temperature, the device automatically shuts off and keeps the milk warm. Some have quick reminders and timers that notify you when the milk is ready.
Obviously, these devices should perform well for you to realize their effectiveness. When shopping for one, these are some of the things you should at. Whereas most of them are electrical, some are manual, but your choice entirely depends on your convenience and portability. When traveling, you can heat the milk at home, and the milk will remain warm up to the next feeding session.
Durability
The primary criteria for determining the durability of a product or device is by looking at the quality of the material used in their construction. A warming device should remain functional without the need for constant replacement or repairs during its lifetime.
What factors should you look at in ensuring the product you are buying will last to the next feeding session? There are some trusted brands out there that have won the hearts of millions of customers in the provision of quality products. Whereas the market is overflowing with new offers every day, it's essential to be extra cautious before testing a new product.
Shopping is now easier since you can check on previous customers' reviews to find out what they are saying about the product on your wish list. Since quality is always a key concern, firms are continually improving and adding more features to products in an attempt to remain competitive. A durable warmer will have an immediate advantage and definitely save you some bucks. In a nutshell, durability makes economic sense.
Value
Well, you don't have to break into a bank to buy these essential items. They come at different shapes, sizes and prices, of course. Some will cost you an arm and a leg whereas they are others cheap as they can be.
While the price is a worthy consideration, what matters most is buying a product that will satisfy your needs without overstretching your budget. High quality warmers may be a little bit pricey; however, the cost eventually balances with long-term benefits.
Select a warming device that will serve you best from the time the child is small up to the time they start feeding on a cup. If your babies spacing is a little bit wider, you may use it for defrosting food or sterilizing depending on the functionality. Cheap products usually are viewed as less durable and prone to breakages. It becomes expensive due to high replacement costs, which can lead to financial annoyance on your part.
What if your budget is quite restrained? That brings us to the question of the brand. Popular brands such as Philips Avent have cheaper versions of their warmers which are equally effective and high quality though limited in their functionality. Finally, cost-effectiveness, durability and effectiveness determine the overall value of a product. Despite its price, the best warmer should, in return, give you value for the money.
Portability
There are times you want to travel with your baby out for a stroll, family outing, or taking a flight. You definitely must carry your warming device with you or how else will you calm your hungry fussy baby? Of course, you also need to have fun with a relaxed mind. At this juncture, you need a lightweight and portable device that you can easily carry.
A diaper bag is used to carry baby's essentials during travel. A warmer should fit perfectly into this bag without overcrowding everything else and increasing your effort and load. It should necessarily have a small and compact design that will significantly enhance your experience during its use.
A warmer should be small in size that equally offers a lot in regards to functionality. A sizeable bulky device can overcrowd your bag and take much space. It will provide convenience and a hassle-free travel. Our bag and take much space. It will offer convenience and a hassle free travel.
Ease of Use
A warming device does not need a guru to operate. They are simple devices with clear instructions. If you are a new parent, you can look out for one with an operation manual to get started.
Operating one is simple since all you need is measure the water level, insert your bottle of milk, turn on the knob and you are good to go. Quite simple.
With this device, you don't need to keep your baby crying or restless as you wait for the milk to warm. It is thus a safety device since milk heats evenly and there is no danger of feeding your baby with boiling milk.
Some warmers have an LCD screen that allows you to set and monitor the temperature level. They are also easy to use, and all you need is dial and proceed to other tasks. Their maintenance is also pretty easy since food remains do fall inside.
10 Best Bottle Warmeres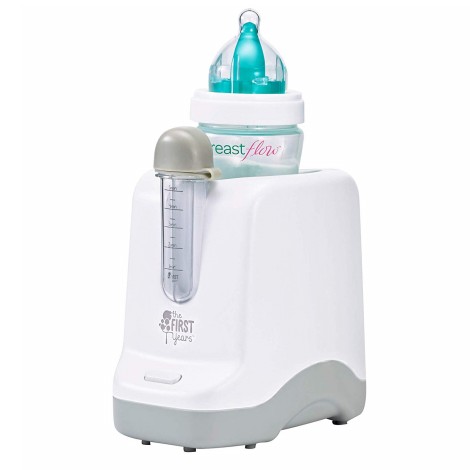 First years has been providing quality infant feeding solutions to parents for quite some time now. This compact warmer will save you lots of headaches and makes feeding easy. It is ideal for mommies on the go, at home and daycares. With this warmer, days of putting baby's bottle in a bowl full of hot water then waiting for the milk to warm are going to be a thing of the past.
Versatility
The First Years warmer is quite efficient for heating your baby's milk in a blink of an eye. It is pretty versatile, and you can also heat baby's food.
It is a practical device designed for bottles of all shapes and sizes. These include; straight, wide-necked, angled and disposables
Safety guaranteed
This warmer is a safe device with an automatic shutdown that ensures your safety when using it and contributes to energy efficiency. It's easy to operate it, and the light will go off when milk is warm to the desired temperature.
An equally important feature is the basket that you can use to sterilize the pacifier and ensure your baby's safety. It is a safe alternative to a microwave, BPA free and every mommy should give it a thought
Cost and value
For the price, this gadget performs exceptionally. It does the job correctly and heats the milk pretty fast, yet it's incredibly cheap. Ultimately it is convenient since it has an automatic shutdown and is a good value for the money.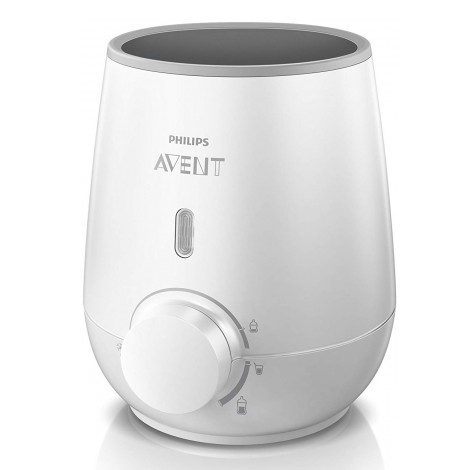 Designers of this product pride themselves in producing a warmer that heats milk instantly with no hotspots whatsoever. No need to worry if you are traveling since it has a compact design that can fit in a small bag amongst other baby's essentials. You can also put it on your nightstand for ease of reach and takes less space on your counter or table.
Versatile
Previously mommies had a daunting task finding a warmer that would accommodate any bottle. However, this great warmer is quite multifunctional since it can fit various bottle shapes.
You can also use it to defrost the baby's food. It is easy to use, and all you need to do is add water and turn on the knob.
Effectiveness
This Philips Avent is easy to operate. While it may not be the fastest, it heats the water in a circular motion while ensuring the water warms evenly.
Unlike the First Years, this one here does not have a timer; nevertheless, it has a separate setting for defrosting.
Cost and value
This version of Philip Avent is quite cheap, fast, and efficient. However, it costs more than the first years, likely due to brand, high quality, and outstanding performance. It is trusted by millions of mommies and is a 100% money back guarantee.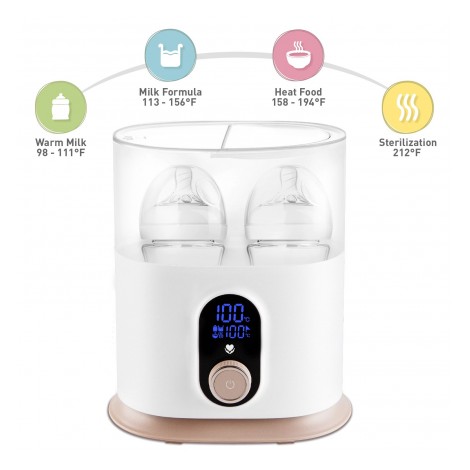 Finding the perfect warmer does not have to be a hard task. Babebay is our top pick since it's a four in one device that functions as a milk warmer, food heater, formula heater, and sterilizer. For a mother, the ideal warmer is one easily accessible, heats pretty fast, and easy to operate without necessarily going through complicated instructions. This device promises more in terms of functionality, reliability, and effectiveness. Uniquely designed, this device can hold two bottles at the same time, and this saves you time and enhances your efficiency.
Advanced features
The Babebay is an intelligent device with a thermostat for regulating the temperature and ensuring the milk remains at the same temperature. The anti-dry heating feature that makes it absolutely safe to use.
It also has an LCD screen that displays the current temperature of the water against the target milk temperature for ease of reference.
Safe product
Most parents' especially new mommies are generally concerned about the quality and safety surrounding the use of baby's essentials. This warm is made from high-quality materials that do not produce chemicals or toxins when during heating.
It is also BPA free and therefore, a safe product for your baby. The temperature control mechanism also makes it safe to use with clear instructions.
Cost and value
This warmer is a high premium product with multiple features that guarantee efficiency. It is pricey as compared to other such products on the market. It is a money saver and makes economic sense since it combines four functions into one. The two bottle feature is the deal breaker; therefore, it is a good buy that will give you value for money.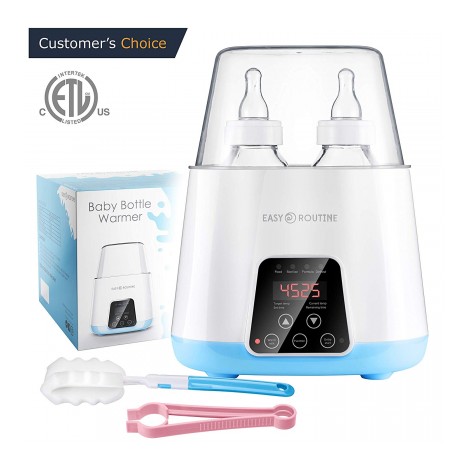 Ever heard of a warmer that can eliminate close to 100% of all germs? Well, the Easy Routine is one perfect example. The company has produced a five in one multi-functional device for warming breast milk, heating formula milk, defrosting frozen milk, warming food and sterilizing the baby bottle. It is safe to use, and the materials are BPA free, including the sterilizer. The compact design makes it suitable for travel, and you can easily pack it in your bag. It also takes less storage space and does not clutter your table or nightstand.
Effectiveness
The Easy Routine gadget warms the milk pretty fast and has the keeping warm feature that allows you to maintain the same level of temperature the entire day. The sterilizer keeps away dirt and germs while the LCD display enables you to monitor the temperature readings for ease of adjustment.
The self-regulation function allows you can attend to other tasks as the pints of milk heats up. It also has a delay function that gives you time to activate any feature. It is also useful in preserving the nutrients present in the milk.
Large capacity
Unlike most warmers which are small in size, the Easy Routine is a large capacity device quite versatile to accommodate almost all types of bottles such the wide-mouth, standard or angled.
It also works perfectly with food jars and storage bags. Its large size makes it suitable for parents with more than one child.
Cost and value
This device has many functions that make it be a high-end function. It is ideal for families looking for a product that combines many features into one.
Similarly, it is a money saver since you do not have to buy many devices. It is worth every penny and is a good value for the money.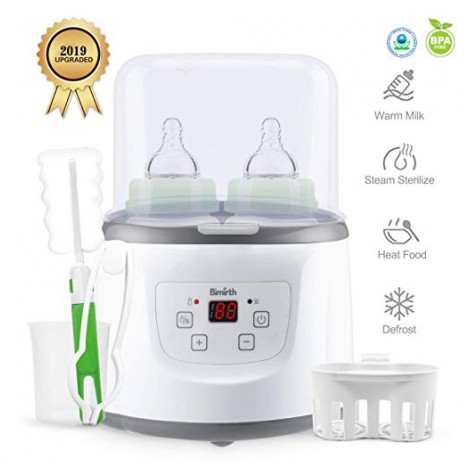 Warming milk can be extremely tiring since you have to keep on testing the temperature. Well, it could take much of your time, and this can be resolved quickly by searching for an automatic warmer? The Smartip is a multifunctional device for warming your baby's milk. It takes the crown as a fast warmer and gets the milk warm in just a few minutes. It steadily warms without leaving any hotspots. Quality is guaranteed since it is made of premium materials that are high temperature resistant and BPA free. Therefore, this makes it safe to use. It is also quite versatile and can accommodate various bottle shapes.
Compact design
This warming device has a compact design that saves on space. The sleek frame allows it to fit well amongst other essentials in your travel bag. It will also fit well on a nightstand and complements your counter, table, or the shelf.
Unique features
The Smartip is an elegantly designed device that has unique features that ensure it performs exemplary. The LCD screen helps you monitor the temperature readings and only requires you to press on the buttons to set the desired levels.
The high steam function not only warms the milk or food but also sterilizes the bottle. It also has an automatic feature that shuts off as soon as the water levels are depleted; this makes it safe to use and allows you to do other things as the milk warms.
Cost and value
The double bottle and lifter design make the Smartip an economical product in terms of capacity and energy use. It costs less than the Easy Routine; however, it is a high-quality product, versatile and a good buy worth considering.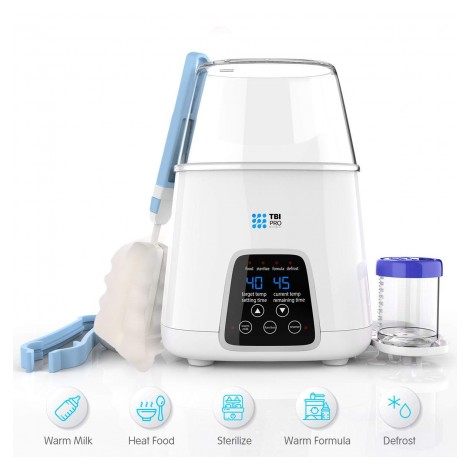 If you are looking for a user-friendly warmer with multiple features, then the TBI Pro fits the description perfectly. This device has five in one functions, which makes it a do it all gadget suitable for large families. It is lightweight and has a compact design, and this makes it convenient for travel. It is also safe to use and made from BPA free approved materials. The antiskid base ensures it rests perfectly on the table surface hence prevents accidental falls.
Multi-functional
This warming device is versatile and can accommodate bottles of various shapes to suit your needs. It is useful in warming and defrosting breast milk, food, and heating formula.
You can also use it to sterilize pacifiers, bottles, nipples, other essentials and effectively keep away germs and contamination.
Effectiveness
The TBI Pro gets the job done and warms the milk evenly without leaving any hotspots. It does not overheat the milk or burn the food; hence it ensures they remain fresh and do not lose their nutritive value. It is a smart gadget with an LCD screen and an auto-off function that automatically shuts off when milk heats to target temperature.
New parents get overwhelmed in the first days and may quickly get distracted. However, with this warmer, you don't have to worry about forgetting since it has a quick reminder feature that guarantees your safety. You can, therefore, attend other chores as the milk heats up.
Cost and value
Just like the Smartip, this device has a two bottle design that makes it cost effective and economical. However, it costs more but promises a lot in terms of functionality since it has a myriad of features. It is a high-quality product that is equally effective, and this makes it a 100% money back guarantee.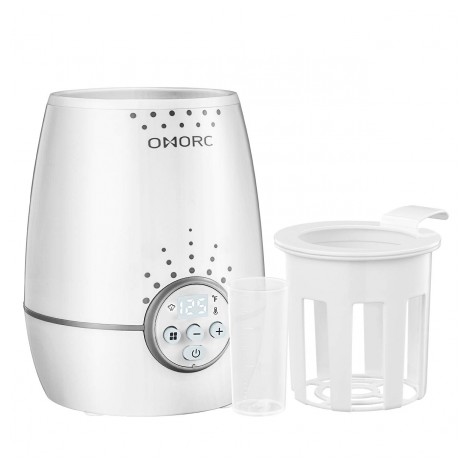 OMORC is an elegantly crafted device for warming milk for the baby. It is two in one device that features two modes. One mode is for switching and heating the milk pretty fast, and the other mode is for warming the milk and maintaining a constant temperature. It has a compact design that makes it travel-friendly since you can easily pack it in the baby's bag. It also fits well in your nightstand and complements your shelf, table, and counter.
Effectiveness
This warmer is convenient and versatile to accommodate all types of bottles given the fact that you can customize to fit your bottle size. It can be a nightmare dealing with leftover milk; however, with this device, it keeps the milk the milk warm until the next meal. You can also use it to warm or defrost food.
Advanced features
This device is technologically advanced with an auto power feature that is particularly useful at night. The alert system notifies you when milk is warm; therefore, you do not have to worry about your safety.
This is fitted with a chip to allow you to control the temperature to your desired level. It is easy to use with a simple dial that does not need a guru to operate. All you need is fill in the water to the appropriate level and turn on the button and proceed to other tasks as the milk warms.
Cost and value
For the price, this device is really practical since it is a convenient way of warming milk for your baby. Additionally, it is a high-quality product made from BPA free material that makes it safe for your baby. It is cheaper than the TRI PRO warmer; however, it doesn't mean its inferior quality. On the contrary, it is a good purchase worth the money.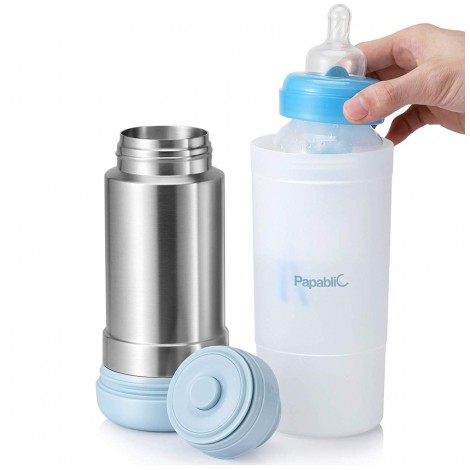 The Papablic gadget is suitable for warming your baby's milk anywhere since it has a portable design that is easy to carry. It is simple to use for keeping milk warm without the use of electric power. The waterproof closure ensures the water stays hot up to the time you are ready to warm the milk. It is multifunctional and can accommodate a variety of bottles such as; Medela, Philips Avent, Evenflo, and Dr.Brown. However, it is not compatible with Tommee Tippee and comotomo bottles.
Heats evenly
The Papablic is a reliable device that heats the milk fast, evenly and safely. The main advantage of this product is that it does not leave hotspots and does not overheat; hence, the milk does not lose its nutritive value. It is ideal for a mommy on the go and offers convenience when you want to feed your baby.
Compact design
This astonishing warmer is a lightweight and has a sleek design; thus, it is a space saver and can fit perfectly in your travel bag. The small frame also fits well in your nightstand and looks neat on the table.
Cost and value
If you are on a tight budget, the Papablic is a natural choice since it's incredibly cheap. It is a favorite amongst traveling parents seeking for a solution to warm their baby's milk with convenience. It is made from BPA free materials and is durable. It is a good purchase at a great price.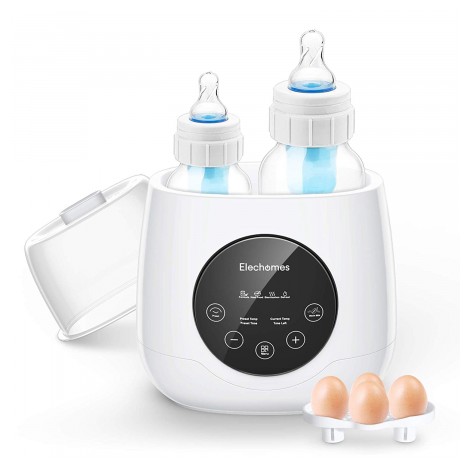 This six in one multifunctional appliance is ideal for warming your baby's milk and keeping it warm for your convenience and that of the baby. It is a versatile piece of equipment you can use to defrost food and even boil eggs. Yes, you heard me right, cook your eggs. It's such a practical device, and none can compare to it in terms of performance and effectiveness. It steams pretty hot and sterilizes the bottle, pacifier and the nipples thus keeping away germs and contamination which may affect your baby's health.
The double bottle design large capacity
Do you have twins or an extra hungry baby? The Elechomes comes in handy since it has a two bottle design that can accommodate two bottles at the same time when warming. It's quite big to accommodate bottles of different capacities.
Features
The Elechomes is loaded with many features that make it perform remarkably. It has a one-touch automatic system for controlling the temperature and time. This allows you to choose your preferred setting by just dialling on the LCD screen. The time control will enable you to set the time depending on your baby's feeding schedule.
Cost and value
This warmer is a cost saver since it has a double bottle design and generally conserves energy. Agreeably, it is a cost-saving option that every mommy should try. The price is excellent and will definitely give you a value for your money.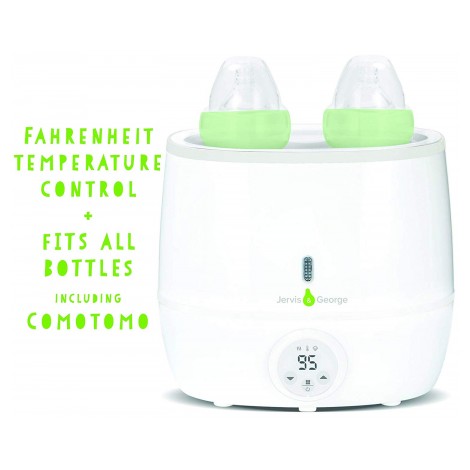 The Jervis & George device warms your baby's milk pretty fast and gently by maintaining its nutritive value. It also functions as a water bath or steam heater. It is multi-functional, and you can also use it to defrost baby's food and keeping it warm.
Features
Jervis & George warmer is carefully crafted with a double bottle design and also acts as a sterilizer for your bottle, pacifier, and nipples. It has a temperature control system that lets you set your desired temperature and attend to other tasks.
Another essential feature is the countdown timer that alerts you when the milk is warm and automatically shuts off the device.
Effective
This device from Jervis and George works effectively by warming the milk and keeping it warm for your convenience. It has a compact design and fits perfectly in a travel bag thus ideal if you and your baby are taking a trip.
The small size looks great on the shelves and will complement your countertop or table surface. You can also keep it in your nightstand for use at night when need be. Say goodbye to nights of fussiness with this warmer.
Cost and value
Jervis & George device is a versatile device compatible with a variety of bottles. The double bottle design makes it an economical product that will not only cost effective but energy efficient. Its price is a little bit steep; however, the benefits overshadow the cost by a more significant margin. Overall, it is a good purchase worth the money.

Subscribe to our Newsletter