Best Beach Chairs Reviewed & Rated for Quality
In a
Hurry? Editors choice: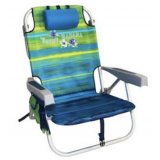 Test Winner: Tommy Bahama

Relaxing in the sun
, listening to the latest summer songs and people-watching are all a much better experience when you are sitting on a comfortable and functional chair. This chairs come in all shapes and sizes, offering a variety of options for a market with wide-ranging wants and demands. From modern folding chairs to backpack chairs to classic sand chairs, there is sure to be a beach chair that fits your needs. The chair market is sensitive to what consumers want including extra features such as drink holders, attached pillows, and
protection against sun exposure
. Read on to find out what you personally need most from a beach chair and choose the perfect one for your enjoyment.
Standout Picks
Criteria Used for Evaluation
Durability
Quality designed into a products results in durability.
We looked for durability in the types of materials used to construct these beach chairs because the environment in which chairs are used is one in which the materials meet durability challenges. A day at the beach with a nice breeze and pleasant sunshine feels nice for people but in the breezy air we have salt which does have corrosive properties, constant sunshine has a drying out effect, these two combinations can put wear and tear pressure on wood, plastics, and the types of canvas used in making a chair.
The types of plastic or wood used for beach chairs frames will dictate the lifespan and durability of the chair and we looked for higher grade materials because the use of these will give the user many comfortable seasons at the beach. All people will sweat while lounging on a chair at the beach and sweat mixed with sunscreen creams, the salty sea air can impact on the canvas/fabrics used for making chairs,
Features
The more features available in a product the more it has purposeful functionality.
We looked at the features designed into these chairs as we wanted to see that these features offered realistic functionality. It is not unusual for some products to offer an array of features to tempt buyers but the features offer very limited long-term functionality. For beach chairs, we looked for features which offered comfort, ease for setting up a chair, light-weight, good quality materials used in the construction of the chair, durability and easy to carry.
Value
Even if we spend a little more than we wanted, the value will be proven through quality and durability.
Our criteria focused in on value, we wanted to see value matching the potential for comfort, durability, and features. Value does not mean that we get a great product at a much lower price though we accept in some cases this can happen, during store sales and stock clearances.
Our criteria focused on what you get for the price you pay, we wanted to see that for a high-co.st product that the comfort, functionality, and durability of the product could be demonstrated through good design combined with very good quality materials.
For lower cost chairs we looked for evidence along the same criteria that the product will offer a reasonable level of standards matching our research criteria and therefore not give the user a sub-standard product
Subscribe to our Newsletter