Best Beach Chairs Reviewed & Rated for Quality
In a Hurry? Editors choice:
Test Winner: Coleman Oversized

Relaxing in the sun
, listening to the latest summer songs and people-watching are all a much better experience when you are sitting on a comfortable and functional chair. This chairs come in all shapes and sizes, offering a variety of options for a market with wide-ranging wants and demands. From modern folding chairs to backpack chairs to classic sand chairs, there is sure to be a beach chair that fits your needs. The chair market is sensitive to what consumers want including extra features such as drink holders, attached pillows, and
protection against sun exposure
. Read on to find out what you personally need most from a beach chair and choose the perfect one for your enjoyment.
Standout Picks
Criteria Used for Evaluation
Durability
Quality designed into a products results in durability.
We looked for durability in the types of materials used to construct these beach chairs because the environment in which chairs are used is one in which the materials meet durability challenges. A day at the beach with a nice breeze and pleasant sunshine feels nice for people but in the breezy air we have salt which does have corrosive properties, constant sunshine has a drying out effect, these two combinations can put wear and tear pressure on wood, plastics, and the types of canvas used in making a chair.
The types of plastic or wood used for beach chairs frames will dictate the lifespan and durability of the chair and we looked for higher grade materials because the use of these will give the user many comfortable seasons at the beach. All people will sweat while lounging on a chair at the beach and sweat mixed with sunscreen creams, the salty sea air can impact on the canvas/fabrics used for making chairs,
Features
The more features available in a product the more it has purposeful functionality.
We looked at the features designed into these chairs as we wanted to see that these features offered realistic functionality. It is not unusual for some products to offer an array of features to tempt buyers but the features offer very limited long-term functionality. For beach chairs, we looked for features which offered comfort, ease for setting up a chair, light-weight, good quality materials used in the construction of the chair, durability and easy to carry.
Value
Even if we spend a little more than we wanted, the value will be proven through quality and durability.
Our criteria focused in on value, we wanted to see value matching the potential for comfort, durability, and features. Value does not mean that we get a great product at a much lower price though we accept in some cases this can happen, during store sales and stock clearances.
Our criteria focused on what you get for the price you pay, we wanted to see that for a high-co.st product that the comfort, functionality, and durability of the product could be demonstrated through good design combined with very good quality materials.
For lower cost chairs we looked for evidence along the same criteria that the product will offer a reasonable level of standards matching our research criteria and therefore not give the user a sub-standard product
10 Best Beach Chairs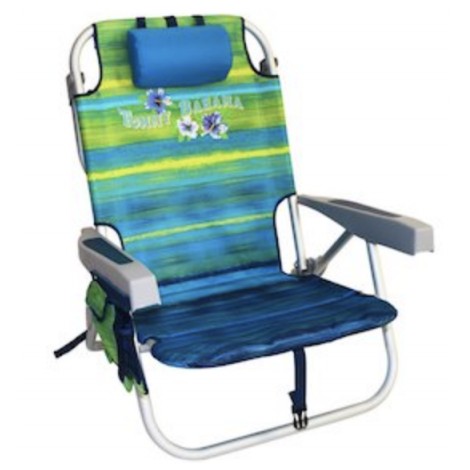 This lightweight, classic folding beach chair is a highly popular choice that earns top marks for its construction and durability. Tommy Bahama aimed for simplicity and comfort, and with this chair, they succeeded. From its portability to its satisfying, relaxing construction, this chair has something for everyone. Fashionably cool, these chairs will have you fitting right in on the beachfront.
Adjustable Aluminum Frame
The Tommy Bahama chair sports a rustproof aluminum frame with high-quality polyester fabric for years of use. It can be adjusted to five different sitting positions and includes a pillow with velcro tabs. As comfortable as the chair is to sit in, it's even more comfortable to carry to and from your destination. At a mere seven pounds, the chair is designed to be carried like a backpack, leaving your hands free to carry other items.
Extra Features
The covered side pockets are ideal locations to hold your cell phone, and the cooler provides room for a few cold drinks. A towel bar is also included for a handy location to hang and dry your beach towel and keep sand off of your clothes. The chair's fabric features a UV stabilized 600 denier coating to protect the user from harmful UV rays.
Cost and Value
This chair sells at a relatively average price especially compared to more sophisticated, high-tech competition. Many buyers note that the value more than makes up for the price: the chair is lightweight, easy to carry, comfortable, and includes storage.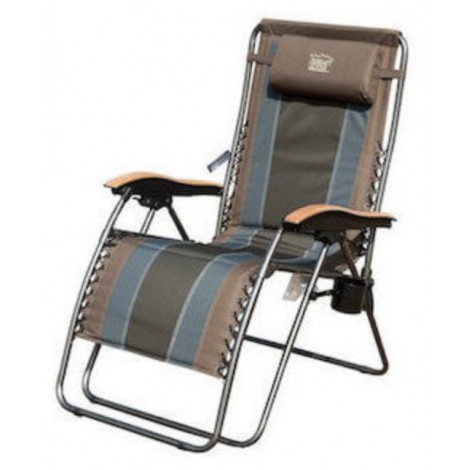 For the beachgoer who wants a sturdy, high-tech beach chair, the Timber Ridge Zero Gravity Lounge Chair is a top choice. The chair's design is crafted with the user's comfort in mind with an ergonomic style and adjustable backrest that sets this chair ahead of the remaining chairs on the list. With support for people over 6' tall and up to 350 pounds, this chair offers a comfortable seat on the beach for everybody.
Heavy-Duty Support
With a seat width of 21.3 inches and a back height of 28.9 inches, the Timber Ridge accommodates a wide range of body lengths. Despite its length and weight bearing capacities, the chair is 24.6 pounds of packing weight, not too burdensome to carry to and from the water. The frame is steel with a powder coating for rust prevention, and the color options range from earth-toned to blue or camouflage.
Extra Features
This zero gravity chair sports a curved ergonomic design that conforms to the user's body. The chair features sturdy construction and a locking system to keep your chair in the reclining position you desire. Additional amenities include a removable headrest pillow, wooden armrests, and a large cup holder with a storage bag.
Cost and Value
The adjustability, length, and amenities associated with the Timber Ridge make it a pricier option than your average beach chair. However, if you value a chair that works with your physical frame and keeps you comfortable, you may find the price more than worth the while.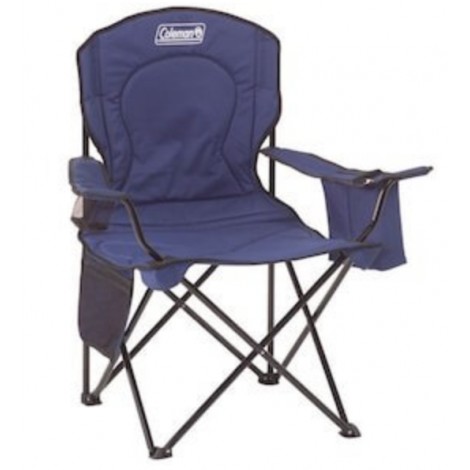 For a chair with some room for your view, this product provides plenty of space and comfort for your day at the beach. Solidly constructed and comfortably designed, this chair's name says it all: oversized. The Coleman is a chair for people who might find average, slimmer chairs too tight or painful to sit in for long periods of time.
Room to Spare
At a portable 7.8 pounds, this option is easy to haul around and durably constructed with the capability of supporting up to 325 pounds. The chair folds up for quick storage and is made of 100% polyethylene foam, making it easier to clean and maintain.
Extra Features
According to consumers, the roomy, cushioned 24-inch seat, supportive back, comfy headrest, and adjustable armrests are highly comfortable. The seat is extremely durable as you don't sink into it or feel that the chair is about to break. Amenities include a built-in 4-can cooler with room for a fifth, a mesh cup holder and side pocket for holding personal items, and a storage bag with a back strap for carrying.
Cost and Value
This product falls firmly into the category of a beach chair with average pricing. If you need the extra room and want more support, the cost may be worth the return. This may also be a reasonably priced chair for people who want additional storage room for drinks and books, sunglasses, sunblock, and purses or wallets.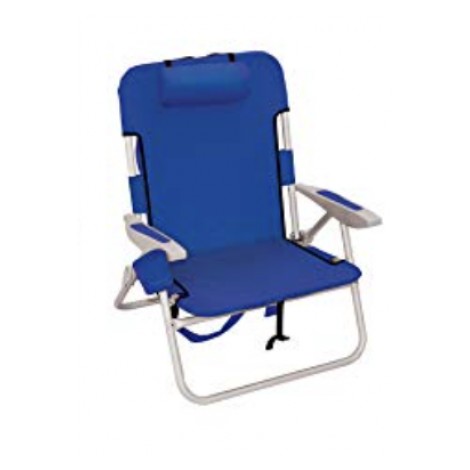 Roominess and support say it all for the Rio Big Boy Backpack Chair. This comfortable and portable beach chair option works well for any and everybody. Similar in quality to other models on this list, the Rio Big Boy is an affordable, lightweight option for enjoying some fun in the sun.
Chair Size Matters
With a seat width of 22 inches and a capacity for supporting up to 300 pounds, the Rio Big Boy Backpack Chair is well named. It is ideal for people who want more room to move in the chair, and its higher chair back at 13 inches is just right for users who want more support for their neck and shoulders. As durable as it is comfortable, this chair is well-built on a rust-proof aluminum frame and supported by padding in the seat and headrest.
Extra Features
The Rio Big Boy chair has four different safe and pinch-free adjustable positions. A large adjustable and removable pillow and extra-wide molded armrests provide a comfortable seat at all times. This chair sports tilt-lock protection to prevent the chair from folding or tilting while in use so you are secure. Rip-free protection courtesy of bar tack stitching in 16 different areas of the chair means you can sit in confidence in the Big Boy chair.
Cost and Value
Similar in price to other models on this list, the Rio Big Boy Backpack Chair offers a bit more in value for people who want more secure structure in their chair. It is also priced affordably for larger and taller body types who want a chair that works for them.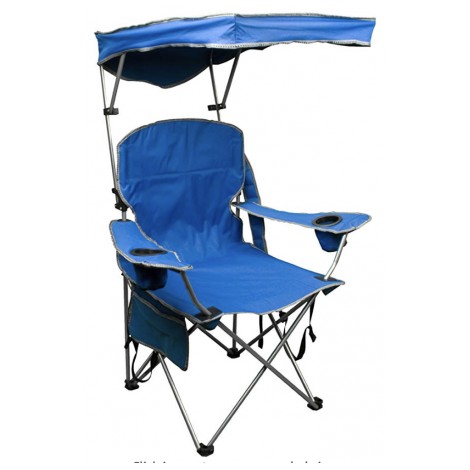 For users on a budget who are looking for beach chair basics --- comfort, structure, storage, and shade --- the Quik Shade Adjustable Canopy Folding Camp Chair might be the right option for you. While it does not have the added amenities that more expensive chairs offer, this model covers the basics well and with an added shade for sun protection.
Sunblock From All Directions
The Quik Shade is a great chair for users who want to spend time on the beach in comfort but who want protection from damaging UV rays. The canopy on this chair is adjustable and can be raised, tilted to either side, or lowered to give you the coverage you need to block the sun. It is easily retractable as well if you want to catch a tan.
Extra Features
Aside from its adjustable shade, this 9-pound Quick Shade chair folds for ease of transport and the durable steel frame is capable of supporting up to 225 pounds. The chair includes two cup holders, side pockets, and includes a carry bag with a long, wide strap. The fabric is stain and water resistant thanks to its thick 600 denier polyester material. With a 34 inch width, 49 inch height, and at 18 inches from the ground, this chair is an affordable option for the casual beachgoer.
Cost and Value
For price-conscious buyers, this chair is a good value because it's lower in price than other chairs on this list while still offering some of the same amenities. The canopy and sturdy, thick fabric make this chair well worth the price.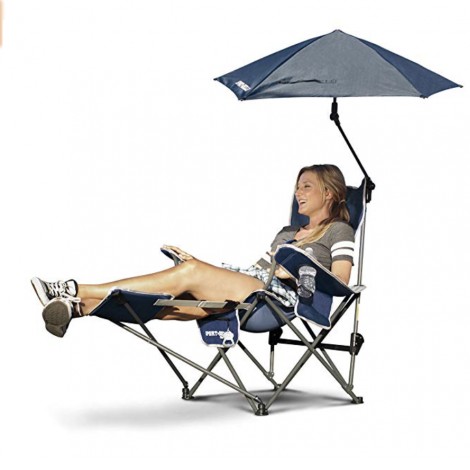 For beachgoers looking for some comfortability and occasional shade combined with added support, the Sport-Brella Recliner Chair is a viable option. With three positions and a full-coverage umbrella with UPF 50+ protection, this chair lets you determine how much sun you want to soak in while you're relaxing by the water.
Shade and Support
The Sport-Brella Recliner Chair supports up to 250 pounds in weight and features a three-position recliner and an umbrella that can be swiveled in three different directions. This recliner has hinges that can be adjusted three different ways so the user can either lay down flat, at an angle, or sit up straight while enjoying the view. A detachable footrest that is adjustable to height is included for ultimate comfort. The chair has a low-profile design so you can stretch out your legs with ease. The built-in umbrella offers superior sun protection via metallic undercoating that provides UPF 50+ protection.
Extra Features
Storage is the word with this chair; it includes an insulated right pocket that can fit two drinks and an ice pack as well as a small front pocket with a built-in bottle opener, a left armrest cup holder, and a left pocket for your phone. A hole to pass earphones or earbuds through is also provided.
Cost and Value
While priced a bit higher than other models, this Sport-Brella might be worth a little extra to people who are in the market for a comfortable, flexible chair that includes a detachable umbrella, plenty of storage, and multiple options for reclining positions. For health-conscious consumers, the umbrella with UPF 50+ protection could seal the deal.

7

. Strongback Low Gravity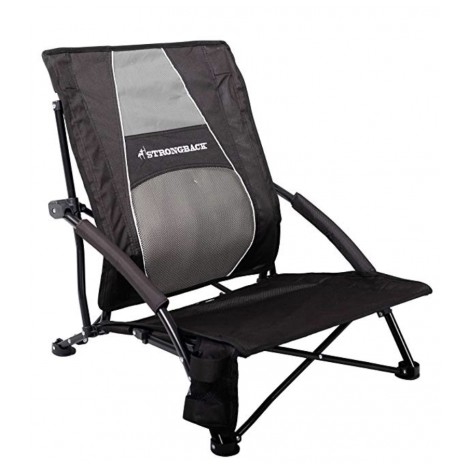 Consumers with back issues looking for a chair that supports the lumbar need look no further than the Strongback Low Gravity Chair with Lumbar Support. It offers comfortability that doesn't break your bank or your back.
Additional Back Support
Strongback's lumbar support design aligns body posture thus removing any strain and tension on the lower back. There is no back pressure as found in many other chair models. It is sturdy and the seat wide enough to accommodate larger and taller bodies with ease. The thick, padded back provides and breathable mesh provides added comfort as well.
Extra Features
At 8.5 pounds, the Strongback is lightweight and easily portable to and from the beach. Its compactness allows it to fit into most cars and trucks. The chair comes with a backpack-type storage case with double straps. With the capacity to support up to 300 pounds in weight, the Strongback is constructed with durable, wear and tear resistant, heavy-duty material of 600 deniers. The steel frame is coated with black powder.
Cost and Value
Can you put a price on back pain relief? If not, then consider the Strongback Low Gravity Chair with Lumbar Support. Despite its added comfort and back-friendly structure, this chair is priced similarly to other models. It won't hurt your wallet or your back.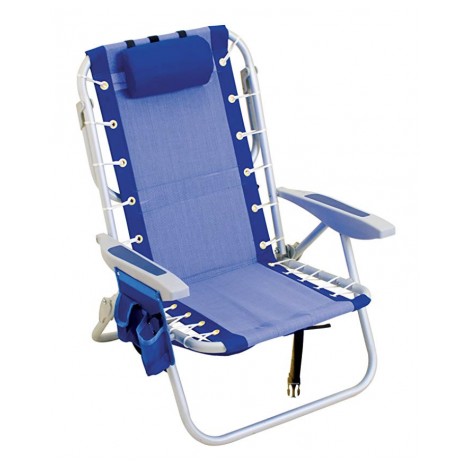 The Rio Gear Ultimate Backpack Chair with Cooler is a versatile chair with multiple seating options and plenty of comfort in its design, fabric, and support system. With its multi-functional design and storage options, all you need to do is sit back and enjoy the beach life.
Multiple Seating Positions
This chair adjusts to 5 different positions ranging from full recline (41-inch length) to upright. It also includes a towel rack support bar. The Rio Gear supports up to 240 pounds of weight and includes an insulated cooler compartment as well as a rear zippered carry pouch for important items like cell phones. It is easy to transport due to its light weight of 8 pounds and the adjustable padded straps.
Extra Features
The Rio Gear features cushioned molded armrests and an amply-sized pillow. The chair features a lace-up suspension to a ventilated and washable Textilene Sling, keeping you cool and dry while you are on the beach. This material contours to your body posture to make your sitting or sleeping position the best it can be.
Cost and Value
The Rio Gear is on par in price with other beach chairs of this class. For the money, users will get a multitude of comfortable amenities as well as storage in a light, easy to transport chair.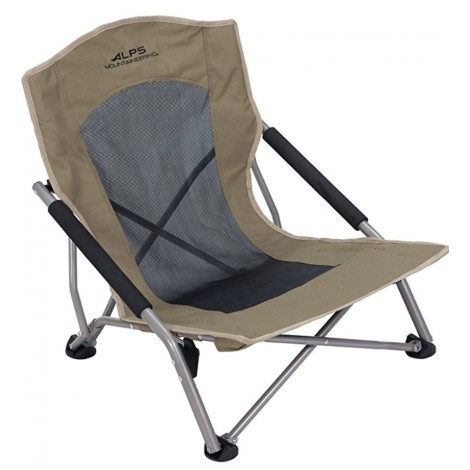 With a sturdy frame and situated lower to the ground, the ALPS Mountaineering Rendezvous Folding Camp Chair provides comfort on a budget price. A low-profile chair that does what it was designed to do, it is an easy to transport, quick to set up, and a simply comfortable chair.
Portable and Strong
This chair has a reliable, well-constructed, powder-coated steel frame that is easily collapsible for carrying purposes. It can be stored quickly in a shoulder carry bag and fits inside trucks and cars. The chair may be narrower than most with a 22-inch width and 24-inch height, but it is a lightweight 6.8 pounds and is capable of supporting up to 300 pounds in weight.
Extra Features
The ALPS Mountaineering Rendezvous is designed to sit low to the ground, allowing users to stretch out their legs and sit back at a relaxing angle. The fabric is TechMesh with offers a combination of breathability and stability.
Cost and Value
This chair retails for a somewhat lower price than most other chairs on this list, but that is mostly due to its lack of amenities. The ALPS chair is a chair designed for use as such. Its meant for ease of use as well as set up and collapsibility. There are no pockets or drink holders provided.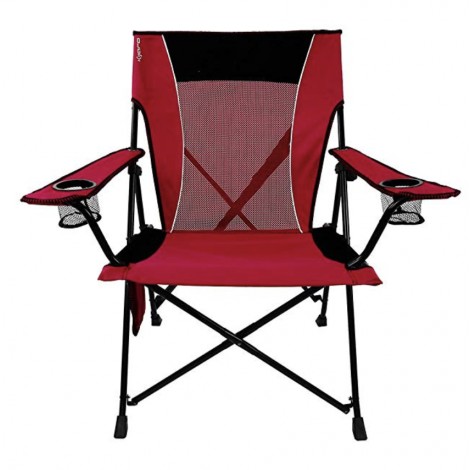 The Kijaro Dual Lock Portable Camping and Sports Chair hits all the right notes with a durable build and fabric, simple amenities, and a seat that can be secured for your comfort and safety. At a little under the regular price for beach chairs, this one may look simple, but it gets the job done.
Sturdy and Secure Dual-Lock
This portable chair sports a push-button dual lock that keeps your seat in the position you want. These locks open for extra stability and lock the chair down during transport. The fabric is tough ripstop polyester that won't sag with time and use as well as a ventilated mesh on the seat back. The chair supports up to 300 pounds.
Extra Features
The Kijaro chair includes a firm seat that won't sink and sag and a padded seat and headrest. The higher seat makes it easier for users to get up and out of and the front bars on the chair do not dig into a person's legs. The chair features storage with mesh and zip pockets, a carry bag and carry strap attached to the chair and two mesh cup holders.
Cost and Value
At around the same price as other beach chairs, the Kijaro offers extra stability for users who want some peace of mind when setting up, sitting down, and getting up from their seat. This is a chair that can withstand use and abuse, so customers may just get their money's worth from it over time.

Subscribe to our Newsletter