Best E-Readers Reviewed & Rated for Quality
In a Hurry? Editors choice:
Test Winner: Fire HD 10

E-Readers have changed the world. We can carry a virtual library of books anytime, anywhere. Everything from classic literature to contemporary bestsellers can be downloaded instantaneously. Our love of reading and technological ingenuity married; thus the ever-evolving E-Reader was born. While printed books still have their appeal, and there is a certain satisfaction to flipping through a magazine, printed media is being phased out, freeing up our bookcases. For a while, people feared that the digital era would mean the death of libraries. However, libraries haven't died; they've evolved. Many libraries host digital books in collaborative online collections. Members can borrow the eBooks and then digitally return them, like borrowing a traditional library book.

In this article, 10 popular E-Readers are reviewed for your consideration. From magazines to Shakespeare, get ready to read without having to go to a bookstore.
Standout Picks
Criteria Used for Evaluation
Use
When considering and evaluating a tablet, its general use is probably the first thing you will determine. This means ranking what is most important to you and then seeing how the particular tablet you are evaluating stacks up. How fast can you download books and magazines? Does the E-Reader also function as a general internet browser? How much space is on the tablet for you to download all the items you plan on reading in the near future? Is the tablet strictly reliant on a WiFi connection to download new items, or do you plan on connecting it to your cell phone plan? Can you make purchases directly through your tablet?
Also, considering how expensive some tablets are, make sure you will actually use it. Think of all the times you wish you had something to read. Envision waiting in the lobby of a doctor's office, wishing you had something other than the outdated magazines to read. Or imagine your daily commute on the train. Wouldn't it be more convenient to read the newspaper on a tablet rather than unfolding and adjusting a paper copy before tossing it in the recycling bin? Or, do you suspect that you might prefer to read printed media? Tablets aren't for everyone. Some people prefer the feel of an actual newspaper and the ritual of reading it every morning. Others find the scent of a library book nostalgic and comforting. Then, there are individuals who enjoy maintaining and growing a large collection of books, and a digital library doesn't provide the same satisfaction. There is no shame if any of the aforementioned descriptions applies to you. It's simply something to think about before investing in a tablet. Ask yourself - will I actually use this tablet? If the answer is yes, then it's time to move on to the other criteria.
Battery Life
Battery life is also important to consider when evaluating E-Readers. Think about the situations when a tablet would be most useful to you. Perhaps when you're on a long flight or a passenger on a very long drive. Yes, you may have access to a charger, but in many situations, you may not. Some tablets utilize power very efficiently, and a full charge will last for hours upon hours.
Other E-Readers drain power much more rapidly. This is particularly true if there are background apps running, or if you are connected to the internet and are actively downloading items or browsing the internet. Tablets are so incredibly useful and convenient because of their portability. However, if you are in constant need of a USB plug and a charger, you effectively lose some of the freedom that drew you to a tablet in the first place. Being in constant search of a plug is not as liberating as having a fully charged tablet that lasts for hours, allowing you to read an entire book at once, without watching your battery percentage rapidly dwindle down to zero percent.
Advanced Features
E-Readers and tablets vary greatly in terms of technological sophistication. You may want an E-Reader that has the capability to act as a fully integrated tablet that can be used to browse the internet, make purchases and more. Others allow you to download and install the same apps that you have on your smartphone.
The advanced features you want your E-Reader to have all depends on your personal preferences. You may opt for a tablet that does it all; including being an E-Reader, but also serving as a substitute laptop or phone. This is certainly understandable, as it is hardly convenient to carry a smartphone, laptop, and E-Reader with you at all times. However, if you are strictly interested in purchasing an E-Reader for its literal purpose, reading, then you may opt for an E-Reader with very few advanced features, other than the ability to sync up with whatever platform you are using to download materials, and then to display those materials to you in a manner that is easy for you to read.
Model
Like all technology, E-Readers are continuously evolving. As time passes, more and more brands introduce their own E-Readers, and the manufacturers who pioneered E-Readers are striving to keep that competitive edge, by making each model even better than its prior iteration. Competition can drive down the price. New models can fix bugs, and offer new solutions.
An example of a major advancement in E-Readers is the face that the earliest E-Readers were virtually possible to use when in bright sunlight. It was practically impossible to view the text on the screen, no matter how much you adjusted the brightness of the display, the contrast and the size of the font. Now, E-Readers can be viewed even in the brightest of environments. You can take your E-Reader to the beach and see the text clearly without straining your eyes.
Additionally, take note of how much space the particular model you are considering has on it, because this is what determines how many books or magazines you will be able to download and save directly on your E-Reader at any given time. This can mean the difference between saving 20 books in your library and 100.
Durability
If you do opt to buy an E-Reader, as common sense dictates, you will want to also buy a protective case. This is an inexpensive way to protect your E-Reader from damage; accidents happen. That being said, you still want to verify that the E-Reader you purchase is not known for being delicate. No E-Reader is completely shatterproof, even with a reinforced case, but some are certainly more durable than others.
This is an area where it is beneficial to check out customer reviews. If you see multiple reviews that note that the E-Reader in question cracked easily, froze, or stopped working immediately due to the slightest water damage, then you may want to consider another model that is built to withstand regular, heavy use. Remember, your E-Reader will undoubtedly be carried around in your bag, thrown into the backseat of your car, packed with your carry-on luggage, accidentally dropped and so forth.
10 Best E-Readers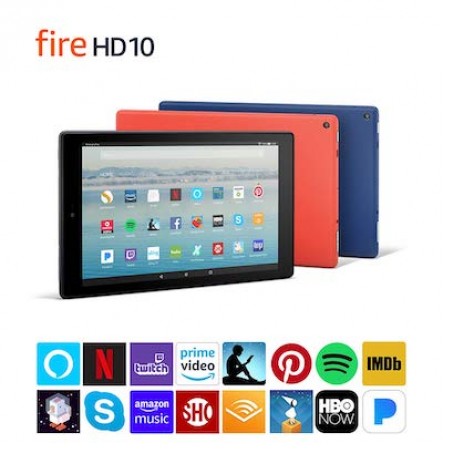 Amazon's Fire HD tablet is now in its tenth iteration. The Fire was one of the first tablets to hit the market, and Amazon has done a good job of keeping its competitive edge by improving and evolving its E-Reader while maintaining a reasonable price. The Fire HD 10 works beautifully (in particular when used with Amazon's digital books, though it is compatible with eBooks from all platforms and in multiple formats).
Alexa, Read to Me
The Fire is now fully integrated with Amazon's virtual assistant Alexa, thanks to Bluetooth technology. This means you can use Alexa to download books to your tablet, or even have Alexa read to you. This is a wonderful convenience; you can read an eBook on your Fire at your leisure, then have Alexa pick up right where you left off while you are working on something else, like doing household chores, making dinner or simply relaxing.
Full HD Display
Earlier models of the Fire were somewhat difficult to read in comparison to the amazing clarity that the Fire 10 has to offer. Using an E-Reader could cause you to strain your eyes, or require you to constantly adjust the brightness, contrast and text size in order to be able to see the screen clearly. The display is sharper and smarter than ever before, making eye strain and difficulty seeing a thing of the past.
Cost and Value
The Fire HD 10 is an excellent value, given its relatively low price; plus, there are many valuable extras included with it. For example, if you have an Amazon Prime membership (and the majority of die-hard Amazon shoppers are in fact Prime members), you get free access to thousands of free books and magazines. It's an excellent return on investment and a smart buy, all at a very reasonable price.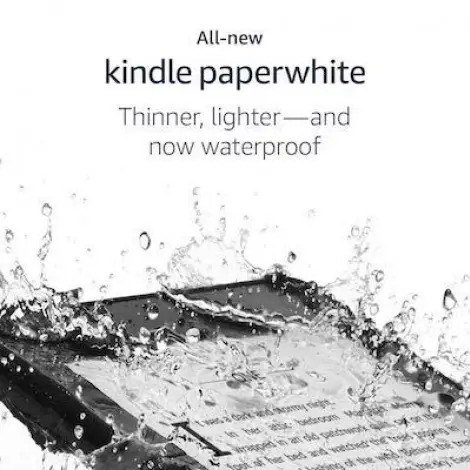 The Kindle Paperwhite is another E-Reader manufactured and sold by Amazon directly. The Paperwhite is noted for how lightweight it is, the clarity of the text displayed on the screen, and it's the reasonable price tag. One of the most important features that the Paperwhite boasts is that the text is clearly visible in bright sunlight.
Lighter and Brighter
The Paperwhite is even lighter than before; in at a miniscule six ounces. It's just over 6" in height, 4" in width and .3" in depth. Forget about worrying if the Paperwhite will fit in your backpack or carry-on luggage; it's small enough to fit in your purse or everyday bag. It takes up less space than a physical book, and is just slightly larger than the average smartphone.
Waterproof
The Paperwhite is not just water resistant; it's waterproof. If you have kids, or if you're simply human and prone to knocking things over, you know that accidents happen. Our expensive phones and tablets get dropped, and that's just a fact of life. Sometimes, they get dropped into puddles. Or, sometimes, drinks get spilled on them. This usually indicates big problems for a phone or tablet, even if you are quick to immerse the damaged device in rice. Not the Paperwhite. The Paperwhite can handle life's messes, and this is a huge plus.
Cost and Value
The Paperwhite is another excellent value. The price is reasonable and competitive, and the bonuses are plentiful. From its advanced features to the perks you will enjoy if you have a Prime membership, you will love this light, fast, impressive device. It's a smart buy and the perfect gift for the bibliophile in your life.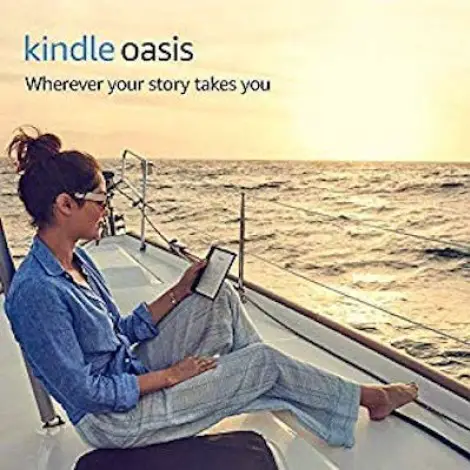 The Kindle Oasis is perhaps Amazon's most high end E-Reader. It's a bit flashier than Amazon's other E-Readers; it comes in champagne gold and graphite, lending it an air of sophistication and perhaps even prestige that Amazon's other E-Readers lack. It features the highest resolution display of any of Amazon's E-Readers and a multitude of other advanced features. As such, it also commands a higher price.
High Res Display
The display is 300 ppi, resulting in an ultra-clear, high resolution display. This, combined with the Oasis' anti-glare technology and sunlight-resistant text offers superior visibility in virtually any environment. Whether you're reading in the dark (the front-lit screen will not disturb anyone sleeping next to you) or catching some rays, you will have no trouble seeing the screen clearly.
Charged for Days
The Oasis literally lasts for weeks at a time after being fully charged. This exceptionally efficient use of power is virtually unprecedented. Forget about constantly worrying about where your charger is. You can enjoy the Oasis for days on end on a single charge, unlike other tablets and E-Readers.
Value and Cost
As mentioned above, the Oasis commands a higher price (though still a reasonable one at that) than Amazon's other E-Readers. However, the price is absolutely worth it, given all the positive aspects that the Oasis has to offer. From its exceptionally clear display to its waterproof construction, the Oasis is an amazing E-Reader that has a lot to offer. So, if you are debating between purchasing one of Amazon's E-Readers and want to know if the Oasis is worth the extra cost, the answer is a resounding yes. It's a wonderful value.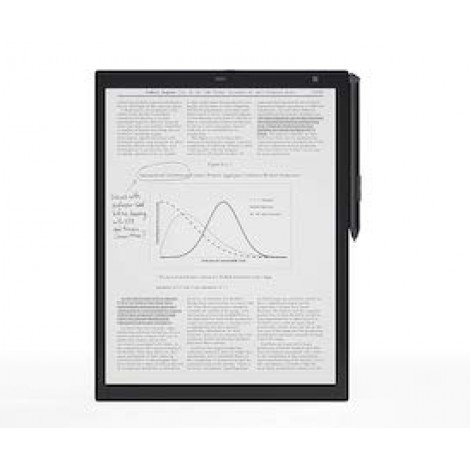 There is a major jump in price from Amazon's various E-Readers and Sony's DPT-RP1/B. The DPT, however, has many features that even the Kindle Oasis does not. It functions as much more than an E-Reader, and describing it as a simple tablet would also be largely inaccurate. It has more in common with a laptop in terms of functionality and use, and the fact that it is an E-Reader is almost an incidental afterthought.
World's Thinnest Tablet
The DPT is indeed the world's thinnest tablet; its width is approximately that of 30 sheets of paper. However, despite its fantastically thin design, its strength and sturdiness are quite impressive. The tablet may be thin and ultra-lightweight, but it is not fragile; it's deceptively strong.
Pencil or Pen Style Writing
In addition to having normal touchscreen functionality, the DPT allows for pencil or pen style writing. The DPT comes with an advanced stylus that allows you to write notes naturally, and they are instantly transcribed to text (or, if you wish, you can store your handwritten notes the way they appear as you write them). The stylus allows you to even erase what you've written and made corrections as if you were using an actual pencil.
Cost and Value
As previously mentioned, there is a major price disparity between Amazon's various tablets and Sony's DPT. The DPT does have other advanced features that make it more akin to a laptop than an E-Reader, but that does not necessarily justify buying it for triple the price of a different tablet. Averaging 3.6 out of 5 stars, the DPT does not seem to truly worth the extra cost. Therefore, it's of average value; somewhere in between mediocre and pretty good.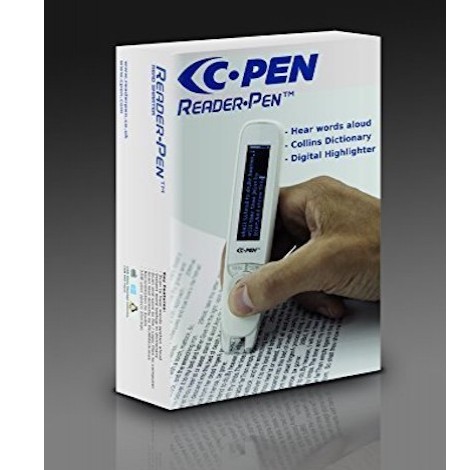 The C-Pen ReaderPen is an entirely different sort of E-Reader. It is not a tablet; rather, it is quite literally a digital pen that scans text as you guide it over the page, and it dictates the text back to you in a human-like voice. It is quite literally an E-Reader in the simplest sense of the word. Despite its limited capabilities, the C-Pen is certainly not inexpensive; rather, it is right in the middle of the market price-wise compared to the other E-Readers reviewed here.
Pocket Sized
The C-Pen is approximately the size of a typical highlighter. It can be easily carried around in your pocket or stored just about anywhere. The tip or "nib" of the pen is simply dragged across text, and it is instantly processed. The text can be dictated instantly to you, or uploaded to a computer or other device as a document, or both.
Instant Dictionary
The C-Pen is equipped with the 10th Edition Collins Dictionary. So, in the event you stumble upon a word or phrase you are unfamiliar with, you can immediately seek out the exact definition. Additionally, if you want to note a particular section of text that is of significance to you, the pen also serves as a digital bookmark and highlighter.
Cost and Value
The C-Pen is moderately priced and averages 3.6 out of 5 stars. It is difficult to compare it to other E-Readers because it is completely different in design and function. It would undoubtedly be useful in some situations or for some people who are visually impaired, or who wish to rapidly transcribe text. The fact that it comes fully equipped with a dictionary is useful; however, books cannot be downloaded or saved to the device itself. The C-Pen is, therefore, a decent value for very limited, unique purposes.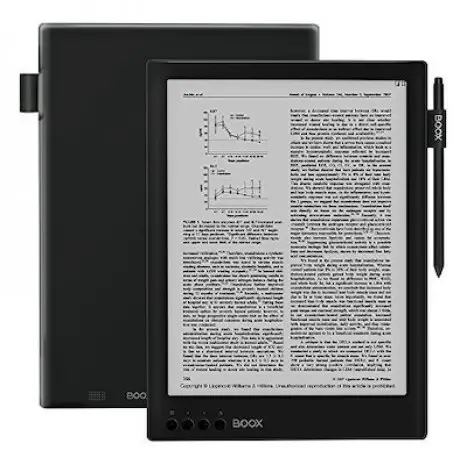 The BOOX Max2 utilizes the Android operating system, and, as such, is a fully functional Android device, not just an E-Reader. It is the most expensive of the E-Readers reviewed in this list so far. Is the cost justified? As always, it depends on what you are looking for in an E-Reader. In the BOOX Max2's case, there are indeed some impressive features to consider.
Play Store Active
If you are a fan of games and apps that you would purchase through the Google Play Store, then the BOOX Max2 might be a good choice to consider. It is fully integrated with the Play Store. You can simply sync your existing account (or create a new one in the event you don't have one already) and play/access your favorite games and apps.
Dual-Touch Control
The BOOX features a dual-touch HD display featuring an electromagnetic screen that can be operated via the tablet's stylus. You can take notes, scribble, draw, and so forth. You are able to annotate files, highlight them, or write down your comments and have them instantly transcribed to a digital document. Alternatively, the tablet can be operated using the touchscreen using your index finger, just like a traditional tablet.
Cost and Value
To justify its high pricetag, you should expect a lot from the BOOX; superior performance, advanced features, fantastic battery life and so forth. Does the E-Reader truly deliver? It averages 3.6 out of 5 stars, so signs point to no. For such a hefty price, you should have exceedingly high expectations, and it appears that the BOOX, while a decent device, falls short. It is, therefore, a mediocre value at best.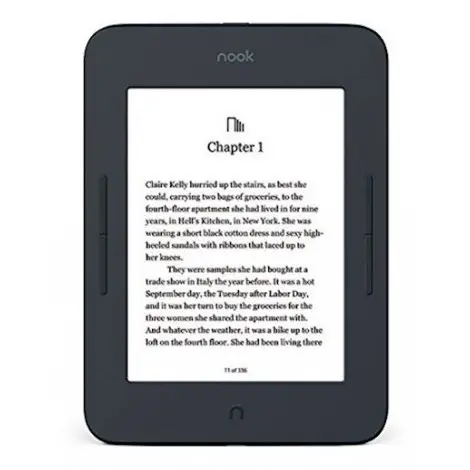 The Nook GlowLight3 is comparable to Amazon's newest iteration of the Kindle Fire or Paperwhite in terms of technological capabilities, price and overall functionality. It is a fairly priced, well-built, respectable E-Reader, but it is simplistic in nature and is a very stripped down, bare-bones tablet compared to some of the other E-Readers reviewed in this list.
A Simple Choice
The GlowLight3 is designed to be an E-Reader; not an all-in-one device. It's not a replacement for a phone or a laptop. Rather, it's a basic, easy to use E-Reader that is strictly built to serve its intended purpose. Certainly, this might put off some consumers, but it might also be appealing to others. Some consumers want an E-Reader that they can use to read, period. It's as simple as that.
Soft Touch Finish
The E-Reader features a front and back soft touch finish. A common complaint about tablets and E-Readers is that they are cold and slippery, which makes them easy to drop and therefore more likely to be damaged (or completely break). The grip is comfortable, making the Glow3 easy to hold and far less likely to take an accidental spill.
Cosst and Value
The Glow3 averages 3.8 out of 5 stars; a fairly good score. To reiterate, it is affordably priced. However, its limited functionality takes it out of the running for consumers who are looking for an E-Reader that can essentially do it all. Despite its less advanced technological design and limited capabilities, it's a simply, honest, you get what you pay for type device; a decent value.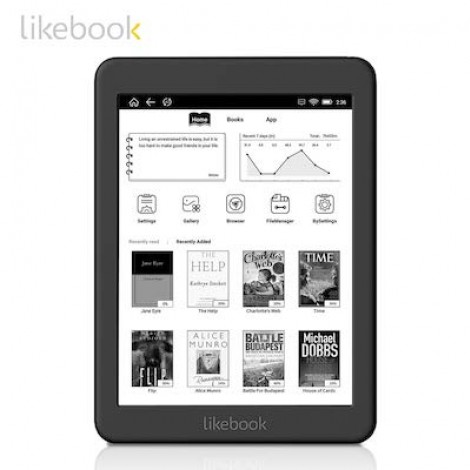 The 2018 Likebook Mars E-Reader is most similar in cost, technological features and ease of use as Amazon's Kindle Oasis. It's a high-end tablet that evolved from being a basic E-Reader to having similar functionality to that of a smartphone, and much of the same usefulness as a laptop.
300ppi
The E-Reader's screen is an impressive 300ppi, thus making it quite clear and crisp. The high resolution screen is made using a patented anti-glare process, eliminating a common problem among other tablets. The screen is 16-level gray scale and includes other features that reduce outside light, enhance the sharpness of the text, and protect the overall quality of the E-Reader's screen.
Quad-Core Processor
The Likebook operates at an impressive screen. A common frustration among E-Reader owners is that their tablets freeze mid-download or generally perform in a sluggish manner. The Likebook's powerful processor is different; it offers fast download times, stable performance and smooth operation.
Cost and Value
The Likebook has some advanced features, but the general consensus among the majority of customers who reviewed the Likebook is that it is "okay" or "adequate." It would appear that with so many other options on the market available at similar or less expensive prices, your money would be better spent elsewhere, rather than on this particular E-Reader, which is mediocre to borderline satisfactory in value.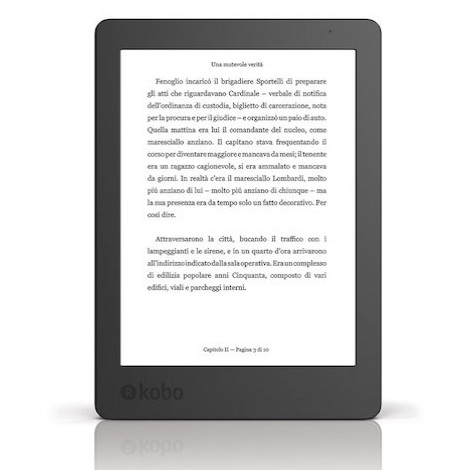 The Kobo Aura is similar to the Barnes and Noble Nook Glow3. It is a basic E-Reader with limited functionality. It does not have all the bells and whistles that some of the more technologically advanced have, but, for those looking for an E-Reader strictly for the purpose of reading, it will meet your needs and is sold at a fair, competitive price.
A Travel Companion
The Aura is light and compact and gets high marks for its extended battery life. Its screen results in very little eye strain and is easy to adjust or customize in terms of font size, brightness, contrast and so forth. It may be a "no frills" type device, but it works, and it works well.
Straightforward Operation
Some of the technologically advanced E-Readers can be quite complex to operate. Additionally, some are preloaded with extraneous, confusing apps and programs that someone looking for a basic E-Reader may not want or need. In other words, E-Readers can be overly and unnecessarily complicated. The Aura is the antithesis of an overcomplicated, difficult to navigate device. It's simple, straightforward and basic; it downloads and displays eBooks in a clear, manageable manner, and it's easy to learn how to use for virtually anyone.
Cost and Value
The Aura is a basic option sold at a competitive price. For those seeking an E-Reader that is simple, easy to operate, does not cause eye strain and is manageable for readers who may not be overly tech-savvy or perhaps new to eBooks and digital media. In sum, it's a decent value for a basic device.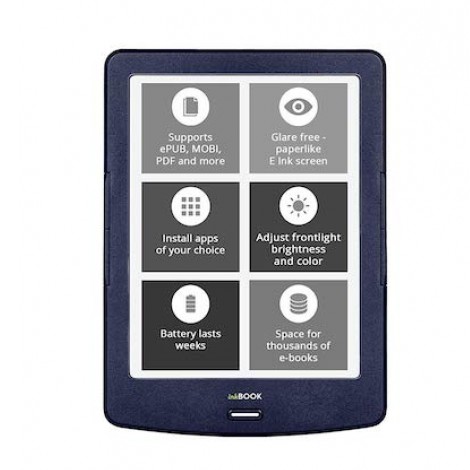 The Lumos is the most affordably priced E-Reader reviewed in this list. It is well-received but largely unknown; more information is needed about the Lumos to truly get a good understanding of how is compares to other E-Readers. The feedback customers have provided about the Lumos is quite contradictory and polarized; some people love it, while others have called it the worst E-Reader on the market.
Great Price
The Lumos is extremely affordable. It can be purchased for the price of five or six hardcover books; it's a small monetary investment. The return on investment appears to be quite good. For those who are cautious with their discretionary spending, the Lumos may be worth taking a look at.
Respectable
Overall, the Lumos appears to be a respectable option in all categories. It includes 4GB of storage, which isn't as much as some of the other E-Readers listed above, but it's certainly enough to download and save a decent amount of eBooks to the device itself. Its screen's resolution appears to be high enough to avoid any issues related to eye strain, and its performance is generally smooth.
Cost and Value
The Lumos has 4.5 out of 5 stars on Amazon.com, but on other sites, it has been reviewed quite harshly, with overwhelmingly negative reviews. More information is needed to resolve this conflicting data. The cost, which is somewhat unclear (it varies from website to website and is sometimes listed in Euros instead of dollars) appears to be on the lower end of the price spectrum. Therefore, the value of the Lumos cannot be definitively determined at this time. As such, due to the nebulous information concerning the Lumos, there are too many unknowns and not enough guarantees to determine if it's a good idea to purchase one.

Subscribe to our Newsletter