Top 10 Outdoor Folding Chairs Reviewed & Rated
In a
Hurry? Editors choice: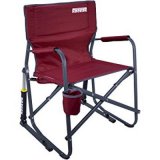 Test Winner: GCI Freestyle Rocker

Most people don't think about what kind of folding chair is the best… until they realize how many options there are. We didn't realize how many options there were until we decided to put together this list of the best outdoor folding chairs and we realized that there is a chair for every situation.

The days of running to the nearest store to grab any old folding chair are over. Whether you use it while watching the ball game or at a bonfire, buying the right outdoor folding chair can make life a lot easier and comfortable. But finding the right chair you can be overwhelming, so we have done the research and highlighted the benefits of our favs to make your life and chair-picking-decision a whole easier.
Standout Picks
Criteria Used for Evaluation
Ease of Use
Chairs are made for relaxing and need to be easy to use!
We wanted to make sure that we selected designs that are easy to set up in a snap. There were a few features that we kept on eye on to ensure that you can spend more time relaxing and less time setting up camp.
The very first thing that we considered was how the frame folds in on itself. We made sure that we avoided frames that are able to be disassembled like a tent. While these designs store more compactly, they are less stable and take more time to set up from start to finish.
We also selected designs that were made from treated fabrics that are easy to clean. Designs that use water-resistant materials don't need to be cleaned as much as designs that aren't. This means that you can spend more time relaxing and less time scrubbing down your gear!
Weight
It's super important that you select designs that are built to hold your weight.
Be sure that before you select a model that you check in with the weight limit. Many of the more affordable options out there on the market boast a weight limit that much lower than the more expensive designs. We found that the more expensive name-brand options (such as Coleman) provide ample weight limits of up to 300 pounds.
Additionally, you want to consider how much the chair actually weighs. You either need your ideal folding chair to be compact and light, or sturdy and heavyweight. There's not much point buying a sturdy one if you plan to hook it to your backpack. Likewise, if you are buying one for summer use in your garden weight and size probably won't be as important.
Materials
Be sure to select a design that is made to hold up to the elements.
If the perfect chair for you is for ease put up in the garden, you may well find a wooden framed chair will be suitable, these are the heavier type and often come with canvas fabrics. However, these are not weather resistant and can be cumbersome to move around, possibly better for occasional use in nicer climates.
Another frame material that is easily obtained, is a steel-framed version, this is obviously an improvement for weather changes, they can still be quite weighty but not as much as a wooden chair. Canvas and synthetic fabrics are, once again a common feature.
For ultra-light and portable outdoor folding chairs, aluminum frames are modern and are easy to fold and carry. They often compact down nicely so you should not be too hindered if you want to hook it onto your backpack. Nylon fabrics are used and this can offer a certain amount of weather resistance and durability. A mesh design is also versatile, is still very light, and can also keep you cooler on the hot summer afternoons.
Style
The basic 'X' type, simple light, and easy to use outdoor folding chair can be very useful when you're expecting a long day and seating is sparse.
It's convenient to carry and can even be attached to a bag. The only downside to this basic design is that it isn't very stable, so you need to make sure you have a firm space to put it onto before you rest your legs. Four-legged or the basic design with a back can be the best next option, they do tend to be a little heavier but are more stable. These can come in a variety of finishes, hard plastic, struts, mesh, padded, nylon, and canvas depending on what you want it for.
For the ultimate outdoor folding chair, there are the types with armrests, these are often lightweight and some even have the option of a drinks holder integrated within the arm material. They even come as a double seat if you want less weight to carry for more than one person. These come with handy carry sacks with strong strapping and some even have the option of 'webbed' feet so they are less susceptible to sinking in grass or softer ground.
Another popular type of outdoor folding chair is a low riser – this chair will sit only inches from the ground and can support your back in this position. This type is an ideal weight and size to fit into your backpack and comes in durable fabric. For that touch of luxury, when you're looking for a great portable chair for your garden, there are the super comfy padded seats and cushions, and if you want to go for the whole set – some even come with a sun canopy attached.
10 Best Outdoor Folding Chairs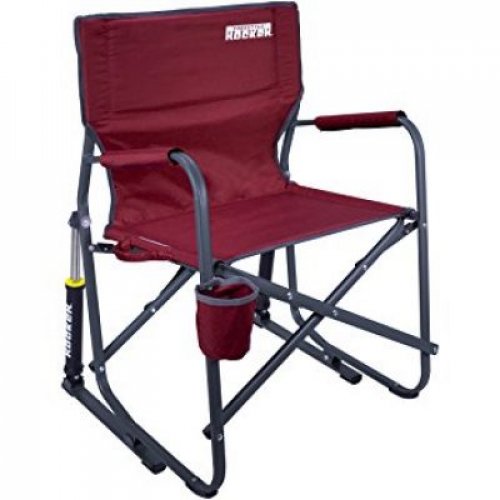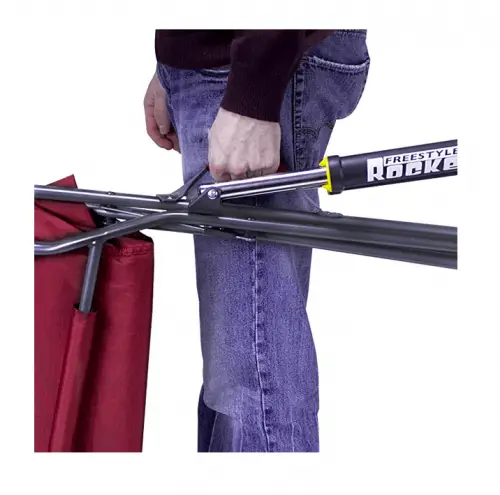 The GCI Outdoor Freestyle Rocker is a very solid choice and the best folding chair on our list. The freestyle rocker was designed to be easily opened and closed. It has a side handle for carrying convenience as well as a simple folding design making it easy to move and set up. It's surprisingly light considering it's made with powder-coated steel.
Smooth Rocking
The Freestyle Rocker offers a patented spring-action rocking assistance design to make your chair rock smoothly with every motion. The rear legs feature a rubberized tread that holds the freestyle rocker solidly in place while you're rocking.
Easily Folding
We've all been there, struggling to fight the power of steel in order to close a chair that seems to be malfunctioning. The Freestyle Rocker uses patented easy-fold technology which makes it very easy to open and close the chair when it's not needed.
Cost and Value
The Freestyle Rocker is modestly priced considering the features that it boasts. The high-quality materials used in its design and the limited lifetime warranty make this a chair that you can use and reuse for some time to come without hurting your budget.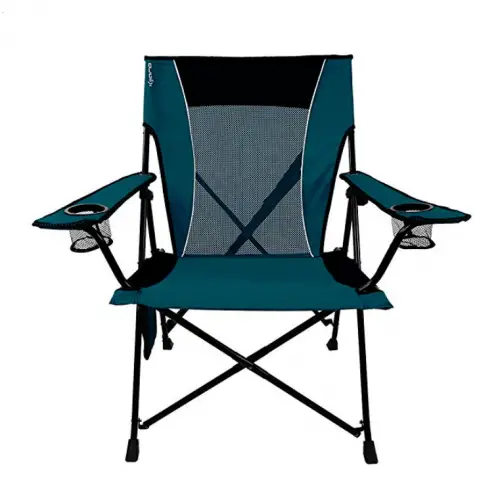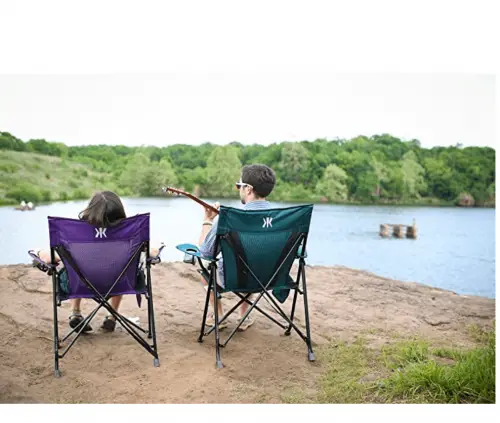 The Kijaro dual lock portable camping and sports chair is a sturdy, supportive option that is offered in a large variety of colors to choose from, making it the best folding chair for sports.
Rip-Stop Material
The Kijaro is constructed of heavy-duty rip-stop material which is on a locking frame designed to support up to 300 pounds. The mesh back allows for air circulation to help keep you cool on warm summer days.
Cup holders and Storage
The Kijaro is designed with two cup holders in the armrests and a hanging side pocket organizer that is perfect for small items. It comes with a carrying bag or it has a shoulder strap attached directly to the chair. The locking mechanism keeps the chair locked closed as well as open for easy transport.
Cost and Value
The Kijaro chair comes with nice features and a vast array of colors to choose from. The locking features to keep the chair open, along with the rip-stop fabric make this chair one of the best outdoor chairs you can get.

3

. Coleman Oversized Quad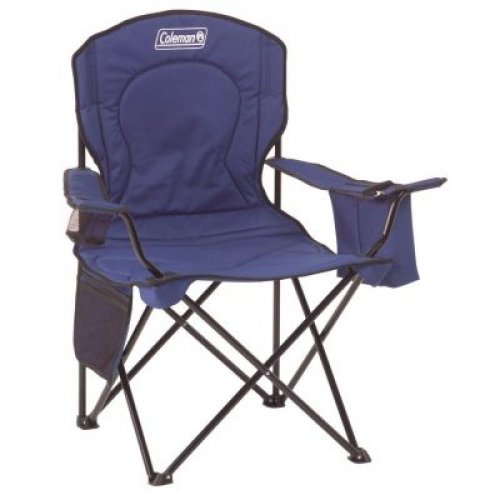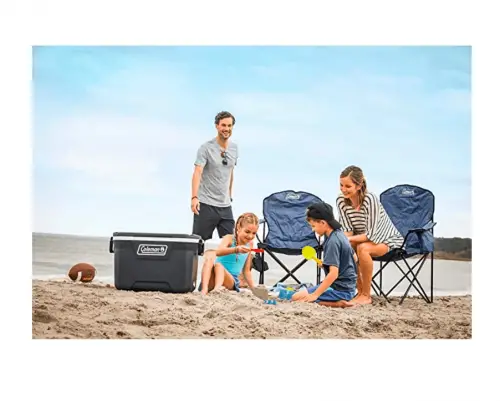 The Coleman Oversized Quad is the most budget-friendly and the most comfortable outdoor chair on this list. It includes various perks like a drink cooling pouch, a cup holder, and a mesh pouch to hold anything you might need to bring with. It has a padded backing making it comfortable and providing extra support. The Coleman Quad comes with a bag for easy transport.
Cooler Pouch
The cooler pouch on the Coleman Quad is a very nice addition for those hot summer days. It is capable of holding four beverages and maintaining their temperature for a brief time.
Side Pockets
Spend less time looking for your personal items with the separated side pocket. The pockets are large enough to hold your standard pocket dwelling items such as a phone, keys, or even a smaller book.
Cost and Value
This is your standard cheaper outdoor folding chair. It's the cheapest folding chair on this list but has remarkably good reviews for the low cost. The padded backing, cooler pouch, side pockets, and drink holder make this chair a good bang for your buck-buy - that's why it takes 3rd place on our list of the best folding chairs.

4

. Timber Ridge Aluminum Director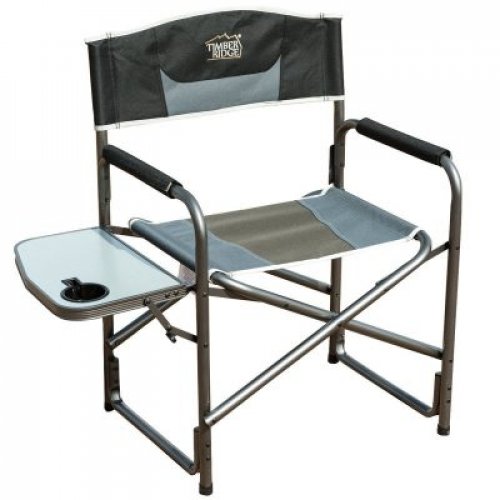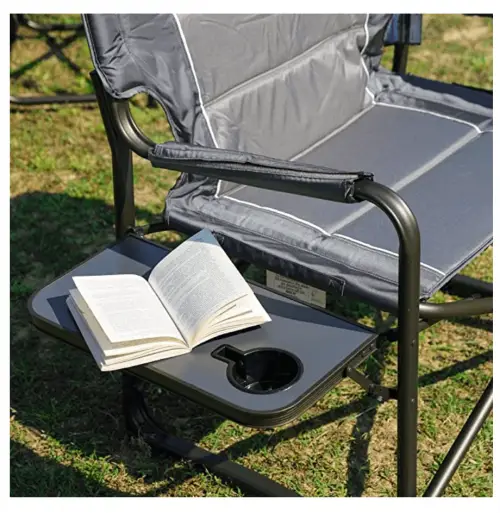 This Timber Ridge Aluminum Director with a side table is perfect for a longer outing. It's very sturdy and has a side table with a drink holder so you can eat with relative comfort and have a place to set your plate. The Timber Ridge Director's chair has removable padded armrests as well as a breathable open back area.
Side Table
The side table can fold down when it's not in use making it perfect for squeezing into a tight spot. It has a cup holder leaving your armrests free of obstructions.
Sturdy
With its high weight capacity and wide frame design, this chair is very sturdy. You can look forward to long term use with this aluminum chair.
Cost and Value
This chair falls in the mid-range price category on this list. Its high durability makes it more cost-effective than others on this list and the side table offers a unique comfort for these types of chairs.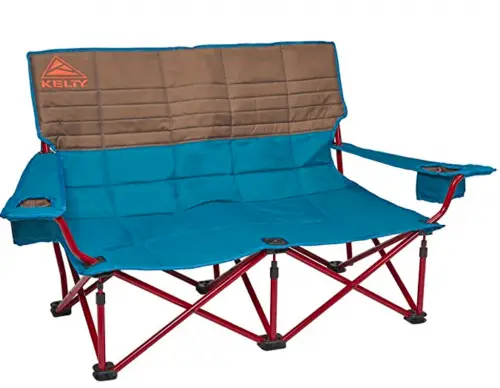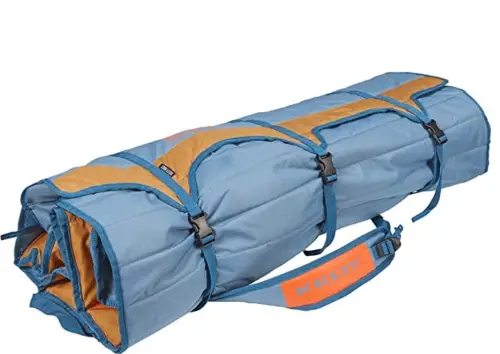 The Kelty low Loveseat is an interesting choice for a folding chair that offers not one seat, but two seats. It's made with a durable steel frame and higher-quality polyester material for a more cozy feel. This low loveseat also has a dual insulated beverage holder for quick and easy access to a cold beverage. The best part, it's adjustably reclined for a more relaxing experience.
Partner
A normal chair is suitable but difficult to share. The Kelty Loveseat makes the outdoor adventure more enjoyable by being able to share the experience with another. Each side has its own side pockets so both you and another can store personal belongings.
Rolling Storage
Rather than trying to squeeze this giant chair into a bag it was made with rolling storage design. Simply deconstruct this chair and place the items in the easy to carry roll bag.
Cost and Value
As one of the more expensive options on this list, the value comes from the ability to seat two rather than the normal one-person chair. This loveseat is constructed with very high-quality material, from the 600D polyester cover to the folding steel frame, you can feel the hard work that went into producing this product.
6

. ALPS Mountaineering King Kong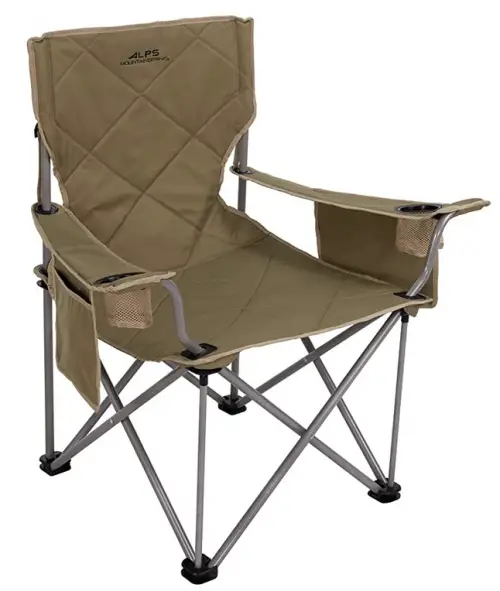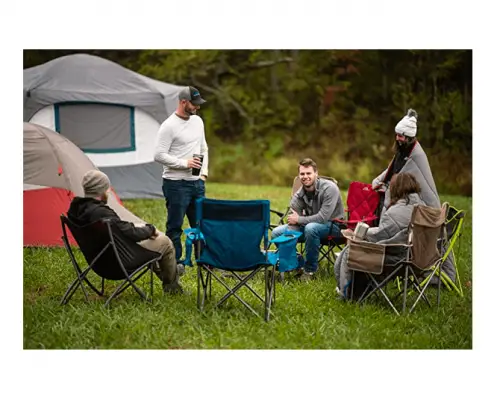 ALPS Mountaineering King Kong is a great choice for almost any outdoor situation. It has not one but two cup holders, one at the end of each armrest. There are two side pockets providing ample storage for personal items. King Kong is much wider than your average folding chair and is made with high-end polyester making movement in the chair more comfortable.
Adjustable Armrest
King Kong has adjustable armrests allowing you to set them to a level that's more comfortable for you. This same feature prevents the armrests from sliding down while you're sitting which can be quite the nuisance.
Extreme Support
The ALPS Mountaineering King Kong is extremely well built and has the capability of holding 800 lbs. This chair would be perfect for anyone that considers themselves to be big and tall.
Cost and Value
Considering the size and the quality of materials this chair is the ideal mid-ranged chair. It's more suited for a camping trip than a hiking trip due to its size but it is ideal for setting up around a campfire and enjoying nature.

7

. Browning Camping Strutter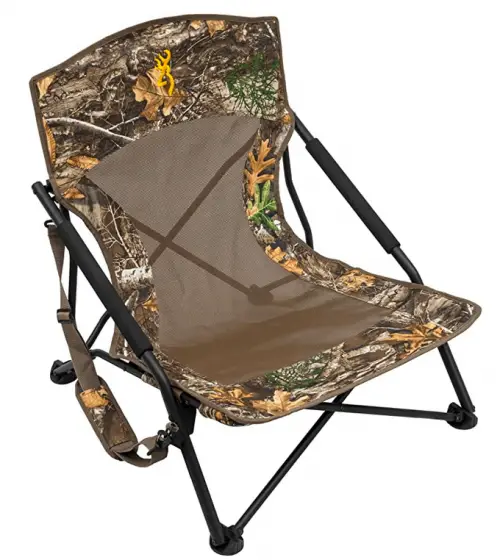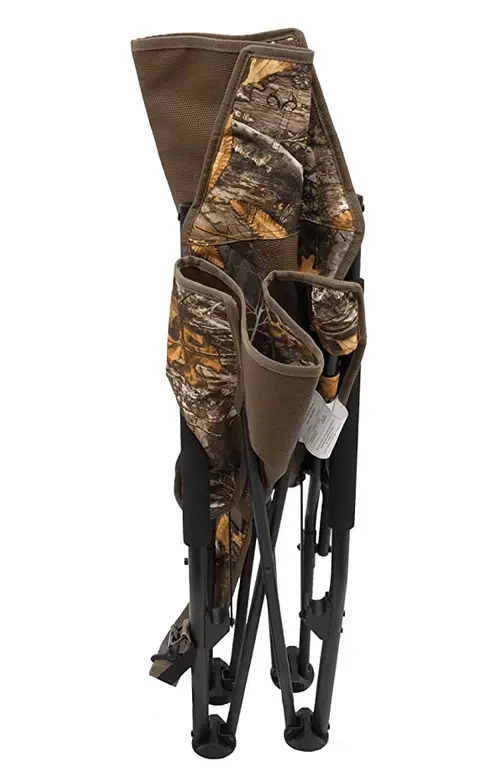 The Browning Camping Strutter is a much smaller more portable folding chair than most others on this list. The size doesn't speak poorly of the quality either, it's made with powder-coated steel and a collapsing design that makes it easy to carry while hiking. It has another wider version for anyone that wants more room for comfort making it quite versatile.
Compact
The Browning Camping Strutter's compact size makes this ideal for use in difficult to reach areas. When fully collapsed it's is of being held on your back using a sling with relative ease.
Rotating Feet
This chair is perfect for use on uneven surfaces with its rotating feet. The chair's feet will automatically adjust to provide comfortable seating even on the most uneven of surfaces.
Cost and Value
This well built low sitting chair is one of the cheaper options on this list. Its portability and adjustability make it a staple for any hiking, mountain climbing, or hunting trip you may need it on.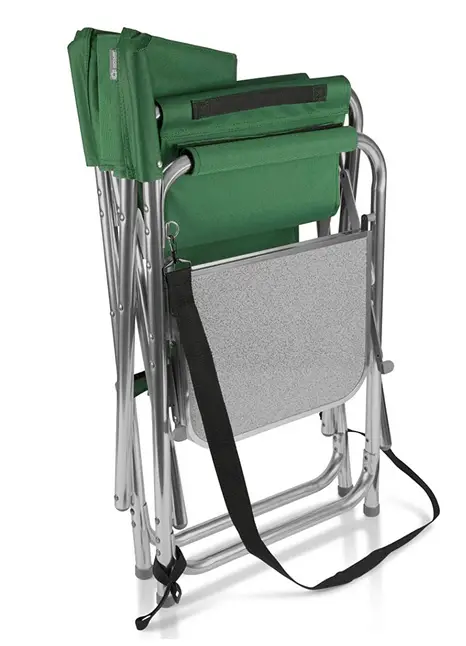 The Picnic Time Portable Sports Chair is a wide seat chair with an aluminum frame, side table, and multi-accessory side pouch. The multi-accessory side pouch can accommodate many of your daily-use personal items and even has two insulated pockets for beverages. This is one of the best folding chairs for sports and it features 600D polyester fabric and padded armrests for your comfort, as well as multiple straps for easy transportation.
Multiple Color Options
Of all the chairs on this list, the Portable Sports chair is the one only that features a large number of multiple color options. This chair can be used with almost any of your existing outdoor furniture and match the color quite well.
Security Pouch
It has a side pouch that features a zipper and has ample space for your more important personal items. This security pouch is perfect for keeping your items out of sight.
Cost and Value
This option is one of the more expensive chairs on the list. This chair is more suited to someone that would frequently use a folding chair. With the insulated drink holders and the side table, this is an all-inclusive outdoor chair.

9

. ALPS Mountaineering Rendezvous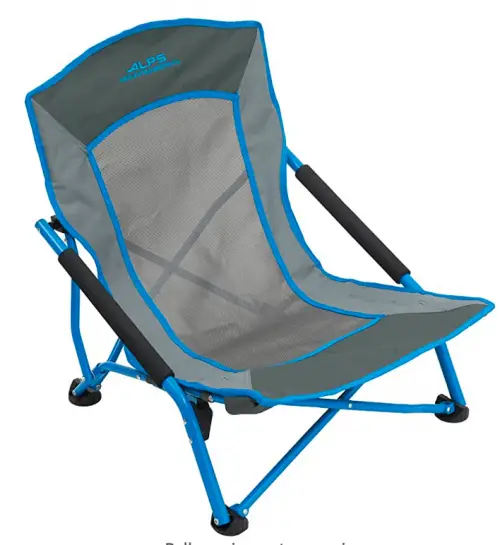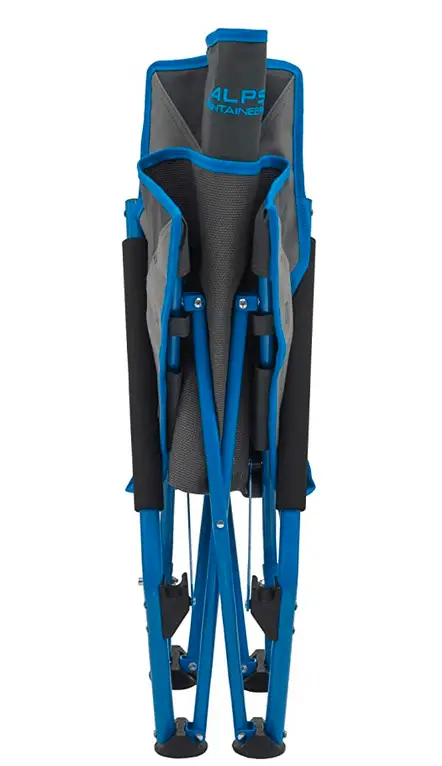 The ALPS Mountaineering Rendezvous is a low sitting powder-coated steel-framed folding chair. It uses a free-breathing mesh material that provides a deep comfort during hotter summer days. The reclined backrest makes it easy to kick up your feet and relax very comfortably. The small profile makes this chair easy to add to most any outdoor adventures.
Versatility
No matter what situation you find yourself in you can add this chair to your pack and have reliable comfortable seating. Its low profile and reclined back make it perfect for activities like fishing, beach trips, and hiking.
Reclined Back
The reclined back makes this chair the most comfortable portable chair. It's quite easy to fall asleep while relaxing in your favorite outdoor location. Combined with the breathing mesh you're guaranteed to love this chair.
Cost and Value
The ALPS Mountaineering Rendezvous is reasonably priced and is in the mid-range on this ten best list. ALPS quality materials used make this a durable item ensuring you will get every cent of what you pay for.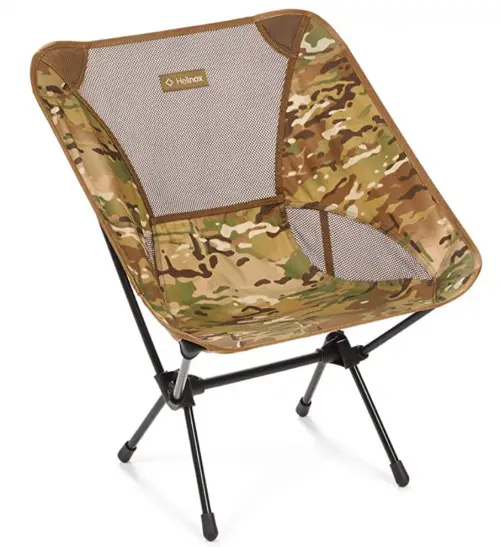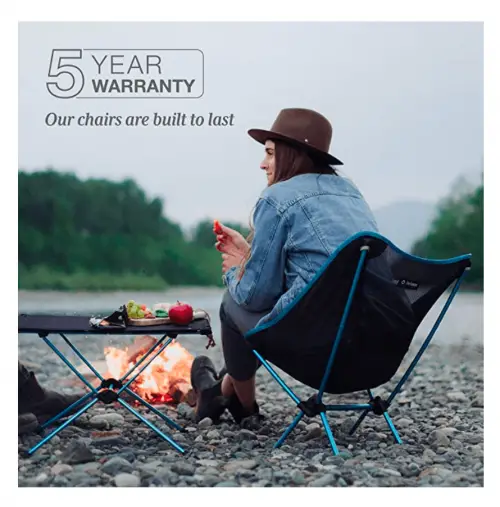 The Helinox One chair is an interesting choice on this list. It uses a polyester 600D fabric that can be removed or reattached with ease. The Helinox One uses an aluminum pole frame that suspends the user in mid-air for long term comfort. The Helinox can fit into very limited spaces when it's separated and deconstructed.
Lightweight
The Helinox is hands down the lightest folding outdoor chair you can buy today. It weighs less than two pounds making it ideal for taking with on all your adventures.
Suspended Sitting
While most chairs have a framed piece in the front for the support it can end up being very uncomfortable. The Helinox suspends the user over the frame providing a comfortable seat.
Cost and Value
The Helinox is the most expensive chair on this list. The cost is offset by the simplicity in its design, the ease of usage, and lightweight. It uses higher quality 600D polyester for breathable comfort and includes a zipping carrying case that the chair fits in without frustration.
Subscribe to our Newsletter