Best Pillows for Side Sleepers Reviewed & Rated for Quality
In a Hurry? Editors choice: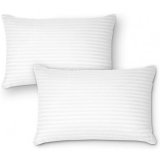 Test Winner: DreamNorth PREMIUM Gel

The best thing you can do for your physical and mental health is to maintain appropriate sleep hygiene. Like personal hygiene, sleep hygiene is a routine of healthy habits that you can adhere to in order to increase wellbeing.

While there are general sleep habits that everyone should abide by like avoiding screens before bed and maintaining a tidy sleep environment, there are also sleep habits that are personal.
In order to get your best sleep, keep a journal and work with your doctor to find out how much sleep you need a night and what kind of sleeper you are (back and stomach sleeper, or side sleeper). This info will help you create a routine that is just right for you.

Here, we've compiled of list of the best pillows for all of you side sleepers out there, because getting the right pillow is seriously a sleep-game changer.
Standout Picks
Criteria Used for Evaluation
Comfort
Studies show that you spend as much as ⅓ of your life in bed--so shouldn't all of that time be comfortable?
For a side sleeper, that means finding a pillow with the right loft. When sleeping on your side, you are looking for your pillow to fill the space between the bed and your ear, nothing more and nothing less. A pillow that has too much or too little loft will result in the neck jutting upward or downward (respectively) out of cervical alignment. That means you are looking for a pillow with a decent amount of support. While it's nice to enjoy a big fluffy pillow sometimes, these babies are not going to give you the night-after-night support that your neck and spine need. So that's why we looked for pillows that provide a desirable level of comfort while also giving the neck and spine aligned support.
Of course, we also considered the plushness of the casing. While many users will choose to cover their pillow with a case to match their bedding, we wanted to be sure to include those products with casings so soft you could snuggle up next to them without an added pillowcase.
Materials
Finding the perfect pillow and perfect sleep is no easy task, that's for sure, and a lot of that has to do with problematic materials.
Down, while luxurious and soft, is not ideal for those suffering from allergies and other respiratory issues because of the presence of mites and other irritants in these pillows. They can also be hot to sleep on, causing you to sweat. And seeping sweaty moisture that locks into the pillow over time can cause odors and bacteria growth which is super problematic considering these kinds of pillows aren't intended to be washed.
Other foams and textiles are packed with chemicals that are frankly dangerous to sleep on.
So we highlight products that are CertiPUR certified and that come without toxic chemicals.
Breathability
Sweaty sleep in one of the leading causes of sleep disruption and discomfort. That's why we list products that have breathable interiors and covers allowing for a cool night's sleep.
Adjustability
If you are using a pillow that is the wrong height, you are going to end up with neck and back pain. It's as simple as that. That's why we love pillows that are adjustable. Not all people are shaped the same, so why should a pillow come with only one shape option?
Some common mishaps with pillows come when people aren't correctly educated about the kind of pillow they need. If you have a very soft and fluffy bed, you are going to need a thinner pillow so that your neck won't be propped up at an uncomfortable angle. If you have wider shoulders and you're a side sleeper, you need a higher pillow to help align your neck and spine when sleeping on your side. These are just a few tips to keep in mind when selecting a pillow. And because most of us are not going to go to a store to try multiple pillows out, and as a 1 minute trial means nothing compared to trying a pillow overnight for several nights, we love pillows that come with adjustable heights so that you can engage in a trial and error process in the comfort of your own bed until you get the fit that is just right for you.
Value
Of course, value is always a consideration. We like to feature affordable options while sprinkling in luxury items for a good balance. We especially love those products that are CertiPUR certified and that have more luxury features without the high-end price tag. And as always, we love a great sleep trial and warranty.
10 Best Pillows for Side Sleepers
1

. DreamNorth PREMIUM Gel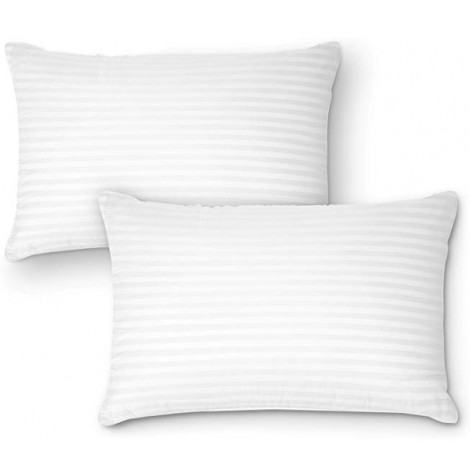 The DreamNorth PREMIUM Gel is made with the luxury of hotel comfort in mind. These pillows give the neck some serious support to keep it in line with your spine while you are sleeping on your side. They are made in China.
Made from Gel-Infused Fibers
This product is made using gel-infused fibers that keep their shape and bounce back. The gel ensures a cool night's sleep as well. The removable cover is made from 100% cotton which is great for breathability, reducing sweat during the night. It is specially treated to resist stains and fading. The DreamNorth Premium is an ideal pillow for those suffering from allergies or respiratory issues as it is hypo-allergenic and resistant to dust mites and mold. Plus, you can throw the whole pillow in the washing machine and dryer to ensure that your pillow remains clean from the inside out.
Provides Softness and Support
DreamNorth made a product that balances luxurious, cloud-like softness with support to ensure that the neck stays in line and you wake feeling refreshed. Reviewers rave that these guys are easy to adjust to your neck cradle for a night of easy sleep. This set of 2 comes in standard, queen, and king sizes.
Cost and Value
The DreamNorth Premium rings up at the low end of our price range and we love it's valued because it comes in a set, meaning you get 2 pillows for half the price of other super premium pillows on the market. And to top it off, this set comes with a 1-year warranty to protect against any defects in production.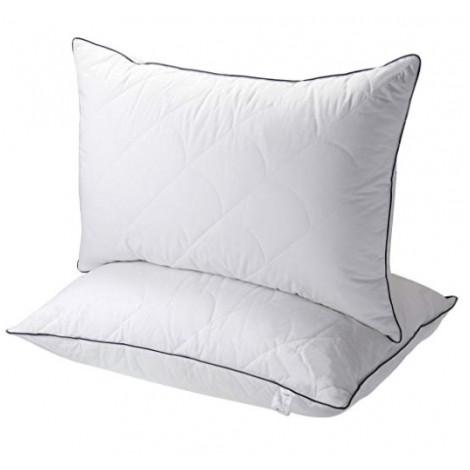 Sable has developed a sleeping product that is so delightful and effective that it is recognized by the FDA to be a Class-1 Medical tool. The loft of this pillow is perfect for side sleepers. They are manufactured in China.
Down Alternative
For years, allergy sufferers have had to sacrifice comfort for safety. No more! This sable set is made from totally hypo-allergenic fibers that are meant to mimic down feathers, and that has been specially treated to be anti-bacterial and hypo-allergenic. The cover is made from 100% cotton to ensure that it remains dry and breathable. The entire pillow can be tossed into any home washer and dryer to maintain a clean sleeping surface for nights to come.
Removable Fill
The fibers in this set have been treated with rayon to provide a perfect balance of fluffy cloud and serious support. And what's more, these Sables can be adjusted to your "just right" height by removing fill from the pillow body. Each comes with 1200 grams of fill standard. We always remind our readers to hang on to any fill that you take out and store it in a safe place so that you can add it back later once the pillow naturally begins to lose some of its body. This set comes in queen (20 inches by 30 inches) and king (20 inches by 36 inches) sizes.
Cost and Value
The Sable set rings up at the bottom of our price range and we love this value too because you get two pillows for half of the price of your standard luxury side sleeper. Plus, this set comes with a lifetime warranty that the company truly stands by. You can't beat that!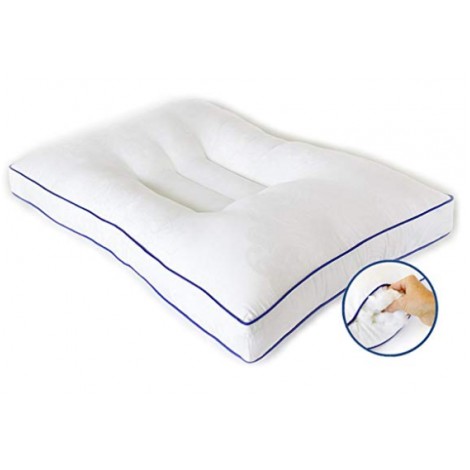 Nature's Guest has designed a product that is so good it is recommended by chiropractors and orthopedists to treat all sorts of ailments from chronic migraines to pain associated with herniated disks and arthritis. Nature's Guest is great for side sleepers and back sleepers too--or for switching back and forth between the two. It is manufactured in China.
Micro-Fibers Revolutionize Your Sleep
The design of Nature's Guest is proprietary and has a patent pending. The micro-fiber filling provides ultimate cooling and the 100% cotton cover adds another layer of fresh to this dream of a pillow. Plus, users report that there is no nasty smell as with other pillows of this kind on the market. This product comes with a removable cover that is machine washable, and the pillow itself can be hand washed and dried flat. It is hypo-allergenic so it's great for those who don't want to sacrifice comfort for their health.
100% Customizable Just for You
Because this product is a cervical pillow, its design is a little different. It is tapered down in the middle to provide a cradle for the head, delivering tons of support to the neck and spine. Nature's Guest is going to be firmer than some other pillows on the market because of the support it provides, though users still rave about how comfy this pillow is to sleep on. Plus, it is 100% customizable. The inner cover of the pillow can be unzipped (on both sides!) to remove excess fill so that you can adjust the pillow to a height that is just right for you. Remember, save that fill in case you want to add it back later. It comes in one standard size, measuring 24 inches long, 16 inches wide, and up to 5 inches thick.
Cost and Value
Nature's Guest is one of the more expensive pillows on our list, but it comes backed by medical professionals and it truly a miracle worker when it comes to relieving chronic pain. Because it is customizable and works so well, we love its value. And it comes with a no-questions-asked, 30-day money back guarantee if you aren't 100% satisfied.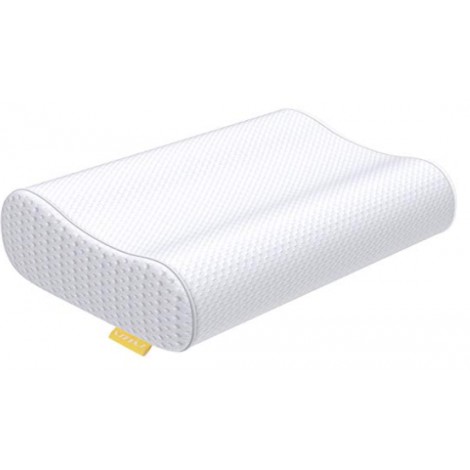 We love the UTTU Sandwich because of its name and because it works! UTTU combines tons of research with the human desire for comfort to make a truly customizable and remarkable product that is great for supporting side sleepers throughout the night. It is manufactured in China.
Bamboo Cover
The UTTU Dynamic Foam used to create this product is totally proprietary and trademarked, and it is backed by the International Sleep Products Association and CertiPUR stamps of approval. That means that there are no heavy metals, formaldehydes, or other known harmful chemicals in the product--a welcomed guarantee for something you're going to be resting your head on for 6 or more hours a night. The cover is made from 100% bamboo which is a renewable, green resource and an extremely breathable product as well. Win-win! It is hypo-allergenic and resists dust mites, so it is a great option for allergy sufferers. And the case is removable and totally machine washable so you can keep it clean for years to come.
Adjustable Loft
The feature we love most about the UTTU Sandwich is its adjustability. In its factory form, its high loft is 4.7 deep and its low loft is 3.9 inches deep. But if this is too much for you, simply unzip the inner casing and remove the middle layer of memory foam. This results in an adjusted high loft of 3.5 inches and a new low loft of 2.8 inches. The foam provides support and relieves pressure all in one go. And what's more, unlike other block foam pillows on the market, this guy won't harden up like a brick in cold weather. It is specially designed to maintain its density no matter the sleeping temperature. The standard product dimensions are as follows: 23.6 inches long, 14 inches wide, and between 4.7 and 2.8 inches deep.
Cost and Value
The UTTU Sandwich rings up in the high to middle range among the pillows on our list and we absolutely love all of the value packed into this product. Not only is it certified by the International Sleep Products Association and CertiPUR, but it is also super customizable and provides tons of support options. Plus, it comes with a 96-night sleep trial and a 5-year warranty. UTTU is determined to deliver a dreamy night's sleep to all of their customers.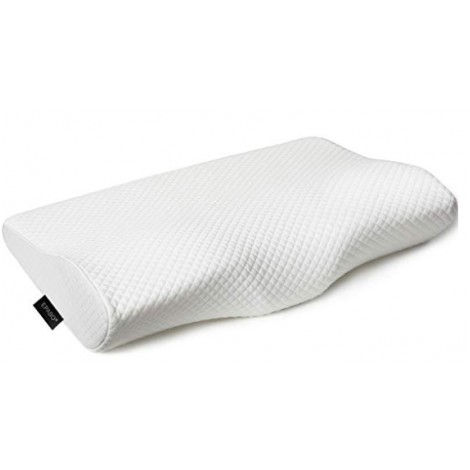 EPABO makes another funky looking product that is designed to fulfill the needs of every sleeper. The cervical design is ergonomic and ideal for side sleepers, though back and stomach sleepers can also reap the benefits of this pillow as well.
Hypo-Allergenic Proprietary Blend
The EPABO Contour is made of high-quality materials that are guaranteed to be chemical free to support overall health. With breathable memory foam, you won't wake up in a puddle of sweat. And the proprietary, hypo-allergenic pillowcase made from a rayon and polyester blend delivers a silk-like softness that you won't want to cover. The case is also dust mite resistant and can be machine washed and dried in any at home washing machine or dryer. The pillow itself cannot be put into the wash and must be spot cleaned if dirty.
Contour Design that is Proven to Work
The design of the EPABO Contour is proven to relieve stress on the neck, thereby helping to eliminate chronic pain. While EPABO notes that you may continue to experience some pain during the first couple weeks of use as your body takes time to adjust to its appropriate sleeping position, this pain will dissipate leaving you to fall asleep more quickly and to stay asleep throughout the night. There's also a small, removable piece of foam at the base of the pillow that can be taken out to suit the needs of back and stomach sleepers. It comes in 2 sizes. The standard pillow measures 21 inches long, 13 inches wide, and 3.9 thick, while the king pillow measures 24 inches long, 15 inches wide, and 4.8 thick.
Cost and Value
The EPABO Contour rings up in the middle to high end of our price range and we love it because it provides firm support while still delivering silky luxury and adjustability. It comes with a 30-day money back trial, so if you're not 100% satisfied you can send it back for a full refund.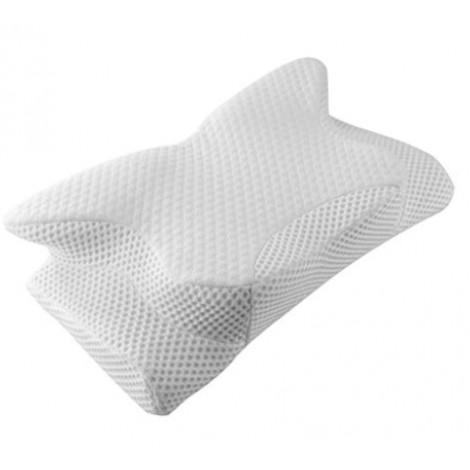 We love this pillow. The Coisum Orthopedic shows up on multiple sleep lists because it functions superbly for all sleepers, its design is genius, and it is CertiPUR certified--but it doesn't come cheap. This product is made in China, but the CertiPUR-US standards are me across the board.
Memory Foam and Pillow Case Provide Tons of Circulation
The Coisum Orthopedic is made from 60 density foam that rebounds slowly so as to retain its shape and make a unique mold to your head which it memorizes. The removable and washable case is hypo-allergenic and dust mite resistant, and to ensure that it holds up over time the company suggests that you wash the case by hand. The case is breathable and is also designed to reduce the appearance of sleep wrinkles from too much pressure while sleeping.
Incredibly Unique Design to Fit Any Sleepers' Needs
The Coisum Orthopedic is a firmer pillow that is uniquely designed with the body's shape in mind. The slope of the Coisum keeps the head in place for secure support during the night, and the cutouts at either side of the pillow serve as a cradle for the shoulders to rest so that the body doesn't collapse over on itself when sleeping on the side. The pillow even has horned wings on one side to give extra cervical support. All of this added together results in a product that literally melts away chronic pain. Coisum notes that the first few days using the product may cause a bit of discomfort as you and the pillow adjust to each other, but after that sleep will be a dream. The company recommends a sleeping temperature of 70 degrees to keep the pillow at its ideal firmness. Any colder and the pillow will harden up. It comes in 2 sizes: 24.4 inches long, 15 inches wide, and 4.7 inches thick; and 25 inches long, 14 inches wide, and 4.7 inches thick.
Cost and Value
The Coisum Orthopedic rings up towards the top of our price range, but for good reason. This product is backed by tons of research and has been refined by listening to thousands of customer experiences. It is literally a pain killer and its unique design is unmatched by any other on the market. So if you can afford a pricer pillow, go with this guy for sure.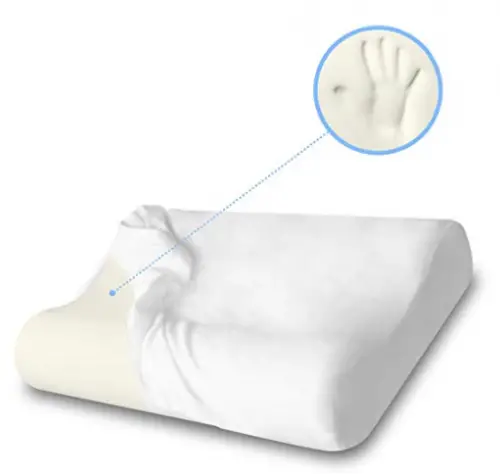 The ZG-Home Memory Foam provides a velvety night's sleep that will restore your cervical spine to its intended position in order to eliminate chronic pains. This puppy is a great option for those looking to upgrade their pillow game without breaking the bank.
Made from 100% Polyurethane Foam
The ZG-Home Memory Foam is made from 100% polyurethane foam that contains zero in the way of formaldehyde, heavy metals, or other toxic chemicals--in other words, this pillow is super safe to sleep on. The velvety cover can be removed and machine washed. You may also wash the entire pillow but drying the pillow takes time because of its density. Keep in mind that it takes about 1-2 hours for the pillow to arrive at its normal shape after being taken out of the box, and the company suggests waiting at least a day before use so that the smell can air out sufficiently.
Relieves Pressure to Treat Many Ailments
The ZG-Home Memory Foam is contoured with the neck and spine in line. The high side has a thickness of 5 inches while the low loft side is 4.5 inches thick. This allows you to adjust the pillow to your specifications. This product can be used in aiding relief from snoring, chronic pain, and insomnia. The ZG-Home Memory Foam comes in 1 standard size that is 24 inches long, 15 inches wide, and 5 inches thick--between the size of a standard pillow and a queen sized pillow.
Cost and Value
The ZG-Home Memory Foam rings up in the middle of our price range. It comes with a 100% satisfaction guarantee up to 30 nights as well as a 5-year warranty. We like it because it offers up some features found in more expensive pillows for a lesser price.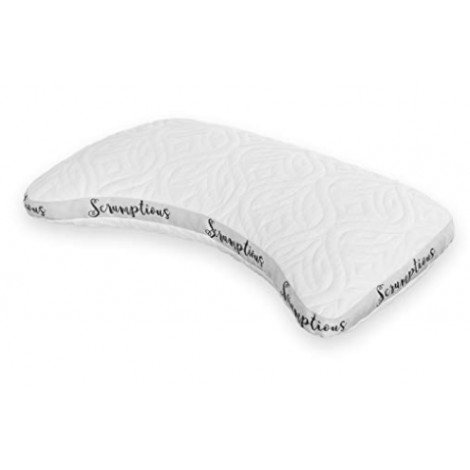 Drift makes one of the most decadent products on our list. The Scrumptious Side Sleeper is another pricey option, but man does it pack in an excellently luxurious night's sleep. This baby is made by hand in California--Los Angeles to be specific--and as the name suggests, it was designed solely with side sleepers in mind.
Propriety Foam Almost Indistinguishable from Premium Down
The foam fibers used in this product are stronger and thinner than silk, and experts are hard-pressed to notice the difference between this product and the finest of down Infused with gel, the foam in the Scrumptious Side Sleeper breathes all night leaving you cool and comfortable. Plus, the foam is certified by CertiPUR.
Manually Adjust to Your Loft Desires
We love that you can manually adjust the loft of this pillow by accessing the "hidden zipper" and removing foam until you get to a thickness that is just right for you (remember to save excess foam for later). This queen sized pillow measure 29 inches long, 16 inches wide, and 6 inches thick.
Cost and Value
The Drift The Scrumptious Side Sleeper is the most expensive item on our list but for good reason. Its proprietary blend delivers the most decadent night's sleep, and each pillow is hand made. It comes with a 60-day sleep trial and free return and refund, plus a 3-year warranty.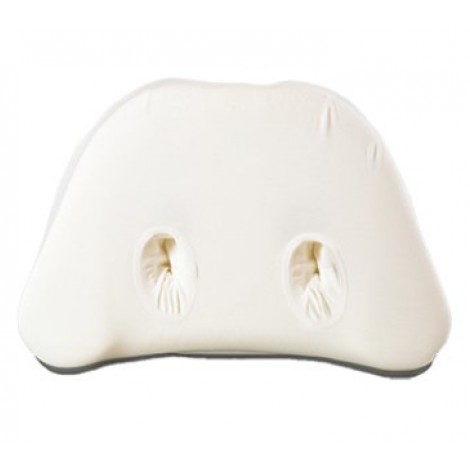 The Pure Comfort Side Sleeper features some designs not seen in other pillows on the market. It was developed through science with side sleepers in mind.
Design Relieves Ear Pressure
The foam in the Pure Comfort Side Sleeper is certified by CertiPUR so it's made from quality materials you can rely on without that nasty smell. With revolutionary ear cut-outs, forget about sweaty, cramped, squished ears that wrinkle up and cause lots of discomfort. This feature also relieves pressure on the whole face, so you can get a more restful sleep. The hypo-allergenic and dust mite resistant cover can be easily removed and tossed in any household washer and dryer. Did we mention it was made from environmentally conscious bamboo?
Adjustable Height Inserts
The Pure Comfort Side Sleeper comes with 2 adjustable height inserts to ensure that you get just the right alignment for your body. It is smaller than other pillows on our list, measuring 18 inches long, 12 inches wide, and 6 inches thick. But that just means it can double as a handy little travel pillow, doesn't it?
Cost and Value
The Pure Comfort Side Sleeper rings up at the top of our price range, but its special features make it worth it. It comes with a 100-night sleep trial for a full refund if you're not satisfied, as well as a 5-year warranty.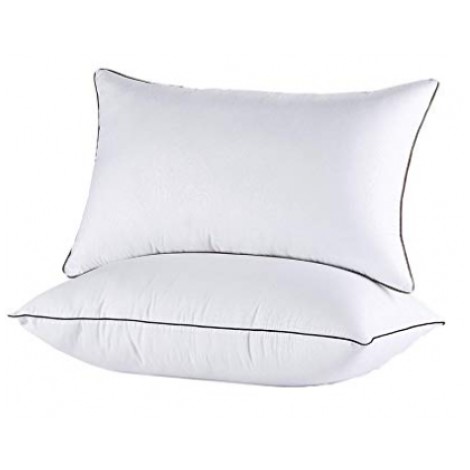 We round out our list with the JollyVogue 2 Pack. This inexpensive duo pack is great for side sleepers.
Virgin Fiber Retains Shape
The JollyVogue 2 Pack is made from virgin polyurethane fibers (a wonderful down alternative) that are safe and supportive. In order to keep your JollyVogue in shape, fluff periodically. Remember, it will take about an hour for your JollyVogue to fluff all the way up once it is removed from its vacuum seal. The fibers breath and are free from allergens and chemicals. Plus, the pillow fights off dust mites, mildew, and mold, and the whole thing can be thrown in your household washer and dryer.
Plush Cotton Provide Ultimate Comfort
The cotton shell of the JollyVogue is quilted for your comfort and will keep you cool. This set comes in standard, queen, and king sizes. The company also sells cases designed specifically for their products so that washing is an easy task.
Cost and Value
The JollyVogue 2 Pack is the most inexpensive option on our list so it's a great comfy option for those shopping on a budget. It comes with a 30-day sleep trial and 1-year warranty.

Subscribe to our Newsletter