Best Patio Sets Reviewed & Rated for Quality
In a Hurry? Editors choice:
Test Winner: Suncrown 3-Piece Rocking

Perhaps you like to wake up, grab a cup of coffee and the day's newspaper, and stroll out onto your patio. You like to inhale deeply and smell the fresh morning air. Sitting outside is a way to start your day or decompress after a long day, either way an outdoor patio set gives you a place to do it. Grab a coffee table and a chair from inside your house and just carry them outside. That way you can sit outdoors, relax, and retain use of both of your hands.

Why even consider spending your hard earned cash on a patio set? Well, for one thing, there's aesthetics. If you care about how your home looks if you care about your patio's set up, you'll want to invest in something made specifically for it
Standout Picks
Criteria Used for Evaluation
Materials
One of the most important things about any product, not just patio sets, is its construction–the materials it is made out of, and the way it is designed. When it comes to furniture, patio sets included, the materials a manufacturer can choose from vary greatly–almost more so than any other type of product. Most patio sets are constructed using plastic, wrought iron, aluminum wood, and wicker. The best and most enduring patio sets on this list are made of wicker and PE rattan. The two are similar but fundamentally different. Wicker is a process that can involve any cane-like material, like bamboo, reed, willow, and even rattan. Authentic rattan is created from the natural fibers of a palm tree kind of plant. Authentic rattan is very commonly used in the construction of all sorts of furniture items. But furniture constructed with authentic rattan is best-suited for the outdoors because authentic rattan can't withstand the withering effects of the elements. Instead, furniture that's meant for use outdoors is constructed with what is known as synthetic polyethylene rattan–or "PE rattan." You'll find that most patio sets on this list are constructed using just that. PE rattan is basically a man-made rattan, meant to emulate actual, authentic rattan in most ways while still being durable and able to withstand the elements. In damp and humid conditions, for example, authentic rattan becomes mildewed or even breaks down entirely. PE rattan, on the other hand, will hold up.
Style
There are several design options to choose from as well. Some are simple, with simple, solid color schemes. These are almost all about utility. And they're among the more basic patio sets available. That is, they're good for sitting and hanging out in the open; not much more. Then there are those with a more sleek, a more modern look. Both types are included on this list, and so is anything in between.
Ease of Use
Patio sets are designed so that they match the decor of your patio. But they're not meant to be just pleasing to the eye. They also have many uses; uses that vary from item to item. You have to know what your needs are before you even begin to do your research. This list was compiled specifically with variety in mind–that is, we wanted to include as much variety in it as possible, so that there no matter where you come from or what your needs are, you'll find something that works for you on this list. Some patio sets, for example, come with only two seats and a fragile coffee table. This is obviously not for people who want to entertain guests. It's for people who want to sit and relax by themselves, or perhaps with their partner, and read a paper or a book or something of this nature. Then there are patio sets that can seat whole families. There are patio sets with umbrella holes; whether or not the umbrella is included with the purchase depends on the manufacturer. There are also patio sets without umbrella holes. So you need to pay attention.
10 Best Patio Sets
1

. Suncrown 3-Piece Rocking


Maybe you're looking for something simple and basic, but with a more elegant look. This patio set by Suncrown is just that--simple yet elegant--and it comes in three different color schemes, so you can choose the one that matches your outdoor space best. It includes two rocking chairs that are cushioned for comfort. It also includes an elegant glass table top, which is perfect for your morning coffee and newspaper ritual.
Easy assembly
Maybe you're not a handyman. You don't know the difference between a hammer and a screwdriver. That's okay, because this set by Suncrown is easy to assemble and it comes equipped with detailed instructions. Not only that, it also comes with the tools you'll need, so you'll not have to do too much guesswork.
Comfort
Rocking chairs are, in and of themselves, fun to sit in. They're perfect for both kids and adults. What makes them better is cushioning. This set by Suncrown includes thick cushions for extra comfortability; and to add to this, its chairs feature an extra rocking feature to allow you to rock yourself into a deep state of relaxation.
Cost and Value
This comes in three different color schemes. Prices vary from scheme to scheme, so be sure to pay attention. Overall, though, this is a quality set, it's comfortable, and it has a beautiful design and look and feel to it. If it matches with the rest of your outdoor space, then it's a great buy for sure.

2

. Keter Rio 3 Pc All Weather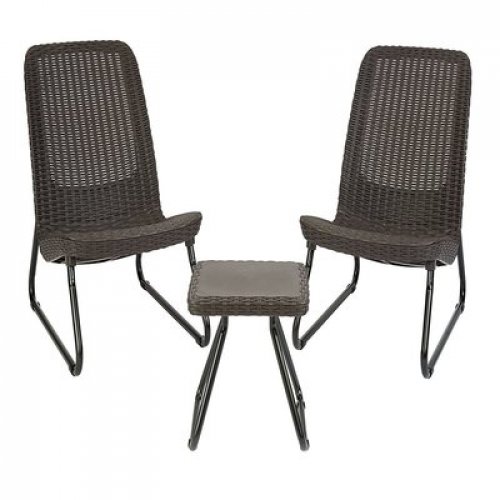 Number two is a very simple, very functional, and very affordable set for your patio or your garden. It's been constructed with molded rattan design instead of a woven one as number one was; this means it's durable and sure to last you a long time. It's quite basic, nothing fancy--if you're looking for something to help you relax and unwind with your friend or partner, you just need a pair of comfortable chairs and a table. That's what this offers you.
Easy to assemble
It's annoying when you purchase a great product that you just can't seem to figure out how to put together? It's worse when no instructions are included--it's like you were given a bunch of legos and expected to make a chair out of them. This set by Keter is easy to assemble and it comes with extremely detailed instructions on how to assemble, so you won't be lost and left with a bunch of useless parts.
Polypropylene
Anything that's meant to be used outside should be able to withstand the elements. That much is obvious, isn't it? You'd think so, but that's not always the case. This set by Keter is constructed with rustproof polypropylene for resin that is specifically designed to stand up to all weather conditions.
Cost and Value
For a basic set, the price is just about right. You can choose from two different color schemes, and you can even choose to have the set assembled for you by an expert. This last of course is for an additional cost. All in all, it's a cheap set, but a quality buy.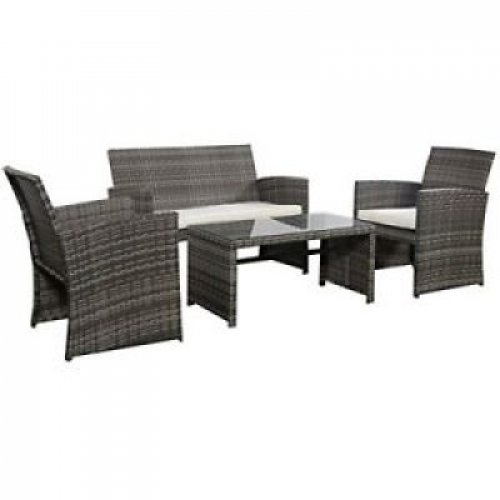 Number one on this list is a four piece patio by Goplus. It's constructed with a commercial grade hand woven PE rattan wicker that is weather resistant. It features sponge padded seat cushions, so it's not only durable but comfortable too. All in all, it's a great option for compact spaces; so if you're looking to spice up your patio, your small deck, balcony, or terrace, you can stop looking now. It also includes a table with tempered glass top.
Steel frame
This patio set by Goplus features a powder coated steel frame. That means it's sturdy, it's strong, and it can weather the elements without corroding or wearing down. In other words, it's durable.
Easy to Clean
The seat cushions on this patio set by Goplus feature a removable zipped cover, so you can take them off with ease when you want to clean them. The table is constructed with a removable tempered glass top, so you can clean that with ease, too.
Cost and Value
This costs surprisingly little for what you get. In all honesty, the price may even set bells off in your head--there must be something wrong, this seems too good to be true. But believe it. Every once in a while, if you look hard enough, you'll find a great deal--and this is one of those times.

4

. Clayton Court 3-Piece Motion


Now we're back pretty much to basics. This is a simple three-piece set, consisting of two single chairs and a table. It's an excellent addition to your outdoor living space if all you're looking for is something that will allow you to sit outside comfortably in just a little bit of nature, while you read or sip coffee or just recline and relax. It only comes in one color scheme, so note that too before making a decision.
Water, stain, and mildew resistant
Shouldn't all products that are meant to weather the elements be this way? They should, yeah, but that's not always the case. You can keep this patio set by Clayton Court outside without worrying about staining, about the rain, about the effects of mildew--just set it up and use it whenever you need it.
Treated for UV protection
You'll find that some patio sets actually wear down quicker in the sun. Isn't that strange? You'd expect them to wear in the rain or the snow or especially when hail is pouring. But the sun? It's strange, but it's true. This patio set by Clayton Court has been specifically treated for UV protection, so you don't have to worry about that.
Cost and Value
As far as patio sets go, this is not expensive. If you like the look, the design, and the construction, go for it. But for something so basic, it does seem like the price is somewhere on the steep end. But again, it's very durable, so it's entirely dependent on your preferences whether or not this is a good buy.

5

. Best Choice Products 4-Piece


Number five on the list is an excellent set from the aptly named Best Choice Products. It's a four piece set that includes three sofas--two single sofas and one double sofa--and a table with tempered glass. It's a great choice for poolsides, patios, and even porches. It's constructed with all-weather wicker which makes it ideal for the outdoors; and its cushions were crafter with polyester fabric, which is easy to clean.
Sturdy
This set by Best Choice Products is built to last. Its construction includes a steel frame and an extremely high-quality wicker that can support up to three hundred pounds--now that's durability!
Easy to maintain
It's marketed as being able to retain its new product look for years and years. This is made possible because of the simplicity and the ease with which you can wash it. Its tempered glass table top is removable, and thus easily cleaned; it padded cushions have removable covers, which you can also easily clean.
Cost and Value
You have three color schemes you can choose from. Their prices may vary, but not by much. It's fairly priced and definitely worth a look. It's durable, it's comfortable, and if you like the look and design, it's very much a good buy.

6

. U-MAX 7 PE Rattan Wicker


Maybe you're looking for something to entertain more people. Or something for your whole family to enjoy together. Something like a living room--but on the outside. That way you'll be forced to talk to each other instead of zoning out in front of the television. Well, you can stop right here. This U-MAX set is perfect for your needs. You have multiple options to choose from. You can choose from two colors (black and brown), and you can choose the number of sets you want to be included in your purchase (3, 5, 7, 9, 10, 11, 12, and 14).
Zippered cushions
The included cushions are stuffed with very thick cotton. This ensures maximum comfortability. In addition, these cushions are zippered. That means that if you find it getting dirty, simply unzip, remove, and wash--simple as that.
Steel construction
If you want something durable, something that'll stand the test of time as well as the different elements it's bound to be exposed to, stop right here. This set by U-MAX was designed with a steel frame to hold up for a long time.
Cost and Value
The cost depends on what you choose. You can choose from a number of different options. You can choose to have anywhere from 3 to 14 pieces included with your purchase. And you can choose between two different color schemes. Each choice has a different price, so pay attention; the more pieces you select, the higher the price. But it's comfortable and durable, so you can rest assured that you'll get the most bang for your buck.

7

. Peach Tree Rattan Wicker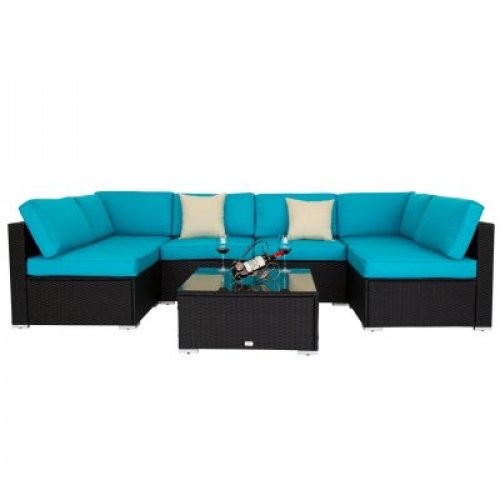 If you're looking for a more modern, stylish look, you'll find it here in this patio set by Peach Tree. It's constructed with very high-quality PE rattan and features a sturdy steel frame. Though this is marketed for outdoor use, it's great for indoor use also--it's designed to blend in with both outdoor and indoor decor. You can choose from a number of options, depending on your needs; you have a choice between two different four-piece sets, a five-piece set, and a seven-piece set.
Modern and stylish
Some people only care about whether or not a thing is pleasing to the eyes and whether or not it works. You might be a little more discerning. If you're looking for something both functional and stylish, you've found it here.
Easy cleaning
Sometimes fabrics wear down after every wash--or at least after the first wash. Sometimes fabrics are so thin and of such poor quality that may even become useless after the ,first wash. Not so with the fabric this patio set was constructed with. In fact, the fabric is also fade resistant, so you can wash it without worry about it losing its color.
Cost and Value
These are quite expensive; the most expensive we've seen on this list so far. But its design is unique too. And it comes in a variety of configurations for your convenience. In the end, it's up to you to decide what you need and what you want. If you're willing to spend the money, this is a good buy.



Maybe you're not looking for something for just lounging and drinking coffee or wine. You're looking for something you can have dinner with your family on. That sounds great, doesn't it? Dinner with the people you love, surrounded nature's green and fresh air? Well, you can make that a reality with this five-piece set by Gramercy. It comes with four chairs and a large table with a tempered glass top.
Powder-coated steel frame
Remember this is a product that is meant to sit outside, exposed to all sorts of weather conditions. And it's supposed to support your weight too. That's why this particular set by Gramercy was designed with a steel frame, to ensure durability and maximum functionality.
Assembly
If you're a handyman or handywoman, you're probably not at all worried about this aspect. You can fix anything, provided you have the parts and the tools necessary. But maybe you're the exact opposite of a handyperson. You don't know the difference between a screwdriver and piledriver. Well, stop fretting: you can opt for an expert to assist you in putting everything together.

Cost and Value
Bottom line? It's quite affordable. It's not dirt cheap, but it's not pricey either. It only comes in one color scheme though. And if you opt for an expert's help in assembling it, it'll cost you considerably more. But all in all, if a nice dinner with friends and family in the outdoors is what you're looking for, this is an excellent buy.



Maybe you just want something cute, something usable, functional, affordable, and of course durable. Well, this is it. This six piece set by Mainstays is excellent for a small gathering with your friends or family members. And it goes well on patios and backyards--or any small outdoor living space. It features a dining table and four sling folding chairs. It even comes with an umbrella, to keep you shaded from the heat of the sun.
Umbrella hole
This patio set by Mainstays comes with a pre-cut umbrella hole. It's two inches in diameter. Some sets don't come with this feature, so if you're concerned about shade, do keep this in mind. This set also comes with an umbrella for your convenience.
Powder-coated steel frame
Just like many of the other options on this list, this one, too, is constructed with a powder-coated steel frame. You can probably tell by now that steel frames are durable and are able to withstand the constant force of the elements.
Cost and Value
This is a simple, basic patio set. As such it's priced quite low. It comes in three different color schemes, which all cost the same low price. You can also choose to have an ex, of course, and assemble everything for you, but that of course will cost you more.

10

. Leisure Zone 4 PC Rattan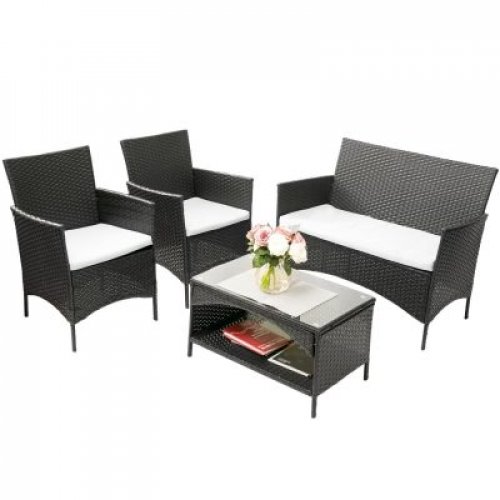 Last on this list is this four piece set by Leisure Zone. It may be last on this list, but its quality is on par with the best of them. It, too, is constructed with a powder-coated steel frame. It also features a PE rattan wicker construction, making it weather resistant as well as UV protected. It includes one loveseat, two armchairs, a coffee table with--you guessed it--tempered glass, and three cushions.
Comfortability
If you look at some of the other chairs on this list, you'll see many of them are quite small or narrow. This set, on the other hand, comes with seats that are both wide and deep. In addition, the seats include thick padded cushions for maximum comfortability.
UV protected
Not all patio sets feature this. They should, and it doesn't make sense that they don't. After all, it's sunny outside sometimes! In any case, this particular patio set by Leisure Zone is indeed UV protected, so you can feel secure in knowing your money wasn't wasted on something that's melting out there on your patio.
Cost and Value
Bottom line? It's an excellent value. It offers a ton of great features, it's comfortable, it has a sleek design, and it's durable. On top of all that, it's very affordable. Cheap even. A great bang for your buck, for sure.

Subscribe to our Newsletter