Best Coleman Coolers Reviewed & Rated for Quality
In a Hurry? Editors choice: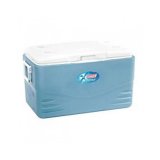 Test Winner: 52-QT Xtreme

There's a lot going on in the cooler market these days. There are Yeti's there are Igloo's, and a lot of other contenders for your cooler dollar. But then there are Coleman coolers and they're primacy in this market has been a thing for years. Part of the reason they tend to hold a position of dominance in the market is because of all the different kinds out there. There are backpack Coleman's there are chests on wheels there are chests big enough to hold weeks worth of food. Basically, if you
need a great ice chest
then you're going to be able to find almost exactly what you need under one roof. That's whey we decided to create the top ten list of just Coleman chests. So take a look through our list and we bet you'll find what you need.
Standout Picks
Criteria Used for Evaluation
Insulation
Your cooler's ability to keep the items cold is important, so the insulation used in the cooler will matter when you are picking out a cooler. Some coolers have more insulation than others which will impact the cooler's ability to block the heat out of the cooler and keep the cold trapped inside. However, higher insulating ability means that you will pay a higher price so you will need to consider what you are planning on putting inside of the cooler when you purchase it. There is no sense in spending a lot of money on a cooler that is only going to be used for an afternoon to store a couple of sandwiches.
On the other hand, a hunter who is going to keep a lot of things in their cooler will need better insulation so that their meat doesn't rot in the cooler. High-end coolers have the thickest amount of insulation and are the most durable kinds of coolers. This is the style of cooler that you should plan on using if you are going to be spending more than five days camping since it will do the best job of retaining ice.
If you are going to be spending less than five days in the wilderness, then you should go for a traditional cooler. Traditional coolers are not as durable as a high-end cooler and they have less insulation than high-end coolers, but these coolers are inexpensive and are suitable for most people's purposes.
A soft cooler is best used as a lunch cooler and will keep your food and beverages cold on short trips between refrigeration. This is what makes them suitable to use for lunch breaks but they will not perform well on hot summer days. The more insulation a cooler has, the better job the cooler will do keeping your food and beverages cold. However, you will need to keep in mind that more insulation and higher quality insulation will add to the overall price of the cooler.
Durability
There are a few different reasons why you should be concerned about a cooler's durability. One of the reasons is that you want the cooler to perform when you need it to perform. A cooler that leaks water, for instance, can become a headache real quick when you are trying to go camping, tailgating, or some other activity. This is also true for other important parts of the cooler such as the lid or wheels if they are present.
Most people will agree that it isn't fun to experience the lid of a cooler popping open and spilling all of the contents. The other reason why you should be concerned about durability is that of the value of the cooler. A cooler that lasts for a long time will offer you greater value than a cooler that you have to replace on a regular basis.
The seams are another trouble area that you will need to check. Seams are most commonly found in softshell coolers. High end and traditional coolers usually have a hard plastic piece on the inside of the cooler that does not have any seams but soft shell coolers usually have nylon, polyurethane, or some other form of a soft interior shell. Since the shell is sewed together, you need to check that the seams have been heating welded so that they do not create an opening for water to leak out of the cooler. In all styles of coolers, you will need to check that the interior shell does not have defaults such as cracking or holes as this will provide you with a spot for leaks.
The lid is the final area that you will need to look at for leaks. On traditional and high-end coolers, you will need to check that the lid seals tightly when it is closed. Unless the lid has a gasket, you should expect that some water will leak through the lid as the cooler is not meant to seal water in this area. However, the lid should resist water in the event that water splashes inside of the cooler while you are carrying it.
Size
The size of the cooler matters and will make a large determination as to what sort of items you will be able to put into the cooler. Larger coolers have a larger capacity and therefore will allow you to store more items inside. However, the larger the cooler gets, the more it will cost and the more it will weigh when it is full.
You will want to balance the size of the cooler against your actual needs so that you get one that is the right size for the items that you are planning on placing in it.
If you pack too few items inside of a large cooler, then you will excess capacity that you will need to find a way to fill so that the cooler insulate properly. On the other hand, you do not want to get a cooler that is too small for your needs either, as you will not be able to store everything that you need in the cooler.
Features
Just like everything else in this world, coolers can come with a slew of different features and those features can greatly enhance your experience. While no particular feature is truly necessary, many people will find the features to either be convenient or useful when they pick out a cooler.
Sometimes features can mean the difference between choosing between one brand or model and another brand, so it is helpful to decide which features are the most important for you and pick out a cooler that has the proper feature set for your tastes and needs. The better job you do matching the features to your cooler, the happier you will be with the cooler overall and being happy with your purchase is important.
Best Coleman Coolers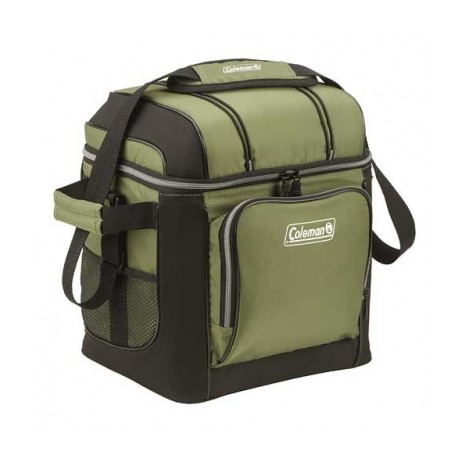 If you're looking for a larger lunch box or something that you can bring pretty much anywhere, then take this soft cooler into consideration because it has a lot to offer. The soft PEVA liner is flexible and easy to clean; there are built-in antimicrobial properties in the PEVA lining, preventing odor, mold, and mildew. What's more to ask for from a lunch box! Well, here are two more awesome options that Coleman Soft Cooler with Hard Liner has to offer:
Adjustable shoulder strap
Because it's considered a personal cooler (even though it can hold up to 16 cans), this model of the Coleman comes with an adjustable shoulder strap. This is especially useful if you have to walk from one spot to the other and you have to carry more than just the cooler. As the strap can be adjusted, everyone in the family can use it.
A lot of storage
For a relatively small personal cooler, this one has a lot of potentials when it comes to storage. There is a front zippered pocket, side mesh pockets, as well as a pocket mesh in the lid. On top of the lid, you can even find bungees for extra storage. This means that you can put all of your dried goods around the cooler, while the cold foods and drinks remain inside.
Cost and Value
For the price that it's worth, what you get is pretty good quality. Coleman is known for its durability, and this is what you'll get with this soft cooler. This cooler is one of the cheapest if you're looking for a soft cooler.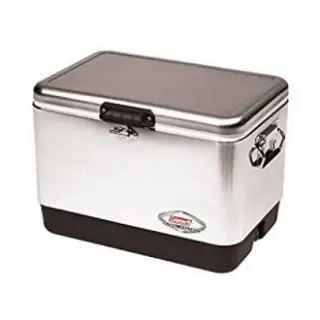 If you're looking for a stylish cooler that can keep your goods cold and retain ice well (for up to 3 days!), then perhaps the Coleman Steel-Belted cooler should be on your 'to buy' list. This Coleman model looks just like its first model back in 1954. With stainless steel hinges and screws, this cooler is rust-free. It also offers you a leak-resistant channel, as well as rubber grips for easy handling.
Rust-Free
This is probably one of the first questions you ask yourself when searching for steel-belted coolers: will it rust? Well, let me tell you now that Coleman's cooler's hinges and screws are made of stainless steel.
Leak-Resistant Channel
That's right, you read me right. The Coleman Steel-Belted Cooler comes with a leak-resistant channel, meaning that you don't have to unload the cooler, tilt it to empty the water, then reload it. Just open the channel, let the water flow, and put the ice back in. Easy peasy!
Cost and Value
As it's one of the best models of coolers from Coleman, and because it's mostly made out of stainless steel, its price reflects it all. It's on the higher end of the Coleman price range, but if you don't mind spending a little more to get a durable product, then put this one off your list!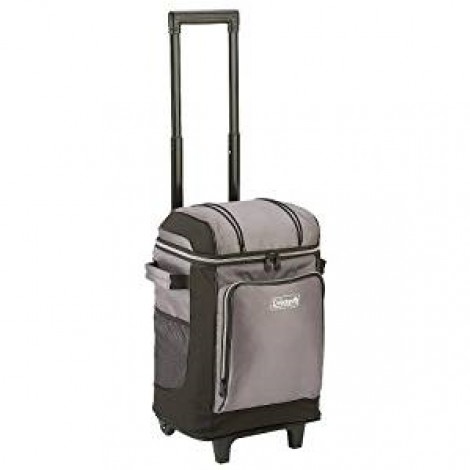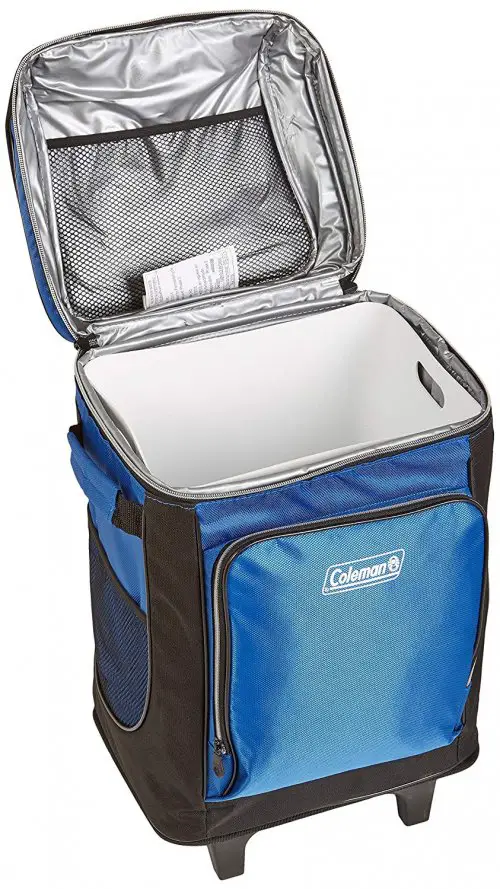 This cooler can go with you pretty much anywhere: from a campsite, to a BBQ outing, to sporting events, and more. What is really cool about this Coleman cooler (pun indented) is that it has durable wheels and an adjustable handle for easy transportation. As with the Soft Cooler with Hard Liner, this cooler has a front zippered pocket, side mesh pockets and a mesh pocket on the lid. This cooler comes in one size but can fit up to 42 cans.
Wheels + Handle
To make the transportation of the beverage to wherever the party is is easy and comfortable. Coleman gave two durable wheels to this cooler as well as a retractable handle. Once fully retracted, the total height of this cooler is approximately 39 inches. It has the appearance of a small suitcase or a large camping bag.
Portable Liner
Coleman really thought about everything in this model. Not only did it provide it with wheels and a handle, but it also gave the liner portability. Whether you spilled a drink and need to clean the liner or the interior of the cooler, or whether you just want to take the liner off to bring the cold foods and drinks somewhere without having to carry the rest of the cooler, then there is no problem!
Cost and Value
This is in the medium-range of the price scale, but for everything that it has to offer, there is no doubt that if you decide to buy this one you won't regret it.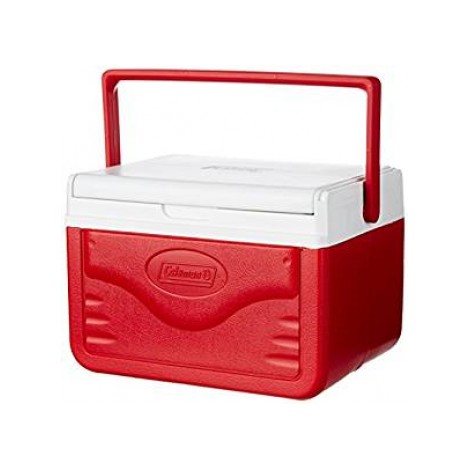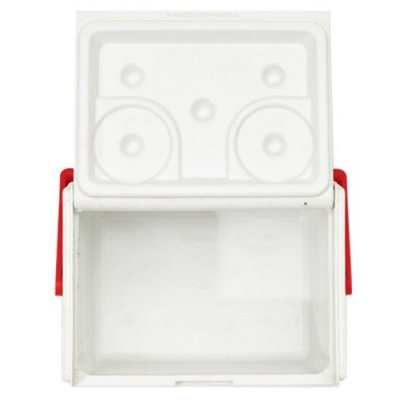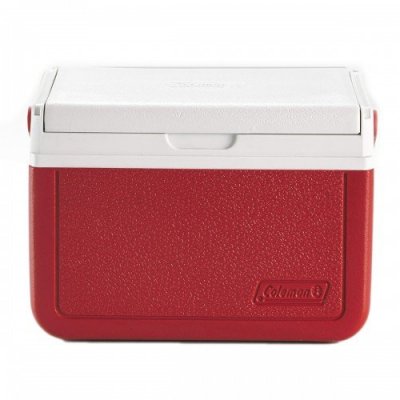 This cooler is mainly for one or two people. Because it's extremely mobile and has a lid that can be turned in to a small tray with cup holders, this cooler is part of our top 5. The handle is pretty 'trippy' compared to other regular coolers because it can rotate.
Handle
Because it's a small cooler that can hold up to 6 cans and some ice, there is no need for wheels, but a handle is pretty useful. The special thing about the handle on this cooler is the fact that it can rotate.
FlipLid
Do you like to eat on a table instead of on your knees? This Coleman cooler comes with their FlipLid hinged lid that flips over to use a tray with molded beverage holders. So not only are you buying a cooler, but you're also purchasing a mini table to make every lunch and picnic pleasant.
Cost and Value
The online prices are costly, but it still remains a great price because you know that you are buying a performing and reliable product.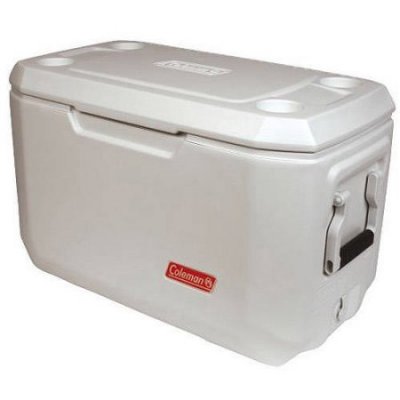 First things first this Coleman Marine is a big, big cooler. It can hold up to 70 quarts of whatever you need to keep cool. Its name implies it's meant to keep the catch of the day cool and on ice all the way back into shore, but we think it's a good cooler for land or sea and whatever it is you need to keep cool. Basically there's enough room in here for enough drinks to last a normal family at least a week.
Cup Holders
At the end of the day, Coleman always seems to have the needs of the thirsty on their mind and this cooler is no different from the four cup holders built right into the top of this cooler. It seems like a no brainer to us but why have a cooler that will hold a week's worth of drinks if you don't' also include a place to put them. Just saying we appreciate Coleman's attention to detail, and this is one of the little ways they make it apparent.
Easy Carry Handles
A 70 Quart cooler, filled to the brim with stuff is not going to be easy to lug around but the easy-grip handles on the marine are going to make it just a little bit easier. Plus even when it's filled to the hilt the handles and the holders are going to be strong enough to get pulled around and not break or bend. That's the kind of commitment o quality we've come to expect from Coleman.
Cost and Value
This cooler comes in at a great price and it's one of the cheapest on our list. It can carry a week's worth of drinks and go wherever you go and keep things cold for days at a time. This is just a great new addition to our Coleman Cooler list.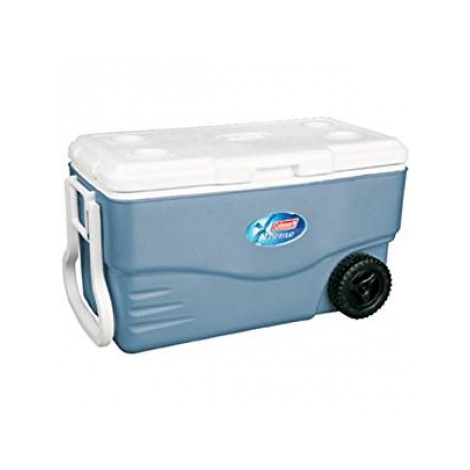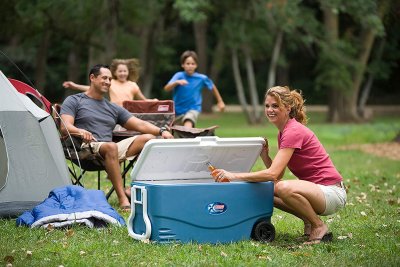 If you're a fan of long weekend trips, of getaways, of travel or of long (very long) parties, with easy-to-use handles and wheels to help with the weight, then the Coleman 100qt Xtreme 5 Wheeled Cooler should be on your 'to buy' list. With a fairly low price and with a performance that is compared to higher-end models (like the YETI), this model of the Coleman is sure to impress you.
Ice Holding
Compared to high-end models (like the Grizzly Hunting for example), this cooler held ice better and kept its cool interior temperature longer. If you need a cooler that can keep your food fresh for a long weekend, then keep this model in mind. You'll only have to change the ice midway through long trips, making traveling more pleasant.
Leak-Resistant Channel
As this cooler is big, one important feature of this Coleman is the drain plug. You don't want to have to remove the 82 cans from there, bring the cooler upside down to drain it. The drain plug is easy to remove and doesn't cause splashing. The only thing is that you'd have to tilt the cooler a bit to remove all the water, but that's a minor point.
Cost and Value
This cooler is described by its value. For a relatively low price, you can have the same performance as higher-end products.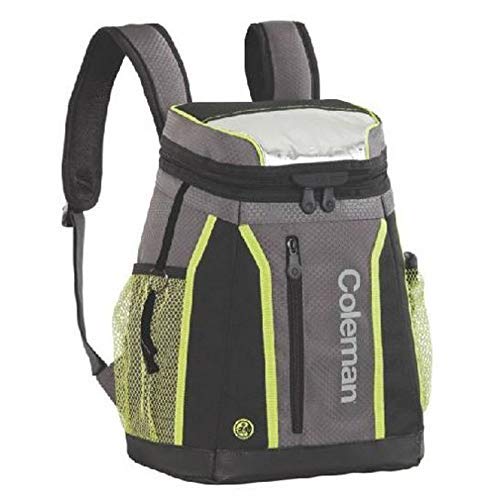 This is a great little backpack that should keep everything you need cool or hot and safe for any day hike or lawn concert. It's small enough to fit right on your back but holds enough stuff to feed a few people for an afternoon. Plus it's got a great design that we really like.
Webbed Pockets
These side pockets are great to stow things like utensils, or your wallet or your phone just in case you need it. We like this addition because it means this can almost do double duty as a regular backpack and not just a cooler. So, if you need to keep your books cool, consider this pack.
Tapered Top
We like this little design feature as it gives the pack an elegant look but also ensures you have a full range of motion over your shoulders. We also like the zippered top that opens easily and allows easy access to whatever you've decided to pack for the day.
Cost and Value
This is a great pack at a great price, plus it'll keep your lunch and your drinks cool all day long. Really if you're a day hiker, this is one of the best little tools you can buy. So feel free to pack those mayonnaise sandwiches and Tuna Fish for your next outing.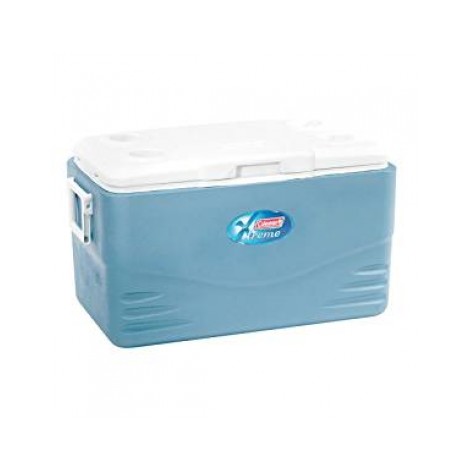 The Coleman 52-Qq Xtreme Cooler is a real camping cooler. You probably have one of the older models hiding somewhere in your basement. With an outside lid that acts like a mini-table and slip-handles to help you lift the hefty cooler (once full) without hurting your back, and with ice retention of 3 days for temperatures up to 90F, this cooler really does it all.
Lid
Imagine this: You brought your lunch to the beach, but all the tables are used. You don't want your foods and drinks to be filled with sand. Now, what if you had the Coleman Xtreme Cooler? You'd simply have to put everything on its lid as it acts as a tray, with four molded cup holders. No need to worry about bringing a table with you anymore! The lid can also act as a chair, supporting up to 250lbs.
Ice Retention
Not only can it hold up to 48 cans, but the ice retention in this model is pretty amazing. The Xtreme Cooler uses a technology that has the lid insulated, as well as the extra insulation in the walls to keep your drinks and foods cold up to 3 days. This means that if you have to go on a long weekend trip, or a road trip, this cooler can have its ice changed once or twice every week.
Cost and Value
This model is also one of the cheapest on our list – if not the cheapest. With everything that it has to offer: from its amazing ice retention to a durable lid that can act as a chair or a mini-table with molded cup holders, this cooler is a bargain.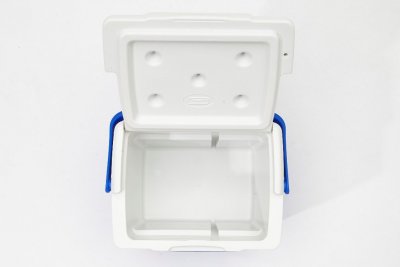 This is one of the classic Coleman designs. The rise up handle that folds into the body of the cooler. A snig fitting top and enough room to keep a days' worth of drinks and a hot meal warm or cold all day long.
9 Quart Capacity
What this means for you is that this cooler can hold up to 9 cans of whatever or it can hold an entire meal and keep it warms for a full day and beyond.
Tough Handle and Hinges
Coleman tests for quality and we love the handles and the hinges on this cooler as they're built to last and you won't find them bending or breaking easily.
Cost and Value
This is an incredibly cheap entry on the Coleman catalog. It'll hold a meal or 9 cans and moves easily.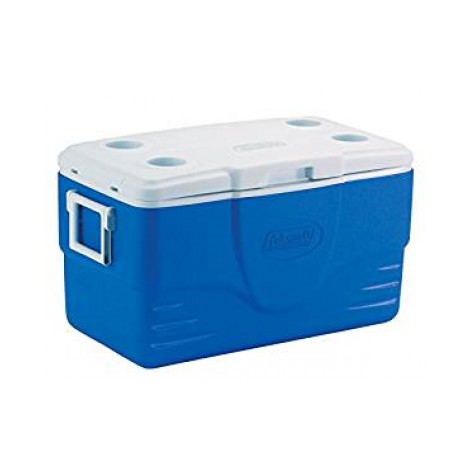 The Coleman 50-Quart Cooler is part of our top 10 for many reasons: it can hold up to 71 cans (that's almost 3 cases of soda!), their insulation is ThermOZONE (no CFCs, HCFCs that deplete the ozone), and it's rustproof and has a leak-resistant channel for a no-tilt draining.
General Interior Built
Not only can this cooler hold up to 71 cans, but it can keep your foods and drinks cold for up to 4 days. The Coleman 50-Qt cooler is also tall, which is useful when you have to bring 2-liter bottles with you on a trip. This type of build for a cooler is quite interesting when you often want to go on long weekend trips, road trips, camping in the wild, etc.
Lid
If you're the type of person that appreciates bringing less baggage with you on trips (no matter which one), then you'll find this cooler appealing because its lid can also serve as a mini-table with molded cup-holders. The lid is hinged for easy access to your foods and drinks, and Coleman thought about adding tie-down slots to the lid to secure extra gear if need be.
Cost and Value
For the online price and the potential that this cooler has, this is seriously a bargain. It's the cheapest cooler on the list, but because of the few bad reviews, we had to lower the Coleman 50-Qt Cooler at the bottom of our list. We're still very happy and not surprised at all that it made it to our top 10!

Subscribe to our Newsletter