Best Makeup Mirrors Reviewed & Rated for Quality
In a Hurry? Editors choice: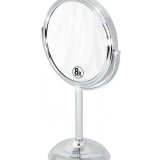 Test Winner: Decobros Tabletop

There's a lot to say about good makeup. But your
makeup
is only as good as the mirror you have to do it in. Whether you wear a whole lot or very little makeup having a good makeup
mirror
is a must. Makeup mirrors have been purposely designed to help make makeup application easier, effective and detailed. Keep in mind owning a good makeup mirror can take your makeup from newbie to pro almost instantly.
But just like any other product, there are tons of them on the market ones with lights, others with
technology
, and even ones that rotate in a 360degree angle. However, which one is the best one? The answer might be a whole lot simpler then you might think, which is why we have come together to bring you the very best makeup mirrors currently on the market.
Standout Picks
Criteria Used for Evaluation
Potency
Magnification can work wonders for the final look of your makeup. It is great for several reasons. First off, it allows you to see things bigger. This is great if you wear glasses. I don't need to reiterate how complicated it can be to apply makeup when you are wearing your glasses or even how complicated it is when you take them off. Getting yourself a mirror with a stronger magnification will remove this barrier. Even those with strong prescriptions will be able to see reasonably well - and definitely well enough to successfully apply your makeup.
Model
To light or not to light. This is a big question that the answer will vary widely based on your intentions with your mirror.
There are absolutely perks to having a lighted mirror. The first and most obvious is that it will allow you to see better. This may not matter if you only ever do your makeup in your well-lit bathroom or vanity. It does become very important, though, when you are staying at a poorly lit hotel room and basically have to hope that autopilot will help your makeup to look good because you really can't see or tell what you are doing. Very often this can result in overcompensating and end up with you wearing too much makeup - which you don't want. So, for traveling purposes, a lighted mirror is almost a must. Depending on how it is powered it may even work when you are camping with no electricity or in similar circumstances.
Effectiveness
Most mirrors come with some sort of LED bulb which actually benefits you in a couple of different ways. First off, LED bulbs last a very long time. Some as long as 50,000 hours. That will cover a lot of makeup applications. Secondly, many mirrors have the option to choose the level of brightness. Some simply have low-medium-high settings while others have dimming options and you can stop where you like it. Finally, LED bulbs give off a nice, natural light. They are just about the closest thing you can get to natural light which will ultimately lead to a better makeup application and likely result in you using less and having your makeup last a little longer because of it.
However; not all mirrors are lit and that is okay! Many people beautifully lit bathrooms and vanities in which they can see their makeup just fine. Sometimes the light can cause reflections and be a hassle. Or, maybe, you simply don't like having a light around the rim. It's just another thing to remember to turn on and off every day and you don't want to worry about that. There are excellent mirrors that don't come with a light if you fall into the group that doesn't want one.
10 Best Makeup Mirrors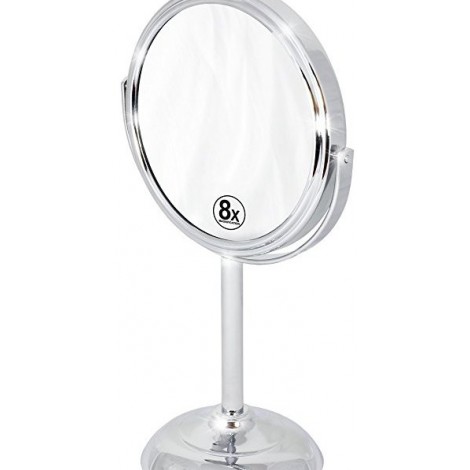 This is a nice 11-inch mirror with a chrome finish. It features 1 and 8 times magnification so that you can ensure every detail of your hair and makeup is just so. It will swivel a full 360 degrees and the clarity in the mirror, on both sides, is excellent. If you are looking for a mirror without lights that will still give you the magnification, this one should be near the top of your list.
Crystal Clear
The clarity of this mirror is crystal clear. Often times there are issues with the magnification and it becomes harder to see yourself the more magnified you are. However; that is not the case here. You can see yourself just as clearly at the 8x magnification as you can at the 1x magnification and your makeup will look all the better for it.
Sturdy
Unlike many other makeup mirrors, this one is solid. It looks high quality and feels that way too. The base is sturdy and well made and will hold up to years of use. It is not made of cheap plastic and you can simply tell by the weight of it that that claim is in fact true.
Cost and Value
The cost of this unit matches the others we've discussed almost exactly. It may seem like that's a little steep for a mirror that doesn't include a mirror, but sometimes less is more. You don't have to worry about changing out bulbs or breaking it in the process and you can be assured that you will get years of use out of it.



Jerdon makes a fancy mirror that is sure to satisfy all of your hair and makeup needs. It comes in a tri-fold option so you can easily fold up for storage or transport and it also allows you to see every angle of your head. The magnification is adjustable and goes anywhere from 1x to 5x.
Illumination Settings
A big bonus found here is that you can adjust the lighting. It has 4 different settings for illumination. In addition to that, each level will self-adjust to work for whatever ambient lighting you are in. Whether it be morning, evening, at your home, or at the office it will color correct to match that lighting and allow you to see everything you need to.
Outlet
They have really thought of everything with this mirror. Because this unit takes up one of your outlets, it also comes with an outlet right on the front of it. That way you aren't sacrificing one that you would rather have taken up by your curling iron, blow dryer or straightener. You can, in fact, have your cake and eat it too.
Cost and Value
For all that this mirror brings to the table, you really are getting a good deal. You get adjustable lighting, an extra outlet, and the ability to see yourself in whatever light level at whichever angle you want. There are very few things they could have included in addition to what it already has. It rings in right about middle of the pack and is a great value for its cost.

3

. Conair Lighted Double-Sided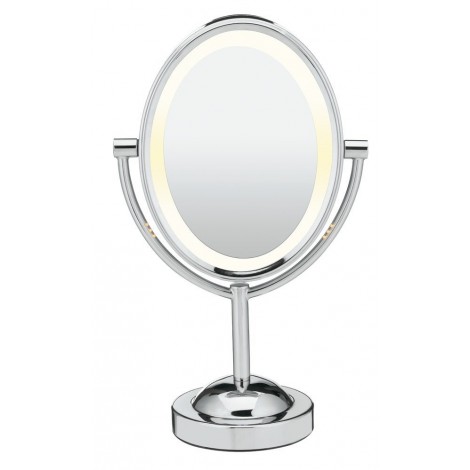 This is a beautiful makeup mirror that will help to ensure your makeup is applied flawlessly. It is lighted all around the oval rim and features one side with 1x magnification and 7x magnification on the other. It is powered by a cord and has an on/off switch. It is 6.5 inches by 8.5 inches and is easy to adjust to any angle for the best view.
Finishes
Conveniently, this mirror comes in several different finishes. You can get it in polished chrome, oiled bronze, or satin nickel. This allows you to match the flow and decor of your bathroom without sticking out as an eyesore. Not only will your face be better because of this mirror, but your bathroom will be too.
Soft Halo
The lighting on this unit gives a soft, iridescent glow. It isn't too bright or overwhelming but will give you just the right amount of light to highlight your face and allow you to see every line and shadow stroke. You will appreciate the soft halo it gives and you will also appreciate how easy it is to replace the bulb when the time comes.
Cost and Value
This is a beautiful mirror that will allow you to see everything you need to but also stands alone as a decoration itself. It isn't too big or too small and will fit into the style of your bathroom. It comes to you at a very reasonable price and one you will be more than happy to pay.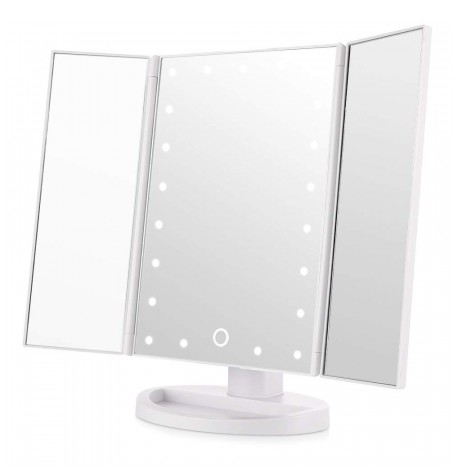 This mirror is so nice that glamorous is actually a better word to describe it. It is a tri-fold mirror - so has a rectangular shape with panels that open or close when is use or not. It has excellent lighting that is controlled by a touch sensor on the mirror itself. It stands with no support and the mirror can rotate up or down 180 degrees to ensure that you can see at the angle you want to.
21 Lights
The lights on this mirror are stunning. There are 21 on them and they line the sides and top of the middle panel of the mirror. They are controlled by a sensor on the mirror and light up brilliantly. You will feel like you are getting your makeup done by a professional when using this mirror many thanks to the lights. You can also dim the lights to suit your needs.
Power Supply
You have a couple of options when it comes to powering the lights of this mirror. First, it will take 4 AA batteries if you want to go that route. However; it is also chargeable by a USB cable that does come included. In today's world, that makes it so much more flexible as you can plug it in as long as you have access to a USB - either a wall version, a computer, or simply a charging unit.
Cost and Value
Surprisingly, this is actually one of the less expensive mirrors on our list. It has a lot of fancy touches that you will really appreciate and also comes at a cost that your wallet will also appreciate.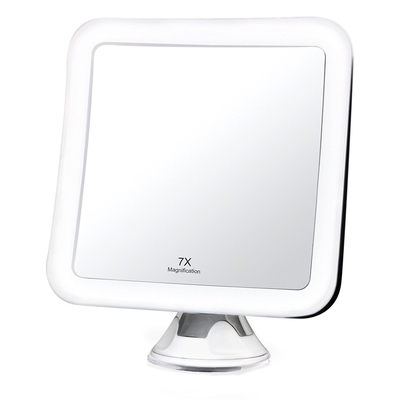 If you're seeking a mirror that locks into place on your vanity yet can be transported with you when you travel look no further, this is the mirror for you. Featuring a cordless model this mirror is battery operated to give you the flexibility you need. Additionally, the foldable construction takes little to no room in your luggage you will be able to easily and quickly travel with it at any given time. Furthermore, the suction cups on the bottom of the mirror have an airtight seal to ensure the mirror will not move while you apply your makeup.
7x Magnification
When purchasing a mirror, you want to ensure you get as much magnification from it as possible this will enhance not only your experience with the mirror but also your makeup application. This particular makeup mirror comes with a 7x magnification, so you can truly see what you are working with. Furthermore, the mirrored glass is 5.2 inches wide, and distortion-free so you can get a clear image every time.
LED Lights
One of the main issues with apply makeup in the bathroom is the lighting. Bathroom lighting is typically a bit dimmer than most lights in the rest of the home. Therefore, when it comes to applying makeup you want to have extra lights that bring in as much natural lighting as possible. This makeup mirror comes with 16 natural daylight LED lights that are energy efficient. Furthermore, the bulbs are 30% brighter and waste 60% less energy than most incandescent bulbs.
Cost and Value
The price point for the mirror is a bit on the pricier side yet when you consider how much more natural lighting your bathroom or vanity will have you will notice why the price is justified. Additionally, it comes with an 18-month warranty and a velvet travel case to ensure no damage occurs while on the road.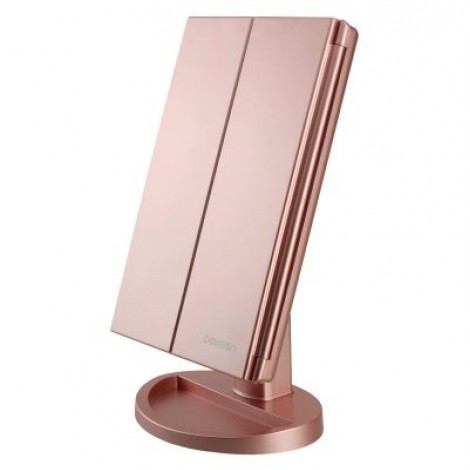 This makeup mirror features a lot of great qualities. It features 21 LED lights that dim on command by using the touch screen, has 3 different magnifications, can be powered by USB cable or 4 AAA batteries, and is made of scratch resistant material. In addition to that, it is a trifold so it can fold up small and easily be transported.
1x/2x/3x Magnification
As there are three separate mirrors on this mirror, it does feature three separate magnifications. You will get a 1x, 2x, and 3x magnification depending on the mirror you are looking at. This is great for helping you to see all the details you need to, but not so much you are scared away. Your makeup and hair will be flawless with the help of this mirror.
180 Rotation
The mirror will rotate 180 degrees on its base. This means that you can move it to the best angle for you to see at and also adjust it so that you can see every angle of your head. However; just because it is capable of adjusting doesn't mean that it has to. If you want it to be fixed, it can also stay in place.
Cost and Value
The cost of this mirror is just about the same as most mirrors featured here. There are some nice details to this one, enough to command a decent price, but nothing that would make it cost more than the others. Ultimately, you'll like this mirror if you want a lighted and magnified option.

7

. Conair 3-Way Touch Control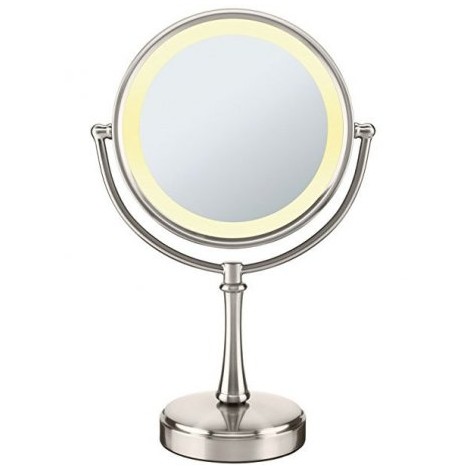 This is an oval mirror with an 8.5-inch diameter. It is the perfect size to place in your bathroom or on your vanity and will go a long way in helping you get just the right finishing touches on your makeup. It will rotate a full 360 degrees and features 8x magnification on one side and standard viewing on the other.
Lighting
The light bulb found here is simply a 30W incandescent bulb. While that may seem unappealing at first, it actually gives the big advantage of being able to change it out when needed without too much fuss. In addition, you can choose the brightness level of your light - high, medium, or low - by using the touch controls.
Easy Viewing
This model is both glare-free and fog free. This is a great feature if you plan to store it in your bathroom and tend to use it after showering. Glare can also be a problem with embedded lights, but not here. Get clear, easy viewing whenever you want it.
Cost and Value
This mirror features upgraded features and is, in fact, the upgrade of one we talked about earlier. As such, its price is also upgraded. However; it is not that much more expensive and if you want, or need, a slightly more functional light, you'll be more than happy to spend the few extra dollars.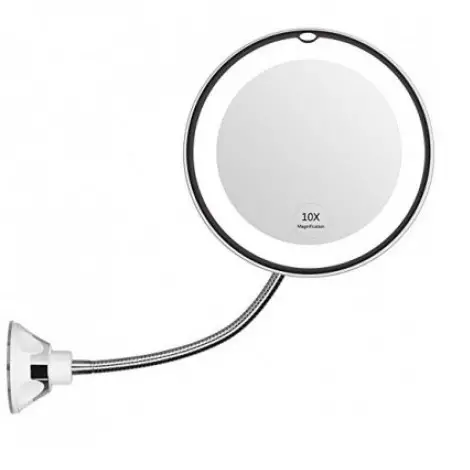 This mirror combines a couple of the best aspects of others mirrors on this list into one. It is not quite 7 inches in diameter and has an 11.5-inch gooseneck that is connected to the suction cup. It also features LED lighting - the best possible to mimic natural lighting. The mirror itself can come in 7x or 10x magnification and will make all of your every day up close tasks that much easier to do.
Suction Cup
Rather than a base at the bottom of this mirror, you get a suction cup. It will easily suction to any completely flat surface. That means it will stick to things like mirrors, countertops, even some laptops. It will NOT stick to drywall, doors, or wallpaper because they are not completely flat. All you have to do is suction it on, turn to lock, and it won't be going anywhere until you unlock and move it. The suction is strong and holds tight.
Gooseneck
A unique feature found here is the 11.5-inch gooseneck. It is bendable and can really be moved in any direction. Once the mirror is suctioned on, all you have to do is position it in the angle you need it then move again when you're done with the first position.
Cost and Value
This is one of the least expensive units on our list. It is very flexible, lighted, and has powerful magnification. All of that considered, you are getting a great deal for the price that you are paying. Once you put it to work, you will be more than happy with this purchase.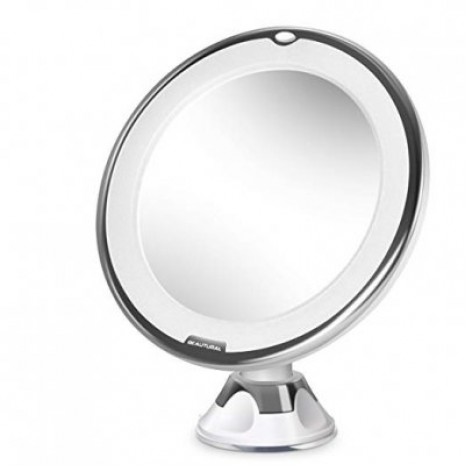 This is an excellent mirror if you simply want to add a magnification option to your current mirror, or anywhere in your house really. It is mountable on any smooth surface, has natural white LED bulbs, and a 10x magnification. Additionally, you can rotate it a full 360 degrees. It works wonderfully for any task that you want to see things a little better - makeup, tweezing, or simply flossing.
Locking Suction Cup
A somewhat unique feature of this mirror is that it features a locking suction cup to mount it on any smooth surface that you want to. You simply suction it where you want it and turn it clockwise to lock it in place, counterclockwise to remove it. You will love the use and flexibility you get out of it by being able to mount it.
Space Saver
Oftentimes, counter space in the bathroom or at your vanity is limited. As such, you want to maximize your space the best you can. This mirror is great for that as you can simply mount it and not have to worry about it taking up any space! Additionally, it is small and compact and is easily portable.
Cost and Value
This mirror comes to you at a great price. It is one of the cheapest on our list and it has a lot of versatility. It offers both magnification and lighting and suction mounting. If you want a mirror that meets these specifications, then you will be happy with this mirror.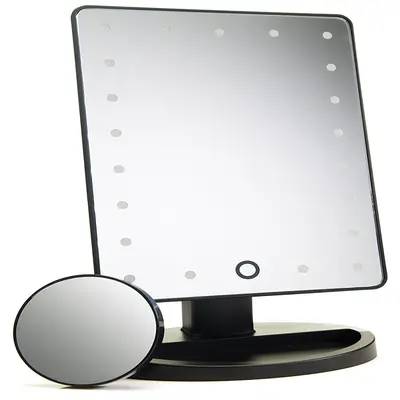 To conclude our guide, we wanted to bring you an all-inclusive makeup mirror that was designed specifically to make makeup application conveniently easy. Presenting a rectangular aesthetics this mirror offers a traditional mirror finish paired with a detachable smaller mirror that puts forward 10x the magnification. Additionally, this mirror has a 180° swivel rotation in order to make it easy for you to see your makeup and hair from every angle.
LED Dimming Lights
Having a mirror that comes with additional lights is always a plus and a great idea. This mirror, in particular, comes with dimmable LED lights that can be adjusted via the touch screen buttons that are displayed in the mirror. The touchscreen allows you to customize how much natural light you want the LED bulb to omit and when. Having this feature is perfect for makeup touch-ups that might need to happen throughout the day.
Portable
Why have a great mirror that you can only use at home? This mirror gives you the clarity you would want from a traditional large mirror while having the flexibility to carry it around. Completely wireless, and lightweight, this mirror is powered by AA batteries, allowing you to travel or place your mirror wherever you would like.
Cost and Value
This mirror is priced quite affordable, as you are getting a 10.7inch mirror with 21 dimmable lights that adjust to you and your preference. Additionally, there is a 30day full-refund or replacement warranty if you aren't fully satisfied. Nevertheless, this showcases that you are getting a great product with an even better warranty.

Subscribe to our Newsletter