Best Hair Dryers Reviewed & Rated for Quality
In a Hurry? Editors choice: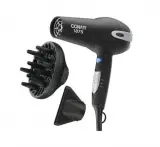 Test Winner: Conair 1875 Watt

Back in the good old days when you needed a new blow dryer, you'd run down to the
drugstore
and scan through the selection of 5 or 6 different ones, total. I always opted for the one that was pink, instead of the standard black. For no other reason than it was pink. Who knew that there was so much involved? Not a lot of people back in those days, apparently! But my, oh my, how blow dryers have changed over the years.
Now we know the facts of what
different products
can do for your hair, it only makes sense that you would want to do some research and purchase a blow dryer that will help your hair be
healthy
, shiny, no frizz, more volume, more polished, etc. You can take the rocket science out of your purchase and learn what all the bells and whistles mean, so you can get the dryer -and hair- of your dreams! Let's go through a few of the top brands and models together.
Standout Picks
Criteria Used for Evaluation
Power Source
There are already so many things to consider when purchasing your blow dryer that this one thing may seem irrelevant. However, as hairstylist Ryan Richman says, "Invest in wattage, but turn down the heat." It is much better to underwork a larger motor than to overwork a smaller one. The lifespan of your hair dryer will be much longer with a larger wattage dryer. This all depends on how you feel about spending more money initially, as opposed to replacing a less expensive option more frequently.
Advanced Features
Attachments on your hair dryer can be very convenient and take a lot of stress out of the styling experience. The diffusers are great for curly and textured hair, getting just the right amount of dry throughout all of those locks, while using a concentrator can give you a smooth and polished finish with ease. There are also various combs and brushes that you can use with a lower heat setting and really make your hair fabulous without ever having to use another heat source.
10 Best Hair Dryers
1

. BaBylissPRO Ceramix Xtreme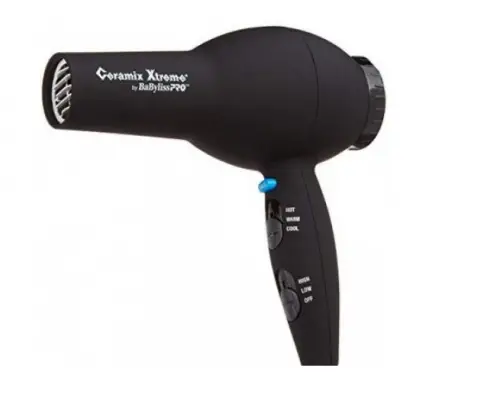 This is a very powerful 2000-watt blow dryer that features the ceramic technology which will produce a gentle, even infrared heat, and protect hair from heat damage. There are four different heat settings so you can choose whatever is best for your hair and your own time limitations in drying. It has a professional AC motor to ensure long life and power and has rubberized soft-touch housing. It is a fairly standard size, about a foot long, but only weighs one pound. This is really important to consider, especially if you have really long thick hair that takes 15-20 minutes to dry! Great customer service, great product reviews, and a name brand that is revolutionary in the blow dryer business. It will cover just about all the bases!
Ionic and Porcelain Ceramic Technology
The ionic generator creates negative ions which actually speed up the drying process and are far more gentle on your hair. The negative ions neutralize static that causes the positive ions in your hair to reduce frizziness and the problem flyaways. Your hair will look smooth and shiny all day long since the negative ions help flatten your hair cuticles and seal in moisture. It is always nice to blow your hair dry and not look like you just poked your finger in a light socket!
Cold Shot Button
While it is very simple to set your dryer on high heat and blast your hair dry, you are also doing quite a lot of damage to your hair at the same time. It really is best to rinse the conditioner out of your hair in the shower with a blast of cold water and if you must blow it dry, use a medium setting and finish it with a cold shot. That will help set your style longer and seal the hair cuticle for an extra glossy, shiny look. I am not much of one to do cold anything, but this technique has helped my dry, brittle hair incredibly well!
Cost and Value
I really want to emphasize that the days of walking out of the store with the least expensive blow dryer you can find are over. We know so much about the basics of our hair and what the different types of heat and elements can do to it, that we need to be very much more aware in our purchases. This BaBylissPRO is an average-priced professional blow dryer. You can find some cheaper as well as some far more pricey. But the pros of owning this dryer far outreach the cons, and this will be a great product for you to gain your healthiest hair with continual use.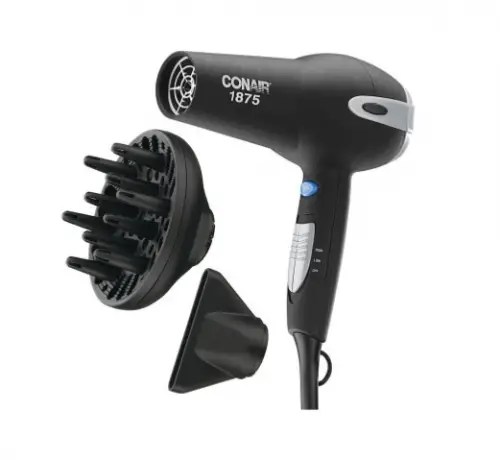 This hair dryer features the tourmaline ceramic technology which will aid in preventing heat damage and promotes a smooth, shiny look while reducing frizz. This is probably the one I need! Or the tourmaline ceramic, anyway. It also has a high-torque DC motor that will dry your hair quickly but also has the three different heat settings so you can choose a more cool option, which is better for your hair. It has a nice long power cord, 5 ½ feet actually, which can be very convenient in many situations. The no-slip grip makes for a nice hold and comfortable styling.
Tourmaline Ceramic Technology
This really is a trait I look for when purchasing a blow dryer. My thin and brittle hair will look like I just stepped out of hurricane force winds after a regular blow dry. The tourmaline technology actually emits infrared heat and negative ions, which makes the heat much more gentle on your hair during styling. You will get an eye-pleasing shine and less frizz finish. It can also allow your hair to handle higher levels of heat without damaging it.
High Torque DC Motor
In choosing your perfect blow dryer, you will want to invest in a good, high wattage dryer with various heat settings. It is nice to be able to feel the motor in your dryer working without the hot burn damaging your hair. You can maintain power while working on a lower heat setting. Any blow dryer that falls within the 1300 to 1875 watts range will be a good one to use daily in your home. Underworking a larger dryer motor will also last longer than trying to overwork a smaller motor. Keep that in mind when purchasing your next blow dryer as well.
Cost and Value
Most blow dryers vary in price depending on how professional a grade you are interested in. This one is a really nice hand tool with good grip and wattage for a relatively low cost. It comes in black and pink which always captures my attention! I would buy pink just because well, it's pink. It has the cool shot button and a nice long power cord, so you get all the bells and whistles for a nice price. It also comes with a diffuser for more textured styles and a concentrator for your more smooth and finished styles.

3

. BaBylissPRO Nano Titanium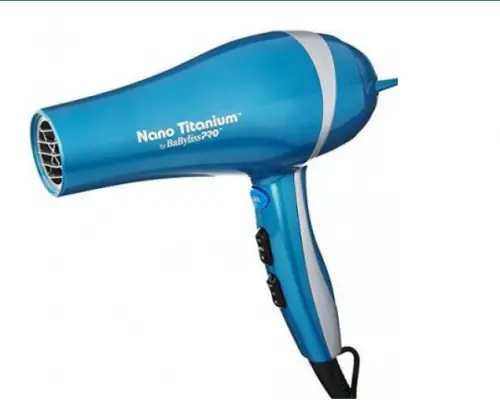 This little blow dryer is a magnificent combination of power and speed. It has a very high 2000-watt performance motor and is remarkably lightweight in design. It has six heat and speed settings, making it ideal for a wide variety of users. It also has the cool shot button (which we all need to learn to use!), and a concentrator nozzle which will give a nice, smooth, glossy finish to your hairstyle. There is also a removable filter which makes cleaning a breeze. This little guy seems to have it all in one little package which will make your life nice and easy.
Nano Titanium Technology
Titanium is the way to go if you have thick hair. It will seal the cuticle of your thicker hair and give you an ultimate shine with no frizz. Titanium will maintain a constant temperature and dry your hair in less time than other types of dryers. See, this is not the blow dryer for me personally, because titanium can over dry fine, brittle hair like mine. It is very easy for the continual heat to cause damage to thin, fly-away hair. This is why it is important to do the research so you know which blow dryer suits your needs and hair type.
Six Heat and Speed Settings
Oh, this is so important!!! Especially with a high wattage titanium dryer. Being able to adjust the heat and speed of the dryer for your particular hair type is essential. I have mentioned before, and likely will again, that is is better to have a higher power motor that doesn't have to work so hard than a smaller power motor that is exerting itself every time you use it. You do not have to use the dryer on the highest setting, but you certainly can if you're in a hurry. Being able to adjust these at will make for a nice glossy finish each and every time.
Cost and Value
Always keep in mind that you'll get what you pay for in life, including your choice of blow dryers. BaByliss is one of the pricier non-professional grade hair dryers on the market, but that is because they closely mimic the professionals and give you maximum performance at home each and every day. This company has done their research in order to provide you with the highest quality products at a reasonable price and this particular dryer is no exception. Overall, I think this hair dryer is an incredible deal for the price.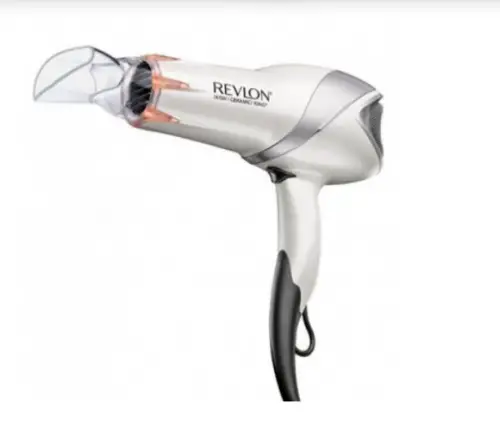 I love the variety of heating agents that are available now. There has been so much study and research done to improve the results of any hair type that it is simply astounding to see. This particular hairdryer boasts infrared heat technology that will give you maximum shine while still offering softness and control. The tourmaline ceramics reduce frizz and prevents burn damage. It has two heat and speed settings, a cool shot button, and includes a concentrator and diffuser attachment. It comes in a variety of colors which is always a fun little bonus.
Infrared Heat Technology
The infrared heat comes from the semi-precious tourmaline stone/powder. It will allow a decreased drying time which is beneficial for basic obvious reasons, as well as the basic amount of time in your day. There is less heat damage from an infrared dryer because it uses less heat than a standard dryer and take less time to dry. You will get less frizz and softer hair which is always to your advantage.
Concentrator and Diffuser Attachments
If you're going to pay a pretty penny for a blow dryer that will help protect your hair, it is always nice to get a few bells and whistles with it, right? Well, this package provides exactly that. You will get a concentrator which is used to give a nice, smooth, and shiny appearance as well as a diffuser for those days you just need to embrace the curls! Either way, this hair dryer will protect your hair, dry quickly and easily, is easy to handle, and will give you the look you desire.
Cost and Value
Revlon is a well-known, tried and tested, name brand that has become a household name throughout the years. Of course, you can buy a fancier and more expensive hair dryer, but if you're looking for a professional grade at an inexpensive price, Revlon will deliver. They have been around the hair drying "block" long enough to have learned a few things and have continually made improvements to their hair dryers so they can offer you one of the best products on the market and an incredibly affordable price.

5

. BaBylissPRO Tourmaline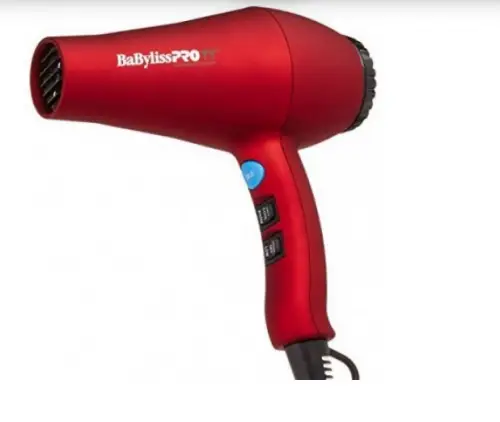 It is important to note that tourmaline is a semi-precious mineral that produces negative ions. Most of the best hair dryers you can buy will be made with tourmaline, but you should know that they are not all equally effective. Depending on how the internal parts of the dryer are molded, or coated, with the mineral compound will determine their effectiveness in providing a smooth, shiny, non-damaging dry. The way that tourmaline is distributed throughout the internal parts of the hair dryer can greatly affect the dryer's price. The tourmaline will give you a remarkable finish without the damage you get from some other hair dryers.
Six Heat and Speed Settings
When blow drying your hair, you want to use a cool setting and a lower speed during ultimate circumstances. This dryer will give you a wide variety of options and allow you to fit the hair drying experience into whatever your timetable. It also has a cold shot button that you should always finish up with, making sure that your hair cuticle is sealed again, giving it maximum shine and durability. Leaving that cuticle exposed to the elements and other products you put in your hair can do as much damage as blowing hot and dry.
Tourmaline Titanium Technology
We have discussed this previously in this review and likely will again. The tourmaline emits only negative ions which will reduce the heat output on your hair. This will result in a more polished and finished look while reducing frizz and strengthening the hair cuticle. This type of technology will seal and smooth the cuticle of your hair while reducing frizz in all hair types.
Cost and Value
Keeping in mind that tourmaline is a semi-precious gemstone, you know that you will need to pay a little higher price for this type of hair dryer. With all of the heat settings, however, you should be able to use the higher wattage at a lower volume, ensuring the life of this hair dryer for some time. Comparatively, the BaBylissPRO Titanium is of very high value. It also comes in a variety of colors with attachments, so you are really getting your money's worth.



This is a nice, inexpensive version of the higher priced hair dryers with similar features. It has been designed to protect your hair from heat damage using the tourmaline ionic, ceramic technology. It will reduce static and frizz allowing your hair to dry more quickly than standard Remington hair dryers. It has an 1875W motor and has various speed and heat controls. It will dry your hair quickly, leaving it smooth and shiny. It also comes with a diffuser and concentrator attachments so you can specialize the look you want.
Built-in Micro Conditioners
This is a great feature that gives far more heat protection from similarly priced hair dryers. Remington has infused the grill with micro-conditioners that combine with the airflow from the hair dryer to transfer evenly throughout your hair and prevent damage. You will get your maximum shine and a nice smooth, polished look. By combining all these technologies into one hair dryer your hair and especially your hair cuticle will be protected from overheating.
1875 Watt Motor
When looking into purchasing your blow dryer, it is best to find a higher powered motor than what you need and under-use it than to purchase a low powered motor and burn it out within a few uses. The 1875W motor is considered on the small end of the large motor spectrum. However, if you have short thin hair like mine, you do not need anything that will continually blow for more than a couple of minutes at a time. If you have very thick and long hair, you may want to look at something with a little more output for your needs.
Cost and Value
This is a commonly known, inexpensive brand name for hair dryers. You get all the things you need with hair dryer and it boasts all the tourmaline, ionic, and ceramic technology as the more pricey dryers. It does have the micro conditioners infused in the grill, so that will take some getting used to, but that will benefit your hair and give you some great healthy hair.

7

. Conair 1875 Watt Mid-Size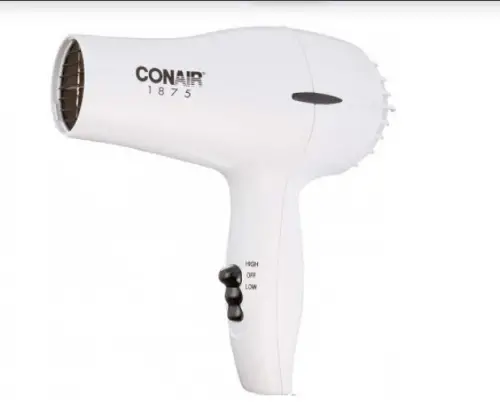 Conair is also a well-known name in the hair dryer industry. They make high quality, albeit non-professional hair dryers. If you are looking for an inexpensive travel blow dryer that you'll use on occasion, this one would be great! It is small, easy to hold, and has a lower end of the spectrum wattage, at 1875. It does have a couple of heat and speed settings as well as a non-slip grip handle. Quick and inexpensive hair dryer.
Compact Mid-Size Styler
I don't know about you, but I seem to travel quite a lot. This particular trip I had to actually pack my hair dryer in my suitcase. Yes, it did take up half of my suitcase! This one, however, is much more travel-friendly and will fit in your suitcase, or gym bag, or wherever you need to put it. If you are looking for a quick and convenient blow dry without the fancy technology or available attachments, this one will suit you just fine.
Variety of Colors
Well, variety is being generous, but this dryer does come in white or red! Which, you know, if you're going to be taking it with you it should fit in with your personality and be enjoyable. Both colors feature an ergonomic, non-slip handle, and weighing in at just under a pound, it is very convenient and easy to use. It has a powerful enough motor to do its job and dry your hair quickly. This little hair dryer, no matter the color, will be an essential part of your styling needs.
Cost and Value
Nothing against Conair. They are a great company, have been around for a long time, and have great customer service. That being said; I feel that if you have put in enough time to research a blow dryer, and have made it this far through this particular review, you should realize by now that you need something more than a dimestore blow dryer. Find the one that will suit your hair type and create healthy, shiny hair. This one will blast it dry. If that's what you're looking for with no regard to the health of your hair and the gentleness of your blow dry, get off the blog and run down to the drugstore! The price is right for this little guy!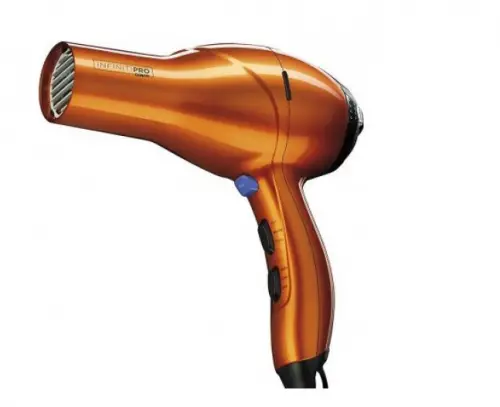 This inexpensive hair dryer boasts the ionic and ceramic technology of the more expensive options. It has the lower version of an 1875 watt motor, so be aware of that if you are looking for a dryer with long-time daily use. The Ionics technology means that it is releasing negative ions which will keep your hair looking shiny and not frizzy. The ceramic technology provides even heat for fast dry time and less heat damage to your hair. It has the various heat and speed settings so you can choose what is comfortable for you, and has a cold shot button to seal the cuticle of your hair as you finish your dry. This one also comes with a diffuser and a concentrator attachment for both a curly, textured look and a more smooth, polished finish. One of my favorite things about this dryer, which is really non-relevant, is that it comes in six different color options!
Variety of Colors
Each of the color options come with all of the options described above, but the different colors give you the chance to subtly show off your personality while blowing your hair. I don't know about you, but a hot pink dryer in my hand just starts my day better. This one comes in black, aqua, burgundy, orange, purple, and hot pink. Get the quality you want from one of the more expensive brands and pick your favorite color option at the same time. Seems like a win-win to this girl!
Diffuser and Concentrator Attachments
There are so many different hairstyles that can be achieved by using the diffuser and the concentrator that you could literally look like a different person every day of the week! It is fun to be able to switch it up and keep people guessing, so having the options of these attachments included in the low price you'll pay for this hair dryer is exciting.
Cost and Value
This is a high-end Conair product that comes with a less expensive Conair price. It is a good blow dryer and will suit your needs on an everyday level. If you want to make sure that you're getting the best product for your hair, however, you may want to look into getting something a little more pricey that has the tourmaline or titanium technology and a higher wattage motor that will last a little longer and that you'll be able to use on a lower setting so as not to burn out the motor too quickly. You get what you pay for, so remember this one is a decent product for an exceptionally low price but likely won't last as long as one of the more expensive brands.

9

. Conair 1875 Watt Full Size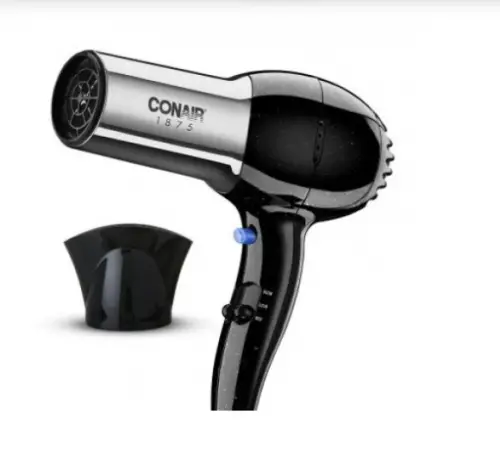 This really great, full size, and economical hairdryer boasts some of the tourmaline ceramic technology that is sweeping the market. It provides uniform heat distribution to speed up the drying process and reduce heat damage to your hair. The cool shot button will seal your hair cuticle for more shine and longevity. This one comes with a concentrator attachment for more focused airflow that is essential in achieving the straight styles that are so popular these days. It comes with a five-foot power cord so you'll need to stay pretty close to your outlet while drying.
Tourmaline Ceramic Technology
Tourmaline is quite versatile and can be widely used as a home or professional hair dryer, which will save you the hassle of switching up your hair dryer depending on different hair types using the same hair dryer. Keep in mind that tourmaline is a semi-precious gem and when used throughout the internal components of the blow dryer can raise the cost significantly. So when you see a very inexpensive blow dryer that boasts tourmaline technology you should automatically know that the internal components that are throwing out the heat likely are not coated with tourmaline and you are probably not getting the full effect of its technology.
Cool Shot Button
The cool shot button is essential in any blow dryer you choose to purchase, and you really need to be convinced to learn to use it! After the good cleaning, your hair gets in the shower with the shampoo and conditioner, your cuticles are scrubbed and clean. When you apply heat to your hair in the form of a dryer, you are opening up that cuticle to all types of exposure. It will, eventually, reclose on its own, but if you use the cool shot for 30 seconds at the end of your blow dry, the cuticle will reseal to protect your hair. This is definitely a shout out of any good blow dryer you buy!
Cost and Value
This blow dryer will be a good fit for you if you only need one once or twice during the week. It does offer the ionic conditioning, but with the price as low as it is, you know that the tourmaline is mainly on the outer grill and not so much on the inner components of the dryer. That's always a good thing to remember when looking to improve the health of your hair with the aid of any hair dryer. This one does offer the concentrator attachment, which is an added bonus.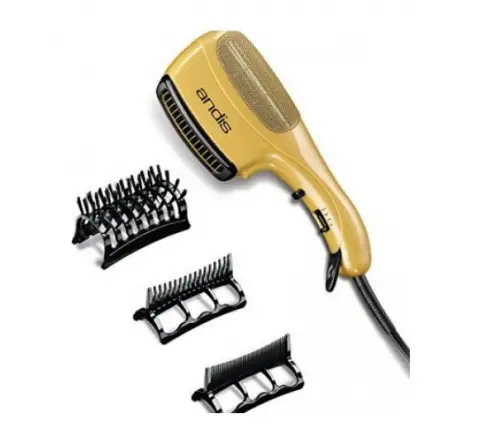 I think the best thing about this particular hair dryer is that it comes with several different styling attachments. It also boasts the tourmaline ceramic technology, but for the price of this purchase, you know there is not much tourmaline infused in the inner workings. It does have the cool shot button that is so necessary, as well as various heat and speed options. It creates a high-velocity airflow and is made of polymer so it is very lightweight and easy to handle.
Hair Dryer Attachments
Included with the purchase of this hairdryer is a fine-toothed comb, a wide tooth comb, and a roller brush attachments. All three easily clip on to the front of the dryer creating a high-velocity airflow directed specifically to where you want it. It has various heat and speed settings so you can frame your face more gently than blowing out the thick, back of your head. You can determine what comb to use on your hair with the ease of sliding it right on to your dryer.
Air Intake Grill
The air intake grill will ensure that your hair does not get sucked inside and tangled during your blow dry. Some competitor versions have quite widely spaced grills and your hair can get stuck more easily. This hair dryer has very fine circular openings that allow the air to flow freely and speed up the heating and cooling process, but will not allow any hair -no matter how fine- to be pulled inside the coils of the dryer.
Cost and Value
You will be delighted with the low price of this blow dryer, but you also need to remember that means there is not a whole lot of that tourmaline ceramic on the inside. This dryer boasts an even heat distribution as well as no frizz as an outcome, but I would be a little wary about that. It will be a convenient and easy blow dryer to use, but if you are concerned with the overall health of your hair, you may want to research a little further and buy a product that is a little more expensive and truly gentle on your hair cuticle.

Subscribe to our Newsletter