Best Bassinets Reviewed & Rated for Quality
In a Hurry? Editors choice:
Test Winner: Graco Pack 'n Play

Every parent is wired to protect their
baby
and see them grow into adulthood. The calling and instinct to prevent is heightened when the child is a newborn. At such a tender age, there are numerous things that can go wrong and as a parent, you want to make sure you give your baby the best chance to survive it all.
One of the ways you do this is through constant supervision and providing them with aids that keep them comfortable and reduce stress levels. One of those aids is a bassinet. A small but extremely cozy bed for babies designed to make them feel comfortable and relaxed. Seeing the important role that a bassinet will play, you can't risk getting it wrong. So, we did the digging for you and reviewed the best bassinets to give your little chap a great nap for quick growth!
Standout Picks
Criteria Used for Evaluation
Materials
When buying anything for your baby, you have to look at the materials. In this case, you're not only concerned about the quality but also the safety.
There are certain materials like synthetic fibers for the case of the beddings that are not safe for the baby. You also don't want a product that has been finished with oil-based paints which have toxic gases.
Comfort
Comfort is key. Most baby bed companies know this and some like SNOO have gone over and beyond to prioritize the comfort for the baby. So much so that their bassinet can even help put the baby to sleep longer.
If you don't want the bells and whistles, at least focus on good quality, firm, baby friendly mattress, quality beddings with a high cotton ratio and sturdy bassinet. Also, check to make sure the mattress does not leave gaps on the edges.
Ease of Use
With all the features that baby beds offer, sometimes manufacturers forget you have to hold the baby and operate the equipment.
The bassinet should be easy to assemble, adjust, flip, lock wheels and access the baby. Most if not all of these functions should be doable using one hand.
Stability
Even with all the features, the bed has earned your trust as a place where you can place your body and mind your other business without any worries.
The frame should be strong and sturdy and should not be easy to flip over. This is more important if you have pets or other children around the house.
Style
Bassinets come in different styles. Each is designed to offer particular benefits to the child and you. These include rockers, stationary options, co-sleepers, Moses baskets, and travelers.
It's important you consider what you want out of the bed before you make the purchase so you buy the right type. For instance, for traveling, you need lightweight, foldable options that you can keep away while rockers – well, they have to rock.
10 Best Bassinets Reviewed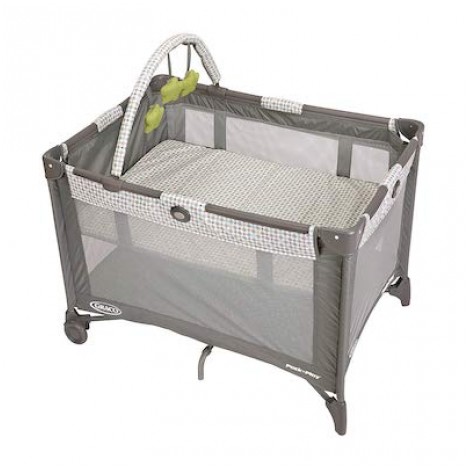 Starting out the search for the perfect bassinet is this neat and classic option by Graco that presents you with the benefits of a crib and bassinet all in the same option. Its feature packed with everything that you and the little lad need to make naps comfortable and familiar.
This bassinet works great for children that weigh less than 15 pounds and are no more 35 inches tall and can't push on their hands and knees. It has a variety of safety features that make it a must have for all new parents and newborns.
Pack 'n Play Fold
You're not always going to use your bassinets. At times when you need it out of the way, you can simply fold it to store or transport. It has automatic folding feet and wheels that make it small and compact for you to store or take it on a family trip with you.
Play Yard Amusement
The bassinet not only provides a great environment for your baby to take a nap. It also has a play yard that can keep them busy when they are awake and free up some time for you to do other things. The play yard includes a toy bar fitted with soft toys to entertain and keep the baby amused. The visual stimulation also helps in brain growth not to mention the satisfaction you get from watching your child engage with the toys.
Cost and Value
There are a lot of features that have been squeezed into this little beauty. The best feature, however, has to be the price. For such a great quality product, you would expect it to cost you an arm and a leg, but it doesn't. The price is pocket-friendly and very affordable for bassinets that make the lives of you and your baby much simpler and more comfortable.

2

. Delta Children Beginnings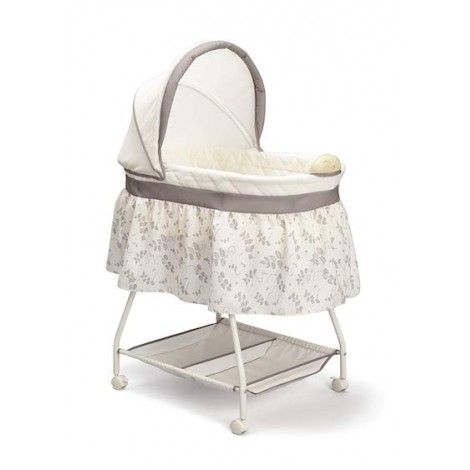 For homes where space is a premium and you prefer to sacrifice some of the features to get a bassinet that is more compact, the Delta Sweet Beginnings will fit right it. The gorgeous and minimalist bassinet still offers enough features for your little one and the neutral finish allows it to blend with whatever them you have gone around the house or in the nursery.
In addition to the intriguing bassinet features, it also has a few bells and whistles for your baby. These include a music module that will make nap times easier and longer and a nightlight just in case you intend to let your baby enjoy the new spot overnight.
Portability
In most cases, you want the bassinet in the room you're in. If you're like most mothers, you're probably in one room for no more than an hour before you move to the next one. That means lots of movements for you, your baby and the bassinet. To make your transitions easier, the bassinet is fitted with wheels and a lightweight frame that will make it easy for you to drag from one room to the next.
Storage Basket
Worried about going to fetch the baby's supplies like diapers and wipes? With the storage basket underneath the bassinet, you can pack everything you need for the baby including the feeding bottles. It saves you the trouble of having to run back to the nursery every time you need to jump into action.
Cost and Value
You might find other reasons not to buy this bassinet but it's hard for any of those reasons to be price related. The price is well thought and very reasonable. For such a well-built option with just enough features and convenience, you should find the price to be very pocket-friendly.

3

. Halo Bassinet Swivel Sleeper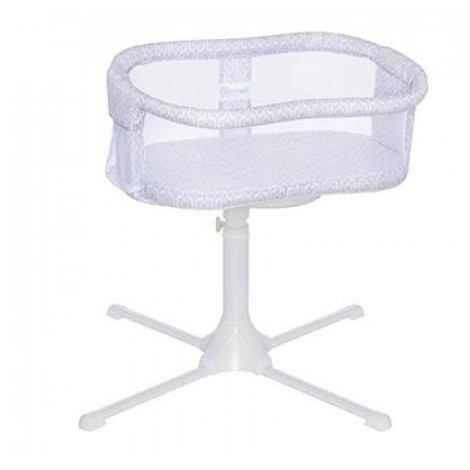 The Halo Bassinet brings a sense of modernity and style to your home. It has a unique set of features and unparalleled build quality that guarantees stability, convenience and ease of use for any new mother. It makes it easier to attend to your baby any time of the day or night and keep them as close to you as possible.
The unique design of the bed makes it an ideal option even for homes with limited space. So, you don't have to worry about storage or limited spacing. If you have a more flexible budget, this is one bassinet that could make taking care for your baby much easier.
Rotating Swivel and Adjustable Base
The rotating swivel is a feature that you won't find with any other bassinets in the market. It's unique and brings the baby closer to you when sleeping. Because the base of the bassinet is small, it fits under the bed bringing the baby even closer to your bed. The base of the bassinet is also adjustable. You can lower or heighten it to fit your bed and bring the baby to your eye level when sleeping.
Lowering Bed Side
The bedside lowers to make it easier for you to pick up the baby and change them. It reduces strain on your arms and back and makes it faster to access the baby in case of anything. For the sake of safety, this feature is lockable so your baby doesn't fall over.
Cost and Value
The build quality and design of this bassinet are exceptional. It is over and above what you would expect and as such, you should expect to dig deep into your pockets. However, the unique nature of the features and convenience the bassinet offers makes the price tag worth it.

4

. Arm's Reach Concepts Clear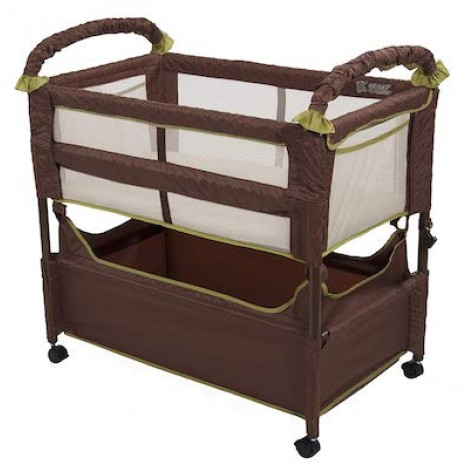 The Arm's Reach Bassinet is a mixture of classic design and modern features. It's perfect for parents with plenty of space and wants something that looks and feels sturdy. Its dull colors provide a warm fuzzy feeling for the baby and with the all-around net, you have 360 degrees view of the baby at all times.
The best part about this little beauty is that you get everything including the mattress and fitted sheet strap and plate so all you have to do is set it up for your baby. Because of the simple, design, it's easier to bring the bassinet close to your bed when sleeping at night to better tend to the baby and watch over them.
Clear-Vue Co-Sleeper
Being able to see your baby is essential. With the Clear Vue Co-Sleeper, you can do more than keep a good eye on your child. You can easily reach out for them for breastfeeding or comforting. With this unique feature, you and your baby can enjoy the benefits of sleeping close to each other without the risks of bed-sharing.
Extendable Legs
Are you worried that your bed might be too high compared to the bassinet? Worry not. The Arm's Reach Bassinet has this figured out as well with the help of extendable legs that come armed with wheels for convenient movement and portability. No matter the height of your bed, you can easily bring the bassinet to the same level.
Cost and Value
There are cheaper classic bassinets on the market but, they don't match the quality and durability of this one. Even though the price might be a little out of budget for some buyers, it matches the quality and features that the product offers and can, therefore be considered reasonable not to mention the convenience which guarantees you get value for your money.

5

. Badger Basket Round Wooden


This charming Bassinet provides a comfortable and safe place for your baby to nap. Unlike the rectangular counterparts, there are no edges where your baby's head can be lodged, which might cause suffocation. In addition to the impeccable safety standards, the unique finish of the bed makes it a great addition to any room.
The materials used to speak about the comfort and strength of the bed. The frame is made from a mixture of wood, MDF, plastic, and metal. The beddings are made from cotton and polyester providing a soft, comfortable and trouble-free nap for the baby in a strong and sturdy bassinet.
Machine Washable Beddings
With a baby around, you have little time to do other things. Taking time out to hand-wash all of the baby's clothes is not an option and in most cases, might take up all your time. That's why it's why any help in terms of having machine washable beddings for the bassinet is highly welcome. It will save you time and you will always have clean and fresh beddings for your little angel during naptime without worrying about the washing.
Discrete Storage
The biggest problems with having storage under the bassinet are that in most cases it's not covered. Having the baby's essentials under there requires properly organizing so they don't stick out like a sore thumb. With this option, the storage is well-covered by the skirting so you don't have to worry about spending too much time to organize the equipment. It also saves you the trouble of dashing back to the baby's room every now and then.
Cost and Value
This is not your average bed for your baby. Everything from the materials and build has been carefully thought out. This is reflected in the price. Unfortunately, it's not a budget option which might lock out some potential buyers. But, if you can stretch your budget, it will prove its worth. It's sturdy, strong, and durable and guarantees comfort.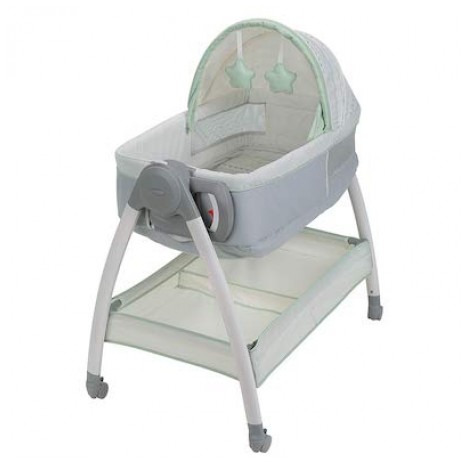 It might look small but this little baby's bed is armed to the teeth with features that will make the lives of both you and the baby much easier. It offers a complete bedside care center for your baby so you don't always have to leave the bed in the middle of the night. It is the perfect tool to have for your newborn.
Other than providing your baby with a safe and comfortable place to sleep, it is easily switched into a changer back and forth and the transformation requires only one hand. Midnight diaper changes will never be the same with this one of a kind bassinet.
Vibration
One of the ways you can provide your little one with longer, deeper sleep is having a bed that vibrates. This option comes with two settings that you can choose from to make sure your child can enjoy the best sleep and when they wake, the vibration can also help to soothe them as you prepare to feed them.
Locking Wheels
A lot of beds of this kind come with casters and wheels. But, without the right mechanism, this handy feature can easily turn into a disaster. Graco has factored this in by adding a locking mechanism to the wheels so they only move when you want them to add a much-needed layer of safety.
Cost and Value
With the features and quality you get with this product, you would expect it to cost a lot more. Even though the price is not rock bottom, it is quite reasonable. It's actually a bargain given the feature and safety-rich diversity of the bed.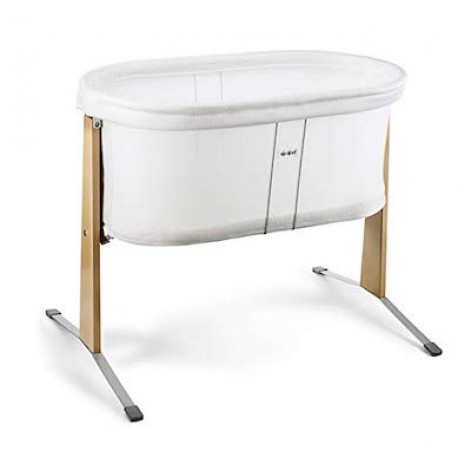 With the BabyBjorn Cradle, simplicity is the name of the game. It's focused on providing the baby with a simple but, elegant spot that they can call home and curl into when they want to sleep. Other than the elegant design, the bed also comprises of other impressive features.
Unlike most bed's it doesn't have wheels. But, it makes up for this by having a super lightweight design that is easy to move from one room to the next. But, that is only the beginning of the numerous features that this little and cozy bed has to offer.
Cradle
The bed is designed for babies that are up to six months old. It is compact and has soft rocking motions that can be initiated by the parent or the baby's movements when they are in the bed. The bed is fitted with a suspension system that makes the rocks smooth and soothing for the baby.
Machine Washable Beddings
Babies are always a handful. Looking for ways to get chores done while saving time is a priority for most mothers. In this case, the bed is in complete agreement with your approach. All beddings including the waterproof mattress cover are machine washable for easy cleaning. However, it's advisable to let the mattress cover and the cradle fabric to air dry before placing them back.
Cost and Value
The BabyBjorn Bassinet will cost you a pretty penny. You should be prepared to dig deep into your finances to land this beauty. Even though it will set you back, its features and benefits are worth the trouble. It's a unique design, lightweight but durable frame and extreme comfort all make it worth every cent you spend.

8

. Badger Basket Oval Rocking


This lovely bassinet comes complete with everything that your baby needs for those first crucial months of growth. The Midas touch to it is the floor length pleated skirt that adds a dash of elegance and keeps the storage space concealed.
Other than the design, the bed also has a handful of other features that make using it easier and more user-friendly. This includes the comfortable bedding and high-quality selection of materials that guarantee durability and quality.
Caster Wheels
With this bed, the caster wheels are a feature with other additional features within them. They are lockable for added safety and they can also be flipped up for the bed to rock and help in putting the baby to sleep.
Metal Frame
For a bed that you have to move every now and then the frame has to be strong enough to cope with the stress of the constant movements but be light enough to make the bed easy to move. To achieve both of these requirements, the bed has a metal tubing frame that is both durable and lightweight.
Cost and Value
Fortunately, you don't have to bend over backward to afford this little piece of heaven for your adorable baby. The price is affordable, reasonable and convenient. It's a bargain considering the features you and your baby get to enjoy.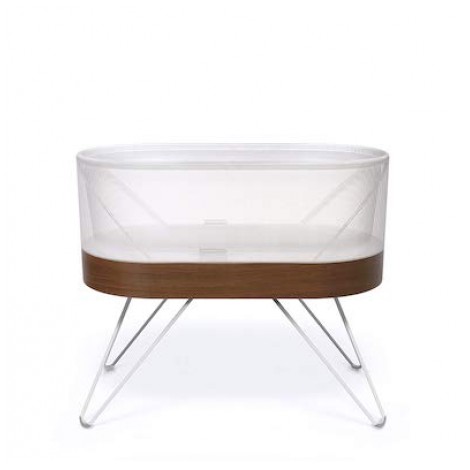 For parents that pull all the stops for their babies, this one of a kind bassinet is the perfect partner. In fact, it does more than provide your baby with a comfortable place where they can sleep. It has been proven to add up to an hour of sleeping times for your baby at night which means better sleep for you at night.
It's also worth noting that it meets the American Academy of Pediatrics Safe Sleep guidelines. Its long list of features include 100% organic cotton sheets breathable mesh and three SNOO sacks.
Sack Safety Clips
The biggest concern with babies sleeping is rolling. This little bed counters this by having sleeping sacks that attach to safety clips on the bed that secure the baby and keep him from rolling which can cause suffocation.
Smart Features
It's the only baby's bed on the list that has an app and can be controlled through your smartphone. Its range of smart features includes automatically increasing levels of white noise and motion to soothe a fussing baby. The bassinet can also alert you when the baby needs more attention and programmable with Newborn settings and weaning options.
Cost and Value
As noted earlier, this is a great option for any parent who pulls all the stops for their baby. The price is premium and so is the bed. You not only have comfort for your child with this bed but also lots of assistance from technology which means better quality sleep for you and your baby. Now that's something that doesn't have a price tag!

10

. Babybay Bedside Sleeper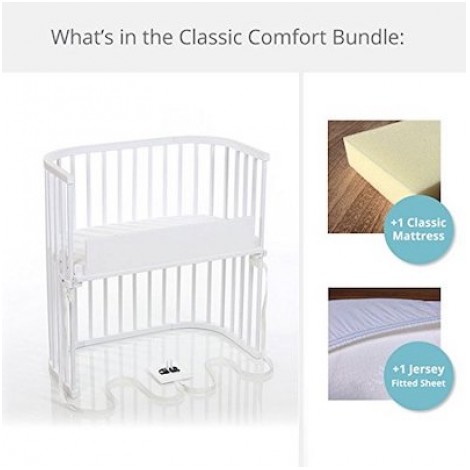 To close out our list of the best baby bassinets is this one from BabyBay which has plenty of options and benefits to offer. The most stand out feature is the bedside sleep that fits flush and secure to a bed of any height.
It also has a unique classic comfort mattress that fits snugly into the sleeper frame without any gaps to prevent suffocation of the baby.
Adjustable Spindles
The greatest concern most parents have when buying a bedside sleeper is the height. In this case, you don't have to because this bed can be adjusted along the spindles to virtually any height of the bed. It can save you the cost of a new bed.
Quality Beddings
With babies, comfort is paramount. The best material to use is cotton and with the BabyBay bed, only 100% cotton has been used. Its hypoallergenic features and soft touch ensure the baby is comfortable at all time.
Cost and Value
This option will also cost you a couple of hundred dollars. But, it is quality and the range of features it has to offer to prove that it is worth the price tag. It doesn't fall in the budget category but will definitely earn its stripes once you bring it home.

Subscribe to our Newsletter