Best Baby Monitors Reviewed & Rated for Quality
In a Hurry? Editors choice: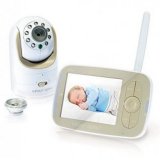 Test Winner: Infant Optics DXR-8

Baby monitors are a relatively new luxury enjoyed and appreciated by most millennial parents. They can help the worry and anxiety often associated with sleeping in a different room, across the house, or on a different floor. They can even help parents transition their baby into a crib in their own room, which is a big step for many. There are many options as far as baby monitors are concerned and not all are created equal. Let's dive into some of the best and most highly rated ones available.
Standout Picks
Criteria Used for Evaluation
Accessories
The very first thing you need to determine is whether or not you want a video monitor or will be satisfied with simply an audio one. Most video monitors will also function as audio monitors to some extent, but it doesn't work that way in reverse. In addition, you will end up paying much, much more for a video monitor - which may or may not be an issue.
Some of the pros of an audio-only monitor are that there isn't typically a flashing or blinking light that will wake the parent up in the night. Sure, you can turn your video monitor facedown or maybe it only lights up when it senses something, but do you really want to be woken up every time your baby rolls over in their sleep? Probably not. Another pro is the price. You can get high-quality sound monitors for under $20 which is not much at all. They allow you to hear your baby, will alert you to low battery, lost connection, etc, and in some cases even tell you the temperature and include a nightlight.
Obviously, the biggest perk to a video monitor is that you can simply look at it and see your sweet baby. You will know exactly their status and it will probably warm your heart just a little to see them peacefully dozing away every time you look at it. When you add a camera into the mix, the monitor it tends to get a lot "smarter" if you will. Almost all video monitors will tell the temperature, sense movement as well as noise, and are capable of monitoring several children all with the same parent unit. Many will even allow you to turn off the screen of the parent unit to save battery and allow for a darker room when you sleep. However; more parts typically means a greater chance for failure and these tend not to last as long in addition to costing more.
It should also be noted here that a camera means that you need to have somewhere to put the camera. Whether that means mounting it or sitting it somewhere, it will need to be at a good angle that allows you to see your child. Many offer tilt, zoom, and pan options that will require a little more thought. Some even require a specific set up. All will have cords associated that will need to be kept out of reach or grip of the baby.
Effectiveness
Monitor One Child or Multiple Children
Do you have more than one child that you plan on monitoring? Or just one? This can help to influence which monitor you buy because not all of them are compatible with more than one baby unit. Most video monitors are and allow the parent unit to see as many as 4 separate cameras at once. While some audio monitors allow for more than one connection, it is far less common and buying multiple tends to cause them to interfere with each other. This is absolutely something you need to consider before making your purchase because you don't want to make a big purchase only to be disappointed in the long run.
Responsiveness
We live in the day of smartphones and always have knowledge at our fingertips. Why should viewing our baby be any different? There are several options on this list that will connect to an app and allow you to see your sweet baby when you are at work or traveling. It will also allow grandma and grandpa to see them if you choose to let them connect as well. Do beware of all apps though because some are much, much more functional than others and design and function are important when you are trying to monitor your baby. The good news here though is that some that are app based don't have a parent unit which tends to cost a little less than the full package. This can be a good compromise between price and video capabilities.
Value
If you don't go in with an idea of how much you are willing to spend on a baby monitor, the odds are good that you'll end up spending a lot more than you anticipate. Each new and added feature sounds amazing and is likely to tempt you. Knowing your price range will help keep you in check and looking only at monitors that fit your phase of life.
Top 10 Baby Monitors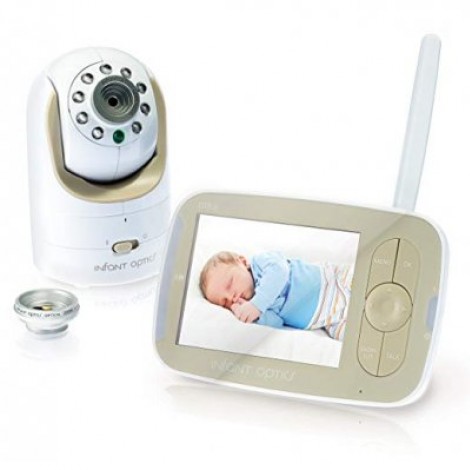 This is perhaps the best rated and most reviewed monitor you will find. Most who own it love it and would recommend it. It has a video monitor and gives you the option to customize your view with an interchangeable camera lens. It tilts and zooms and doesn't connect to wifi so you can be sure you are the only one viewing your baby.
Screen Off, Audio On
While it is nice to see your baby on the monitor, sometimes you don't need to have the visual as well as the audio - like when you are trying to sleep yourself and want it to be completely dark. This monitor has the ability to turn only the screen off while still hearing the audio and quickly turn it back on again when you want to. In addition, this saves the battery life increasing it from 8 hours to 12 hours.
Sound Activated LEDs
Along the side you will find LED lights that are activated by sound. What that means is that if you turn the sound on your monitor off, that you will still be able to tell when your baby is awake because the colored LEDs will light up. This allows you to have silence when needed for whatever reason, but still have the knowledge of how your baby is doing, which is also needed.
Cost and Value
Digital video monitors don't come cheap; especially ones that have both a parent and a child unit. That makes this one of the more expensive units on out list, but if you want a good video monitor that allows you options like sound and visual, camera zoom and tilt, and even monitors the temperature you will appreciate this one and not have any regrets with this purchase.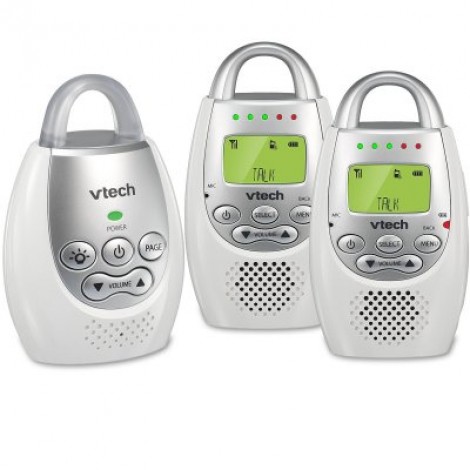 This is a sound only model. When your baby makes noise, it will allow you to hear it at the level you set the monitor to, but will also show bars indicating how loud your baby is. In addition, it can alert you by vibrating if you choose that setting. It has multiple language options and includes a nightlight.
Two Way Intercom
This unit not only allows you to hear your baby, but it also allows your baby to hear you. There is a two-way intercom so that you can help soothe your baby with your voice.
Battery Options
You have options on which batteries you use when you get this monitor. It comes equipped with a rechargeable battery that has about 18 hours of use per charge. However; if that's not your thing or you need longer time away from the charger, there is also the option of using 2 AAA batteries.
Cost and Value
Baby monitors that don't include a video component come at a much cheaper price than those that do, which makes this one much less expensive than the last. You still get a lot of functionality out of this unit with a two-way intercom, clip-on hands-free option for the parent unit, and a decent monitoring range at a much, much smaller price. If you don't need video, but still want to be able to talk to your baby this is a great option.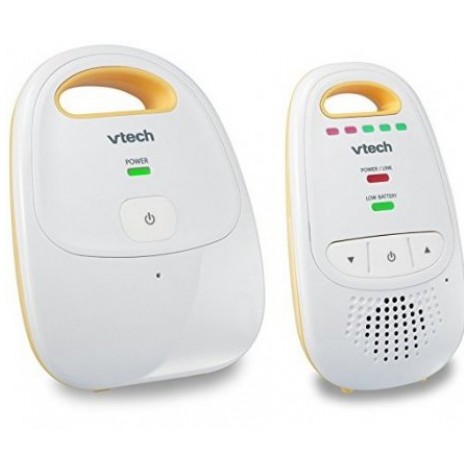 This is one of the most basic models available. Don't think that basic means non functional though, sometimes the less working parts that you have the longer something will last. This provides all the essentials - easy, digital link between parent and baby unit, clear sound, and sound indicator lights.
5-Level Sound Indicator
Along the top of the parent unit, there are lights that indicate how much, or little, noise your baby is making. Lower noise levels are green and louder ones are red. They are sensitive and will allow you to visually see that your baby is making noise even if you need to have the sound turned off for whatever reason.
Belt Clip
The belt clip feature on this monitor is great for the busy parent. This allows you to clip the monitor right onto you and move around to wherever you need or want to be. It is alkaline battery powered so there are no issues with batteries losing a charge; though it does also have the ability to be plugged in for power. This gives you more options for movement while also monitoring your baby.
Cost and Value
Because this is just about as basic as you can get with a baby monitor, it's price is also very small. In fact, it is the cheapest on this list. If all you need is the ability to hear your baby across the house, this monitor fits the bill and saves you money in the meantime.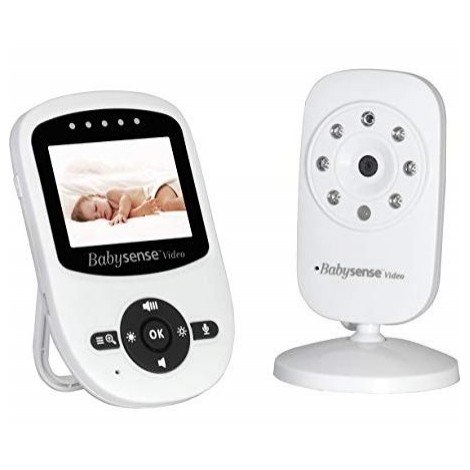 Babysense pulls out all the stops with this monitor. They have included many features like digital zoom, ability to play lullabies, alarm setting so you know when it's time to feed or diaper your baby, an LED indicator that is sound activated, infrared night vision, and a high or low temperature alarm.
Infrared Night Vision
When you buy a video baby monitor, you want it to be able to work whether it is light or dark. It's important to see your baby during the day and at night. You can do this with this monitor because it detects when it gets darker and has automated infrared night vision that will adjust according to the light so that you will always be able to see your baby no matter what time of day it is.
ECO Mode
This monitor is built to save battery. When it doesn't sense any sound coming from the baby unit, the parent unit will go dark. As soon as it senses noise from the baby's end again, it will turn the screen on again and send both sound and visual across.
Cost and Value
As far as video monitors go, this one is actually very reasonably priced. It is one of the cheapest video monitors available. It is still significantly more expensive than most audio-only monitors, but if the ability to see your baby is non-negotiable then you won't even think twice about spending the extra money here.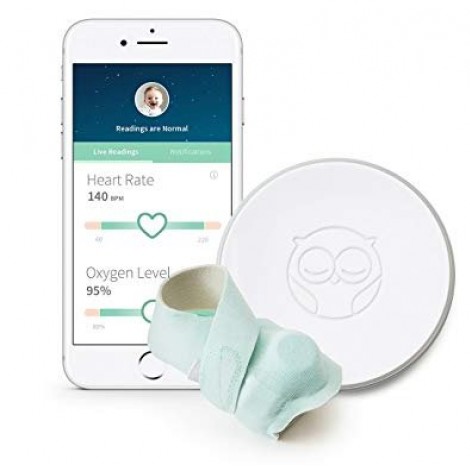 Are you an extra concerned parent who just isn't sure that a video monitor is going to provide you with enough information to sleep well? That is where this Owlet monitor comes into play. It comes in the form of a sock that contains a pulse oximeter that you put right on your baby's foot before putting them to bed. It monitors heart rate and oxygen saturation and will alert you if something is wrong.
Pulse Oximeter
A pulse oximeter is something that is used in the hospital to make sure that heart rate and oxygen levels are okay with all patients. Why not bring that technology into your home, right into the crib, so that you can know your baby is always okay? When you have this knowledge always at the tip of your fingers you can rest just a little easier knowing that your sweet baby's heart is beating just as it should be.
Owlet App
Not only does this model comes with a base unit that lights up and makes noise when something is off, it also has the ability to connect to an app that you and whomever else you want any access at anytime from anywhere in the world. This way you can have access to your baby's critical data and get alerts all the time, as long as they are wearing the sock.
Cost and Value
Because of the technology required to make this monitor function the way it is supposed to, it costs a pretty penny. Nothing about this monitor comes cheap. However; if you need that extra measure of security to know that your baby is safe every single penny spent will be worth it to you.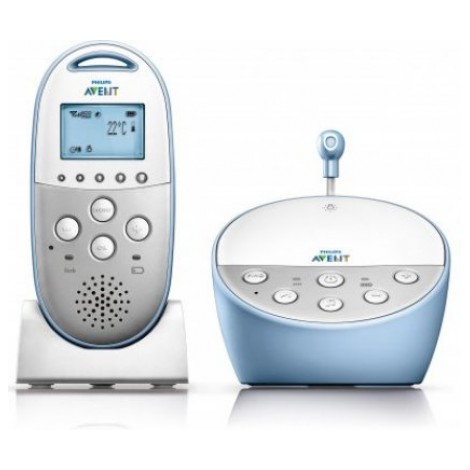 Coming from a brand that is very well known in baby products, you know that this monitor will serve you well. It is an audio only monitor that comes with a baby unit, parent unit, and a docking station for the parent unit. It guarantees a secure connection and has lights that indicate noise level if you need the parent unit to be muted. It has a decent range and has a light that will let you know if you are connected or not and when the battery is running low.
Temperature Sensor
Different rooms in the house can have different temperatures. It is important for you to know what the temperature is in your baby's room so that you can make adjustments accordingly as they are not as equipped to sustain their own body temperature like an adult is. This monitor allows you to do this by constantly displaying what it is right on the parent unit.
Night Light and Lullabies
One of the best touches found here is that the baby unit also functions as a night light and will sing lullabies if you want it to. The night light offers a pleasant glow and is more than just a loop as is found in other units. There are 5 different lullaby options to help soothe your baby and help them drift off into a peaceful sleep that, for everyone's sake, hopefully lasts all night.
Cost and Value
For an audio only monitor, this unit is actually fairly expensive - though it does still fall cheaper than most video monitors. That being said, the baby unit is really well thought out here and functions as a monitor, night light, and sound machine all in one which effectively eliminates the need for those other purchases. All in all, it is a good value and it's hard to put a price on peace of mind.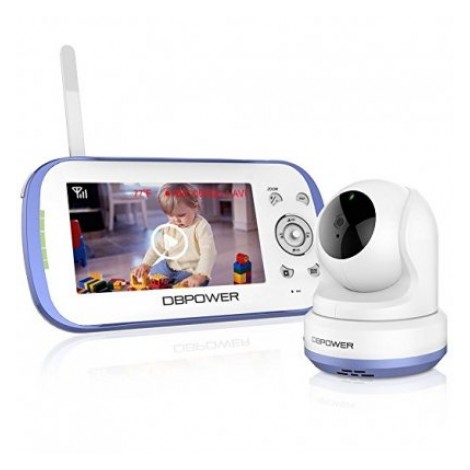 This model comes with all the standard features most video monitors do - automatic adjustment for night vision, temperature monitoring, two-way talk, and the ability to play lullabies for your baby. It also allows you to mute the lullabies from the parent unit, can support 4 separate cameras at once, and has a 4.3 inch LCD color screen.
Video Recording
There is something so peaceful, serene, and special about watching your child sleep. It helps you to remember that though they may be crazy during the day, they really are the precious angels you know they can be. With this monitor, you can always remember it. If you choose to get up to a 32 GB micro sd chip, you can record both automatically and manually. The automatic recording starts whenever your baby makes a sound and you start the manual whenever they are particularly adorable and you want to remember it.
Pan, Tilt, and Zoom Remotely
If you have ever wanted to adjust the camera for your monitor after you baby is already asleep, this monitor may be for you. You can zoom in a little closer, change the angle of the camera, or tilt it just so you can see the little details all without disturbing precious sleep.
Cost and Value
The biggest added feature here is the option to video record, but surprisingly, that doesn't raise the cost at all - except that you have to buy the micro sd chip separately. The monitor itself is on the lower end for video monitors and will have you very pleased with your purchase.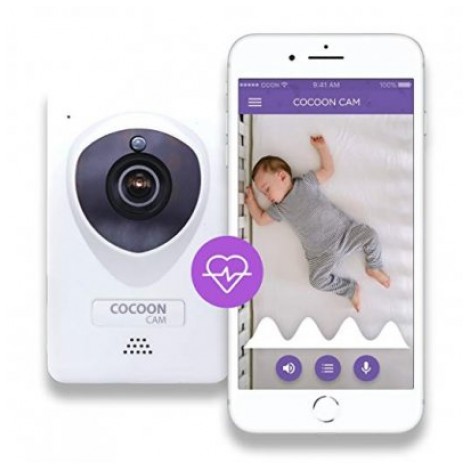 This monitor is newer to the baby monitoring market but is built by a parent for parents. The designer takes the concerns that he experienced personally and came up with a solution. This model allows you to both see your baby and monitor their breathing in one simple camera. There are no attachments, nothing extra, just one camera that you install above the baby's crib and an app for your phone.
Monitor Breathing in Real Time
Have you ever walked in to check on your baby and accidentally woke them up? Or maybe not so accidentally woke them just to make sure they are still breathing? No more - this monitor shows a graph of every breath your baby takes in real time so you don't need to stress about it. Is your baby a stomach sleeper? No worries! This unit works well for them too.
App Access
The parent unit for this monitor is actually an app on your phone, your husband or wife's phone, your mom's phone, the nanny's phone or all of the above. This allows whomever you want to see your sweet baby when they are sleeping simply by checking their phone. It also allows you to see your baby while you are at work and they are napping to soothe your heart while you aren't with them.
Cost and Value
This monitor is surprisingly inexpensive. It rides the middle ground between heart rate monitoring units and visual units but has a price that is actually smaller than both, for the most part. Part of that may be due to the fact that there is no additional parent unit as it is accessed and sends alerts through your phone - which is probably not an issue as your phone is typically by your side at all times.



This monitor gives you the best of both audio and visual modes. The baby unit features a camera that has a wide lense that allows you to see nearly the entire room without having to change the angle of the camera, which is a big perk. It is easy to install, allows for multiple camera uses, and can zoom up to 5 times.
Audio and Visual
The parent unit itself is just an audio monitor that will allow you to hear the baby wherever you want. However; you can connect your phone as well and view the visual. This allows you to see your baby whenever you want from wherever you want without interrupting you or your sleep when sound is sufficient.
Encryption, Encryption, Encryption
Because this unit requires a WiFi connection, you want to be sure that your baby and ultimately your family is safe. This monitor ensures that is the case by encrypting all cloud storage that deals with the monitor and it includes an encryption chip that provides the physical security you need.
Cost and Value
Monitors that have all the bells and whistles like this one does don't come at a small price. This is the third most expensive one on our list and for good reason. This monitor can do a lot more than your basic monitor and if that is something you're looking for, then you won't hesitate to spend the extra money.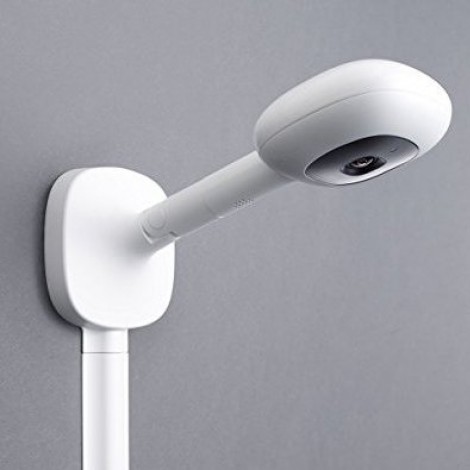 This model is neat and offers several features that others don't. It is designed to be installed above the baby's crib and comes with a cable management system to ensure that tiny hands don't play with dangerous cords. It is connected through an app that will continuously play in the background despite the use of other apps or a locked screen.
Nanit Insights
One of the coolest features found here is the Nanit Insights. Basically, Nanit will compile all the data it collects while tracking your baby's sleep and offer tips and suggestions on how to improve sleep for you baby - which ultimately improves sleep for you. This way you can track progress as long as you have the monitor and it even offers age-based recommendations and comparison so you know exactly where you stand.
Night Light
While a night light is a somewhat standard feature on video cameras, this one is a little different. Because it is a camera built to go directly above the crib, any sort of light coming out the bottom would surely wake your baby. Nanit knew that going in and designed the camera with a soft light on top so that you can see what you need to without disturbing any sleep.
Cost and Value
This is the second most expensive monitor on the list. It offers a lot of extras and will keep anxious parents more than satisfied. If has great functionality and helps you get better sleep not only by providing you with peace of mind, but by helping you know how to help your baby sleep better. This in and of itself may be worth the added cost.

Subscribe to our Newsletter