Best Cheap Baby Cribs Reviewed & Rated for Quality
last updated:
Mar 21, 2019
To be honest, choosing everything that is needed for a baby isn't cheap. It can feel like something should be done about the astronomical pricing on infant necessities.
What makes it worse is the fact that babies will not be using their beds for very long. However, there are alternative budget options to consider. Along with car seats, baby beds do not need to be pricey or high-end for them to be reliable and safe. While it may seem like a great idea to pick up a used option at a garage or yard sale, it is never recommended.
With used baby furniture, you never know what you are getting. Beds are recalled often, and used items may have broken pieces or missing parts. When choosing a bed on a budget, an affordably priced one is a practical option.
In a Hurry? The test winner after 8 hrs of research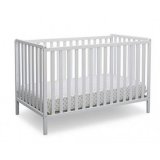 Delta Children Heartland
Why is it better?
Stylish
Durable
Convertible
Simple assembly
Has a return & exchange policy
In a
Hurry? Editors choice: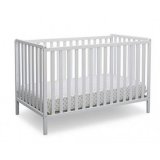 Test Winner: Delta Children Heartland

30
Researched Sources
1600
Reviews Considered
8
Hours Researching
10
Products Evaluated
Safety Hazards
Support
Style
Materials
Fit
By Default
10 Best Cheap Baby Cribs
1

. Delta Children Heartland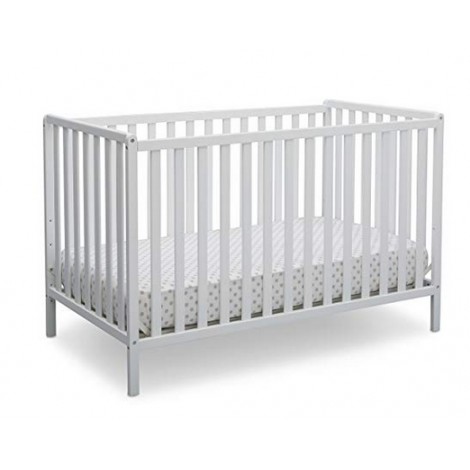 Stylish
Durable
Convertible
Simple assembly
Has a return & exchange policy
Conversion kit needed for full-size bed
The hardware is partially concealed
Understated and simple, the Delta Children Heartland can blend in with traditional or modern nurseries. This versatile product is constructed with airy slats and clean lines that offer a clear view of your baby. This is designed from sturdy wood that will stand up to years of good use. Product dimensions are 54.2 x 29.5 x 35 inches and it weighs 41 pounds.
Convertible Construction
The Delta Children 4-in-1 offers multiple height adjustments, so you are able to lower the mattress as your child grows. It transforms from a simple infant bed, to a single bed, a daybed, and a full-size bed. Providing a secure safe place for sleeping, this product proves it is as fashionable as it is functional.
JPMA Certified
Available in different choices of finishes, the Heartland 4-in-1 makes it easier to design the nursery you want. The company's mission centers around the idea of constructing high-quality, safe, and affordable option for all families. All products are tested and are JPMA certified to exceed safety standards.
Cost and Value
This durable product is free of potentially harmful chemicals and lead that could harm your baby. Considering its versatility, potential long-term use, and quality this Heartland model is available for purchase and is an excellent value for the money. Delta Children has an exchange and return policy in full effect. You can contact the seller regarding any questions or concerns.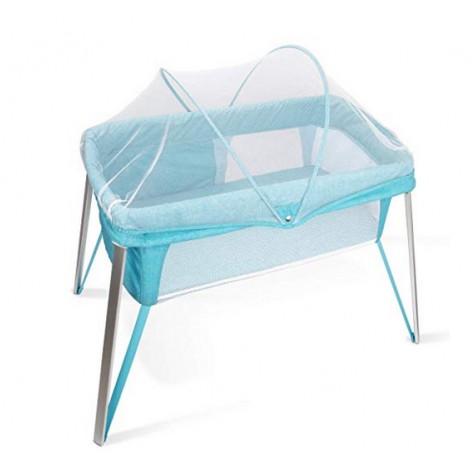 Lightweight
Versatile
Comes with a protective net
Portable carrying bag
Aluminum feet provides firmness and stability
Not full-size
Cannot reattach cover to the straps after washing
The Costzon baby bassinet is redesigned into a modified bed on the go. You can consider it a travel option, which is more lightweight than the traditional wood option. This bassinet is another alternative for a newborn. The aluminum frame and innovative style make this model the ideal sleep bed. Product dimensions are 27 x 18 x 33.5 inches and weighs 7.5 pounds.
Protective Net and Mattress Included
The comfortable mattress is included with this bed. The Oxford cloth provides a protective cover over the mattress while providing babies a comfy sleeping environment. It comes with a removable net for circulation and air flow during the warmer months. Additionally, it helps to provide shade while keeping insects away.
Makes a Great Gift
The Costzon sleeper comes with a portable Oxford carrying bag which makes it convenient for taking it and your baby with you on the go. After using, fold up the unit, and put it in the bag for simple storage.
Cost and Value
This sleeper is great value for the traveling parent. It offer a comfortable and safe place for your newborn to sleep anywhere. This model is available for purchase. For refunds or exchanges, customers can contact the seller to get information about any policies that may apply.
3

. Delta Children Portable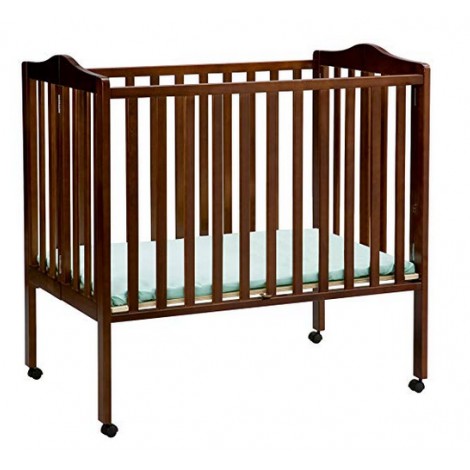 Affordable
Adjustable
Built to last
Certified and tested
Practical for a smaller space
Emits a strong smell
Mattress is 1/2 inch thick and very soft
Weighing 34 pounds, this Delta Children's portable and mini option can be a great option than the typical unit. It not only provides comfort for your baby, it actually is more affordable than most other options on the market. This portable unit will also stand up to many uses. This means you can easily store, move, or travel with this item. Product dimensions are 39 x 25.2 x 39.5 inches.
Space Saving and Smart Design
Thoughtfully crafted with the on-the-go family in mind, this unit's space-saving construction takes advantage of a smaller area in your baby's nursery without compromising on functionality, safety, or style. This comes with four wheels that provide easier mobility around your home, making it simple to watch over your baby as you move around from room to room.
Adapts to Your Baby's Growth
The features of this offer two adjustable mattress support functions that can be raised or lowered to keep up with your baby's growth. Start at the higher setting for your newborn, and lower the setting as your baby begins to stand or sit.
Cost and Value
The sturdy construction of this model helps to create a nursery where you will enjoy a unique bonding experience with your baby. This unit offers excellent value for the price. Delta Children has an exchange and return policy in full effect. You can contact the seller regarding any questions or concerns.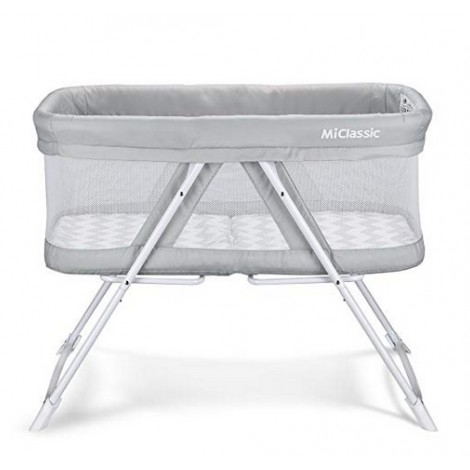 Spacious
Sturdy material
Mesh sides
Adjustable setting modes
Travel-friendly
No storage baby items
No color choices available
Weighing in at 15.63 pounds, the MiClassic 2in1 portable bed literally takes only seconds to set up, making this model one of the easiest beds to store away and to travel with. It provides both a stationary and a rocking motion, which helps to soothe your baby to sleep. The product's dimensions are 37.4 x 23.8 x 28 inches.
Designed With Mesh Walls
Surrounded by see-through and breathable mesh, this bed makes it easier for parents to see and communicate with their baby.This is one unit that competes with compatible models as one of the most popular portable travel beds on the market. This model comes with a pad and mattress. It has a protective waterproof cover that can also be removed and washed.
Compact and Stylish
Constructed to be compact the MiClassic 2in1 bed is highly recommended for smaller spaces in general. Thanks to the unit's fold-out design, it occupies little space when it's folded. This bed provides two modes. The first mode is for the sleeping baby, while the other setting rocks your baby to sleep.
Cost and Value
Parents cannot go wrong with this portable bed. If you travel a lot with your baby or are looking for a compact bed that occupies less space, the 2in1 portable travel bed will offer parents an awesome value. For refunds or exchanges, customers can contact the seller to get information about any policies that may apply.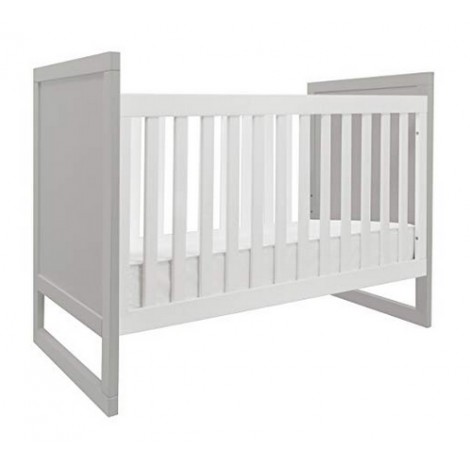 Tested for safety
Convertible
Fixed side design
100% pine wood
1 year warranty
Imported
Somewhat difficult to assemble
Measuring 55.2 x 34.5 x 7.1 inches, the Baby Mod Modena is sleek and functional. This model will add to a baby's nursery. This white color is bold and fresh, giving any nursery a more contemporary appeal. The unit weighs 64 pounds.
Imported Wood
This is made out of 100% sustainable New Zealand pine wood. Meeting all CPSC and ASTM standards for safety, the Baby Mod is CARB II compliant MDF. It is phthalate and lead safe for use.
Transforms Into a Single Bed
The bed transforms from an infant bed to a toddler and daybed. The conversion kit will fit a standard size baby mattress. The fixed-side construction of this provides stability and safety for your baby.
Cost and Value
The Baby Mod Modena will provide great value for the features it has. The unit is available for purchase. The manufacturer is offering a 1-year limited warranty. Customers can contact the seller to get information about any rules that may apply.
6

. Storkcraft Graco Benton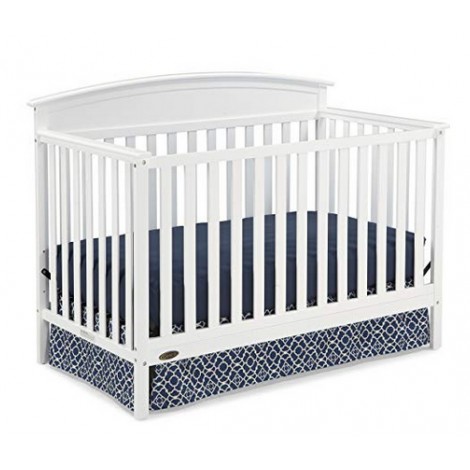 Convertible
Affordable
Sturdy
5 in 1 design
1 year warranty
Visible holes
Exposed screws
The Storkcraft Graco Benton is designed to be incredibly sturdy and strong for such a low price. Measuring 56.7 x 29.8 x 43.2, and weighing 50.3 pounds, this model comes in a classic arched design with the capability to convert it into a full-size bed. This adjustable option will grow with your child throughout his lifetime.
Minimalist Construction
When compared to other compatible models, the Benton is not designed to be bulky. However, the inside dimensions are the same as you would find in a bulkier option. This leaves your baby the same amount of space to sleep and grow.
A Reputable Brand
For 70 years, the Storkcraft brand has been in the manufacturing business. They have a reputation worldwide for designing quality baby furniture for infants through teens. As of today, the company continues to produce innovative products.
Cost and Value
The Storkcraft Benton remains sturdy after all conversions. If you compare the price with its design and quality, you will discover that this is worth the value. Storkcraft provides a one year warranty that is in full effect. Customers can contact the seller to get information about any rules that may apply.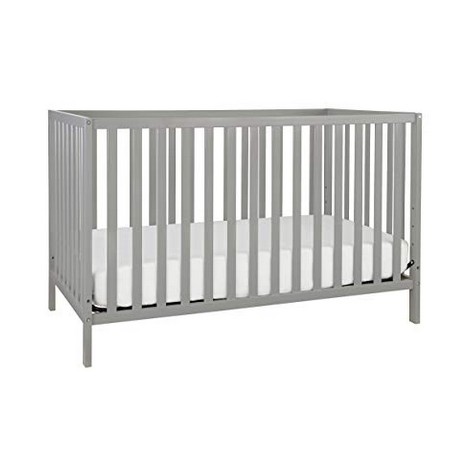 Comes with 4 height adjustments
Comes in various colors
Meets safety standards
Practical design
Convertible design
Height make it difficult for shorter people
Comes with wider slats
The Union 3-in-1 is practical, simplistic, and beautiful. All four sides are of equal height, giving it a cleaner look and a more modern feel. The bed comes in a few different colors to select from. Product dimensions are 53.5 x 30.5 x 33.5 inches and weighs 36.5 pounds.
Simplistic Style
This option is for those who are looking for something more practical. The construction of this unit is solid. It is known for its dependability and the manufacturer ensures your infant's safety. If your nursery requires a minimalist design, this option would blend in. The material is constructed out of pine wood imported from New Zealand. This is why you cannot go wrong with longevity.
Designed With Safety In Mind
For safety concerns, this model has a non-toxic, protective finish. Amazingly, the Union provides the user with 4 adjustable heights. It gives off convenience as well as mobility.
Cost and Value
Overall, the Union 3-in-1 fits all the practical needs you are looking for. It is easy to assemble. If you feel that it is starting to wobble, just one quick adjustment with a screwdriver will do the trick. If for any reason you are not happy with your item, you can contact the seller to request a full refund. Certain restrictions may apply.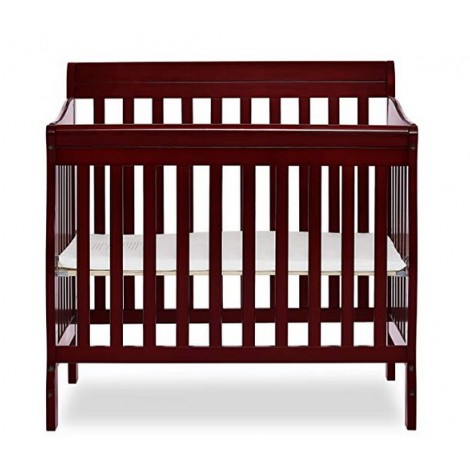 3 position mattress support
Assembly tools included
Convertible
Tested for lead and chemicals
Comes with a warranty
Measurements slightly off
Not suited with full-size mattress
The Dream On Me Aden is a uniquely designed option that matures with your child from infancy, through adulthood. As the name states, it's not the typical normal sized option, but slightly smaller. It is designed to fit a small room while maximizing comfort and space for your newborn. The product dimensions are 39 x 23 x 36 inches and weighs 20 pounds.
Made From Solid Wood
One reason why many parents prefer this model from other affordable units is that it is constructed from solid wood. Take note that it does contain some MDF composite material. This unit is more durable and sturdier when compared to competitive affordable options. It comes in black, cherry, espresso, and a natural finish.
Easy Assembly
The Dream On Me conforms to the JPMA safety regulations by having a fixed rail side versus a dropped side. Assembly requires a minimal hands-on approach. A DIY kit is provided for this. You will need a screwdriver for holding the dowels in place. It will take an estimated hour to assemble.
Cost and Value
For its value, this is affordable compared to other competitors. There's durability behind its beauty and elegance. For the price, you will get more than your money's worth. The company has a reputation for customer satisfaction, and for providing a warranty in place for their items. Customers can contact the seller to get information about any rules that may apply.


2 position mattress
Made of pinewood
Meets ASTM standards
Locking wheels
Portable
Has missing or wrong parts
Complicated assembly
Weighing 30.5 pounds, the Dream on Me 2 in 1 folding side offers a choice of five different colors; including black, espresso, natural, cherry, or white. This portable option is practical to use during travel or it can be used at home when company visits with younger children. The hinges allow the unit to fold flat for easy storage. The dimensions of the item are 40 x 26 x 38 inches.
Multifunctional
This portable option has a 1-inch mattress pad, plus all of the tools needed for putting it together easily and quickly. It comes with two adjustable mattress positions that enables you to change the height settings - depending on your child's size. The functionality makes it simple for getting your baby in and out.
Patented Rail System
The Dream on Me offers a patented rail structure and was designed in the US. The rail is sturdy and has a side that doesn't drop. This prevents any accidents from happening and reduces the probability of your child climbing out.
Cost and Value
The Dream On Me is the perfect model for on-the-go parents and families. The portable feature makes it easy to move the item from one place to another. The model is available for purchase. For the price, you will get more than your money's worth. The company has a reputation for customer satisfaction, and for providing a warranty in place for their items. Customers can contact the seller to get information about any rules that may apply.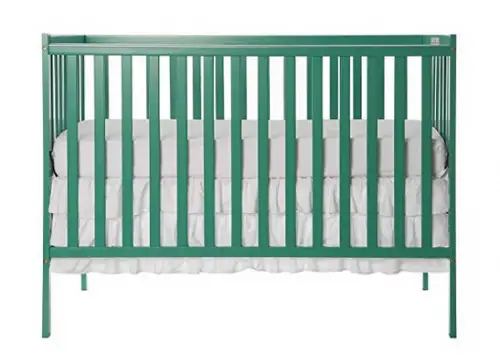 Convertible
4 position mattress support
Tools are included for assembly
Tested for chemicals
Long lasting
Full size bed frame and mattress sold separately
Assembly is somewhat difficult
The Dream On Me Synergy is a minimalistic option that can grow with your baby. It comes in a standard size for the person on a tight budget. From infancy to the teenage stage, your child can use it for a very long time. You can convert it into a full-size bed with just two options. The toddler bed frame and guard rail is purchased separately. Weighing at 40 pounds, the product dimensions are 53 x 29 x 39 inches.
Comes In a Choice of Many Colors
The Synergy 5-in-1 is very lightweight. At only 40 pounds, this comes with a variety of nine color choices, allowing it to blend in with nearly any theme or color scheme. You can choose from cherry, black, espresso, emerald, royal blue, natural, aqua sky, white, and fusion coral.
Long Lasting
All Dream On Me furniture is constructed with the safety of your child in mind. Many users had doubts regarding the longevity and quality. But after several years, Synergy products prove to be stable and structurally sound.
Cost and Value
Users can benefit from all the features the Synergy provides, but without the high price. The top rail is covered by silicon, which protects it against bite marks. This item is available for purchase and will provide value for the price. Dream On Me has a company reputation for customer satisfaction; and for providing a warranty in place for their items. Customers can contact the seller to get information about any rules that may apply.
Criteria Used for Evaluation

Style
The Standard
The standard is comfortable and sturdy. It is the most basic style choice that does not come with all the bells and whistles. Some standard styles come with a hinged side that makes it easier to pick up and put down your baby. These are more lightweight and are the most affordable. A standard can be ideal if you are considering have more children.
Some manufacturers combine the standard style with convertible styles for parents who are looking for bed furniture that will grow with their child. But technically those styles will not be considered standard.
The Mini
If you have limited space, a mini option can be great. These style are smaller than the standard and are perfect for a smaller room. They are just a durable, sturdy, and come with numerous handy features for your family needs.
Round
If you have a round bed in mind, it probably would be because of the style of it. Like the mini, round styles can be designed with a modern or classic look. You can choose one with a canopy or a poster to enhance the appeal. If you are looking to occupy a smaller area, a round style can be a space saver. However, take note that a baby can outgrow it quickly.
Convertible
Known as the bed that lasts a lifetime, a convertible is built for longevity. It can accommodate a child from birth, until he or she becomes an adult. Depending on the model, this style can be converted into a toddler bed, daybed, bench, single bed, and a full-sized bed. Whenever you see the "2-in-1" or "3-in-1" in the description, that means that the bed converts 2 or 3 ways.
These style are very popular options for parents. However, they are pricier, requires more space, and are heavier than standard styles. For parents who are done having children, the convertible can offer a good bang for your buck.
Combination
Combinations combine pieces of furniture into the design. That gives versatility and functionality while providing space in a smaller room. These style can have a dresser, storage, or a changer attached. Some changing tables can detach and be turned into a nightstand.
Some combinations are available in full and mini-size models. Most are convertible, but there are also non-convertible models available.
Portable
Parents will appreciate the lightweight capabilities of a portable option while on the go, especially when it is a travel or a mini-portable style.
Sleigh
Sleigh-styles are constructed to look like a sleigh, giving it a quaint appeal.

Support
A baby mattress is supported by a metal frame that is suspended by stiff springs. With some items, a one-piece board provides the support; in others, metal hangers are screwed into a wood frame which supports a spring-wire frame. Tighten all bolts, screws, and nuts.
Baby bed supports can be adjusted so that the mattress can be lowered or raised. Mattress supports must be in place to prevent dislodging. Check the attachments on a regular basis to make sure they are not broken or bent. If you decide to move a crib, double-check that the hangers (which hold up the mattress) are secure.
Doing these procedures will prevent gaps where an infant can wedge his neck or head, causing harm.

Safety Hazards
Never purchase a used bassinet or baby bed. It may be missing some pieces and could possibly collapse. Older styles may have cutouts in the head or footboard that could endanger an infant. An antique or heirloom styles may look attractive but could contain lead paint.
Even though an older product could be in decent shape, stringent safety rules have been put in place to require purchasing the newest ones. As a result of reported illnesses, injuries, and infant deaths, federal regulations have banned drop-styles.
Check the slat spacing
The slats should be spaced no farther apart than 2 ⅜ inches. If a can of soda can fit between them, the space is too large. This is a problem that may be more common in older styles, but never be too safe when it involves the safety of your infant. Check for this with any option you will be buying, even if you plan to use it for a day. If you find a bed to be unsafe, return it to the retailer and report it to the US, ASTM or the Consumer Product Safety Commission at www.cpsc.gov.
Check the corner posts
When selecting a product that is designed with corner posts or decorative knobs, they should stand 16 inches at minimum above the end panels. This will prevent the child from reaching the top and getting his or her pajamas caught. If the posts are shorter, they should stand no more than 1/16 of an inch higher than the side panels or the ends. If an older style is involved, saw off or unscrew the corner posts and sand down to remove any sharp corners and splinters.

Fit
The mattress should be able to have a snug fit against the walls of the bed. If the mattress isn't secured, your baby can become stuck between the bed wall and the edge of the mattress when moving around.
Pair up both the crib and mattress together to make sure they fit securely. A mattress for a full-sized crib must measure 51 ⅝ long by 27 ¼ inches wide, and less than 6 inches thick. You can test this by place two fingers or more between the crib frame and the mattress. If you can achieve this comfortably, the fit isn't snug enough.

Materials
Most cribs are made out of wood; but there are other materials that are used for making cribs. Dark wood coatings or finishes are available, however, you can find cribs that are of lighter shades; for example: oaks, natural woods, classic white, or maples. Painted finishes include washed whites, off-whites, along with pinks, yellows, greens, and blues. Avoid materials that have paint peels or splintering wood.
Expert Interviews & Opinions
Most Important Criteria
(According to our experts opinion)
Experts Opinion
Editors Opinion
Users Opinion
By Default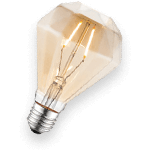 Alway Protect Your Mattress
Babies will wet for all reasons. Choosing a cover that resists water is ideal, especially if you are planning to keep your mattress for future children. Some mattresses are designed with surface protection. They are made with a laminated nylon surface and will provide the needed protection. However, you can still use a water-resistant covering as a backup.
If an organic mattress appeals to you, a waterproof model may be difficult to find since most methods involve the use of chemicals. Eco-friendly models that come with organic covers may be an alternative option.
Purchasing Considerations
Mattress sizes can vary. When choosing one, look for smaller, reinforced holes that provides ventilation. This allow for moisture to escape, preventing odor, mildew, and mold. Professionals and researchers have stated that chemicals that are present from the construction process can aggravate certain medical conditions and cause potentially new ones. If you are looking to create a sleeping environment for your infant without chemicals involved, an organic model of mattress will be your best bet.
Look for Independent Certification
All crib mattresses in the United States has to meet certain safety standards set forth by the American Society for Testing and Materials and the CPSC. Independent certification can offer a peace of mind.
Listed below are additional reputable certifications to consider if you're looking for a mattress that's made with natural or organic materials.
Oeko-Tex Standard 100 certification: This confirms that all testing was done. All products are screened for any harmful substances. Take note that only certain parts of a mattress may be certified, so it is advisable to read the fine print.
Global Organic Textile Standard (GOTS): This is a certification for textiles made from organic materials. Their website defines that products must pass a high-level environmental criteria and requires adherence with social criteria in addition. Textiles that are GOTS certified must contain a minimum of 70% organic fibers.
GREENGUARD Certification: This involves third-party testing program for emissions on materials and products. GREENGUARD tests by governmental and industry standards. Take note that no standard is required for "natural" mattresses, so look at the specific certification of each mattress.
The Bottom Line on Crib Mattresses
It doesn't matter what model of crib mattress you purchase for your baby; it is important to follow the American Academy of Pediatrics (AAP) rules and regulation for safer sleep. This will include removing all toys, pillows, blankets, bumpers, and other items that could possibly suffocate your infant during the night. Always put your baby to sleep on their back.
Other Factors to Consider

Stability
Choose a crib that has a solid frame. Test the model of your choice in the store first before purchasing it. Give it a shake. If it wobbles or rattles, it may not be solid enough. Check to see if the crib comes with stabilizer bars at each end. These help to keep it sturdy.

Adjustability
An adjustable crib is important if you want to get the most out of your purchase. This feature will allow you to lower or raise the mattress whenever needed. A newborn's mattress can be adjusted at the highest setting. This makes it easy to reach for your infant in the crib. As he or she gets older and stronger, a mattress can be adjusted to prevent your baby from climbing out of the crib.

Versatility
What functionalities you want from a crib? Are you looking for a crib you can transform into a toddler bed? If you select a convertible style, make sure that you are informed about what it can do. Some cribs may require a separate conversion kit, meaning it may cost you extra.

Size
You can select from a full-size or a mini crib. The full-size option stays static in one room. The mini crib is portable and is ideal for a smaller area. You can move them around the house quite easily.

Application
Check to see if assembly is needed. Your new crib will most likely need assembling. Manufacturers that sell their cribs in this way helps to cut their costs down, therefore saving the consumers more money in the process.
It is more than likely that you will be assembling the crib yourself. You will probably be asking others to help you out with this process, especially if you are not a 'handy' person.
Nevertheless, it is essential that a crib be put together correctly so that it does not pose a safety hazard to your baby. Additionally, this will prevent voiding your crib's warranty.
Count all the pieces, even if the box your crib came in was unopened. If you find some pieces to be missing, reach out to the manufacturer immediately.

Weight
Foam mattresses can weigh on average, of seven to eight pounds. Some can weigh as much as 20 pounds. The heaver mattress are typically made from polyurethane foam. An innerspring mattresses complete with coils, carries a heavier weight in the range of 15 to 30 pounds.
Frequently Asked Questions
q:

Does the baby bed come with a teething rail?

a:

When your infant start standing, if you notice that the rail of the crib is at the same height as his mouth, it is time to make changes. Your baby will begin to experience teething at one point or another. When this happens, your baby will begin to gnaw on the rails. This can lead to paint, wood, and splinters getting into his mouth. Choosing a crib with a teething rail will stop this from happening.
q:

Is it the bed you actually like or is it the display?

a:

When browsing in a baby store, you will notice different crib displays. Store workers are required to set up eye-pleasing displays for luring in buyers. Consumers are often disappointed when they realize that the crib does not look as appealing in their own home once they put it together.

If permissible, move the baby crib from the display. This may require help from store personnel. By looking at the crib on it's own, you will see how the crib will look without being distracted by the display.
q:

What types of accessories are safe?

a:

While it can be easy to overlook the current safety guidelines, it is better to be safe. However, that does not mean that a baby crib should be lacking in charm. There are various crib covers and sheets to enhance your nursery decor. Be sure that they are made to fit the mattress.

Replace blankets with a wearable blanket or a swaddle wrap to keep your infant snug. Use a changeable color night light in place of stuffed animals. These lights can project animal designs or stars onto the walls, Some lights come with a feature that play sounds and lullabies.
q:

Does an infant need to sleep on a hard, flat surface?

a:

It is always recommended for babies to lay on a flat, firm surface for sleeping. Air mattresses, waterbeds, couches, pillows, and other soft materials are not recommended surfaces for infants. Babies can turn on their sides as they get older and bury their face into these surfaces. This will cause them to suffocate. Additionally, make sure that your infant does not get too warm.
q:

Can you sell a used baby bed?

a:

Cribs that are manufactured before July 23, 2010, does not meet the new standards that are set by the U.S. Consumer Product Safety Commission. It is considered illegal to donate or resell baby cribs that are purchased prior to this date. Slats have to be extra sturdy and crib mattress and hardware supports need to be longer-lasting.
q:

Is it safe to incline baby mattress?

a:

If your baby has an ear infection or bronchial congestion, the pediatrician may suggest that you elevate the head. You can achieve this by positioning a pillow underneath the mattress versus on the top of it. This will prevent your infant's head from wedging between the crib and the pillow - causing suffocation.
q:

How old can a baby bed be and still be considered safe?

a:

The U.S. Consumer Product Safety Commission (CPSC) suggests against using a second-hand crib. If you must use one, it is recommended not to use a crib that is over 10 years old or one that was manufactured prior to July 2010.
q:

What are the different layers in an innerspring mattress, and which are considered better?

a:

The innerspring unit - The number of coils and the amount of steel are major factors to consider. Look for ones with the highest number of thicker coils, and choose a mattress with an innerspring feature that includes a border rod. This will add extra edge support and firmness.

The insulator - This prevents the cushioning layers from sinking in the coils. Look for a coir fiber pad constructed from coconut shells. This is superior to a cloth or fiber pad, particularly during long uses. Other quality mattresses provide a permanent insulator which reduces coil gap.

Cushioning layers - These consist of one layer of foam. Some mattresses come with two layers of foam. Other manufacturers design mattresses with a layer of foam plus a layer of cotton batting.

The cover - Nylon reinforced vinyl is the best option.
Subscribe to our Newsletter