Best Baby Memory Books Reviewed & Rated for Quality
In a Hurry? Editors choice: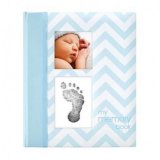 Test Winner: Pearhead First 5 Years

Baby memory books are a great way for new parents to map out the growth, development and
precious moments
in the lives of their little one. It's like telling the story of their life which can be kept and reviewed as your child grows older. Although our memory can fade over time a
picture paints a thousand words
and with an entire book worth of memories, parents can revisit these stories any time they wish.
It's also a great way to ensure everything is stored in one convenient place to limit the chances of loss and or damage. Most books can easily document up to one full year while others can cover up to five. Each design offers slightly different features, and we have compiled a list of the best baby memory books on the market with tips that will help make your ideal pick clear.
Standout Picks
Criteria Used for Evaluation
Capacity
These types of products vary greatly when it comes to their capacity; it all depends on the age bracket you are trying to capture. Some designs are specifically constructed for the first year of your child's life. These journals tend to be thinner. They generally average between 30 and 60 pages. Stickers are usually included to highlight each month in the first year. The extra pages typically offer room for special first time moments to be documented such as holidays.
Those that cover up to two years of age can run to a capacity of up to 160 pages. The larger the capacity the more features the product has to offer. These thicker items have room for notes and details connected to the photos inserted. They may also have designated pages for a family tree and life before their little one arrived. The greater the capacity the more bountiful the story and the more memories can be collected from your child's life.
There are a few books that go up to 5 years. The total page count may be as low as 50 pages and depends on the way the journal is designed. There are some designs that go all the way up to 370 pages and allows parents to add memory from every day of their child's allowThe pages may be divided into five sections which will enable you to track every single day for five years accurately. This type of heirloom can be kept for generations.
Size
The standard size for baby memory books start and 9 inches by 9 inches and these can go all the way up to 13 inches by 13 inches. Based on the layout of the pages contained within the item there will be additional space around and below photos to write in notes or details on the photo. This allows parents to tell the story of that moment which can be saved as a keepsake. There are usually blank pages that can be used for additional notes or pictures.
Standard sized photos are 3 inches by 3 inches and most of these products will designate an area on the page specifically designed to accommodate these sized photos. There are some photos however that are rectangular and may have a length of 4 inches. This can create a challenge when placing photos which may have to be inserted at an angle taking up valuable writing space. Some designs, therefore, designate an area of 4 inches by 4 inches to ensure photos comfortably fit within the designated area.
Most selections are generally 1 inch thick which is a result of the number of pages included in the design. Many carry a standard 50-60 pages and weigh around 1 pound before they are filled in. Five-year books that are designed to promote daily inserts tend to have up to 370 pages which can increase the thickness to 6 inches and the weight can drop to around 10 ounces which will considerably increase as the journal is filled.
Features
There are journals that are designed for everyday use, and they carry over 365 pages. The idea is to write a note or insert your thoughts for the day over five years. It can be based on something your child did that day or how you felt at a particular point in time. Inserting pictures and taking note of the story behind them is another way to utilize this daily diary. You also get the chance to see how your child has developed from day to day and over the course of up to 5 years.
Many baby memory books have a photo frame that is located on the cover of the product. This is designed to accommodate a photo of your little one. This frame can get up to 3 inches in both height and width and is a great way for parents to display their little one. It also adds a personal touch and can be to easily customize books, especially when there is more than one child in the home.
A family tree is also an exciting feature in some books. It is an excellent way to get both parents involved and document the rich family history they come from. Both mom and dad will be able to fill in their part of their little one's family tree, in some cases, all the way back to their great-grandparents. This will be a cherished heirloom for them to pass down their child.
Style
Embellished covers and a spark of creativity to any design. Creators can combine unique colors and shapes to make a beautiful keepsake that can be cherished for many years. Some may also feature animals such as turtles that helps to bring the design to life. This type of design adds a human touch and makes the product more relatable. It also does well to entice the imagination of both parents and children. The color combination is a great catalyst when choosing the color theme for a nursery.
Sewn binding is one of the most secure methods one can use to bind books. In this particular design pages of a journal are folded and then sewn together along the spine of the product. The spine is then glued shut before the cover is attached which ensures pages will be well-supported and eliminates the possibility of pages coming loose. This method also allows a book to lay flat no matter how large or how thick it is.
Hardcover baby memory books are ideal for parents that wish to keep their journal as an heirloom for their little one. This protective shield safeguards its contents from environmental wear and tear which enables them to last longer than simple paperback products. It is ideal for long term use and is generally made from materials such as board or buckram which offer high levels of durability.
Advanced Features
In the pre-life section of the book, both mom and dad get the opportunity to share details about their romance. Stories such as how they met when they found out they had conceived and how the news of their little one's arrival was revealed. This creates cherished memories that survive long after they are gone that their child can hold on to. They can also tell stories of what happened during pregnancy such as cravings, the first time their child kicked and other details leading up to the big day.
Some brands include keepsake envelopes either at the back of the journal or throughout where parents can store memorabilia from their children. These items may include items such as bracelets, their first scribble, the first teeth they lost and so much more. These are items that parents, as well as their little ones, can cherish and make great stories for when they are older.
Some brands include a checklist of milestones that parents can use when compiling their keepsake journal. These may include baby's first words, the first time they talked and even their first family holiday. Graduations are always interesting even as is the first day of school. Their birthday celebrations can also be included as well as their first tooth. The checklist ensures all those beautiful firsts are captured and secured within their little story.
Top 10 Baby Memory Books
1

. Pearhead First 5 Years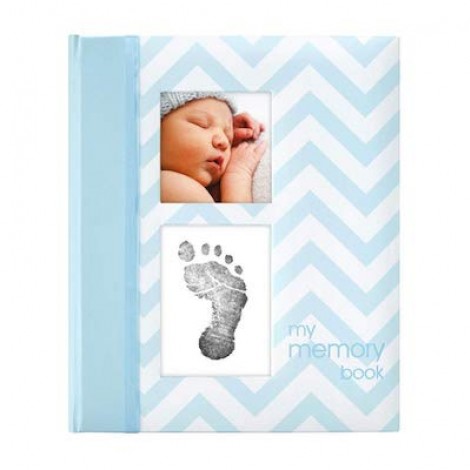 With Pearhead Chevron parents receive 50 guided pages with spaces designated for photos and an ink pad to create their baby's print.
This baby memory book is available in 4 unique colors that can be used as the inspiration behind the decor of your baby's nursery. It comes with a clean-touch ink pad that can be used to insert your little one's hand or footprint without leaving behind any stains or harmful byproducts.
Capacity
There is a total of 52 fill in pages included in this product that are acid-free. 50 out of the 52 pages are guided which helps keep parents on track and organized, so they don't miss any important moments or milestones.
Size
This item is about 1 foot long by 1 foot wide and weighs just 1 pound. It can comfortably accommodate photos that measure 3 inches by 3 inches. The ink pad can accommodate feet that are up to 2 inches wide and up to 3 inches long.
Cost and Value
Pearhead's chevron baby memory book which comes with a baby safe ink pad has a moderately low price range. Additional information can be stored in this selection including when you found out you conceived and the cravings you had during pregnancy.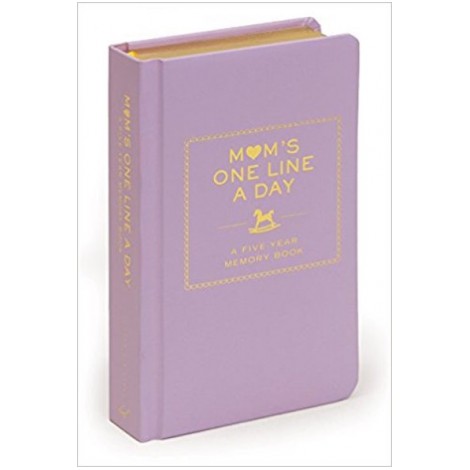 With Mom's One Line A Day you can keep a five-year journal of your little one's growth and everyday moments.
This baby memory book has 372 pages and is the first in a series of 5 journals. It allows you to capture everyday moments in your little one's life with pictures and room for your thoughts or details on the event. Each page covers one day with 5 entries on each page allowing you to maintain entries for up to 5 years.
Feature
You can track your little one's progress on a daily basis with areas designated for your thoughts and observations. Each day has five entries so you can see what happened on that exact day at any point in their 5-year journey.
Style
The layout of this selection has a classic feel to it. This makes it a great alternative to similar products such as the five-minute journal and it does an excellent job of tracking the growth and development of your child.
Cost and Value
Mom's One Line A Day has a moderately low price range. It features a lavender color and an ownership tag with the baby's name and the family's contact information in case the item is misplaced.

3

. Ronica 62 Page Keepsake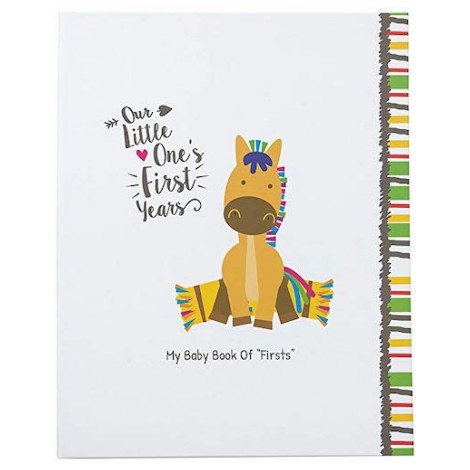 With the Ronica 62 page book, you can document fun memories with animal stickers with every month represented by a unique animal sticker.
This baby memory book is a great option for busy parents as it is guided and easy to use. It has a giraffe theme and allows parents to customize the look themselves. Each month has its own unique sticker for up to 12 months. Also included, is a keepsake envelope where items such as baby clips and hospital bracelets can be stored.
Advanced Features
There is a keepsake envelope attached to the back of this product that allows parents to store special items from their little one's life. These may include things such as baby clips, spiral bracelets, and lost teeth.
Capacity
There is a total of 62 pages included in this product. It is designed to document your child's first year with individual stickers to match each month. There are prompts that help parents to include added moments such as the little one's first Christmas or Easter.
Cost and Value
The Ronica memory book has a moderately high price range. It has a giraffe theme and comes in a lovely gift box that makes it perfect for persons who would like to present it as a gift to a new mother.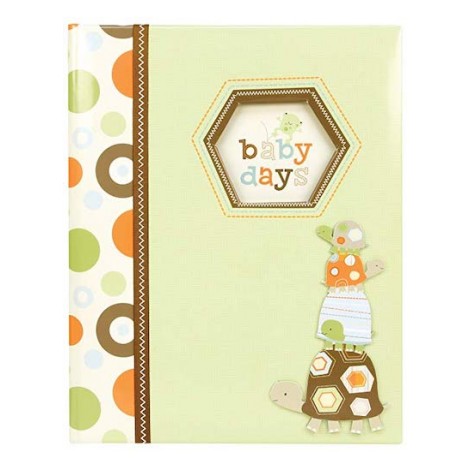 With the Carter's polka dot animal book parents get 60 themed pages to document up to five years of their little one's life.
This baby memory book is the product of an experienced and focused group that have spent over 20 years providing consumers with designs and quality products that parents have always been proud to utilize, Their special keepsakes are designed to capture milestones and memories.
Size
The height of this item measures 11 inches by 9 inches width and it weighs in at 1 pound. This product accommodates photos that measure the standard 3 inches by 3 inches and is 1 inch thick.
Features
Embellished covers add creative flair to the product design and a photo frame is featured on the cover to display your baby. The interior is guided which ensures parents don't miss any significant events.
Cost and Value
Carter's polka dot bound baby memory book has a medium price range. This brand offers a wide range of designs for parents to choose from. This allows them to select a design that best suits their personality or personal preference.

5

. Lucy Darling - Little Animal Lover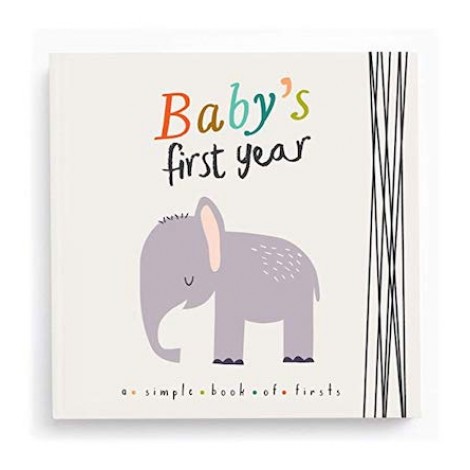 With Lucy Darling you can track every moment from inception and insert ultrasound pictures along with when and who you shared your moments with.
This baby memory book is animal themed with space designated for pictures and a few thoughts from mom and dad. There are two pages for pre-baby photos such as ultrasound pictures and an area where you can leave a note for your little one to read when they get older.
Style
Each page of this selection is artistically designed which makes it easy for parents to simply add their photos and thoughts without having to put in extra work to make the display beautifully enticing.
Advanced Features
There are 11 pages contained in this book that are embellished and left blank. This allows parents to really add a personal touch to the journal and include moments and stories that may not be covered in the prompted pages.
Cost and Value
The Lucy Darling animal lover memory book has a moderately high price range. It covers pre-baby moments, your little one's arrival as well as birthdays and firsts. It also has a family tree that both parents can fill out for their child.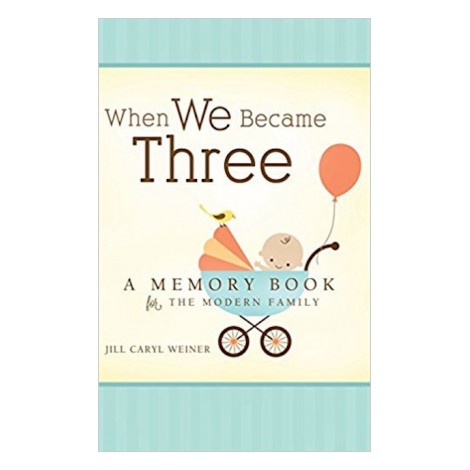 With the When We Became Three modern book you can chronicle your child's journey in journal form with juicy details such as life before conception.
This baby memory book allows parents to chronicle the details before their little one's birth such as the cravings mom had. There are prompting questions that help to bring out all the juicy details that help to fill this book all the way up to your baby's second year of life.
Capacity
There is a total of 160 pages included in this product and it is designed to chronicle your child's journey up to 2 years of age. Pages are prompted and this item comes with a checklist to ensure you don't miss any important moments in your little one's life.
Features
This selection covers life before your little one such as the parent's romance and the pregnancy experience. It also includes a checklist to ensure you cover all your little one's big moments in life.
Cost and Value
The When We Became Three modern memory book has a very low price range. It does a great job at making this journal as much the parent's as it is the child and is a great way for dads especially to get involved in the process.

7

. RubyRoo Baby - All About Me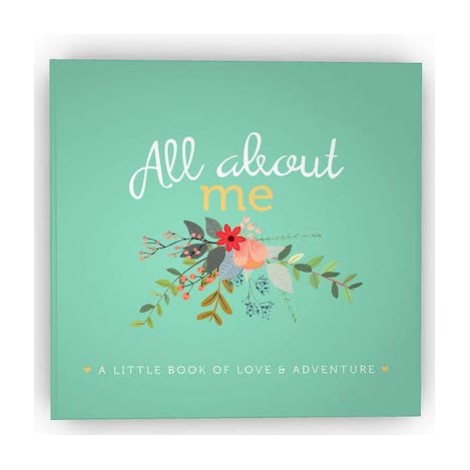 With First Year parents can record their child's first year through 56 pages that can be easily integrated with social media platforms such as Instagram.
This baby memory book is 56 pages long and is constructed from quality materials that are built to last so your little one's journey can be kept for generations. You can insert photos, make notes and store items such as a lock of your child's hair or hospital bracelet. It is acid and lignin free for an heirloom quality finish.
Size
The length of this item measures 11 inches by 10 inches in width and weighs in at a nominal 1 pound. It is 1 inch thick and can accommodate pictures that are of standard 3 inches by 3 inches.
Style
The floral theme and bright design of this selection are breathtaking. It is filled with illustrations that promote a vintage feel such as bouquets of flowers and wreaths. This design also features a hardcover and heirloom quality pages.
Cost and Value
The First Year modern journal has a moderately high price range. It is constructed with thick archival paper which is designed to withstand a high level of wear. Special moments such as your little one's first words have their own place in this book.

8

. C.R. Gibson 'Sweet as Can Be'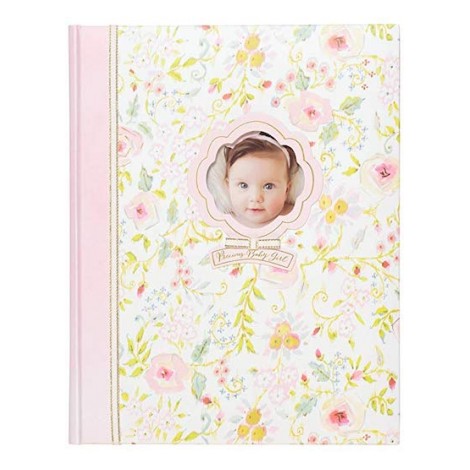 With C.R. Gibson parents receive a bound design to record all your memories with space designated for notes on everyone.
This baby memory book not only helps you record memories and milestones but you can also insert details such as your family tree. Its design with a printed fabric spine with stitched ribbon accents and can cover up to five years of your child's life. It comes in a gift box and is 64 pages long.
Features
This memory book is bound and includes multiple sections where parents can both memories and milestones in the life of their little one. There is also a family tree to be filled in by my mom and dad.
Advanced Features
The pages of this product have been perfect bound which is a type of design used for materials such as catalogs and manuals. It also has a printed fabric spine that has been stitched and accented with ribbon.
Cost and Value
The Baby keepsake milestone journal has a medium price range. It comes in a gift box which makes it a great option if you are acquiring it as a gift for a new mother. The area of this structure covers 11 inches by 9 inches.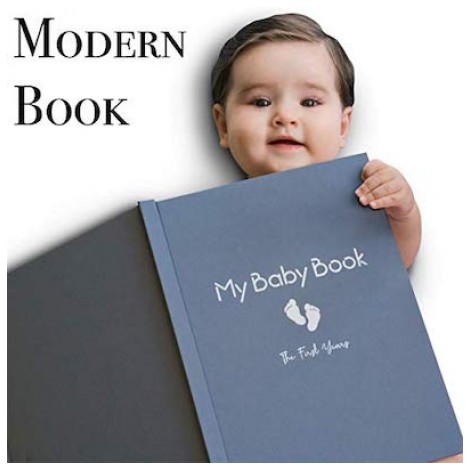 The 5-year baby memory journal allows parents to not just store photos but document the stories behind these moments in time.
This baby memory book is custom designed and allows parents to keep their little one's memorable moments organized. There are areas designated for pictures as well as the notes or stories that go with them. It also has a family tree section in this sewn binding design.
Style
With this custom designed keepsake you can keep your little one's memories well organized. It features sewn binding and comes with a protective box which can be used to safely store your journal.
Capacity
There is a total of 28 pages included in this product and it is designed to help parents document the first five years of their child's life. Special stickers are included that can be used to track their growth from month to month in their very first year of life.
Cost and Value
This 5 year baby memory book has a moderately high price range. Its minimalist design focuses more on the memories than flair. It is compact, portable and accommodated photos up to 4 inches by 6 inches large.

10

. Peachly Milestone Journal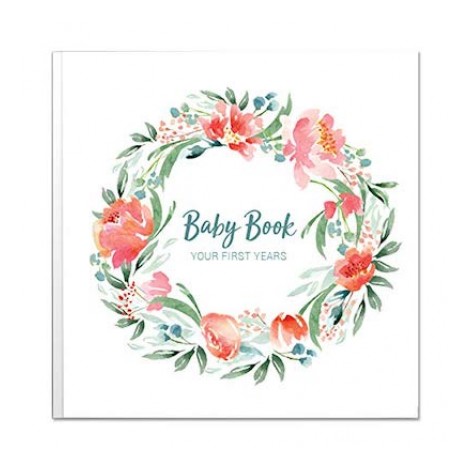 Baby Keepsake has open-ended prompts that are easy to follow and help parents to start and complete their book with each milestone accounted for.
This baby memory book covers pre-delivery and goes all the way up to year five of your child's life. You can document the events on delivery day as well as chronicle how your little one has grown each month for the first year. There are also blank pages that you can customize yourself.
Advanced Features
This selection is spiral bound and has a case wrapped cover. The inner pages are heavyweight and designed for increased durability and heavy wear. Its guided pages use prompts to help parents get the most out of this item.
Size
The length of this item is 9 inches by 9 inches, and it weighs in at 1 pound. This product can accommodate pictures up to 4 inches by 4 inches which gives ample room to store your pictures with a unique twist.
Cost and Value
The Baby Keepsake milestone journal has a moderately high price range. There are 4 blank pages that can be utilized for additional photos or customized by parents with content that is not included in the guided pages.

Subscribe to our Newsletter