Best Baby Bathtubs Reviewed & Rated for Quality
last updated:
Jul 01, 2019
Having a baby and being a new parent is stressful enough, without having to worry about all the gear that a new baby also requires! Bath time can be an especially stressful time for many new parents. You want to make sure your child is safe at all times but also don't want to break your back bending over either. For infants up to toddlers, it may be easier to invest in a baby bathtub versus just using the regular tub. This will offer more support and stability for baby, keeping them secure and safe and allowing you to use two hands to wash and bathe. The good news about baby bathtubs is they are super affordable and offer a ton of features, so all you have to worry about is enjoying bath time and bonding with baby! Read on to find the best option for you.
In a Hurry? The test winner after 135 hrs of research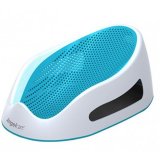 Angelcare
Why is it better?
Lightweight plastic design
Mesh seat is mildew resistant
Soft bottom lip for security and to protect bathtub
Very budget-friendly
In a
Hurry? Editors choice: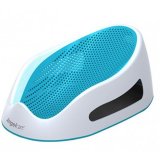 Test Winner: Angelcare

14
Researched Sources
11k
Reviews Considered
135
Hours Researching
10
Products Evaluated
Comfort
Materials
Stability
Ease of Use
Style
By Default
10 Best Baby Bathtubs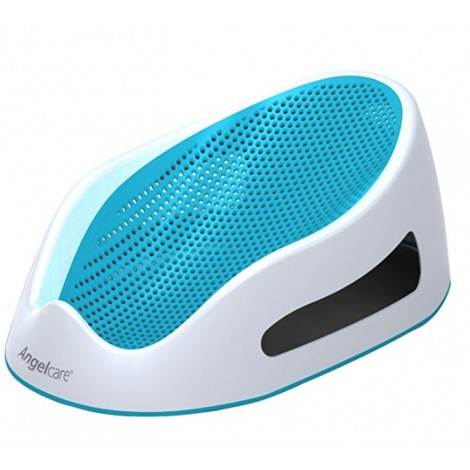 Lightweight plastic design
Mesh seat is mildew resistant
Soft bottom lip for security and to protect bathtub
Very budget-friendly
Only suitable up to 6 months
Not collapsible
The Angelcare Baby Bath Support is number one on a ton of lists, and it is easy to see why. It made number one on our list as well. It offers great support for baby, ergonomic design and is also budget-friendly as well. You can't go wrong with this product for safe and fun bathtimes that allow you to focus on bonding with your baby.
Budget-Friendly
Being a parent is not cheap! It is easy to get overwhelmed with the seemingly endless list of items that need to purchased to bring home baby. While there are some items you will want to invest more money in - for example, car seats and strollers - a baby bath is one area where saving a few bucks won't greatly affect your bottom line. The Angelcare is super affordable, around the price of a fast food meal for two. This will allow you to use your hard earned money on to splurge on more important baby items!
Hygienic and Mildew Resistant
The Angelcare has a mesh seat that allows water to flow through easily. The mesh is soft and designed to be gentle on baby's delicate skin. Since the mesh seat allows water to easily drain off, you won't need to worry about your product growing mildew which can happen to items exposed to water. Bonus points for the hook on this seat, which allows you to hang it for easy storage and drip drying.
Cost to Value
This product offers everything you need in a baby bathtub for a very reasonable price. The mesh seat keeps baby securely reclined so you can focus two hands on bathing. This unit is made from lightweight plastic that won't stain or rust your bathtub, and the bottom is lined with a soft lip, to prevent the product from slipping and sliding around and keep it from damaging your tub or sink. Bonus points for the mildew-resistant mesh seat that lets water flow through and drain off easily. Bathtime will be a breeze for parent and baby with the Angelcare Bath Support.
2

. Fisher-Price 4-in-1 Sling 'n Seat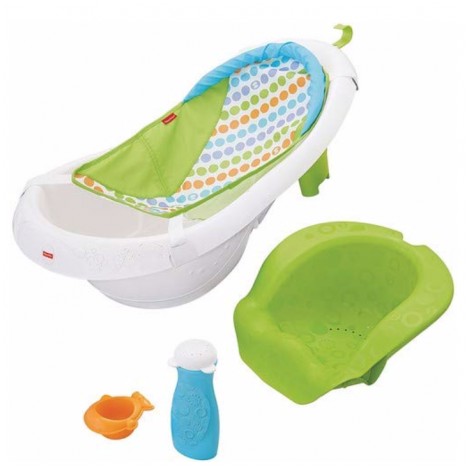 Four stages grow with your baby
Comes with drying hook
Fits most sinks and adult bathtubs
Comes with a squeeze bottle and whale scoop
Mid price range
Not good for travel
Coming into the coveted number two position on the list is the Sling 'n Seat which is made by Fisher Price. The company was created in 1931 by two men, Herman Fisher and Irving Price who thought that the world needed better toys with more imagination. Fast forward to today, Fisher Price is one of the most recognizable names in the baby and children's toys and gear. This seat is convertible, to provide safe, secure bathtimes all the way up to the toddler stage.
Four Different Stages
Babies grow fast and they can rapidly outgrow their equipment before you have enough time and money to go out and buy a replacement. We love that the convertible Sling n' Seat Tub has four different stages, so it grows with your baby all the way up until toddler stage. Stage one is a mesh sling that safely cradles your newborn. Next is stage two- the baby stopper insert, to keep your baby securely in a position allowing you two hands-free for bathing. Stage three is for when baby begins to sit up on his own, usually around 4-7 months. This stage is called 'sit-me-up support' and helps unsteady bottoms stay in an upright position until their sitting skills are fully developed. Lastly, the Sling 'n Seat becomes a full-size toddler tub with lots of room to play in the water, which can be used in most size sinks and adult tubs.
Drying Hook
We love that the Sling 'n Seat comes with a convenient hanging hook so you can easily drip dry your product over the big tub by hanging it on the shower curtain rod. You will want to make sure your tub is dry after each use to prevent mildew and mold from growing as well as stave off any foul smells that come with stagnant water.
Cost and Value
The Sling 'n Seat is a mid-priced product but it is certainly worth the investment as it can be used all the way up to the toddler age. Babies are notoriously slippery and hard to handle when wet and we love that this product offers four stages so it can grow with your child and offer a safe, secure bath time at all ages. We give bonus points for the addition of a plastic whale scoop and squeeze bottle, to make cleaning baby even easier. If you are looking for a product that will last past the infant stage, you cannot go wrong with the Sling n' Seat from Fisher Price.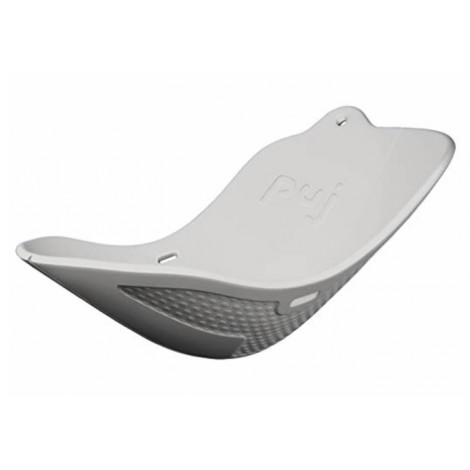 Great for travel, collapses to fit in carry-on
BPA, PVC and phthalates free
Grippy-textured bottom for stability and security
Fits more counter and pedestal sinks
Hook for easy drip drying
Only suitable up to 6 months
Only works in sinks
Finishing up the top three selections we have the Puj Flyte! This is the perfect pick for families that travel often, as the Flyte folds up small enough to fit in even carry-on suitcases. There are a ton of features on the Flyte as well that it make simple and effective to use, cutting out all the stress of washing your most precious cargo.
Perfect for Travel
Travelling is stressful enough without having to worry about the additional hassle of bringing along all the gear that baby needs. This is especially true if you are traveling by air, where airlines have placed tight restrictions on the weight and size limits allowed on luggage. No one likes getting dinged for overweight bags when they are checking-in at the airport trying to start a stress-free and relaxing vacation. The Flyte easily collapses to fit in even carry-on sized luggage. This is great for at home as well if you are tight on storage space, the Flyte is slim enough to easily be stashed away in a drawer or slide into a cupboard.
BPA, PVC & Phthalates Free
Being a parent is a stress-filled job and one of the things many parents worry about is exposing their children to harmful chemicals. The media is filled with articles about the dangers of plastics and their cancer-causing effects. Luckily, the Flyte is made from a closed-cell foam material that is BPA, PVC, and phthalates free. The foam material is soft on baby's delicate skin, yet slip-resistant for security and safety while in the water.
Cost and Value
The Flyte is the perfect option for travel use, but also functional enough for everyday use at home as well. It is sized to fit most standard counter and pedestal sinks. The Flyte is made from non-absorbent closed-cell foam that is also free from any harsh chemicals that could harm the baby. The Flyte has a hook, for easy drip drying and also features a grippy-textured bottom for added security and to prevent the product from slipping or sliding in the sink. The price of the Flyte is mid-range, it won't break the bank and offers a lot of functionality for new parents. For families who travel often, or want a space-conscious way to wash baby at home, you can't go wrong checking out the Puj Flyte.


Kid-friendly design
Three stages grows with baby
Suitable up to 6+ months
Non-slip interior
Swivel hook for easy drip drying
Next on our list we want to take a look at the Skip Hop Moby. You will never need to deal with arguments from fussy toddlers who refuse bath time again when bathtime means hanging out in this fun, whale shaped tub. Parenting experts recommend finding ways to make bathtime fun if your tot is less than willing to lather up without a fight. Skip Hop was founded in New York in 2013 and has rapidly become one of the most globally recognized and best-selling names when it comes to baby gear.
Three Stages
The Skip Hop Moby is suitable for children up to 6+ months thanks to its three-stage design. The sling locks into two different positions. Stage one is a reclined position, suitable for newborns and infants up to 15 pounds. Next, lock the sling into the lower position to offer support and stability as baby learns to sit up on their own. We give bonus points for the 'Comfort Edge' on the sling that won't chafe or rub baby causing discomfort. Finally, you can remove the sling all together, leaving ample room for your toddler to splash and play but offering more security and control than having them loose in an adult size tub.
Non-Slip Interior
The interior of the Moby is non-slip, offering all the security and support baby needs to be safe and comfortable during bath time. It is stressful enough handling newborn babies and infants, before you add in the factor of soap and water making them even more slippery. You can have piece of mind bathing with the Moby tub that baby will secure and safe, giving you two hands free to use for washing and play. Bonus points for the PVC and phthalate free plastic that won't expose baby to any harmful chemicals.
Cost and Value
The Hop Skip Moby is quite budget-friendly, especially if you consider that it grows with baby all the way up until 6+ months! There are three stages that you can adjust the Moby too. The first two stages use a "comfort edge' mesh sling to keep baby securely in a reclining or seated position. Remove the sling when baby can sit up on their own, and the non-slip interior will offer plenty of stability and support to unsteady bottoms. Adding even more value to the Moby are the swivel hook, for easy drip drying and the PVC and phthatlate free plastic that won't expose baby to any harmful chemicals. If you are looking for way to make bathtime both fun and safe, the Moby is a great product to consider.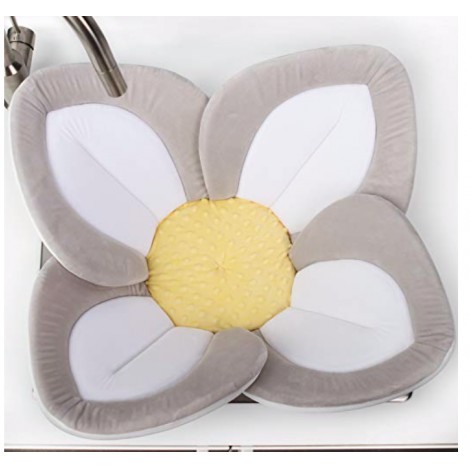 Made from soft and cushiony minky fabric
Machine washable and tumble dryer safe
Fits countertop and pedestal sinks
Collapsible for easy travel and storage
Only suitable up to 6 months
Not suitable for use in bathtubs
The next product to make the cut is the Blooming Bath Lotus. This is another collapsible design that fits most counter and pedestal sinks. There are a ton of rave reviews on this product, including a number of parents who say it was a lifesaver when it came to bathtime for fussy and unhappy babies who don't like the water. Parents have called the Blooming Bath Lotus the' #1 recommended product for babies' and said ' this was a total game changer for us'.
In-Sink Design
The Blooming Bath Lotus is made from soft, cushiony minky fabric. This textile is known for is super-soft cashmere like texture, which is perfect for babies delicate and sensitive skin. The in-sink design features four, wide petals that fold out to cradle baby making them feel safe and secure. The Blooming Lotus can fit in most standard countertop or pedestal sinks.
Machine Washable
We love that the Blooming Lotus is both machine washable and dryer safe. You can toss it in the tumble dryer for 10-15 when you are done bathing baby and it will be dry in no time. Tumble drying the item will prevent mold and mildew from growing and also keep unpleasant odors at bay. You can also wash this product in the washing machine, which is great for keeping the Blooming Lotus fresh and hygienic.
Cost and Value
The Blooming Lotus is pricier than some items we have seen thus far on the list. It is worth noting however that the Lotus can be machine washed and tumble dried, both factors help maintain cleanliness of your product and prevent you from buying replacements if the item begins to develop odors, mold or mildew. We give a ton of bonus points for the collapsible design of the Lotus , which makes it ideal for travel or for use at the cottage or cabin where you may be short on storage space. Many parents raved that the Lotus was great for fussy baby's who found bathtime uncomfortable, as the soft, cushiony fabric design cradles baby making them feel safe and secure.
6

. Shnuggle Compact Support Seat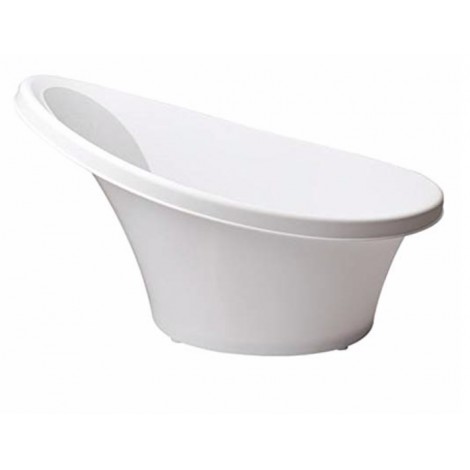 Lightweight design weighs just 7.3 pounds when full
Uses only two liters of water
Foam backrest is comfortable and keeps baby warm
Suitable up to 12 months
Fits sinks and bathtubs
Higher pricetag
Not for travel or those tight on space
Schnuggle Baby was the next product to make our list. It is one of the costlier options on the list however is worth noting that the Schnuggle Baby Tub won the Mother & Baby Gold award for bathtime products.
Suitable Up To 12 Months
One reason we love the Schnuggle Baby is that it is suitable for baby's up to 12 months old. This will save you money from buying a bath seat later down the line when your infant outgrows the newborn stage. Baby can recline back or sit up in the Schnuggle tub, depending on what stage of development you are at.
Foam Padded Backrest
The Schnuggle tub has a foam padded backrest that is not only comfortable for baby, but retains heat to help make bathtime comfortable for longer. There is an integrated bum-bump in the bottom of the Schnuggle tub, so provide security and keep baby from sliding out of an upright position. The lightweight design of the Schnuggle uses only two liters of water and weighs only 7.3 pounds, when full!
Cost and Value
The Schnuggle is pricier than other options on our list, however it does offer more versatility as it can be used all the way up to 12 months of age. There is a large foam backrest that is comfortable for baby and also retains heat, so your little one will never get chilly before bath time is over. The Schnuggle will fit in your adult tub or your sink, giving you versatility in use. Many reviewers stated that this product was worth the extra money because of the superior support and comfortable position that it offered for baby. Whether lying down or sitting up, baby is fully supported by the foam backrest and molded bum-bump. If you are looking to invest a product that will last all the way up until one year of age or simply want to utmost in comfort, you should consider the Schnuggle.
7

. The First Years Infant to Toddler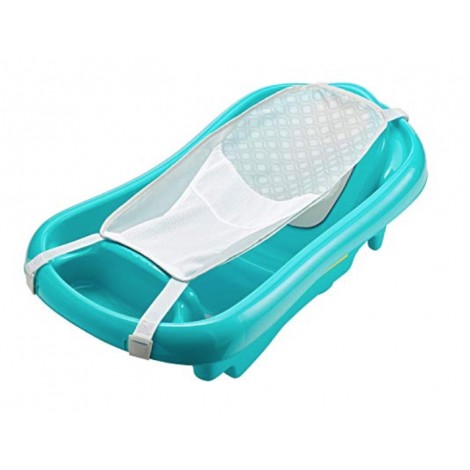 Very budget-friendly
Grows with baby all the way to toddler stage
Sling is machine washable
Color-changing plug tells you when water is too hot
The next product to make the cut was this sling style, infant to toddler tub that is made by The First Years. Sling style tubs are great because they offer different positions that grow with your baby, saving your money from investing in more products later down the line. We love that this item is super affordable already, making it a great pick if you need a second tub to stay at the cottage, cabin or grandma and grandpa's house, making one less item you need to pack and travel with.
Color-Changing Drain Plug
One feature of The First Years tub that we love is the color-changing drain plugs that indicate when the bath water is too hot. Parenting experts agree that baby bath water should be between 37 and 38 degrees to avoid discomfort or even worse, injury. Temperatures that are tolerable to you can be way too hot for babies sensitive skin so the color-changing plug is a great feature to have if you don't want to pull out a thermometer to check the bath water every night. Other great features on the First Years Sling Tub include mildew-resistant pads and a machine washable sling.
Grows With Baby
Another reason to like the First Years Sling is that it grows with baby and is suitable up to the toddler stage, saving you money on bath seats later down the road. The sling is for newborns and infants, to securely cradle them safely out of the water. Once the baby gets a little older, they can recline back and lay down comfortably. Finally, turn the tub the other way to allow your toddler to sit fully upright, and enjoy splish-splashing around.
Cost and Value
We love that this product is super budget-friendly. The First Years Sling Tub would be a great option if you are looking for a second tub to keep at the cottage or cabin. We love that this item grows with baby and is suitable all the way up until the toddler stage. We give bonus points for the mildew-resistant pads, non-slip base and machine washable sling which all add even more value.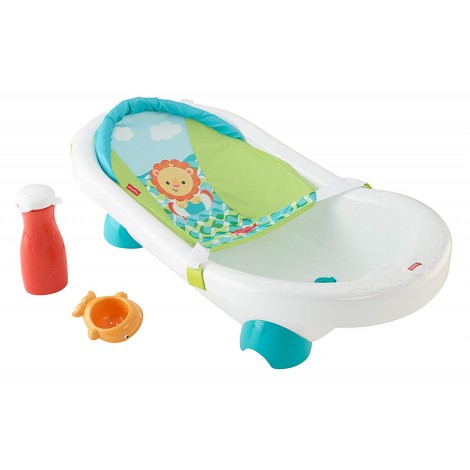 Fun, kid-friendly design
Easy to use
Newborn won't slip and slide around
Included bonus items are a nice touch
Not collapsible or easy to store
We have another product from Fisher-Price making the top ten, the Go Wild. This is another kid-friendly design that will be able to be used as your child grows.
"Grows" With Your Child
This tub has a soft fling that is removable once your child is out of the newborn stage, making it simple and convenient to use as your child reaches toddler-hood.
Fun, Colorful Design
This adorable tub has bright and colorful images of friendly-looking animals that are sure to catch your little one's attention. As a bonus, this tub comes with a whale-shaped strainer and a soft spray rinse bottle for easier bath times on Mom and Dad.
Cost and Value
This option Fisher-Price is budget-friendly and offers a ton of value if you consider that it is suitable for children up to the toddler stage. The removable infant seat keeps even the tiniest newborns secure and offers support for babies neck and head so you can worry about bonding. Bonus points for the fun bright design, which will come in handy if you have finicky toddlers who dislike bathtime.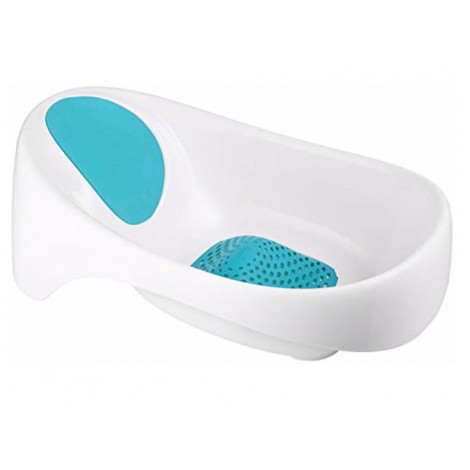 Budget-friendly
3-stage design grows with baby
Color-changing plug indicates when water is too hot
Fits in double sinks
Adjustable support bump for safety and security
Not collapsible or suitable for travel
Our next product that made the cut is the Boon Soak 3-Stage. This product is suitable for newborns all the way up to toddler. It is BPA free and features a adjustable bump, for superior support and security. The Boon is another affordable option that will allow you to safely bathe your child all the way up until the toddler stage.
Adjustable Bump
The Boon Soak 3-Stage has an adjustable support bump in the bottom of the basin. The bump provides support to hold baby either in a reclining or upright position. Many parents raved about how easy the Boon was to clean and how the one-piece design didn't leave a lot of cracks and crevices where bacteria and germs could easily multiply.
Fits Double Sinks
Another great feature of the Boon 3-Stage is that it fits in most double sinks. This is great for parents who don't want to break their back crouching down over the adult bathtub, especially in the newborn stages when the baby requires constant attention and support while in bath mode. A kitchen sink is a much more back-friendly height that won't require crouching and bending at awkward angles, allowing you to fully enjoy bonding over bathtime with your baby.
Cost and Value
The Boon 3-Stage has a very impressive price tag along with all the great features it offers. There is a color-change plug which will indicate when bath water gets too hot for babies extra sensitive skin. Bonus points for the 3-stage design which grows with baby, to prevent you from purchasing further costly bath items later down the road. The Boon can be used in the adult tub or the kitchen sink, which is great for parents who don't want to spend bath time crouched and hunched over. The Boon 3-Stage will keep baby safe and happy during bath time and leave enough money in your wallet to worry about the next important piece of baby gear you need to purchase.
10

. Munchkin White Hot Inflatable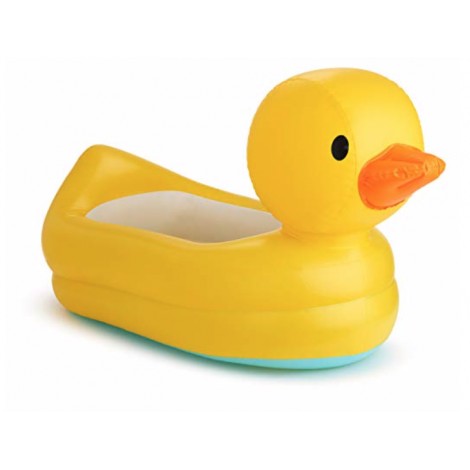 Very budget-friendly
Color-changing disc indicates water temperature
Very compact and great for travel
Two designs to choose from
Can double as a pool or beach floatie
Not suitable for infants and newborns
Little support and security
Last up on our top ten list, we have a very economical, inflatable version of the baby bathtub. This Munchkin White Hot Inflatable is a bargain price and is suitable for children once they are past the newborn and infant stage. If you are looking for a great product to take on vacation that will take up the same amount of room in your suitcase as a pair of thick socks, the Munchkin White Inflatable is right up your alley.
Very Affordable
This no bells and whistle design has a great price tag. This would be perfect for older children to feel more secure before they graduate to using the full-size adult tub. One feature that we love about the Munchkin White Hot is an indicator disk that signals if the water is too hot.
Two Designs
Munchkin makes this inflatable bathtub in two kid-friendly designs - a duck and swan. This is great for toddlers who associate bath time to corporal punishment. Parenting experts say one way to get your children excited about bath time is to make the experience fun for them.
Cost and Value
While the Munchkin White Hot may be the least impressive in terms of features, it does have the lowest price tag out of all the products on our list. It is worth noting that this product doesn't offer the support and stability that is required of infants and newborns, however, it is suitable for toddlers and small children. The bargain price and small-size of the Munchkin Inflatable make it a great option for vacations. Bonus points that the floating design can also do double-duty as a pool or beach floatie as well. This made our list for the parents that need a economical solution to bath time while travelling with older children who won't fit into collapsible, in-sink style tubs any longer.
Criteria Used for Evaluation

Comfort
It will be a challenge to get even the most water-loving baby or toddler to have a bath if they're uncomfortable during the process. Newborns especially need a lot of support during bath time, one to make them feel safe and two to make mom and dads job of bathing baby easier. Products made from soft materials such a minky or mesh will be comfortable against baby's delicate and sensitive skin. This is an important consideration with newborns, who are extra sensitive and prone to discomfort. Padded backrests in basin-style tubs will add extra comfort and help your child enjoy bath time even more. Parent's also want to be comfortable during this process, so its wise to consider how much kneeling down and bending over the adult bathtub you want to do, especially while your child is an infant.

Materials
Check out tubs made from BPA, PVC and phthalate free plastics. These are all harmful chemicals found in plastic that can have negative side effects on babies and adults alike. Modern baby manufacturers know that todays parents want to minimize their children's exposure to toxic chemicals, so many work with especially kid-safe plastics that are free from harmful toxins. The materials of your product will also determine how easy it is to clean, so look for textiles that are machine washable or one-piece plastic designs that don't offer a lot of cracks and crevices which could harbour bacteria and mold.

Support
Babies, especially newborns are slippery when wet! They can slide around even in your grasp, and for this reason you will want to ensure your product offers the correct amount of stability and support. You need extra support when dealing with newborns or infants who can easily drown in less than 2" of water. The stage after newborn is a challenge as well. Babies don't learn to fully support themselves in an upright position until the age of 4-7 months. Prior to this, they will need assistance staying in a seated position while in the tub.

Ease of Use
As we already touched on in the 'support' category, babies are extremely slippery especially when wet! This is one of the main reasons you want to invest in a baby bathtub and not just use your kitchen sink or regular tub from the day you bring baby home. These products have been especially designed to alleviate the stress and anxiety that comes with baby bathtime. The right tub will be easy to use and help keep your baby in the correct position for his age, to ensure a safe and enjoyable time for everyone. There are items that collapse or inflate, which are especially handy for people who travel as they can easily fit into your luggage or even carry-on. Look for user-friendly features such as non-slip interiors, color-changing technology to indicate correct water temps and machine washable textiles.

Style
There are two main types of baby bathtubs on the market these day. Basin style tubs that may or may not include a sling, and in-sink models which generally collapse or fold-up for easy storage and travelling. The pro's to a basin-style design is that it will grow with your baby and last up until 12 months. However, not even basin tub will fit into your sink and so be aware that you may be stuck kneeling and bending over the adult bathtub, which could end up straining your back. Designs that fit in the sink are great for travel but they won't suit babies much past the age of 6 months due to size concerns.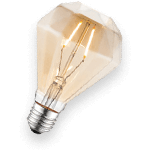 Expert Tip 1
Babies and toddlers don't need to be bathed every day, in fact, this can actually do more harm than good. Experts say that conditions like dry or sensitive skin can be caused or exacerbated by excessive bathing, especially in hot water. Stick to every two or three days and use a damp washcloth to clean your child's hands and face daily.
Expert Tip 2
Experts say baby bath water should be between 37 and 37C, about the same as normal body temperature but how do you test this if you don't have a thermometer and your tub doesn't contain a color-change feature to indicate? The best way to tell if the water is suitable for your baby is to dip your elbow, not your hand or arm, in. The water should feel neither cold nor hot to the touch.
Other Factors to Consider

Adjustability
If you don't feel like investing in a bath seat once your baby gets past the 6-month mark, you should look into basin designs that grow with your child. Many of these have adjustable seats or slings, which allow you to position baby differently based on his age and developmental stage.
Frequently Asked Questions
q:

How often does my baby need a bath?

a:

Babies, especially newborns and infants before they begin to develop don't need to be bathed every day. Every other day or every two days will do fine, especially if your baby is fussy and doesn't like the bath yet.
q:

Will my product fit in my sink?

a:

Some of the tubs on our list will fit standard coutertop or pedestal sinks, however not all of them will. It is best to check the specification for your particular product and sink size to be sure.
q:

What is the benefit of an in-sink tub?

a:

In-sink tubs are great for newborns and smaller babies, as the offer a more secure and compact feel. In-sink designs are often made of softer materials than hard plastic basin-styles, which can be more gentle for a newborn baby as well. The biggest benefit to washing your baby in the sink is you will save your back from all that bending over and crouching over the tub. This is an important factor to consider, especially when your baby is very small and will need constant supervision while in the bath.
q:

Can I travel with my product?

a:

Check out the collapsible or inflatable designs we have feature on our list. These are perfect for travel, especially by air, as they don't take up valuable space and weight in your luggage.
q:

What temperature should baby bath water be?

a:

Baby experts recommend a temperature of between 37 and 38 C for your babies bathwater. This is about the same as body temperature, and can feel cool to an adults touch so it is important to monitor the temperature and avoid causing your baby discomfort.
q:

How long can I use the product with my toddler?

a:

The style of tub you have selected will dictate how long you are able to use it for. Some in-sink designs are only suitable for babys up to 6 months, as they will simply outgrow the product past this stage. Other items are suitable for up to 12 months or whenever your child begins to climb out on his own.
q:

My toddler won't take a bath, any suggestions?

a:

Parenting experts say the best way to make bath time more appealing for fussy toddlers is to make it fun! Let your child bring water safe toys into the bath. Invest in a fun, kid-friendly bathtub that gets your child excited can also help with this issue. Bubbles are another great tool to help your little one enjoy lathering up more.
Subscribe to our Newsletter