Best Shower Curtains Reviewed & Rated for Quality
In a Hurry? Editors choice: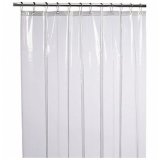 Test Winner: LiBa Mildew Resistant

There once was a time, where baths were the only option for in-home cleanliness, and eventually, humans got tired of wasting so much time laying in a pool of water, so they invented the shower. Unluckily, this meant water was getting all over the place, which is where an anonymous invention from the year 1810 comes in great handy.

Shower curtains have evolved a bit over the years. Not in concept, more in make and materials, and well, an overabundance of space to put cool designs, patterns, and branded imagery. There are so many really cool shower curtains out there, and we're about to rock your bathroom world -- too weird? … yeah, maybe that was weird …-- with our picks for the ten best shower curtains on the market.

It was a tough challenge to find a place to start, but we've put together a really rad list here.
Standout Picks
Criteria Used for Evaluation
Materials
Probably the most enthusiastic of the advancements in the timeline of the shower curtain moves right alongside the standard development path of materials used for a lot of things. Today, the standard for shower curtains varies a little bit depending on which end of the market scale you decide to frolic in, but there are still patterns and standards in those specific areas.
One of the most popular materials used to make modern day shower curtains is PVC plastics. This is a very sturdy -- for a certain amount of time anyways -- material that is both great at keeping the heat within your shower area, and keeping the water within the designated space. Polyvinyl Chlorine (or PVC) is a magnificent material that just won't quit. It's pretty magical. It's also one of the most common substances used to make a lot of easily discoverable shower curtains. It's also really great because it is mildew proof, and can often be found in a PEVA make form which contains none of the harmful or smelly chemicals found in many plastics.
The other most common material used in the making of shower curtains is the wonderful polyester fabric, and can be found in a lot of higher-end shower curtains. It's waterproof, for the most part, and can really bring an extra level of class and niceties to the shower room.
Then there are the model shower curtains. When we say "model" we more mean that there are a ton of shower curtains out there that are designed to be pop culture pieces, or flavor art for the bathroom, and sometimes these curtains aren't really curtains. In these very specific scenarios where you get a curtain that needs to be preserved, or needs not come in contact with water, it's important to also get what is called a "shower liner" in this market. These liners act as the barrier between the water and your nice, and cool looking shower curtain.
Though there really isn't much room to go wrong here when it comes to picking the right materials, because everything functions as a shower curtain, there might be a slight need to pay attention to your material options just in case the specifics matter.
Style
Speaking of shower curtains that have specific pop culture or imagery on them for the sole purpose of bringing some style to your bathroom, it's a big deal in a lot of houses. And, there are a zillion different avenues to head down when it comes to curtain designs, and styles.
One of which we already talked about is in the branded version of this conversation. There are so many different brands and images that are on bathroom accessories and such that span from Star Wars, to Disney cartoons, novel covers, and so much more.
When there are needs to procure something to keep your shower curtain clear, or head down a possibly more budget-friendly path, you're going to find a lot of see-through, plastic, and or "black" we'll call them, options. These may be plain, and they may not add (technically) a whole lot of flair to your bathroom space, there is a place for them, even on their own standstill. Some spaces look best with that kind of basic look.
In between those two, however, is where the majority of the industry lives. There is a gigantic sea of products with all sorts of homely patterns on them. From flowers, to notable fine arts, to shapes, and basic (almost stock) photography. This is the general bread and butter in this marketplace, namely because it is easy to look at, simple for digestion (with your eyes), and usually does a very good job of not clashing with that which is around it.
Finding, or deciding on which style you want -- we mean, what will look good in your space -- might be a very key thing to do before heading out into the world of shower curtains. It could be the sanity saver you need to get through the consumer process with ease, and come out the other side with a fantastic shower curtain.
Value
In any industry, with any product, it's important to judge everything on its own merits, as they compare to your needs and desires. The system is broken, unfair, and you risk running into a situation where you don't get the product you need or to want, because comparing one product's worth to another's, directly, can be problematic.
For one, higher-end products will always win, almost outright, without even have to match spec or feature sheets. It's just part of the result of the product being high-end. There is plenty more that can be afforded at that end of a market. Whereas, if you were to find the relevant value of a budget product, matched it against what you need, you might find that it's a better fit.
Being careful to consider the inherent, and standalone value of something during the vetting process will always prove to be a smarter way to be a consumer and will see you land somewhere near a better outcome than playing the battle-royale, last-one-standing kind of game many plays while shopping.
This is reflected in all of our lists, including this one in regards to shower curtains because we believe it is important to vet all sorts of options.
10 Best Shower Curtains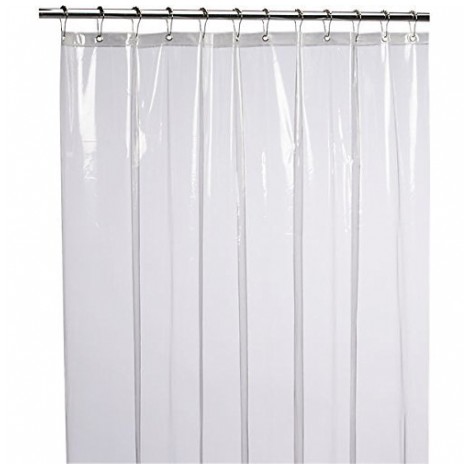 Believe it or not, shower curtains are actually an important (and essential) part of our bathroom decor. While many people turn their noses up at the thought of actually going out and buying a shower curtain, it's seriously something that we should all have a little respect for. Not only do shower curtains aid us by giving us privacy, but they also give protect the bathroom floor from getting wet. This shower curtain does so much more as well, even if it just looks like a sheet of plastic.
Mildew No More
Okay, to be fair, this is technically a shower curtain liner. However, those of us who are on a tighter budget will happily use this as a full-on curtain, especially if we live alone. The shower curtain liner that we're seeing here is one where extra safety precautions have been taken. While some cloth based curtains tend to get that mildew smell after a few months, this liner will never mildew or mold. It's been treated with a protective barrier against those naughty growths.
Magnetic
Shower curtains might not have the charisma to make them magnetic, but they do have magnets! These magnets are perfect for anyone who's got a tub that tends to splash or spray a lot. Sometimes curtains without magnets leave gaps for the water to slosh up and over the side of the tub. This curtain's magnets mean you're fully protecting your floor from water every time.
Cost and Value
Not even in the double digits, the price of the shower curtain liner can't be beaten. This is especially true as the liner is thick enough to act as a full curtain. While it's a little bit see-through for those that might have roommates, we feel that the safety and mildew-resistant measures make its value far exceed the cost.

2

. Amazer EVA 8G Mildew Resistant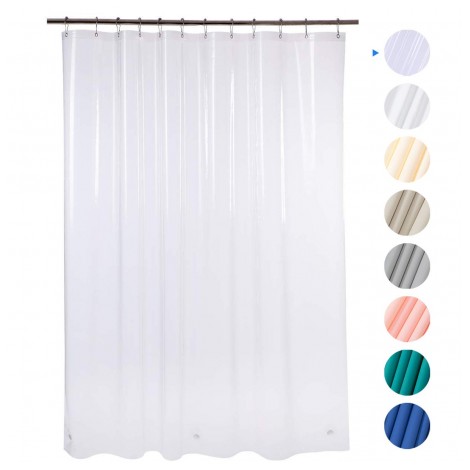 Another mildew-resistant shower curtain, but this time there's color! Many of us who rent our homes or apartments might feel limited when it comes to design options and the decor choices that we can make. Painting and re-tiling aren't always options when we're renters. Shower curtains, towels, and other small features like this can make a world of difference when it comes to decor, which is why it's nice to have these options.
Living In Color
Okay, maybe they aren't the brightest colors. These colors definitely look a little more on the muted side, but we think that that's just due to the fabric the curtain is made out of. Honestly, any color options are good color options. The nice part about these colorful curtains is the fact that they're a little thicker than the first option on our list, making them less see-through than our number one-liner.
Grommet Holes
This is a feature that many of the shower curtains on our list have, but not all of them have the same kind of rust-proof qualities. The shower curtain grommets here have been pre-punched in the perfect position for decorative and practical hooks. Not to mention the fact that the grommet holes themselves are a metal, which means pesky cats and kids won't be able to tear the plastic down from the hooks. The rust-proofing is nice too, as it keeps the curtain looking fresh.
Cost and Value
Slightly less than the other shower curtain we mentioned, this one still has many similar features. Anti-mildewing, rust-proof grommets; the biggest difference is the benefit of the colors. We love these colors, and we love the fact that the curtain is thicker. This makes for a much more practical curtain when privacy is our main concern.

3

. Feagar Mold & Mildew Resistant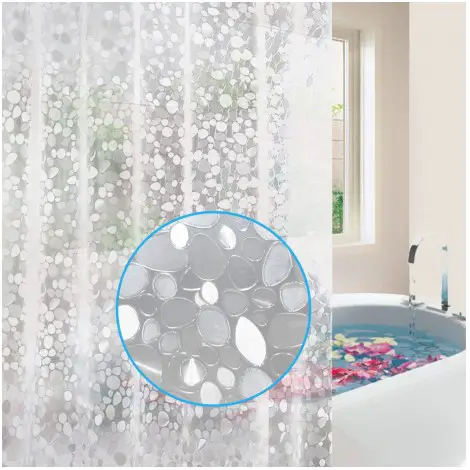 Here's a shower curtain that's both a liner and a curtain option all in one. While the first two we looked at were basic, kiss plain and simple patterns goodbye with this fun stone patterned curtain. Made of 3D pebbles linked together, the semi-transparent liner is the perfect option for those who are looking for not only a practical liner but something that would make your bathroom totally selfie-worthy.
EVA
Forget about vinyl; the product description on this shower curtain insists that the PVC vinyl shower curtains are typically made of is a dangerous thing to bring into your home. Whether you believe it or not is beside the point. The EVA on this shower curtain is a great choice to play it safe and to keep the risk of that vinyl smell away.
Free Hooks
Calling all captains. Captain Hook, that is! These free hooks will make you feel like a pirate who's stumbled onto a treasure chest. The fact that this shower curtain is essentially ready to hang, thanks to the included hooks, is a huge benefit. We love the way that these hooks hang smoothly and comfortably on any rod, curved or straight, and don't bunch up at all. We're also a big fan of the fact that the grommeted holes add durability, making the hooks stand up to any stress.
Cost and Value
At almost double the price of the previous option, this is a shower curtain that needs to impress us in order to earn its cost/value designation. Luckily for us, it does indeed impress us. The safe material and the free hooks add a little extra benefit to a curtain that's otherwise the same as the others we've seen. Not to mention the fact that the design really adds to the style of the curtain.

4

. AmazonBasics with Hooks


Now we're getting into the shower curtains our parents know and love! Not only does this shower curtain scream "I have a mortgage", but the grey stripe pattern exudes adult responsibility and class. Those that are concerned with the grown-up style of a shower curtain will love this look, and will appreciate the fact that the bold stripes can match any color scheme or decor. Gray is a neutral color, after all!
Machine Washable
Generally, we wouldn't be concerned with whether or not a product that basically lives in the water is able to be washed. Believe it or not, this is a product that really does need to get cleaned every once in a while. Shower curtains repel soap, grime, and suds, sure, but they don't necessarily get washed clean after. The fact that this polyester curtain is machine washable means that we're able to keep it clean and dirt free, even though it's a cloth-style curtain.
The Style
Style points are always a funny thing to talk about. After all, how likely is it that our readers are going to have the same style that we've got? Regardless of whether or not we like the same home decor pieces, there's no denying that this shower curtain is one of the more refined options. Finding one that doesn't look plastic can be a struggle, but this polyester curtain does a good job of looking more like a curtain, and less like a painter's drop cloth hung from some hooks.
Cost and Value
Considering that the style is far and away more impressive than some of the plastic/EVA curtains we've seen, this is an excellent price. It has some similar features to the other shower curtains as well, such as the grommets and mildew resistance. The fact that we can wash this shower curtain, though, is an absolute blessing. Neat freaks unite, and embrace this stylish shower curtain.

5

. Ambesonne National Parks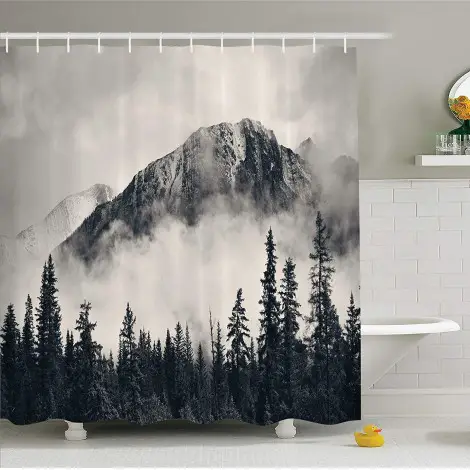 If you thought the 3D rocks were impressive, wait until you see this design! This fabric shower curtain is made for the nature lover in all of us and features a landscape that's truly breathtaking. You'll even get real mist surrounding the mountains when you take a hot shower, making it one of the nicest options we've seen when it comes to graphic-print shower curtains. Who would have thought a mountain would work so well?
Fade-Proof
Worried about all those graphic details fading the more we wash this curtain? Don't worry. The attention to detail wasn't just during the printing process. It was also kept up with during the construction of the curtain itself. The way that the curtain is printed and the material it's made out of keeps it from losing any of its colors, no matter how many steamy showers it lives through. Plus, it's also washable. No dyes means no running, even on a hot or sanitizing setting.
Typical Size
Some shower curtains boast about being big enough to fit even the largest of claw-foot bathtubs. However, that's not always a good thing. Large curtains can mean unfortunate bunching when it comes to the smaller sizes of bathtubs and showers, which is why it's nice to find a smaller, standard size of a curtain. With a variety of size options as well, you'll be able to find the curtain that's the perfect fit as well as the perfect style.
Cost and Value
At a slightly higher price point, it's no surprise that we might want to look at lower ticket options when it comes to a curtain that lives in the bathroom. However, those that are interested in imbuing their life with the art will no doubt appreciate the fact that this shower curtain exists. With a variety of sizes and patterns and a high quality when it comes to the print and style of the curtain, we feel that the value justifies the cost; for those that add value in design elements, of course.

6

. Jay Franco12-Piece Hook Set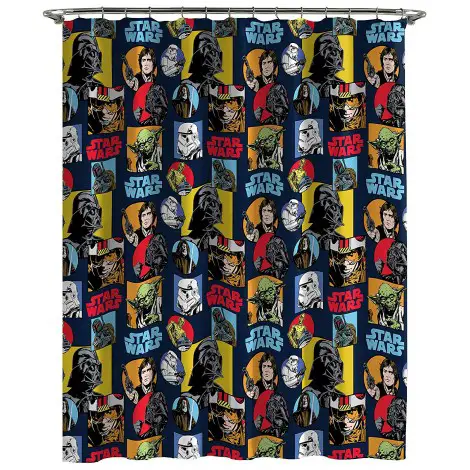 The force will always be with you when you've got this Star Wars shower curtain hanging in your bathroom. When it comes to the style of the design itself, there's nothing we like better than a vibrant and bright pop of color. This kid-friendly shower curtain makes it easy to spruce up a bathroom, or even a closet or bedroom! The best part? It doesn't cost an arm and a leg to make your young jedi smile. All you need is this fantastic shower curtain!
Star Wars All Around
It's not just the pattern that has some Star Wars style to it! The hooks that this product comes with also includes some Star Wars style. The way that this shower curtain works, we're basically looking at adding the hooks on to cover the grommet holes. The hooks that they come with aren't closed along the back, like other hooks you can find, but they do feature Star Wars photos on the front, blocking the holes from letting the hooks falling out.
For Real Fans
And by "real fans" we mean that it's not a knock off. Sometimes with famous movies and iconic images we end up finding brands and designers that do a slightly altered version of the designs. This can lead to similar patterns, characters, and styles that don't actually hold the proper licensing. This shower curtain, however, is licensed, and is listed as an Official Star Wars Product.
Cost and Value
This is a tricky shower curtain to figure out the value for, as many of us are willing to pay whatever price the brand asks for in order to get an officially licensed Star Wars product. That being said, the curtain itself is of a good quality. While we're not huge fans of the open-backed hooks, they do fit in with the Star Wars theme. Sturdy and reliable, the smile that it will inspire in your kid (or boyfriend) will make the value definitely worth the cost.

7

. Ambesonne Decor Collection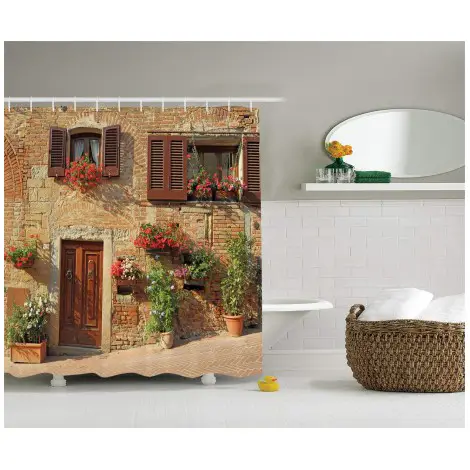 Why spend all that money on a trip to Italy, the Mediterranean, or even New York when you can travel to those steamy places just by stepping through a shower curtain? Astute shower curtain shoppers will notice that we've looked at Ambersonne as a brand before. They're the folks who did the mountain pattern curtain, which we were so taken with. They're back with yet another design, and this time it's real. The brick is so detailed we can almost feel it crumbling!
A Change In Perspective
Sometimes bathrooms are touted as being quiet, relaxed places. We, however, feel that anyone who sings in the shower knows that that's not necessarily true. Why not embrace the boisterous and loving energy of a Tuscan villa with this shower curtain? The bright flowers spruce up even the smallest of spaces, and it feels a little like magic to walk through the "brick wall".
Could Be Art
One of the things that stood out in our research about these shower curtains is the fact that some people repurpose the shower curtains as art. This brick villa design is something that we think would look fabulous on a wall or balcony. The water repellent construction makes it easy to mount and put outside or inside, as folks in the review section have reported.
Cost and Value
Firmly into the double digits, this is a shower curtain that costs about the same as a dinner for one out at a moderately priced restaurant. Is that ridiculous? Not necessarily, depending on our budget. We believe that the quality and print are both good enough that the cost is something we're willing to pay. However, the lack of extra features might not make it worth it to those on a tighter budget.

8

. Fangkun Starry Night Artwork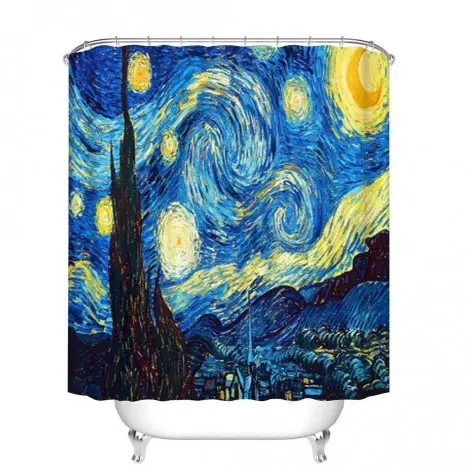 We all need a little more art in our lives, which is where this shower curtain comes in. Not only do we find that this classic painting is one that works in a variety of situations, but it's also a product that makes for an excellent conversation piece. Art is everywhere, and it's only natural that we want to try and work it in as an essential part of our lives. Trust us; even if you think it looks a little overpowering, the happiness will be worth it in the end.
No Liner Needed
Sometimes the shower curtains need a little extra love in order to make them work effectively. Not only do they tend to need a little liner action to keep them from getting gross, but sometimes they need a liner just to keep them from dripping and soaking up the water! This shower curtain isn't in that latter category, though. It's waterproof enough that the product description states it doesn't even need a liner!
Quick Ship
If you're located in one of the places where this product doesn't ship, this feature won't apply to you, unfortunately. For the rest of the world, however, rest assured that this product ships quickly and safely, giving us everything that we need ASAP. Reviewers mention that the product came very fast, which is great news if we're needing to quickly redecorate before the in-laws come over!
Cost and Value
The graphics shower curtains are often a little more expensive, but this is one that really is just flat-out pricey for a shower curtain. We recommend making sure that you really love the design on it before purchasing one. However, the quality is high enough that even a plain curtain from the same brand would be a solid investment. The Starry Night design is kind of the biggest selling point of this product, though.

9

. Spring Home Ruffled Fabric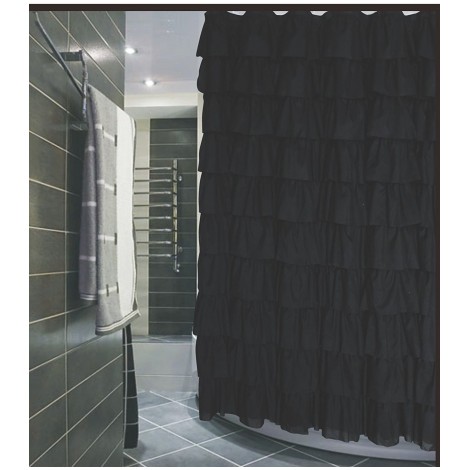 This Victorian-era inspired shower curtain is enough to get us all ruffled up. That is, we're a little confused at the versatility of this shower curtain design. Not only does it feature some very frilly layers, but it also has a dark color that makes us think of a Victorian Era mourning gown. That being said, paired with the right bathroom decor it can definitely pull off looking sleek and chic. It all depends on the style you're going for, we guess.
Upkeep Is Easy
Sometimes the struggle with new, polyester shower curtains comes from the fact that they tend to wrinkle and ruffle without proper care. While the style of the curtain is ruffled, it doesn't look good to have ruffling and wrinkling where it shouldn't be. This is why the upkeep is important. We don't want to have to wait a month for the wrinkles to come out after washing it every single time! The upkeep here is much better than some. Just mist it with a little water and throw it in the dryer. The tumbling resets the ruffles, and works out any wrinkles as long as you hang it right away,
Glamorous
Be like Fergie and embrace the glamorous life. While this shower curtain won't give you jet skis and diamonds, it will give your bathroom a kind of beautiful and glamorous quality that makes it easy to believe you're in a hotel in the East of France. Sure, it's just some ruffled black fabric; but the design and elegance it adds to even a plain bathroom will inspire beauty and peace with every shower.
Cost and Value
One of the more expensive options on our list, we only feel that this product is worth it if you're someone who values looks over practicality. While the design is unique, the make itself is lacking some of the features of other shower curtains we've seen. There aren't any magnets lining the bottom, and there's also no hooks included. If you feel the design is still worth it, though, we say go for it!

10

. Caromio Waffle Weave Textured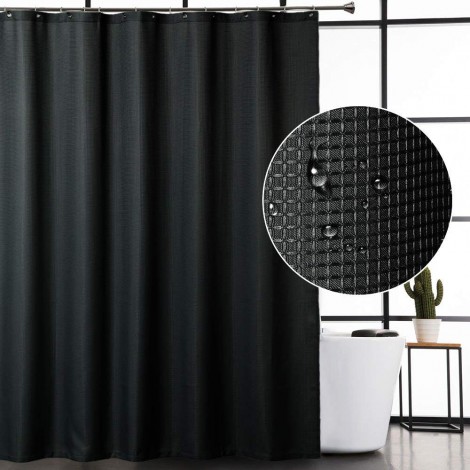 We've looked at graphic curtains, we've looked at nature-themed curtains, and we've even thrown in a Star Wars curtain for good measure. What's left but to include the perfect shower curtain for your vampire goth-themed bathroom? We're teasing about that decor theme, but we're not kidding about the perfect style of this curtain. The black color is a slick, sleek design choice that truly stands out in an otherwise plain bathroom. Not to mention the fact that this shower curtain's waffle pattern catches the light and adds subtle visual interest to the bathroom.
Reinforced
One thing that we haven't discussed is the fact that often the denser shower curtains can pull at their hooks. If something gets waterlogged or we slip and tug at the curtain, we can find ourselves with some ripped holes and a soggy mess. Luckily for us, this shower curtain features a reinforced band at the top where the holes and hooks are. We're big fans of this fact and think that it's possible to get many years out of this curtain.
One Way Vision
One of the reviews surprised us with this feature, and we knew when we read the description that we had to add it in. The top review on the product mentions the fact that the manufacturing of the curtain makes it impossible for people outside the shower to see through into the shower. However, those of us standing in the shower is able to see out into the world. This makes for a super reassuring shower curtain when it comes to bathroom doors that don't have locks on them.
Cost and Value
There are two price options with this shower curtain: one pack and two packs. The two packs are an excellent deal, especially considering how high of quality this product is. The single pack isn't necessarily the cheapest option, but we still feel it's worth it. Water repellent, a slick design, and easy to clean and hang; this is the perfect shower curtain for your grown-up bathroom.

Subscribe to our Newsletter