Best Dining Chair Cushions Reviewed & Rated for Quality
In a Hurry? Editors choice: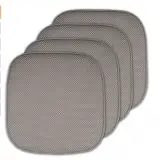 Test Winner: Sweet Home Collection

Cushions are a great way to make your dining room comfier and more inviting, as well as add a decorative element to your home. The only problem with many dining chair cushions is that they slip and slide around, making you more annoyed than anything. Anyone who has ever had their meal interrupted by a numb bum will tell you that a cushion is a great investment. Cushions are a great finishing touch to your table, they are both stylish and functional. They will help you sit for extended periods of time in comfort, and make your meal times more enjoyable. There are so many options on the market these days, we have compiled this list of our top picks.
Standout Picks
Criteria Used for Evaluation
Comfort
Comfort is the most important factor when purchasing any type of cushions. Obviously, the reason you are buying cushions is to make sitting at your dining table more enjoyable. No one enjoys 'numb bum' and one easy way to make sitting at hard dining chairs more comfortable is selecting the right cushion! Many designs are made with memory foam, which is a premium product when it comes to comfort. If you aren't a fan of the feel of memory foam, there are plenty of options available to you as well. Look for overstuffed designs that will also offer up a ton of comfort as well.
Durability
Anything that belongs in the kitchen or dining room is at risk of being soiled by food or drink. Dining chair cushions are no exception. Durable, long lasting products will save you money on costly replacements in the future. We like products that can go in the washing machine, making them easy to care for. Some of the cushions have removable covers and some can be thrown completely in the washer without removing anything. Reversible options will also last longer because you can turn the cushion over for even wear on both sides. Look for stain-resistant fabrics on cushions that cannot go in the wash. You can extend the life of your purchase by doing a simple spot clean on any areas that have become stained.
Support
The more supportive your cushion is, the happier you will be sitting on it! Avoiding the dreaded 'numb bum' is easy with a cushion that offers the right support. Memory foam is a superior product when it comes to support and comfort. A memory foam cushion will soften in response to your body heat, and mold and contour to your body. This custom support will allow you to sit comfortably for hours.
Color
Finding cushions that match the existing decor of your home will obviously be an important factor in your decision. You probably don't want to re-do the entire design of your kitchen or dining room just to match your new cushions. Clearly, the easier option would be to purchase cushions in a color that will match your existing decor. Maybe you want neutral colors that will blend in. Or, go for a bright, bold color that will stand out and be a focal point of the room. Patterns are also a great option if you want to express your individuality and have a piece that will really make a statement. With so many colors and patterns to chose from, there is no reason why you need to sacrifice style for comfort. With new dining chair cushions, you can keep your tushy happy and add style to your home at the same time.
Traction
Everyone has dealt with the frustration of a cushion that slips and slides all over the place at some time or another. Cushions with the appropriate traction will stay securely in place on your chairs, where you want them. Look for items that have a non-slip coating on one side, these will grip to your furniture and keep you securely in place. Nothing will ruin your meal faster than constantly having to re-adjust yourself in your chair. And you wouldn't want the embarrassment of having your guests fall out of their chair at a dinner party. For all these reasons, cushions with an appropriate amount of traction are key.
Top 10 Picks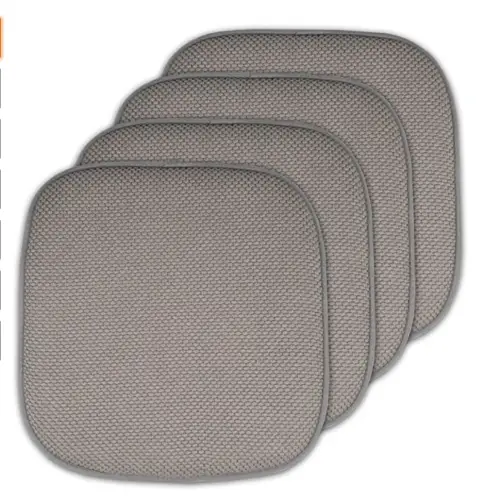 These cushions truly check all the boxes! Memory foam is comfortable for extended periods of sitting, a non-slip coating keeps the cushions secure to the chair without the use of ties. With so many colors to choose from, getting a great cushion to match your existing decor will be a breeze.
FIts Any Chair Perfectly
This universal size 16x16" cushion will fit on any chair! We love the square, rounded shape as well. The honeycomb pattern looks refined and elegant, and these cushions are available in a ton of colors. The cushions are made from memory foam, which is a premium product known for comfort.
Slip-Proof Design Without Ties
Nothing is more frustrating than cushions that slide around. The slip-proof backing of the Sweet Home Collection cushions keeps you secure and comfortable in your chair. There are no ties on these cushions, as the backing is all you need to keep them in place.
Cost and Value
We love that these cushions are sold in 2,4 6 and even a 12 pack! You can save yourself some dough by buying in bulk. The non-slip backing keeps the cushions secure without the use of ties, which can break off. Another factor that adds value to this product is that the cushions are fully machine washable. You won't need to replace them if they get soiled or dingy, you can freshen them up with a quick wash cycle and they will look good as new.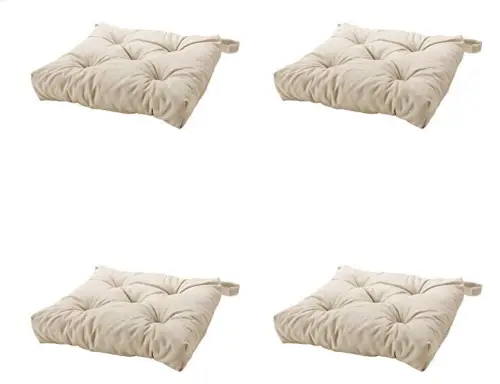 Did you know that Ikea has been the world's largest furniture retailer since 2008! The Swedish retailer sells ready and to assemble furniture, kitchen appliances and of course, household goods. These chair cushions are everything you need to make your table inviting and comfortable.
Tufted Design
We like the 5 tufted details on these cushions. There are no buttons, just stitching, so you don't need to worry about your bottom experiencing any discomfort. The fabric is polyester, and we give a ton of bonus points for the fact that these cushions can be thrown in the washing machine!
Reversible
The MALINDA cushions are reversible! This is a great feature incase you get them stained or dirty. You can simply turn the cushion over and then wash it at a later date. It also helps the cushions wear evenly, to extend the life of your product. We also like that the ties that secure the cushions to the chair are made of velcro. Velcro is more reliable than string ties that can easily come undone or break.
Cost and Value
These MALINDA cushions are sold individually or in a pack of four. We like the velcro ties, which are more secure than strings. There are two factors that give this product a ton of value, one is the fact that they are reversible! This helps the cushions wear evenly, so you get more use out of them. The second is that the whole cushion can easily be thrown in the washer if it gets dirty. This will save you a ton of money on costly replacements if the cushions get soiled with food or drink.

3

. Klear Vu Tyson Gripper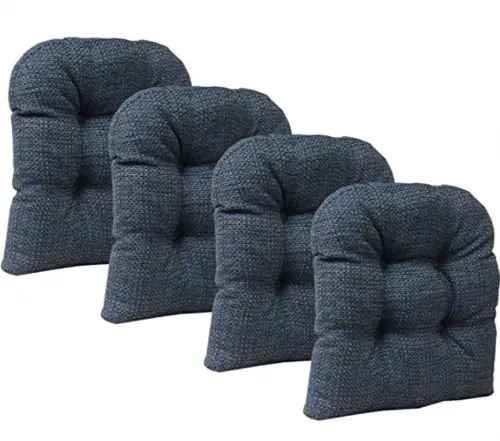 Klear Vu has been making chair pads and cushions since 1960! That is an awfully long time spent perfecting the art of comfortable sitting. The Tyson Gripper cushion has a luxurious overstuffed design and stays in place without using ties thanks to the furniture safe backing. Looking for a way to make your meals more enjoyable and your home look great? These cushions by Klear Vu are a great option to check out.
Overstuffed Design
These cushions will look great and keep your behind comfortable for extended periods of sitting. The overstuffed design just looks inviting. Klear Vu uses 'cloudfill' on their cushions to create a thicker, fuller looking product. The 'cloudfill' stuffing is blown into the shell, giving the cushions an impressive 3" of height.
Non-Skid Gripper Back
We love that these cushions will stay in place without using ties, thanks to the furniture-safe gripper backing. The universal size will fit on any dining chair. There are four large tufted details on each cushion and the fabric is a unique blend of three different materials. The blend is 41% Acrylic / 39% Polyester /20% Polypropylene. This fabric is easy to care for and keep clean, perfect for dining rooms or kitchens.
Cost and Value
We really love the overstuffed design of these cushions. They just look comfy and inviting! The Tyson Grippers are sold in a four pack or two pack, and there are five colors to choose from. We give bonus points for the 3" of 'cloudfill' stuffing that is sure to offer enjoyable seating for you and your guests. Adding more value to this item is the furniture safe non-slip backing that keeps the cushions in place, without the use of ties.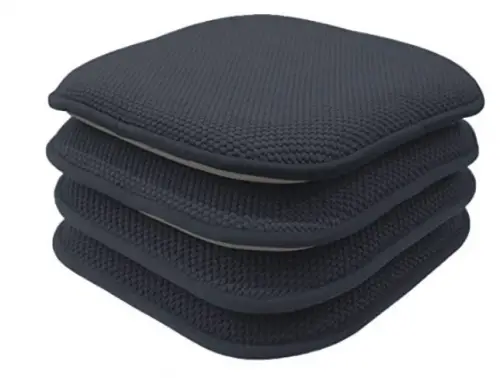 Do you need non-slip, premium comfort for your dining or kitchen table? GoodGram has got the solution for you. The tie free design looks clean and uncluttered, but the slip-resistant coating on the backside prevents you from sliding off your seat!
A ton of Colors to Choose From
Everyone likes having options and no two homes are alike. We like that there are ample colors to choose from with this product so you can get something that looks great and matches your existing decor. A number of reviewers stated that the colors are an exact match to the swatches so you can rest assured you will have a piece that is exactly desired.
Tie Free Memory Foam Design
Ties on cushions can look cluttered and old-fashioned. Some people like the classic, homey look they offer but they don't look the greatest with more modern or chic decors. We love that these cushions are tie free, but you won't slide out of your seat either because the backside has a non-slip coating. Bonus points because these are made with memory foam, which is known for its custom comfort feel.
Cost and Value
GoodGram has checked all the boxes with their Honeycomb Chair Pads, and they haven't let you down with the price either. They are sold in a pack of four so you can buy enough for the average table in one go. Memory foam is a premium product, which adds a ton of value and feels luxurious to sit on. Reviewers have remarked that these cushions are extremely well made, which is also a plus.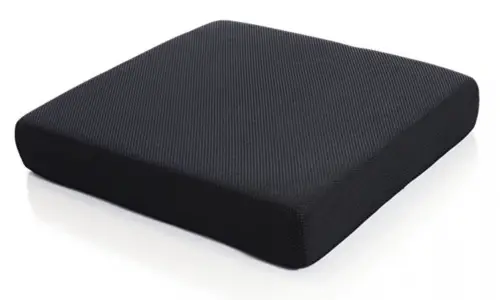 Reviewers have raved that this memory foam cushion made by Millard is the best purchase they have ever made. The therapeutic properties of memory foam are great for sciatic pain, arthritis or old bones. No one wants to interrupt their meal because they are too sore to sit at the table. If you're in need of some serious relief in the seating department, we suggest you check this cushion out.
Therapeutic Sitting
The Millard seat cushions are made from memory foam. This is a premium product that offers maximum levels of comfort. Memory foam can be described as 'viscoelastic'. It has a unique design of foam cells or bubbles, which allow air to move freely through. Adjusting to your body heat, memory foam softens and molds to the contours of the individual user. It is much more comfortable than sitting on a hard wooden chair. Sitting on a memory foam cushion will help relieve aches, pains and muscle soreness.
Washable Covers
The covers on the Millard seat cushions are removable. We love this because you will never need to stress if they become dirty, and accidents are bound to happen at the dining room or kitchen table. Especially great for families with children, who are known for being especially messy eaters. Anytime your cushions start to look dingy or get stained with food or drink, just remove them and toss in the washing machine and they will come out looking good as new.
Cost and Value
The Millard seat cushions are on the pricier end of the spectrum. However, they are made with a thick layer of high-quality memory foam that offers superior comfort so extended periods of time. The 100% cotton covers are removable and machine washable, saving you a ton of money on costly replacements due to stubborn stains. For the elderly or people suffering from arthritis, this product is a great investment piece to guarantee your meals won't be disruptive by uncomfortable seating arrangements. You could even move it to another place you spend a lot of time such as the car or the computer chair, giving you, even more, use out of the item.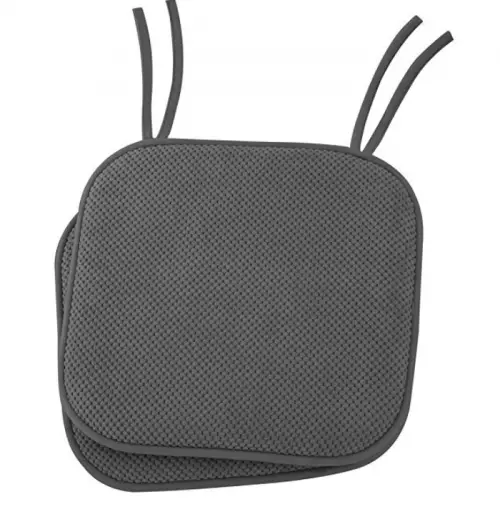 Are you trying to sit like a king at the dining room table without breaking the bank? Tired of having your kids complain they aren't comfy and squirm around while eating dinner? We've got a solution to both of these problems with this fantastic chair cushion made by Ellington.
Low Profile Design
This product is slim and has a streamlined look, but it is also made from memory foam so there is no sacrifice on comfort. Memory foam is a superior choice because it reacts to body heat, softening and molding to your seat. This provides a custom, supportive feel that allows sitting comfortably for hours. With the Ellington Home cushion, you will get maximum comfort without a bulky look that some other cushions can give.
Stay In Place
Each cushion has two ties to keep secured to your chair. On top of that, there is a non-slip backing on the underside, which will provide additional staying power. Everyone knows how annoying it is sitting in a chair with a cushion that slips and slides all over the place. The double security of having non-slip backs as well as ties will keep everyone at the table happily seated and free from irritation all night long.
Cost and Value
The Ellington Home cushion is sold in a pack of two or four which is always more affordable than buying items individually. On top of that, the price is great! The embossed finish of the fabric and stitched edging looks expensive, and the memory foam cushion feels luxurious to sit on. You can't go wrong with these cushions if you want to sit comfortably without breaking the bank.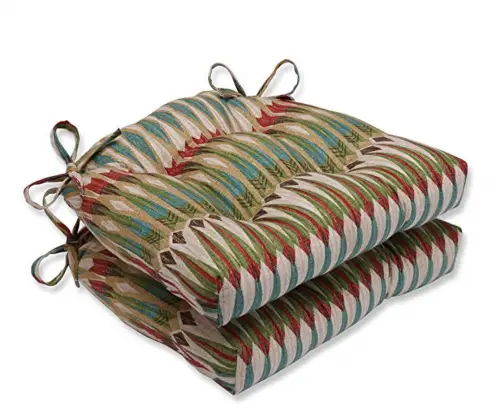 Are you re-decorating your dining room and looking for an inspiration piece to build a color palette from? Or perhaps you already had a mid-western, whimsical theme in mind and were on the hunt for the perfect pieces to match your vision. Whatever the case is, these stand-out dining chair cushions from Pillow Perfect will be a stunning addition!
Striking Pattern
If you're looking for a piece that can really stand out and add some flair to your dining room or kitchen, the Acela Adobe cushion can help you do that. Described as 'mid-west artsy' there is a horizontal striped pattern in colors of teal, coffee, brick red and green. These cushions could match with your existing palette or be the starting point for redecorating, and inspire the color selection for the rest of the room.
Designer Look
The Pillow Perfect company uses only top-tier fabrics. High-quality fabric will look more expensive and have a more luxurious and rich feel as well. Everything is hand-picked by their team of designers to deliver the highest standards in quality and durability. The products are handcrafted with precision cutting and plush fill.
Cost and Value
These cushions are sold in a pack of two. We like that they come with ties to secure to them to your chair. Another great feature that adds value is the fact that this item is reversible. If one side gets stained with something that won't come out, you don't need to throw the whole cushion out, you can simply flip it over and no one will ever know. We give bonus points for the fact that Pillow Perfect does all their manufacturing in the USA.

8

. Greendale Home Fashions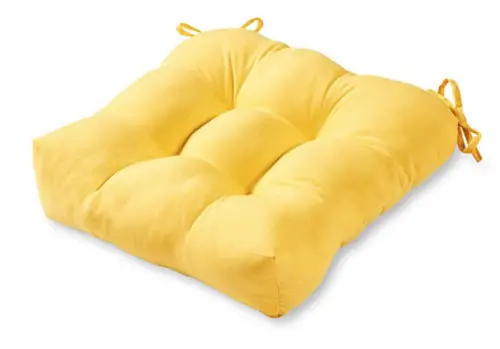 These great cushions made from Greendale come in a huge selection of not just colors, but patterns as well. The great price means you can buy more than one set, and switch things up if you like seasonal or holiday-themed decor. We give bonus points because these cushions are stuffed with 100% post-consumer fibers that are made from recycled plastic water bottles!
UV Resistant
These cushions are made from 100% polyester fabric and filling. The fabric has been treated to resist mold and mildew, fading from the sun and other weather-induced trauma. We love that you can easily use them inside your home or out. Eating outdoors at the patio table should be just as comfy and enjoyable as sitting in the dining room.
Wide Selection of Patterns and Colors
There are so many options to select from! There are solid, neutral colors such as navy and stone. Some of the more vibrant color options include teal, kiwi green, and salsa red, which would look great on a covered patio or on the deck at the cottage. We love the selection of fun patterns as well, such as nautical themed stripes and large floral designs.
Cost and Value
These cushions are great for inside or out, and the fun, punchy color selections make them a great option to look at for the patio or deck. The UV and mildew resistant fabric will last many seasons if you chose to use them outdoors, or you can bring them inside for the winter months to another room and get more use out of your purchase.
The overstuffed design is comfortable enough for long periods of sitting and the ties in the corners will keep them securely fastened to your chairs.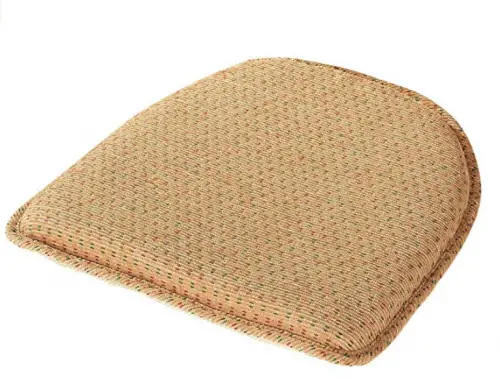 Miles Kimball was founded in 1935 in Oshkosh, Wisconsin on the shores of Fox River. They started out making personalized Christmas cards and branched out into household goods. Known for affordable, unique merchandise these cushions made by the brand are no exception.
Won't Break The Bank
For families with kids, investing a lot of money into any item that comes into contact with kids and food together would be certain disaster. Kids are notoriously messy eaters, and your new cushions would be stained with food and drink in no time. These are a great option for in the breakfast nook where the kids eat most of their meals, or even at the cottage or cabin as well.
No Button Tufts
Some people like that there are no button tuft details on this product. If sitting for extended periods of time on buttons is something you find uncomfortable, you will want to check these out. The 'raindrops' pattern is subtle enough that it will not distract from other focal points in the room and there are 4 colors to select from.
Cost and Value
These are a great mid-range cushion option. The raindrop pattern is subtle and will match any decor easily. There is a latex-coating on the back which helps the cushions resist slipping. One reviewer noted how well these cushions had stood up to her cat's nails, as they had become a favorite perch for her feline friends.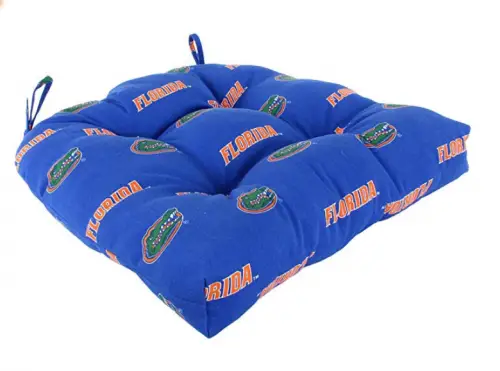 We're rounding out our list with this pick for all the discerning sports fans out there. Represent your favorite college team, and add a quirky conversation starter to your dining room decor. Great for families with kids, this is a fun, functional way to add some sports swag to your house. These cushions would also make a great gift for any sports maven on your shopping list for the next holiday season.
Indoor or Outdoor Use
We love that these cushions are made from UV treated polyester. The fabric has been chemically treated to resist mildew, weather, stains and fading from sunlight. This means you can use your cushions outdoors as well as indoors if you like. You could easily place the cushions on a patio dining set during warmer months if you wanted to switch up the decor inside the house for a change.
Great for Sports Fans
We know not everyone is obsessed with sports, but for those that are these are a fantastic pick. They have a ton of college teams to pick from, from the west coast to the east. We think these cushions would also be a great pick for a man cave, a poker room, or a basement- basically, anywhere guys like to hang out and watch the big game.
Cost and Value
These cushions are sold individually so the price may be a little higher than other products that come in a 2 or 4 pack, however, they are licensed by the NCAA! NCAA stands for National Collegiate Athletic Association, meaning these are an official product, not some knock-off. Another thing we love about these cushions is that they are manufactured and sourced right in the USA. Make gift giving for Christmas, birthdays or Father's Day a breeze and grab your favorite sports fan a collectible cushion repping their favorite college team.

Subscribe to our Newsletter