Best Hiking Socks Reviewed & Rated for Comfort
last updated:
Mar 25, 2021
So you like to hike and you have planned the perfect hiking trip...You have the tent, the sleeping bag, the stove and everything else you need for a good trip. But did you think about hiking socks?
The variations in types of socks are wide and can be mind-boggling. Below you will find a breakdown of criteria that will guide you to decide what's best for you. The last thing you want is to get somewhere great to start your hike - and realize the socks you have aren't up to the job.
In a Hurry? The test winner after 11 hrs of research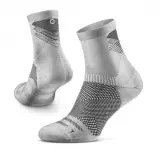 Rockay Razer Trail
Why is it better?
Recycled materials
Breathable mesh
Arch support
Lifetime guarantee
Seamless toe
3
Researched Sources
11
Hours Researching
10
Products Evaluated
Materials
Comfort
Fit
Breathability
Support
By Default
10 Best Socks For Hiking
Recycled materials
Breathable mesh
Arch support
Lifetime guarantee
Seamless toe
Pricier than the average socks
Could use more color options
If you want to help recycle waste and stop the pollution, the Rockay Razer Trail Socks are just what you need! The brand aims at producing premium quality wear without using new resources so we can clear the waste from our oceans.
100% Recycled
The Razer Trail socks are a blend from Econyl regenerated nylon, recycled polyamide, and recycled elastane which makes them a 100% recycled product. The brand's mission is to use only existing resources which will reduce the waste in the oceans and help save our planet.
Performance
All hiking and running enthusiasts can now enjoy an odor-free exercise. The breathable mesh zones together with the quality materials will keep your feet moisture-free and cool throughout your adventures. With the unique Stay Fresh Technology, you can only dry your socks without having to wash them after every run or hike. Now you can be eco-friendly and still get the stability and durability you need for your exercises.
Cost and Value
With the Razor Trail Socks, you get a lifetime guarantee from Rockay. Even though they are pricier than the other products on our list, you'll get the most out of these socks. They will provide you with the protection and support you need for your long hikes and runs.
2

. Darn Tough Micro Crew Cushion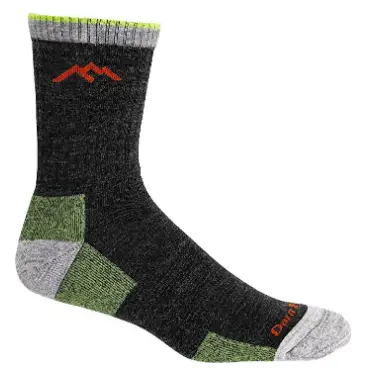 Built with durable Vermont wool
Designed for long distance wear
Will last as long as you take proper care
These socks are not the cheapest on the market.
When it comes to hiking, there are not many socks that Darn Tough from Vermont. Made from premium wool that is available, hikers will put these on their must have list after trying them on for a long trek. We actually find that many people who swear by them now were once recommended these by a friend.
Comfort
Hiking long distances puts some wear and tear on your socks. This is often overlooked, as socks tend to be an afterthought to a lot of people. But when the socks start to wear, the cushioning and support begin to break down. That is why durability, real long lasting durability, is so important to the overall comfort. These have it for sure.
Color Options
When it comes to the industry, it's important for manufacturers to keep their products unique. The best way to do this, aside from innovation and technology, is with the colors and designs. Consumers will appreciate knowing that this brand offers their product in a wide variety of colors, all of which are quite favorable!
Cost and Value
When it comes to comparing the cost of these socks to other brands, we can say that these are slightly more expensive than a standard pair. On the other hand, these most certainly have more value and durability compared to many other hiking socks. So, if durability and overall comfort are most important to you for hiking, or even camping, we strongly recommend.
Lifetime guarantee
Breathable mesh
100 % Recycled materials
Reflective logo
Arch support
Are a little more expensive than the average socks
Made of 100% recycled materials, the Rockay Flare Quarter Socks are a great choice for your running and hiking adventures. This product gets the second place because they will keep your feet dry and cool, without causing any irritation. They come in many sizes so you can choose the ones that fit you perfectly.
Materials
As mentioned above, the Flare Quarter Socks are made from 100% recycled materials, so with buying a pair, you help save our precious planet. These are made from econyl regenerated nylon, recycled polyamide, and elastane. These materials together can offer you a high level of stability and durability on your hiking trips.
Performance
Going hiking has never been easier! The socks feature a reflective logo that will keep you safe on your night adventures. They are designed with a seamless toe that will keep you irritation-free if you have sensitive feet. The arch support will promote better blood flow and circulation, and the breathable mesh is good at wicking away moisture and keeping your feet dry and cool throughout your exercise.
Cost and Value
Priced a little bit above the average, these will give you everything you need and more. They will provide you with the compression, breathability, and stability you need while hiking and if they ever tear, you don't need to worry! The Rockay Socks come with a lifetime guarantee, so you'll get a new pair if they lack their basic functionality.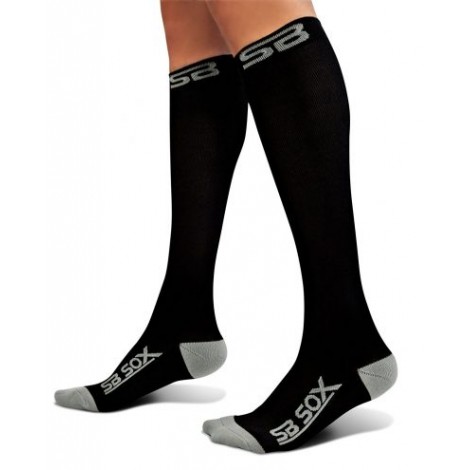 Lightweight

Anti-bacterial

Reinforced

Supportive

Aids circulation
Sizes run small

Toe seam is bulky
For the hiker that needs a little more support these SB Sox offer graduate compression. They boast being able to enhance blood and oxygen circulation and can assist in muscle recovery on the calf. The support is also proffered to reduce likely injury so hiking can be better enjoyed without added concerns over muscle pain. They are lightweight by design and are form fitted, which combined with breathability - help to improve joint stability.
Reinforced
The SB Sox are reinforced at both the toe and the heel for premium comfort on any hiking trip, the hard-wearing fabric allows air to circulate and keep feet comfortable for longer periods. The socks are versatile enough to be used in a variety of activities.
Anti-bacterial
The fabric is complimented with not only antibacterial qualities, but it also prevents both odor and reduces static. They benefit from wicking which draws moisture from the feet and further helps to reduce bacteria and fungal build up whilst being used for hiking.
Cost and Value
The SB Sox are a great value product that doesn't cost the earth or skimp on features. They are comfortable and versatile enough to wear daily and the reinforcements give them a longer life. It is possible to save on multi-purchases which make them even better value.
5

. Dickies Dritech Advanced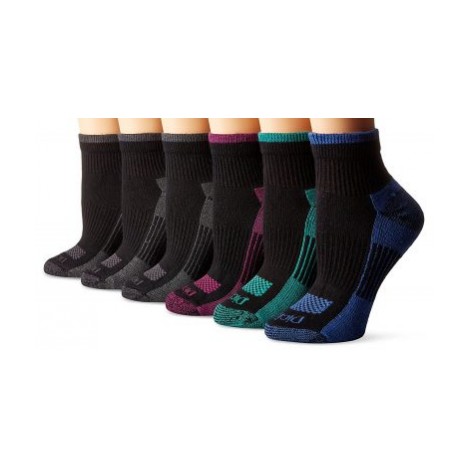 Easy care

Moisture wicking

Ventilated

Arch compression

Comfortable
These Dickies Dritech socks are produced using 96%polyester, 2% spandex, and 2% rubber. They are light, are practical and versatile for many uses indoors and for hiking or other outdoor activities. They have within them - moisture-wicking fibers to ensure the feet are kept moisture free and dry with added ventilation channels. Perfect for moving air around during hot hikes when damp feet can be debilitating through chafing and blisters. They are easy to take care of and are suitable for convenient machine washing.
Support
The socks benefit from excellent support and stability through the arch compression, this benefits the wearer and effects can be appreciated around the ankle; and up through to the calf - a must for the longer, more adventurous hikes where comfort is a necessity.
Comfort
The heel and toe boast being double thickness for an extremely comfortable and snug fit around these two main stress areas on the foot. The functionality of the pull on closure and lightly ribbed tops make these calf-hugging crew foot socks suitable for many activities.
Cost and Value
The low cost of these socks is far from reflected in the value, the support offered by the arch compression and comfort areas specific to the toe and heel area; make these socks a great buy. The added bonus of the care they require and the wicking qualities simply add to the overall value.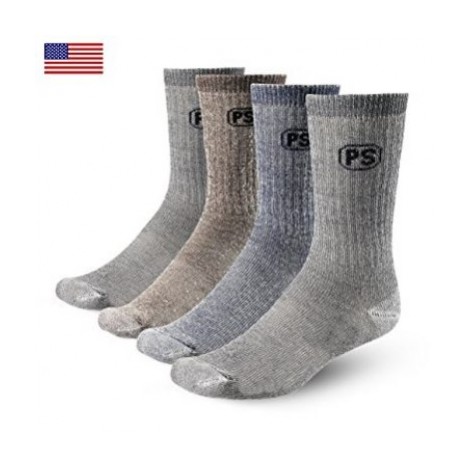 High-quality materials
Comfortable
Easy to wash and care for
Affordable
Fit might be a bit larger than other pairs
These hiking socks are made from a blend of 71% Merino wool, 21% nylon and 1% spandex. They are comfortable to wear and are of medium weight/thickness. This makes them ideal for all-rounders for most seasons, and they come in a choice of colors to mix and match. They benefit from having a reinforced toe and heel for shock-absorption and internal comfort on any long hike. They are available in varying sizes and come in handy packs of four for extra convenience when planning a longer hike.
Quality
The overall quality of these People Socks gives them a luxury feel without the luxury price. The blended mix which contains Merino wool means they are soft but hard-wearing at the same time. The medium weight makes them an ideal component for any seasonal hike.
Easy care
The socks benefit from being machine washable, they just need turning inside out, washing on a cold cycle without softener, and then left to dry at room temperature. This bonus gives them a longer life and reduces bacterial build up.
Cost and Value
For the price of this four pack of socks - the quality of the blended manufacture and ease of care make them excellent value for money. The added comfort and reinforcement means they are a great purchase for a wide range of hiking uses.
7

. Wigwam Merino Wool Hiker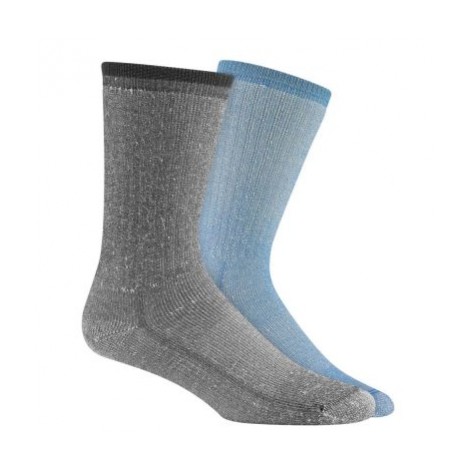 Comfortable wool material
Supportive
Breathable
Functional features
Good value
Material may look a bit worn after washing
The Wigwam socks are manufactured with 67% Merino wool, 21% stretch nylon and 7% elastic with 5% acrylic. The high content of Merino wool gives them the edge when it comes to wicking and softness. They are available in a range of colors and are suitable for all, and boast being made in the USA. The socks are versatile for a variety of uses, outdoor and indoor, and are practical enough for normal everyday wear. The crew cut of the length hugs the calf comfortably, whilst giving support where it's needed - on the ankle and underfoot.
Comfortable
These socks have within the production, a seamless toe structure - this is very comfortable and it reduces the chances of rubbing from bunching around the toes. They also boast being fully cushioned - a must for those long hikes where the rough terrain is an everyday occurrence.
Practical
The Wigwam socks have a distinct elasticized arch which gives ultimate support to the underfoot and makes long treks more accessible. The ventilation channel within the sock compliments the Merino wools wicking factors to increase breathability and comfort.
Cost and Value
These socks are well balanced when it comes to both cost and value, the extra features that improve the functionality are complimented with the fabric mix. The easy care they require add to the overall value - and ensure these are very good value for the money.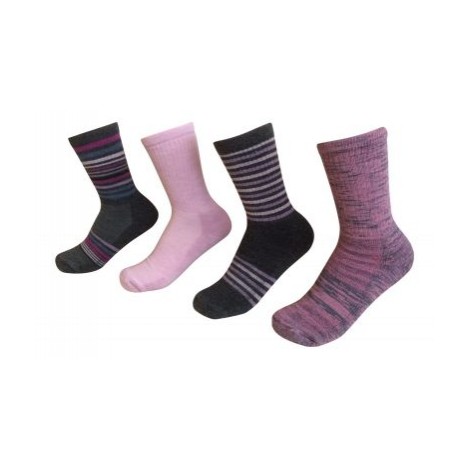 Comfortable

Warm

USA made

Wicking

Excellent value
Thin material

Not durable
These Kirkland Signature socks are soft Merino wool and come in a variety of colors and sizes. They benefit from having a good wicking capability to keep feet dry and airy, they are suitable for cooler temperatures and offer great comfort. Medium to heavy weight, these socks are both thick and warm so provide a practical wear. They are a mix of 76% Merino wool, 2% spandex and 18% polyester, thus they not only have great wicking but have the antibacterial qualities that are found in Merino wool. This is practical for when trips are on the longer side and spare clothes space is at a minimum.
Comfortable
The Kirkland socks are thick and warm - best used in cooler temperatures to avoid overheating. The tops are not too tight, and the sock leg is not restrictive - but supportive, meaning they can be used for a wide variety of outdoor activities like hiking, and even indoors for cold days.
Practical
The socks benefit from having a seamless toe, so there is less chance of rubbing and chafing around the toes and reduces the chances of blisters and other consequential foot problems. Couple that with the easy care and it's a very practical pair of socks.
Cost and Value
These socks come in various pack sizes and offer longevity and durability, the comfort they provide, and the warmth created in them - make them equally good in terms of both cost and value. The softness of the Merino wool and practicality of them makes them a great purchase.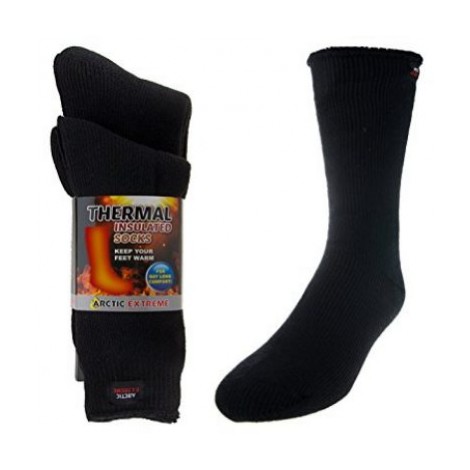 Thermal

Brushed lining

Thick

Heat-retaining

Comfortable
Fragile stitching

Slip down
These Arctic Extreme are thermal heat retaining socks are thick, comfortable and ideal for wearing under hiking boots for winter trekking. The blended fabrics include acrylic, polyester, and spandex at a percentage of 93%, 6%, and 1% spandex respectively. They benefit from being warmer than cotton and softer than cotton, and the thicker density of the material offers wicking to reduce moisture on long hikes. They boast a brushed inner for softness and the tops are ribbed to keep them in place.
Versatile
The benefit with these Arctic Extreme socks is they are suitable for a variety of both outdoor pursuits when temperatures fall, and even for cooler temperatures indoors when a little extra warmth is required. They are smooth against the skin and provide ultimate comfort.
Warm
These thermal socks offer heat retention which is capable of keeping feet warm in the coldest temperatures. The thickness is complimented by the brushed interior of the socks and add to the overall luxurious comfort and practicality that they offer.
Cost and Value
The quality of the materials used in these socks, and the warmth generated and retained ensures they are great value for money, the twin pack availability increases the overall value and can mean less kit to pack on longer trips and hikes out.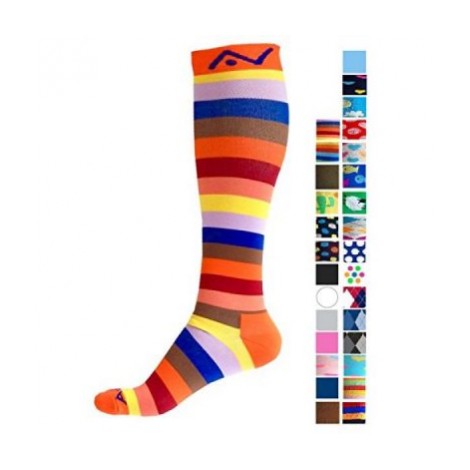 Supportive

Sweat-wicking

Anti-bacterial

Versatile

Excellent value
The A Swift Compression socks are available in a vast array of colors to suit every taste, they are suitable for both active wear and everyday use. The graduated compression technology provides greater areas of support at the ankle and reduces as the sock moves up the calf and leg. This equates to an improved circulation of both blood and oxygen which helps to reduce a build-up of potentially painful lactic acid. These socks are ideal for wearing for long periods and can benefit when used for active wear for a more comfortable experience.
Anti-bacterial
These socks benefit from having antibacterial 'silver yarn' which is beneficial for reducing bacteria build up, the material is designed to wick away moisture and helps to prevent odor and fungal build up - a must for those hikes when daily use is required, and space is limited for supplies.
Versatile
The socks are practical and versatile enough to be used for a variety of activities, the features including the wicking make them ideal for everyday wear when moisture can be problematic, and combined with the supporting compression components - they are excellent for strenuous activities.
Cost and Value
These compression socks are very well balanced when the useful features are taken into account, the support and anti-bacterial qualities make these socks excellent value for money - the multi-use and suitability for longer periods of wear improve the value even more.
Criteria Used for Evaluation

Materials
A classic material for decent socks is Merino wool, originating from Merino sheep it comprises fine fibers and that makes it really soft. This makes it more flexible and holds its shape for longer periods, it is also handy for regulating temperature, is breathable and anti-bacterial. IsoCool material is another type of material used for hiking socks, it is known for its wicking properties and is also breathable. The quick drying material makes it ideal for hiking sock manufacturer.
Wool is used regularly in hiking socks, it is thick, comfortable, wicks away moisture, and keeps feet warm when you're in colder climates. A downside is a possibility of over-heating your feet, and they can be too thick for comfort under your boots, Cotton is a lighter material – but not advised for the long haul. Silk can be available too – it is soft, light and has a high wicking capability, however, silk socks are more practical for when your feet are resting or to use as a liner.

Style
Types
All socks are the same right? Unfortunately, no. It isn't that simple when you want a decent pair of socks that will aid your travels and help you get the most out of your hiking. Crew socks are very common in hiking and are widely available. They are usually thick, with comfortable ribbing on the top edge so they sit comfortably about halfway up the calf of the leg. Compression socks are usually longer in length and are designed to reduce fatigue in the leg and often are breathable, these can be useful as extra support if you have leg/ankle problems.
Double layered socks are just that, they are manufactured with a tougher exterior for foot support and comfort, and the inner is specifically there to draw moisture from the foot and so reduce the build-up from rubbing and abrasions that can cause painful blisters. You can also purchase liner socks when you just have a single layer – this will give more comfort for prolonged use and help to keep your feet happy.

Features
Can a sock have defining features? Of course, and if you are going on a tough, long hike or a lighter, shorter trip – you will be looking for different aspects of the sock that are best suited to what you are planning to do. Of course, the important consideration is the level of wicking your hiking sock provides, if you ordinarily suffer from damp feet – chances are if you're hiking the moisture will increase too so you will need a sock that can comfortably absorb more water.
There are also socks that are manufactured with cooling technology to keep your feet more comfortable, they draw moisture too and allow good circulation of air around the foot. You should also take into consideration the thickness of any potential sock, too thin and they can cause rubbing and blisters, too tight and your feet will swell and be too hot for comfort. It can be a good idea to try the socks before you go on your trip – just to be sure they are comfy and are up to the job.

Fit
Again, it sounds odd to regard to the fitting of a sock, but this can really impact how your feet stand up to the demands you are going to be placed on them. If your socks are too high – they can make you too warm, can put pressure on your upper calf and cause great discomfort. (Especially if they keep riding down.) On the other hand, if you wear too small socks – like trainer socks, you will be looking at pain on your hike. These socks will allow rubbing from various points on your boots, can ride forward and be very uncomfortable.
Your socks should not squeeze your foot, ankle or calf, this can cause circulation problems and will be restrictive to your movements. Likewise – socks that are too loose will ride down your calf, twist, and bump up under your feet, causing great discomfort and can lead to rubbing and abrasions before turning into painful blisters. It is a sound idea to make sure the inner seams of the socks are nice and flat – ridges around your toes will be uncomfortable and painful for walking in.
Expert Interviews & Opinions
Most Important Criteria
(According to our experts opinion)
Experts Opinion
Editors Opinion
Users Opinion
By Default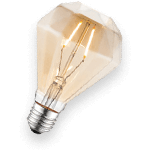 Yes, the Type of Sock Matters!
On average, a person takes about 2,000 steps to travel one mile. If you add hiking up and down trails and rocks, that number can grow even higher. With each step, your socks play a critical role in not only keeping your feet comfortable but also safe. To avoid future blisters and discomfort, when purchasing hiking socks, consider the sock height, the cushioning, fabric, and fit.
Frequently Asked Questions
q:

Can I wear everyday socks for hiking?

a:

It is advisable not to, hiking socks are designed and manufactured with specific features. For instance, they can be thermal, have compression qualities, draw moisture away from your feet. Normal socks will not provide you with shock absorbency or provide the comfort you need inside a good pair of boots.
q:

Is cotton best for hiking socks?

a:

Cotton is very thin and is best used as a lining for wearing under thicker outer socks. Or if you are planning on hiking in really hot weather – good quality cotton is better but probably won't keep your feet blister-free if you are wearing them under heavy hiking boots for a long time.
q:

Are wool socks too warm for hiking?

a:

Merino wool is widely used in hiking socks because it is made with finer fibers, is really comfortable and has the bonus of having natural wicking properties. You should try not to buy too thick a sock as this can cause unnecessary rubbing and overheat your feet.
q:

Can I buy synthetic hiking socks?

a:

Yes, the synthetic hiking boots are made with a blend of materials for comfort, often used are nylons and spandex. These can be particularly beneficial if you are planning to hike in hot weather or if your feet are prone to releasing excessive moisture.
q:

Are there variations in sock weight? And if so, why?

a:

You can buy lightweight, mid-weight and heavyweight hiking socks. Lightweight socks are best used in summer months and when the temperatures are high, they provide comfort without the bulk. Mid-weight socks are aimed at universal temperature ranges, they can offer medium cushioning for long-term comfort. Heavyweight socks are designed for use in extremely cold temperatures and offer warmth, insulation and ultimate cushioning for when you are an all year round hiker.
q:

Can I buy long-use hiking socks for rolling wear?

a:

Yes, some hiking socks have specific antibacterial qualities that will allow you to wear them for a while and will help reduce odor.
q:

Are all hiking socks thermal?

a:

No, you need to check the individual product information to see if the socks have thermal and insulating qualities.
q:

Do I need dual-layered socks for padding?

a:

It can be appropriate to buy a single, double layered pair, but some hiking socks will have padding already inside them at various high-stress points on your foot, again, it is advisable to check individual item descriptions for clarity.
Subscribe to our Newsletter