Best Nursery Rocking Chairs Reviewed & Rated for Quality
In a Hurry? Editors choice: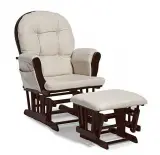 Test Winner: Storkcraft

Adjusting to life with a newborn is an adventure full of unpredictable surprises and challenges. You will be amazed by how much time you spend sitting with a little one.
In the beginning weeks and months of being a new parent, you will be up a lot at night feeding your baby and then getting him back to sleep. This can be done from your own bed, but eventually you will need a comfortable seat for feeding and rocking your little one. You can provide the most comfort to your baby when you are comfortable as well, which is why having a nursing chair is practical.

There are various factors to consider when choosing the best nursery chair for your home, and going through numerous features and designs can be overwhelming. This guide goes through the basics of selecting a nursery chair and a list of our top choices.
Standout Picks
Criteria Used for Evaluation
Style
There are several classifications of nursery rocking chairs. Many styles have names such as the Jefferson, Lincoln, Kennedy and the Lexington rocker. Each style has different backrests, armrests, and seat styles. Consumers find it useful to divide chairs into a sequence of broader categories. Listed are category styles of rocking chairs.
Classic Rocking Chairs
These style of rocking chairs would blend with any porch or parlor. Wicker rockers would fall in this category since they are one of the oldest rocking chair styles ever. Very few designers use natural wicker since the synthetic version is more sustainable. This style also lasts longer as it is hard to damage because it is waterproof. Also, it does not splinter or tear.
Chair with spindle and slat backs blend when placed in front of a fire, the same they would if placed on the front porch. These styles make great nursery rockers!
Rustic Rocking Chairs
Rustic rocking chairs are designed from hardwoods. Rocker nursing chairs are familiar, classic chairs that are budget-friendly. Many feature the chunkier "log-cabin" style and have lower seating, though you'll also find oversized wicker chairs in this category. This traditional 'up-and-down' rocking motion is operated by the legs, which means this style may not ideal for a mother who wants to maintain a rocking motion while putting her legs up. Many rustic chairs look quite masculine, which may be more ideal for fathers who participate in feeding their babies.
Adirondack Rocking Chairs
These style of chairs are ideal if you are looking for the classic outdoor chair. This rocker has a slightly reclining back and has a slightly angled seat. You cannot sit in this chair without lounging comfortably inside of it.
Polywood Rocking Chairs
Polywood is a synthetic type of wood that's made out of recycled HDPE plastic. That makes it environmentally friendly. In certain colors at a distance, it looks like painted wood. For the most part, polywood looks similar to plastic when you are near it. Most people do not choose polywood unless they will be using the chair outdoors.
The material of this rocking chair holds its color forever. Any scratches are hardly noticeable because the color goes throughout the material. Also, it is UV treated, so it doesn't fade. Like synthetic resin wicker, it is waterproof and virtually maintenance free. This style will make a perfect rocking chair for people who are on the go.
Recliner Rocking Chairs
Unlike traditional nursery recliners, recliner nursery chairs are designed with a lower seat and include a lever that adjusts the back of the chair along with the footrest. These styles, in particular, come in handy when you're comforting a sick child. Recliners are a comfortable option that can easily blend with living room furniture.
Glider Rocking Chairs
Wooden rockers have been the trend for decades, but gliders have recently become the trend due to their design. These provide a more backward and forward motion while the legs are up on a gliding ottoman. Some models swivel at 360-degrees on a fixed platform. Glider chairs offer more features and are designed in many different styles and types, including sleigh, bow, curved, transitional, two-post or grand; and in upholstered, wood, or a combination.
In addition, an upholstered glider is a better option if you have to sit for long periods of time. Certain designs provide supportive padding for the neck and arms and often have cushions that you can remove for easy cleaning. In addition, glider nursing chairs are built with controlled movements and stationary bases inside their pedestals to prevent floor damage. Many consumers purchase gliders for the nursery for its smooth operations.
Advantages with a Rocker - Recliner Chair
A traditional rocker is more cost-efficient and smaller in size, taking up less space wherever you will be placing it. This makes them ideal for smaller rooms, or as a secondary option to place in the basement. These chairs will make a great gift for the grandparents. They are usually easier to clean by simply wiping them down with a cloth.
Advantages with a Glider Chair
There are more features with gliders, and although these style of chairs tend to be larger in size, they include more comfort features like; more comfortable padding, the ability to swivel it, pockets for keeping different items, and an ottoman or footrest so you can put your feet up.
A glider is also made so that it doesn't pinch fingers and toes as it moves, thanks to a fixed track. These accidents can happen with a rocker since the front and back motion inches closer to the floor with every movement. These factors make gliders a more practical choice if you have another toddler or pet in the home that might scoot underneath the rocker when in use.
Materials
Rocking chairs are available in upholstered or designed from solid materials, such as metal, wood, wicker or bamboo. Before you come to a decision, decide where you want your rocking chair. This will help you better focus in on the right material for the job.
Upholstered Chairs
Upholstered nursery chairs offer more styles and comfort options. Spilled milk and foods can cause stains on upholstery, so always stick to rockers with removable seat covers that are machine washable. In addition, look for covers that are somewhat water resistant; so that they can be wiped down with a damp cloth. Micro-fiber is generally a good choice, and you cannot go wrong with leather or a leather-like material that can be wiped down easily. Protecting your chair with a stain-resistant treatment (Scotch-guarding) is another way of prolonging the life of your upholstery. This process can be done in the factory or you can treat it yourself after you take it home. This will help you to increase the lifespan of your nursery rocker.
Wooden and Other Materials
While upholstered chairs are convenient fashion statements, they are not durable in outdoor conditions. Wooden rocking chairs or those made from lightweight and plastic metal are generally better suited for outdoor use and are more budget-friendly than other materials.
While most frames are a combination of composites and softwood, there are also chair frames that are made with hardwood. Most composite and softwood gliders can hold up for the long haul. If you're searching for a chair that will stand the test of time, go for one with a frame made of hardwood.
Fit
This criterion may seem trivial, but the overall design of your rocker is important. It if does not fit with the aesthetic of your nursery, it would stand out like a sore thumb. If you plan to use it as a regular armchair, you can consider picking something that will blend with the rest of your furniture.
What will you do with the chair when your child becomes older? A chair designed from blue corduroy may be the right fit for now. A good nursery chair should take your child from the cradle to college. If you cannot fathom your college daughter using it for her studies, or your son entertaining his friends in it, you should opt for a chair a little less cutesy.
When choosing a glider for a room with limited space, consider selecting one with an ottoman or footrest built in versus one that you have to buy separately. This style will take up less space. Once the footrest is lowered, it will sit flush in the chair, and only pops out when you recline it.
Comfort
Your nursery rocker should provide plenty of head and back support - giving you room to change positions easily. Make sure that it is the correct size for your body as well. You will want your feet to touch the floor at a comfortable angle.
It is recommended to look for rockers that have soft-touch upholstery and thick foam padding, as these are generally the most comfortable options. Some rocker have pockets to hold baby gear like burp cloths. Others are designed with pockets to hold cell phones, magazines, and TV remotes down the road.
Stability
Since a rocker or glider is an investment, be sure that the frame is stable. A good nursery chair should provide enough support to allow you to stand up without disturbing your baby. If the chair is too big, it can be hard to get up without waking the baby you've just spent an hour putting to sleep.
Before purchasing a chair, check to see if the seat tilts backward or sideways easily. The movement of a rocking chair should be a smooth one. If the legs seem to be coming off the floor when rocking, do not buy it. Heavier chairs have more stability as they cannot be moved easily by children. It is recommended to choose one that isn't lightweight.
10 Best Nursery Rocking Chairs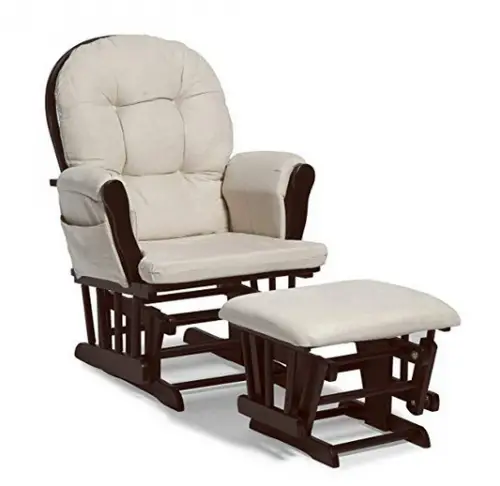 The Storkcraft glider and ottoman set has a large seat area and cushioned arm padding to offer maximum comfort. There is a side pocket that you can store items, including a baby bottle. This combination is ideal for your nursery. The overall weight is 49.5lb, and the dimensions are 22.5 x 50 x 24.8 inches.
Comes in Assorted Colors
The seat cushions are machine washable. The material is microfiber, which has a protective finishing that is non-toxic. Color options are; butter, beige, pink, light green and blue, denim, chocolate, yellow and pink gingham, and wood bax colors. You can also find the glider in these colors: cherry, white, black, espresso, oak and natural colors, and cognac. These color selections are also upholstered in microfiber.
Durability
The glider has a solid wood construction which will remain durable for years to come. It does not recline or swivel. This style will add a timeless look in your home. The arms have a curved design. Plus, you have a choice of a classic wood glider or an upholstered model that has rolled arms. No batteries are required to function.
Cost and Value
The Storkcraft glider is eligible for replacement parts at no charge. The glider is designed to be lead free, which makes it safe for use. It comes with a one year warranty and is also eco-friendly. Its specifications are CPSC or CPSIA compliant. It is registered with the JPMA and is ISTA 3A certified. For questions regarding refunds, contact Storkcraft customer service by telephone or by email.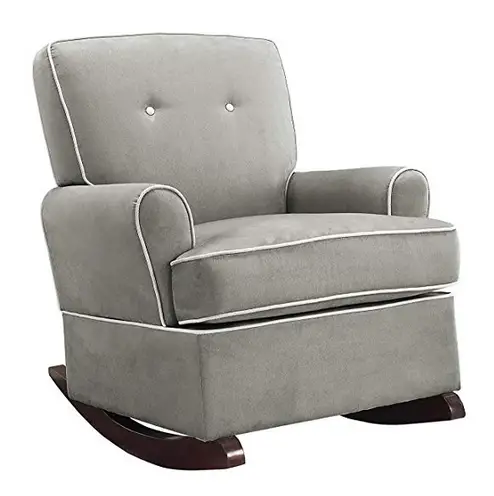 This rocking chair can be an excellent option if your nursery is already full with furniture. The chair's material is microfiber with a piped trim design, which gives it a nice sleek look. It comes with padded arms, which provides comfort for the mother - while protecting the baby's head from accidental bumping. Product dimensions are 29.5 x 35.2 x 36 inches and weighs 46.2 pounds.
Very Comfortable
The Baby Relax Tinsley rocker comes with cushions and a backrest that's thickly padded - providing maximum comfort. The soft chair is designed with fabric upholstery with a two-tone welting, giving it a crisp clean look.
Rocker-Recliner Adjustability
This recliner rocker provides maximum comfort - performing both a reclining and a rocking motion. It comes with a footrest for foot and leg support. With a graphite grey, accented with a white welting, this recliner chair can blend with almost any type of home decor.
Cost and Value
The Baby Relax rocker chair will be your go-to when it comes to play time, feeding time, and soothing your baby to sleep. Its contemporary styling and sturdy construction combined makes this chair top quality. If there is a problem with your purchase, you can contact Baby Relax directly for returns or warranty information.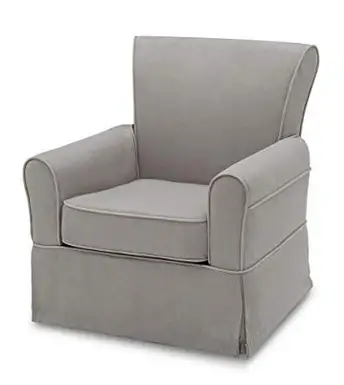 Thoughtfully made to meet parents' needs, the Benbridge swivel rocker from Delta Children is a comfortable armchair designed with back support. It gently rocks, glides, and swivels, while providing a relaxing environment to bond with your child. The rocker is available in different colors, making it ideal for your nursery. Product dimensions are 30.2 x 32.5 x 36 inches and weighs 79 pounds.
Quiet Movement
The Benbridge glider, swivel rocker is an upholstered nursery glider that features a swivel function. It is made from a steel mechanism to provide a glide motion, a smooth swivel, and a quiet movement.
Ideal For Smaller Spaces
The rocker is made with a smaller frame which means that it's ideal for smaller spaces. It's designed for reliability and durability. The height of the back is tall, which can accommodate just about anybody, allowing you to rest without feeling stiff if you should fall asleep in it.
Cost and Value
The rocker is easy to clean, and the polyester material won't soak in spills. It comes in one color – meaning that it can blend pretty much with most color schemes.
If you are not happy with your purchase, items can be returned to the manufacturer within seven days of delivery. The item must be in its original condition and must include all parts.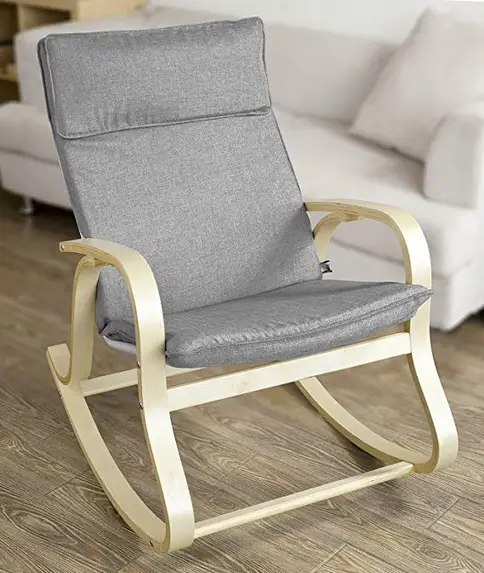 The Haotian rocker is a stylish chair made out of a birch wood frame that comes with a varnish coating. It comes with a cotton fabric cushion seat. The color and its simple construction give this chair a stylish look. Product dimensions are 37 x 24 x 7 inches, and weighs 21. 9 pounds.
Smooth Motion
The chair has a smooth motion that will help calm your baby. The key features of this nursery rocker is its comfortability and strength. The Haotian FST15-DG is the ideal chair for a nursing mother.
Cotton Cover
The Haotian chair comes with a cotton cover coupled with a zipper to allow for easy removal and washing. However, the cover could stain if you do not follow the recommended cleaning instructions on the label.
Cost and Value
The Haotian rocker is a unique rocker-lounger that will offer both safety and comfort while you are nursing. If you are not satisfied with your purchase, customers can contact Haotian regarding returns or exchanges.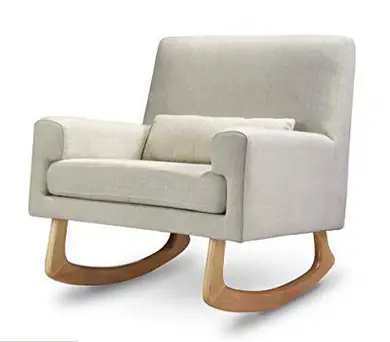 The Nursery Works rocker is finely upholstered with a fitted, padded back using a viscose blend, polyester, and linen. The legs are made from Ash hardwood and deliver a smooth, rocking motion. Product dimensions are 34 x 30.5 x 34.8 inches and weighs 50 pounds.
Fabric To Fit Any Nursery
The nursery rocker is upholstered and designed by hand. The polyester blend combines 15% viscose, 10% linen, and 75% polyester. A lumbar pillow is included and is removable for cleaning. Furthermore, the material is chemical free and satisfies the CA TB117-2013 guidelines on flammability.
Aesthetic Look
This nursery chair is very simple to assemble and has a classic, aesthetic look. Makes a wonderful addition to a nursery or any room in the house. The ash hardwood legs enhance the look. The rocker comes with plush arms that make it comfortable for you to put your baby to sleep.
Cost and Value
The Sleepytime rocker chair will add a modern and chic look to your baby's nursery. Your purchase will be repaired or replaced at the company's option for free. Furniture comes with a 1-year warranty from the purchase date through an authorized retailer. Nursery Works warranty covers you against manufacturer defects.

6

. Baby Relax Harlow Wingback


This chair comes with a wing back design and is very fashionable. It is constructed with a nailhead trim located on the base, front arms panels, and the side panels. The antique nail heads give this chair a very classical feel. Product dimensions are 37" x 39.75" x 31.5" inches, and weighs 68 pounds.
A Soft Chair for Nursing
The Harlow wingback rocker is comfortable and very soft on the skin. The chair is designed with quality materials where quality fabrics are used in the construction. In addition, the supportive core foam seats provide comfort. Its wingback design adds personality and style.
Hard Wood Legs
This traditional rocker is designed out of solid wood with an espresso finish. It does require some assembly. Also, you can easily move the chair, as it is lightweight and the assembly is easy.
Cost and Value
This rocker chair can be included in a variety of spaces, particularly nurseries, bedrooms, and smaller sized spaces. Boasting a high, supportive back, the Harlow wingback nursery chair can provide comfy elegance without taking up excessive space. For information regarding returns and exchanges, please refer to the seller's individual policy.

7

. Baby Relax Brielle Button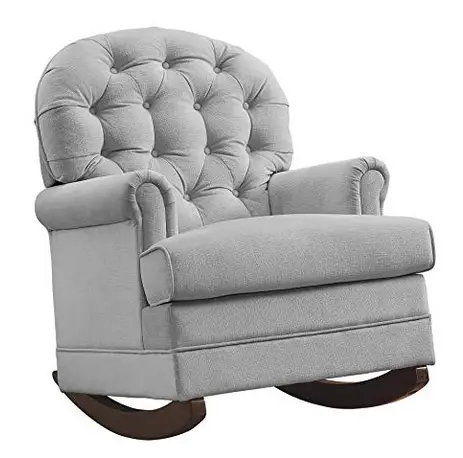 The Baby Relax Brielle rocker is an awesome addition to your baby's nursery. This chair is another super comfortable nursery rocker. It is constructed with beautiful button tufting on the backrest, a classic bow back style, and padded back and armrest. Product dimensions are 38 x 30.4 x 38.1 inches and weighs 70 pounds.
Spring Core
The spring core seats make up for long nights with your little one. The solid wood legs offer a smooth movement. It is upholstered in a soft, gray linen fabric that is easy to clean. The nursery rocker showcases a classic style.
Lasting Comfort
This upholstered rocker comes in an espresso color and durable construction; ensuring a comfortable chair to feed and soothe your baby. It is available in a variety of shades to suit your nursery and home furnishings for many years to come. The maximum weight capacity is 225 pounds.
Cost and Value
Beautiful and comfortable. These two words are enough to describe the Brielle Button upholstered rocker. It has a durable construction with plush padding and soft fabrics, providing both comfort and sustainability. For any parent wanting to give their nursery a classic look, this rocker is the right choice for them. For information regarding returns and exchanges, please refer to the seller's individual policy.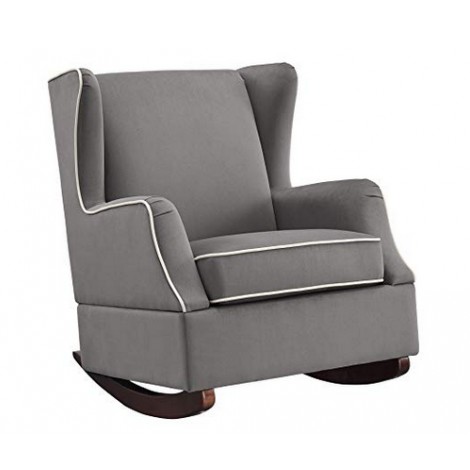 Go for the Hudson rocking chair and you will be provided with a classic design for your nursery. This rocking chair will become your favorite spot for spending time with your baby. It is available in different shades that will complement your existing décor. Product dimensions are 36.8 x 29.5 x 37.8 inches and weighs 65 pounds.
Design
The traditional look of this wingback rocker features white details throughout. The rocker comes in a tailored finish. A nap is a guarantee as you gently rock on its curved, wooden legs. This will make a great addition to your nursery or living space.
Adds Warmth To a Room
Made with a durable wood frame and covered in a soft, touchable fabric of your choice, this classic rocker will leave a lasting impression. You and your baby will create fond memories as you enjoy the comfort of the Hudson nursery chair.
Cost and Value
This nursery rocker will easily stand the test of time for its durability. Make this upholstered chair a part of your nursery today! For information regarding returns and exchanges, please refer to the seller's individual policy.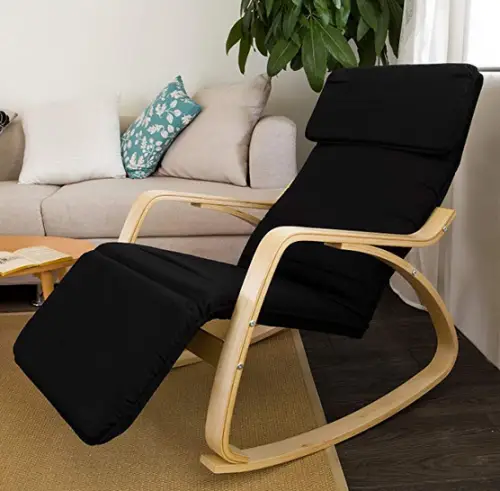 If you're looking for a simple, everyday chair for equipping your nursery, the Haotian rocking chair could be worth looking into. It is an ordinary chair for people who want to stick with the basics without the bells and whistles. The product dimensions are 33.5 x 22.4 x 9.5 inches and weighs 13 pounds.
Handy Features
This chair comes with some handy features – like the washable and removable cover, a side pocket to place items, and attached pads under the legs to stop them from damaging your floor when you are using it.
Affordable
The chair comes unassembled, so be prepared to set it up. It comes with detailed directions, but some consumers reported that it was a bit of a challenge to get the holes lined correctly. As far as quality, it's comfortable and fairly sturdy for it to be affordable. Do not rock it vigorously, especially if you are using it on a carpeted floor.
Cost and Value
The Haotian rocker is very relaxing and fun. It is perfect to place in a nursery or in other areas of the house. For any reason you are not satisfied with your purchase, you can contact Haotian regarding returns or exchanges.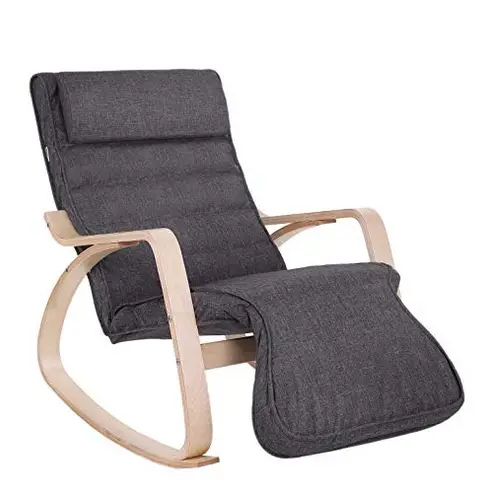 The SONGMICS rocking chair offers a chic place to feed your baby, dive into a book, sip a cup of tea, or just relax your mind comfortably. This rocking chair is ideal for a smaller nursery. Product dimensions are 26.4''L x 45.3''W x 35.8''H, and weighs 21.6 pounds.
Adjustable Footrest
Designed with a footrest that is adjustable. You can adjust it to 5 positions. This chair offers 2 height options for the headrest. The seat is crafted with a thick foam padding and a linenette fabric cover for maximum comfort. Features anti-slip pads placed under the legs that protects the floor from damages.
Versatile
Gently soothe your baby to sleep or read to your child in this comfortable chair. The large seat provides a contoured design that is ideal for a small nursery, balcony, living room and study. Padded armrests are added for extra comfort.
Cost and Value
The Songmics rocking chair comes with detailed directions for assembly. The chair covers are removable for easy cleaning. This nursery chair is a great value for the features it provides. For returns, any items must be shipped back in their original packaging. Songmics offers a 30-day return from the date of delivery or 40 days of purchase. Customer is responsible for shipping fees.

Subscribe to our Newsletter