Best Black Powder Revolvers Reviewed and Rated
Do you prefer the lure of muzzleloader hunting above all else? Or it's the rich history of the Wild West that fascinates you? Well, if you're looking to recreate a little history of your own, the conventional muzzleloaders are a great place to start with. Black powder revolvers have been around for centuries and today, we help you pick the best black powder revolvers available on the market.
From the mass-produced guns to the precision-engineered to the exclusive ones commissioned for the rich, you can find an insane range flooding the market scene. Doesn't matter if they are too common or rare, they all help you get in touch with history and are FUN to shoot. If you're an avid shooter looking for your next big game in the wild outdoors would certainly relate to what makes muzzleloader hunting one of the fastest growing shooting sports in America.
Black Powder Shooting Back in the Good Old Days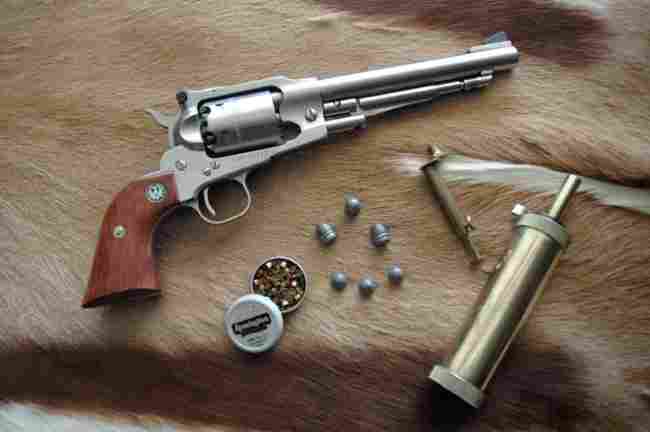 If you had spent enough time in the hunting camps, you must have heard some fascinating stories about the great American Wild West and the infamous shootout at the O.K. Corral – one of the famed gunfights in history. But if the history taught us anything it's never without its fair share of guns and battles. But the history concerning the revolvers goes way back to 1836 when an American named Samuel Colt patented his first revolving firearm which eventually led to the evolution of revolvers in 1847 which started with the Civil War and the rest is history.
It started with one person who set out to change history and he did. He made his mark with his brilliant craftsmanship and out-of-the-box thinking. The Colt revolvers dominated throughout the 1850s while continuing its services with longstanding customers and promoting its brand. The legend died after the Civil War broke out leaving behind an esteemed legacy. The famous gun manufacturing company is still in business today and serves a global clientele with its state-of-the-art weapons. Thanks to Colt, revolving pistols are a luxury these days and black powder shooting has never been this fun and enjoyable.
The Ultimate Hunting Experience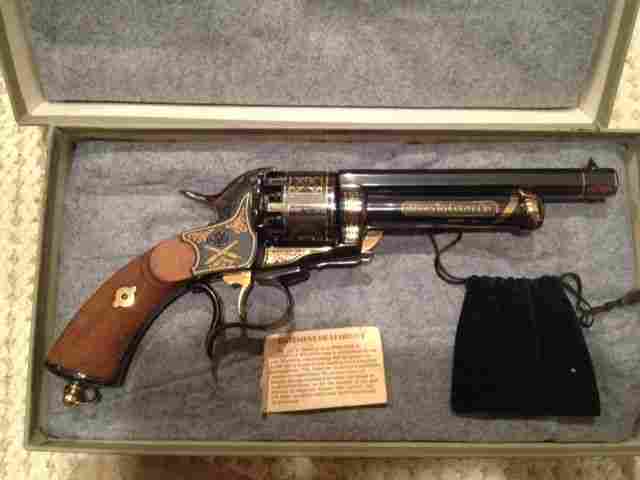 Unless you hold one in your hand, you won't realize what it's like to shoot a muzzleloader. The modern-day designs, superior accuracy, easy cleaning, and quick loading has made muzzleloader shooting a privilege and muzzleloader hunting a booming business. Once inefficient limited range devices are now a preferred weapon of choice among seasoned hunters and adventure seekers alike. It's more than just an intimidating sport now; it's an exhilarating experience. Maybe this is the reason why more and more people are getting into hunting and shooting with the classic muzzleloaders.
The sport has reached new heights thanks to the increasing demands of seasoned hunters and the evolution of muzzleloaders. The popularity of muzzleloaders has grown exponentially in the past two decades which catapulted the growth of muzzleloading firearms. Their limitations have now become their strength and the once not-so-reliable firearms are now the state-of-the-art devices of the modern day. The muzzleloading market took a dramatic surge owing to the growing demands of hunters which finally led to the emergence of the more challenging sport of black powder hunting.
Choosing the Best Black Powder Revolver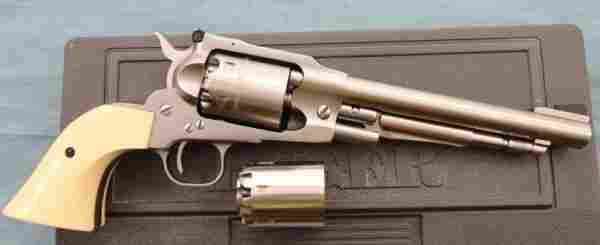 There's nothing quite as exhilarating as shooting a muzzleloader, but how do you find yours? Selecting the perfect firearm is no easy task, especially when the firearms market is flooded with so many options and you don't want to settle for one just on the basis of efficiency alone. Before you go muzzleloading, consider a few factors first.
Types – Muzzleloaders fall under two basic categories that define the hunting game – traditional and in-line. Whether you want to hunt during the muzzleloader-only hunting season or just want to take the feel of shooting a muzzleloader, the firearms often tend to be different, like the people who use them. The traditional muzzleloaders take more time and effort to fire, not to forget the mess they leave behind. The in-line defines a different class altogether incorporating modern-day conveniences into a classic passion.
Projectiles – Whatever muzzleloader you choose to shoot, it all comes down to bullets. The modern in-line configurations require more precision and accuracy so they use more efficient round lead balls. They are ideal for those who like to hunt old-school like their great-great-grandfathers did. While the modern firearms require modern bullets, there are still some configurations that require a greater knock-down thus use conical lead bullets. For hunting large game, conical bullets excel but they are comparatively less accurate than their round counterparts which are ideal for close encounters.
Barrel – Seasoned hunters mostly prefer stainless steel barrels because they are great to hold onto and are quite easier to clean which makes them a great fit for the woods. You could always go for the more pricey aftermarket black coating barrels but your actions in the woods make a difference to your hunting and you don't spoil a good hunting season because of a poor choice.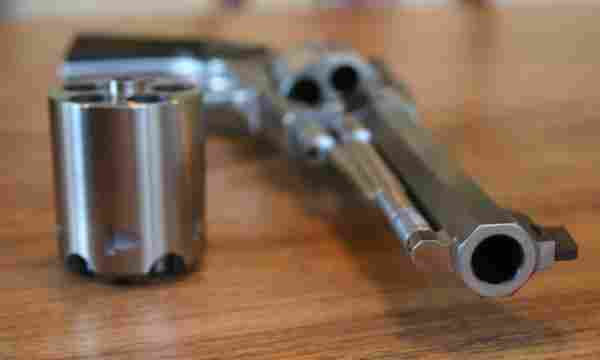 Loading – If you want to have some real fun with muzzleloading and get the best out of your hunting, maybe stay away from those old-school muzzleloaders because of one simple fact that they are a little tough to load. But modern-day attachments and technological advancements have made loading a muzzleloader less stressful and more fun than ever. Hunting scene has been widely dominated by the in-line muzzleloaders. Loading a muzzleloader is a little tricky business but it's not rocket science. Just a few simple steps and you'll fire like a pro in no time.
Accuracy – Performance, and accuracy – these are the two common attributes that every black powder enthusiast craves for. Only a true hunter understands how the accuracy makes a difference between a decent shot and a great shot. Because a hunter only gets one chance, it's important to make it count. When it comes to firearms, nobody can compromise on quality and accuracy, whether he's just a black powder enthusiast looking to hone his skills or a seasoned hunter looking for his next big game. The sport itself is a big challenge and the changing technology has made this sport more accessible and more fun than ever. The right caliber and easy loading account to better accuracy.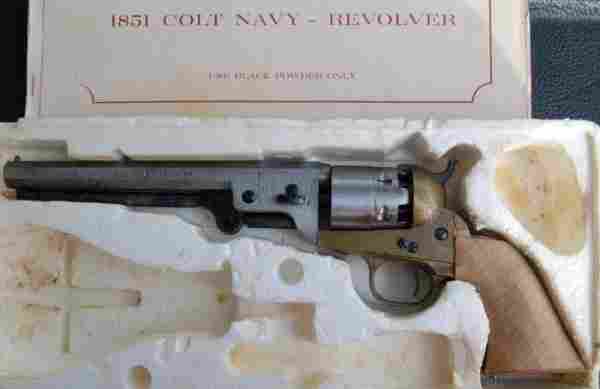 Cleaning and Maintenance – Keeping your muzzleloader clean is the key to a great hunting experience. As a hunter, you know the importance of each shot and in the woods, each shot counts. Modern in-line muzzleloaders can be thoroughly cleaned and ready for action in less than half an hour which makes it easy for the hunters to maintain the accuracy of the firearm. Plus you can find some good cleaning solutions to make cleaning a breeze. It takes some time to clean a muzzleloader but the extra effort and time are worth the reward. Remember, not to rush it because it can only add to your cleaning woes and you don't want to compromise your performance in the woods.
Sights – Muzzleloaders usually employ two types of sights: fixed sights and adjustable sights. Fixed sights are perfect for small game hunting because of the fact that they have literally no moving parts and are relatively less expensive. Adjustable sights, on the other hand, fit most auto pistols without replacement making them an ideal fit for precision shooting. They are great for target shooting. The idea is to get your target quickly and reliably. However, it's not wise to spend more on some hefty sights for pistols that are intended for some specific purpose.
10 Best Black Powder Revolvers

1. Pietta Model 1858 New Army .44 Caliber Black Powder Revolver
One of the most-favored sidearms of the great American Civil War, the classic Pietta Model 1858 is a game-changer that changed the course of history to pave way for the most significant line of medium and large frame pistols. It was one of the most powerful single bolt-action revolvers during its time and was the last in the line of Remington percussion revolvers. It's single action and like any other handguns of the Civil War era incorporates a six-shot cylinder. It delivers the same power and accuracy as the original, but with a slight modification of wooden grip and branding on the barrel.
It delivers the same power and accuracy as the original, but with a slight modification of wooden grip and branding on the barrel. The revolver is blued steel completed by a finely polished brass trigger guard which only adds to its aesthetics. Thanks to the "milled slots" feature, the gun can be cleaned thoroughly and quickly without any hassles. Loading can be a bit tough but fun. The revolver is blued steel completed by a finely polished brass trigger guard which only adds to its aesthetics.
2. Uberti Model 1847 Walker .44-Caliber Revolver
Often referred to as the BIG DADDY of percussion revolvers, the single-action .44 caliber revolver was one of the deadliest weapons of the Wild West and it was the popularity of the 1847 Walker that paved way for the infamous gun maker Samuel Colt's success to fame. The massive 9-inch barrel and the 60-grain charge conjure images of a powerful handgun that's literally made it a star of the silver screen. It was almost a vision come true for Colt that made a weapon so powerful that it would take down a horse and so handy it would do wonders in your hand.
It terrorized the battle scene of the Mexican War with its unbelievable firepower and robust features. The demonstration was quite enough to grant its status of the "Dragoon Pistol" and Colt's vision finally made it to the battle. The gun made quite a history in 1844 when 16 Rangers took charge of the 80 Comanche warriors at gunpoints. Its operating mechanism and robust features finally gave rise to the Peacemaker, the Colt 1873, the most sought-after weapon of the Wild West.

Originally manufactured as a Navy Revolver, the Model 1851 dominated the naval battle scene and became a popular weapon of choice during the western expansion. Its easy-carry design made it a great fit for belt holsters. It made quite a demonstration in the American Civil War which ultimately led to its worldwide appreciation. Russia and Britain joined the Colt brigade taking it on a global level and the rest is history. Its popularity and promotions, considering its holster-friendly design, distributed the .44 caliber single action revolver across Africa, Asia, and Europe.
It features a brass frame and trigger guard with eye-catching walnut grips and blued octagonal barrel, and the naval battle scene engraved onto its cylinder. Colt also manufactured several other engraved revolvers at the time but the 1851 Navy Colt stood the test of time and paved way for the new efficient line of cartridge firing single action revolvers. Although discontinued, it's still one of the most sought-after single action Navy revolvers of all time.
4. Pietta Griswold and Gunnison .36 Caliber Black Powder Revolver

This single action Civil War-era revolver is quite a piece of work considering its streamlined design and more robust features that put them in the league of Navy Colt revolvers. The brass frame clearly sets this thing apart while the walnut grip adds to its old-school aesthetics. It features a blued dragoon style barrel and a long round cylinder and was primarily used by the Confederacy. It followed the original Colt Navy 1851 pattern with two variations – a round barrel and a brass frame.
The brass frame reflects the scarcity of steel at that time and the war took over the entire supply chain resulting in the use of brass in frames. There were around 3600 guns made and delivered while many were destroyed or lost during the war and after. For the better part, it was one of the most under-appreciated firearms of the Confederate Army but today, they are the rarest of percussion revolvers found exclusively in the rare collection of famous collectors.
5. Pietta LeMat Cavalry .44-Cal. Black-Powder Revolver

The brainchild of the infamous Jean Alexandre LeMat, this classic percussion cap revolver was one of the most remarkable firearms of the American Civil War that was enthusiastically sidearmed by the Confederate cavalry officers of the States and Government of National Defenses Army during the Franco-Prussian War. It was the brilliant mind of LeMat which put him in the forefront of the New Orleans society which further inspired him to be a passionate patriot of the Confederacy. Professionally a physician, LeMat had an inventive mind which poured some great ideas which finally resulted in services rendered in favor of the Confederacy.
What sets the sidearm apart is the 9-shot, .44 caliber cylinder that revolves around a separate 20-gauge barrel. It features a richly blued barrel completed by remarkable European walnut grips making it a unique black powder revolver. As many as 2900 revolvers were produced between the period of 1856 and 1865 which would have been more it wasn't for the lack of local manufacturing facilities. Well, it served the American Civil War for mostly its entire time as a primary sidearm but never got past the Union blockade. Although it wasn't actually the most accurate revolver around, it made its mark as a Confederate Army favorite and an ideal choice for the close combat.
The Interest in Black Powder Revolvers
Black powder revolvers are a classic and timeless firearm that many hunters, gun collectors, and gun enthusiasts prefer. One of the first revolutionary designs that included a self-contained bullet was the black powder revolver. During the late 1800s, it gained prominence and was preferred by lawmen, cowboys, and soldiers. The black powder revolver maintains a timeless charm that the modern guns with the many advancements do not have. Many individuals still own and use one of these classic firearms today for general range practice as well as hunting.
The most common reason why the black powder revolver maintains a timeless appeal is the close association of the gun to the Wild West era and gunslingers and cowboys. Numerous Western TV shows and movies that portray heroic gunfighters are the reason many of us grew up associating this classic gun with the Wild West and cowboys. In fact, a large number of black powder revolver owners say that the first time they desired one of these firearms was when they were still a child watching westerns. The black powder gun has a distinct look that has implanted itself into the minds of all the boys that have ever watched a cowboy movie or TV show. As a child, black powder revolver owners start with a toy revolver and cowboy costume and work their way up to purchasing an actual black powder revolver as an adult.
Black powder revolvers may resemble other modern revolvers, but there is one distinctive feature that sets it aside from the rest. This timeless firearm does not use normal revolver shells. A black powder revolver utilizes a revolving chamber where black powder is placed in the chamber as well as a bullet by the user of the gun. Loading this type of gun requires a complicated process that involves disassembling the firearm and loading each chamber in the proper way, one at a time. It is extremely vital that the black powder that is placed in each chamber is loaded and packed down correctly to ensure that the bullet fires. It is recommended that you have an expert guide you through the process of loading your very first black powder revolver to be sure it is completed properly.
There are numerous uses for this classic firearm. In addition to firing it at the gun range for entertainment, some individuals use it for hunting. Hunters that use a black powder revolver enjoy using this gun because it makes them feel as though they are hunting in the same way that their ancestors did many years ago. Another exciting way a black powder revolver is used is in historical reenactments of battle. Participants use this firearm to add some historical accuracy to the event. The participants load the revolver with the black powder only, without the bullet, to allow the gun to be fired safely without placing anyone at risk.
FAQs
Frequently Asked Questions
Q: Do I need a license to possess a muzzle-loading cannon?
A: No, you don't need one as a muzzleloader cannon falls within the same category of the muzzleloader firearm according to the Section 1 of the Firearms Control Act. However, you'll need a valid black powder permit to carry a black powder firearm doesn't matter if it's a muzzle-loading cannon.
Q: What's required for a black powder permit?
A: The permit authorizes anybody with a valid black powder permit to carry and use one. So you need to have one to apply for the necessary permit for the possession of the firearm. However, you must license the black powder revolvers as according to the Firearms Control Act, they don't fall under the definition of muzzleloading firearms.
Q: What are the requirements for storing black powder?
A: You don't need anything other than a valid black powder permit and a safe, secure cabinet or locker where you can carefully store your black powder firearms for safe storage. The necessary documents should be kept together as well for easy procurement.
Q: What maintenance do I need to do on my black powder revolver?
A: Black powder is quite vulnerable to water which acts as a potential accelerant to rust and corrosion, so it's highly advisable that you should clean your firearm(s) from time to time and thoroughly after regular use. The outer parts should be duly cleaned and oiled to ensure a superior performance on the long haul. There are special cleaning solutions for firearms that are perfectly capable of handling your cleaning woes, plus you can always use soapy water to clean them as well.
Q: How do I care for the exterior metal parts of the revolver?
A: Like we said, the metal parts are more prone to rust and corrosion so try to keep them away from moisture and water. Any legit license holder knows that proper cleaning and maintenance of firearms is the key to increasing their lifespan. You just need the right tools and equipment for the job. A simple cleaning brush will do the job just fine and won't damage the parts either. Remember not to use water for cleaning as it will only make things worse.
Decision Time
There's no point in being a new gun owner unless you know how to handle them first. Guns are powerful but delicate machines that you won't get a better hold of unless you hold one in your hands. It's all about how it feels on your hands so a test handle is probably a great idea. Well, there are many different factors that impact the functionality of a revolver and your decision should be based on those factors and of course, how you intend to use it and what for. The in-line models are a fad these days, so you'd obviously want to go with the flow while for some serious hunting game, traditional classics are a long way to go. But at the end of the day, it comes down to personal preferences. Happy Hunting!