Best Handgun Magazines Reviewed and Tested
Without the necessary ammo and magazines, a gun is just a piece of hardware, a little more than a metal or plastic club. The main objective of every survivalist is good security and make no mistake: a loaded gun is far more effective than one that's not. Magazines can be integral to the firearm. The detachable magazine is often referred to as a clip, which is technically inaccurate. Although often misused when referring to small firearms, the terms magazine and clip are not interchangeable. A magazine feeds ammunition into the firearm's chamber. Basically, a magazine stores cartridges and moves them into the firearm's chamber.
With the increased use of semi-automatic and automatic firearms, the detachable box magazine became increasingly popular. Soon after the adoption of the M1911 pistol, the term 'magazine' was settled on by the military and firearms experts, thought the term 'clip' is often used in its place, though only for detachable magazines. The main difference between a clip and a magazine is the presence of a feed mechanism in a magazine, typically a spring-loaded follower, which a clip lacks.
History
The firearms in the earliest days were loaded with loose powder and a lead ball, which requires multiple barrels to fire more than a single shot without reloading. These barrels – pepper-box guns and double-barrel shotgun, or multiple chambers, such as in revolvers – add bulk and weight over a single barrel and a single chamber, however, many attempts were made to accomplish multiple shots from a single loading of a single barrel through the use of superposed loads. While some early repeaters managed to operate using complex systems with multiple feed sources for the ball, powder, and primer, easily mass-produced repeating mechanisms did not come to the picture until self-contained cartridges were developed.
Why Carry a Spare Magazine?
When it comes to ammo capacity, concealed carry holders make calculated compromises. While many believe that carrying a reload with your concealed carry pistol is a bad idea, there are some compelling reasons that support the practice. Let's say, if you have to use your gun in self-defense, there is always a chance that you'll need more ammo that what's already in your pistol. Doesn't matter if it's a five shot J-frame revolver or a Glock 17 with a 17-round magazine, there's a little chance that you can run out of ammo before the fight is over, leaving you in a vulnerable position. The fear of this happening is reason enough to carry extra rounds.
Every gun has its pros and cons in all areas and all conditions. Don't let the perfect take the toll on you. Most semi-autos or handguns malfunction eventually, and in many cases, the only way to get rid of the malfunction is to have some extra rounds at your disposal. Without this recourse, the jammed gun becomes worthless because a jammed gun is as good as an empty gun. At the shooting range, it's an inconvenience, while on the street, it could be deadly. Doesn't matter what caliber or gun you choose for concealed carry, make sure carrying capacity is a high priority in your final calculations.
Carrying a concealed firearm, though, has nothing to do with what is likely to happen. Rather, carrying daily is a habit around the notion that is contrary to the previous statement. It's a responsible and disciplined response to a moral absolute which states preservation of innocent life is above everything else. So with regard to carrying a concealed weapon, keeping a spare magazine or two is a responsible thing to do. Arming yourself with the right equipment is the first consequential step toward being able to prevail against violent threats.
How to Carry a Spare Magazine?
There are a few conventional ways and probably dozens of unconventional ways to carry extra ammunition in a discreet manner. However, you have to take several factors into account when deciding how best for you to carry a spare magazine.
Belt Pouch – There is a multitude of options to carry a spare magazine in a discreet manner; both inside the waistband and out. The spare magazine is relatively flat and can be best carried in a belt pouch on the side of the body opposite the holster. Typical materials used are Kydex, plastic, and leather. If you choose a Kydex carrier, make sure it's form fitted to your specific model of the magazine. Vertical carry is best for concealment and faster for access, and reloading will be more positive if each mag is carried with the bullet noses forward. A belt pouch is probably the best way to carry a spare magazine to access it quickly and comfortably.
Pocket – For more or easier concealment, carrying the mag pouch just behind the left hip in the pocket could be an adaptable way to ensure you're better prepared for the unexpected. It doesn't require an accessory or that you wear your shirt un-tucked. Well, there are drawbacks too for pocket carry, however, it's probably one of the best cost-free ways to carry that spare magazine. Concealment depends on many factors, one being just how well fitted your pants are. Getting to your spare in a pocket can be a little tricky sometimes, but it is probably best if the magazine could be the only thing in that pocket.
Vest/Sport Coat – An open-front concealment garment such as a vest or a sport coat or an unbuttoned sport shirt could be some great alternatives to carry your spare magazine. This way it minimizes the likelihood of the magazine becoming visible. Also, weight on the corresponding point at the opposite side of the body seems to balance the weight of the holstered weapon and increase overall comfort of your body once you're used to the presence of the object.
Purse or Pack – A purse, bag, or backpack might seem like the easiest way to carry extra ammo; it conceals completely and doesn't change your clothing pattern as well. There are a few pocket magazine carriers available, but none are as fast to access as reaching under the same garment that conceals your firearm and snatching one out of a belt-mounted pouch. However, off-body carry of a firearm or ammo, no matter the method or location, is not always the best method to employ. If it's not on your person, it can be dropped, taken from you or accidentally forgotten somewhere else. Moreover, getting to your spare will take seconds longer when you have to sort through your bag to find your magazine.
Best Handgun Magazines Reviewed in 2017
Now that you completely understand carrying a concealed weapon or spare magazines has nothing to do with what is likely to happen. Rather, carrying daily is a habit built entirely around the notion of what is highly unlikely to ever happen. But before that, let's take a good look at our top picks for best handgun magazines.
Tactical Solutions 22/45™ SLAM Magazine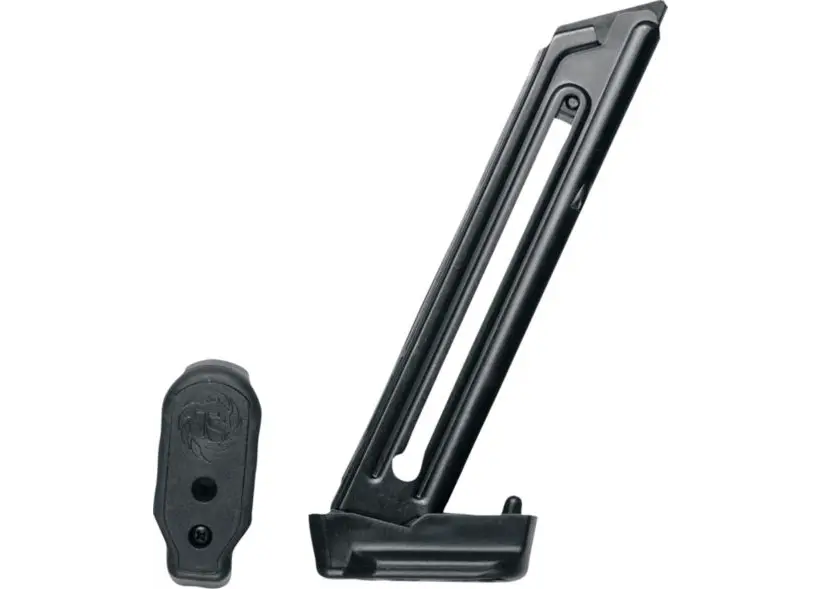 The Tactical Solutions 22/45™ SLAM (Spring Loaded Action Mag) Magazine, which is compatible with any Ruger 22/45 model, including Lite, features an impact-resistant Zytel extended-length base pad which makes sure it's seated properly each and every time. This easily gripped, spring loaded magazine with improved design fits all generations of the 22/45. Spring loaded plunger makes magazine removal a breeze. Plus the ruffed polymer construction ensures increased durability and sturdiness.
Pros:
Extended, impact-resistant Zytel base pad for proper seating
SLAM design ensures the magazine is seated and ejected correctly
Compatible with all generations of Ruger 22/45, including the 22/45 Lite
Rugged polymer construction for long-term durability
Spring-loaded plunger for easy magazine removal
The base adds some additional depth to the magazine
Cons:
The base is poorly made
Not robust enough for open field work
Remington Factory Magazines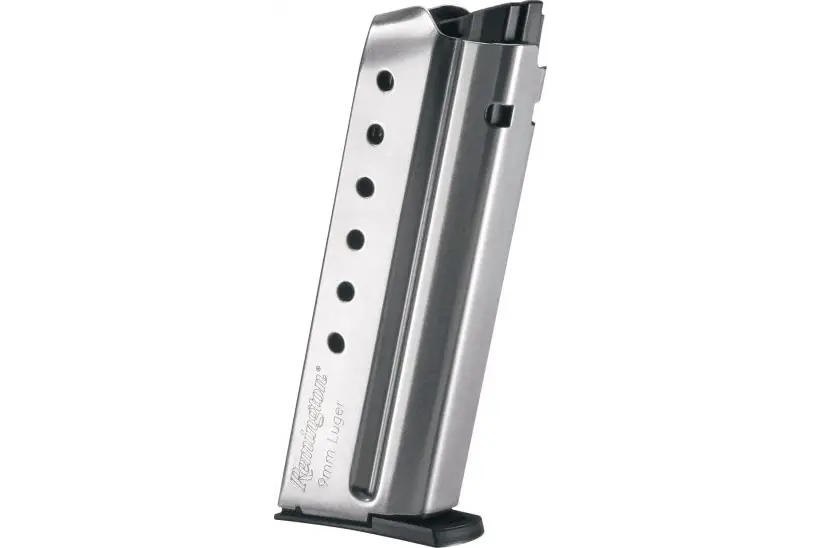 Increase the volume of your handgun's firepower with the ultra-reliable Remington Factory Magazines that are made of durable stainless steel for long-lasting performance. This durable, high-capacity magazine provides a long service life using the latest manufacturing technology. These magazines are built tough to keep running in unforgiving, real-world conditions. They are precision engineered to minimize stress points, virtually eliminating feed lip cracking and stress fatigue. The blued magazines are manufactured to precise tolerances and are available in a variety of ammunition configurations.
Pros:
Durable high-capacity magazine provides a long service life
Made of durable stainless steel using the latest manufacturing technology
Precision engineered to minimize stress points
Corrosion-resistant design for marine environments
Available in a variety of ammunition configurations
Cons:
The magazines tend to bulge slightly when loaded
Forced insertions will show areas that might require minor to moderate polishing
Does not fit the older Remington models
Wilson Combat 1911 Magazines
The Wilson Combat 1911 Magazines combine heavy-duty construction with the reliability you'd expect from a century-old service weapon. Wilson Combat has been supplying shooters with the world's most reliable and durable .45 auto magazines for the past 30 years. The magazine springs are specially fabricated from the highest tensile strength heavy duty spring wire for long service life. Plus the magazine body is manufactured from .027-inch aircraft grade certifies 17-7 PH stainless steel and heat treated for maximum durability and service life. The removable polymer base pad allows easy disassembly as well as drop protection when changing magazines.
Pros:
Factory magazines direct from the manufacturer
Fits most model 1911 .45 ACP and 9mm pistols
Constructed from heat treated stainless steel for maximum durability and service life
Magazine springs are fabricated from the heavy duty spring wire
Both sides of the tube have witness slots
Features a body made from .027-inch aircraft grade 17-7 PH stainless steel
Fiber-filled nylon self-lubricating follower with an extra-power spring
Removable polymer base pad for easy disassembly
Cons:
The magazines don't seem to be seated in the gun for more without losing some spring tension
Good mags to a point but certainly not the best in its class
Ideal for everyday carry but not for serious training
Ruger Factory Magazines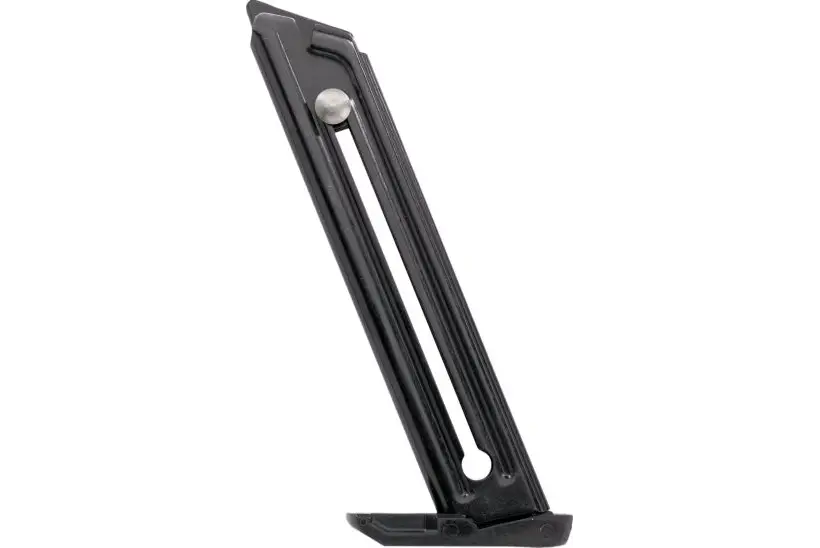 These replacement magazines are a factory original from Ruger which are manufactured to the exact same specifications and tolerances and use the same manufacturing materials as the original parts to guarantee excellent fit and reliable operation. Keeping a few extra factory magazines around not only saves loading time at the range but also serves as a backup when you cannot remember where you put your primary magazine. Made of blued steel, they are sturdy, reliable and built to the exact specifications of the gun's maker to ensure maximum durability and long service life.
Pros:
Constructed of blued steel for maximum durability and long service life
Corrosion resistance design for reliable performance
Use a stainless steel constant force spring
The magazine body halves are injection molded from durable glass-filled nylon
Saves loading time at the range
Direct from the manufacturer – no knock-offs
Sturdy and reliable, built to the exact specifications of the gun's maker
Cons:
Works fine for self-defense but not ideal for field use
Performs as good as the original but not up the mark
Not ideal for law enforcement use or military
Walther Factory Magazines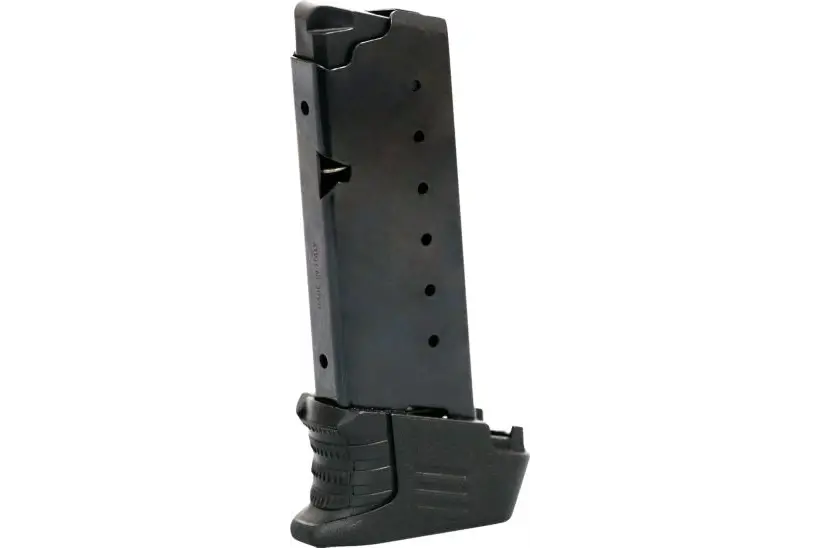 Walther magazines are very popular for concealed carry. They are genuine factory replacement magazines for Walther's fine line of compact personal defense and sporting pistols are guaranteed for reliable fit and function. The heavy-duty steel construction ensures maximum durability and adherence to strict tolerances ensure years of uninterrupted service from these factory magazines. The magazines give a full grip on your firearms and still carry the gun concealed. These ultra-reliable factory magazines are great for your Walther pistols.
Pros:
Heavy-duty stainless steel construction for maximum durability
Ideal for concealed carry
Genuine factory replacement magazines to fit most weapon configurations
Fit Walther's line of compact personal defense and sporting pistols
Extreme impact resistance – won't break when dropped
Won't become brittle over time even when exposed to harsh environments
Incredible buy at great price
Easy disassembly
Cons:
Extended grip doesn't feel good while holding
It will not fit older model Walther PPK/S pistols
No way of relieving spring pressure while loading
If there are more than five rounds in the magazine, it's hard to verify if it's fully loaded
Kimber Micro Factory Magazines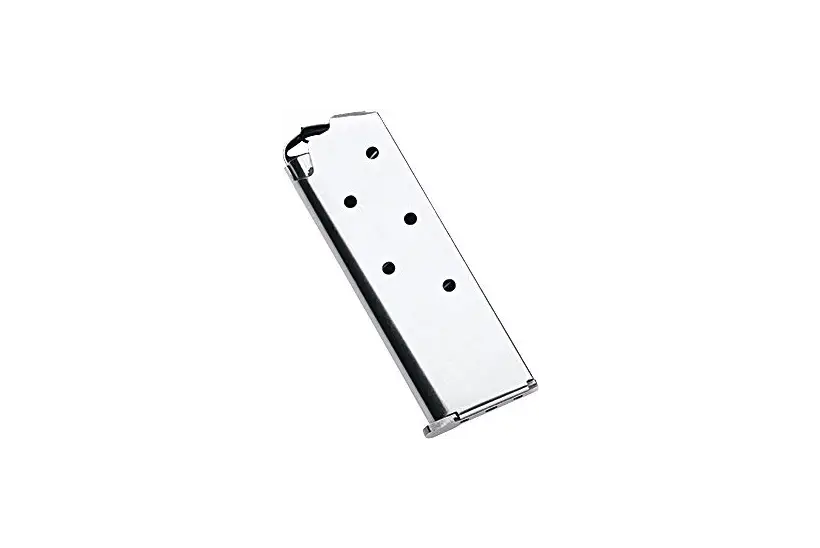 Get the performance of original factory stainless steel magazines with the very reliable and durable Kimber Micro factory replacement magazines. They not only give you that extra shot while on the range, but the longer mag also allows for better grip which makes it even more comfortable and provides a stable feeling on the hand. The factory replacement parts are manufactured to the exact same specifications and tolerances, plus they use the same manufacturing materials as the original parts to ensure excellent fit and reliable operation.
Pros:
Manufactured to the exact same specifications and tolerances as the original parts
Longer mag allows for excellent fit and better grip
Stainless steel construction for long service life
Very reliable performance and maximum durability
Available in six-round and seven-round sizes
Perfect fit and handy to use
Makes the grip more comfortable and stable
Excellent quality and easy to load
Magazine base contours nicely to fit the heel of your hand
Cons:
Magazine is limited to six and seven rounds, depending on the firearm
Sticks halfway down
Springs feel weak
Price seems unlikely considering they are factory manufactured
SIG Sauer Factory Magazines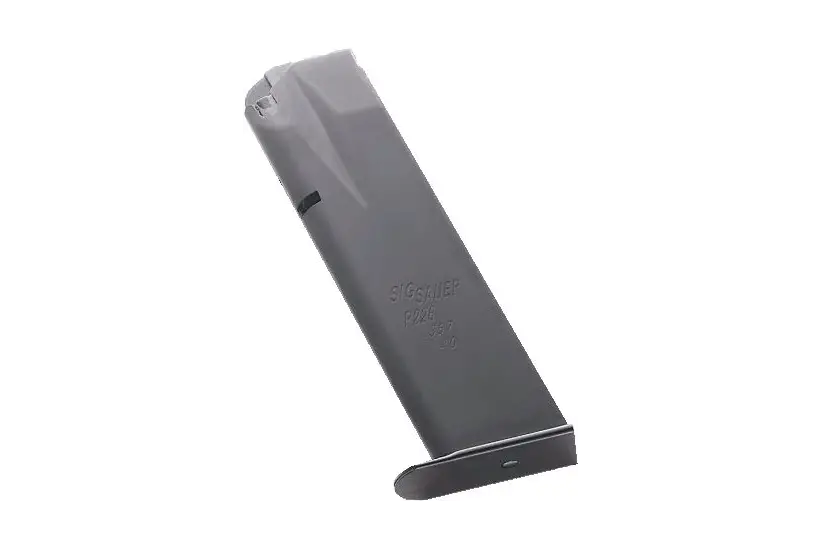 The SIG Sauer Factory Magazine is a factory original replacement part, manufactured to the same specifications and tolerances using the same materials as the OEM Magazine that comes with the pistol. These factory made magazines are manufactured from heavy-duty carbon steel and then finished in one of SIG Sauer's coatings for the best corrosion protection. Whether for use as a backup mag for your concealed carry pistol, or simply to spend a little more time shooting on the range, keeping a few spare factory magazines is never a bad idea. The SIG Sauer rifle magazines are molded from an ultra-tough polymer to withstand most demanding environments.
Pros:
Magazines for SIG Sauer semi-automatic pistols
Factory original replacement magazines direct from the manufacturer
Built to the exacting specifications of your gun's maker
Made out of heavy-duty carbon steel for maximum durability
SIG Sauer coating for the best corrosion protection
Ideal for a backup mag for concealed carry pistol
Features a natural stainless steel finish
Optimal fit and reliable operation guaranteed
Cons:
A little pricey than the Wilson mags
Doesn't work well for the SIG Sauer Scorpion
Not as durable as the original mag that comes with the gun
They are a bit less robust than the metal clips that come with the gun
Magpul PMAG Glock Magazine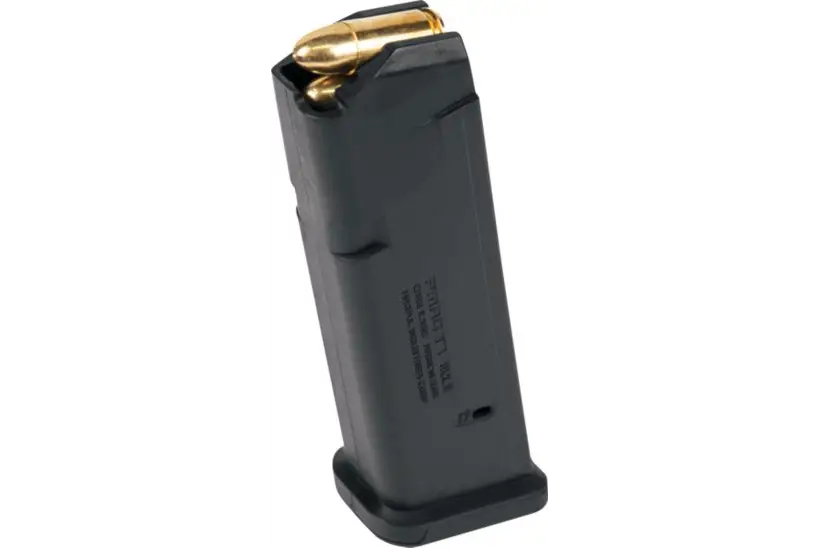 Carry an extra magazine for fast reloading or upgrade your current inventory with the very reliable Magpul PMAG Glock Magazines. The magazine features a new proprietary all-polymer construction for flawless reliability and durability over thousands of rounds. It also features paint pen dot matrix for labeling, tool-less floor plate for ease of maintenance, and a visible capacity indicator hole on the body. The PMAG is compatible with all full-size 9mm Glock handguns as well as compact and sub-compact variants with some protrusion below the grip. All these with the same reliability you' expect from an OEM magazine.
Pros:
Lightweight, durable and extremely stiff all-polymer construction
Stainless steel spring
High visibility anti-tilt follower
Easily removable floor plate
Paint pen dot matrix for magazine marking
Full magazine indicator window
Drops free loaded or unloaded
Compatible with full-size 9mm Glock handguns
Cons:
Works fine for a tactical shoot, however not ideal for steel shoot
Nearly impossible to put 17 rounds in the magazine
Little bit lighter than OEM magazines
Doesn't feed properly into the Glock 19
Glock Factory Magazines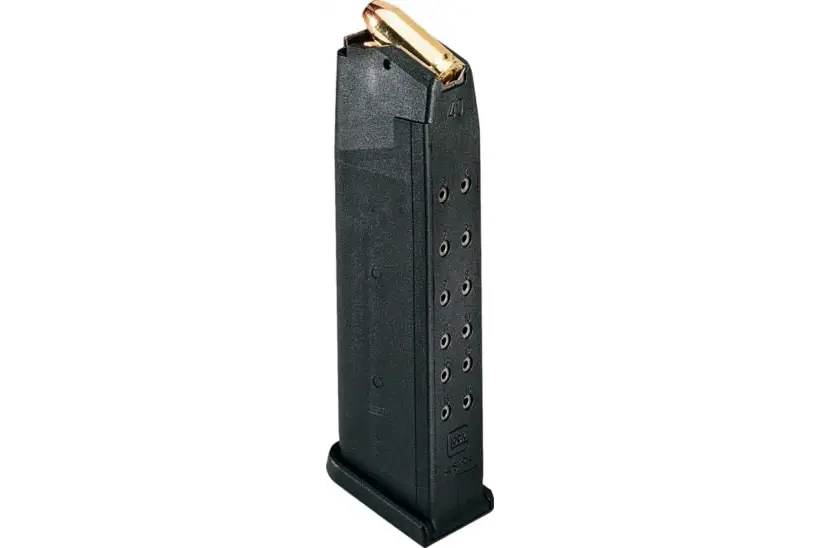 Increase the volume of your Glock pistol's firepower by adding an extra mag or two so that you can visit the range without spending most of your time reloading magazines. These magazines are genuine Glock direct from the factory designed to work in all previous versions of the Glock including the new Generation 4. Each factory magazine is built using a stiff metal tube encased in Glock's proven-effective polymer to resist magazine deformation which makes them amazingly durable. The rounds are arranged in a double-row column with a viewing window for each cartridge so you'll know exactly how many cartridges are in the magazine.
Pros:
Drop-free magazines for your factory Glock handgun
Glock factory replacement magazines direct from manufacturer
Factory 10-round magazines for 10-round states
Constructed of stiff, durable metal encased in Glock polymer
Increase the volume of your Glock's firepower
Viewing window for each cartridge
Prevents deformation, even when dropped from a great height
Cons:
High quality factory replacement mags work flawlessly, only if they'd drop free on their own
Not ideal for 4th Gen Glock models with the ambi mag release
They work fine as long as the mag release stays on the left side
Takes a little effort to take base plate off for disassembly
Decision Time
With this best handgun magazines guide you are sure to find a really good magazine for your hunting firearm.
Happy hunting!
Subscribe to our Newsletter