Best Handgun Magazines Reviewed and Tested
The gun is as good as a piece of junk without its ammunition and the magazine that efficiently carries the ammo. Every prospective gun owner carries one for one sole purpose – security. After all, what good is a firearm if it cannot protect its owner in desperate times and make no mistake: a loaded gun is way more effective than the one that's not. A concealed firearm is probably the best self-defense weapon and it's sure to put a leash on the bad guys. And magazines are integral to your firearms and stores ammunition. Although often misused when referring to small firearms, the terms magazine and clip are not interchangeable. A magazine feeds ammunition into the firearm's chamber. Basically, a magazine stores cartridges and move them into the firearm's chamber.
Why Carry a Spare Magazine?
Nobody can predict the inevitable. Licensed gun holders make calculated choices when it comes to ammo capacity. While many concealed carry holders believe that carrying a few extra rounds is a wise choice and is a good idea to be prepared for the unforeseen, there are many compelling reasons to support the notion. Let's say if you're being assaulted by some unknown person or group, what will you do then? What if the circumstances were more hostile and it's the matter of life and death? It's obvious you'll do whatever it is you can do to protect yourself which might involve using your concealed handgun as an act of self-defense and chances are there, you may need more ammo than what's already in your gun. You may run out of ammo before it's over which leaves you in a vulnerable position. An extra round could come in handy in those desperate times because desperate times need desperate measures.
Every gun has its pros and cons in all areas and all conditions. Don't let the perfect take the toll on you. Most semi-autos or handguns malfunction eventually, and in many cases, the only way to get rid of the malfunction is to have some extra rounds at your disposal. Without this resource, the jammed gun becomes worthless because a jammed gun is as good as an empty gun. Doesn't matter what caliber or gun you choose for concealed carry, make sure you carry some extra rounds and stay vigilant because the world is not a safe place anymore. It's a responsible and disciplinary action to arm yourself with the right equipment rather than feel sorry. Every life is important and it's your duty to preserve and protect innocent life with the best you can.
How to Carry a Spare Magazine?
There are both conventional and unconventional ways for carrying extra rounds in the most discreet manner possible. However, you have to consider a few factors first before deciding how to best carry extra ammunition.
Belt Pouch – There are a plethora of options to carry a spare magazine in a discreet manner. The spare magazine is relatively flat and can fit well in a belt pouch on the side of the body opposite the holster. A sturdy gun belt would be great and can handle the weight quite well. Vertical carry is best for concealment and faster for access, and reloading will be more positive if each mag is carried with the bullet noses forward. A belt pouch is probably the best way to carry extra ammunition so you could easily access it when you need it the most.
Pocket – For more or easier concealment, carrying the mag pouch just behind the left hip in the pocket is an easy and adaptable way to keep your extra rounds within easy reach and easily accessible. Pocket carry is an easy and effective option to carry a spare mag for quick and easy access. It's one of the cost-free ways to carry a spare magazine without much of the hassles except with a small exception of ease of movement. Plus pistol magazines are small and lightweight enough to fit in cargo or jacket pockets and you can easily carry more than one rounds on you without adding any extra bulk.
Vest/ Sports Coat – An open-front concealment garment such as a vest or a coat or an unbuttoned sports shirt are some great alternatives to carry your spare magazine. This way it minimizes the likelihood of the magazine becoming visible. Also, weight on the corresponding point on the opposite side of the body seems to balance the weight of the holstered weapon and increase overall comfort of your body once you're used to the presence of the object.
Purse or Pack – A backpack or a handheld purse seem like the easy carry options for your extra ammo. They not only allow for a quick and easy access to your ammo but also do so without compromising your clothing pattern. Also, backpacks have dedicated magazine pouches to provide an efficient concealed carry solution for your firearms and ammunition while making them easily accessible. There are a few pocket magazine carriers available, but none are as fast to access as reaching under the same garment that conceals your firearm and snatching one out of a belt pouch. Well, carrying your extra ammo off the body is not as effective as it sounds because it makes accessing a little difficult.
9 Best Handgun Magazines
Tactical Solutions 22/45™ SLAM Magazine

The Tactical Solutions SLAM (Spring Loaded Action Mag) Magazine, which is compatible with any Ruger 22/45 model, including the Lite, boasts an impact-resistant Zytel extended-length base pad which makes sure it's seated properly each and every time. This easy grip with improved design fits all generations of the 22/45. Spring loaded plunger makes magazine removal a breeze. Plus the sturdy polymer construction ensures increased durability and sturdiness.
Pros:
Extended Zytel base pad is impact-resistant
SLAM design makes sure the magazine is seated and ejected properly
Compatible with all generations of Ruger 22/45, including the 22/45 Lite
Sturdy polymer construction for a lifetime of use
Spring-loaded plunger for easy removal
Cons:
The base is poorly made
Not robust enough for open field work
Remington Factory Magazines

The very reliable Remington Factory Magazines are built to perform and made of heavy-duty stainless steel using the most advanced manufacturing technology to enhance the impact of your handgun's firepower. The magazines are made using the finest quality materials and are field tested to perform at its best in unforgiving conditions so that you get the best out of your firearm efficiency. It's a perfect, efficient addition to your concealed carry firearm which guarantees a reliable and flawless operation every time. It virtually eliminates the stress points and ensures precise tolerances as the original equipment magazines.
Pros:
Durable high-capacity magazines
Heavy duty stainless steel for long-term durability
Made using the advanced manufacturing technology
Precision engineered to tolerances
Corrosion-resistant design
Available in a variety of ammunition configurations
Cons:
The magazines tend to bulge slightly when loaded
Does not fit the older Remington models
Wilson Combat 1911 Magazines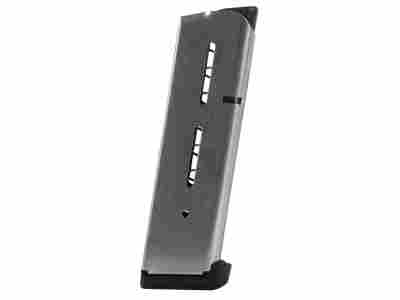 The very reliable Wilson Combat 1911 Magazines combine high-profile rugged construction with unparalleled weapon efficiency to deliver superior performance for competitive shooting, range use or self-defense. The company has been manufacturing high-performance .45 magazines for combat-ready scenarios for the best of past three decades. The body is made from heat-treated, 17-7 aircraft-grade stainless steel to fulfill the most demanding challenges of defensive and competitive shooting scene. Built with the versatile shooters in mind, the 1911 magazine is made with state-of-the-art materials and robust features to close tolerances ensuring a reliable and unsurpassed operation. The polymer base is removable for disassembly and protects from accidental drops.
Pros:
Heavy-duty construction for lifetime reliability
Compatible with 1911 .45 ACP and 9mm pistols
Made from 17-7 aircraft grade stainless steel
Magazine springs are crafted from high-strength spring wire
No-rust, universal fit design
Self-lubricating follower with high-power spring
Removable polymer base pad for easy cleaning
Cons:
Good mags to a point but certainly not the best in its class
Ideal for everyday carry but not for serious training
Ruger Factory Magazines

These replacement magazines are a factory original from Ruger which is manufactured to the exact same specifications and tolerances using the same manufacturing materials as the original parts to guarantee excellent fit and reliable operation. Keeping a few extra factory magazines around not only saves loading time at the range but also serves as a backup when you cannot remember where you put your primary magazine. Made of blued steel, they are sturdy, reliable and built to the exact specifications of the gun's maker to ensure maximum durability and long service life.
Pros:
Constructed of blued steel for maximum durability
Corrosion resistance design for reliability
Use a stainless steel constant force spring
Injection molded glass-filled nylon body
Saves loading time at the range
Direct from the manufacturer – no knock-offs
Sturdy and reliable, built to the exact specifications of the gun's maker
Cons:
Works fine for self-defense but not ideal for field use
Performs as good as the original but not up to the mark
Not ideal for law enforcement use or military
Walther Factory Magazines

Walther magazines are very popular for concealed carry. They are genuine factory replacement magazines for Walther's fine line of compact personal defense and sporting pistols are guaranteed for reliable fit and function. The heavy-duty steel construction ensures maximum durability and adherence to strict tolerances ensure years of uninterrupted service from these factory magazines. The magazines give a full grip on your firearms and still carry the gun concealed. These ultra-reliable factory magazines are great for your Walther pistols.
Pros:
Heavy-duty stainless steel construction
Ideal for concealed carry
Genuine factory replacement magazines
Compatible with most weapon configurations
Fit Walther's line of compact personal defense and sporting pistols
Extreme impact resistance – won't break when dropped
Incredible buy at a great price
Easy disassembly
Cons:
The extended grip doesn't feel good while holding
It will not fit older model Walther PPK/S pistols
No way of relieving spring pressure while loading
Kimber Micro Factory Magazines

Get the performance of original factory stainless steel magazines with the very reliable and durable Kimber Micro factory replacement magazines. They not only give you that extra shot while on the range, but the longer mag also allows for better grip which makes it even more comfortable and provides a stable feeling on the hand. The factory replacement parts are manufactured to the exact same specifications and tolerances, plus they use the same manufacturing materials as the original parts to ensure excellent fit and reliable operation.
Pros:
Longer mag allows for excellent fit and better grip
Stainless steel construction for long-term reliability
Very reliable performance and maximum durability
Available in six-round and seven-round sizes
Perfect fit and handy to use
Makes the grip more comfortable and stable
Excellent quality and easy to load
Magazine base contours nicely to fit the heel of your hand
Cons:
The magazine is limited to six and seven rounds, depending on the firearm
Sticks halfway down
Springs feel weak
Price seems unlikely considering they are factory manufactured
SIG Sauer Factory Magazines

The SIG Sauer Factory Magazine is a factory original replacement part, manufactured to the same specifications and tolerances using the same materials as the OEM Magazine that comes with the pistol. These factory-made magazines are manufactured from heavy-duty carbon steel and then finished in one of SIG Sauer's coatings for the best corrosion protection. Whether for use as a backup mag for your concealed carry pistol or simply to spend a little more time shooting on the range, keeping a few spare factory magazines is never a bad idea. The SIG Sauer rifle magazines are molded from an ultra-tough polymer to withstand most demanding environments.
Pros:
Magazines for SIG Sauer semi-automatic pistols
Built to the exacting specifications of your gun's maker
Made out of heavy-duty carbon steel for maximum durability
SIG Sauer coating for the best corrosion protection
Ideal for a backup mag for a concealed carry pistol
Features a natural stainless steel finish
Optimal fit and reliable operation guaranteed
Cons:
A little pricey than the Wilson mags
Doesn't work well for the SIG Sauer Scorpion
Not as durable as the original mag that comes with the gun
They are a bit less robust than the metal clips that come with the gun
Magpul PMAG Glock Magazine

Carry an extra magazine for fast reloading with the very reliable Magpul PMAG Glock Magazines and upgrade your firearm inventory. The magazine is constructed of a proprietary polymer for flawless reliability and durability over thousands of rounds. It also features paint pen dot matrix for labeling, tool-less floor plate for ease of maintenance, and a visible capacity indicator hole on the body. All these with the same reliability you' expect from an OEM magazine. The full magazine indicator on both sides make sure you can take an easy glance at the remaining rounds, plus it's compatible with all full-size and sub-variants of Glock handguns with a little exception of a protrusion under the grip in the sub-compact models.
Pros:
Lightweight, durable and extremely stiff all-polymer construction
Stainless steel spring
High visibility anti-tilt follower
Easily removable floor plate
Paint pen dot matrix for magazine marking
Full magazine indicator window
Drops freeloaded or unloaded
Cons:
Works fine for a tactical shoot, however not ideal for steel shoot
Nearly impossible to put 17 rounds in the magazine
A little bit lighter than OEM magazines
Doesn't feed properly into the Glock 19
Glock Factory Magazines

Enhance your shooting efficiency in the range with the very reliable Glock compatible factory magazines that are genuine Glock direct from the factory crafted to perform at their best and function in all previous versions of the Glock handguns including the new Generation 4. The magazines are precisely crafted using a hardened steel insert encased in Glock's high-strength polymer to prevent magazine deformation which makes them amazingly durable. There's a peeking window for each cartridge which allows you to see exactly how many cartridges are left in the magazine. At this price, you can only imagine not having extra mags during desperate times.
Pros:
Drop-free magazines for your factory Glock handgun
Glock factory replacement magazines direct from the manufacturer
Hardened steel insert packed in high-quality polymer
Enhance Glock's firepower
Viewing window for each cartridge
Prevents deformation, even when dropped from a great height
Cons:
Not ideal for 4th Gen Glock models with the ambi mag release
They work fine as long as the mag release stays on the left side
Takes a little effort to take base plate off for disassembly
Decision Time
Don't let the unforeseen take a toll on you. You never know when a spare mag could come in handy in desperate times. And desperate times need desperate measures. With this best handgun magazines guide, you are sure to find a really good magazine for your hunting firearm. Happy hunting!
FAQ
Q: Do handguns have clips of magazines?
A: Some magazines are fixed to the firearm, but others are removable. A cartridge that is a "clip" has no spring and it will not feed shells directly to the chamber. Clips hold cartridges in the right sequence for charging a specific firearm's magazine.
Q: Is it called a magazine or a clip?
A: Clip refers to the device that is used to store multiple rounds of ammunition together into one unit. That unit is then ready to be inserted into the magazine or cylinder of the firearm. So, the answer is that it is called both, but that they are two different things that work together. Together, they make the loading and reloading process much quicker.
Q: What is found in the magazine of a gun?
A: Some internal block magazines use en-bloc clips, which are loaded into the magazine with the ammo and they are ejected out of the firearm once they have emptied. While on the other hand, a detachable box magazine is self-contained and is capable of being loaded or unloaded when it is detached from the firearm.
Q: Are suppressors legal?
A: Suppressors, or silencers, are only legal in some of the 50 states. In states that they are legal, you can buy them. However, in states where they are illegal, the answer is no. In illegal states you cannot buy nor can you bring a silencer into the territory.
Sources: