Best Rifle Cases Reviewed and Compared
Let's face it; you don't want to spend your hard-earned money on gear only to see it break on the way to the field. There's nothing worse than spending a considerable amount of time sighting in your rifle only to knock the scope loose, or maybe worse. If you value your prized possession so much, a quality hard case is a must. In fact, hard rifle cases are a must for anyone that's even remotely serious about shooting or somebody with a knack for shooting. Every professional shooter or hunter's prized possession is their rifle, so it's very important to get a hard protective case that will make sure that your rifle will not get damaged and will protect it from the elements.
Whether you're traveling offshore on an airplane, or driving across the country for the hunt of a lifetime, a good rifle case is a necessity. While a gun case is not a very romantic part of your inventory list, it is something that keeps your beautiful firearms beautiful. But that's not all a gun case does. When on long trips, your valuable weapons are exposed to bumps in the vehicle, or even worse, the rifle scope can be knocked way out of whack, or the iron sights being bent or broken. So that's when you become a firm believer of using the best gun cases you could get your hands on, both hard and soft.
Our Top 3 Picks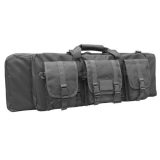 Condor Single Rifle Case

Our rating
3/4" Padding
Price: See Here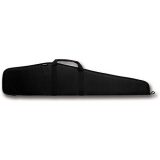 Bulldog Economy Rifle Case

Our rating
Single Scoped
Price: See Here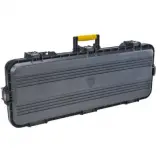 Plano Tactical Rifle Case

Our rating
Heavy Duty
Price: See Here
Choosing the Best Rifle Cases
A rifle is definitely one of the most precious accessories for a hunter. If you're in possession of one or a few, you'd know how important it is to have a protective case to protect your most valuable investment. Not to mention the fact that you wouldn't want to damage your rifle and not realize it. And you wouldn't put your prized possession in a duffle bag either or any sack for that matter. One bump and you can break your most valuable rifle which probably will cost you a fortune to repair if it's repairable at all. Any person with a good common sense and a rifle will definitely think about buying the best rifle case that would keep it safe and ready to use where ever you go.
Now that you know what a good rifle case does, it's time you get one for yourself. There are many different makes and models to choose from, plus there are many different factors that vary from case to case. What you might not aware of are the many features of different case designs, the advantages of them and some tips on choosing the case for your needs. You'd definitely want to protect your gun the best you can. But first, let's have a look at things, you should keep in mind when looking for best rifle cases.
Type
Knowing the different types of rifle cases is really an important thing to consider when looking for rifle cases. There's a multitude of options available out there depending upon the material used to manufacture a particular case. Most people think of gun cases as being a soft case, or a hard case. There are however many differences in style and function.
The soft-sided cases are quite durable and versatile, considering they are made of different types of fabrics from nylon to neoprene to leather. These are usually quiet, lightweight and easy to manage. An added bonus is the case often doubles as a seat cushion or a pillow when not in use. Many hunters use soft cases when traveling, as a second case. They have their fair share of advantages, but they don't offer the same amount of protection as hard-sided cases.
The hard-sided cases, on the other hand, offer the most protection for your prized firearms. As the name suggests, they have a tough exterior that protects your guns from external forces. The cases also feature foam padding to protect your gun from heavy impacts as well as to keep them secured and in place. But different cases have different foam densities. A lower-end case might have a thick foam or it may be so thin you can feel your gun shift as soon as you pick the case, while some cases even have firearm model-specific foam for the ultimate fit. You will want good, dense foam to keep your firearm secured.
Shape and Size
You don't need just any case; you'd want to have one that best matches the shape and size of your rifle. The size of the case you need depends on your firearms. Do you want to store accessories with your gun as well? Does it have a scope? Will you be transporting one long gun, two or more? You'd want a case that should be an exact match so that your rifle doesn't have too much room to shift in the case. If you go for a big case, your rifle will shift when you'll be walking or driving and that can cause some serious damage to the case. That really defeats the purpose altogether. For the obvious reason, you cannot purchase a small case either.
A single rifle case is designed to protect a single rifle or shotgun. They are light, easy to carry and transport, and are more compact. They can accommodate a rifle with a scope, but make sure the fit is right. The two-rifle cases, on the other hand, can just as easily that rifle, plus has lots of room for some accessories as well. Again, if you have two scoped rifles make sure the case can accommodate both the firearms quite conveniently. If you plan to travel, you may want to get a case larger than what you need. If you're planning to travel with your case, you may want to look for something that has wheels. It would make travel much easier.
Material
Then comes the material the cases are made of. You should never compromise on quality and always try to pick a quality rifle case that has been constructed out of durable materials and produced by a trusted manufacturer. A case made of cheap quality materials can cause damage which is not at all good for you or your rifle. Hard cases are made from many different types of materials that determine the strength and weight of the case. For example, aluminum is a standard metal used for making tough durable gun cases for the obvious reason that they can take a great deal of abuse while still protecting the contents inside the case. It's equally lightweight as well.
Wood is another great alternative to metal cases that is used in many cases because of the classic look. Wood cases feature leather or tweed coverings for that classic appeal that many of the seasoned hunters love. But they are not likely to meet airline standards and you'd most likely not want to use one if it did. Composite materials such as plastic and fiber-reinforced compounds have much to offer, and they are the types of cases that military uses to transport firearms in tough, battle-type situations. Top-shelf composite cases offer incredible strength with relatively low weight.
Waterproof
If you're planning to be out in the elements, you'll definitely want a waterproof case. It just makes sense to keep your precious firearms protected from getting wet. It's too often that moisture gets inside of a protective gun case and does some serious damage, especially if you have a wooden stock and blued barrel. However, a waterproof case that seals moisture out can also seal it in. So, you must wipe every bit of moisture off your firearm before it goes near the case.
Special Features
Rifle cases have special features to provide additional support for your rifle. For example, the rifle case with a perfectly padded interior and with all the necessary compartments and perfect locking system to keep the accessory items of your rifle safely in a perfect way should be your top priority. Few cases are padded in just the right spots and offer ample compartments for your additional accessories. Having a case that not only keeps your rifle secured but also the accessories safe is important.
Budget
When it comes to finding the best rifle case in your price range, quality should be something that you don't want to skimp on. Make sure you don't compromise on the features and utility aspects even if you go for a less expensive product. You can still find a great deal on quality rifle cases of you know what you're looking for while keeping your focus in the right direction. There are many manufacturers that produce good quality gun cases for all price ranges.
The bottom line is to get the absolute best rifle cases you can afford without compromising on the quality and the features to keep your expensive rifle or shotgun safe and undamaged.
Best Rifle Cases Reviewed

There are a lot of rifle cases on the market and there are also a number of important factors that vary accordingly from case to case. Like other firearm enthusiasts, if you're serious about your tactical firearm then you need something that can take some serious beating and yet continue to perform better time after time. To help you find the best options, we've put together a list of our top picks for the best rifle cases on the market.

1. Condor Single Rifle Case
The Condor Single Rifle Case is specially designed for the tough conditions of the field while also saving you a great deal of money. This tactical gun case is one of the best performing and most attractive soft-shelled rifle cases on the market. The Condor Single Rifle Case is fully padded for maximum protection with an additional 26-inch front compartment for pistol, optic, SMG, or other accessories. It also comes with 3 modular pouches that can accommodate up to 14 M4 magazines. Two hook and loop straps secure your rifle in the 42-inch long main compartment. The bag also comes with two mag pouches and one utility pouch. Plus the Condor gives you a number of different sizing options to suit the length of your rifle.


Expand to see more
Primary compartment accommodates one rifle up to 36-inch long with two Hook and Loop straps
Secondary compartment accommodates up to 26-inch long rifle
Two modular mag pouches
One modular utility pouch
3/4″ padding
Available in Olive Drab, Black, Tan, and Coyote Brown color options
Vast storage capacity 
Offers full protection even in the toughest conditions
Great pouch organization
The clips at the end of the strap are plastic
2. Bulldog Economy Black Scoped Rifle Case
The Bulldog Economy Black Scoped Rifle Case is just perfect for safely storing and transporting your guns. The heavy-duty performance and durability justify the bold statement "Nothing Protects Your Gun Like a Bulldog." With well thought out designs and excellent components, Bulldog cases are among the best in the industry plus they offer a tremendous value, offering everything from range bags, tactical cases for your pistol and long guns, archery cases and vaults to accommodate every size and shape of a firearm. The durable nylon water-resistant outer shell protects your weapons from all elements.


Expand to see more
Single scoped rifle case
Durable Nylon water-resistant outer shell
Brushed Tricot, soft scratch-resistant inner lining
1 1/2″ total soft padding
Full-length zipper with pull
5/8″ close cell padding
Black with Black Trim
Great value for price
Water resistant exterior
Scratch resistant interior 
May not fit scoped rifles
3. Plano Gun Guard All Weather Tactical Series Rifle Case
Plano's All Weather tactical gun cases protect your firearms from damage and the elements, providing the highest level of protection for your prized firearms. With rugged, industrial-strength construction and a continuous Dri-Loc seal, this tactical gun case creates an airtight and watertight shield that protects your guns even in extreme weather conditions. Plus, they are specially designed to withstand the continuous bumping and jarring of airline travel, thanks to the dual-stage, lockable latches and a built-in pressure valve. The pluck foam inside allows you to customize the case to fit your weapon.


Expand to see more
Heavy-duty Dri-Loc Gasket keeps out the elements
Airtight, watertight and dustproof case
Thick-walled construction with rugged exterior
Customizable pluck to fit foam
Dual-stage lockable latches for added security
Molded carry handle for transport
Exterior Dimension: 46″ X 16″ X 5.5″
Interior Dimension: 43″ X 13″ X 5″
Pluckable interior 39.25″ X 10.25″
High quality plastic shell
Weatherproof 
Extra secure locking system
Life time defect warranty 
4. Uncle Mike Tactical Rifle Case
Uncle Mike Tactical Rifle Case have a functionality, durability, and performance that never take a back seat. This tactical rifle case is available in two sizes: medium case is 33″x10″ (838 x 254 mm) inside; large case is 41″ x 10″ (1041 x 254 mm) inside. The medium case has three magazine pouches with hook and loop closures while the large case comes with five magazine pouches with hook and loop closures. Plus it has zippered accessory pouch for storage and quick access center pocket. The full-length zipper allows the case to open out flat for better access and the adjustable web shoulder strap provides easy carry and convenience.


Expand to see more
Available in Medium or Large: 33″x10″ (838 x 254 mm) & 41″ x 10″ (1041 x 254 mm)
Tab and loop can lock bag open
Adjustable web shoulder strap
Zippered accessory pouch for storage
Quick access center pocket
Five magazine pouches
Quick access center pocket
Available in two sizes
Adjustable straps
Nice padding
5. Flambeau Safeshot Econ Single Case
Keep your weapons locked up safely and securely with the Flambeau Safeshot Econ Single Case which is perfectly capable of storing and transporting your hunting rifle. This outdoors tactical gun case has four secure locking points that, when correctly locked, will help to keep the kids out. The protective full egg shell foam cushions your rifle from the rough road it takes to get to your hunting grounds in the Flambeau Single Gun Case. The case is made from polypro which helps keep the gun in top condition as it protects it from being bumped and scraped.


Expand to see more
Large economy single gun case
Fits most scoped rifles
Four secure locking points
Combination piano style and brass hinges to keep children away
Cushion egg shell foam
Polypro construction
Dimensions: 53 1/2″(L) x 13 1/2″(W) x 4 1/2″(H)
High density foam padding for protection
Fits a wide range of scoped rifles
Four locking points for extra security
Affordable 
6. Explorer 3 Rifles Weapon Case
This heavy-duty double rifle carrying case is what you need to protect your rifle during transport, whether you're in your vehicle or out in the field. Explorer Weapon Case is made of a high-quality "Copolymer Polypropylene" compound which means the case is extremely tough and holds up very well. This U.S. Military Double Gun Case can carry up to 3 rifles or shotguns and 4 pistols. It's easy to load, held all your gear tightly in place and latched securely. There's ample storage space for magazines, boxes of ammo, cleaning kits and other accessories. Plus its heavy thick foam and adjustable tie downs ensure your optics are not going to get knocked about. The zippers are tough enough to meet the demanding conditions required by the military and law enforcement. It features three carrying methods: A standard handle in the center of the bag, a shoulder strap, and backpack style shoulder harness. The padded insert can also double as a shooting mat for muddy or rough terrain.


Expand to see more
Measures 46 x 13.5 Inch
Heavy-duty double gun case
Carry up to 3 rifles or shotguns and 4 pistols
Plenty of storage space for magazines, ammo, and accessories
Three carrying methods: Standard handle, shoulder strap & backpack style
Can carry up to 3 rifles or shotguns and 4 pistols
Plenty storage space
Heavy thick foam padding
Three carrying options: handle, shoulder strap, backpack style
7. Mossy Oak Stillwater Rifle Case
With the Mossy Oak Stillwater Rifle Case, your prized firearms are always in safe hands. Featuring a rugged, lightweight construction, this rifle case is specially designed to take a beating by through the roughest and the toughest use possible, plus the 100% Endura 600D exterior safeguards your gun from scratches. The heavy-duty handles make carrying this case a breeze, and the durable zippers ensure the safety of your gun. The main rifle compartment zipper travels around 3 sides of the bag for easy access, along with thick padding to protect your gun and contents. Most rifle with or without scope will fit in this case.


Expand to see more
Dimensions: 48″ x 11″ x 2″
46-inch fits most rifles, with or without scope
Rugged, lightweight 100% polyester
Endura 600D exterior with double-stitched seams for added protection
Padded compartment for all side protection
Heavy-duty handles and zippers
Main rifle compartment zipper for easy access
Green with Black Trim
Fits most rifles (without scopes)
Lightweight
Double stitched seams for extra durability 
8. Plano 10470 Gun Guard SE Single Rifle Case
Great value tactical rifle case for the amateur sportsman or hunter, the Plano 10470 Gun Guard SE Single Rifle Case is one of Plano's All Weather line of tactical gun cases. With rugged ribbed construction, recessed latches and padlock tabs, this tactical rifle case offers protection for a wide array of firearms along with optic attachments. The carrier is lined with high-density foam that completely encases the rifle along with its scope to offer complete protection from impact damage. Plus the compact size allows it to be used at home or on-the-go, and the padlock tab adds extra security for your prized collections. The contoured latches deliver a secure closure and are recessed to prevent snags and accidental releases.


Expand to see more
Accommodates a single rifle with high-mount 50mm scope
Rugged, ribbed construction
Padlock tabs for added security and airline travel
Contoured recessed handle
Protective high-density foam interior
Steel hinge pins for added durability
Reinforced frame for total content protection
Measures 48-inch in length
High density foam interior for maximum protection
Affordable
Features padlock tabs for security
The shell is made out of thin plastic 
9. Bulldog Extreme Black Scoped Rifle Case
The inside of this attractive yet well-built rifle case is faux-fur lines and outside is quite durable as well. It's well padded and is brilliantly made out of a durable, heavy-duty Nylon water-resistant outer shell which ensures years of long-lasting use. This rifle case features oversized full-length zippers plus it has a removable, adjustable shoulder strap with swivels in addition to the double loop straps to the center of the case. This is a solid rifle case that is perfect for storing your gun at home or for transporting your weapon to and from the firing range.


Expand to see more
2-1/4″ total soft padding
Full-length zipper with pull
Extra heavy-duty nylon, water-resistant outer shell
Soft fur lining for maximum protection
Laminated fur lining
Zippered accessory pocket
Heavy-duty double stitching
Removable, adjustable shoulder strap with swivels
Fits gun up to 42-inch
Available in 4 color options
Accommodates scoped and non-scoped rifles
Good value
Fur lining  for protection
Separate accessory pocket
Might be too short for long range scope rifles
10. Allen Dakota Gear Fit Scoped Rifle Case
Keep your rifle safe and secure with the very versatile Allen Dakota Gear Fit Scoped Rifle Case. This gray rifle case features premium padding to keep your rifles fully protected, plus an Endura shell with 1-inch foam and 5 pockets for organizing your accessories. It also has a flap design to hold your targets and polyester lining for easy cleaning.

Expand to see more
There are 2 flaps – one on the front and one on the back – that will allow you to carry large items like targets, your hunting accessories, or shooting sticks. Plus the lockable zippers and an adjustable shoulder strap make it easy to carry round the clock. The Allen Dakota Gear Fit Scoped Rifle Case is made out of durable polyester, which makes it long-lasting and weather-resistant. If you're looking for a durable case to take with you to the range, then this one's definitely for you.

Fits rifles up to 48-inch with a scope attached
Endura shell with 1-inch foam
Premium padding for utmost comfort
5 pockets for organizing accessories
Flap design to hold targets
Polyester lining for easy cleaning
Heavy-duty, self-healing zipper
Adjustable shoulder strap
Dimensions: 12 x 2 x 50 inches
Padding for overall rifle protection
Adjustable straps for extra comfort
Weather resistant
Easy to clean
Decision Time
While there are plenty of rifle cases to choose from, these are the best rifle cases options that we'd recommend and you can see that most shooters that have purchased any one of these great cases feel the same way. Securing your prized firearms is always important but a personal choice, so you'd want to make sure you can take your rifles or shotguns with you safely and securely. Transporting them securely is just as important as making sure they are locked up nice and tight in your home.
Subscribe to our Newsletter