Best Rifle Cases Reviewed & Rated For Quality
Let's face it; you don't want to spend your hard-earned money on gear only to see it break on the way to the field. There's nothing worse than spending a considerable amount of time sighting in your rifle only to knock the scope lose, or maybe worse. If you value your prized possession so much, a quality hard case is a must. In fact, hard rifle cases are a must for anyone that's even remotely serious about shooting or somebody with a knack for shooting. Every professional shooter or hunter's prized possession is their rifle, so it's very important to get a hard protective case that will make sure that your rifle will not get damaged and will protect it from the elements.
Featured Recommendations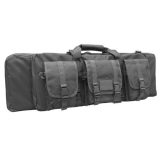 Condor Single Rifle Case

Our rating
3/4" Padding
Price:

See Here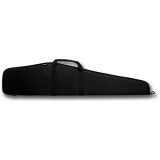 Bulldog Economy Rifle Case

Our rating
Single Scoped
Price:

See Here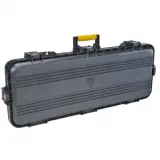 Plano Tactical Rifle Case

Our rating
Heavy Duty
Price:

See Here

Whether you're travelling offshore on an aeroplane or driving across the country for the hunt of a lifetime, a good rifle case is a necessity. While a gun case is not a very romantic part of your inventory list, it is something that keeps your beautiful firearms beautiful. But that's not all a gun case does. When on long trips, your valuable weapons are exposed to bumps in the vehicle, or even worse, the rifle scope can be knocked way out of whack, or the iron sights being bent or broken. So that's when you become a firm believer of using the best gun cases you could get your hands on, both hard and soft.
10 Best Rifle Cases

1. Condor SINGL-P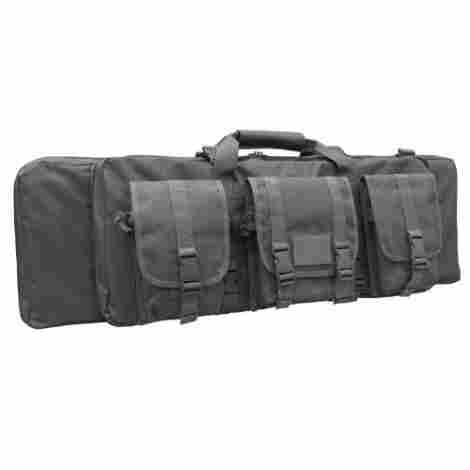 Specially designed for the tough conditions of the field while also saving you a great deal of money, the Condor tactical gun case is built to perfection for the most demanding outdoorsmen.
Expand to see more
Superior Performance
It delivers superior performance at a pocket-friendly price in the harshest of conditions all while keeping your
precious firearms
securely locked away for good. This soft-shelled protective case is heavy-duty yet efficient enough to provide the best protection for your rifles and ammunition plus sidearms and optic attachments. The 26-inch front compartment is a smart addition to your tactical gear and is a great fit for your pistols, SMG, optics, and other essentials, plus the three modular pouches can easily store up to 14 M4
magazines
. The main compartment easily safeguards your long-range rifle for hunting trips.
Featured Specifications
Two modular Mag pouches
One modular utility pouch
3/4″ soft padding
Condor for custom fit
42-inch main compartment
26-inch secondary compartment
Cost and Value
This product is easily one of the best rifle cases on the market, hence why it's number one on our list. It boasts the most value out of any other product, and a great price tag.
Vast storage capacity
Offers full protection even in the toughest conditions
Great pouch organization
The clips at the end of the strap are plastic
2. Bulldog RC-siz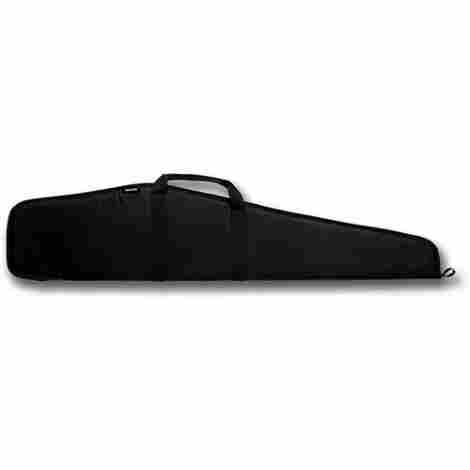 The Bulldog Tactical Rifle Case is just perfect for safeguarding and transporting your precious firearms with ease. The heavy-duty construction justifies the bold statement "Nothing Protects Your Gun Like a Bulldog."


Expand to see more
Heavy Duty Material
The heavy-duty nylon shell protects your weapons from the outside elements and is water resistant.

Featured Specifications
Protective rifle case for safeguarding firearms
Lightweight but heavy-duty
Outer shell is water-resistant
Scratch-resistant inner lining
Soft padding for safe keeping

Cost and Value
The Bulldog provides a superior performance keeping the most demanding outdoorsmen in mind with robust features and state-of-the-art components that offer the best protection for your valued possessions at a budget-friendly price.It offers a tremendous value protective case for your long-range rifles and sidearms of every shape and form.
Great value for price
Heavy-duty nylon for great performance
Water resistant exterior
Scratch resistant interior
May not fit scoped rifles
3. Plano Gun Guard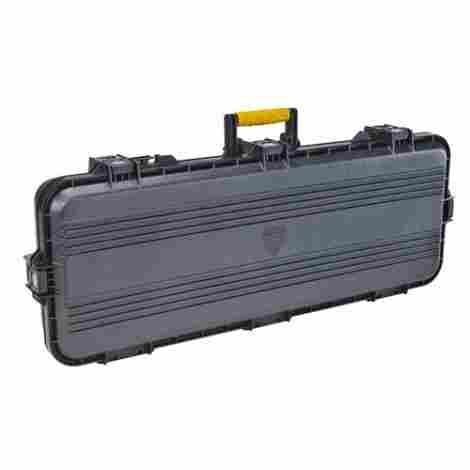 Plano
's All Weather tactical gun cases stand the test of time by providing the highest level of protection for your prized firearms against the outdoor elements and tough situations.
Expand to see more
Tough Build
It boasts a solid sturdy construction for a lasting use and for all kinds of rough terrains and bumpy rides all while keeping your firearms safe and secure. This tactical gun case creates an airtight and watertight shield that protects your
guns
even in the harshest of conditions. It's designed with the demanding outdoorsmen in mind to withstand the daily wear and tear, plus it makes carrying a breeze, thanks to the lockable latches and an efficient pressure valve that keeps your firearms in best condition while traveling.
Featured Specifications
Airtight, watertight and dustproof case
Heavy-duty construction with rugged exterior
Customizable pluck to fit foam
Dual-stage lockable latches
Molded carry handle for safe keeping
Cost and Value
When it comes to value, there are not many products like this rifle case. This contender is offered at a decent price tag and is great for consumer who need a durable and tough case.
High quality plastic shell
Waterproof and dustproof
Heavy-duty Dri-Loc Gasket keeps out the elements
All-season protective gun case
Extra secure locking system for safe storage
Life time defect warranty
4. Uncle Mike 52101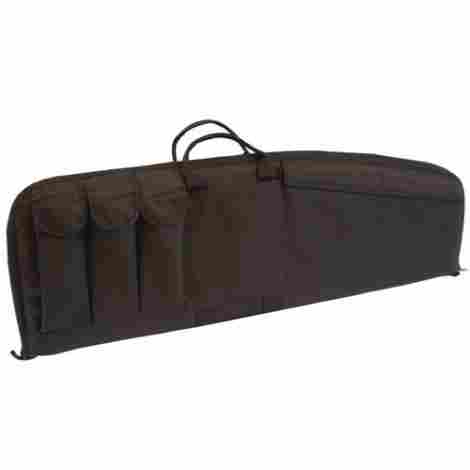 Available in medium and large size, this solid gun case is your perfect travel companion and an ideal go-to tactical gear for the serious outdoorsmen. The medium sized case easily accommodates 3 magazine pouches with hook and look closure for safekeeping, while the large case takes up to 5 magazine pouches without adding unnecessary bulk while traveling.
Expand to see more
Pockets
Full-zippered pockets for daily essentials and center pocket for quick and easy access, while the adjustable shoulder strap makes carrying a breeze.

Featured Recommendations
Comes in medium and large size
Hook and loop closure
Fully-adjustable shoulder strap
Zippered pockets for additional storage
Center pocket for daily essentials
Three/Five Magazine Pouches
Ideal for seasoned hunters or outdoorsmen

Cost and Value
The Uncle Mike Tactical Rifle Case combines multi-purpose functionality with superior performance at a budget-friendly price that hardly makes a dent in your budget.
Available in two sizes: medium and large
Adjustable shoulder straps for easy carrying
Nice padding for safe keeping
Value for money product
Full-zippered pockets for additional storage
5. Flambeau 785312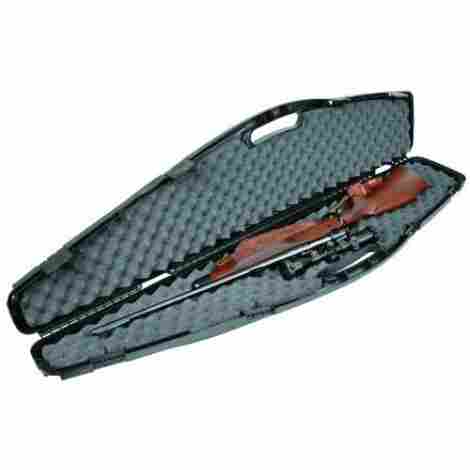 Keep your
weapons
locked up safely and securely with the Flambeau Safeshot Econ Single Case which is perfectly capable of safe home keeping and transporting your hunting rifle.
Expand to see more
Great for Rough Environments
Crafted for the outdoor lifestyle, this heavy-duty tactical gun case makes carrying your precious firearms a breeze all while keeping them in their best condition and protecting against accidental drops and bumps when hunting in the rough terrains.

Featured Specifications
Budget-friendly yet sturdy gun case
Fits most scoped rifles
Four secure locking points
Cushion egg shell foam
Polypro construction
Keeps away from kids

Cost and Value
The sturdy and secured lock points keep the kids away from your dangerous firearms and the protective cushioned eggshell safeguard your firearms from bumping into each other while traveling. It makes a smart choice for the seasoned hunters looking for their next big game. All of this at a great price tag!
High density foam padding for protection
Fits a wide range of scoped rifles
Four locking points for extra security
Quality product at a decent price
6. Explorer B007ZFROI4-PARENT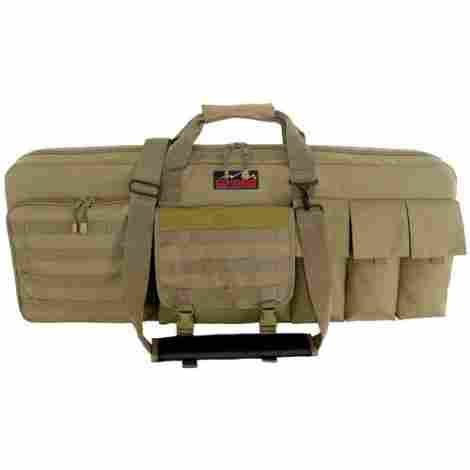 This solid double rifle case is everything you'll need to keep your tactical gear safe and secure while traveling - doesn't matter you're out in the field or in your car. It also makes for easy safekeeping at home. This heavy-duty case effortlessly carries up to three rifles or shotguns as well as up to four pistols without adding any extra bulk. Made out of high-strength Copolymer Polypropylene, the Explorer is designed considering the rugged outdoor lifestyle in mind for the most demanding outdoorsmen who live for the great adventures.
Expand to see more
Tactical Use
It's tough yet packs your load with ease and keep them secure for safe transporting, plus the case has plenty of space for magazines safe keeping along with other tactical accessories such as cleaning kit, optic attachments, and more. The zippers are of highest quality materials specially designed for the military and law enforcement tactical use.

Featured Specifications
Rugged construction
Heavy-duty double gun case
Ideal for military and law enforcement
Easily hold up to 3 rifles or shotguns and 4 pistols
Ample space for magazines, ammo, and accessories
Easy carry and convenient transporting

Cost and Value
If you are in the market for a tactical rifle case that is made from the very best materials - this product is for you. We should say though, this case is slightly more expensive - but it's understandable when you consider the value in the build.
Carry up to 3 rifles or shotguns and 4 pistols
Plenty storage space for tactical gear
Heavy thick foam padding for extra protection
Three carrying options: handle, shoulder strap, backpack style
Quality product but a little pricey
7. Mossy Oak MO-SSC52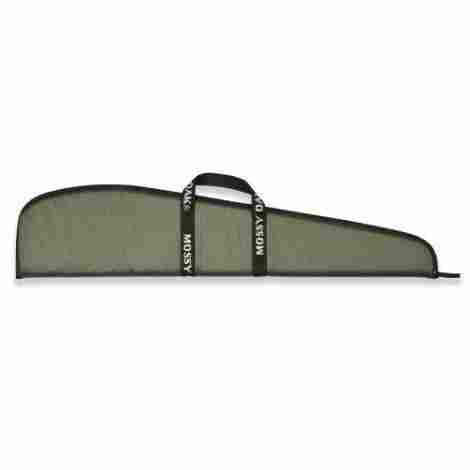 Keep your most valued possessions safe and secure with the very versatile Mossy Oak Stillwater solid rifle case that's built to protect. It's decently lightweight yet solidly built for the rugged outdoors to provide the best protection for your firearms without compromising mobility. It's built to take the hard beating for a ruff and tuff use in the harshest of conditions to ensure a lasting use.
Expand to see more
Great Materials and Zippers
Complementing its ruggedness is the 600D exterior which efficiently safeguards your rifle from bumps and falls, plus the high-strength handles make carrying a breeze.The high-quality zippers
ensure the safety of your gun
.
Featured Specifications
Fits scoped and non-scoped rifles
Solid rifle case
Endura 600D exterior for maximum protection
All side padded protection
Heavy-duty handles and zippers
Main rifle compartment zipper for easy access
Easy carry and transporting
Cost and Value
When it comes to safety and protection - this product is one of the best. It's made from great materials without having the price tag attached to it.
Fits most rifles (without scopes)
Double-stitched seams for added protection
Lightweight and durable
Heavy-duty handles make carrying a breeze
8. Plano 10470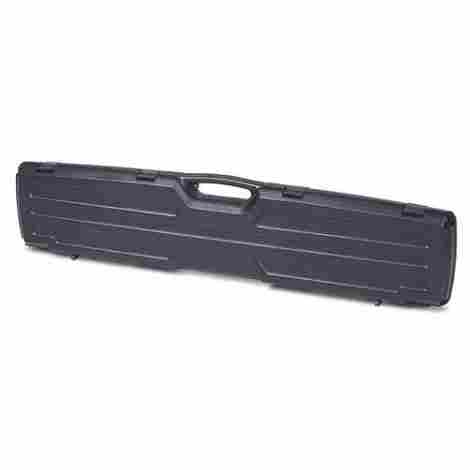 A solid hard protective case for an avid outdoorsman and seasoned hunters alike, the Plano 10470 heavy-duty rifle case is built for the outdoor lifestyle and is a fine addition to any hunter's tactical gear. The high-density padded foam totally encases the rifle along with its
scope
to provide maximum protection from accidental fall and bumps. Plus the compact size allows it to be used at home or on-the-go.
Expand to see more
High Quality Build
A sturdy all-weather tactical gear, the Plano 10470 boasts a solid construction with the rugged looks for the most demanding sportsmen. Thanks to the padlock tabs and recessed latches, the case keeps your precious rifle safe and secure in a protective box along with your optic attachments as well.

Featured Specifications
Sturdy, solid construction
Padlock tabs for easy carry
Recessed latches
High-density foam padding on the inside
Steel hinge pins for added durability

Cost and Value
If you are looking for a quality rifle case to compliment your life - this one is it! Built with padding and foam and numerous safety features, this product offers the peace of mind that individuals are looking for.
High density foam interior for maximum protection
Reinforced frame for durability
Rugged construction for lasting use
Features padlock tabs for security
The shell is made out of thin plastic
9. Bulldog siz-btR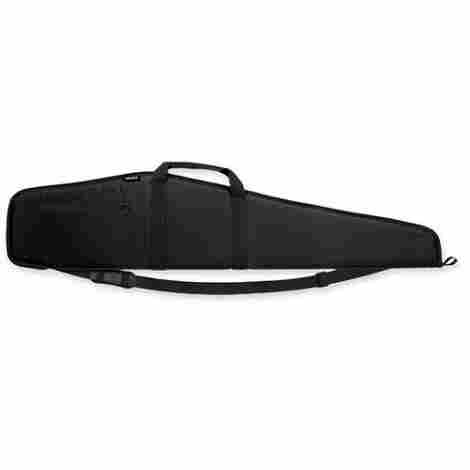 The inside of this stylish yet solid rifle case is faux-fur lines and outside is quite durable as well. It's well padded and is brilliantly made out of a durable, heavy-duty Nylon outer shell which is also water-resistant and allows for years of lasting use. This sturdy case boasts full-size zipper with pull and a removable, adjustable shoulder strap with swivels in addition to the double loop straps to the center of the case.
Expand to see more
Zipper
his sturdy case boasts full-size zipper with pull and a removable, adjustable shoulder strap with swivels in addition to the double loop straps to the center of the case.


Featured Specifications
Full-length zipper with pull
Heavy-duty nylon for durability
Water-resistant outer shell
Full-zippered accessory pocket
Double stitching for durability
Fits gun up to 42-inch

Cost and Value
Whether you're looking for safe home keeping or a handy easy carry case for transporting from and to the range for convenient carry. The best part? The price tag! It's a great piece of gear with great value.
Good value for money
Fur lining for maximum protection
Perfect for both scoped and non-scoped rifles
Separate accessory pocket
Removable, adjustable shoulder strap with swivels
Might be too short for long range scope rifles
10. Allen Dakota 987-48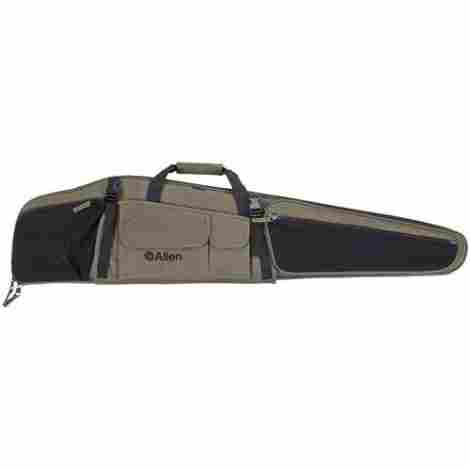 Keep your hunting rifle safe and secure with the very versatile Allen Dakota Gear Fit Scoped Rifle Case that's designed for the serious outdoorsmen and the demanding hunters looking for their next big game. The flap design allows for convenient and efficient safe-keeping, plus the lockable zippers make carrying and transporting a little less painful. It's made out of durable polyester for a lasting use and an easy all-season tactical case.

Expand to see more
Endura Materials
This solid rifle case boasts premium padding material to keep your firearms securely locked away all while preventing them from bumping into each other while transporting. The Endura shell is an added advantage while internal pockets make organizing your tactical gear a breeze.

Featured Specifications
Endura shell for extra protection
Soft padding for safe keeping
Flap design to hold targets
Polyester lining for easy cleaning
Heavy-duty, self-healing zipper
Adjustable shoulder strap

Cost and Value
When it comes to quality and durable builds, this product is a contender for the belt. In this, this case can be a tad bit pricey - but it's worth it!
Padding for overall rifle protection
Adjustable straps for extra comfort
Weather resistant design
All-season tactical gear for the demanding hunters
Easy carry and transporting
Sturdy design and superior performance
Built to perfection
A bit pricey
Not durable enough
Criteria Used to Evaluate Rifle Cases
A rifle is definitely one of the most precious accessories for a hunter. If you're in possession of one or a few, you'd know how important it is to have a protective case to protect your most valuable investment. Not to mention the fact that you wouldn't want to damage your rifle and not realize it. And you wouldn't put your prized possession in a duffle bag either or any sack for that matter. One bump and you can break your most valuable rifle which probably will cost you a fortune to repair if it's repairable at all. Any person with a good common sense and a rifle will definitely think about buying the best rifle case that would keep it safe and ready to use where ever you go.
Now that you know what a good rifle case does, it's time you get one for yourself. There are many different makes and models to choose from, plus there are many different factors that vary from case to case. Not all gun cases are built same. You'll have to assess your needs first before starting with your hunt for the best gun cases. You have to best understand your needs and choose accordingly. Start with what you'll be needing in your little hunt trip and what gear you'll be carrying along with your firearms. You deserve the best protection for your precious firearms so that you get the best out of your fun expedition in the wild outdoors. Consider a few factors first before making your final move.
Type
Knowing the different types of rifle cases is really an important thing to consider when looking for rifle cases. There's a multitude of options available out there depending upon the material used to manufacture a particular case. They go by soft cases and hard cases as long as the functionality is concerned, but the styles may vary from brand to brand and totally rely on your outdoor needs.
The soft cases are a versatile piece of gear ideal for beginning outdoorsmen, considering they are lightweight and efficiently carry a decent load of tactical gear with ease. They are not as heavy-duty as their hard case counterparts but serve their purpose quite effectively, plus they double as pillows or seat cushions for short hunting trips. Although they have their fair share of advantages, they don't offer the same amount of protection as hard cases.
The hard-sided cases, on the other hand, effortlessly safeguard your precious firearms and other tactical gear from outside elements while keeping your tactical inventory in its best condition. They not only safeguard your firearms for safe keeping but also protects them from bumping into each other while on-the-go. They make a smart addition to any seasoned hunter's go-to gear while keeping the contents totally safe and secure from the elements. The soft cushioned padding safeguards your hunting rifles from accidental drops and bumps in the rough terrains while the rugged exterior keeps your rifles perfectly locked away for safe keeping. A high-density foam padding keeps your firearms secure from the outer elements, so it's wise to choose wisely.
Shape and Size
You don't need just any case; you'd want to have one that best matches the shape and size of your rifle. It depends on the gear you'll be carrying along or if you wish to put other stuff too such as optic attachments and other tactical gear. You'll want a gun case that best meets your tactical needs on-the-go and sturdy enough to keep your firearms in the best condition without adding any extra bulk. If you go for a big case, your rifle will shift when you'll be walking or driving and that can cause some serious damage to the case. That really defeats the purpose altogether. For the obvious reason, you cannot purchase a small case either. Depending on your style and tactical storage needs, you must choose wisely.
Material
Then comes the material the cases are made of. You should never compromise on quality and always try to pick a quality rifle case that has been constructed out of durable materials and produced by a trusted manufacturer. A case made of cheap quality materials can cause damage which is not at all good for you or your rifle. A high-quality material determines the durability and strength of your rifle case.
When it comes to material selection, it should protect your firearms from bumps, scratches, and the outside elements all while keeping them in their top condition, especially while traveling. Aluminum is a common choice of material when it comes to protective gun cases for the simple fact that aluminum is lightweight and can withstand the daily wear and tear of the wilderness without compromising performance.
Gun cases are also made of wood which is a classic addition to any tactical gear and provides a great storage solution for your valued possessions and tactical gear while on-the-go. They offer quality gun protection for your firearm storing needs and do so in style. Wood is a fine choice of material for seasoned hunters who love to carry their prized firearms in style, plus they are durable enough to stand the test of time.
Waterproof
No matter you're looking for your next big game in the wilderness or testing your survival skills, a protective gun case is imperative to your outdoor adventures. They must be waterproof treated because hunters hunt in all kinds of situations and deserve the best round-the-clock protection for their go-to tactical gear and their precious firearms. Fabrics often tend to retain moisture even if it's low level and guns stored in the cases are more vulnerable to rusting when off-the-season. A waterproof gun case works like a wonder and efficiently wicks the moisture away for safe keeping. It's also advisable to wipe the moisture off your rifles and handguns before putting them inside the case for storage.
Special Features
Rifle cases have special features to provide additional support for your rifle. For example, the rifle case with a perfectly padded interior and with all the necessary compartments and perfect locking system to keep the accessory items of your rifle safely in a perfect way should be your top priority. Few cases are padded in just the right spots and offer ample compartments for your additional accessories. Having a case that not only keeps your rifle secured but also the accessories safe is important.
Budget
When it comes to finding the best rifle case in your price range, quality should be something that you don't want to skimp on. Make sure you don't compromise on the features and utility aspects even if you go for a less expensive product. You can still find a great deal on quality rifle cases of you know what you're looking for while keeping your focus in the right direction. There are many manufacturers that produce good quality gun cases for all price ranges.
The bottom line is to get the absolute best rifle cases you can afford without compromising on the quality and the features to keep your expensive rifle or shotgun safe and undamaged.
Different Types of Cases
Sports gun cases
Buyers often choose sports gun cases if they are shooting for sport, which gives them their name. These cases are designed to carry one single rifle and are often slim and elongated. Most of these cases are constructed out of a sturdy nylon and tough metal. They also offer cushioned protection to make sure the gun is not being jostled around while on-the-go.
Hunting gun cases
Aside from personal cases, hunting cases are most frequently carried. They are often used to transport guns to and from hunting sights. Therefore, they are crafted with a heavy-duty, sturdy exterior and interior. Both are important. This way, your gun will be protected from banging around or being damaged from other things like weather elements or harsh conditions.
Hunting cases are definitely the most durable and fancy of cases out there.Some feature customizable inserts, waterproofing, dustproofing and more.
What a gun case cannot do:
Although these cases do protect your guns to their best ability, they cannot protect from owners' abuse. So, it is important not to mistreat your weapon if you want it to have a long life. Rifle or other gun cases cannot protect your gun from accidentally being ran over by a vehicle or protected fully from being left out in a downpour.
These cases are also not supposed to be used for long-term storage. If you try this, there is a high risk that your gun being prone to rust. Since fabrics tend to absorb moisture and the interiors feature a mix of fabrics, this moisture can ultimately result in rust on your weapon.
Enjoy your gun case and the protection it does offer, but it is also important to take responsibility and care for your gun to see it through a long and healthy life.
Zippers can be a downfall
Here is another thing to consider when purchasing a rifle or gun case: does it have zipper closures, buckles or clasps?
While all of these types of closures are fairly simple to get into, zippers are among the easiest. This means that your gun is not safe inside a zipper case from children. If you can, add a padlock option to your case if you are able.
Overall, if you choose zippers, they should be durable. If your case doesn't have durable zippers, really consider upgrading.
Cleaning and Maintenance
How to clean your gun case
Yes, you can and should clean your gun case. This can also help with keeping your gun in its best shape, longer. (As well as your case.) That said, it is recommended that you clean both the exterior shell as well as the inner foam padding.
Exterior
Cleaning the outside of the case is a smart move. Yes, most are dust-proof, but dust-proof does not equal clean. Regardless, your case is prone to collect dirt and gunpowder. To clean your case you can:
Wrap your gun in a soft towel or cloth to soak up dirt and other grime before placing it in the case. This may seem tedious, but it will not only help keep your gun scratch-free, but it will help reduce the amount of dirt or gunpowder you are accidentally putting into your case.
Dab the gun case with dish washing soap. Then, take it outside to rinse off with water. This will remove the dirt and keep it outside, too. Dry it with a clean towel.
White vinegar is another popular cleaning solution. It is tough on dirt but soft on the case. Yes, it will have a pungent scent while you use it, but it will leave your case clean. Put some of the white vinegar on a damp towel or cloth and wipe the exterior off.
Baking soda and water can also be a great cleaning solution. Mix a teaspoon with one cup of water and use a towel or cloth to wipe the case clean.
Interior
Cleaning the interior of your case is just as critical as the outside, but it is a different process. Just as important is safeguarding the interior foam. While the interior is also prone to dirt, it is more at risk for wear and tear than the outside.
One tool you can use to safeguard is a spray solution called Plasti-Dip (among other brands out there). This spray is a multi-purpose aerosol spray that gives off a matte texture to any surface that you spray it on. So, when applied to the foam, it toughens up the material enough to prevent tears, but keeps it protective enough not to damage you gun.
Here's how you can use Plasti-Dip to make the inner foam sturdier and safeguarded from moisture, corrosion and heat:
First, remove the foam from the inside of the case.
Next, shake the Plasti-Dip can away from you.
Then, spray the contents all over the foam. Make sure to cover the front, back and sides.
Last, give it about 15 minutes to dry (may be longer) and you will see the difference it makes. After it is completely dry, replace the foam into the case.
FAQ
Frequently Asked Questions
Can I take a rifle case on the plane?
You will never be able to bring a firearm as a carry on due to TSA regulations. However, some airlines will allow you to check a firearm as long as it is in a TSA approved gun case. You really have to do your homework when you plan on flying with a gun because TSA will check into guns to make sure that they are used for legitimate purposes and not as an act of terrorism.
Can I have a scope mounted on my rifle?
Many gun cases will allow you to store a rifle that has a mounted scope. The key here is to make sure that the case is large enough to hold a gun with a scope. It will also need extra padding in the case in order to protect the scope so you may want to prefer a hard case rather than using a soft rifle case when your rifle has a scope. This will help keep the scope protected from impacts.
How can I add additional waterproofing to a soft case?
There are plenty of treatments that available on the market that you can use to increase the water resistance of a gun case. They work by filling in the holes in the material that would normally allow water molecules to pass through the gun case. When you are trying this out, you should test a small area of the gun case in order to make sure that the treatment will not damage the gun case after it has dried.
Can I wash or clean a gun case?
A hard gun case can be cleaned by washing it with a damp cloth on the inside and the outside of the gun case. You may be able to machine wash a soft gun case but you will need to check the manufacturer's instructions in order to make sure that this is possible first. If you are not able to machine wash a soft gun case, then you may want to wash it by hand using hand washing directions.
Can gun cases float?
There are floating gun cases that available on the market and you should consider purchasing one of these gun cases if you are transporting your gun in a boat. Boats can capsize at any time and your gun will sink straight to the bottom of the lake, pond, or river should this happen. Having your rifle in a floating gun case increases your chance of recovery so it is a great idea to use a gun case that floats if you are on the water.
Decision Time
There is a multitude of options to choose from when it comes to tactical gun cases, but at the end of the day, it comes down to personal choice and at the same time, you want the best protection for your prized firearms. Our guide hopefully served the purpose and will surely help you choose the best gun case for your needs and your style of course. After all, a gun case is a smart addition to a hunter's go-to tactical gear and safeguarding your firearms is just as necessary as having them in your possession.
Happy Hunting!
Sources