Top 10 Tactical Knives Reviewed & Tested
In a
Hurry? Editors choice: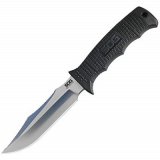 Test Winner: Seal Pup Elite by SOG

We know that you already have a
great multi-use knife
. We know these things because anyone who spends any time outdoors doing anything knows that if there is hunting involved or even if there is just a
few days of camping
involved one of the things that you should never leave home without is a few solid blades. You need to add to that list a great tactical knife. The reason why is that at some point you're going to need a solid blade that can take a beating and that has some heft to it so you can use to do everything from cut a steak to hack through some branches if it comes to that. Lucky for you there are a lot of options out there, and here are some of the best tactical knives.
Standout Picks
Criteria Used for Evaluation
Materials
In general, you should look for a knife with a composite handle, a good quality steel blade, and a sheath or clip that allows you to carry your knife securely and without worrying over whether or not it will fall out of your pocket or off of your belt. All of the knives in this buying guide have been carefully selected to meet those needs, freeing you to choose the best one for your individual needs.
The amount of carbon in the steel of the knife determines how well the blade holds an edge. Carbon also causes the knife to be brittle and makes it a poor choice for prying. High carbon steel knives are prone to breaking their tips off when they are handled too roughly, effectively ruining your survival knife.
Another additive that's used in making steel for knives is chromium. Those made of high-chrome steel resist corrosion better than carbon steel blades, but the chromium also softens the edge of the knife. Stainless steel knives have large amounts of chromium alloyed with the steel, and although they need to be sharpened more frequently, they're much easier to care for in the long run.
We could write for days about the varying degrees or Carbon, Chromium, Manganese, Nickel, and Tungsten in blades but honestly, we're going to put that on you. What we will do here though is try and point out the toughness, or edge-holding ability of the knives that make our list here and generally point out the best of the best.
Comfort
It's easier than ever to find the perfect handle. In the past, since handles were exclusively made out of natural materials like bone, horn, and wood, it took a lot of time and effort to find the perfect combination of handle and blade.
Now, most knives have composite handles and they not only hold up to abuse better than natural materials, but they're also ergonomically designed to fit perfectly in your hand. Morakniv and KA-BAR stand alone when it comes to comfort since both knives use a composite rubber material for a softer feel.
Size
Look for the smallest knife that does the job that you need it to do. Longer blades are more prone to bent or broken edges, they're heavier, and some knives aren't legal to carry over a certain length. It's more important to find a knife that is well suited to your hand than it is to buy the largest knife you can afford. You should also consider portability when making your decision. If this is something that you will be carrying around with you while hiking or hunting, then you want to make sure that it won't get in the way, but still, be large enough to be effective.
Style
The design is a big subject, and there's no accounting for individual taste. You should absolutely find one of the brands that you like to look at, but don't ignore the nuts and bolts of knife design either. One of the most important considerations is whether or not you can wear your knife on the proper side of your body. Military types often have reversible clips that can be set for carrying on the left or right hip. The best knife is the one that you can reach easily with your dominant hand.
Edge Types
There are a few basic edges on modern designs. The most common is a hollow ground straight edge, and this is the sort of knife that springs to mind when you think of a combat knife. There are also combination edges, with both straight and serrated areas on the blade, and they're well suited to utility work like cutting cordage, branches, and cardboard. There is also a specialized edge, called a Scandinavian grind, which is easy to sharpen and maintain even if the knife's steel is very hard and high in carbon.
Blade Shapes
When we talk about blade shape we're mostly referring to the point of the knife. There are three commonly used points: clip, drop, and tanto. Clip pointed knives taper to the tip from the spine, or top edge, of the knife and combine the strength of both tanto and drop points. Tanto points taper in a similar way, but they do it from the bottom, which leaves a thick, sharp tip that works well for thrusting and stabbing. Drop point knives don't taper as sharply as the others, and the gentle sweep of the tip of the blade makes them ideal for skinning and other delicate jobs.
Value
All of these knives are very well made, and it's absolutely possible to find a knife that fits your needs at every price point, but keep in mind that you get what you pay for. More expensive knives have the widest range of features and use the highest quality steel. Buying an expensive knife doesn't guarantee that it will last forever, but deciding to get a cheap knife may mean that it will need to be replaced more quickly.
10 Best Tactical Knives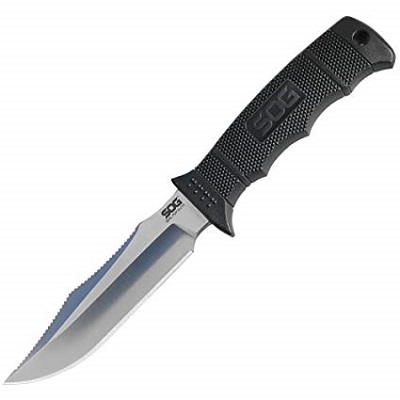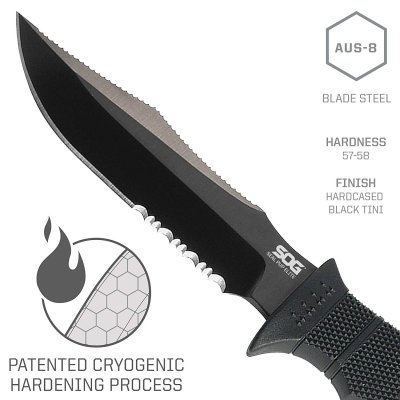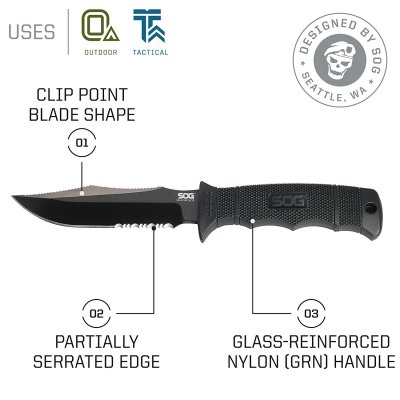 SOG's Seal Pup Elite is the best tactical knife for outdoor use, hands down. It features an extra-thick blade profile, full tang to stand up to the roughest use, and a coated AUS-8 steel blade that won't rust or discolor even if you leave it out in the rain.
Versatile
This is the best one for you if you're going to be spending time on the trail and you need to be prepared for anything, from cutting cordage, building a shelter, skinning game, or even batoning firewood.
Durable Handle
The Seal Pup Elite measures 9/5" long with a 4.85" blade, weighs 6.4 ounces, and features a fiberglass-reinforced nylon handle. It comes with a durable Kydex sheath that can be worn on either side of the body.
Cost and Value
SOG covers this knife, and all of their premium models, with a limited lifetime warranty.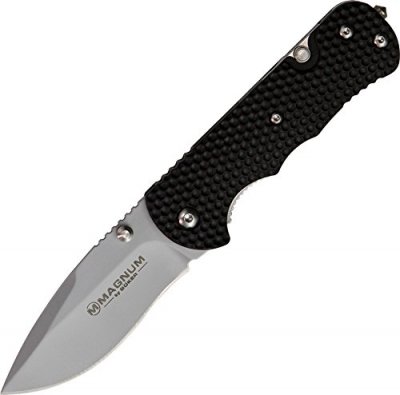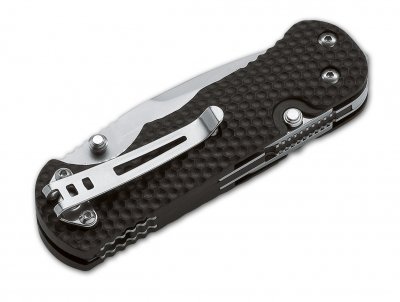 Boker makes a great blade. In addition, it has many great features that you need to know are there as you think about the knife that you want. This knife comes with a seatbelt cutter, a glass breaker and a can opener and these are all nice little features. However, it is the 2+-inch blade that really draws your attention. This broad, powerful blade is going to hold an edge and stand up to a beating.
Plenty of Features
This just isn't a knife, it also has a serrated seat belt cutter. It also has a window breaker peg on that back handle, and because you know that you need one it also has a can opener on the blade. It also has a really nice non-slip grip so you won't lose your grip no matter which of the features you're using.
Tough Blade
This wide thick stainless steel blade is tough as nails and will hold its edge well, but also will take a beating when you inevitably use it for something that perhaps it wasn't meant to be used for like hacking through branches or using it as a sparker for a flint. The point is whatever you need this blade to do it's ready to rise to the challenge.
Cost and Value
The Boken comes in at a great price and with all of the features that come with it, it's almost like you're getting a multi-use tool so we think this is a great value for the money.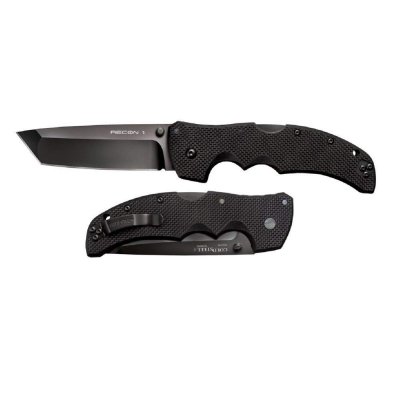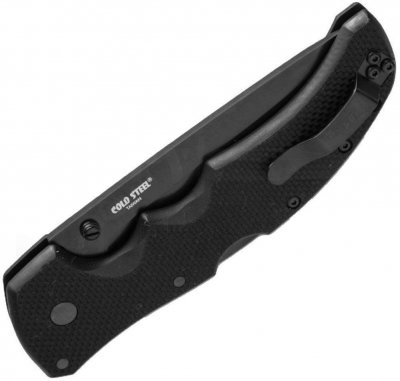 Everything about this blade screams toughness. From the cold steel blade to the well built nonslip handle this recon knife is going to be a tool that won't let you down when things get tough. You won't find a lot of features on this blade but that's because all of the work goes into building a tough knife that's going to be your go-to blade for a long time.
Differing blade lengths
This is a nice feature, when you order this knife you can pick your blade length, from anywhere from a 2-inch to a 5-3/4 inch blade. For anyone who knows knives, this allows the maximum amount of flexibility for what you need your knife to do.
Safe Handgrip
This is one of the things we love most about the Cold Steel brand, the handle is not only made tough but it's also shaped to fit snugly in your hand without any chance of slippage. This will keep you safe, and allow you to use maximum force when you're doing tough work with the knife.
Cost and Value
More expensive than a lot of the other choices on our list but Cold Steel just makes such great blades it might be worth it. This iconic brand got where it is for a reason so it's a great choice if you're looking for the one knife that's going to last you for years.

4

. Morakniv Bushcraft Carbon Black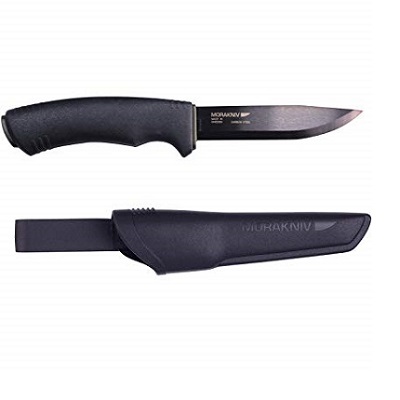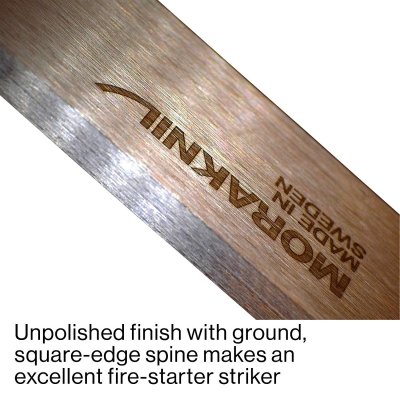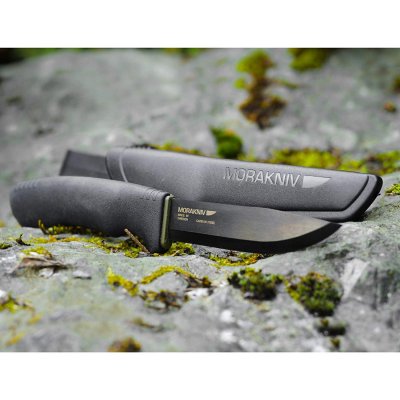 Morakniv is one of the oldest and most respected names in bushcraft, survival and camping. This is awesome to take with you into the woods, and there's nothing its razor-sharp carbon-steel blade can't cut through.
High Carbon Steel
Whether you're making feather sticks for a campfire or lopping off boughs for a survival shelter, every outdoorsman is sure to love this knife. Although the blade is a bit short for combat, the fact that it's made from high carbon steel means that it is tough enough to be used for self-defense.
Slip-Resistant
The knife is 9.3" long with a 4.3" blade, soft plastic handle for exceptional slip-resistance even when wet, and weighs 5.7 ounces.
Cost and Value
The Morakniv Bushcraft is available for right-hand carry only and features a hard plastic sheath with a drainage hole to help prevent blade corrosion. Morakniv of Sweden warranties the Bushcraft for a full year.

5

. Columbia River M16-14ZSF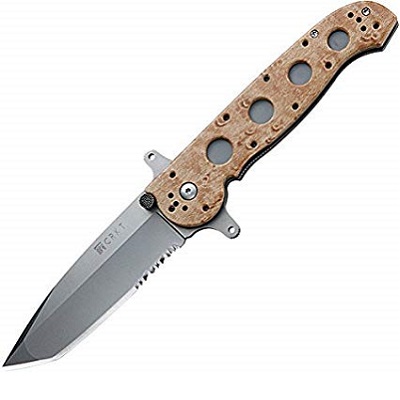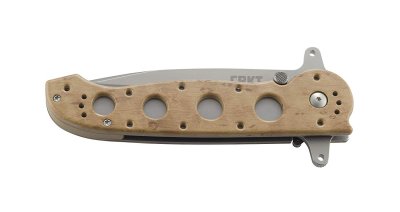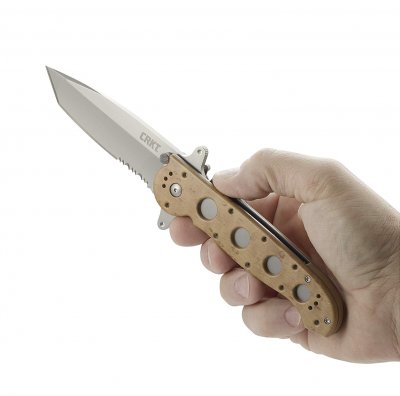 Columbia River Knife and Tool hit a home run with their M16-14ZSF folding combat knife. It's not just an incredibly solid folding combat knife, it's also a work of art.
Unique Handle
The manufacturer has made extensive use of cutting-edge Zytel composite, which is harder and stronger than nylon, in order to craft a beautiful handle that accompanies the mid-sized blade and innovative fold-out finger guards.
Lightweight
This knife is 9.25" open, 5.37" closed, and features a 4" bead-blasted AUS-8 blade with serrations and a tanto tip. It weighs a surprisingly light 6.3 ounces, thanks mostly to the Zytel composite handle, and has one of the smoothest actions of any knife featured.
Cost and Value
This knife is perfect for ambidextrous carry, with a 4-way adjustable pocket clip. Columbia River Knife and Tool stands by their M16-14ZSF with a lifetime warranty.

6

. Zero Tolerance ZT0350TS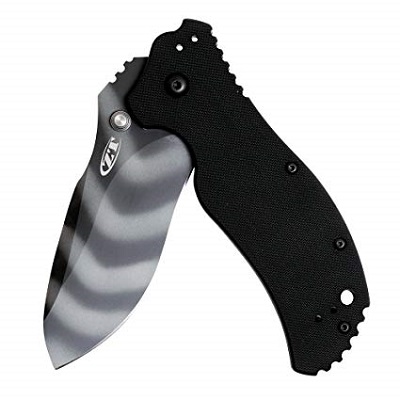 If you're looking for premium quality, a lightweight knife for everyday carry then you really can't go wrong with the ZT0350TS by Zero Tolerance.
Concealed Carry
This is great for concealed carry of the whole group. It's large enough to be useful but small enough to tuck away unnoticed, mostly due to the ultra-thin profile and incredible manufacturing tolerances that have made this knife possible.
Tungsten Alloy
The Zero Tolerance is suitable for carrying on either side of your body, features an S30V stainless steel blade coated with a tungsten alloy, and finished with a gorgeous tiger-striped pattern.
Cost and Value
it's a compact 4.6" closed, 7.75" open, and has a blade length of 3.25" with a weight of 5.6 ounces. It's proudly manufactured in America and carries a lifetime warranty.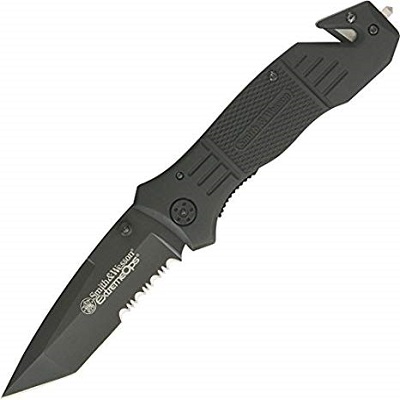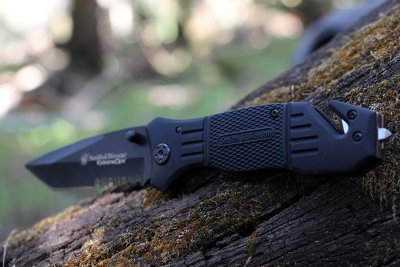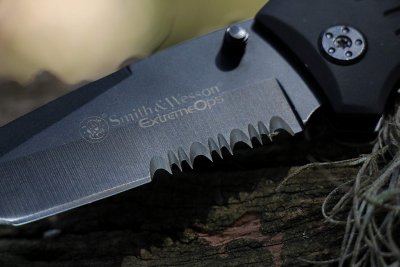 Smith & Wesson's take on the SWFR2S is a useful utility folder that's practically indestructible. They've managed to keep costs down on this knife by incorporating affordable 440 stainless steel and keeping the pattern small.
Versatile
Some might say that this is a bare-bones model, but that's just not true. Smith & Wesson include a seatbelt cutter, glass breaker, nylon sheath, and a double-edged chisel point in order to provide a ton of value and utility at a great price.
Compact Size
This is for anyone who needs another blade, whether they're keeping it in their car or slipping it in their pocket. At 4.8" long folded, 8.1" long open, and with a 3.25" blade, this knife is compact enough to carry with you everywhere.
Cost and Value
It weighs 6.5 ounces and includes a sheath and belt clip for right-hand carry only. Smith & Wesson stands by their blades for a full year after purchase.

8

. Spyderco Police 3 G-10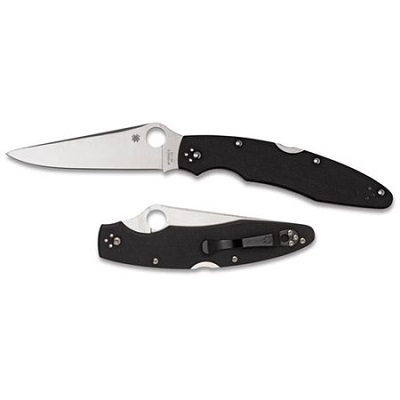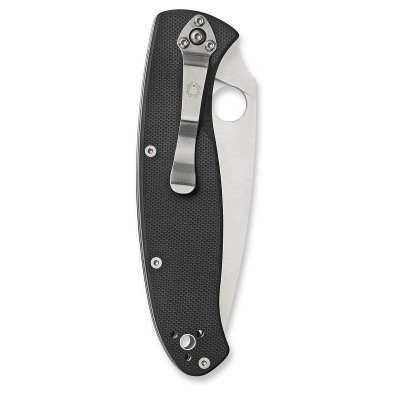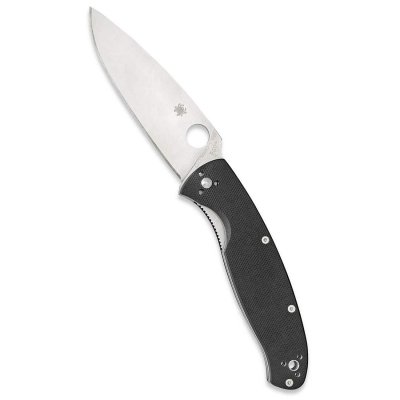 The Police 3 by Spyderco is a modern take on a classic folder, with everything you'd expect from one of America's best-loved knife-makers.
Variety
It's got an attractive mix of traditional lines and modern engineering that has made it one of the most popular tactical folding knives in America for over 10 years.
Improved Locking Mechanism
The Police 3 is an upgrade of the previous model, with a super-durable G-10 handle and VG-10 stainless steel blade. Spyderco kept its big thumb catch for easy opening and improved the locking mechanism in this generation.
Cost and Value
Changes made to this model make it more beneficial than ever before. The warranty backed by the company lets you know that you're getting good quality.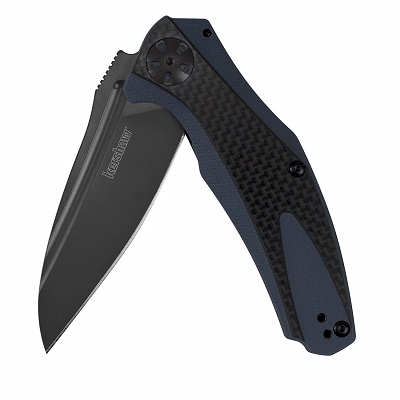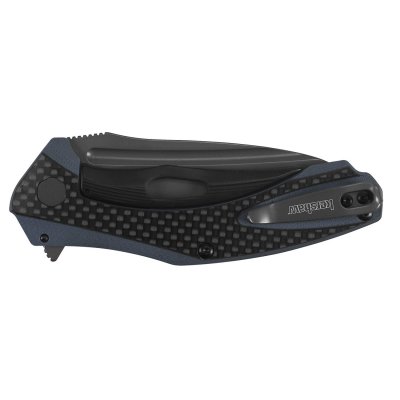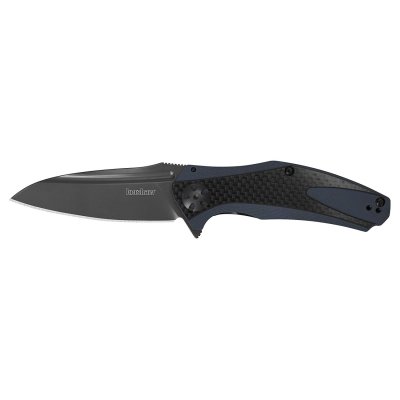 Kershaw delivered a tough, compact utility knife in their 1550ST, and it's popular for a reason. The serrations on this model are something to behold, so if you've got to cut your way through a rope, cordage, or just about anything else, then this is the knife you want to bring with you.
Secure Liner Lock
For your safety, it uses a thumb stud in order to open in a flash and has a secure liner lock to prevent accidental closure. This allows you to use it without worries.
Strong Handle
Kershaw has made use of ultra-tough Sandvik 14C28N alloyed stainless steel and a glass-filled nylon handle that will withstand the toughest environments.
Cost and Value
The 1550ST Blackout is available for right-handed carry only. It's 7.75" long when opened, 4.5" closed, and has a 3.25" combination blade with Kershaw's patented aggressive serrations. The Blackout comes with a 1-year, no questions asked manufacturer warranty.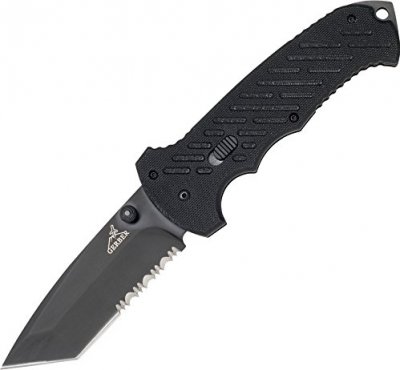 This spring action technology blade is not only a great blade for the outdoors it's a great blade to just have on you at all times because one way or another it's going to come in handy. It has a spring-loaded opener and a small tanto blade that's great for everything from cutting rope to shearing branches.
FAST Spring Technology
This knife is not only incredibly short but also opens and closes easily thanks to the F.A.S.T. spring technology. Closed this knife is small enough to fit in any pocket but it opens quickly and easily when needed, and closes just as easily.
Easy Grip Handle
This grip is molded to be extra functional and fits nicely over the blade when closed but once it's open it fits easily into the palm and stays there thanks to its no-slip construction.
Cost and Value
This knife comes in at around the mid-point for pricing. But the easy-open system makes this knife valuable and definitely worth the price.

Subscribe to our Newsletter