Best Galco Holsters Reviewed
Holsters were once part of a person's daily attire and a vital part of their lives. Today, they are still considered important in many occupations and favored by gun collectors and hunters alike. They not only make carrying a firearm convenient, they also make it safer. There are many types of holsters from over-the-shoulder harness designs to some that are super discreet and tuck the firearm into your waistband. Whatever style you may be looking for, Galco is sure to produce them.
A good holster is a mixture of durability, security, comfort, and its ability to be concealed. Fitting well is another big plus. A great holster holds all of these aspects. No matter what type of holster it is, they all serve the same general purpose, to hold your weapon on you, concealed, but always available to pull easily should a firearm be needed.
Galco Gunleather is a well-known brand among gun enthusiasts, and an industry leader when it comes to quality and innovation. They make all types of holsters to meet varying needs. Our list rates and ranks their most popular models on the market to make you search easier!
Featured Recommendations
Galco Combat Master

Our rating
Double-Stitch Seams
Price:

See Here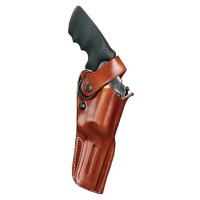 Galco Action Outdoorsman

Our rating
Tension Adjustments
Price:

See Here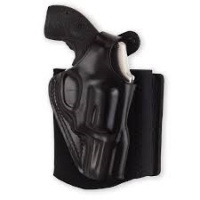 Galco Ankle Glove

Our rating
100% Leather
Price:

See Here

10 Best Galco Holsters
1. Galco Combat Master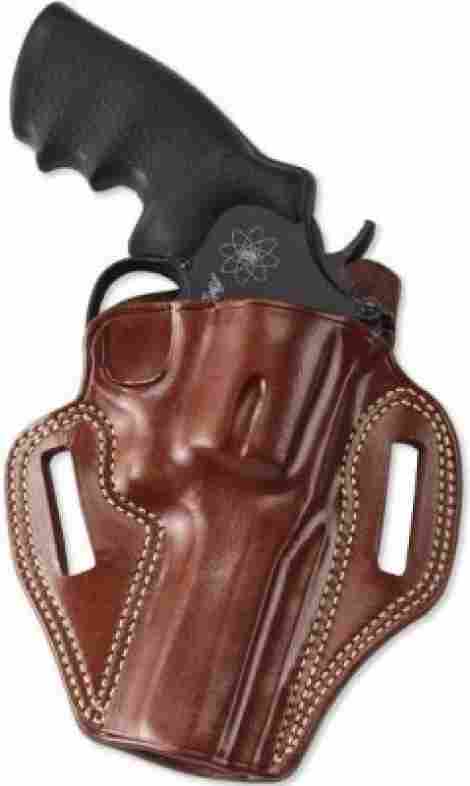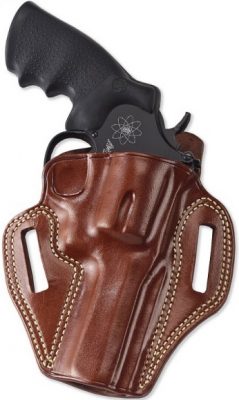 Tha Combat Master is a durable handgun holster that lives up to its name. It's made to fit either the five-inch Springfield, Para, Colt or Kimber. Because it's made of a strong saddle leather you won't need a
replacement
for years.
Expand to see more
What testers really liked about this holster is its wide opening leaving a way for easily placing in and drawing out. It's arguably one of the most convenient holsters in its class. Just because it has an easy draw opening doesn't mean the firearm is less secure inside it. The CM boasts a snug, secure fit that easily rivals the best.
Perfect snug fit
100% durable leather
Allows for rapid drawing
tilt allows concealment of large pistols
Open muzzle design
Some see the fit too tight
2. Galco Dual Action Outdoorsman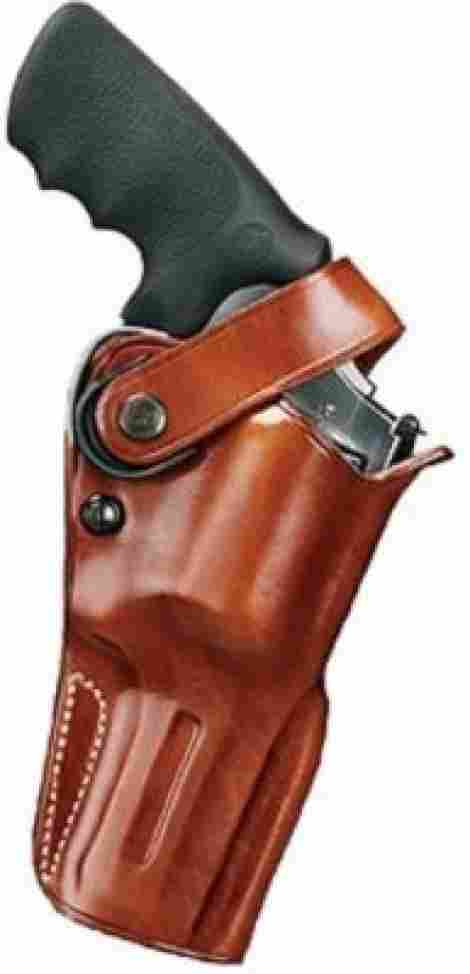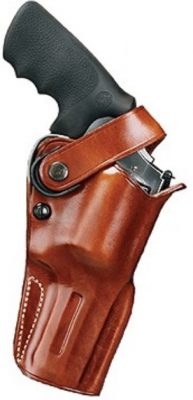 This holster fits a four-inch
handgun
and just like many others is made of a strong saddle leather. The great thing about it is its tensioner screws adjust if you need a better hold.
Expand to see more
The DAO is favored by law enforcement because of its universal design. It's more practical than most while retaining its simplicity. It's durability also lends its hand to military personnel. It doesn't stop there. Citizens who carry concealed find it to be one of the best.
Fine leather build
able to adjust and decrease tension
fits 1-3/4 inch belts
durable and long lasting
wear it cross-drawn or strongside
3. Galco Ankle Glove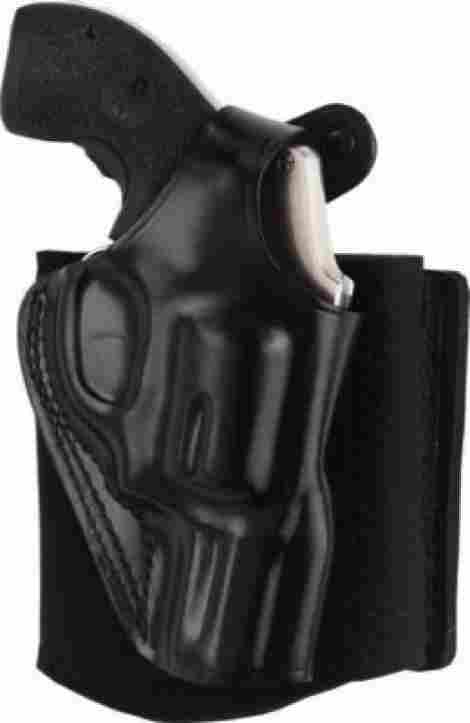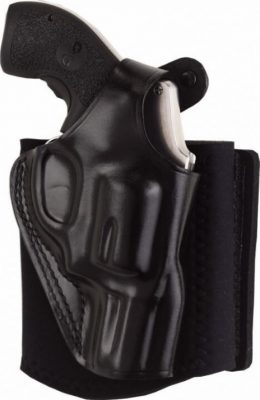 If you want
max concealment
you may want to check out the Ankle Glove. This holster is especially da ores by those who are clicking long hours wearing it. It gives the comfort needed for a perfect low key design.
Expand to see more
The ankle band is made of a durable Neoprene material. This material is easy to the touch but durable to last a beating. The surface of the holster that comes into contact with the skin is padded for extra comfort. What else can be added? Well, a glove-like fit would be nice. The perfectly molded design fits and holds well without grabbing too tight.
Of the highest concealment rating
comfortable padding
neoprene band with velcro fastener
accurate mold for better hold
high quality saddle leather
4. Galco Ankle Lite Holster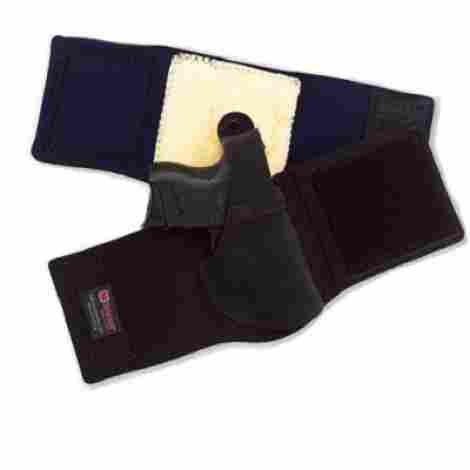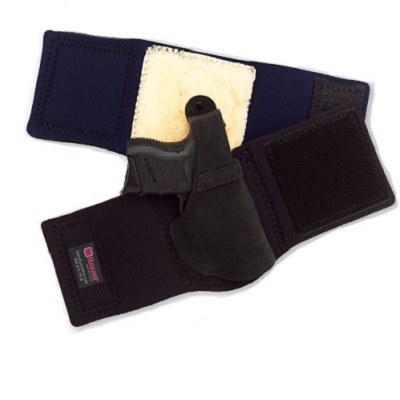 Another great choice for small firearm concealment would be the Galco Ankle Lite Holster. If you don't want your weapon to be noticeable and prefer to keep it concealed for whatever reason, you're looking at the perfect item. This ankle holster works for both, right handed and left handed people and is suitable for different ankle circumferences. What's more, a large variety of guns fits to it, including Ruger LCP, KelTec P3AT, and P32.
Expand to see more
Sheepskin Padding

What really stands out about this product is the sheepskin padding. If you have to wear something against your skin all day, then you'll be please to know that the padding is very comfortable to the touch.

Velcro Closure

The Velcro closure is another big plus! Thanks to this closing system, you can choose the perfect fit for your ankle. Moreover, if you feel any kind of discomfort, you can easily readjust the tightness. The largest fitting circumference is 13".

Cost and Value

The price differs, depending on the hand-orientation: the one for the right hand is slightly more expansive than the one for the left hand. Either way the price is still fair for a high quality product made in the USA.

Available for left and right handed users
Fits a variety of different firearms
Comes with sheepskin padding
Velcro closure
Rivets are in a bad spot
Some complaints about sliding
5. Galco KT652B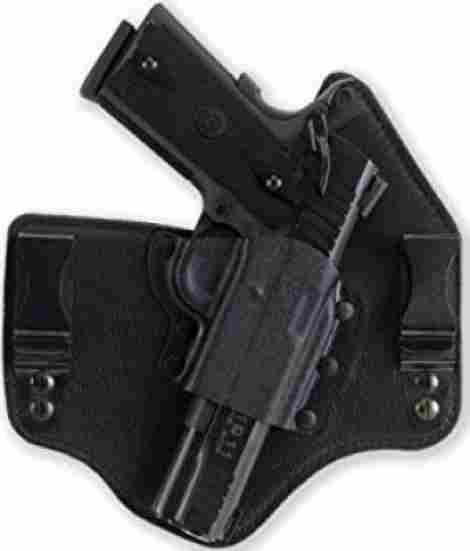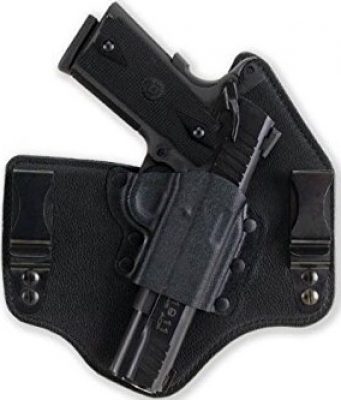 This holster fits on the inner side of the waistline. It's great for concealing handguns such as the Smith & Wesson M&P Shield. Don't worry about
discomfort
. The holster is made with a comfort lining of Napa leather. You can adjust it to your preferred carry height. We like that and users do too!
Expand to see more
If you want to be even more low-key you can buy their nylon CHook component. They allow for hiding the firearm very well and fits belts up to one and three-fourths of an inch. Don't worry, King Tuck is a fast drawer as well.
It's versatile, comfortable and simple
Tucks inside waisteline for more concealment
Back Plate of Napa & Saddle LeTher
Backed by Law Enforcement
Doesn't fit well for larger people
6. Galco Classic Lite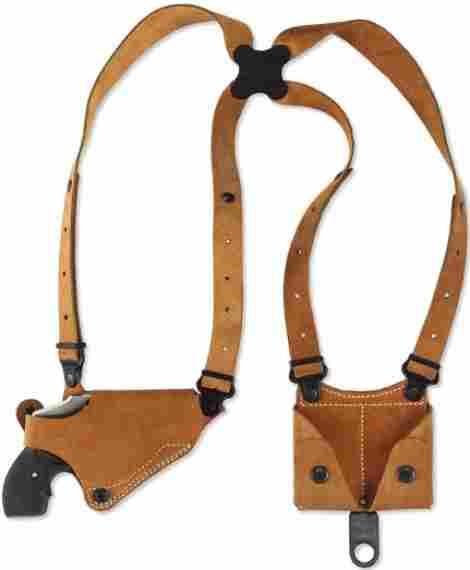 This is another shoulder harness style that is as its name suggests, the classic style. The holster hangs non intrusively under your shoulder, left or right depending on which orientation you prefer. It's a reversible design which makes switching sides as easy as can be.
Expand to see more
There are different fits but we especially like the Lite for Glocks, which perfectly fits the G26. Some have called this their favorite rig for Glocks. The holster also fits in well with casual wear making it a must for those needing one for a glock.
Very quick and easy access
lightweight and diverse
great fitting and secure hold
reversable design
Some say it's too pricey to be worthy
7. Galco Kodiak Shoulder Holster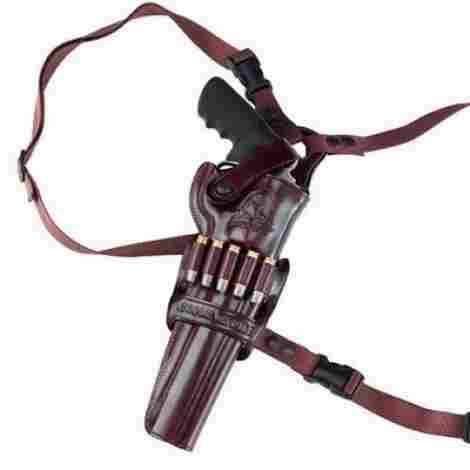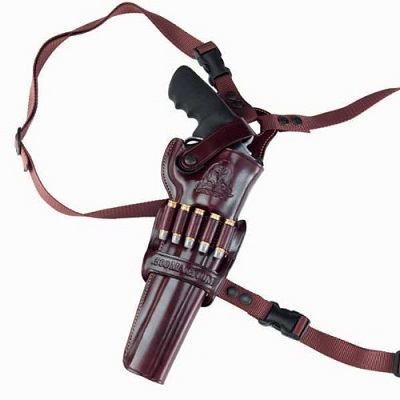 We know you want to get the best and the safest performance out of your favorite outdoor activity. In order to help you achieve your goal, we offer you the Galco Kodiak Shoulder Holster, specially designed to hold your revolver. Thanks to its specially designed shoulder strap, you can wear this all day and stay comfortable. It's built to stay secure and accessible, even during physical activities, keeping you and your pistol safe.
Expand to see more
Easy to Adjust

One of the main advantages of purchasing this accessory is that it can be adjusted with no tools. The placement and angle can also be easily altered to accommodate your physical needs for the ultimate in convenience.

Padded Shoulder Strap

Whether your job requires it or you just prefer it, wearing a shoulder holster all day can wear on you. Galco uses padded shoulder straps to ease some of that tension for a more comfortable feel.

Cost and Value

Compared to other products in its class, the Galco Kodiak Shoulder Holster cost a little more. But if you need something you can depend on, it's a worthy investment that can improve your experience and assure your security as well.

Holds heavy revolvers
Features padded shoulder straps
No tools needed for adjustments
Angles can be changed
Not for left handed people
8. Galco Wheelgunner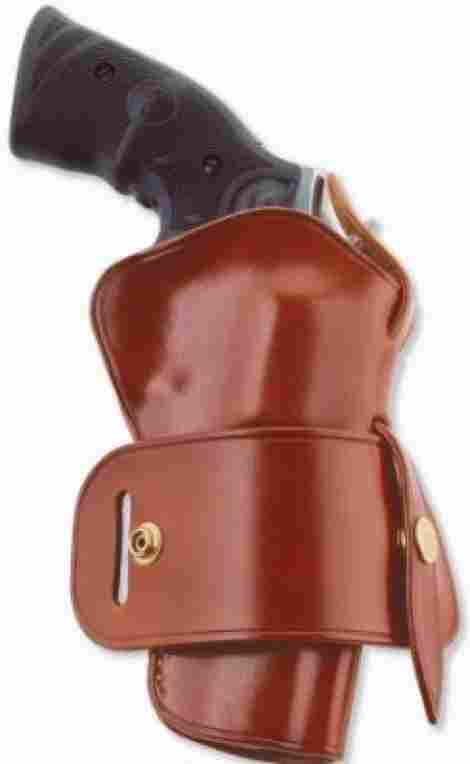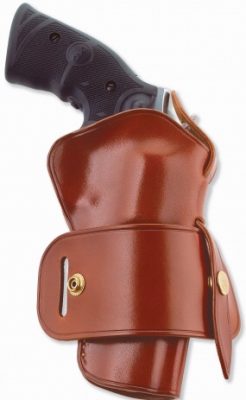 The Wheelgunner can hold different size
handguns
and is as strong as it is noticeable. You can use it either cross-drawn or Strongside. Both Outdoorsman and those not too serious about the overall concealment favor this holster. It certainly has popping aesthetics.
Expand to see more
If you want to be able to hold the firearm at different angles this setup will allow that. Just slide the belt to set the fit. It's effective and very simple. The holster also has what's known as a hammer thong that can be adjusted for a varied hold.
Made of quality leather
Has a nice oiled tan leather
Features four positions
Great for casual use and hunting
Some users have reported a loose fit
9. Galco Miami Classic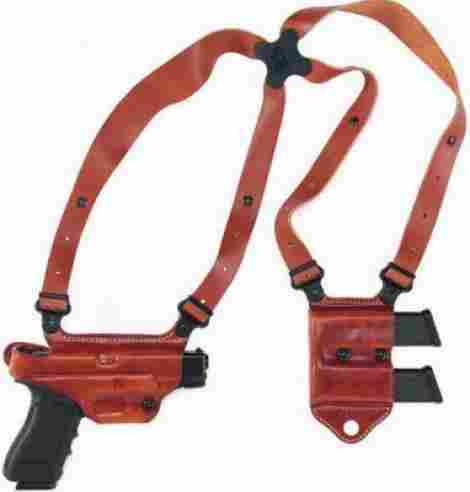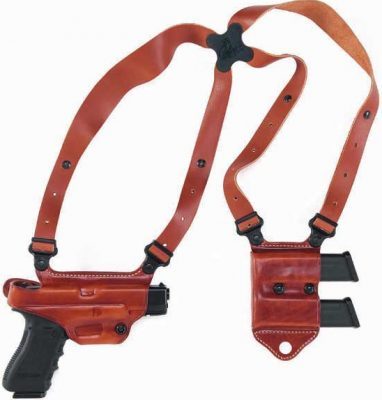 This shoulder harness style holster also fits the five-inch Springfield, Para, Kimber, and Colt. This style became so popular that it's said to be the most mirrored design on the market. It certainly is a great design and being
favored by professionals
says a lot.
Expand to see more
One of the mains features that generated a great response from users is it's spider shoulder system as they call it. Each section of the harness is able to move independently of the others. This allows for much better movement when wearing. Holsters are also much more comfortable to wear when not constantly tugging at you.
Spider harness design
Accurately fitting
Made of quality saddle leather
Allows for additional accessories to be used
May contain less holes in strap
10. Galco Stow-N-Go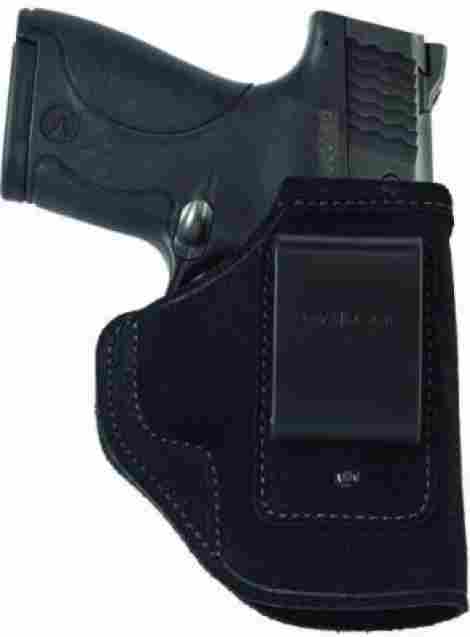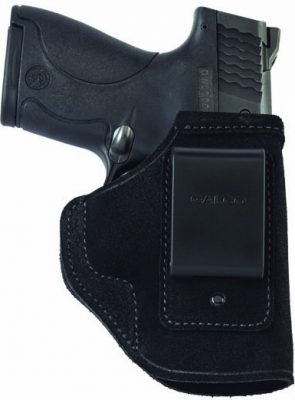 What's appealing about this holster is exactly what its name suggests. The Stow-N-Go tucks inside the pants or belt line. This allows for a much more secure and hidden placement than others in is class. It's relatively
small and lightweight
in the first place and won't hinder movement or comfort.
Expand to see more
Yes, it maintains its comfortability with its small lightweight build. Yes, the value is great for the cost. The holster is also reinforced and has an opening that is clear enough to allow quick drawing. The firearm lays vertically in the holster which not only conceals it better but makes a fast pull easier too.
Made of quality steer hide
cross-draw and strongside
No can't; No angle
Open top enables fast drawing
Larger handguns fit too tight
When choosing a holster you want to ask yourself a few questions. Is the brand reputable and do they produce quality products? What type of holster should be bought? There are several including ankle holsters, those that sit at the waiste and more. Direction or orientation of the holster is also a major factor. This all lends its hand in how easy or convinient it is to draw from it. Of course, you don't want an improperly fitting or cheap holster leaving you with pain in the long run. Cheap material can present huge problems. You want the most comfort as possible. Below we will cover the features and aspects you need to look for.
Criteria Used to Evaluate the Best Galco Holsters
Orientation and Type
Galco has plenty of options to choose from. Across the board, their holsters are split into several different types. These types include but are not limited to the types below. We will only be reviewing the firearm holsters, and not their ammo or misc item holders.
Ankle Holster
Appendix Holster –
Belt Holster
Crossdraw Holster
Exotic Holster
Hidden Open Holster
Under Waistband Holster
Paddle Holster
Pocket Holster
Shoulder Holster
Special Holster
Western Holster
As you can see, there's quite a bit to try out. If you know what you need, you can jump right into it or use our list above to make your decision.
Ability to Conceal
No concealed carrier wants a bulge showing clearly that they're holding a firearm. There are many reasons, but being discreet is favored across the board. If you're out hunting, you may have it hanging loose, but if carrying it around in public, showing the gun is a no-no, especially in states where the gun laws are more strict and carrying is more regulated. Galco does a supreme job at providing holsters that are not only durable, and super comfy, but are discreet as well.
Material and Build
What do you do when you need a strong, supportive and secure holster or your gun? You get one made of premium leather. Galco's products can typically be seen made of steer hide leather and sheepskin leather. The sheepskin can be seen as padding for comfort. Neoprene is used in their bands which helps prevent irritation of other rough materials.
Below are some other leather and material types you will find in Galco products. All of which are top quality and ideal for securing a firearm as leather is naturally extremely durable and their synthetic material is premium.
natural leather
horsehide
synthetic Kydex
polymer
FAQs
Frequently Asked Questions
Q: Where are Galco holsters made?
A: Galco started producing holsters in Chicago but in 1983 moved to Arizona where they make the holsters 'til this day. They are American designed and American made.
Q: Is there a Galco holster fit chart?
A: They do. It's a master sheet in the form of a pdf but has the data that you need to ensure the perfect fit. Find it linked below.
Q: Where can I find or buy different types of Galco holsters?
A: The easiest place to buy them with thousands of user ratings and feedback across the board is Amazon. As long as you know what you need, you can get exactly what you want. Galco's official website has a nice selection as well, but you may find some of your favorite holsters discontinued.
Q: Should I buy a Galco shoulder holster or a different type of Galco holster?
A: It really depends on your personal preference but each type has its particular benefits over the other. You want to go with one depending on your situation. If you want a super concealed firearm, go with an IWD or perhaps an ankle holster. Shoulder holsters are great for hunters, so they are definitely recommended.
Q: How do you wear a Galco holster?
A: Since Galco is a brand, there is not one way to wear their holsters as they offer many different types from IWB to shoulder to ankle holsters. Depending on the type you get, you will wear it just like you would any other that is of the same type.