Best Galco Holsters Reviewed
In a
Hurry? Editors choice: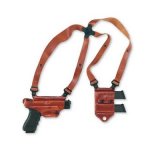 Test Winner: Miami Classic

Holsters
were once part of a person's daily attire and a vital part of their lives. Today, they are still considered important in many occupations and favored by gun collectors and hunters alike. They not only make carrying a firearm convenient, but they also make it safer. There are many types of holsters from over-the-shoulder harness designs, some that are
super discreet
and tuck the firearm into your waistband. Whatever style you may be looking for, Galco is sure to produce them. Galco Gunleather is a well-known brand among gun enthusiasts and an industry leader when it comes to quality and innovation. They make all types of holsters to meet varying needs. Our list rates and ranks their most popular Galco holsters on the market to make your search easier!
Standout Picks
Criteria Used for Evaluation
Effectiveness
No concealed carrier wants a bulge showing clearly that they're holding a firearm. There are many reasons, but being discreet is favored across the board. If you're out hunting, you may have it hanging loose, but if carrying it around in public, showing the gun is a no-no, especially in states where the gun laws are more strict and carrying is more regulated. Galco does a supreme job at providing holsters that are not only durable, and super comfy, but are discreet as well.
Materials
What do you do when you need a strong, supportive and secure holster or your gun? You get one made of premium leather. Galco's products can typically be seen made of steer hide leather and sheepskin leather. The sheepskin can be seen as padding for comfort. Neoprene is used in their bands which helps prevent irritation of other rough materials.
Below are some other leather and material types you will find in Galco products. All of these are top quality and ideal for securing a firearm as leather is naturally extremely durable and their synthetic material is premium.
natural leather
horsehide
synthetic Kydex
polymer
Fit
Of course, you don't want an improperly fitting or cheap holster leaving you with pain in the long run. There are many different styles to choose from and each has its own benefits, but none of that matters if it doesn't fit right. When looking at different models, it would be a good idea to see how adjustable they are in order to fit your body type. This is especially important if you wear holsters on a daily basis.
When we rated on fit, we also checked to see how well the gun fit into the holster as well. You don't want something too big because it can cause your firearm to shake and move around. If the fit is too snug, it may be difficult to put in and take out. Since some holster offer sizes that fit different gun models, read reviews and see what others have said about how well they fit.
Style
Galco has plenty of options to choose from. Across the board, their holsters are split into several different types. These types include but are not limited to the types below. We will only be reviewing the firearm holsters, and not their ammo or misc item holders.
Ankle Holster
Appendix Holster –
Belt Holster
Crossdraw Holster
Exotic Holster
Hidden Open Holster
Under Waistband Holster
Paddle Holster
Pocket Holster
Shoulder Holster
Special Holster
Western Holster
As you can see, there's quite a bit to try out. If you know what you need, you can jump right into it or use our list above to make your decision.
Value
Galco is one of the brands known for making high-quality holsters, but that doesn't mean that they are all of the same build quality. Of course, the better the material and build, the higher the price will be. If you wear holsters daily, then it would be wise to spend the extra money and get something durable that will last long. We rated value based on price to quality ratio when compared to other holsters in the same price range, reviews, and whatever warranty is offered. There are some inexpensive holsters that are durable, but may not be made of the best material. This will get some points taken off, but if you are not a daily wearer and just looking for something simple to do the job, then this may not matter as much to you.
BEST GALCO HOLSTERS REVIEWED
Subscribe to our Newsletter