Best Folding Knives Reviewed and Compared
In a Hurry? Editors choice: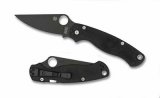 Test Winner: Spyderco ParaMilitary 2-Plain Blade

We know how important it is to be prepared for every challenge that life throws at you, no matter where you are or what you're doing. If you are someone who regularly enjoys spending time outdoors, then you know it's impractical to bring you a lot of items with you. But there are some items that you should never be without. Whether you're out hunting, cycling, camping, fishing, rock climbing, or just working in your garage, a folding knife is not only incredibly handy but can also be life-saving. These
knives are versatile tools
, perfect for a variety of different situations ranging from opening envelopes to
slicing food
. To help you find a quality tool for a great price, we've reviewed and rated some of the top-selling folding knives on the market.
Standout Picks
Criteria Used for Evaluation
Value
Pricing is where we started first, even with most of the folding knives having a low price point. We looked at the deals, separating products that offered more for less. And with the lower-priced products offering the same (or more) as the higher-end folding knives, it became easy to cut the list in half before going to the next criteria. This was one of the most important steps in the entire process since it got rid of a lot of duplicate products. They didn't bring anything special to the table, and the money saved was better spent on cleaning/maintenance materials.
Comfort
Comfort was the next thing that showed up on our radar, and once again the list was cut considerably. Folding knives are capable of having the same comfort features as fixed blade knives, but a lot of the products didn't make the cut. That means what remained was only the most comfortable products to hold, both for short and long sessions. Folding knives that survived this cut also proved their worth by not losing much of their grip when wet. It was a great compliment to their outdoor usage and proved that a comfort+grip could be merged into one capable solution.
Many of the knives on this list also have ergonomically designed handles. This is great because, after long periods of use, you want a handle that is easy to use, comfortable in your hand and has a good grip. If it doesn't, you can experience soreness in your hands and other pain. You want to look for a handle that is designed with all hands in mind. So, that means that whether you are right or left-handed, you can use the knife comfortably and with ease.
Durability
Part of the first two criteria we looked at playing a role in how we approached durability. It measured everything, including the handle, blade and interior mechanics of the entire product. We shied away from looking at durability based on heavy use and saved it for a later criterion that was more specific. Durability in this area is meant to look at normal wear and tear and how well the folding knife holds up against expected use. That means there should be no problems with the knife lock breaking, rusting or chipping of the blade when it is used normally.
When you think of durability with folding knives, think from tip to butt of the handle. If it's going to serve you well, then the whole thing needs to stand up to the test of time and performance. Durable blades will be able to cut through almost anything without wear and tear. Yes, over time some of the blades are likely to need some care or a re-sharpening, but that's just standard maintenance anyways. If you are correctly using and caring for your knife, it should last. Also, the handle should be secure and strong. You don't want to be in the middle of using the knife and all of a sudden the handle snaps off. That leaves you without a knife and it can also be dangerous and cause you injury.
The rule of thumb is generally that you get what you pay for. So, pricier knives will likely have the higher-grade steels. However, that's not always true and we have options on this list to prove it. There are plenty of affordable options out there that are well-made and will serve you well for years to come.
Accessories
Sometimes the best thing about a knife is the extras that come in the package. This criterion looks at any of the goodies a manufacturer bundles in with their main product. A popular choice with this criteria was sheaths, proving that they have value even when a folding knife acts as its own sheath. For some of the prettier looking knives on the list, a sheath can even serve as a way to protect the integrity of the handle. We didn't take away points for not including extras since the knives were already competitively priced. But even if they included a lanyard, it was considered a win for the brand.
Style
Style and design came next, and we paid attention to all of the visual cues that make knife shopping great. Instead of looking at available colors, we concentrated on folding knives that had a unique look. Whether it was professional, shiny or colorful, the idea was to stand out from the rest of the pack. A few choices managed that feat easily and really looked great with the knife extended. The design also made its way to the blade but wasn't strictly about the coating. Standouts in the list were surprisingly from the smaller companies rather than the bigger ones.
10 Best folding Knives
1

. Spyderco ParaMilitary 2-Plain Blade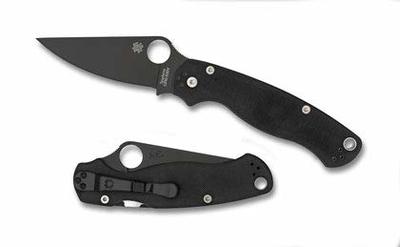 Whether you are keeping this knife on hand for hunting or for camping, it's a great option. It folds up easily to pack away. Also, it has a strong, precision blade that can cut through pretty much anything.
Pivot Bushing System
The Pivot Bushing System technology makes opening and closing this knife super smooth. It doesn't stick or catch, so you know that you can always rely on this knife.
Two-way clip
The two-position pocket clip allows you to carry this knife in whatever way suits you best. The two positions are tip-up or tip-down. It also comes with lanyard holes in the blade and handle so you can carry it on your person that way, too.
Cost And Value
This knife is an investment, but it's not obscenely priced. For a blade that can slice through whatever you put in its way, and for being so compact on top of that? It's worth it. This high-performance folding knife won't do you wrong.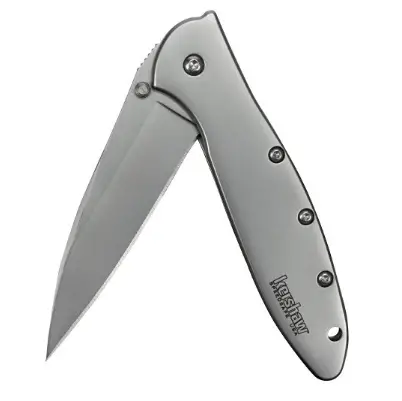 This USA made knife doesn't try to do anything out of the ordinary. It's a simple folding knife made by one of the leading brands in the industry, and with very few flaws.
Durable Stainless Steel
Using high-grade Sandvik 14C28N, Kershaw guaranteed quality from top to bottom. The bead-blasted finish on the handle is only icing on the cake.
Safe Opening
This blade comes with the speed safe opening system that will give you an extra added layer of protection.
Cost And /Value
Even this far down the list, the price is still low. Most of Kershaw's products seem to hover around that range anyway, so it shouldn't come as a huge surprise.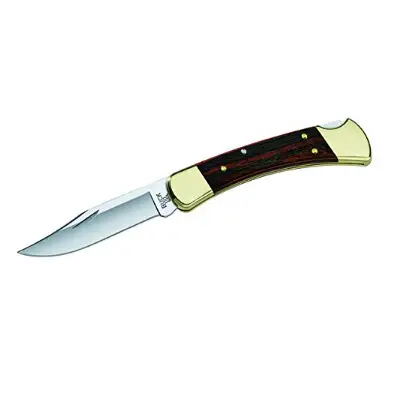 Buck Knives is no stranger to top ten lists, with several of their wares getting a lot of attention. This well-known model is still popular with users today and has a pretty decent following.
Great For Detail Work
Taking out this bad boy for detail work is promising thanks to the crescent tip blade. The point is very sharp and makes the job a lot easier.
Superior Craftsmanship
This is a beautiful knife with a 420HC steel 3 ¾ inch blade. The style factor is increased with the addition of the Dymondwood handle and custom looking brass bolsters.
Cost And Value
Low priced and valuable, couple it with the lifetime warranty and you'll get a great deal. Buyers can feel comfortable buying from Buck Knives as they are a reputable company.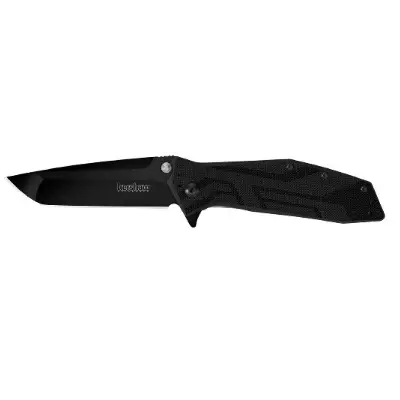 The best folding knife on the list is from Kershaw and is the tried and true 1990 Brawler. This knife has a lot of history behind it and is the best all-around knife in its category.
Balanced
The 1990 Brawler has the beautiful all-black look of the Smith & Wesson model and is the sharpest knife out of the box. It also has great build materials and a rock-solid locking system.
Superior Quality Long Blade
The blade is 7.1 inches long which is plenty for most that needs doing. But to make it even better it's made of 8Cr13Mov steel and it has a glossy black oxide coating.
Cost And Value
Even though it is tops on the list, the price is still low. This should help with the decision making process when deciding between the other Kershaw knives.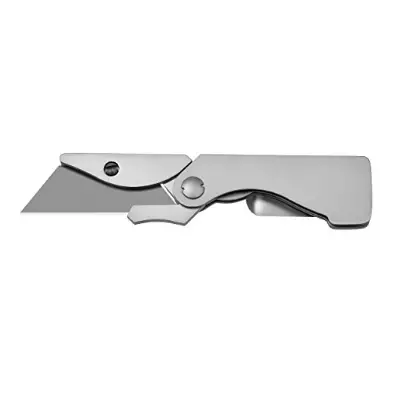 The first time most users hold this knife it feels a bit different than other products on the list. Besides being multifunctional, it also serves as a great addition to the best folding knives list.
Replaceable Blades
Being able to take out blades that dull out rather than replacing the entire knife is a big plus. Usable blades are standard or contractor grade, so not proprietary.
High-Quality Carbon Steel
This knife has a cool look, almost more exact than a pocket knife, but even if you don't love the look you'll love that it folds up to an inch and also the replaceable blades.
Cost And Value
The set itself is a low cost just like the replacement blades, so the value is pretty high. Since it has multiple functions, you can get a lot more use out of it than a normal folding knife.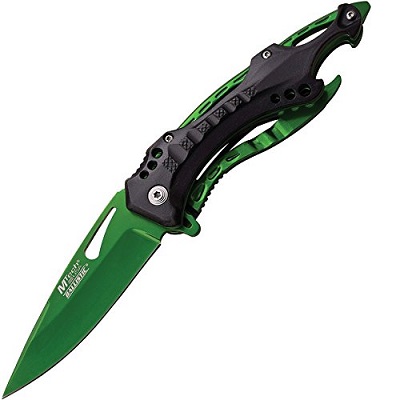 When you're looking for a new folding knife, you want to make sure that it is a good quality product. A good knife should be strong, sharp and extremely reliable when used on hard-surfaced. A low-quality tool can break and possibly cause an injury that is why MTECH USA MT-A705 was made to beat your expectations. The blade is made with thick stainless steel and is connected to a lightweight aluminum handle which can also be used as a bottle opener.
Titanium Coating
In an effort to provide you safety and comfort, the MTECH USA MT-A705 folding knife has a stainless steel straight edge blade with green titanium coating. The handle is also made of titanium-coated aluminum for increased durability.
Spring Assist
The advantage of using a spring assisted folding knife is that you don't have to worry about getting hurt while it's closed because it has an efficient lock mechanism. What's more, you can easily unlock it by pushing the flipper.
Cost and Value
This product is designed for long term, heavy-duty use, so you won't be disappointed with its performance. The MTECH USA MT-A705 folding knife comes at a comparatively low price that varies depending on the color you choose.

7

. Smith & Wesson SWMP4LS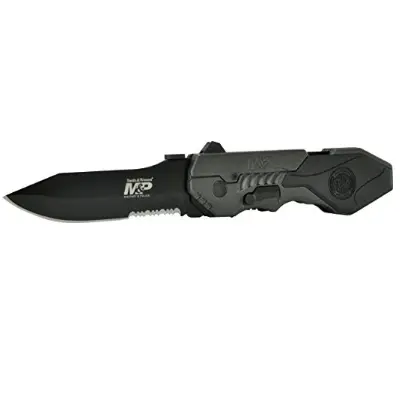 Smith & Wesson, the famed gunmaker also makes comparable knives, most notably the SWMP4LS. It looks as sleek as their guns and performs accordingly.
The Best Design
You wouldn't think a gun maker would outdo all of the notable brands on this list when it comes to design. This is the best looking folding knife on the list and is sure to get a lot of looks when you pull it out.
Good for Everyone
This has a welcome ambidextrous thumb plate for lefties and it's also made of high quality black 4034 stainless steel.
Cost And Value
The SWMP4LS is a great buy at a low price, and the prettiest knife on the list. With a little bit of sharpening out of the box, it can be your go-to folding knife.

8

. CRKT Squid Folding Knife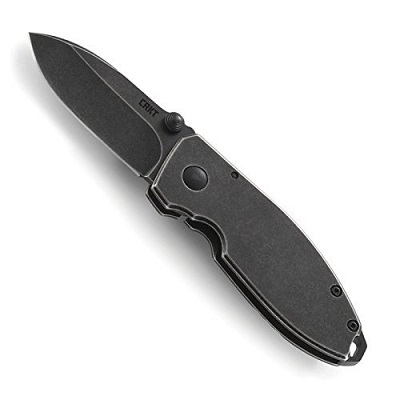 CRKT, Columbia River Knife and Tools is a company with over 2 decades of experience in creating high-quality knives and tools for a wide variety of different purposes. They used the newest technology to build some of the best knives on the market. One of their most popular products is the CRKT Squid Folding Knife, which is ideal for everyday use. Its lightweight, compact and secure design makes it safe and easy to carry it wherever you go.
Everyday Use
This knife gives you the precision to slice or chop through some of the toughest surfaces. The blade is made from heavy-duty steel that is built to last and take on the vigorous demands of everyday use.
Secure Grip
Safety is important, especially when using a potentially dangerous tool like a pocket knife. CRKT designed this item with friction grooves located on the drop-point blade in order to give you a more secure grip and reduce accidents.
Cost and Value
When you purchase the CRKT Squid Folding Knife, you're buying more than just "a knife," you're adding a reliable tool for everyday use to your collection. It is available in 2 colors in the mid-price range, but the quality is worth every penny.

9

. Cold Steel Tuff Lite Plain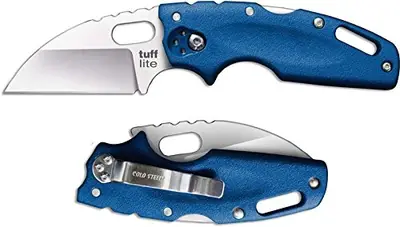 This knife takes its cue from martial arts and tactical needs, but it's a perfect option for any hunter, camper or outdoors-person that wants an affordable and reliable knife in their pocket. This folding knife has a lot of utility options. The blade on this knife is made from AUS-8 steel which is solid steel. The blade also has one of the best factory edges out there.
Compact
This knife is very compact when it is folded up. So, it is very easy to take this knife with you wherever you are. Even though it is compact, the integrated choil allows you to get a solid, full grip on the knife whether you are right or left-handed.
Tri-Ad Lock
At first glance, the locking mechanism on this knife might look standard, but this Cold Steel Lite features the Tri-Ad lock. This lock has more going on than meets the eye because the mechanism is hidden under the handle. But rest assured, the lock on this knife is better than others on this list.
Cost And Value
This knife is incredibly affordable. The price to performance ratio with this knife is unmatched. You'll be happy you invested in this one.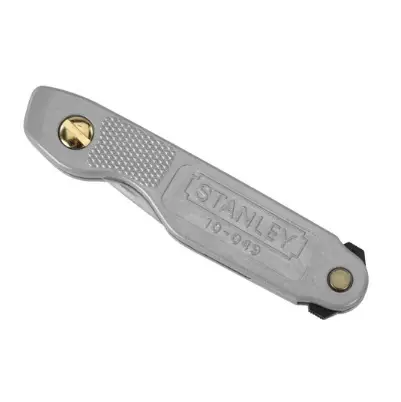 Sometimes smaller is better, which is exactly why this pocket knife is one of the most favored on the list. Amazingly light and durable, you'll get a lot of use out of it when needed.
Bulk Options
Stanley is offering the knife in 2, 4, 6, 10, 12 and 24 packs. Or you can simply buy it as a single knife- customers at least have the option of taking advantage of bulk deals.
Replaceable Blades
Not only is the power-coated epoxy handle the bomb, but we're also big fans of the replaceable stainless steel blade.
Cost And Value
You really can't lower the price more without just giving this knife away. It's the lowest on the list, yet still has a lot of value if purchasing as a single knife or in bulk.

Subscribe to our Newsletter