Best Smith and Wesson Knives Reviewed & Rated for Quality
In a Hurry? Editors choice: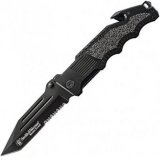 Test Winner: 10" Folding

Smith and Wesson are best known for high-quality firearms. They have been manufacturing, designing and developing guns since the 19th century. They also manufacture quality knives. These aren't
kitchen knives
but instead built more for the field for hunters or to be used as self-defense. These are Smith and Wesson knives
made for hard work
and don't belong in your drawer but in your backpack or toolbox. The value of these Smith and Wesson knives is that they hold their edge, grip easily and are made to cut through just about anything you might find in the wild. So if you want to fill out your tough times kit with a great knife, look to Smith and Wesson and here are some of our favorites.
Standout Picks
Criteria Used for Evaluation
Brand
First off, let's answer the question of why you should choose a Smith and Wesson knife anyway. They make good, quality knives that typically last a long time and can be sharpened quite well. Smith and Wesson have a pretty loyal following as far as guns are concerned, so it is only natural that they would extend into knives as well.
Most of their knives are focused on survival and tactical uses and are meant specifically for those who are in the military, first responders, law enforcement; though they also work great for those same purposes in the general population. Because of this, they are built to be tough but also cost little enough that they aren't a big deal to replace if something does happen to it for whatever reason or if it reaches the point that it is just worn out. As long as you are expecting your knife's quality to match what you are paying for it, you won't be disappointed at all and will love your Smith and Wesson Knife for as long as it lasts.
Features
Perhaps one of the biggest questions you may have about buying a knife is whether you should get a straight knife or a folded knife. There are definitely pros and cons to each one so let's go over a few of them briefly.
Those in favor of folded blades tend to have that opinion for several reasons. For starters, they are small and compact without really compromising much overall blade length. A well made folded blade will be just as effective as a fixed blade. They are also convenient and discreet. You can easily hide them in your pocket and all the ones mentioned here even come with a clip so that they are easy to grab out of your pocket the second you need it.
Those in favor of fixed Smith and Wesson knives also have their reasons for being in that camp. The first point that will be made here is that they are strong and durable. The blade often goes all the way through the handle which means there is no fold or even bend in the metal which allows it to be stronger for longer. This also makes it much easier to clean and less likely to break. Less moving parts mean less opportunity for failure.
Model
This point, much like the one mentioned above can be very controversial. However; there are pros and cons to both serrated and non-serrated knives, as well as those that fall in between. Ultimately the task you plan on performing should be what dictates the type of blade that you end up buying.
Straight edge knives simply have a straight edge all the way through. This allows the Smith and Wesson to be sharpened easily and thoroughly often making this style seem sharper in general. The main type of cut a straight edge is for is a "push cut". This is a cut that you are simply pushing the knife through much like cutting through vegetables or carving wood.
A serrated blade is best served when slicing something. The first thing that comes to mind is slicing bread - it is far easier and more effective to do with a serrated knife. While this is not likely what you plan on doing with your Smith and Wesson knife, that same type of task can be extrapolated to other, everyday uses such as cutting a seat belt, rope, or steak - all uses that are more likely to happen with your pocket knife than slicing bread.
Portability
Where do you want to carry your knife? The options are somewhat limited here as you want to be both discrete and functional and storing a sharp blade on your body complicates both of those tasks. Luckily, all of the knives we discuss here are reasonably small and come with a sheath to store them in or pocket clip to secure them with. Many listed here are pocket knives - meaning they are meant to be stored in your pocket.  Knives that have fixed blades do require a bit of a different storage style.
They are typically stored either on your belt or in your boot. The ones mentioned here come with sheaths to attach them in and will keep you safe from the sharp blades. If you have a strong opinion on where you want to store your knife, follow that, and choose a knife that is stored where you are drawn to. If that is not the case, then you would be just fine choosing your Smith and Wesson knife and then storing it wherever it needs to be stored.
Top 10 Picks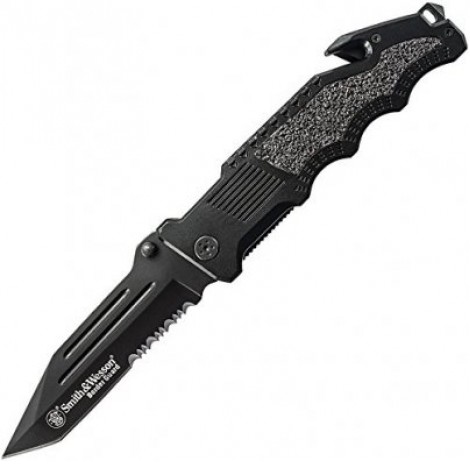 This tactical survival knife has many cool features. The blade is a 4.4 inch tanto one and it is 10 inches long. It weighs in at a very light 8.8 ounces and comes with an easy access pocket clip. It has an aluminum handles that include trac tec inserts and the blade itself is Stainless Steel of the high carbon black oxide variety.
Ambidextrous Thumb Knobs
While seemingly a small touch having an ambidextrous thumb knob is actually a very helpful thing to include. Not only does this allow the knife to be used by those who use the left hand as well as those who are right-handed, but it also allows you to choose personally which side you store it on. This can help increase your dexterity, or simply allow you to have options - which is always a good thing for a Smith and Wesson .
Tactical Features
This knife has many neat tactical features. Among them, you will find a glass breaker, a serrated edge and blood grooves, and a rope/seat belt cutter. These additions will come in useful in more situations than just one and really make this a functional survival tool if needed in that capacity.
Cost and Value
You get a lot out of this knife without a lot of cost from you. You won't even break a sweat when you see this price. The value and quality of a good knife is hard to match and you know you are getting good value for the price you pay.

2

. 9" Stainless Steel Fixed Blade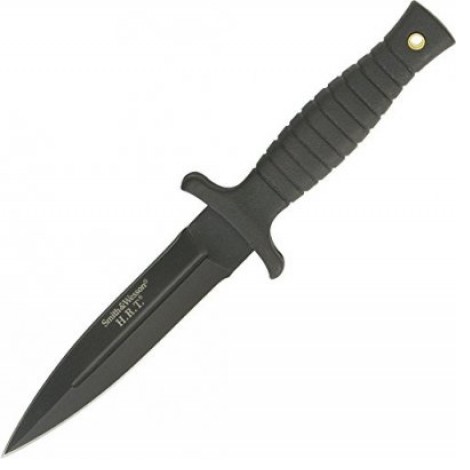 This is a nice, fixed blade knife that will serve you well in many situations. It looks good with its stunning rubber wrapped black handle and 4.7-inch stainless steel blade made of high carbon. The overall length of the knife is 9 inches and it weighs 7.7 ounces.
Belt or Boot Sheath
Included with your purchase of this Smith and Wesson is a sheath that can be used in your boot or on your belt. This gives you the ability to easily store and transport your knife and also allows for the flexibility of meeting your needs - whether it be on your belt or in your boot. Access is easy and convenient either way.
Dual Edges
This knife features a dual-edge blade which is both attractive and convenient. It will allow you to cut from either angle and doesn't handicap you the way a single blade would. Dual edges also make it possible to use with both hands and doesn't favor one over the other. In addition to that, there is a handguard to keep it in place while you are gripping it and keep your fingers safe and protected.
Cost and Value
This knife comes to you at a surprisingly low price. Your wallet will hardly be touched, but you will be much more capable and ready for whatever situation you may find yourself in. This is a sturdy knife that will last you longer and serve you well for a small price.

3

. 8.6 Steel Assisted Folding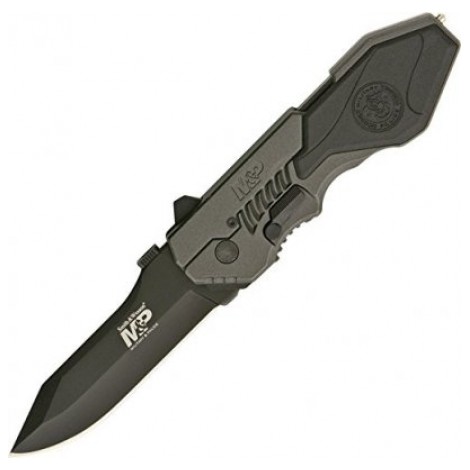 This is a great little tactical knife that will have you feeling safer and more prepared the moment you clip it in your pocket. It is small and lightweight. The blade measures 3.6 inches for a total of 8.6 inches and it weighs in at 7.6 ounces. The handle is black aluminum and it includes a rubber inlay and the blade itself is made of black oxide stainless steel.
M.A.G.I.C. Assisted Opening
While most knives have to be opened manually, this one comes with the advantage of offering open assistance. You simply push the button and it pops open. Fear not though, it also comes with a lock so that it won't accidentally open up while in your pocket or while in little hands that you don't want opening up knives.
Details
It's all in the small details, really. That is how we are swayed from one product from another and this one has a few nice little details. It includes a glass break on one end and also features a thumb plate that can be used by both left-handed and right-handed people. Other details already discussed include the assisted opening and locking device. All important, and helpful, things.
Cost and Value
This knife does cost more than many of the others on this list. However; that price difference is so minimal that the added features you get will more than makeup for the additional cost. It is still fairly inexpensive and very reasonably priced.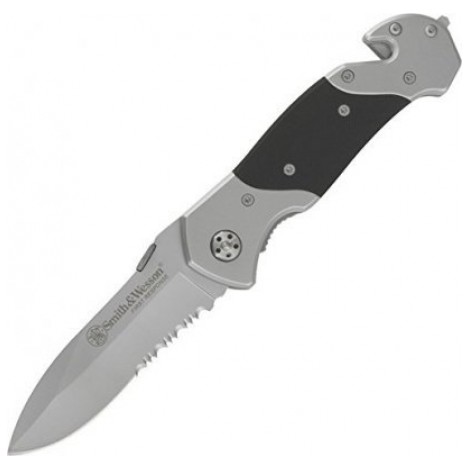 This is an 8-inch long knife that features a 3.3-inch long blade. The overall weight is one of the lighter ones on our list at a mere 5.8 ounces. It has an attached pocket clip which makes it readily and easily accessible for whenever you need it. It also has a thumb plate that is ambidextrous and a liner lock to ensure a secure, non-slip hold.
Construction
This knife looks different than the others on this list in that it is what you picture stainless steel to look like. It has a nice silver color on both the blade and handle as both are made of high carbon stainless steel. The handle does have a G-10 inlay which offers not only a nice contrast in colors but helps you to maintain your grip on the knife.
Be Prepared
Some of the best pocket-sized knives have additional tools to really make them functional and you prepared for whatever situation you may find yourself in. In addition to the serrated, drop point blade found here you will also find strap cutter and a glass break on the end of the handle.
Cost and Value
The cost of this knife falls mid to low range among those included on this list. It is a quality knife with enough extra features that it can be considered more of a tool that you will get a lot of use out of. All of these elements combined make it more than worth the relatively small price you will pay to make it your own.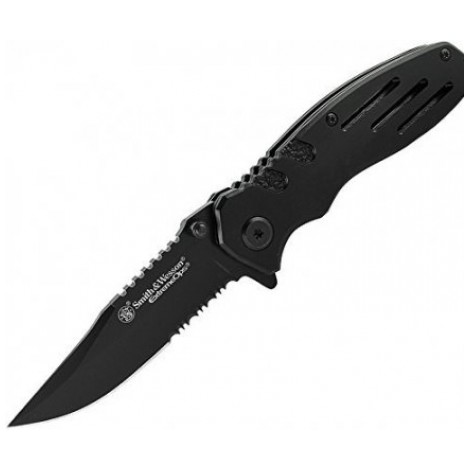 This Smith and Wesson Knife is made out of a black oxide stainless steel. This means it is sharp, attractive, and rust-resistant. The handle is a black aluminum that both looks good and feels incredibly sturdy. The knife is serrated, features jimping, and comes with a clip to secure it in place.
Easy Access
You can easily access this knife thanks to a couple of different features. First off, it comes with a clip to secure it in your pocket. That puts it right there when you need it and removing it from the clip is no big deal at all. It has an index flipper and the thumb knob is ambidextrous to support everyone; whether they are left or right-handed.
Perfect Size
This knife is the perfect size to fit right in your pocket. The total length, when the blade is extended is 7.1 inches. The length of the blade alone is 3.1 inches. The total weight of the unit as a whole is 3.5 ounces. This makes the knife small and compact, easy, and discreet to carry around with you as it is not too big, but also not too small to be functional.
Cost and Value
This is one of the cheaper knives on our list. It is small and lightweight without too many additional features. Don't be dismayed though; sometimes less is more and ultimately ends up saving you money. If you want a straightforward tactical knife that you can easily carry and know you are prepared for any situation but don't need any frills, then this is your knife and your wallet will appreciate that fact.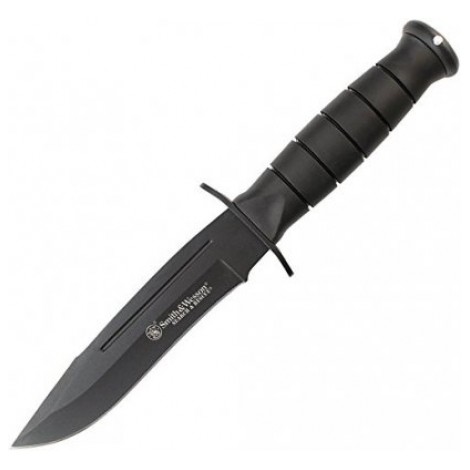 The blade on this is 6 inches long, but the overall length of the knife is 10.5 inches. All together it weighs 7.4 ounces. It features a handguard which will ensure that your knife never slips while being held, a lanyard hole, and blood groove.
Construction
Like most of the knives on our list here, this is made of a high carbon stainless steel with black oxide. The handle is also black and is made of aluminum and wrapped in rubber. It is a nice, deep grooved handle which goes a long way in both aesthetics as well as function.
Sheath
The sheath is a ballistic polyester and allows for easy and convenient access to your knife. It is a couple of inches longer than the knife itself so there is plenty of room for the knife without having to worry about the sheath being too small. Additionally, it comes with an extra pouch for storing accessories and a sharpener for your knife - which is a really nice touch. You can rest easy knowing that your knife will never dull as long as you have the sheath with you.
Cost and Value
This knife really comes to you at a great price. It is a great knife, and in and of itself is worth the small price it comes at. Add in the sheath that includes a pocket and sharpener and you're really getting a good bang for your buck. This is a great recreational use knife that you will find useful in any number of situation. Ultimately, you'll be pleased with this purchase.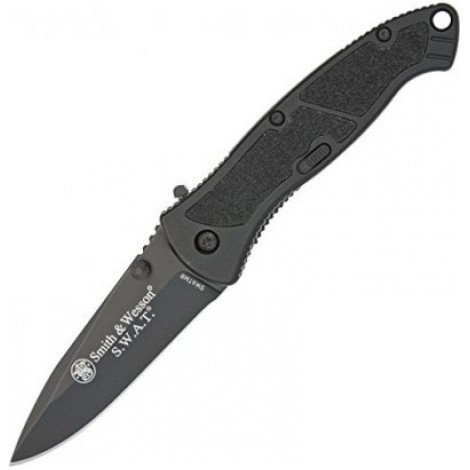 Whether you are a first responder, survivalist, or knife collector this is the knife for you. It is a great size to fit into your pocket as you head out the door and will have you covered in any number of situations. It comes with an open assist and also has a lanyard hole.
Construction
This knife is made of black oxide stainless steel and also features a handle made of all black aluminum. The handle also has trac tec inserts. This is a total of 7.5 inches long and the blade itself measures 3.2 inches. It only weighs 3.9 ounces and features a pocket clip for easy storage and access. All of this means that you have a good looking knife that easily fits in your pocket and is light enough that you might forget it's there.
Locks
Any good folding knife has to have some sort of lock as a safety measure - especially one that comes with an open assist. This knife does indeed have a couple of locks to ensure your safety. It has a liner lock that allows you to open and close your knife with ease. It also features a safety lock so that you can keep it shut when you want to.
Cost and Value
Any extra features often mean a price hike. While the price hike is almost negligent here, it is worth noting that you'll pay a little bit more for this knife than others on the list. It has things like the open assist and ability to fold and easily be stored to thank for that. Regardless, it is still a good purchase that you will appreciate and be glad you made.



By now you might have noticed that we have a large variety of knives in our guide that works for most of your needs. However, we wanted to bring you the ultimate knife that you can carry around that will tackle any, and all tasks. Featuring a sleek smaller design, measuring 6.8 inches in length it has the capacity to tackle important everyday jobs you might not want handle with a pair of scissors or other more expensive tools. This Smith and Wesson knife was created to be the most versatile knife you own.
Aesthetically Pleasing
By now you might have noticed that we have a large variety of knives in our guide that works for most of your needs. However, we wanted to bring you the ultimate knife that you can carry around that will tackle any, and all tasks. Featuring a sleek smaller design, measuring 6.8 If you have ever been looking for a knife that not only looks gets the job done but is aesthetically pleasing as well, this is one for you. Presenting a gold solid exterior with an antique flair this knife is one of the best-looking ones on the market.
Razor-sharp
When you are looking for an everyday knife you want to focus on how sharp it is. Whether you're hunting, cutting things around your yard or simply opening a box having a handy sharp feature will always be useful. Smith and Wesson took that into consideration and made sure this little but mighty knife is razor-sharp even after multiple uses.
Cost and Value
This knife is priced at a mid-range price point. It's not the most affordable option on the guide yet it's not the most expensive. It's a beautiful knife with quality as its number one element. Additionally, it is important to keep in mind, that the brand itself is a big seller, as they are known for creating exceptional pieces.



This knife set is different than any other we have talked about thus far. As opposed to just one knife, it is a set of six throwing knives so if that is the type of Smith and Wesson knife you are looking for, look no further. They are all 8 inches long and are a solid 4.7 ounces apiece, bringing the total weight up to 1 pound 12.2 ounces.
Well Balanced
One of the biggest requirements in a throwing Smith and Wesson knife is that is well balanced. You will have very little success if even the smallest section of your knife is off balance. That is not an issue here at all and you can know your throw will go right where you planned on it going.
Sheath
This set of knives also includes a carrying case. That carrying case comes in the form of a nylon sheath that is black. It will hold all six of your knives so you don't have to short change yourself when you are out and in a position to throw. The sheath holds them all nice and secure and does a great job at protecting you from six spear points with dual edges.
Cost and Value
While it is difficult to compare these knives to others on the list as they are quite different in both form and function, price wise they fall near the top of this list. That does make complete sense, however; because there are six knives included that are roughly the same size and weight as many you will find here. The value you are getting for the price you are paying here makes it definitely worth the purchase.

10

. 8.5" S.S. Full Tang Karambit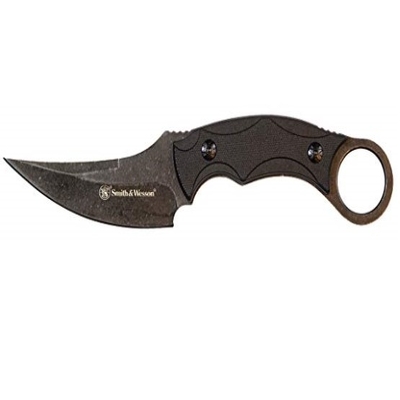 A karambit style knife is always a top favorite or those that love to go hunting. The way it is shaped allows for a closer precision when skinning an animal or getting as close to the meat as possible without destroying it. Consider this knife the one knife you didn't know you needed but are extremely happy you got. It's versatile, it's durable and makes complete sense to have with you while traveling, what more could you want from a knife, right?
Great Quality
As expected from the brand, this is an excellent quality knife. Made out of Stonewashed High Carbon S.S. Blade Glass for a razor-sharp touch that will not dull over time perfectly paired with a Nylon slab handle for a sturdy grip that is non-slip yet comfortable to hold for an extended period of time. The quality is exceptional to the point that your knife has a bit of weight to it.
Multipurpose
While this is marketed as an outdoor tactical knife, it is quite useful for numerous different things including; self-defense, everyday carry, and even hunting. Having a multipurpose knife will always come in hand at some point during the day. Additionally, it is also the perfect supplementary item for your toolbox filled with essentials.
Cost and Value
Featuring an excellent design with sturdy material this knife is valued at an excellent price point. Not only is it affordable but it makes sense to have multiple of them on hand at any given time. Consider having one as part of your toolbox and a few around your home for those quick times you need to open something with more than just scissors.

Subscribe to our Newsletter