Best Yoga Towels Reviewed & Rated for Quality
In a Hurry? Editors choice: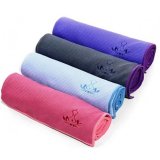 Test Winner: Heathyoga Non Slip

Yoga is a
spiritual, mental, and physical practice
that has been observed for literally thousands of years, but it has blossomed in popularity in the Western World over the past few decades. It's a great way to calm a busy mind as well as to tone, strengthen, and stretch your body so you can check multiple self-care boxes all at once.
As you may know, there are many different styles ofyoga practices and some of them get the sweat flowing more than others. If you follow a Bikram or hot yoga regimen, then you know how real the puddles can get on your mat--and also how slippery! That's why we've created this Ten Best List for Yoga Towels. The following products will totally change your practice and will provide more security and stability so
you can hit those poses
. Namaste!
Standout Picks
Criteria Used for Evaluation
Size
When creating this Ten Best List, we took size into consideration. In order for your towel to work properly, it needs to cover your entire mat. This will help with slipping and bunching during your practice. All of the options on our list are at least as large as your average yoga mat. That means they measure 68 inches long by 24 inches wide. However, some are longer than average and measure 72 inches by 24 inches wide. We also feature a few that are "oversized" and measure 72 inches long by 26 inches wide.
While all of the options on our list are great, products that offer multiple sizing options for your convenience rank highly in the size category. And we especially love that these are compact enough to fit into almost any bag and be taken on the go. Not to mention that some can even stand in the place of your bulky mat so you don't have to carry your mat with you when you hit the road for vacations or work travel.
Color
Your yoga practice is extremely personal and should be catered specifically towards your needs on any given day. Sometimes you will have more to give and sometimes you will have less. Regardless, yoga is meant to be a moving meditation. Yoga is also meant to align the chakras which are represented by specific colors. So while we know it's a physical and mental practice and not a fashion show, we considered color highly when making our selections.
The colors and designs of the options on our list can help during your moving meditations and can also channel specific chakras and mudras. That's why we love products that come in multiple color options and especially those that come with unique designs for a magical flair to add to your practice.
Comfort
When considering comfort for this list, we looked at a couple of different things specifically.
First, we looked for how soft each product was. We feature highly those products that have a suede-like feel and that are grippy to the touch without feeling rough or coarse on your hands and feet.
Next, we considered how cushiony each product was. Those that are super thin and provide little cushion rank below those that are thicker and can provide more padding and cushion to the knees during more vulnerable positions.
We also considered the fact that these products provide a hygienic barrier between you and your mat, not only protecting you from the unpleasant buildup of germs that can occur on your mat but also prolonging the life of your mat in the process by preventing some of this buildup from occurring in the first place.
Finally, and perhaps most importantly, we considered how well the product stayed on the mat during practices. If you are having to constantly re-adjust and replace your mat during your practice, you are going to be very distracted and far from comfortable. That's why we rank highly those towels that are guaranteed to stay in place. Of course, for all of our featured products, the sticky factor is activated by sweat and the more you sweat the tackier the towel becomes. Wetting the product beforehand will encourage your towel to stick more. But some of our featured products stand out in that they have additional features like mat-edge grippers and silicone backing for extra stickiness.
Materials
All of the items on our list are made of micro-fibers. These serve to wick away moisture from your body and mat and lock it in. These fibers are actually activated by your sweat and any added moisture to become sticky and to enable anti-slip properties. While all of the products on our list are made from micro-fibers, not all of those fibers are the same. Some are made from recycled plastics, some are made with different ratios of fibers, and some are dual sided.
We love the dual sided options on our list because they provide the most anti-slip action. The top side is made from plush micro-fibers while the bottom is coated in silicone to keep it from slipping on your mat.
Of course, we also love when companies use non-toxic dyes and participate in green production practices.
Value
Every one of the products on this list is super affordable and can be purchased on almost any budget, and many are below the $25 mark. We love the products that come with company guarantees and the ones that come with bonus products like bags and hand/face towels. And, of course, we love to feature companies that give back to the world and their communities with each purchase that you make.
10 Best Yoga Towels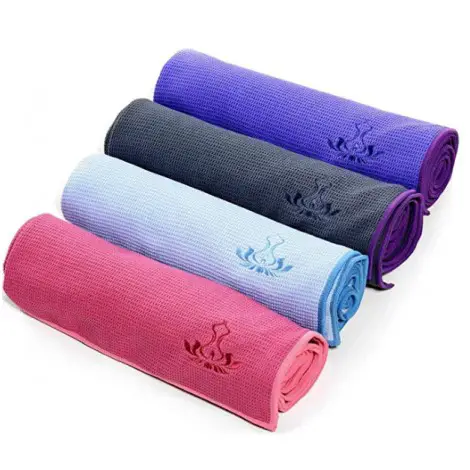 The Heathyoga is the first product to hit our list because it has some really cool features that we absolutely love. While it does feature silicon coating, it is guaranteed to stay in place on your mat and fight against bunching and moving during heavy flows. You can purchase this product in 2 sizes. The regular size is 68 inches long by 24 inches wide and the oversized towel is 72 inches long by 26 inches wide.
Bonus Tote Bag
The Heathyoga set comes in 7 different colors from gray to green to teal. Each purchase also comes with a free drawstring tote bag that measures 15 inches long by 11 inches wide. It is large enough to carry your towel and any other small extras you might have with you when you go to class like your phone, water bottle, and keys.
But that's not all. You also get a spray bottle with your purchase so you can dampen hand and feet areas for your practice to get traction right from the start even before you start sweating.
"Grip-Grid Texture"
The Heathyoga is made with a specially designed "Grip-Grid" crosshatched texture for ultimate gripping capabilities between you and the towel so that you can hold and hone poses for longer. The top of the product is made of plush micro-fibers while the bottom of the product is coated with silicon for even more gripping action.
And to top it off, this product features mat flaps at the top and bottom to slip over the top and bottom edges of your mat to ensure that it won't be moving anywhere no matter how intense your practice gets. When you've finished your practice, simply throw this product in the washer and dryer with your other workout clothes and enjoy a fresh feel for your next practice.
Cost and Value
The Heathyoga rings up in the middle of our price range and we love its value because it is the only towel that has 3 features guaranteeing that it stays in place during your practice and ensuring that you can deepen your flow with slip-free security. Plus, it comes with cool bonuses making it a hard-to-beat value.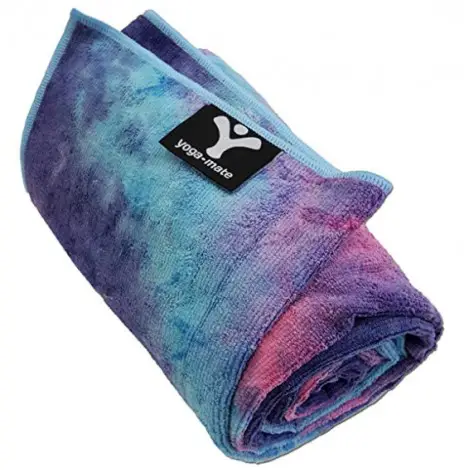 Yoga Mate makes a wonderful product that people around the world are absolutely crazy about. That's why they rank towards the top of our list. This product measures 68 inches long by 24 inches wide so it is a perfect fit for any regular sized yoga mat.
Tie Dye Style
This product comes in some amazing colors. Standard options include gray trimmed in blue, gray trimmed in pink, gray trimmed in purple, and teal trimmed in teal. But Yoga Mate also offers this product in fun tie dye colors with blue and pink and blue and coral (both trimmed in blue).
Machine Washable
This product is made of super soft micro-fibers making it both pleasant to the touch and hyper-absorbant, meaning that you can hold those poses for longer without slipping out of position. Plus, those micro-fibers are durable and resist stretching and tearing underneath your feet during your workout so you can enjoy this product for years to come.
And we love that you can throw this guy in the washer. Yoga Mate suggests washing your towel alone first to prevent color bleeding on other clothing items. After that, you're free to toss it in with anything else and enjoy a fresh towel session after session. You can even put this product in the dryer.
Cost and Value
Not only is this one of the most popular and well-reviewed products on our list, but it is also the least expensive. Now that's a value we can really get behind! Plus, Yoga Mate wants you to be 100% satisfied with your purchase or they will give you a full refund.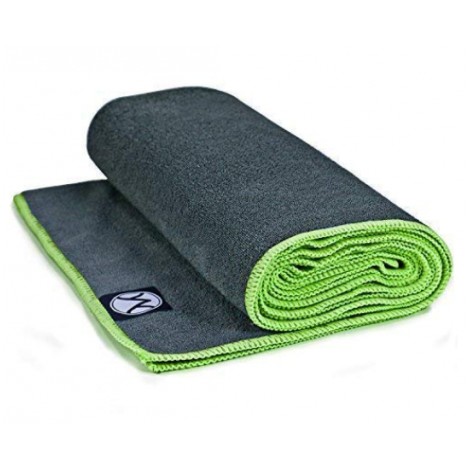 This Youphoria product is great for anyone with extra-sweaty yoga sessions. Not only will it keep you from slipping around on your mat, but it also serves as a barrier between you and your mat so that you can prolong your mat's life and keep nasty bacteria from building up. This product is a little longer than the last product on our list and measures 72 inches long by 24 inches wide.
11 Colors to Choose From
Youphoria provides no shortage of color options. With colors like black, blue, purple, mint, and gray, and all with vibrant stitching color contrasts, you are sure to find a style that suits your practice. Plus, this is a great traveler's companion and is easy to throw in your bag and take with you on the go.
No Silicon or Latex Embedded in Fibers
The micro-fibers that this product is made out of become tacky when they are wet so your exercise and sweat activate the fibers to grip both your mat and your skin. It is super lightweight and can absorb 7 times its weight in sweat or other liquids. Simply wring it out and it dries in a flash.
And it does all of this without the help of nasty added synthetics like silicon and latex. Plus, you can wash your towel in cold water and tumble dry for a fresh surface every time you practice.
Cost and Value
The Youphoria rings up at the bottom of our price range and we love its value because it is free of irritating synthetics and because Youphoria has great customer relations and is committed to making sure you get all the "happy" you can out of your yoga practice.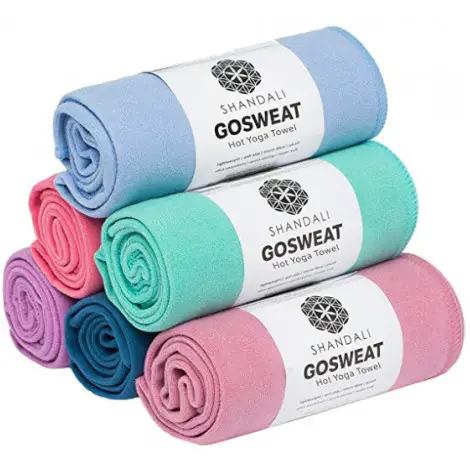 The Shandali Gosweat is absolutely great for yogis on the go. You can use this baby with or without a mat, which means you can travel without that unwieldy yoga mat crammed awkwardly in your backpack. Plus it's slightly wider than the other products on our list so far measuring 72 inches long and 26.5 inches wide.
Stylish Compact Design
This comes in 7 lovely colors from African Violet to Lemonade Pink. It is easy to roll up and place in your bag--far easier than your yoga mat. And its durable design means that you can practice with this product even without your mat.
Super Dense Micro-Fiber Weave
This features a super dense micro-fiber weave that allows it to be both suede-soft and super strong providing cushioning and support while engaging in poses that may be a bit challenging to you.
It wicks away sweat and moisture while being super absorbent and will help you to dive deeper into the precision of your practice. And when you're done sweating it all out, simply throw this baby into your washing machine and tumble dry for a fresh towel every single practice.
Cost and Value
The Shandali Gosweat rings up in the low middle of our price range and we love its value because it is slightly wider than the other options on our list so far and because it can be used by itself without a mat. Plus, Shandali offers a year warranty and guarantees that you love it or they will give you your money back.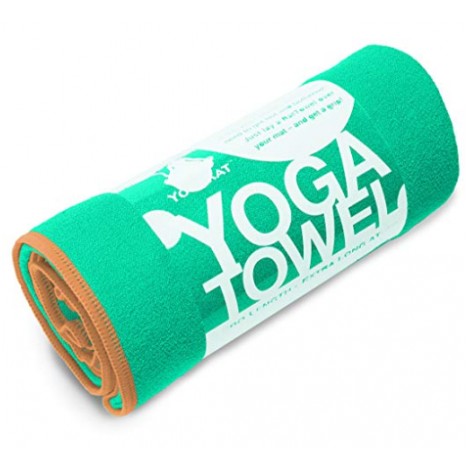 The YogaRat is great for all yogis no matter how big or how small. It comes in 3 different sizes so that you can be sure you're getting the just-right fit for your mat. Get this product in 24 by 68 inches, 24 by 72 inches, or 26 by 72 inches.
No Bleed Coloring
The YogaRat comes in 6 great colors so you can get just the look you're hunting for. Choose between charcoal, indigo, ember, purple, seafoam, and turquoise, all lined with accent colors to give the perfect pop. This product is specially dyed so that colors won't bleed in the wash or on you and your mat during heavy sweat practices.
No-Slip Backing
The YogaRat is comprised of 2 two separate sides for your comfort and for ultimate functionality. The top side is made of 100% micro-fibers that are sweat activated to grip to your skin and to absorb moisture from your body. The bottom side is made of 100% silicon backing for supreme grip-ability to your mat. That means no slipping and sliding like with other products on the market.
And even though this is a bit thin, it can hold major weight in sweat. And what's even better, you can throw this product in the washing machine and dryer so that you can enjoy a fresh experience every time you hit the mat.
Cost and Value
The YogaRat rings up in the middle of our price range and we love it because it features dual-siding to prevent slippage on the mat and because it comes in multiple different size options so that you can find just the right fit for you.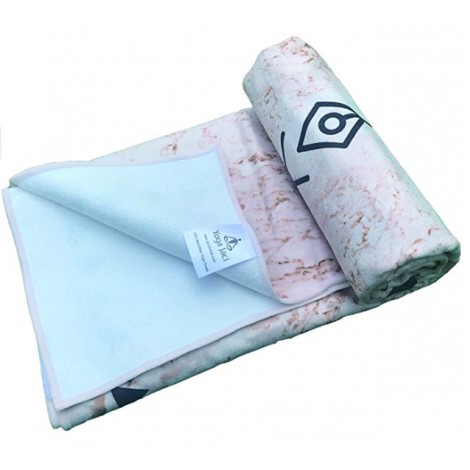 The Yoga Jaci is a beautiful product that is great for any yogi looking to deepen their practice and work on enriching the relationship with their poses. It measures 24 inches wide by 72 inches long so it will fit nicely on almost any standard-sized mat.
Beautiful Designs
The Yoga Jaci comes in 5 base colors (blue, gray, green, pink, and purple) but it also comes available in 2 unique designs with lovely embellishments (Champagne Gold and Gorgeous Sundial). These mats are specially dyed to prevent their colors from bleeding under heavy sweats on the mat or when you wash them in your at-home washer and dryer.
Made from Eco-Friendly Materials
The Yoga Jaci is made using eco-friendly dyes and materials so you can feel confident about getting up close and personal with this product. With super reinforced stitching at the edges and a wonderfully soft micro-fiber feel, you will be able to enjoy this for years to come.
It wicks away moisture and is hyper-absorbant and once it is wrung out, it dries incredibly quickly. Yoga Jaci suggests you apply a bit of water at the beginning of your practice to the back of your towel to ensure that it sticks to your mat and doesn't bunch while you are practicing. To maintain cleanliness, wash it frequently and tumble dry.
Cost and Value
The Yoga Jaci rings up at the top of our price range but we love its value because is it eco-friendly, beautifully designed, and comes with a lifetime warranty.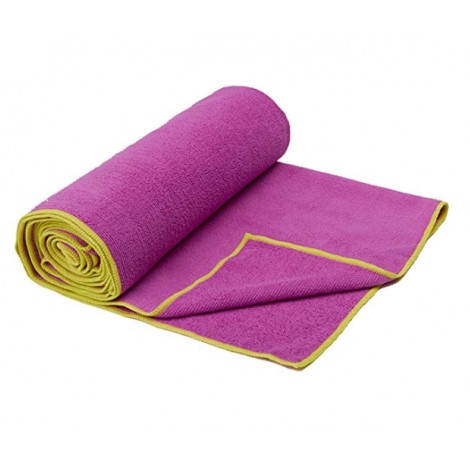 The Gaiam is great for yogis who may have sensitive skin or sensitivity to allergies. It dries in a flash and can be carried with you anywhere. Pick this one up in its regular size measuring 68 inches long by 24 inches wide or in the extra long size measuring 72 inches long and 26 inches wide.
Great Colors to Channel Meditations
The Gaiam comes in 11 amazingly bright and vivid colors from Orchid lined with Citron (pictured) to Vivid Blue lined with Fuscia. These colors will bring light and energy to your practice and can help you when you are channeling your moving meditations throughout sequences. They can even help to ground your mudras.
Non-Permeable and Hypo-Allergenic
The Gaiam is made of 100% micro-fibers that are non-permeable and hypo-allergenic. This means that it won't allow for mold and bacteria to grow in the fibers which could lead to irritation and allergies after repeated uses.
It is made with less nylon than other products on our list and it will dry in about half of the time it takes for a cotton towel of the same size to dry. Plus, if you're running low on space or you simply forgot your mat, you can use this towel in place of your mat. You should wash this product in cold water apart from other items and lay it flat to dry.
Cost and Value
The Gaiam rings up in the middle of our price range and we like its value because it is designed to resist the buildup of mold and bacteria which can cause irritation over multiple uses.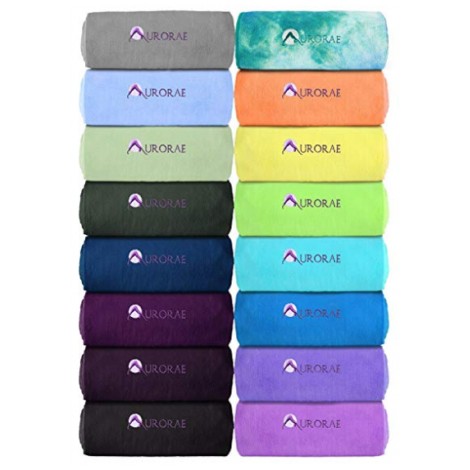 The Aurorae is an eco-safe product that will provide hygiene and stability to your yoga routine. This product comes in oversized and measures 72 inches long by 24 inches wide.
Neutral and Bright Colors to Choose From
The Aurorae comes in an array of colors from a neutral spectrum to a bright color spectrum. To prevent bleeding and maintain proper care, wash separately in your washing machine on the cold water setting and then lay flat or tumble dry for best results.
High Quality and Eco-Safe
The Aurorae is made from high-quality and eco-safe micro-fibers that are both durable and super plush and soft to the touch. It is lightweight and soaks up moisture like a sponge. And because it serves as a barrier between you and your mat, it is a more hygienic option especially considering it can be washed after each use. Plus, it's ideal for any outdoor or physical activity where sweat is involved and will help keep you safe and strong during your workouts.
Cost and Value
The Aurorae rings up in the middle of our price range and we like its value because it is great for all sweaty activities and because it comes with a 2-year guarantee from Aurorae that you'll love your product and that it will last.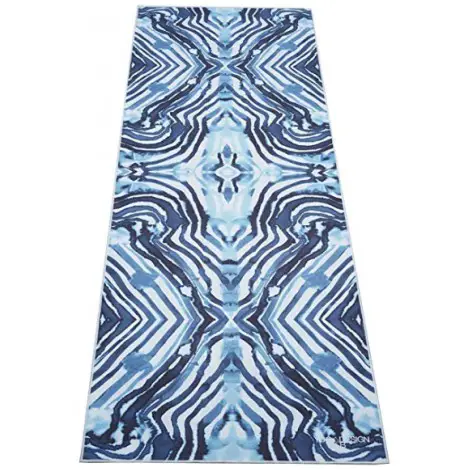 The Yoga Design Lab brings you a product that keeps the environment and paying it forward at the forefront of its development and purpose. This product measures 72 inches long and 24 inches wide so it's great for any standard sized yoga mat.
Water-Based Ink Dying Process
Yoga Design Lab presents perhaps our favorite looking products on this list. With 13 incredible designs to choose from ranging from mountain scenes to geometric arrays, there is bound to be a look that is just right for you. Plus, these towels are dyed with water-based inks giving them a unique look and making every product a bit different from the one before.
Made from Recycled Plastic Bottles
Each of Yoga Design Lab's towels is made from 100% recycled plastic micro-fibers that are strong and also super soft to the touch--so much so they feel like rubbing against suede. They are both absorbent and cushiony and whipstitching prolongs the life and durability of each product.
Plus, you can use this for yoga or as a super flashy beach towel as it wicks away moisture and helps to keep you dry. And after you're done loading this product up with sweat, it is safe to go into the washer and dryer.
Cost and Value
The Yoga Design Lab towel is the most expensive on our list but we like its value because it is made from non-toxic inks and 100% recycled plastics. Plus, each purchase donates $1 to Youth Yoga Programs.

10

. Clever Yoga Hot Yoga Mat Towel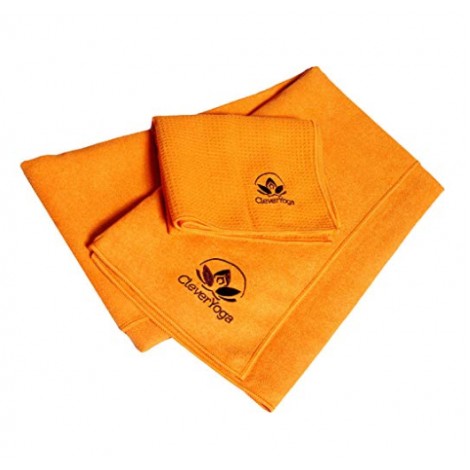 The Clever Yoga is the last to make our list but it is certainly not the least. It comes with a cool bonus hand and face towel and also comes in oversizes at 72 inches long and 26.5 inches wide.
Comes with Bonus Hand and Face Towel
The Clever Yoga comes in 6 vibrant colors from orange to green to blues and pink. Plus, with each purchase, you get a matching hand and face towel that comes in handy during super sweaty flows when you don't want to use the towel your feet are on for your face.
Micro-Fibers Work as Germ Barrier
This product is made from microfibers that wick away moisture and keep you dry while preventing you from slipping around on your mat during your asanas. The Clever Yoga serves as a barrier between you and your mat which protects you from yucky bacterias that can build up over time and also serves to prolong the lifespan of your equipment by preventing peeling.
This is advertised as being machine washable but reviewers suggest that it can bleed even after multiple washes and lose its shape when dried so washing separately and drying flat is advised.
Cost and Value
The Clever Yoga rings up at the bottom of our price range and we like its value because it comes with a bonus towel. Plus, Clever Yoga guarantees your satisfaction or they will return your purchase with no questions asked.

Subscribe to our Newsletter