Best Portable Washing Machines Reviewed & Rated for Quality
In a Hurry? Editors choice: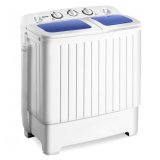 Test Winner: Giantex

Living in an apartment
has its fair share of advantages and challenges as well. Doing your laundry is a dreaded task and buying a washer is simply out of the question since the last thing you need is to have everything squeezed in there. Going to a laundromat might seem like a perfect idea; however it can be expensive, and you have no much control over quality. Portable washing machines are innovative products that have a compact design, are inexpensive and offer the perfect solution to
cleaning dirty laundry
in a blink at the comfort of your home. We have researched and narrowed your options to ten such machines, and our top picks are energy efficient, cost-effective and can fit in the tiniest room without cluttering your space.
Standout Picks
Criteria Used for Evaluation
Effectiveness
A portable washer is a small appliance that does not require hooking to central plumbing. You can connect through the water system by use of the kitchen tap, bathroom tap or tap outside. It is convenient for people living in apartments, condos, camps, dorms or RVS. Its portability makes it easier to move around as it does not need a permanent water supply. A drain of water can be done by connecting a hose pipe, and the water runs into the sink and empties into the drainage system. When shopping for a portable washer, its functionality and performance thus become a primary concern. Its performance depends on the drum capacity and other features such as the spin speed, voltage or energy rating and the load capacity. A lightweight model with wheels for ease of movements is ideal. It should also have a faucet adapter which enables you to connect the water system from any tap within the house or even outside. Spin speed determines the drying period since a higher speed cycle will result in a few wrinkles on your clothes and drying is pretty fast.
Ease of Use
Before buying any product, establish whether it is user-friendly and if it has a user manual. Select a machine that is easy to use and maintain by simply following the instructions in the manufacturer's guide. The best device is one that comes pre-assembled and should be easy to operate for it to perform better. If it requires assembly, you should have the hardware ready for easy setup.
Value
When shopping for a portable washer, price and quality should be on top of your priority list. Is the price budget friendly? Look for one that will not hurt your budget but will satisfy your needs. It is worth noting that cheap may be expensive and you may spend more money on replacements. For a washer, price is not usually the only consideration; this is because these devices allow for minimal use of water and detergent and are also energy efficient. They are cost saving alternatives that save you a lot of money that you would have otherwise spent on laundromats or energy bills. Non-electric machines are cost-effective since they rely on hand power for their operation. In a nutshell, buy an appliance that is high quality, efficient and which will give you value for your money.
Advanced Features
Advancement in technology has seen the proliferation of intelligent devices, and portable washers are a perfect example of how technology can change our way of lives. There are some appliances out there with advanced features such as timer control settings that allow you to set time depending on your needs. Others have single tubes that wash and dry clothes within minutes, while some come with a drain outlet for draining dirty water. Some other features include; a LED display and electronic touch controls, prongs for plugging into the electrical connections.
Size
There are several reasons for buying a portable machine for your laundry as compared to a heavy duty fixed machine. But why a mini? The answer is the size. Yes, you need a small, powerful machine mainly if you have limited space. If you are living in an apartment with no shared laundry services, the laundromat comes across as a perfect solution. It is however expensive, exhausting and unreliable. Heavy duty machine requires a big washing room with a permanently fixed water system. It has no flexibility especially if you want to travel. It also has limitations due to its bulkiness, high water usage and also relies on electric power to operate. A portable machine gives you a choice between electric and manual device. A manual machine is convenient for travel and camping. A compact design will fit even in small spaces without cluttering your apartment.
10 Best Portable Washing Machines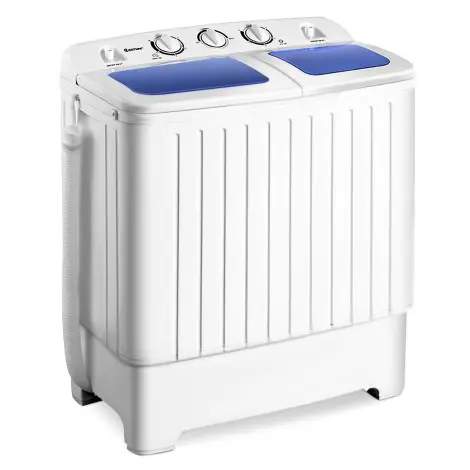 The Giantex is a compact double tub machine for cleaning your laundry and comes in a compact design with lots of features. It is portable and will get the laundry sparklingly clean as most large machines. It is a wash and spin machine easy to assemble with the necessary hardware and washes your dirty clothes within fifteen minutes and spin timer of five minutes per each load which gives you much freedom since you can choose when to wash, as compared to ordinary machines that have preprogrammed settings.
Effectiveness
The Giantex has twin tubes with a washing capacity of 11lbs and an overall size of 24.8″LX14″WX28.35"H. It has a powerful motor with a washing power of 300w and a spinning power of 100w that gets your laundry done in just a matter of minutes. It is an ideal size if you don't a large load and can also support a small family without necessarily overworking it.
Easy to use
No more running down the stairs and looking for coins to put into the next laundromat. Simply toss your dirty laundry into Giantex and watch as the machine works like magic. It is a functional, compact, easy to use and also a versatile machine ideal for small loads of laundry including delicate ones. It has a filter net on the washing barrel that sifts the dirt, and you can easily clean it off while cleaning. It similarly has a cover plate where you can place the clothes to prevent high speed.
Cost and value
A washer is essential equipment for any home; however, it comes across as pricey product for most people. Nevertheless, Giantex is an ideal choice if you are looking for a low-cost machine for your dirty laundry. It is eco-friendly since it allows you to use less water and detergent, making it a money saver. It is a good buy worth the money and you will be happy with the purchase.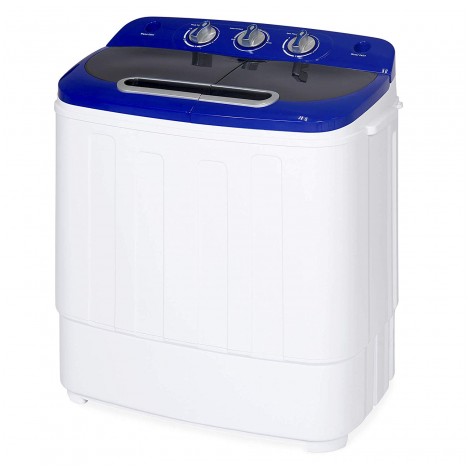 This machine from Best Choice Products has a two in one design that combines the washer and the spinner. It works effectively by getting your dirty laundry clean quickly and saves on water and detergent use since it holds small holds. The result is cleaner and fresh laundry. It has an overall dimension of 23"(L) x 13.5"(W) x 26"(H), the washer is 12"(L) x 13"(W) x 14"(H) while the spinner is 7"(W) x 9"(D). It weighs 23.85 lbs.
Compact design
This Best Choice Products machine is made from sturdy plastic material and has a compact, sleek and lightweight design. It does not require assembly and is ideal if you are living in a small apartment or a condo where you have no access to laundry services. It is a super space saver and a favorite amongst people with limited spaces such as students living in dormitories.
Outstanding Performance
This equipment from Best Choice products is ideal for home use and camping trips. It runs quietly yet powerfully and has a motor speed of 1300 RPM with a maximum frequency of 60Hz. It gives you the convenience of washing and spinning up to 13lbs of laundry that translates to washer 8lbs and 5lbs spin cycle. The washer and spin dryer combination run on either side to finish your laundry in just a matter of minutes.
Cost and value
This machine from Best Choice Products is cheaper than the Giantex; however, it is a budget bargain since it will save you the cost of taking your clothes to the laundromat. It works effectively than most washers and requires small loads per wash. It made from high-quality plastic that has a solid feel and will get the job done.

3

. The Laundry Alternative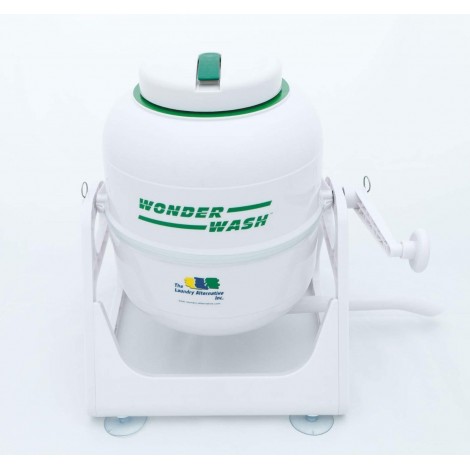 Are you tired of carrying baskets of dirty clothes across the streets to the laundromat and back? The Laundry Alternative machine gives the option of escaping this hectic task and doing your laundry at your apartment, condo, dormitory, camps, and trips. It is non-electric and requires spinning for it to function effectively and ensures your clothes come out sparklingly clean.
Compact and stylish
If you live in an apartment with absolutely no access to laundry services can be frustrating since the only alternative would be a laundromat. This machine from Laundry Alternative is just what you need and has a stylish and elegant design that beautifies your living area. It is compact and weighs below 25 lbs, so you can easily fit it in your trunk while traveling.
Versatile
This adorable washer is a quick and easy way to clean your laundry as you attend to other tasks. You can even brew your coffee as your clothes get washed. It is quite versatile and is ideal for most of your laundry including delicate garments. You can use it to clean woolen, silk, cashmere, and knitted garments. You can also use it to clean washable diapers and other hand washables. It is also absolutely safe for your uniforms, jeans, towels, sheets, and scrubs. If you live in an apartment where there is a shared machine, this will come handy as a perfect solution.
Cost and value
This washer is non-electric and washes up to 5 lbs loads of laundry within minutes. It allows for the use of less water and detergent making it a money saving machine that is energy efficient and will get the job done. It is incredibly cheap and costs less than the Best Choices Products and the Giantex. It is a good buy that will give you value for money.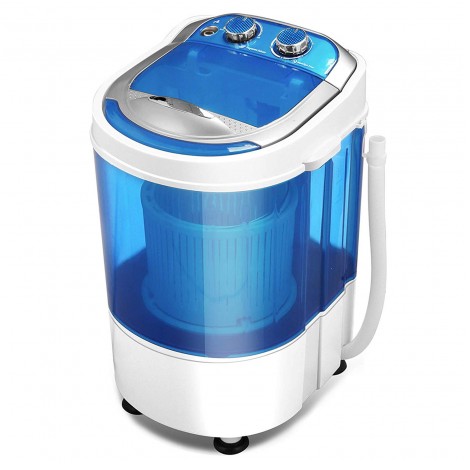 There is no need to go to the laundromat for quick washes since you can have them cleaned at the comfort of your home. The KUPPET machine is an ideal choice for people who would like convenience in getting their clothes cleaned. It is an elegant machine that comes in a compact design and has a capacity of nine pounds so it can clean a large load of laundry. The small design makes it flexible and portable; therefore you can move it pretty easy. It is ideal for apartments, dormitories, condos, RVs, motor homes and much more. Its washing capacity is 6lbs and has an overall dimension of 13.8' X 13.4" X 21.5". It is a powerful machine and cleans at 100v/60Hz per wash. It is ideal for delicate and small loads.
Easy to use
The KUPPET is user-friendly equipment that doesn't take much time to set up. Its operation is quite smooth since you just need to toss in your dirty laundry, set timer and wait as they get cleaned in just a matter of minutes. It has a blue clear top cover so you can easily monitor the water level as your clothes get washed.
Advanced features
The KUPPET is an innovative product that gets your dirty laundry clean. It is a small yet robust machine, and unlike most washers, it has a timer that allows you to set the time per wash depending on your specific needs. It is a single tube machine, and the spinner gets your clothes dry within three minutes. It also has a drain outlet for draining dirty water.
Cost and value
This machine has an environmentally friendly frame that uses less water and detergent so it is a money saving option. It is a classy machine yet reasonably priced and is energy efficient. If your budget is tight, this will offer a quick solution to your laundry needs.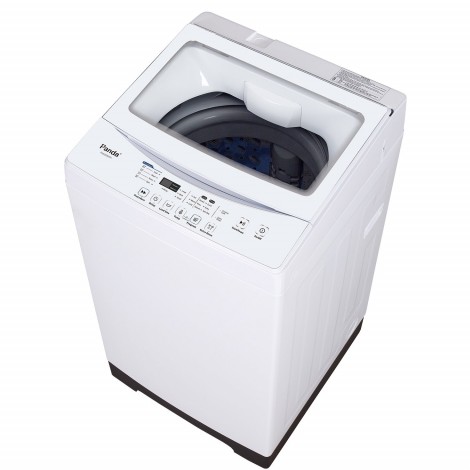 If you have small to the medium load of laundry, no need to take to the laundromat since the Panda is a quiet, compact and powerful washer that will get your laundry cleaned. It is ideal if you are living in an apartment, dorm or a condo. It uses up to 240 watts and has a built-in pump that allows for easier drainage. It spins excellently to have your clothes dried, and also it's easy to use.
Portable
If you are traveling on vacation or camping out with friends, no need of carrying a suitcase of dirty laundry since the panda is not only elegant but also compact and lightweight. It can fit well in your trunk and can support up to eleven pounds of laundry. It has two rollers for mobility thus can quickly move around.
Advanced features
The Panda is a sophisticated machine that has state of the art features. It has an LED display and electronic touch controls that allow you to set up the time per wash to suit your specific requirements. It also has a control lock option and regular three prongs that make it easier for you to plug it anywhere. It has adjustable washing options that allow you to set six washing settings. Therefore you can set normal to heavy or bulky, delicate or spin or even extra rinse option. An additional feature is the two inlets on the outside that allows for easy installation.
Cost and value
The Panda is an expensive machine and comes loaded with advanced features. It is an excellent washer that will leave your clothes clean while offering you the convenience that comes with having a portable machine at home. It is amazingly silent and will give you value for money.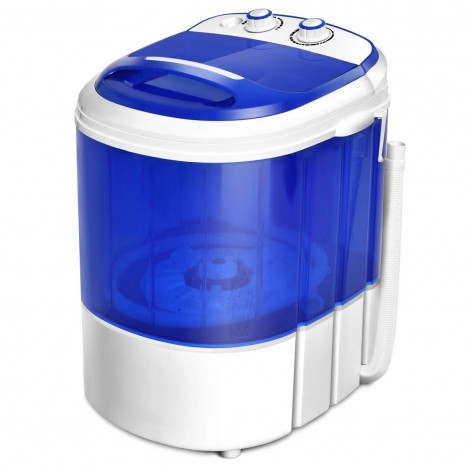 The COSTWAY is just what you need for your dirty laundry more so if you have limited space especially if you are living in a dorm, apartment or a condor. It is blue and is a powerful machine which has a power rating of 200W and a voltage of 100v/60HZ. It has a weight capacity of seven pounds and a net weight of 11.5 pounds. Its overall dimension is 14"L X 14" W X 20" H.
Compact design
If you are planning for an excursion, you don't have to worry about dirty laundry since you can take the COSTWAY with you. It has a compact and lightweight design that makes it portable so you can take it along during travel.
Easy to use
It is easy to use, and all that is needed is to toss your load in the machine, fill with water, set the time and watch as your laundry gets washed. It has a time control that makes it possible to adjust the time depending on your specific needs. It is user-friendly with a clear lid so you can monitor the water level.
Cost and value
The COSTWAY is ideal especially if you are keen on having equipment that will save you the cost of having your laundry done outside. It is a cheaper option that will not hurt your budget. It is small size and low in power usage so it's energy efficient and leads to reduced energy bills. Generally, it is a worth consideration that will give value for money.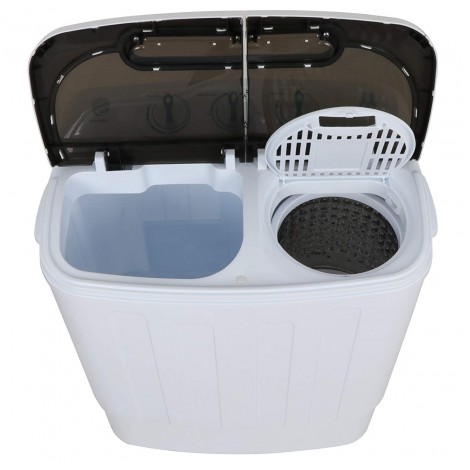 This machine from Zeny is our pick for those who want to save money and who would like to have their laundry done at the comfort of their home. This machine has a twin tub design with one tub for washing while the other is for spinning. It is convenient since you don't have to hang your clothes for drying.
Small and powerful machine
Zeny machine is a mini twin tub that performs exceptionally and also saves space. It has a lightweight and compact design that makes it ideal for camping, dorm life or apartment living. It is very quiet during its operation and does not vibrate. It is easy to use since it allows you to operate with your preferred settings and it has an elevated design that allows for easy draining.
Dual use
The Zeny gives you the convenience of having the washer and spinner running concurrently and gives you the freedom of setting your timer and various options. You can set the appliance to 15 minutes with an 8lb load, while the spin tub can be set at 5 minutes with a 5-pound load. Therefore, you don't have to wait for pre-programmed setting which is a common feature with regular washers.
Cost and value
When it comes to price, it is a bit pricey as compared to most standard portable washers on the market. However, it is a dual machine that will wash and dry your clothes within minutes. It is convenient to use and durable. It is a 100% money back guarantee.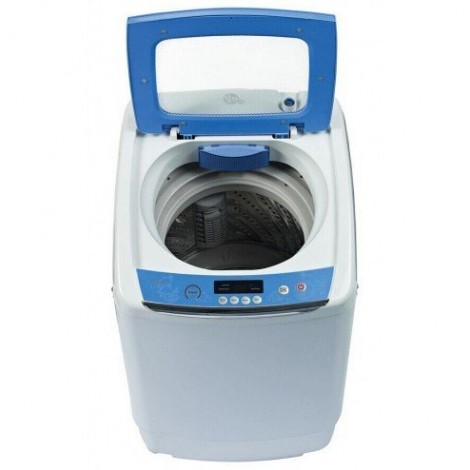 This adorable machine from Midea is ultra-compact and ideal for people living in limited spaces such as condos and apartments. It works efficiently by getting rid of dirt from your laundry and quick removal of stains while maintaining the original colour of the clothes. It is a dual machine that combines both a washer and dryer in the same device. It has five cycles and three water level settings and allows you to adjust your temperature settings to your preference, for instance, hot/cold. Cold/cold or warm/cold. It is mounted on two wheels so you can easily move it around.
Elegant design
It is sleek, elegant and stylish and accentuates your apartment, dorm or condo. It gets your laundry cleaned thoroughly, and the dryer has outstanding performance. You can also fit it in your trunk during trips or camps.
Features
The washer has agitator controls that make washing an easy task while the dry has one-touch buttons that makes it easy to adjust the setting to your preference. It is very quiet and does not vibrate so it's very gentle to the ears.
Cost and value
The cost of the Media appliance is higher as compared to most portable washers. Although repairs and maintenance are inevitable after prolonged use, this machine is a premium product made from high-quality materials. It is worth every penny you spend since it gets the job done and washes lots of clothes.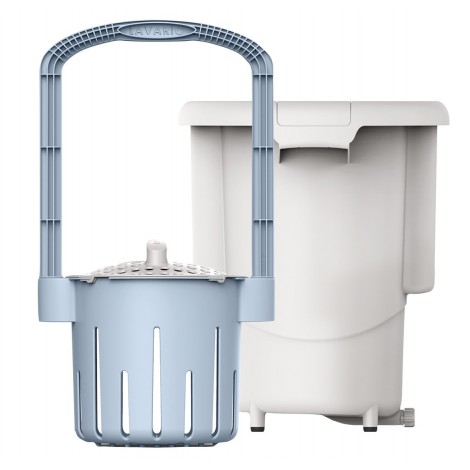 The Lavario is a smart appliance that is manual driven and takes the trophy as the best portable washer in the world. It is made in the USA and is a mark of quality and durability. It is non-electric and washes all types of clothes including sweatshirts and jeans. With this machine, you need to use your hands by pushing down and pulling up in incredible hand power motion.
Convenience
The Lavario is a convenient washer that is compact in design and lightweight. It is therefore portable, and you can take it along to use anywhere. It is great for apartments, condos, dorms, camping or RVS. It is quite versatile, and you can use it to clean your delicate clothes and even scrubs.
Easy to use
This portable washer is easy to use and works well as compared to other options on the market. It is pre-assembled, and the instructions of use are easy to follow. It is a bit taller and upright so there is no need to set it on a table top. You can use it in the bathroom or the bathtub, simply put the laundry into the basket and secure the lid. Then push it down in up and down motions ten times, when done, allow the water to drain. You can repeat the process while rinsing and your clothes will come out sparklingly clean.
Cost and value
The Lavario is a money saver since it does not use electric power, hence its energy efficient and will not affect your power bills. It also saves you the trip to the laundromat and uses less water and detergent. When it comes to price, it costs more as compared to some electric appliances; however, since its manual driven, it is a cost-saving alternative that will give you value for money.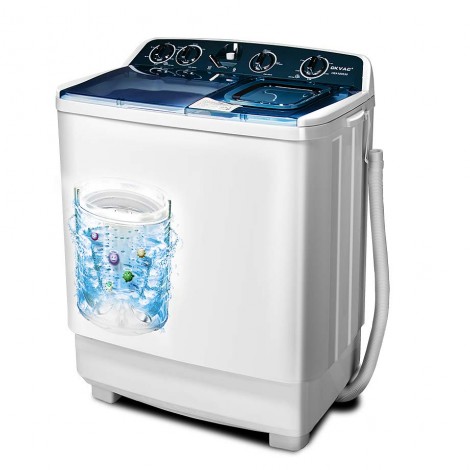 The OKVAC is a twin tub portable appliance with a washer capacity of 13lbs and spinner capacity is 8lls. The washer timer is 15 minutes while the spin timer is 5 minutes. It is a large capacity machine and is suitable for both light and heavy duty washing. It comes equipped with a gravity grain that makes it possible to switch from the washer to the spinner without wasting any time.
Versatile
The OKVAC is an automatic appliance suitable for limited places such as apartments, condos, and dorms. You can use it to wash a wide variety of clothes including jeans, sportswear, uniforms and delicate garments such as baby clothes.
Advanced features
The OKVAC is an intelligent device with added features that boosts its functionality. It has eight programs that make it easy to use since you can select your preferred setting. It has water level selections and an LED display on the control panel. while the inner tube is made of a stainless material that is easy to clean and durable.
Cost and value
The OKVAC is a high-cost machine made from high-quality material. It performs remarkably by cleaning your dirty laundry and has a highly efficient spinner for drying them. It is a good purchase worth the price.

Subscribe to our Newsletter