Best Yoga DVDs Reviewed & Rated for Quality
In a Hurry? Editors choice: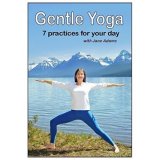 Test Winner: Gentle Yoga: 7 Practices for your Day with Jane Adams

Why are many people today
incorporating yoga into their fitness routine
and why is it gaining popularity every day?  Yoga engages the body muscles and is beneficial for flexibility, weight loss, and general well-being. If you have been practicing yoga at home, it may be due to a couple of reasons, and part of it could be it protects your privacy, and it's a cheaper and time-saving option. Whether you are a beginner or an expert yogi, you may be aware that the best way to maximize your session is to use yoga DVDs. They are useful since they offer personalized training, are easy to follow and focus mostly on the user's techniques. We have uncovered the best DVDs that will help you achieve your fitness goals depending on your skill level.
Standout Picks
Criteria Used for Evaluation
Effectiveness
Yoga is defined as an ancient practice that includes a set of activities that engages the body mind and soul. It has gained popularity amongst individuals willing to incorporate it into their workout routines to achieve fitness goals. It is also ideal for people going through therapy sessions and physicians world over are prescribing yoga as an effective way of burning calories and toning down the muscles. It is also an effective way of improving body balance, mobility and flexibility. Just a few years ago, for people willing to start yoga classes, it was necessary to attend them, and this meant sparing some time off busy schedules.
However, it may not be an ideal choice for some people since they would like some privacy when it comes to practicing yoga and their self-esteem comes into play. Nevertheless, these DVDs are the new kids on the block, and with the ever-evolving digital space, you can even watch the videos on prime video. They are suitable for persons willing to do yoga practices in the comfort of their homes. Much as they are a natural choice, they should be useful for both beginners and expert yogi.
Ease of Use
Most yoga DVDs usually have programs or practices that follow a particular sequence, steps or stages. For a beginner, it may be overwhelming starting since you may be full of expectations. The ideal video should be easy to follow and learn quickly while the demonstrations should be straightforward. When shopping for one, check reviews since there are some which are quite intense and not suitable for beginners
. However, DVDs whose actors are seasoned yoga trainers regularly use simple poses for new learners to grasp quite quickly. Most often each session usually is a buildup of the previous, and it starts with warm-up workouts, then progresses to intense exercises and finally ends with cooling down.
Value
Most often the value of a DVD is not so much about how much it costs but the realization of the full benefit of the yoga practices and the workout. If you are looking forward to purchasing these videos, you want to be sure that you will get the value for the money. Most people seeking to incorporate Yoga into their workout practice would like to have a flexible body, well-toned and attractive.
While it may seem obvious that that's the goal of every yogi, the quality of the video, the background and the scenery affect the effectiveness of your workout program. Most renowned instructors produce high-quality episodes, and it might cost you more than ordinary videos. However, you may still find cheaper versions from the same instructors but fewer lessons to start you off. As you progress in your exercise, you may buy videos with longer and complete sessions.
Application
Any product is made with a specific need and to fulfill an absolute obligation while meeting the particular user's requirement. The same applies to a Yoga DVD, and one question that will come into a user's mind is; why are these videos important? To answer that question, let's have a look at what would compel you to think about yoga. The most likely scenario for a beginner would be; could be you have a fitness goal and would like to incorporate yoga into it.
For a seasoned yogi, you want a successful continuation of your workouts all geared towards fitness goals achievement. Whatever, the reason, there is one thing that's featuring in both scenarios, and that is fitness goals, and this brings us to the answer; A yoga DVD is essential for both beginners and experts and the main reason strength building, suppleness and flexibility. It should be useful in toning your body and fulfilling your body, soul and mind need to a feeling of gratification.
Features
Yoga videos are usually filmed in a serene environment with instructors taking you through a series of workouts geared towards helping you adapt quickly and incorporate Yoga into your workout routines. Mostly there are different lessons and themes, and each lesson may last for a couple of minutes while some programs may last several weeks. Some instructors work alone while others may have an assistant along.
You need specific tools such as a yoga mat, a high chair and a bolster like a cushion or a pillow since some exercises may involve kneeling. Generally, these sessions are calming, soothing and relaxing with some soft background music in the background. While exercising, you can feel your mind and soul escaping into a quiet and serene place while your body goes through a series of workouts. These poses mostly start as warm-ups, progresses to intense and ends with cooling down.
10 Best Yoga DVDs
1

. Gentle Yoga: 7 Practices for your Day with Jane Adams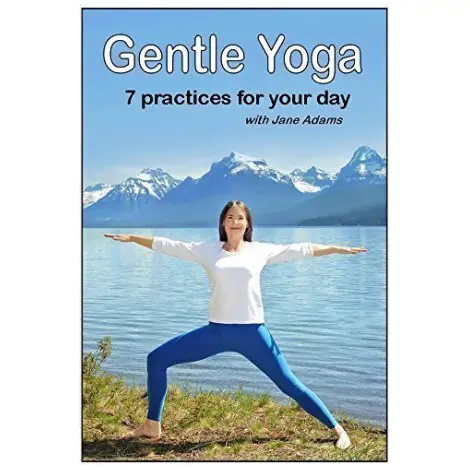 This DVD is ideal for beginners and has seven practices that are generally effective and easy to follow and put into practice for a beginner. It is designed to incorporate quite easily in your everyday life and is useful in improving your skill level from one practice to a combination of several exercises.
Effective practice
Some poses, such as lying practice, are beneficial if you are looking forward to having a full body workout while lying on the side or back. It is useful when coordinated with the breath, as this helps your body in relaxing. The A Morning Practice routine is helpful since it awakens your body and ensures you are alert and is suitable for a morning routine. The Mid-day Relief from Desk & Computer Work is effective in relaxing the stiffness of the muscles and tension, quite useful if you work for long hours on your desk.
The Improving Balance practice helps boost your body posture and strengthens the feet, hips, ankles, and legs. The core strength and flexibility is ideal for the back and hips and requires you to lie on the floor. The standing pose is for your leg muscles and hips and ensures you walk with confidence and esteem. The evening pose helps you to relax while going to bed after a long day of work. Lastly, in the deep relaxation practice, you lie on your back to get an excellent relaxation of body, mind and inner self.
Easy to follow
The main advantage of having this DVD as a beginner is that there is personalized attention for each pose and the instructions are pretty easy to follow. The demonstrations are quite exciting and clear to understand.
Cost and value
This DVD has seven practices that demonstrate how to perform the movements best and how to control your breathing while incorporating new workouts into your routine. It is capable of pushing your training sessions and transform you into an overnight Yoga expert. It is a good value for money worth every penny.

2

. Body Wisdom Yoga For Beginners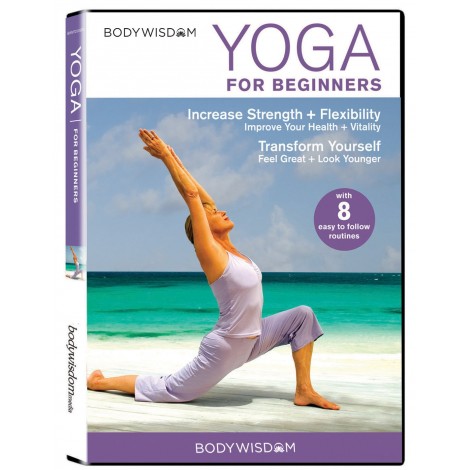 Renowned Yoga instructor Barbara Benagh takes you through eight routines geared towards helping you achieve the perfect body tone and boost your self-esteem. This DVD is ideal for beginners and will introduce you into the world of yoga as you explore different practices and attain the maximum benefit of Yoga.
In the program, eight practices are useful in building strength, increasing body flexibility, improving your overall wellbeing and vitality. This DVD is for everyone from young people to those advanced in age. Physicians also recommend it for patients undertaking a therapy session.
Easy to follow
The routines are simple and easy to follow and range from ten to sixty minutes. The filming of the DVD is at a breathtaking beach of Half-moon Bay, Antigua with the background representing beauty and tranquillity and this adds lots of value to your practice.
The instructor has a calming and reassuring presence that makes you follow quite easily and adopt the poses with much ease. The poses and the demonstrations are pretty easy to understand and implement.
Customizable routines
The DVD has an interactive series of 8 customized routines that give you a complete choice of taking control of your yoga workout while focusing on the right stuff. If you have been working on the same exercise routine for many years, you will find this DVD quite useful since the content is tremendous for any person intending to try yoga. It takes you through different skill levels until that time you feel you are ready for more advanced sessions.
Cost and value
For beginners, it might be quite challenging doing some poses; however, with time, you gain experience and benefit fully from the sessions since it encourages effectiveness. The value of this DVD is in its ability to transform you from a beginner to an expert Yogi and the feeling of relaxation and fulfillment you get after every workout. That said, this adds to the achievement of your fitness goals and is definitely a good value for the money.

3

. Jillian Michaels Yoga Inferno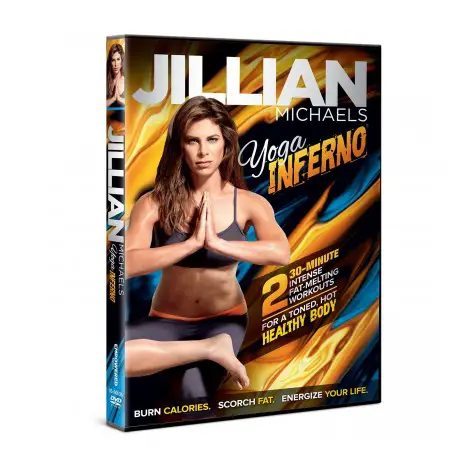 If you are an experienced yogi, then you must have come across Jillian Michaels DVDs who is a very popular fitness instructor. Her DVDs are intended to help you achieve a right body tone and become healthy and flexible. This one is indeed an inferno, and by incorporating her practices into your workout sessions, you can burn calories and fat much effectively.
The techniques involve smooth and flowing sequences of great yoga poses that will help in building muscle power, stamina, flexibility and mobility. The production quality in on point and there are two workouts.
Smooth yoga flow
The Jillian Michaels DVD consists of two thirty minutes step-by-step workout that you can adapt for your exercise routine. Each session mainly focuses on the smooth flow of yoga and burning of calories and fat by the use of her distinctive style of practice.
In each of the workout, she leads you through a sequence of poses that last for 8 minutes for warm-up. These warm-ups include squats, push-ups and basic moves such as sun salutations. Once done with the warm-ups you begin with the real workouts which are pretty fast and intense.
Effectiveness
This DVD is not your ordinary yoga, it has more inspiration, and the stances are quite useful in achieving your fitness goals. These are; tree, lunges, triangle, and lunges are intended to help you in strength building. Some of the most effective poses are; the chair pose, cardio intervals, push-ups, rows, and triceps extensions.
The cardio intervals may be the hardest; however, they are quite useful in improving your heart rate. Jillian offers you an intense workout that is useful in toning your body and boosting your self-esteem.
Cost and value
This product is not an ordinary yoga DVD but one that combines flexibility, strength, and cardio. Jillian offers a unique method of workout that guarantees flexibility, balance and strength training and is useful for your heart and general well-being. This DVD will give you value for the money and is beneficial for a beginner and intermediaries who would like some challenge in their workout but not entirely impossible.

4

. Beachbody 3 Week Yoga Retreat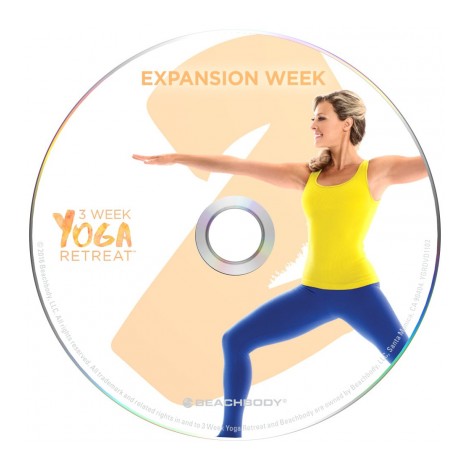 This DVD by Beachbody allows you to learn yoga at the comfort of your home in twenty-one days. The program includes a Nutrition Guide, Quick Start Guide, Class Calendar, Pose Tracker and Beginner Basics. It is ideal for a beginner since it has a sequence of 21 special class each lasting for a maximum of 30 minutes.
Easy to follow instructions
The instructions are quite easy and the demonstrations easy to adapt. This program is unique since each week is programmed with a new trainer and a different theme. Week 1 is known as the foundation and is all about being introduced to the basic and just as the name suggests, you get to learn what lays ahead in your yoga journey and art of mastering advanced sequences and yoga poses.
Week 2 is known as Expansion, and the workout is a little bit intense with more focused goals, strength building, and endurance.
Week 3 is the final week and is known as progression, and you get to interact with an advanced instructor. By the time you get to week three, you will feel stronger and relaxed.
The weekends are meant for relaxing, unwinding and improvement in your flexibility.
Thrilling sessions
The workouts are the same every week and build on each other; thus you can experience the progress of your workout session. Each workout session has a different theme that features modifiers in the background. One modifier shows a slow version of the workout move, and the other modifier shows you a more intense workout if you need some more challenge.
Cost and value
With this DVD you expect results much faster since it's a three weeks program that focuses on flexibility, balance and reduction in stress levels. If you are a beginner and looking forward to burning some calories, I can say without a doubt that this is the best for your case. It is pricey; however, it is a good value for money.

5

. Rodney Yee Power Yoga Collection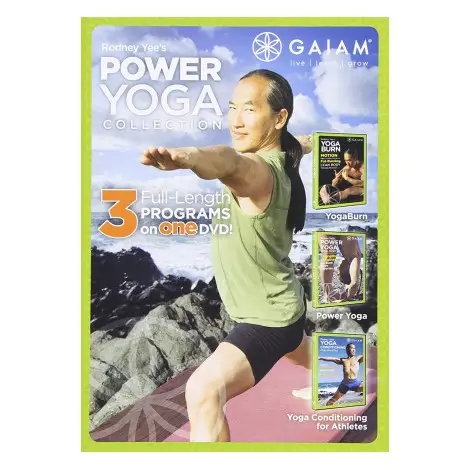 Rodney Yee is a world-renowned instructor and has some of the best yet most challenging workouts, If you are a beginner, you will find his workout routines quite engaging, and for the seasoned yogi, this will be an opportunity to boost your yoga prowess. There are three programs designed to transform your body, mind and inner self.
The most prominent feature is a sixty, minute burn workout that helps in increasing your strength, sixty minutes body segment for growing flexibility and body strength and sixty minutes for conditioning for cardio endurance and power.
Step by step yoga practice
This program runs for approximately 180 minutes, and each program follows in a sequence and is a buildup of each other. The overall effect is increasing strength, body movement and flexibility while concentrating on the mind which is the center of your workout.
Helps in the achievement of fitness goals
This DVD is quite useful for experienced Yogis who are committed to achieving their fitness goals. It focuses on the mind and boosts overall body strength by use of an intense workout program. Besides, it is quite useful to athletes since it subjects the heart to high levels of endurance.
Cost and value
This DVD costs less compared to the three weeks of Yoga practice. It is ideal for experienced yogi and athletes since it concentrates on strength, agility, endurance and flexibility, thus useful for an intense workout. By training with a world-renowned instructor, you will realize the full benefits of the DVD; hence it's an excellent value for money.

6

. Kate Potter: Namaste Yoga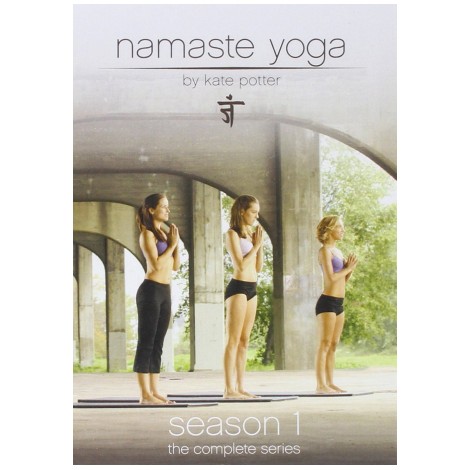 Kate Potter takes you through thirteen sequences geared towards helping you realize the full potential of incorporating yoga into your workout routine to achieve your fitness goals. Each series lasts a total of twenty-two minutes, and they build on each other.
It is perfect for beginners and for advanced yogis looking forward to perfecting their practice. There are three poses, and these are Learn warrior III which is the first, followed by Crane Arm Balance and finally Revolved Triangle Pose. The main styles are Hatha and Vinyasa.
Interesting poses
The DVD is quite exciting, and if you are a beginner, you will quickly adapt. The videos are well structured into three sessions. It begins with the warm-up session and followed by intense and the cooldown. The warm up and cool down are almost similar, and the whole practice is not rushed to give you time to focus and adapt.
Quite effective
This DVD is more than a practice video. It is an excellent experience that will relax your body, mind and inner self. It strengthens your body, calms your soul and gives you some inspiration. Kate Potter is an experienced teacher who takes you through all the thirteen practices, and the filming is at a serene environment surrounded by nature's beautiful the Pacific Ocean.
Cost and Value
This video is pretty easy to follow and understand. Most people starting quickly learn the poses, and once you have mastered, you can exercise by just listening. Nevertheless, it is a good value for money, and you will enjoy the episodes and make it your everyday obsession.

7

. Gentle Yoga Balance with Jessica Smith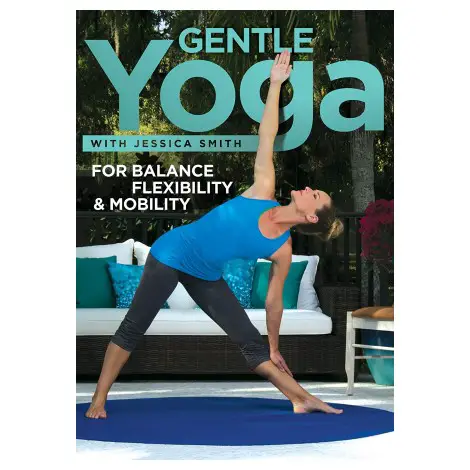 This yoga program focuses on three areas body balance, agility and flexibility. Yoga instructor, Jessica Smith takes your through four-session each lasting twenty minutes. It is ideal for both beginners and expert Yogi, and it's a remarkable program that you will help you as you focus on achieving your fitness goals. To get started you need a mat and a strong high back chair, you might also need to bolster, or use a pillow for knee and hips poses.
Easy to follow practices
Four sessions are lasting twenty minutes each. There is a continuous flow between sessions and is an excellent program for beginners. The first flow is designed to relax the tension of the neck and shoulders while the second concentrates on the back and the chest. It is aimed at relieving pain for the heart and improving body posture.
The third flow focuses on relaxing the joints of the hips and knees to improve body movements and balance.
The fourth flow engages the whole body for an entire body stretch and offers some soothing.
Nice and gentle
If you have been searching for a Yoga DVD, we would highly recommend Jessica Smith's. The episodes are shot at a serene environment, and the background is breathtaking. You will enjoy watching every move, and the sequence starts from slow to intense, it is a basic yoga perfect for all ages. Nonetheless, the seniors will find it more beneficial in relieving the tension of the muscles which is mostly associated with old age.
Cost and value
For the money, we would rate this DVD at five stars. It gives you value for money since it concentrated on three focal points, these being; mobility, flexibility and balance. Particularly useful to old people, this video is the deal breaker and 100% money back guarantee.

8

. Yoga Sweat Julie Schoen


This DVD features eight minutes of Yoga workouts with the ultimate goal of losing weight. Julie Schoen takes you through a series of warm-up videos and cool down videos. It is the perfect choice if you are looking forward to burning some calories and achieving the perfect body tone. It focuses on body areas such as the legs, arms, back, glutes and body core.
Flowing sessions
The sessions are quite easy to follow and adapt to your workout program. The first session focuses on burning your calories and warming up while building the heat. It is fun and strengthens the legs, and glutes thus giving you a perfect body tone.
The second session is intense and focuses on strengthening the arms, back, and the core. It quickly tones your tummy muscles, and you will see results on a few weeks.
Effectiveness
This DVD is a mix of classic Yoga poses and creativity, and you get to learn about losing weight and achieving perfect body tone while focusing on the target area in an effective and fun way. The instructor takes you through two thirty minute program, ten minutes for warm up and ten minutes for cooling down.
If you are a yogi, you can choose to do the whole 80 minutes or take the 30-minute workout that concentrates on the legs, back, arms, glutes, and core.
Cost and value
This DVD is a perfect workout program that helps in toning and achieving a lean body. The instructor takes you through different levels of skills, and the quality of the videos is top-notch. For the price, this is a natural choice if you are looking forward to losing weight.

9

. Yoga Strong by Dean Pohlman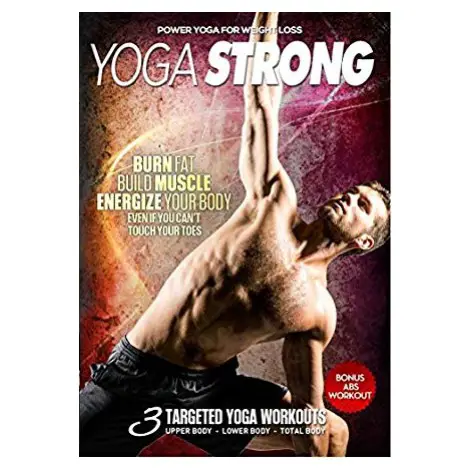 This is an intense workout program for men especially athletes which mainly focuses on maximising the athletic performance. The instructor Dean Pohlman takes you through three different levels lasting between twenty and forty minutes, and thus you can start with the less intense and increase the difficulty levels as you gain more experience.
Unique fitness program
This program is unique since it uses the slow-burning techniques that burn down your calories to help you achieve a perfect body tone. It focuses on strength building by use of conventional workouts. It is a complete session that you can add to your workout routine with an aim to strengthen your entire body muscles such as the glutes, chest, upper back, shoulders and core.
Easy to follow
The exercises are pretty easy to follow especially if you are a beginner willing to incorporate yoga into your workout routine. It works as a supplement to an already existing program and will help in accelerating the achievement of your workout goals.
Cost and value
This DVD is specifically designed for athletic men who are keen on body toning. It accomplishes this by focusing on muscles with the aim of energy build up and entire body transformation. It is fairly affordable and a good value for money.

10

. Tai Chi Fusion Bamboo with David-Dorian Ross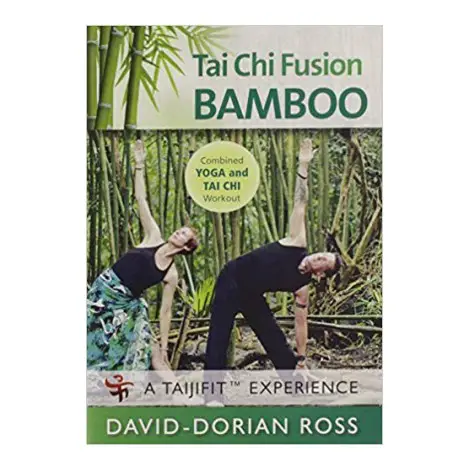 This video shoot is like no other. You get to experience a blend of nature with water flowing and bamboo wood in the background to bring some ancient yoga experience that engages the body and the mind. This video is filmed in a beautiful set of bamboo trees in a Hawaiian forest and is a fusion that blends both yoga and tai chi. The instructor combines both fun and practice to your workout routine.
Effective in improving body movements
The bamboo trees withstand strong winds and your body will flow with the suppleness of this splendid tree. In these series, you will undergo a series of yoga workouts that surrenders your body and helps in stretching your entire body and relaxing the mind.
Easy to follow
The workouts are easy to follow and adopt and the background is spectacular and brings some natural feel to your home. It allows you to perform easy routines in a step by step fashion. It is quite versatile and a learning tool for both tai chi and yoga. The exercise starts with a workout and progresses to bamboo workouts.
Cost and value
The video is shot at the beautiful scenery and adds some variety to your yoga practice. It is a good value for your money since it makes yoga calmer while mixing with tai chi which works perfectly for your flexibility and movements.

Subscribe to our Newsletter