Best Western Saddles Reviewed & Rated for Quality
In a Hurry? Editors choice: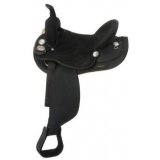 Test Winner: King Series Synthetic Trail

The classic Western saddle is arguably one of the most
major developments for equestrian lovers
of all time. The Western saddle as we know it today was originally designed with the cowboy in mind. Since cowboys spent the majority of their days on horseback, they required a saddle that would be more comfortable for them, and less tiring to the horse. Continue reading our list of top-rated products to find the product most suited to your needs!
Standout Picks
Criteria Used for Evaluation
Accessories
To most entry-level horse lovers, the sheer list of equipment needed will likely seem intimidating at first, not to mention expensive. However, a good quality saddle is one of the most important investments that you can make to ensure your horse's health and performance, as well as your own enjoyment.
When we talk about accessories we refer to many of the replaceable yet necessary parts of your actual saddle, as well as the dozens of other saddle accessories that you can buy at additional cost.
The parts of the saddle that are the most frequently replaced includes the cinches, latigos, off billet, cinch connecting strap, stirrup leathers and hobbles, saddle strings, horn wrap, rope strap, and of course the stirrups.
These items are specifically replaceable since they are the most prone to wear and tear. So before purchasing, it is vital that you check the quality of these parts. Are they sturdy and made from quality materials? Is the stitching done well? The better the quality of these replaceable parts, the less likely you will be to replace them regularly. This should be a prime consideration for you especially if you are a frequent rider.
While other added saddle accessories may not be as vital, they can be highly practical such as saddlebags or simply add more flair to your everyday ride. If you are interested in buying additional accessories, you should check that your selected saddle will be compatible with your desired accessories.
Comfort
As stated earlier, the Western Saddle is already different from its English alternative thanks to its focus on comfort. Despite this modification, comfort should remain a prime consideration for a variety of reasons.
Comfort is especially essential in activities such as trail riding, where riders are often subject to remaining on the backs of their horses for hours on end. Moreover, a comfortable product will greatly enhance your horse's health and performance as your own.
There are a few things that you can look out to try and establish whether your selected product will offer you a comfortable experience.
Fit: One of the most essential starting points for any rider should be that the saddle fits correctly. Please read our extended criteria on finding the right fit below.
Weight: While your horse may seem indefatigable, your weight together with a weighty saddle can definitely take its toll for long hours on end. If you are a rider who frequently rides for long periods, you should definitely opt for a more lightweight option to put less strain on your horse.
Seat: Your seat should fit the shape of your body comfortably. While you should sit snugly on top of your horse, you should still have some wriggle room. The seat itself should ideally have some sort of padding to ensure comfort for long hours.
Stirrups: Traditional narrow stirrups can be straining for long hours on end. Trail riders might consider investing in wider stirrups that prevent more support for their feet.
Durability
Since these kinds of products tend to be so expensive, obviously the rider would want the most durable option that their budget can buy. However, by making a few smart choices and with the correct care, you can greatly ensure the durability of your product and greatly extend its life.
To determine the durability of any product, you should start by looking at what materials its made from. A saddle can be made using either leather or synthetic materials. While most people would think that leather is the more durable option, synthetic products can be equally durable since they are more low-maintenance.
Most of the other saddle parts such as the stirrups will likely be made from a dense metal such as stainless steel. Secondly, the construction will tell you a lot about how long a product can last. You should look out for obvious signs of defects such as fraying or straps that are not properly secured.
However, you can likely extend the life of either a leather or synthetic product if you care for it correctly and store it correctly. You should take care to regularly deep clean the product and condition the leather to keep it shiny and supple. Storage is another vital aspect as this will help your product maintain its shape integrity. You would want to gently hang your product over a horizontal surface that is no wider than the back of your horse.
Fit
The exact fit of the saddle has gotten a lot of attention in the last decade thanks to a growing number of horse health problems that stemmed from ill-fitting saddles. This is perhaps one of the most important aspects of buying a product since it has such a huge impact on your riding performance, your relationship with your horse, and your horse's health.
The sizes of these products are measured in inches. The starting and smallest size is a 12-inch, and sizes can go all the way up 16 or 17 inches.
When you are determining the ideal size, you should look at the dimensions and anatomy of both your horse and yourself.
You are going to want a product that suits the contours and shape of your horse's back to ensure optimum ease of movement. You should also look at the shape and position of his shoulders and try to select a saddle that will not restrict this.
As for the actual size, the saddle should fit around the horse snugly, but without putting any strain on the horse's main pressure points. A product that is too tight can seriously hurt the horse and restrict their movement, while a product that is too loose could be potentially dangerous.
As for yourself, your height and weight will be the main determining factors. As a general rule of thumb, young riders will probably suit a 12 or 13-inch, petite adult riders may feel more comfortable with a 15-inch, while the average adult would probably suit a 16-inch.
Materials
While saddles have always been traditionally crafted from leather, there has been a trend in the last few decades to start incorporating synthetic fibres for their low-maintenance quality. Considering the materials is important since it will determine the durability of your product as well as your overall experience.
Most horse riders still prefer leather since this rugged natural material is ideal for horse riding. It withstands the everyday wear-and-tear of the sport while being comfortable and looking beautiful. There is also a great variety in embellishment and hand-carving when it comes to leather products with saddles featuring hand-carved floral designs and other interesting visual features.
However, leather also certainly has its downfalls. For one, they are more expensive especially if you are looking for good-quality, supple leather. In addition, they are also notoriously high-maintenance. A leather saddle will require frequent dusting to prevent superficial scratches, regular cleaning with specialised soaps, as well as regular conditioning with specialised oils.
Synthetic products are usually manufactured using dense and high-quality Cordura material. While many dislike the immediate synthetic feel it has undeniable benefits. It is cheaper and usually easier to use, which makes it ideal for beginners. Moreover, they are low-maintenance and generally just need regular soap and water to clean. Cordura products are also ideal for sick or tired horses since they are much more lightweight.
10 Best Western Saddles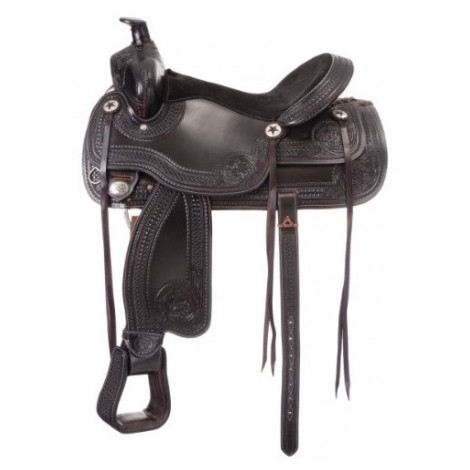 The Royal King Dublin is beautiful enough to be used in parades, yet practical and durable enough. It is a great performing product that is likely to appeal to all levels of riders. Each product comes fitted with premium accessories such as full quarter bars, Blevins-style buckles, d-rings, and a fiberglass tree. The seat itself is comfortable enough to be used for trail riding and the bottom of the product is lined with padding to ensure a soft fit for your horse.
Premium Accessories
As with most of their other products, Royal King puts a tremendous amount of thought and effort into selecting only the best accessories. The Dublin comes fitted with high-quality quick-change buckles, a neoprene-lined skirt, d-rings, full quarter bars, and fiberglass tree.
Hand-Stitched
Each product is constructed using the utmost care. The Dublin is constructed using premium rawhide, while the skirt is lined with neoprene for added comfort. The entire product has been carefully hand-stitched to ensure a more rugged product that will withstand frequent and prolonged use.
Cost and Value
While the Royal King Dublin may be one of the more expensive products on our list, compared to other saddles, it is still considered fairly moderately priced. This product featured a beautiful hand-stitched design that is constructed using only premium materials and accessories.

2

. King Series Synthetic Trail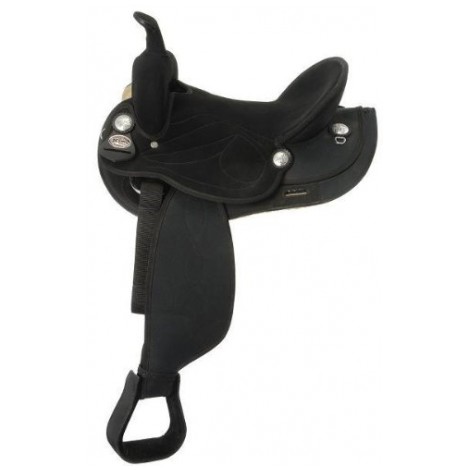 The Synthetic Trail allows you to simply strap on and go. This no-fuss saddle features a clean, minimalist design that offers plenty of comforts. Its synthetic construction ensures a more lightweight product that puts less strain on horses. The rest of the Synthetic Trail has been completely optimized for comfort. The unique fabric has special shock absorption qualities, while the padded stirrups add comfort and support for anyone with joint problems.
Shock Absorption
Long pleasure trails can become exhausting even to experienced riders, thanks to uncomfortable bumps. However, the Synthetic Trail is made from a unique performance fabric that effectively acts as a shock absorber to make your ride significantly more comfortable.
Lightweight
Thanks to its unique synthetic construction, this product is one of the most lightweight products available. It ensures that you put minimal strain on your horse while still ensuring your own comfort. This is a must-have for beginner pleasure trail riders.
Cost and Value
The King Series Synthetic Trail is available at various prices depending on your selected size. The smallest available size of 11 inches is perhaps one of the cheapest products featured on our list, while the largest size of 17-inches is still competitively priced compared to other products.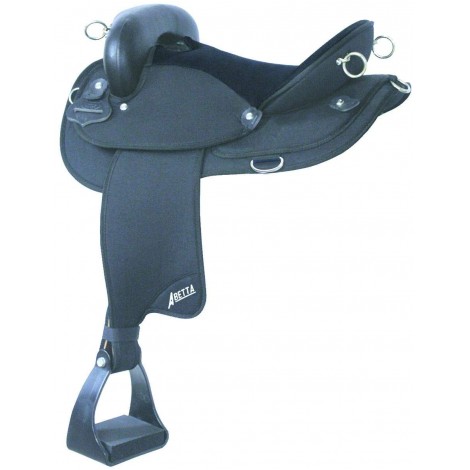 While the Abetta Endurance may seem simplistic in design, this product is one of the most comfortable riding experiences to date. The seat has been padded using memory foam that ensures a riding experience for hours on end. The Endurance has been made using synthetic Cordura nylon which ensures a lightweight fit for the horse. The entire product has been carefully treated to be scratch and weather resistant. This is ideal for beginners and experts alike.
Comfortable
Unlike most other saddles that use conventional padding methods, the Abetta Endurance features a unique memory foam seat. This provides the rider with the most comfortable experience and ensures that their pleasure trial remains pleasurable.
Lightweight
Many may look down upon any product that is not made of leather, however, synthetic materials certainly have their perks. The Endurance is made from synthetic Cordura nylon that provides an overall more lightweight option for your horse. Moreover, this product is much less high-maintenance than any other leather alternative.
Cost and Value
While it may be one of the more pricier top-rated products, you'll be hard pressed to find a saddle as lightweight and durable as the Endurance. This product is incredibly low-maintenance, great for any level of rider, and will certainly stand the test of time.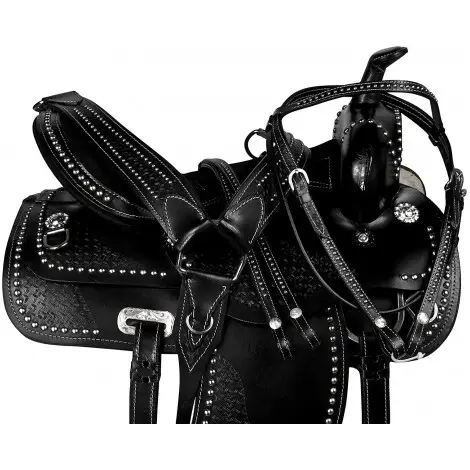 With its glossy premium leather construction and detailed hand-carved tooling, the Black Inlay from AceRugs is a definite showstopper. This beautiful product can definitely be used in a parade but is comfortable enough for trail riding. Each product is constructed from high-quality 100% premium black leather and has plenty of soft fleece padding for extra comfort. With its surprisingly low price, this is a great flash product for any horse lover.
Premium Construction
One of the prime features of the Black Inlay is the sheer thought and effort that goes into constructing each product. Each product is constructed from 100% premium leather that is hand-selected for its quality. Moreover, each saddle is detailed using eye-catching studs and thoughtful hand carved tooling.
Versatile
With its many versatile features, the Black Inlay is much more than just a pretty face. Each saddle has several loops in both the front and the back to attach several accessories, such as saddle bags.
Cost and Value
While the beautifully detailed designed may seem like it would be high-priced, the Black Inlay is still one of the more cost-effective options currently available. Despite this low price, this product is constructed of high-quality materials and plenty of added extra to excite any horse enthusiast.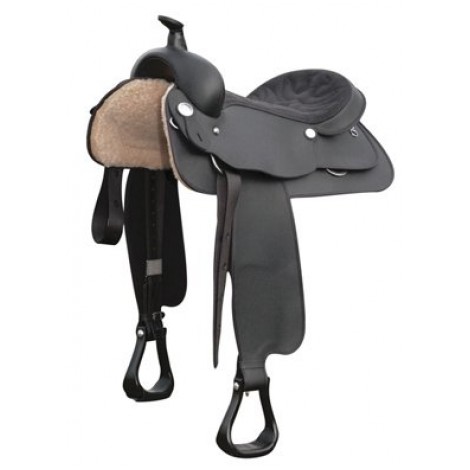 This sleekly designed product from Wintec is a great all-rounder that offers plenty of comfort and durability. The Wintec Full Quarter has been constructed using Dura-leather, a synthetic leather material that is both scratch and weather resistant. This is one of the most low maintenance products on the market that is easy to keep clean. The seat itself is made from polyurethane suede for added comfort and grip.
Low Maintenance
Despite its beautiful sleek design, the Wintec Full Quarter is surprisingly easy to keep looking clean and beautiful for a long time. Thanks to its synthetic leather construction, it simply requires cleaning with soap and water to remain looking beautiful for years to come.
Weather Resistant
This entire seat along with all the included accessories have been optimized to withstand even harsh weather conditions, as well as the buckles and all other parts,d all other parts will perform well in rain and shine without loosing their beautiful shine or texture.
Cost and Value
The Wintec Full Quarter is available in several prices depending on your desired size. However, all prices are considered low to moderately priced compared to similar other products currently available. Moreover, each product has been optimised to be easy to care for and weather-resistant.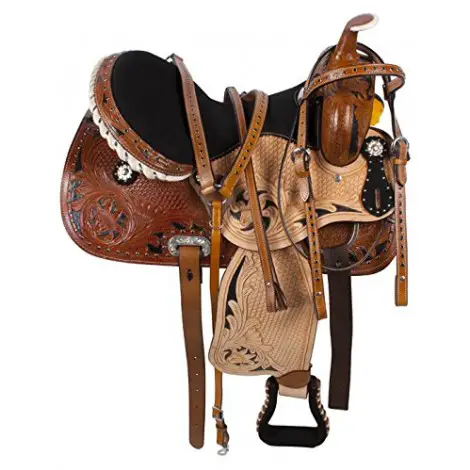 This is the ideal product for anyone who wants to bring some cowboy flair into their everyday riding. The Western Barrel is constructed using a medium oil-colored premium cowhide leather and features a hand-carved floral design throughout. The seat itself is made of black suede with plenty of fleece padding beneath for an ultra-soft ride for both horse and rider.
Beautiful Design
It's hard to talk about the Western Barrel without first mentioning its exceptional design. Like any other product from AceRugs, this product has a very thoughtful and unique design. It's constructed using premium cowhide leather in a medium oil color. In addition, each product features a beautiful hand-carved floral pattern.
Comfortable
The seat itself has been designed to give the rider the most comfortable experience for hours on end. The seat is made from suede and offers plenty of padding for long trail rides. The saddle itself is also padded throughout for plenty of adequate grip and a comfy fit for your horse.
Cost and Value
Like most other products from AceRugs, the Western Barrel is deceptively cost-effective despite its detailed construction and premium materials. The low price and highly comfortable seat makes it ideal for any level of rider and will be a sure favorite among beginners and experts alike.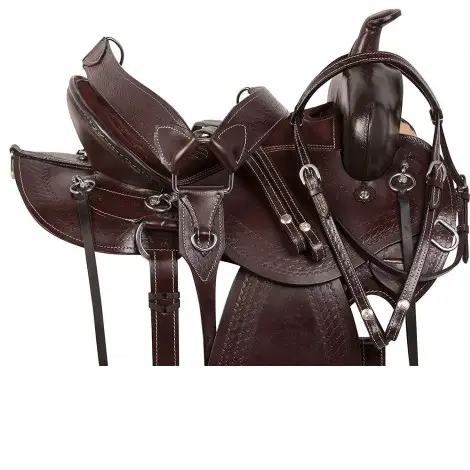 Gaited horse saddles can be a lifesaver with anyone who suffers from a bad back, and this product from AceRugs will ensure your most comfortable ride yet. This Gaited product has been constructed using Cordura material specifically selected for its lightweight feel. The product itself is specifically contoured to allow horses more movement in their shoulders that makes for a more comfortable ride. This is ideal for riders who suffer from back problems or for older horses.
Contoured
The Gaited features a specially contoured design to adhere to all the expectations of this specialized kind of saddle. Its unique contours make it ideal for shorter horses, riders with back problems, and older horses.
Lightweight
When you're riding an older horse or one with known back problems, you want a saddle that offers the most comfortable and lightweight experience. The Gaited is made using ultra-lightweight Cordura material with plenty of fleece padding for a great fit that does not tire them out.
Cost and Value
As far as saddles go, the Gaited is one of the most cost-effective specialized products around. Each purchase includes a free matching pair of reins, headstall, pad, and breast collar. This unbeatable value makes it ideal for novice riders.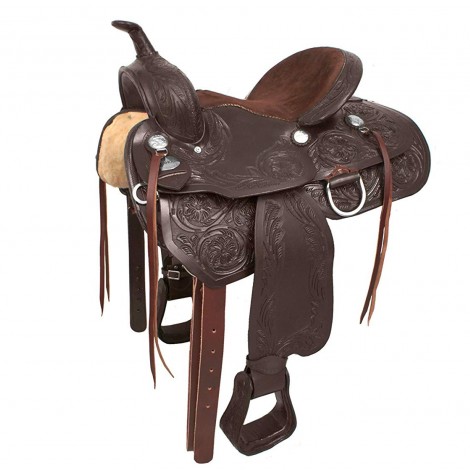 The Red River was designed with the pleasure trail rider in mind. This product features a completely comfortable and practical design to keep riders and their horses going for hours. Each product is made from drum-dyed leather and features a hand-carved floral design. The seat has a suede cover and is highly padded for a soft and durable ride. This product's competitive price, makes it ideal for entry-level enthusiasts.
Quality Leather Construction
The Red River features a unique and thoughtful design that is difficult to beat. Each product is made from premium drum-dyed leather that gives it its deep oil color. Moreover, each product features a hand-carved floral design that is sure to impress on your next trail ride.
Comfortable
Comfort is a key consideration to most pleasure trail rider as they can spend several hours on their horse. This is why the ideal saddle should be a comfortable fit for both the horse and rider. This product features a seat with plenty of padding with an adding suede cover. The underside of the saddle is padded with soft fleece for a comfortable fit for the horse.
Cost and Value
The Red River has variable prices that is dependent on the size. The smaller 15-inch is very modestly priced while the somewhat larger 16-inch has a considerable price increase. However, considering the leather construction, attention to detail, and accessories, this option offers plenty of value for money.

9

. AceRugs Western Pleasure Trail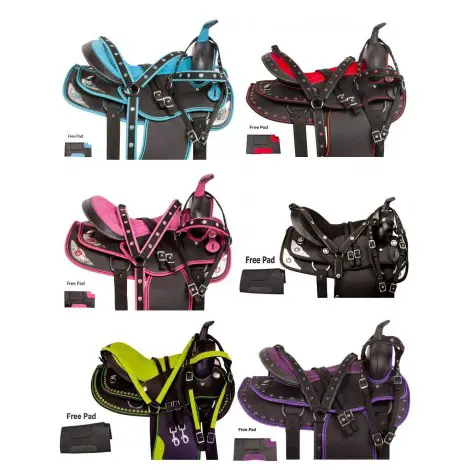 This eye-catching design from established saddle manufacturer, AceRugs, will surely appeal to both horse and rider. This product is available in a wide variety of colors including blue, pink, red, green, purple, and black. Each product is constructed using synthetic Cordura material for its lightweight properties. The Western Pleasure Trail is perhaps one of the most budget-friendly options out there while still being easy to maintain and durable. This is a definite must-buy for any beginner.
Lightweight
Unlike most other products, the Western Pleasure Trail is constructed using lightweight Cordura material. This ensures a soft and comfortable fit for your horse. The lighter material also creates a much less tiring experience for the horse, making them stronger for longer.
Eye-Catching Design
Apart from its practical and lightweight design, the Western Pleasure Trail, is a definite conversation starter when it comes to sheer looks. Each product is available in six different colors. Moreover, each product enjoys premium added embellishments to appease any horseback fashionista.
Cost and Value
One of the most appealing factors when it comes to the Western Pleasure Trail is its very low price. Compared to other similar products, this is one of the most cost-effective options, which makes it ideal for the Western saddle novice or entry-level equestrian enthusiast.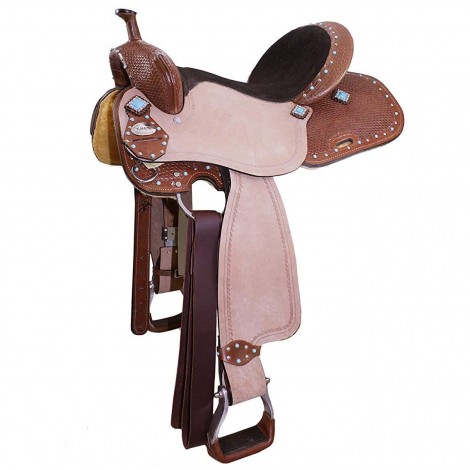 Tahoe Tack's Western Barrel will add some distinctive cowboy flair to any horse and rider. This product is beautifully designed as its made from premium leather. Each product comes with exquisite hand basket tooling and turquoise accents. Equipped with full quarter bars and several other handy accessories, the Western Barrel is suited to a wide variety of different riders. The seat itself offers a comfortable ride throughout as well as a great fit on most horse breeds.
Beautiful Design
One of the key features of the Western Barrel is perhaps its distinctive and eye-catching design. Each product is made from drum dyed leather that gives it its unique deep tones. The skirt and pommel have hand-carved basket tooling throughout and the product is accented by turquoise conchos.
Two-Year Warranty
Most other products do not come with any kind of warranty since these kinds of products are frequently subject to prolonged and harsh frequent use. However, the Western Barrel comes with a two-year limited warranty.
Cost and Value
The Western Barrel is available at various different prices depending on your selected size. The smallest size is available at a lower price, while the larger sizes are more expensive. Regardless of your selected size, each product is made from quality materials and is protected by a two-year warranty.

Subscribe to our Newsletter