Best Riding Boots Reviewed & Rated for Quality
In a Hurry? Editors choice: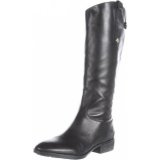 Test Winner: Sam Edelman Penny

When you are
horseback riding
the right gear is vital to ensuring a comfortable, protected ride. That includes headgear, riding
gloves
, and riding boots. The
right footwear
can also protect you in harsher weather and other environmental hazards. A pair of high quality riding boots can also be fashionable and even be worn off of
horseback
. There are plenty of styles and colors to pick from when you're shopping for riding boots so no matter your clothing and your personal tastes there's be something for you. With that dual purpose in mind, we've collected a list of boots that will not only keep you safe and comfortable but fashionable as well.
Standout Picks
Criteria Used for Evaluation
Style
Riding boots normally fall into one of two different categories. One category is the formal riding boot and of course, there are the informal riding boots. As you may have guessed, formal riding boots are intended to be worn in situations where you need to look your best. For example, if you are riding in a horse competition where you and your horse need to look great, then you are going to want to go with formal riding boots in order to improve how you look. You may also want to wear formal riding boots for other events as well such as fox hunting or dressage riding. Since formal riding boots need to look their best, they will generally be sold at a higher price than informal riding boots.
Informal riding boots are worn in all other situations where how you look is not critical. Many people wear these boots for work or casual dress where it is not expected that you have a formal look to your attire. You should not automatically expect informal riding boots to be less expensive than formal riding boots. As a matter of fact, a steel-toed riding boot that is made to be worn around the ranch and protect your feet may be sold at an expensive price. However, many informal riding boots are made out of less expensive materials such as faux leather and have synthetic soles on the feet, which allows the boots to be sold at a lower price than formal riding boots.
Materials
When you are picking out riding boots, you will want to consider what sort of materials are used to make the boots. More expensive riding boots tend to be made of real leather material, while less expensive riding boots are generally made of faux leather. Both materials will have a dramatic impact on how the boots look and feel so you will want to think about what is important to you when you are picking out a pair of riding boots. Synthetic leather, or faux leather, is a man-made material that has been designed to look like leather. It is less expensive to make and has the advantage of being water resistant. This allows you to maintain the boots by simply wiping them clean with a sponge and water. However, synthetic leather does not tend to breath as well as real leather and it can feel stiff.
Natural leather is leather made of animal skin, usually cattle, and almost always costs more than synthetic leather. Thes are a more traditional riding boot and as you wear them for riding, they will tend to feel smooth as they rub against the horse and the saddle which will make them more comfortable to wear. The leather is also more flexible and breathes well so many people find it to be a more comfortable material to wear. The main disadvantage of leather is that it needs to be maintained with regular leather conditioners and treatments. Otherwise, the leather will stain and breakdown which will cause the boots to look bad.
Comfort
Most people will agree that it isn't fun to wear an article of clothing that is not comfortable. For this reason, you will want to make sure that your riding boots are something that you enjoy wearing. Otherwise, you will have spent money on boots that will ultimately collect dust in your closet, which will lead you to be dissatisfied with the boots. When you are trying on a pair of riding boots, you should take the time to see how they feel on your feet and your legs. The toe box should leave enough room for your toes, without there being too much room or too little room. You should also make sure that your foot arches are supported properly and that the heel of the boot is comfortable.
It also matters that the material feels good against your skin as well. Your boots will most likely rub against your body as you wear them, and if they feel as if they are itching or scratching then they aren't going to be something that you will want to wear. The boot should also breathe well so that you do not feel hot and sweaty while you are wearing them. It is also important that they flex well so that you can move around while you are wearing the boots in a comfortable fashion. You should keep in mind that new boots will require time to break in so they will most likely feel stiff at first. However, if they are unbearable while they are new, then you most likely will not like them after they have broken in either.
Fit
How the boots fit on your feet is closely related to the comfort of the boots. There is a good chance that if you do not like how the boots fit while you are wearing them, then you most likely will not find that they are comfortable either. When you are shopping for a pair of riding boots, you will need to make sure that the fit of the boot is proper for your body so that you enjoy wearing the boots. There are a few different areas that you will want to check in terms of how the boots fit.
One of the things that you should check is the calf area of the boot. Since everyone has different length legs and differently sized calves, this can be a difficult area of the boot for designers to get right. Some people have short legs and large calves while other people have long legs and short calves. You will likely need to measure the length and the width of your calves according to the directions provided by the boot's manufacturer to make sure that the calves are the proper length and width. You may not be able to wear the boots when the calf opening is too small and if the calf opening is too large then the boots will fall down on your leg. It is also important that you check the shoe portion of the boots as well for the proper fit. The boots should not be too loose or too tight on your feet.
Durability
The quality of your riding boots is a critical area that will determine how long the boots will last. Some boots are well made and will last for years at a time while other riding boots are poorly made and fall apart quickly. In many cases, you may end up saving money by purchasing a better quality riding boot that lasts for a long time rather than making repeated purchases of low-quality boots that do not hold up. When you are looking at a pair of riding boots, you should take a look at some of the more common points of failure to make sure the boots are well made.
One of the things that you will want to look at is the sole of the boots to make sure it has been attached well. The sole should be firmly glued and fastened to the boot so if it seems loose or overly thin, then you may want to look at a different brand of boots. Stitching is another common area where riding boots fail so you will want to make sure that the boots have been well stitched. Good stitching will be tight and will not have any loose threads. You should also expect the stitching to be even through the entire seam. In other words, the stitching should not veer off to one side of the seam or the other side. If the boot has buckles or straps, you will also want to make sure that the straps are fastened well to the boots. The better job that you do inspecting for quality, the happier that you will be with your boots.
Best Riding Boots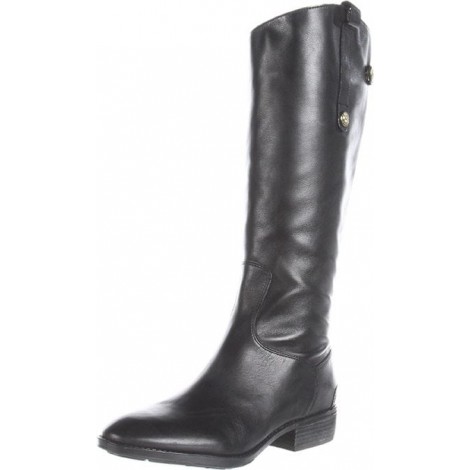 Sam Edelman makes a premium penny riding boot for people who are looking for a high-quality boot that lets them look their best. This is a great boot to wear when you show ride since it is made of real leather that gives it a high quality and classy look. The boot is stitched well and is shaped great for riding.
Leather
Rather than using faux leather, these boots are made from real leather which improves the look of the boots and gives them an even great eye appeal than other brands of riding boots.
Back Zipper
There is a zipper located on the back of the boots which will allow you to take the boots off easily or boot them back on without having too much difficulty.
Cost and Value
You will see these boots sold at a price that is well above the average price for riding boots since it is a designer brand and is made of real leather.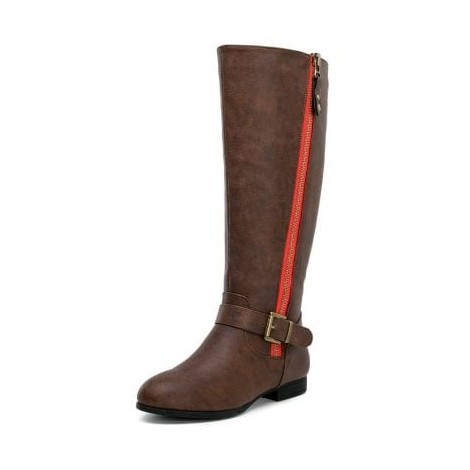 These boots are great for someone who doesn't want to spend a lot but still wants something that looks classy. You can easily wear these boots all day long thanks to the padded footbed that improves the comfort of the boot and the buckle located on the top that keeps them from falling down on your calves.
Wraparound buckle
The boots have a buckle on the top of them that wraps around your entire leg. This will allow you to secure the top of the boots to your leg so that they don't fall down.
Padded Footbed
The footbed on the boot features padding that will help to relieve stress on your feet. This helps to make the boots comfortable to wear all day long which makes them perfect for riding.
Cost and Value
You will find that these boots are sold at a price that is well below the average price for riding boot. The low price makes them into a bargain buy since they are great boots.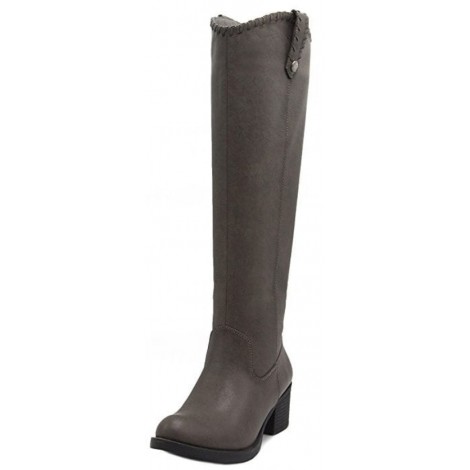 The Rampage Knee High is a great looking riding boot that is perfect for someone who wants a good quality riding boot that isn't too fancy or expensive. It still features everything that you expect from a riding boot in terms of functionality, but you won't have to feel bad if something happens to the boot while you are in the barn or out riding.
2" Block Heel
This boot features a 2" heel that will help to make sure that your feet are positioned securely in the stirrup of the saddle which will lead to your riding safely.
Inside Zipper
There is a zipper that is located on the inside of the boot which you can use to easily take the boot off or put it on your leg without straining.
Cost and Value
The Rampage Knee is sold at a price that is lower than the average price for a horse riding boot which makes it into an excellent value for anyone who is looking for a basic pair of boots.

4

. Bed Stu Manchester Boot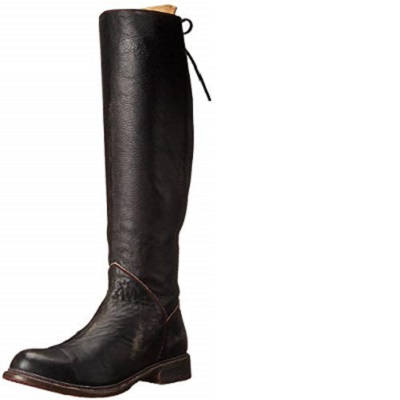 Boots produced by Bed Stu Manchester stand out thanks to a unique design that combines both the classic and the modern styles. They are made of leather which is among the most resistant materials for footwear. Just like the classic boots, these have corset lacing for a better fit, regardless of your leg circumference. The ankle zipper looks great and also makes it easier to put on and take them off.
Corset Lacing
If you usually find it difficult to find a comfortable pair of long boots, these are perfect for you! The corset lacing allows you to broaden or tighten your boots adjust them to fit your legs circumference.
Handmade
They are handmade in Leon, Mexico. Because leather is the main material used for manufacturing this footwear, it's important that it is handled carefully to retain its quality. The handmade footwear is also less likely to break than those made by machines.
Cost and Value
Thanks to the high-quality material the company uses for producing these riding boots, you can be sure that they have a long life span. Also, the fact that they're handmade contributes to their quality!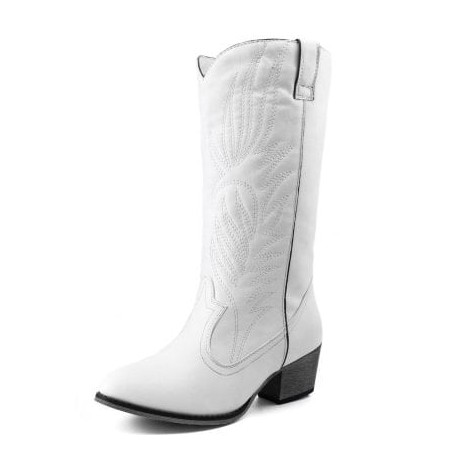 These are the best riding boots to own in the event that you are looking for a true western look. They have a pointed toe that is consistent with cowboy boots and the heel is tall as well. Not only does this show off a western look to the boots, but it also makes them into the perfect choice for when you are riding.
Western Look
The boots have been styled to look like cowboy boots and have features including a large heel, pointed toes, and even a pocket on the boots to give a true western look.
Slip Resistant Sole
The soles of the boots are made of a rubber material that resists slipping and will provide you with plenty of grip on surfaces such as loose gravel, ice, and floors.
Cost and Value
These boots are sold at a price that is lower than the average price for riding boots. The lower price turns them into an excellent value for the money since they are true cowboy boots.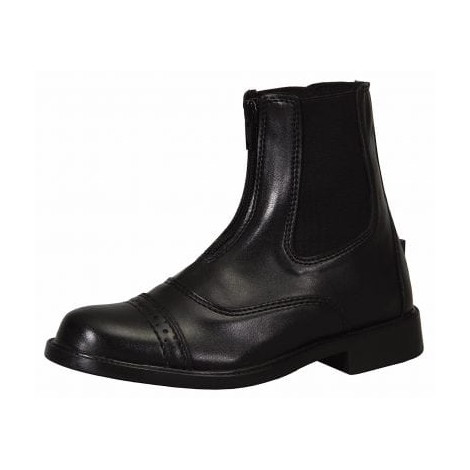 TuffRider makes a pair of riding boots that are perfect for people who are not looking for knee-high boots. These ankle high boots wipe clean and are highly water resistant, which makes them great for when you are riding in wet or damp conditions. The boots feature a high-quality synthetic leather and real rubber outsoles which make them look great and last for a long time.
Ankle High
Rather than being fully knee-high boots, these boots are only ankle high which makes them a great choice for riding boots when you are not looking for something that is knee high.
Water Resistant
The boots are made of a synthetic leather material that is water resistant. This allows you to wipe the boots clean when they are dirty and they will keep your feet dry.
Cost and Value
You will see these boots sold at a price that is average for a pair of riding boots. This allows you to purchase a high-quality riding boot without having to overspend on them.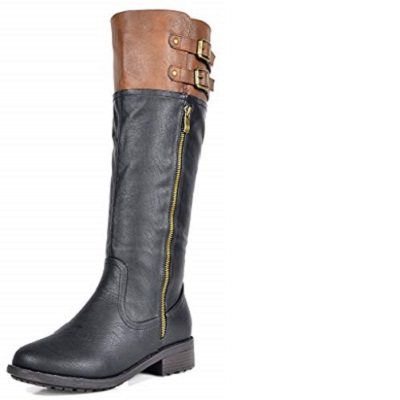 These boots are specially designed for horseback riding and motorcycling. They're perfect even when it's freezing outside because they're over the knee. Therefore, they protect your legs from getting too cold. What's even better, the Dream Pairs Knee High boots have faux fur lining and insoles that provide you with the desired warmth. So, you don't have to give up your passion during the cold season. The outsoles are also ideal for winter activities. Made of rubber TPR, they prevent slipping.
Easy On/Off Design
These boots are designed in a way that allows you to easily put them on and take them off. The opening circumference is large enough and the instep zipper is really practical. If you're in a hurry, putting on your boots won't delay you more than a couple of seconds.
Faux Fur Lining
It is important that your feet are protected from bad weather, with faux fur lining and insoles so your feet will stay warm. It is also very comfortable and doesn't chafe during long rides.
Cost and Value
They come in the lower price range and offer a large variety of colors and sizes from 5.5 M US to 12 M US. To avoid ordering the wrong size, you can take a look at the measurement instructions.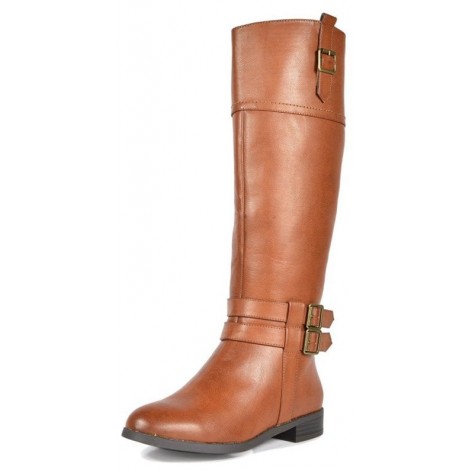 As the name suggests, these riding boots are ideal for people who plan on riding their horse in cold or even winter weather. The outsole is made of rubber which will keep water from snow and ice from leaking into the boot and causing your feet to get wet. The boots are comfortable to wear thanks to the cushioned insole and they look great.
Side Zipper
You won't need to struggle in order to put these boots on or take them off thanks to the zipper that is located on the side of the boot that makes it easy to put the boots on.
Flat Heel
These boots also have a flat heel which will make them comfortable to walk around in them as well as secure your feet into the stirrup of the saddle for a safe ride.
Cost and Value
You will see these boots sold at a price that is slightly lower than the average price for riding boots which makes them into a great purchase when you are looking for high quality riding boots.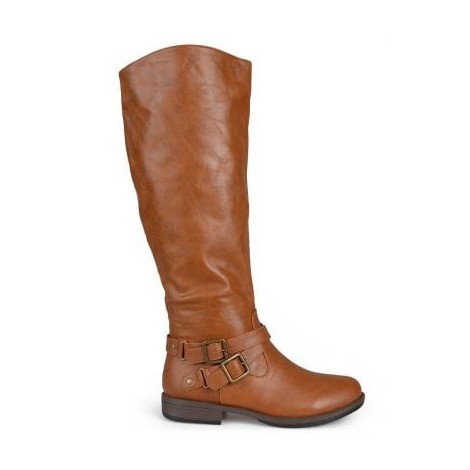 Fashion and style come together in this riding boot by Brinley Co. These boots have a flat look to them with a pair of decorative buckle bands around the ankle of the boots. The soles are synthetic and will give you plenty of grip on the ground as well as in the stirrups of the horse's saddle. All of these features make this into a great choice of boot.
Ankle Buckles
The ankle of the boot features a pair of buckles that you can use to tighten and adjust the boot. This allows the boot to have a snug and firm fit around your feet.
Synthetic Sole
The soles of the feet are fully synthetic and will have plenty of grip on slippery or wet surfaces. This makes the boot great for when you are walking in the barn or in the pasture.
Cost and Value
You will see these boots sold at a price that is average for a pair of riding boots. This makes them into an excellent value since you will not have to overpay for them.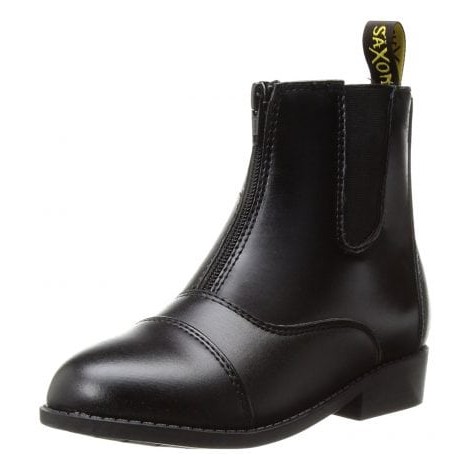 Not all riders want or need a knee-high rider boot which is why these boots by Saxon are a great alternative to large riding boots. They are an ankle high boot that still protects your toes and have a high enough heel to keep you locked into the stirrups of the horse's saddle. They are easy to care for an are wiped clean.
Waterproof
The boots are made of a waterproof material which will keep your feet dry when it rains or when the ground is wet. You can also wash them with soap and water.
Rubber Soles
The soles on the boots are made of rubber so which allow you to grip the ground when you are walking in slippery areas and also help to lock you into the saddle.
Cost and Value
You will see these boots sold at a price that is lower than the average price. This makes them into an excellent value since you can have great riding boots without spending much.

Subscribe to our Newsletter