Best Weight Racks Reviewed & Rated for Quality
In a Hurry? Editors choice: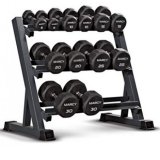 Test Winner: Marcy

Outside the weight bench, the weigh rack is an
essential addition to a home gym
that you need in order to help you achieve your fitness goals. As you get a complete workout and muscle build, you need organized storage for your dumbbells. These weight organizers allow you to store your weights safely and an investment in one will last you a lifetime. A weight rack offers perfect storage for several gym pieces of equipment like
dumbbells, or weight plates
. It also helps to streamline your routine workouts such as squats, deadlift and bench press since you can easily reach for your equipment. As you search for one, you might be wondering which rack is best for you. In this guide, you will learn the types of racks available on the market and what to look for when shopping for one.
Standout Picks
Criteria Used for Evaluation
Capacity
For any gym to be organized, there is a need for a storage unit for the dumbbells and other weight lifting equipment to reduce the clutter in the gym or workout room. The gym, whether commercial or home gym will appear disorganized if training equipment is scattered all the floor, on the benches or the changing rooms. These are likely to cause injuries should you trample on them. A weight stand or rack is the perfect solution, and while shopping for one, it is essential to pick one that is of ideal capacity to accommodate your dumbbells.
Weight lifting equipment is heavy and requires a storage unit that can hold the weights without sagging or caving in due to excess or unbearable weight. You need a sturdy structure since a weak one can lead to accidents should the weights fall on your legs as you load or unload.
Durability
The best rack to hold your racks is one which will last for days to come. Racks made of solid steel construction are more durable and will withstand dumbbells of different weights. Given the fact that a weight stand is an equipment that is meant to hold heavy equipment, its quality really matters.
Ensure all the edges where there are metal joints are finely finished and smooth so that metal pieces do not stick out and prick your fingers while you dust or remove the dumbbells from the rails or bars. The surface area should be painted adequately with high-quality paint. Poor painting can result in quick deterioration of the rack as a result of rusting. Several coats of paints would be necessary to give it a beautiful appearance. Where bolts are used to join the metals, ensure the bolts, nuts, and washers are durable and long-lasting. They should fit neatly without sticking out of the metals.
Value
Most often, weight stands are made by manufacturers of gym equipment. Therefore, it is highly likely that, it will be your first stop as you embark on searching for one. You might discover that most of these companies usually have offers where they sell you the rack and weights at a reduced cost. It may be a wise decision to jump into the offer, however, if already you have dumbbells lying all over your workout space, then the last thing you need is more dumbbells. In this case, shop around for a stand that is high quality and that which is a 100% money back guarantee. There are individual stands out there which are overpriced, depending on your budget limitations, you can go for one that is within your budget, but that which is of high quality, serve your needs perfectly and last long.
Stability
The stability of any structure will depend on its design. A weight stand is meant to hold a lot of weight and to make it stable; it must have a solid steel construction. A pyramid design where the base area is larger as compared to the top is the best design since it ensures the rack stands firmly and rests on the floor without wobbling. If the framework has a poor design, it will be difficult to offload weights on the lower shelves which can cause it to lose balance and fall and might cause you injuries. A wide base ensures weight is evenly distributed throughout the structure. The more sturdy or heavier the stand, the strong and more stable it is and can hold more weight without caving in or sagging.
Size
Before purchasing your weight stand for your dumbbells and other weights, it is essential to consider the size of your home gym and if you have other users in your home. Take note of the number of loads you need to store. Space is essential as it will give you a clue on the perfect size of the weight stand. Refrain from buying small racks that may not be sufficient to hold all your equipment. Ensure the size you pick will fit in your workspace without interfering with other activities or cluttering your home.
10 Best Weight Racks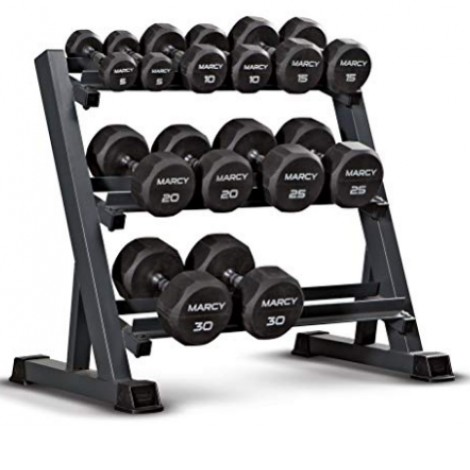 Imagine your dumbbells, kettlebells or weight plates neatly stacked somewhere accessible. You need equipment to keep your weights organized, and our top pick is the Marcy storage rack. This great option is a versatile piece of gym equipment with three trays for storing your free weights and just what you need to store your loads safely at all times. The package is neatly done, and the set of instructions are pretty clear and easy to understand; therefore, it is easy to assemble and will take you less time to set it up.
Sturdiness
It is built to last and from heavy steel construction to withstand different loads from steel to cast iron without risk of damage. It also has a powder coated finish, and the matte surface is durable and resists any scrapes or scratches; thus it stays looking as new. The feet have bits of rubber to protect the rack from scratching your floors. They also ensure the frame is stable and does not slide when you add more weights.
Space Saver
It is a three-tier structure with an angled design to accommodate all types of weights. This rack has a compact design that saves on space thus keeping your workout space looking organized without much clutter. You can, therefore, keep it at any place for easy accessibility. It has a welded construction that ensures safety and the angle frame allows you to access your weights easily.
Cost and value
If you intend to equip your home gym, this is the perfect investment that will keep your weights organized for easy access without cluttering your workout space. It is reasonably priced and will fit multiple sizes of loads. It is a good buy worth the price.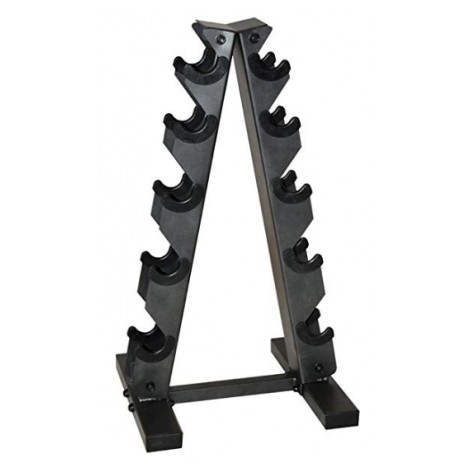 If you are looking for a piece of equipment to hold all your dumbbells and other loads, the CAP will do it perfectly. It is designed to accommodate up to five pairs of dumbbells weighing between 5 and 25 pounds. You can mix and match your weights to fit in this structure for up to 35 pounds. It measures 14. 4" L x 13" W x 26" H; and weighs 10.5 pounds which is the best capacity for any dumbbells of different sizes. It is easy to assemble and will take less time.
Solid construction
The makers of this equipment have been in the business of supplying quality gym equipment for many years. Therefore you have a guarantee that your product is tested for quality and performance and will last for many years. The CAP Barbell is made of sturdy steel construction and has a high-quality coating. It is built like a tank and can hold loads of up to 200 pounds.
Perfect size
If you are a committed bodybuilder, then you may have different types of loads for a full workout session. You need ideal storage to keep your loads safe and well organized for easy reach and flexibility. This holder has an A-frame design and stylishly stores your dumbbells in a vertical or A-shaped fashion that allows for easy access and storage of your loads. It saves you on the floor space and offers you much flexibility since you can easily move it and accessing your weights is quite easy,
Cost and value
If you have a home gym, you may find it difficult to make a choice due to many weight storage holders on display. However, the CAP is an excellent and sufficient weight holder that is high quality and meant to last. It costs you less as compared to other stands and will give you value for your money.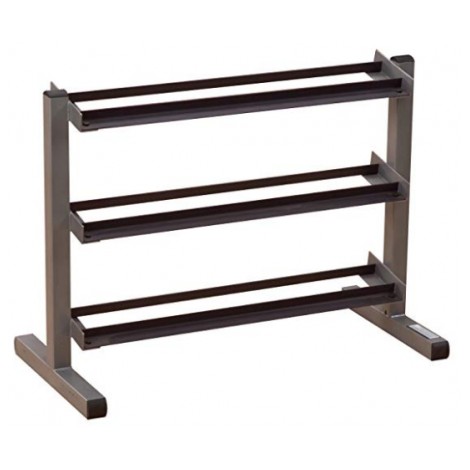 Weight stands are for people who lift weights at home and would like perfect storage to keep everything organized. If you need to put together your collection of weights or have an assortment of dumbbells that is slowly getting out of hand, a weight holder will help you keep everything well organized for ease of reach. This product is a weight storage structure with three tiers measuring 40"Lx20" Wx30"H and weighs 44 pounds.
Sleek design
The Body Solid has a horizontal design that uses limited floor space and can be placed anywhere in the room without cluttering your working area. It can hold up to nine pairs of dumbbells from 5 to 50 pounds that allow you to store your weights safely in a single compact frame. It is the perfect solution for reducing too much clutter especially if you have limited space in your home.
Sturdiness
You will be impressed by the construction of the Body Solid. It is made of heavy gauge solid steel with four all the four sides perfectly welded to guarantee safety and stability. The frame is sturdy with plenty of space for your dumbbells; you can even customize it to store your loads to your preference.
Cost and value
Some alternative brands cost more as compared to this weight stand. However, it will hold up pretty well and will offer the perfect storage for your dumbbells. I highly recommend this product since it's solid as a rock and has a perfect coating that makes it look as good as new. It a good buy and will serve you well.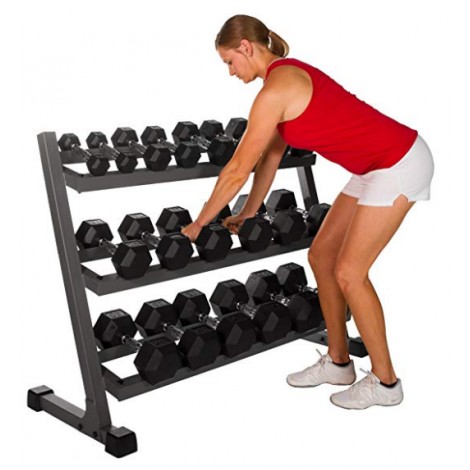 XMark Fitness presents to you a weight frame with a sufficient length for storing sets of different sizes. The shelves are tilted to ensure easy stocking and unloading of your weights. The shelves lips have a dimension of 1 3/4 inches for holding even large dumbbells. There is so much space between the dumbbells that ensures everything is not squeezed in a little space. The feet are fitted with rubber that protects your floor from scratching or scrapping and provides for stability of the rack to ensure it doesn't move.
Steady solid
It is made of heavy duty solid steel construction that can accommodate weights of up to 550lb. This storage cage is stable, stylish and a perfect addition to your home gym. You will love the high-quality material used in construction and the angle shelves that allow for easy access. It has an excellent coating that is scratch resistant and will hold up pretty well for months to come. You will be extremely happy with the sturdiness and the functionality.
Saves on space
If you have space issues, the XMark Fitness has a sleek slanting design and is a three-tier storage rack that saves on floor space. The extended frames ensure you organize your loads neatly without adding more clutter to your gym. You can easily reach and restock your stand effortlessly.
Cost and value
If you are looking to expand your home gym, the XMark Fitness is a nice rack which is heavy duty and high quality. It may cost you a little more when you buy with the set of dumbbells. However, it is the best value for your money, quite economical and will hold lots of loads.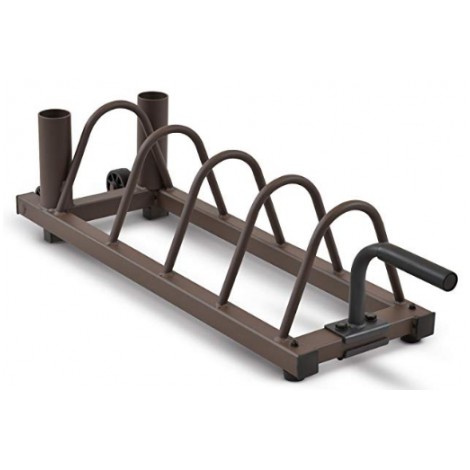 Are your weights scattered everywhere in your home gym area and you are having trouble finding a specific place to store them? The Steelbody weight holder will be a perfect selection. It will neatly organize your bumper plate weights neatly and bring some sanity to your workout area. It has a low profile frame that makes it easy to arrange your plates and unload too. We choose this rack due to the transport wheels that make it easier to move without scrapping your floor. You can, therefore, move it around your home gym with ease thus eliminating the need for additional lifting.
Versatility
This piece of equipment is quite versatile to hold different types of weight plates; these are Olympic sized and two Olympic lifting rods thus giving you the flexibility of switching plates easily. It is pre-assembled except the handle which makes it easy to set it up. It is also operational without the handle, however, it is still necessary when you want to move it around.
Sturdy construction
It is made of solid steel construction, elegantly coated, is high quality and durable meant to last. It has a steel frame with a maximum capacity of 300 pounds that is built to withstand the weight of the plate.
Cost and value
Complete your home gym and give it a professional look with this organizer that is sturdy and durable. It has a simple design that holds your bars and bumper plates perfectly and is a good bargain for the price. Overall, it is a good product that will give you value for money.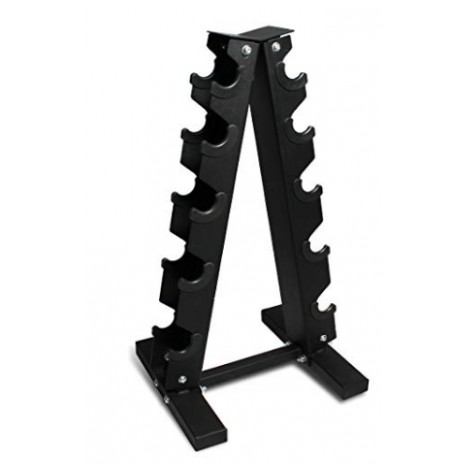 If you have accumulated an assortment of dumbbells over the years, you need a stand to keep everything in place. The fitness republic can accommodate stackable weights, rubber dumbbells, and vinyl dumbbells. It is quite mobile and easy to transport and is made of steady steel construction. It is a five or three holder rack with a capacity of 120 pounds and 200 pounds respectively. It has some rubber cover that prevents damage to your dumbbells and assembly is easy; it requires you to follow some set of instructions for a more solid frame.
Space Saver
Has a sleek vertical design made for indoor use and occupies less space in your home gym. It is an elegant piece of equipment, and you can place it anywhere in the room. An added advantage is the ample space between the racks that ensure easy handling, and also you can easily organize your dumbbells.
Maximum stability
It is made from solid steel construction built to last and offers solid support for your dumbbells. It has galvanized steels that ensure it does not corrode and also eliminates the possibility of oil accumulating on the surface. The bolts and the nuts are made of stainless steel for durability and have a wide flat base that guarantees maximum stability.
Cost and value
The Fitness Republic weight organizer is a super deal that is worth every penny. It is a piece of sturdy gym equipment that is also high quality and neatly organizes your workout area yet relatively affordable. It is a good buy that will give you value for your money.



Equip your home gym with Day 1 Fitness weight stand to support any load and offer perfect storage for your weights while taking up less space. It is sturdy and can accommodate multiple size two inches plates with a capacity of 500lbs. It has an elegant triangular design.
Easy to use
The Day 1 Fitness is quite easy to place or offload your weights on the branches and thus presents an easy way of organizing your loads and storing them safely when not in use. It has multiple tiers for storage for different sizes of plates thus ensures you store them conveniently and securely while saving on time when picking one for your workout.
Durable
The Day 1 Fitness is made from solid steel construction and has a powder coated framework which is resistant to scratches, scrapes, and stains or discolors. It has a perfect black finish with rounded pegs for professional aesthetics.
Cost and value
This great storage rack comes well packaged and will take you less time to assemble. It is quite stable on multiple surfaces and supports all weights perfectly well on the branches. It is a good buy which will get the job done.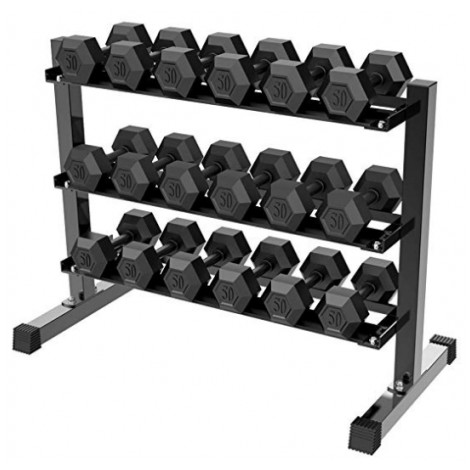 If you are a shopper of gym equipment, then you must be aware of the fact that Yaheetech is one of the best suppliers of quality products and have gained trust among millions of consumers worldwide. They will not disappoint when it comes to weight stands. The stand is a compact storage frame that will hold a good number of dumbbells. It is a three-tier design which is easy to assemble, and the package includes all the hardware necessary for easy setup. The instructions are quite clear.
Durability
The Yaheetech is three-level storage equipment for your dumbbells and is high-quality solid construction. It is a 1.6mm/0.06 heavy painted metal plate and can support the weight of up to 441lb. The sturdy frame ensures durability and is stable enough to store your weights in a neat and more organized manner.
Unique features
The three-level design allows for easy storage and organization of your dumbbells which gives you the flexibility of storing weights of different capacities and sizes. It is unique in that each holder has a foam pad that is necessary to reduce friction between the weights and the holder. This protects your dumbbells from damage, and the surface also stays in good condition. It also reduces noises as you load or unload your weights.
Cost and value
It will cost you more to have this magnificent addition to your home gym. However, it is made of solid construction and high quality and will hold your dumbbells neatly and organized while saving you on space.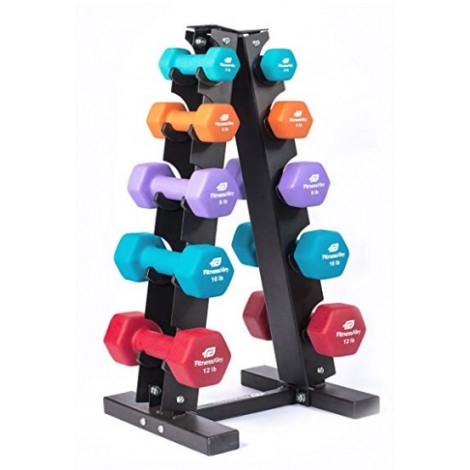 If you are looking for a piece of equipment to keep your dumbbells organized and neat, then the Fitness Alley will be an ideal choice. It is a highly functional stand for storing your stackable weights such as neoprene, rubber and vinyl dumbbells safely and securely. It is available in two sizes. The three tiers can hold up to 120 pounds while the five-tier can hold up to 200 pounds.
Portable
It has a sleek A-shape design that makes it easy to move around and which occupies less space in your gym. It is elegant and will compliment your gym décor, and is extremely easy to load and offload dumbbells.
Solid construction
I would highly recommend this product since it is durably made from high-quality material meant to last for many years. It is made of sold steel that is perfectly balanced to hold dumbbells of different capacities.
Cost and value
The Fitness alley is a beautiful rack to have in your home gym. However, it is quite expensive as compared to other weight stands. It is stylish, sturdy and a 100% money back guarantee. It is a good purchase worth every cent.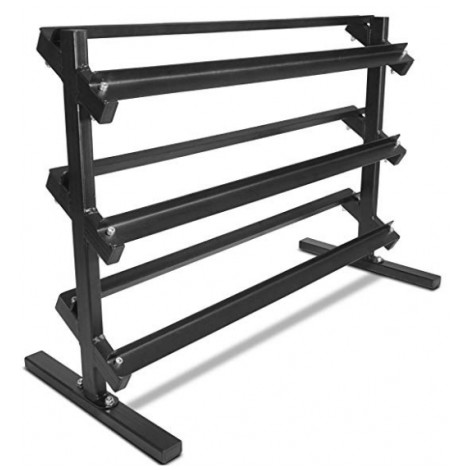 If you are looking for a weight stand for your home gym, chances are you want the best product that will last for many years. The Titan Fitness is the perfect solution to keep your dumbbells well organized. It is high quality and offers smart storage that perfectly fits into your home gym and can support dumbbells of various sizes. It is a four-tier storage rack with a capacity to hold up to 800 pounds, and every tier can fit four standard dumbbells.
Convenience
There are many ways to get your weights off the floor, and this rack is one of them. It is easy to set up and a perfect way to organize your dumbbells in a systematic and orderly manner. It has a vertical design that allows for easier loading and offloading of dumbbells and also uses less floor space.
Sturdy frame
With a heavy duty framework, the Titan is made to last and can withstand the weight of the dumbbells and still maintain its stability and power. It is a solid structure made of sturdy steel construction and coated with a durable powder finish.
Cost and value
The Titan Fitness is cheaper than most storage racks, yet it can accommodate a significant number of dumbbells and is a high-quality structure. It has a lot to offer in terms of convenience and is a 100% money back guarantee.

Subscribe to our Newsletter