Best Weightlifting Shoes Reviewed & Rated for Quality
In a Hurry? Editors choice: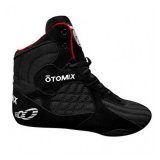 Test Winner: Otomix Stingray Escape

The most important piece of gear that a weightlifter can purchase and wear is for their feet. At first glance, weightlifting shoes look like relatively
flat-footed sneakers
, but there is a whole lot of purposeful design in there. The main source of greatness in the weightlifting shoe is the ankle height, which lifts, and supports the athlete, keeping them in ideal stance for large-scale weightlifting. Here, we're going to go through some of the best weightlifting shoes available on the market today, from some of the biggest athletic brands around.
Standout Picks
Criteria Used for Evaluation
Support
As we mentioned in the opening of this guide, there's a lot of pressure on the athlete during something as strenuous as weightlifting, no matter the level of competition or hobby. And one of the most important parts of their gearbag is their weightlifting shoes.
The support we are looking for in a really great weightlifting shoe starts and ends with heel. There is a very important role for the ankle walls, but the real deal for those judging these kinds of shoes is and always will be in the ankle raise.
The official reason for the raised ankle surface in a proper weightlifting shoe is that it keeps the wearer at the exact right angle for the most effective posture. This adds to the wearers ability to lift more weight than in another shoe or barefoot. Instead of forcing the athlete to keep that posture and position by lifting their heel off the ground, putting all of the weight on the balls of their feet, they can have their entire foot connected to a surface, keeping a lot of the strain off singular portions of the body.
When vetting options for the weightlifter in your life, or for yourself, the first and most important thing to ever look at is the support. Now, this is made very easy by the plain stance that if something is listed as a weightlifting shoe, and has a decently recognizable brand name on the side of it, chances are you're going to get the support you need.
Durability
As with any kind of product, and more importantly, pretty high up the list for sporting and athletic gear, is the durability of the product. Luckily for us, and for you, plenty of extremely popular and prolific sporting brands have offerings in this market, removing a lot of the question as to whether or not most of these products will hold up to some of the pressures of athletic leisure.
A lot of the durability concerns can be dissolved simply by looking at those previously mentioned brand names, and beyond that, taking a trip down the materials line in the product descriptions, or, taking a dive through the reviews near the basement of the product page.
There are a lot of things that could make or break the quality of a good athletic shoe. Keep your eyes peeled for things like mesh in as many places as possible, for breathability, and synthetic leather construction. These things, when paired, make for a comfortable wear during long workouts or competitions, all while remaining strong and sturdy in construction.
Just as we did, one should always ensure that the products they look at are made out of durable materials. This is multiplied in importance when you begin shopping for gear that you will use during athletic activities. Prioritize durability and you will not be let down as you hit the weight racks.
Value
A tricky thing with purchasing shoes online is that most avenues of ordering are through footwear dealers, and not first hand. This all means that the vetting and shopping experience gets a little foggy, especially when the price comes into the picture.
Plenty of markets have a mandated suggested retail price, but there isn't a whole lot of that game in the order and reselling of footwear on the internet. Companies like Adidas and Nike don't really care how much retailers are selling their products for, as long as they get the upfront costs of the shoe from a manufacturing and distribution standpoint.
The real window for devising the worth and value of some great weightlifting shoes is comparing the overhead price with the brand and quality. There's a fine line in this town. You really want to balance the weight of the price tag with your budget, because weightlifting shoes, like almost all marketplaces, deserve to have a little bit of your hard earned cash thrown at it. You will thank yourself for the investment, because the cheap end of this market is a slippery, and potentially dangerous slope.
Fit
There's not a whole lot of details that we need to go over in terms of why or how the fit of a product in the footwear department could be important to the vetting process. You should always wear shoes with a snug, but wiggly fit, and that's no different -- in fact maybe even more important -- when those shoes are specifically designed to assist athletes during a certain type of activity.
Size
The same goes for sizing really. There's a whole lot of advice and response from athletes, and professional physiologists that suggest one should always wear the proper size and fit of shoe when doing anything, let alone athletics. Sizes for all of the products we've listed above come in "standard" US shoe sizes. Though, depending on where you are, you might need to take a quick look at THIS shoe size chart.
10 Best Weightlifting Shoes
1

. adidas Men's Powerlift.3.1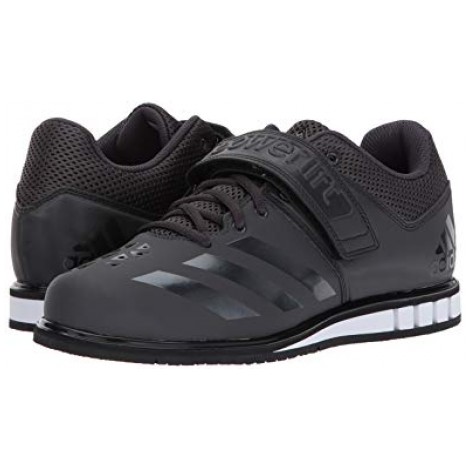 Adidas is a company that has been around for decades, and continues to make strides in both leisure athletic wear, and professional wear and equipment. Cross-training, weightlifting, and other workout gear is a particular specialty in the Adidas company mindset, and has been their bread and butter since the turn of this century. The Powerlift 3.1 Trainer is the pinnacle of their modern footwear market.
Open Forefoot
No, this doesn't mean that the Adidas Men's Powerlift 3.1 Cross Trainer is an "open toe" shoe, because that is highly impractical, and a little bit more than dangerous for our tastes. Rather, the open forefoot design releases tension on the forward portion of the foot, making this particular shoe more comfortable for general movement.
Synthetic Leather
There are many reasons that synthetic leather is a top tier choice as far as training and athletic shoes are concerned. The materials used provide a worthwhile support and strength that leather has been known for over the years, all while not requiring any actual leather. This means that no animals have to be harmed, and that the owner doesn't have to care for them in the same painstaking way authentic leather requires.
Cost and Value
With the fluctuation of the footwear industry and the complications that this market, mixed with the complexity of the online shopping universe provides, it's a bit of a gamble whether or not you get a decent price on shoes. Depending on distributor and deal, there should be more than enough value in the Adidas Men's Powerlift 3.1 Cross Trainer.

2

. Otomix Stingray Escape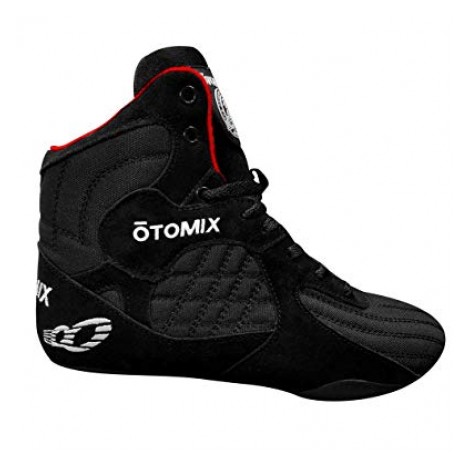 Some might take one look at the Otomix Stingray Escape boot and dismiss it as an "in the ring" king of boot, but it has a lot more going for it than that. After all, why would we put it on this list if there wasn't a good reason? With ample weight support, ankle guarding, and a pretty awesome strength, the Otomix Stingray is a flawless all-round fitness shoe.
Thin Soles
There are two really great reasons to wear shoes with a thin sole. One of them is if you're a skateboarder, while the other is if you're a fitness fan or a boxer/MMA martial artist. The thinning of the sole provides the wearer with a more compacted feel for the ground, oftentimes giving the illusion one isn't wearing a shoe at all.
Ankle Safe
Imaging flailing your body around during any sort of athletic or training exercise, and having the knowledge and trust that one of the most important joints on your entire body is completely safe? Well, the Otomix Stingray Escape boot does just that. With a high ankle wall, and extreme levels of padding, armor, and support, there's not a lot of room for injury in these.
Cost and Value
Coming at this shoe game from the angle of hitting strides in multiple fields, and doing all of them so well that we would put it on the podium, is going to come with an above average price tag. But as this is an above average boot, there is no reason to hesitate from putting this lifting shoe on your vetting list, or just straight into your cart.

3

. Reebok Men's Lifter Pr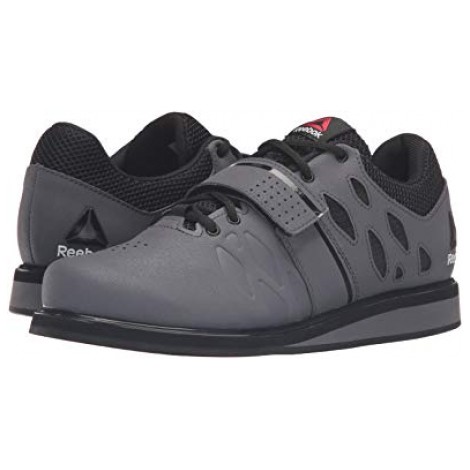 The other king of the fitness castle, standing right next to the likes of Adidas and Nike, is Reebok. Sure they may have slipped below extreme relevancy in almost every other market, but their fitness and athletic wear is still top tier, and should be part of any conversation regarding the acquiring of such clothing or equipment.
U-Form
Much like the ice skate market, these amazing Reebok lifting shoes have U-Form heat-activated insoles which allow the owner to basically mold the shoe to their foot, and their foot only, providing one of the best fits you'll ever had in a shoe. It's easy to do, and most shops will even do it for you if you take them in.
Double Locks
Reebok really didn't beat around any bushes when it came to designing and manufacturing these lifting shoes to truly lock your feet in. Not only do they have an interior that can be heat-molded to your exact foot, but they've added two extra snap locks to keep the shoe from slipping even just a little bit over your foot. Locked in, means weights up.
Cost and Value
One potential benefit from Reebok slipping from a top the athletic market is that you're not going to pay "big boy prices" for anything that comes with a Reebok logo adorned to the side or front of it, regardless of how epic these lifting shoes are. They might just be the greatest value on this entire list.

4

. Reebok CROSSFIT Nano 8.0 Flexweave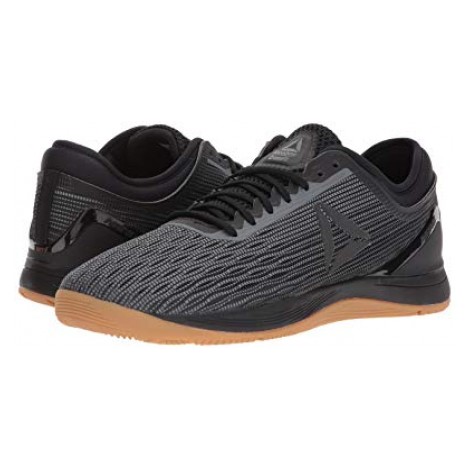 We're not often keen to go off the mark for so many entries in a guide, but the addition of the crossfit trend in athletic training, mixed with the quality of crossfit shoes developed by the world's biggest and best brands, just makes the window for lifting shoes even wider. These Reebok Crossfit Nano 8.0 Shoes are one of those amazingly made, not weightlifting specific shoes that will more than accomplish the goal at hand.
Toe Tection
We're not sure if this is a play on words, or if Reebok is just inventing stuff. But Toe Tection, by their definition, sounds like a winner. It's the advancement and structural durability improvement of the front of this shoe, designed to withstand intense workouts. As someone whose crossfit shoes just came apart at the toe, this means a whole lot.
Secure
Thanks to their independently designed, heel locking structural form on the back of the shoe, these Reebok Crossfit Nano shoes do one of the best jobs at keeping your foundation solid, and your ankle protected from all twists, or bangs.
Cost and Value
They may be one of the most premium shoes on our list, but removing this product from the singularly-focused design of weightlifting means that they can be worn and adapted for use during all sorts of athletic endeavors, spreading out the cost amongst many activities. That value cannot be beat.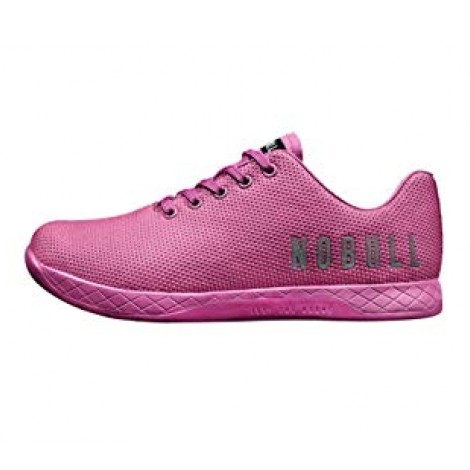 Every so often, a small brand will peek beyond the clouds and reveal an amazing product that puts a lot of their large-branded competitors to shame. NOBULL might prove to be one of those, in the next few years. For now, they have an astounding line-up of crossfit training shoes that would make a perfect addition to anyone's gym bag.
Traction!
NOBULL, being that of an aspiring crossfit trainer in need of something better than that which the market currently provided them, designed the tread of their Training Shoe to work amazingly in both indoor and outdoor environments. They even claim to have perfected the transition between the two, making the NOBULL Training Shoe one of the most versatile trainers on the market.
SuperFabric
Who knows what it's actually made out of, but NOBULL says it's "SuperFabric". This fabric is apprasion proof, flexible, hyper breathable, and still somehow structurally supportive. One of the best parts is that it is a single piece of fabric across the entire top portion of the shoe, making for zero chance that your shoe will have any harmful or painful seams.
Cost and Value
At just below average price for the top tier brands, these NOBULL (oh man, we get it now, it's like no BS, but also it sounds like Noble… touche) cross trainers might be the greatest undercutting performances in all of athletic equipment history. They are premium, unique, supportive and strong. All for a few bucks lower than their main competition.

6

. Inov-8 Men's Fastlift 325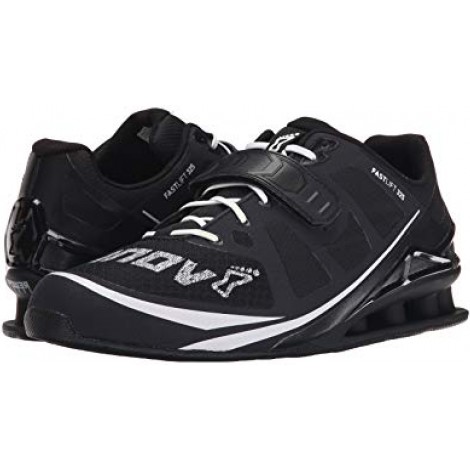 You know we had to reach for something that very few people had heard about, even this high up the list. And when you realize that the brand name is just a play on the word "innovate", you'll appreciate the effort put into this shoe as much as we do. Though Inov-8 isn't a widely popular workout brand, their Fastlift 325 Cross-Trainer Shoe might be something to write home about.
Mesh Meta-Flex
One of the nice things about being on the budget end of a product market, is that you're expected to skimp out on the premium materials. This comes in the distinct lack of anything resembling leather. The mesh exterior of the Inov-8 Fastlift 325 means a more flexible shoe, making it far easier to go from lifting to other athletic activities without having to change up your footwear.
Caged Heel
With their mesh tops, rubber soles, Inov-8 brought the normal structural support for the ankle outside the house. You can clearly see in the product descriptions the intricate and powerful ankle cage on the exterior of the shoe, providing a strong and durable support system for your ankle during lifts.
Cost and Value
A nearly budget shoe, with the aptitude of some of the most recognizable brands doesn't come around very often. Especially not in this market. Which all sums up to the Inov-8 Fastlift 325 Cross-Trainer Shoe one of the highest values on the entire product market today. It's a must try from us at GearHunt.

7

. LiftKits Shoe Lift Inserts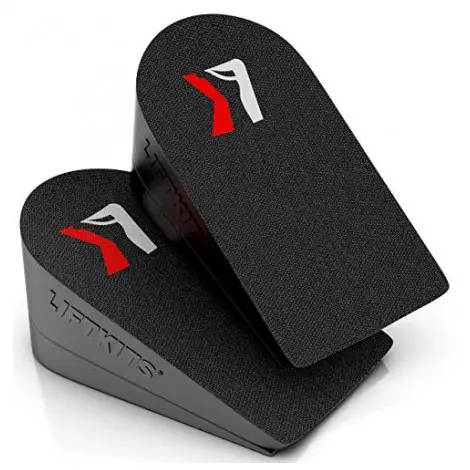 There are always going to be ways around spending the recommended price for an update in equipment. And while we don't necessarily recommend taking that road when it comes to matters of athletic gear, there is an undeniable draw to finding a way around spending a few hundred dollars on new shoes specifically for the act of lifting. That's where LiftKits comes in.
The Angle
One of the biggest reasons to ever shop for weightlifting shoes is the introduction of the proper lifting position and angle. When an athlete lifts, they put brute force down into their ankles, leaning back, but the weightlifting shoe corrects that, making the subject upright when lifting. Throwing in a liftkit into your normal workout shoe, can do just that without the need to change your shoe at all.
One Size For All
Another pro in the liftkit world is that you don't have to worry about the sizing of another shoe. Shopping for footwear can already be a big enough hassle, what with the industries absolute inability to make standard sizes actual fit the same across all brands. The liftkit can fit inside any shoe, making it a one stop shop for your ankle height gain needs.
Cost and Value
Rather than paying a few hundred dollars for specific shoes that do the trick while you attempt to lift a ton of weight off the ground, you could get started in your training with only the same amount of money you'd need to buy a meal for two at a fast food restaurant. We do advise, however, that anyone taking weightlifting seriously avoid these. Get the real deal.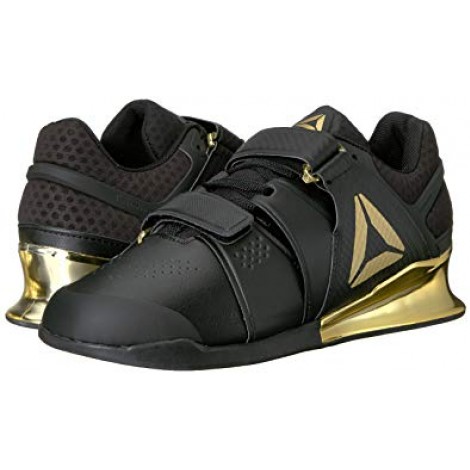 There aren't a lot of lists that Reebok can prove that it belongs on, let alone twice. Recent history suggest a fall from grace for the athletic brand, but their lifting shoes are hard to beat. The Reebok Men's Legacy Lifter Cross Trainer shoe is one of the products that almost every professional or amatuer lifter will suggest. It's often spoken of as the best currently available. But we like to think we did more digging than other. Regardless, it deserves a high pole placing on our list.
Double Lock
Most lifting shoes will come with a single strap, on the top. This provides the wearer with a stronger "locked-in" feel whilst wearing it, and gives the athlete more structure as they go about doing something physically straining on the foot. Reebok has doubled that action on the Legacy Lifter, giving it two straps. One (the one almost everyone has) connected to the ankle support. While the other locks and support around the arch of the foot.
Middle Sole Shaft
If you look at the bottom of the Legacy Lifter, you'll notice the icon and marker in the middle of the heel on the boot. This indicates that the power-shaft for support and control leads to the middle of the heel, giving its wearer an even more prolific grounded feel while doing any sort of lifting exercise.
Cost and Value
Being one of the most recognizable brands in this market, as well as one of the most favored lifting shoes on earth, you shouldn't be surprised by the price tag on the Legacy Lifter. With that price you get one of the most prolific lifting shoes ever made, and a long-lasting one at that. Thanks to the synthetic leathers, the structural support, and the premium materials, the Reebok Legacy Lifter should outlast almost any opponent.



Every once in a while, a company that is well known for designing and manufacturing external elements to an activity takes a dive into the pool of the mainstay. That's exactly what Nordic has done with the Lifting Powerlifting Shoe titled MEGIN. This company has made a name for themselves by developing waist belts, kneepads, and so much more for the athletic and weightlifters life, so it just makes sense that they would dip into shoes as well.
Open Forefoot
Fore score and seven feet ago, we spoke about the dynamic difference that an open forefront can make on the lifting life, both during and between workouts. The MEGIN from Nordic Lifting is one of those shoes that takes premium comfort, and superb structure in mind, so of course they would ensure an open forefront in their lifting shoe.
Perfect Lift
With a heavy emphasis on being a premium shoe for lifters, the MEGIN by Nordic Lifting is one of those meticulously developed products that doesn't quite reflect the price average of the market. They know what they're doing. With that, they've perfectly planned the 1.4" heel raise to best support the weight and strain of a lift. It promotes the correct lifting posture.
Cost and Value
A piece of gear that so closely resembles the ideal product of its market, all while being backed by a company known for their prowess in said industry, but remarkably lists at below market average price? That's a steal if ever we've seen one.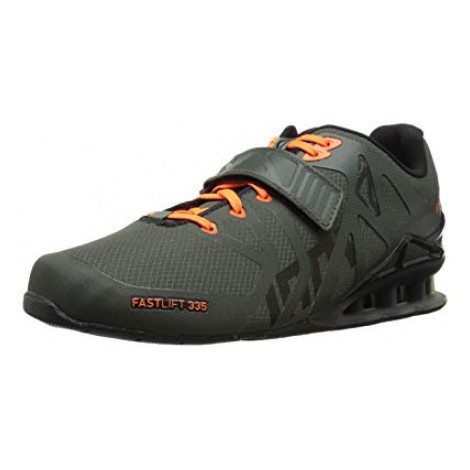 Another amazing product from the folks with the hilariously cheesy name, these Inov-8 Fastlift 335 Weightlifting Shoes are designed as the updated, and more premium version of the already listed 325's from higher up this list. They land a little lower just based on the lack of great strides made in designs, not fairly reflected in the price tag.
Flexible
Unlike many of the lifting shoes on our list, these might be able to be worn for other athletic endeavors thanks to its extremely uncommon flexibility given to the wearer by the nearly all-mesh top and synthetic leather strap.
Padded Tongue
It's kind of funny -- or scary, depending on your outlook on the inevitable -- that most weightlifting shoe designers don't boast or boost the padding and protection on the top of ones foot, regardless of the fact that their footwear products are designed to be worn whilst lifting insanely heavy discs of metal. Inov-8 added extra premium pads to the tongue and collar of their 335 weightlifting shoe to help absorb any damage from a drop or a slip.
Cost and Value
Being the newer of the Inov-8 children, paired with their updated synthetics, and small touches to the advancement of their overall design, the Inov-8 Men's Fastlift 335 Weightlifting Shoe is farther along the premium highway than the other model we mentioned. It's made extremely well, and deserves your attention, regardless of the leap in cost.

Subscribe to our Newsletter