10 Best Ski Gloves
last updated:
Jan 31, 2019
The need to protect your fingers from the cold make gloves an important part of a skier's wardrobe. When it comes to ski gloves, you have choices. These days, there are also the "extra" features to consider, like whether wrist straps, a nose wipe, touchscreen compatibility, or zippered pockets for hand warmers or small valuables are important. The following list breaks down the top ten ski gloves, and hopefully, provides insight into which ski gloves are right for you.
In a Hurry? The test winner after 135 hrs of research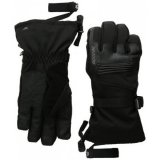 Gordini GTX Storm Trooper II
Why is it better?
Heater Pack Pocket
GORE Tex Insert
Index Finger and Thumb Reinforcement
Mega Loft Insulation
Nylon Spandex Blend
In a
Hurry? Editors choice: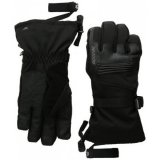 Test Winner: Gordini GTX Storm Trooper II

5
Interviewed Experts
14
Researched Sources
5k
Total Readers
8k
Reviews Considered
135
Hours Researching
10
Products Evaluated
Comfort
Weather Resistance
Accessories
Advanced Features
By Default
10 Best Ski Gloves
1

. Gordini GTX Storm Trooper II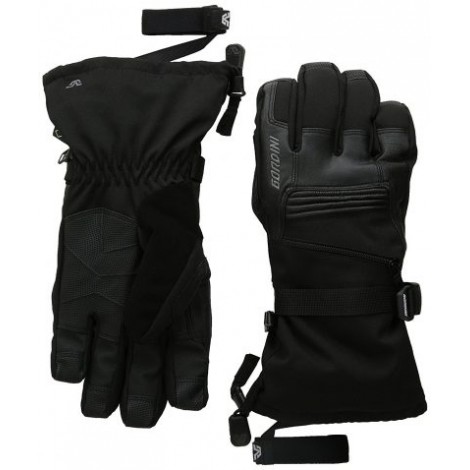 Heater Pack Pocket
GORE Tex Insert
Index Finger and Thumb Reinforcement
Mega Loft Insulation
Nylon Spandex Blend
The Gordini GTX Storm Trooper II is a quality, durable glove quite capable of keeping hands warm and dry. These gloves have a Gore-tex insert and mega-loft insulation. They also come with some additional features including a heat pack pocket, wrist leash, pre-curved construction, and index finger and thumb reinforcement.
Weatherproof
The Gore-tex liners inside these gloves make them impervious to water. This keeps hands as dry as possible while in the elements. In addition, the insulation and pockets available for hand warmers provide plenty of warmth over extended periods of time.
Wrist Straps
These gloves also have wrist straps. These straps make it possible to remove gloves and not have to worry about holding on to them or losing them.
Cost and Value
These gloves, although somewhat more expensive than other gloves on this list, receive accolades for quality and durability. Considering they will likely last many seasons, they appear to be worth the higher price.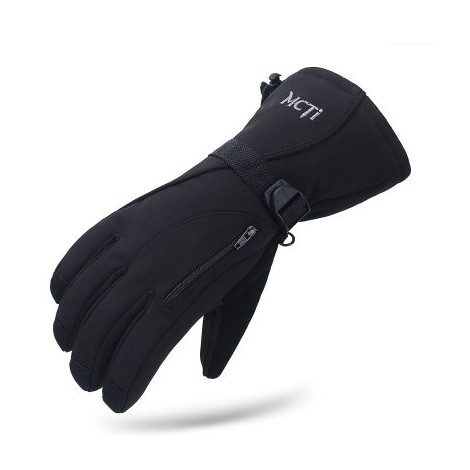 Warm
Zipper pocket
Comfortable liner
Nose wipe
Waterproof insert
Not breathable
Prone to wear
McTi gloves are made from materials that will keep your hands warm and dry in most circumstances. They come with a waterproof insert, reinforced rubber fingertips, and a nose wipe. They also have a zipper pocket that can accommodate small hand warmers or keys, money or other small valuables. They have an adjustable buckle strap and a drawstring closure that keeps the snow and cold air out.
Warm
The windproof polyester shell, 3M Thinsulate liner for insulation and waterproof insert, keep hands plenty warm inside these gloves. They also have the ability to accommodate small hand warmers and can be cinched tight to keep cold air out.
Zipper pocket
The McTi ski glove has a small pocket with zipper closure. This small pocket can be used for a variety of purposes, including hand warmers, lip balm, money, keys or other valuables.
Cost and Value
These gloves are not only some of the more affordable gloves on the list, but they also provide many of the "bells and whistles" that some of the higher end gloves provide. However, do not expect the same quality of materials and construction as you would from those higher end gloves.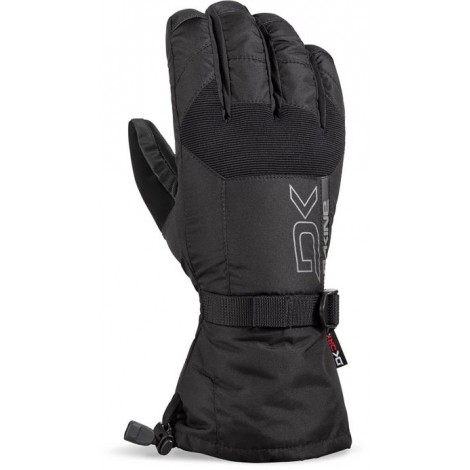 Touchscreen liners
Price
Goggle squeegee
Durable
Removable liners
No hand warmer pouch/pocket
Can feel bulky
These gloves also come in the form of a shell and removable liner. The outside is weatherproof, while the liners provide additional warmth and protection from moisture. They come with a nose-wipe patch, goggle squeegee, and wrist leash. The gauntlet style with adjustable cuff keeps the snow out. The Dakine Scout is well-made and durable and will keep your hands comfortably warm and dry.
Outer Shell/Removable Liner Design
The removable liner design allows maximum versatility in terms of various weather conditions. Waterproof liners keep the water away from your skin, whether you are wearing them alone, or paired with the shell, which provides additional warmth.
Palm Grip
The palms of these gloves use Rubbertec technology. This provides a greater ability for them to stand up to friction and other abuse common to ski gloves. Despite the additional protection, they remain comfortable to wear.
Cost and Value
Similar to some other gloves on this list, this pair of gloves is essentially two pair of gloves for the price of one. The flexibility and versatility of these gloves, along with their durability, make them a good value for the money.
4

. Carhartt Waterproof Insulated Glove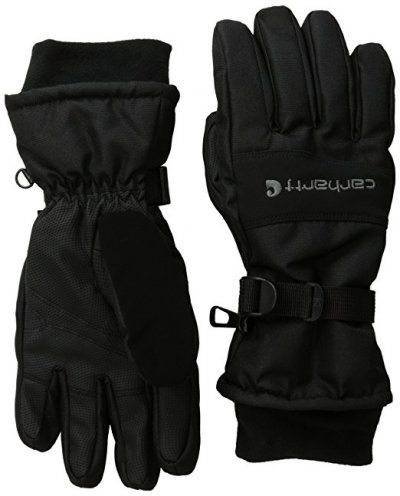 Waterproof
Breathable
Wrist Straps
Removable liners
Can feel a little tight when wearing both shell and liner
Price
The name Carhartt is synonymous with toughness and high quality. The glove is made primarily from Polyester. It has high loft synthetic insulation and high-quality wickable liners that will deal with sweat as well as outside water.
Removable Liners
The fact that these gloves come in the form of a shell and removable liner make them one of the more versatile gloves on the list. The liner is made from polyester and is not only waterproof but also breathable. Depending on the weather conditions and your activity level, the shell and liner could be worn independently or together to maximize protection from the elements.
Wrist Straps
Attached wrist straps not only provide additional convenience in terms of taking off a glove, they also make it less likely that a glove will be lost. For those who have accidentally dropped a glove off a chairlift, wrist straps are an enticing feature, particularly if they were higher end gloves.
Cost and Value
The old adage "you get what you pay for" is but always true with this pair of gloves the price comes in a bit under the radar, which is honestly, kind of surprising. Although they are on the lower end of the price spectrum compared to others on this list, they have many features and are made from quality materials and well-constructed. Because of that, features like waterproofing and breathability are well-balanced.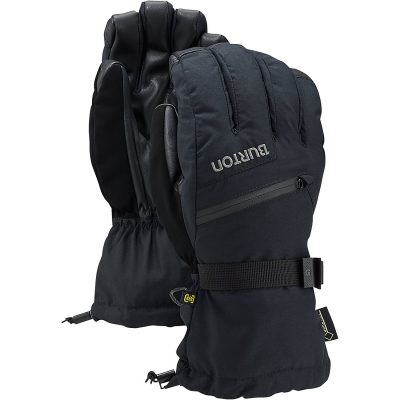 Touch Screen compatible outer glove
Keep hands warm and dry
Removable liners
Wrist strap allows the glove to remain attached when removed
Liners are not touchscreen compatible
Run a little small
These gloves have plenty of technology to keep hands warm and dry. They come with an outer shell that is touchscreen compatible and a removable liner, making them a good choice for a variety of conditions. They also have a hidden heater/vent pocket and removable wrist leash. The Sticky Icky Grip Palm and an ergonomic, pre-curved fit make these gloves great for hanging on to ski poles. They also come with a one year warranty.
Warm and Dry
DRYRIDE Ultrashell 2-layer fabric, Gore warm technology, and Thermacore insulation provide both the warmth and water protection a skier needs. These gloves also come with a liner that can be easily removed for activities in warmer weather.
Touchscreen Compatible
The outer shell of these gloves is equipped with a Screen Grab Toughgrip palm. This technology allows easy access to all touchscreen devices while keeping hands and fingers warm.
Cost and Value
With the shell and removable liners, this pair of gloves is essentially two pair in one. The versatility they provide and the fact that most cold-weather needs can be met with the shells, liners or both worn together, make these gloves a good value for the money.
6

. Tough Outdoors Winter Snow and Ski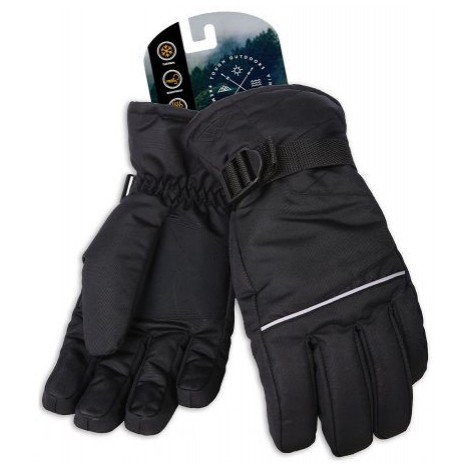 Price
Comfortable/flexible
Grips nicely
Waterproof shell
Do not keep hands warm in cold winter temperatures
Not breathable
Can rip easily, depending upon activity
One of the least expensive gloves on this list, the Tough Outdoors is a good basic glove for limited use on the slopes. It has a waterproof, nylon shell and reinforced synthetic leather palm. It does not have any "extra" features but is still capable of keeping hands warm and dry if conditions are not too harsh and use is limited.
Comfort
Comfort and flexibility can be important in a glove and this glove has both. A bulkier glove can make it difficult to grip poles or manipulate fingers inside of the glove. These gloves provide the ability to maneuver better than some of the others.
Price
The Tough Outdoors Winter Snow and Ski gloves are one of the most inexpensive on this list. This means that if gloves are not something you use on a seasonal daily basis, and you don't want to spend a lot of money for a few days of use, these gloves may be a good option.
Cost and Value
It is true the price of the gloves is tough to beat. However, as it's generally the case, the quality of materials and construction is not as high as it is with other gloves and therefore, the protection they provide and their longevity is reduced compared to others.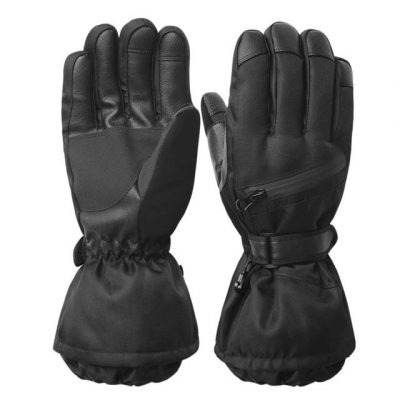 Zipper pocket
Touchscreen compatible liner
Wrist straps
Anti-slip palm and grips
Price
Not warm enough for very cold temperatures
Stitching may let loose
Another one of the more affordable options on this list, these gloves are another potential choice for the person who is looking for something that will get them through a short period of time in more temperate weather conditions. They contain 3M Thinsulate and have an anti-slip palm with reinforcement in the space between the thumb and index finger. They also have a zipper pocket, wrist straps and a fleece lining that is touchscreen compatible.
Wrist Straps
Wrist straps that are attached to these gloves provide convenience when a skier, inevitably, must remove a glove. The straps also provide extra insurance against losing a glove - particularly in inconvenient places, such as off a chairlift.
Touchscreen Compatible Liner
The touchscreen compatible liner ensures a skier's ability to use his or cell phone while at the same time preventing hands from being completely exposed to the elements. Sometimes it's necessary to take a phone call or respond to a text, or even take a look at the weather. These gloves allow you to do all those things while keeping your hands protected.
Cost and Value
These gloves come in at the lower end of the price spectrum compared to other gloves on this list. Although they are not made from the highest quality materials, they are a good value in terms of the "extras" that come with them.
8

. Outdoor Research Revolution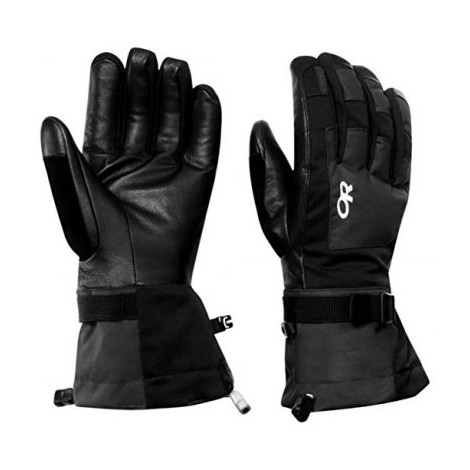 Waterproof
Breathable
Light enough to provide ease of movement
Nose wipe
Quality design and construction
Not warm enough for colder temperatures without additional liner
Does not come with additional liner
The Outdoor Research Revolution glove has many good features, including a 100% nylon outer shell and water resistant goat leather palm. The gloves have EduraLoft insulation and are waterproof, breathable, windproof and quick drying. They have a nose wipe and removable leash.
Durability
These gloves are made from quality materials and are of durable construction. They hold up to abuse on the slopes and other everyday weather activities.
Fit Well
If you have ever read reviews about ski gloves, there seems to be a constant stream of complaints about how it was difficult to get the right fit. Either the gloves run large or small or the fingers are too short or too long. A good fit is particularly important in gloves to maximize the glove's ability to keep fingers warm. This particular glove receives fewer sizing complaints and more positive reviews about over-all fit than most other gloves on this list.
Cost and Value
These gloves are a good example of striking a healthy balance between price and quality. The extras and durability combine to give the wearer a good value for the money.
9

. Kinco Pig Skin Ski Gloves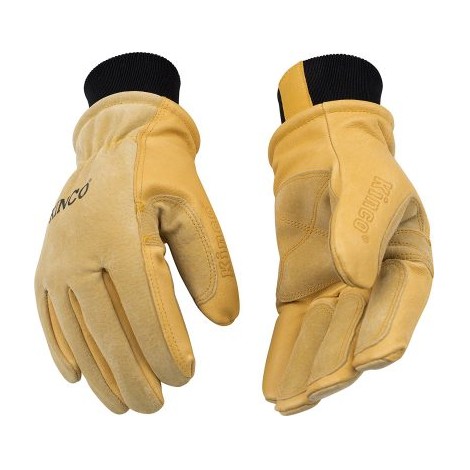 Durable
Can be waterproofed
Price
Warm
Can take some time to break in
Have to waterproof with wax and/or another repellant
These reasonably priced, classic gloves are a good choice for simplicity and durability. They stand up to the toughest outdoor tasks, including skiing. They are made from pigskin, have a shirred elastic wrist and the Omni-cuff design allows the material to be worn either inside or outside of the glove depending upon the wearer's needs.
Durability
These gloves are one of the most durable around. They are made from pigskin, which outwears cowhide leather and fabric. It also has reinforced leather patches sewn in all the right places to prevent wear. The leather patches are sewn with Draylon thread.
Weatherproof
These gloves keep hands plenty warm with thick leather and insulation. In addition, they have to ability to be effectively waterproofed using waterproofing wax and other water repellants. The cuffs help to keep out snow.
Cost and Value
Although the Kinko Pigskins lack the sophisticated upgrades included with some of the other gloves on this list, the low price point and the durability still make these gloves a great value.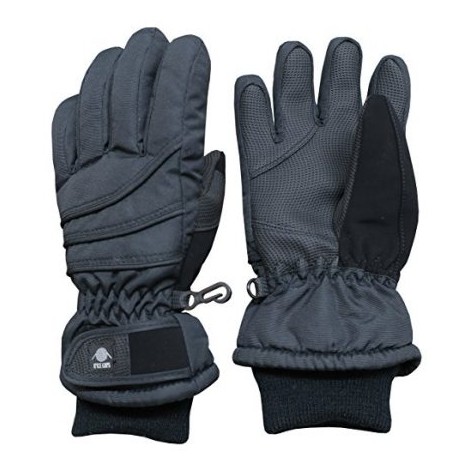 Water resistant
Reinforced fingers
Extended knit cuffs
Fit large hands well
Price
Very bulky
Not of the highest quality construction
These gloves come in as the most affordable on this list. They come with an extended knit cuff, sure gripper palms, and fingers, and reinforced fingers to help prevent wear.
Fit Large Hands Well
Many skiers lament the fact that gloves can be too tight and thus, not provide the warmth of a properly fitting glove. These gloves receive accolades for the ability to fit those with big hands.
Warm
These gloves, although somewhat bulky, have the capability to keep hands and fingers warm, even in cold weather. They contain Thinsulate for insulation and the shell helps to keep the wind out.

Cost and Value
These gloves may not have a lot of bells and whistles, but a skier could purchase several pairs of these gloves and still not pay as much as some of the higher end gloves on this list. For the person who skis very occasionally and does not want to spend a lot of money, these gloves may be a good choice.
Criteria Used for Evaluation

Insulation
One of the most obvious considerations when selecting gloves to purchase is their capacity to be warm. Keeping hands warm is not only an issue of comfort but can also be an issue of safety. Anyone who has had frostbite knows this and fingers are particularly prone. Although, before diving in and choosing the warmest gloves possible, you should examine what your actual needs are, including the temperature you will be skiing in and how prone your hands are to the cold. Just as being too cold presents problems, so does being too warm. In addition, although technology has been effective in terms of slimming down insulation, you also want to consider how thin, flexible, and light you want your gloves to be.
Insulation
With advancements in technology, there are more choices about insulation than ever before. There are both synthetic and natural materials that are used to insulate gloves. Many gloves today have synthetic material because it is less bulky, more efficient, dries more quickly, and is more washable then some of the natural materials traditionally used. Synthetic insulation generally falls into two categories, lofty insulation, and thin insulation. As the words imply, lofty insulation is thicker and bulkier, whereas thin insulation is thin.
Generally, insulation is measured by weight, in grams, and you can usually find that information in the glove's description. It is not only important to be aware of the type of insulation used, but also the weight. There can be a significant difference in the warmth of a glove across those two variables. As a general rule, for temperatures between 20 and 30 degrees Fahrenheit, 100 grams of insulation is appropriate. For colder days below 20 degrees F, 100-200 grams is appropriate and for extremely cold temperatures (sub-zero) more than 200 grams of insulation would be necessary to keep hands warm.
Some of the higher end ski gloves have proprietary insulation and unique to that brand of glove. Others, like Thinsulate, are used by a variety of manufacturers.
Occasionally, glove manufacturers will assign a temperature rating to gloves. That rating reflects the lowest temperature for which the glove is effective. The temperature rating can be helpful for determining which gloves to purchase. Simply knowing a glove will protect your hands from the "cold" is not enough. Temperatures for skiers can range from the 45 F on the high-end to -20F or colder on the low-end. That's as much as a 65-degree swing.
Supplemental Heat Source
Some gloves also come with options for supplemental heat sources. There are gloves that have built-in battery-powered heaters, and some that have a zippered pocket that can accommodate a small hand warmer. The ability to use supplemental heat sources to keep your hands warm can be a huge advantage if you are in cold temperatures for long periods of time or simply want to keep your hands nice and toasty.
Liners
One of the most effective ways to add warmth to a glove is with a liner. Some gloves come with attached liners that cannot be removed. Others come with removable liners and those gloves allow maximum versatility in all weather conditions with the ability to wear them separately or together. A glove with liners is almost always warmer than a glove without a liner (whether removable or not) and having a removable liner also helps the gloves to dry more quickly because the two layers can be separated. However, a glove that only consists of an outer shell generally has advantages to the wearer's dexterity and can be easier to put on and take off. In addition, some gloves that are a single layer have the ability to accommodate a liner underneath, even if the two are not sold together.

Style
There are also variations in the style of cuffs on gloves. The cuff of a glove is the end of the glove, at the glove's opening. It sits on or over your wrist. It can be knit, or the same material used in the rest of the glove. There are two main styles of gloves as it relates to cuffs. The first is the gauntlet style. It is easy to pull on and off and is generally warmer, both because it extends further up your forearm and because the cuff is generally better insulated.
The potential drawback to a gauntlet style glove becomes apparent in wet weather when rain or snow can run down the sleeve of your jacket and into the glove. The other option is an "under the cuff" style. With this type of glove, the cuff of the glove is tucked under the cuff of the jacket. If done well, this will minimize the potential for water to run down the jacket sleeve and into the glove. Drawbacks of the "under the cuff" style are that they are more time consuming to put on and because the cuff of the glove must be thin enough to fit under the cuff of the jacket, there is generally less insulation in that part of the glove.

Breathability
Although most of the information contained in this section is concerned with keeping your hands warm enough, there can also be a concern about keeping hands cool enough inside of gloves when temperatures are on the rise. One of the most important factors to consider in this regard is whether the glove is breathable. Some gloves have actual vents that can be zipped open to provide additional airflow and regulate temperature.
Some gloves are made from breathable material that allows air to come and go comfortably and this usually is enough to prevent hands from becoming sweaty. Not only are sweaty hands uncomfortable, but they also can be detrimental in keeping hands warm if there is a temperature drop or the wearer must take the gloves off for some reason, resulting in exposure to colder air. Obviously, sweat can freeze, and the only thing worse than being wet is being cold and wet.

Water Resistance
One of the more important features of a glove is its waterproofing. Being waterproof means that the glove is impervious to water. It could be placed underwater for an extended period of time and the inside would still be dry. Being water resistant means that the glove sheds water but eventually if it has enough contact with snow or rain, water will get through. It is important to note this distinction. Today's materials have given us an amazing ability to stay dry.
To truly keep your hands dry, however, the inquiry should not stop at the question of whether something is waterproof. It must also be breathable. If the glove is not breathable hands can become sweaty. It does not necessarily matter whether the moisture comes from the outside or inside of the glove, it has the same result. That result will be uncomfortable, wet hands if they stay inside the gloves and potentially very cold, frozen hands if the gloves are removed in cold temperatures.
The style of the cuff as discussed above can also be an important factor in keeping water away from your hands. Although a shorter cuff that gets tucked under the cuff of a jacket is more cumbersome to put on, it provides more protection against water on those days when rain or snow is heavy enough to run down your sleeve. A gauntlet style glove that is pulled on over the cuff of the jacket and extends up the forearm, is vulnerable to that water running down your sleeve.
As with insulation, there are options relating to waterproofing material. One of the most popular and recognizable names in "waterproof" is Gore-Tex (which is also breathable). There are others, again, some proprietary and unique to certain manufacturers and some (like Gore-Tex) that are used by several manufacturers.
Synthetic materials that are advertised as waterproof, come already waterproofed. However, a glove constructed of leather can also be waterproofed, but will most likely need to be "waterproofed" after purchase. In addition, it will need to be re-treated with regularity to maintain its waterproof nature. There are plenty of products on the market to accommodate that process and it is not a complicated one. However, it is something to consider when purchasing gloves.

Advanced Features
Additional Features
For some people, the "extras" are important. Although the additional features listed below do not add to the fundamental functions of the glove (to keep your hands warm and dry) they can make life substantially easier and are a good way of making common tasks more efficient while wearing them.

Touchscreen Compatibility
We have become so dependent upon our devices, that many people consider touchscreen compatibility an absolute necessity. Touchscreen compatibility provides the wearer the ability to answer or make a call, check email, send or receive a text or check the weather and not have to remove gloves to do it. Double-layer gloves sometimes have touchscreen compatible liners, and sometimes have touchscreen compatible shells.
Zippered Pockets
Another feature common to many gloves, but not all, is the inclusion of a zippered pocket. Zippered pockets can accommodate small hand warmers. However, they can also sometimes accommodate things like identification, keys, lip balm, credit cards or cash.
Wrist Leash
Although some people find them to be a nuisance, many people like the idea of having a wrist leash attached to the glove. A wrist leash is a loop that fits over the wrist and allows a glove to be removed without holding it or finding a place to set it down. It remains attached and "dangles" from the wrist. This is a great option for people who have to remove gloves often or for those concerned about dropping a glove, particularly off a chairlift. Some gloves come with removable wrist leashes.
Thumb/Nose Wipe
Many gloves also come with a nose wipe. This is a piece of fabric, often on the glove's thumb that can be used to wipe a runny nose. A less than pleasant thing to discuss, but anybody who has done any cold-weather activity knows, it's a part of life. Having the option to wipe with something "soft" without taking off gloves and reaching into a pocket to get a Kleenex can be helpful.
Goggle Squeegee
Some gloves also come with a goggle squeegee. This is a small rubberized piece, often on the thumb, that helps to clear ski goggles of water and snow. Once, again, it allows the skier to accomplish a necessary task without removing his or her gloves.

Size
One of the most common complaints across the ski glove spectrum is that the glove doesn't fit right – the fingers are too short or too long or the glove runs big or small. It can be difficult to get a good fit with respect to both width/palm and finger length.
Not having the right fit not only does not maximize the glove's potential for warmth when the glove is on, but a bad fit also reduces dexterity and means the glove will have to be removed more often to perform tasks like zipping. It also could potentially affect how a glove "wears" since increased stress on gloves that are too small may result in pulled apart seams or other tears. A glove should be snug, but not tight. Fingers should fill the space all the way to the tip of the glove, but not be pressed up tight against the fabric at the tip. A glove is too small if, when pressed together with your thumb and index finger, inward pressure is felt.
In addition, you will need to determine whether an additional liner will be worn and that liner's size, for those gloves that do not come with liners. Not all gloves are sized the same, so if you are having problems with fit, you may need to examine a different model or possibly even a different brand altogether.

Durability
Durability can be an important thing to consider and is influenced by a number of factors. Durability is not only important from a money/value concept, but also because it is more than likely that the timing of the tear or broken buckle or strap will be in use. This could mean sacrificing ski time for shopping time. Durability considers factors such as how well the stitching holds up, how prone the material is to general wear (i.e. how long before a hole is worn through), whether certain parts of the glove are reinforced, and how prone to breakage things like wrist straps and buckles are. Durability is always a function of materials and construction. Often, higher quality does come with a higher price tag. However, beware, just because a glove costs a lot more money, does not necessarily mean it is a lot more durable.

Flexibility
The flexibility of a glove determines how much dexterity the wearer can retain. Being able to grip ski poles is important. So is zipping and unzipping jackets and pockets, manipulating cell phones, buckling boots, putting on lip balm and everything else you might need your fingers for when you're skiing. With less expensive gloves, there is usually a trade-off. They are usually warm and big and bulky or they are cold and thinner which allows more movement. However, when looking at some of the higher-end gloves, the technology used, although more expensive, allows for a better balance between maintaining warmth and dexterity.
Another potential issue relating to dexterity is whether or not the glove needs to be "broken in." Leather gloves are known for needing "break-in" time. It is not fair to immediately judge the flexibility of a leather glove. However, there are materials that do not become more flexible over time and it is important to know that the initial assessment of whether those gloves are flexible enough to accommodate the wearer will be more accurate.
Expert Interviews & Opinions
Most Important Criteria
(According to our experts opinion)
Experts Opinion
Editors Opinion
Users Opinion
By Default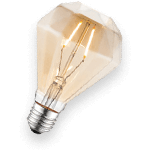 Keep it Simple
Sure you can get gloves that have room for stuff, and have all kinds of bells and whistles on them. But hold up just a second, I bet you your hi-tech jacket pretty much has a lock on the whole pocket space concept so don't get too hung up on what your gloves bring to the table. Concentrate on the gloves that are going to keep your hands warm, and keep it simple.
Frequently Asked Questions
q:

How do I know if gloves fit properly?

a:

Gloves can be hard to size because there are so many dimensions to our hands, including finger length, and size/width of palm. It is important to make sure that both fit well to ensure your gloves keep you warm and provide maximum freedom of movement and dexterity.

Your fingers should reach the end of the glove's fingers, just touching or nearly touching the end of them. If there is a large space between the end of your finger and the end of the glove, the glove is too big. Likewise, if your finger is pushing against the fabric at the end of the glove, the glove is too small. A good test to tell if the palm fits well, while your hand is in the glove, is to push together, your thumb and index finger.

The glove should "flex" with this test and if you feel much inward pressure against the fleshy part of your palm, the glove is too small. Sometimes, a glove is so small that it will be obvious, either by feeling like your hand is being squeezed or visually seeing pressure and stress on the outside of the glove (sometimes in the stitching, depending upon the glove).
q:

How do I know how warm a glove will be?

a:

Occasionally, a glove will be rated for temperature. However, many gloves are not. To tell how warm a glove will be, you will need to look at the type of insulation and the weight of the insulation. See also "How do I know which gloves will work best in which temperatures?"
q:

How do I know which gloves will work best in which temperatures?

a:

Gloves can cover a wide range of temperatures and it is important that you choose gloves appropriate for the temperatures you plan to be skiing in. As a general rule, most skiing occurs in temperatures between 20 and 30 degrees Fahrenheit. For the average day, most gloves with 100 grams of insulation will be appropriate. However, there are also many who ski in colder weather (below 20 degrees Fahrenheit) and in that case, 100-200 grams of insulation is generally a good choice. For those extreme skiers who choose to be out in sub-zero weather, a glove with at least 200 grams of insulation will be necessary.
q:

Is a longer gauntlet style glove or shorter glove better?

a:

The answer to this depends upon your preference and the conditions you will most likely be skiing in. A shorter cuff is usually made from a thinner material and does not contain much insulation so it can fit more easily under the cuff of a jacket. This "arrangement" makes it difficult for water to get into the glove if it runs down the sleeve of a jacket and works well if conditions are very wet. However, a gauntlet style almost always provides a little more warmth, as it can contain more insulation and extends farther up the wearer's forearm. It is also a great choice if you need to take your gloves off and put them back on with any frequency.
q:

How do I wash my gloves?

a:

As with any article of clothing, it is extremely important to read the washing and drying instructions carefully. Materials for insulation and waterproofing can vary significantly and each will have its own requirements. If in doubt, visit the manufacturer's website or contact the manufacturer for washing instructions, as washing in water too hot, using inappropriate detergents or machine drying can hasten wear of the glove and negatively affect other factors, such as waterproofing.
q:

Do gloves typically have a warranty?

a:

Many of the more expensive gloves on this list, do have some type of warranty associated with them.
q:

How do you break in leather gloves and how long does it take to break them in?

a:

The most effective way to break in leather ski gloves is to wear them. If you are also treating them with a waterproofing agent, this may also slightly shorten the process. It can take anywhere from one day to several days of use before the gloves are completely broken in.
q:

How do I waterproof gloves they do not come with waterproofing?

a:

There are several products you can purchase with waterproof gloves, like leather gloves, that do not already come waterproofed or need to retreat over time. Products, such as Nikwax, come in several forms, from a "cream" wax to a spray-on sealant. Each product requires a different application procedure, so it is important to read and follow the directions carefully. In addition, take note of whether a product is providing you with water resistance or waterproofing.
Subscribe to our Newsletter