Best Hunting Gloves Reviewed and Rated
Hands are parts of our body with least blood circulation, which is why they are mostly exposed to heat loss during hunting or some other outdoor activity. Choosing gloves for cold weather greatly depends on one's personal needs and sensitivity to cold which is a relative subject.
However, there are certain materials and manufacturing technologies that are proved to keep the heat inside, while others are more breathing materials. If you are looking to find some quality hunting gloves, you'll find that the market is overflowed with choices.
Our Top 3 Picks
Things to consider in order to choose the best hunting gloves
All of those products presented to us have these features and technologies that most people don't really know what they mean. We've made a small research and tested many models in order to choose the best hunting gloves.
Material
The most important thing gloves are made of is the material. This is what makes some of them stand out and make it to our list.
Wool: Wool is a material frequently used in making hunting gloves or clothing for professional athletes. It is a fabric known for its warming properties. Wool contains lanolin which makes every wool product water resistant. Products made with wool are usually getting bad reviews because with continuous uses, they are wearing off. This can be easily avoided by treating the woolen material with lanolin.
Leather: Leather is a material known for its durability. People have used leather materials for centuries because it protects from wind and other outside conditions and it is also stretchy. The downside to this material is that it is usually extremely expensive and it is not very breathable. This means that in leather gloves if your hands get sweaty, there is no way for the moisture to escape. Also, there are many leather copies, so in case you decide on a leather material, make sure that it really is leather.
Gore-tex: Gore-tex material is the usual choice for outdoor gear equipment. It is water resistant, breathable and highly resistant to any damage. It does not require additional treatment to sustain its properties and it is less expensive material from leather for instance. If you decide on buying gore-tex gloves, the only thing you have to worry about is its comfortableness.
Fleece: Fleece is only a term for all kinds of soft materials available on the market. It is cheap and the main reason for this is that it is made from synthetic materials that are usually plastic based. The good news is that it is very light, it dries quickly and it is very comfortable on the skin. Their downside is that they are not waterproof at all, and they cannot be ironed or tumble dried, although I am not so sure this counts in disadvantages.
Size of the gloves
When looking for hunting gloves, the size matters, especially when handling fire arms with gloves. If they are too big, you won't be able to grip small items properly. If they are too small, but they still kind of fit you, the tightness, will cause the blood circulation to stop and your hands will get cold even though you are wearing gloves. Most gloves are listed in sizes S, M, L and X-Large, but not every manufacturer's sizes are the same. The difference in the M size for instance is due to the material quality. Some materials are stretchier, while others are tight. So make sure you check the "fit as expected" percentage on Amazon before buying hunting gloves.
10 Best Hunting Gloves
1. Stormr Men's Stealth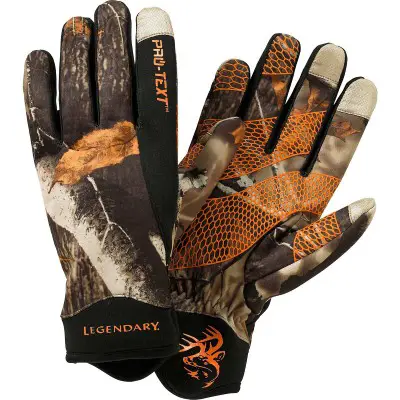 Features:
High stretch provide maximum comfort and maneuverability
Thermal benefits
Micro-Fleece lining durable hi-grip palm
Glued and internal blind-stitched seams
3mm Total Thickness

Expand to see more
The neoprene Decoy Glove made it to our list since they have all the required characteristics: windproof, waterproof as well as thermal benefits; and something more, they are very comfortable and soft on touch.

They have a micro fleece lining which is responsible for their softness, anatomical fit, vital for resting the hand when wearing the gloves for a long period of time. They are 3mm in thickness, and this fact itself can testify for their quality. Now if you are looking for gloves that will allow you shooting accuracy, you better choose from the suggested items above.

Although they are indeed waterproof and keep you warm in literally all weather conditions, they are a bit tight, so they cause a lack of mobility in the fingers. Nevertheless, they will provide you maximum comfort and thermal benefits.
Thermal
Windproof and waterproof
Hi-grip palm
Not suitable for handling guns
2. Banded Gear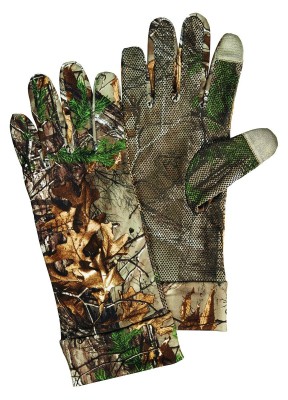 Features:
Genuine leather palm construction
Crotch panel for added durability
SHEDS™ waterproof breathable technology
Draw cord cuffs block out the elements
10oz HARS™ insulation technology on back of hands
Expand to see more
These leather gloves are something unique. They will keep your hands warm in extremely
cold weather conditions
. The leather material is able to fight every temperature below zero and usually it is not a breathable material, but Banded Gear made sure to put SHEDS waterproof and breathable technology, and took care of that issue. To translate the SHEDS technology, it means that they use an impermeable but breathable membrane that keeps you comfortable in all weather conditions.
The main advantage of this product is that this is the only type of material that is not from synthetic origin and is still windproof. The HARS insulation means that the gloves are consisted of scientifically designed microfibers that are soft and extremely lightweight.
RELATED: Banded Gear manufacturer produces this product in 5 different designs although there are only 3 available at the moment.
Made with genuine leather
Weatherproof
Very durable
3. Under Armour Men's Cold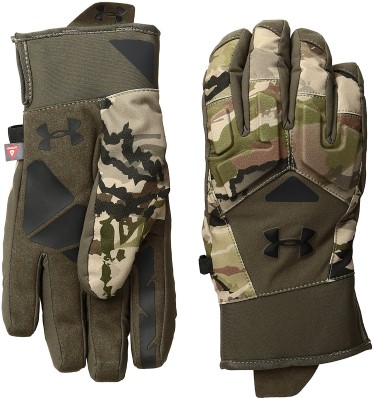 Features:
Inner coat that retains heat
Scent protection
Extra grip thanks to silicon palm
Low profile adjustable cuff
Expand to see more
This Under Armour product's leading feature is the thermo conductive inner coating that absorbs and retains your body heat. It is also odor resistant by using a Scent control technology which suppresses and traps odor so that is makes your natural body odor less detectable.

They are lightweight, water resistant and very warm. The only downside to them is that the cuff can be a little tight for some people and it makes it hard to put the gloves on when your hands are cold. However, they do include the silicone printed palm with extra grip and work with touch screen devices. This can come handy is you use a GPS device or you urgently need your phone. These gloves are very comfortable, warm, durable and are ready to test them in extreme outdoor weather conditions.
Scent control
Warm and water resistant
4. Sitka men's Merino Liner Glove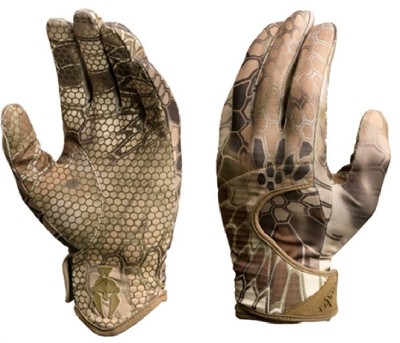 Features:
100% Merino Wool, super-fine 17 micron no-itch knit
Wicks moisture away from skin
Stretch for mobility
High Keratin content provides natural odor resistance
High heat-to-weight ratio
Expand to see more
These gloves are the only merino-wool product that made it to our list. This makes it the first and the only product that uses all natural fabric for making gloves. Wool is a fabric material that has been used for centuries to keep people warm in extremely low temperatures. Wool is also used in high performance athletic wear and is odor resistant which makes it ideal for hunting.

The 17 micron knit means that it is softer and it is a no-itch material. The circular knit provides less fabric abrasion, better pilling performance and durability. It keeps the moisture away from the skin. The best thing is that they put a sticky silicone texture on the fingers for better handling objects and work on touch screens. At first when you touch the gloves, you will get a feeling that the material is too thin, but the wool is very tightly woven so they have no problem of keeping you warm.

And if you have a bad blood circulation and your hands are always cold, you can use them as liners with and outer glove.
Made with natural Merino wool
Tight weaving keeps hands extra warm
Comfortable
5. Men's Oaktree EVO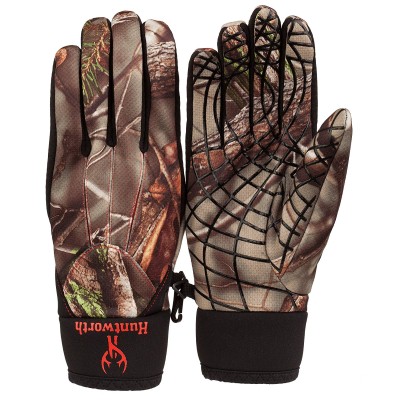 Features:
Fabric composed of 3 layers: Polyester Bonded To A Soft Fleece With WP/B Film Membrane
Water Resistant, Wind resistant
Scent control
Pre Curved Fingers, Silicon Print Palm For Enhanced Grip
Soft Stretched Band Cuff
Expand to see more
The Oaktree gloves are a cold weather gloves. They are mostly used for hunting and shooting activities. Its biggest advantage is the triple layer fabric. The Polyester fabric gives them elasticity and the WP/B Film Membrane keep the cold weather and conditions out where it belongs.

The science behind this material is that it's similar to Gore-Tex material that is waterproof and breathable. It repels precipitation which means that it keeps your hands dry under every weather condition. The only way they would get wet is if water penetrates inside the gloves with tremendous force. They are extremely durable and are also windproof. It has bonded fleece layer that provides anti-microbial treatment and scent reduction. Its soft stretched band cuff is making the glove fit perfectly to your wrist without any feeling of tightness or tricky cuffing method. It also has pre-curved fingers for extra comfortableness and silicon palm print for enhanced grip.

I would say they are specifically made for extreme weather conditions and professional hunters that require their gear not to let them down. This is by far, the most quality product available by this price range. When you get them, even before you put them on, it is noticeable by their weight and material that they would get the job done!
Triple Layer Fabric
Waterproof
Breathable
6. Hot Shot Defender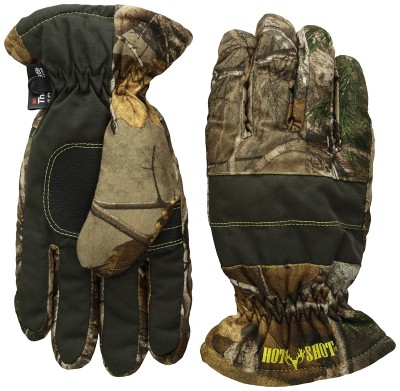 Features:
100% polyester
Imported
40 grams of Thiosulfate Insulation and tricot
Waterproof protection
Contrasting color stitching
Sure grip palm patch
Expand to see more
The most efficient feature these gloves have is that they are lined with Thiosulfate Insulation and Brushed tricot. That classifies them for temperatures below zero. It is a type C insulation that is lightweight and thin, yet powerful and moisture resistant. It is also flame resistant and specifically designed to trap the body heat inside the gloves. The outer material is 100% polyester, and they are stretchy and allow you the freedom of movement.

The linen is particularly designed with odor resistant fibers. They are extremely comfortable and durable, and are suitable for every season. Legendary Whitetails has a similar material product here you might consider, although it is a bit more pricey than this one. A good addition for hunters is the poplin insert on the back of the hand and the pre curved fingers that add lots of comfort while wearing them. This feature provides cuts down on hand fatigue especially in activities where your hand should stay steady for longer periods of time.

They are also waterproof which makes them ideal for humid weather conditions. The Sure grip palm patch provides maximum grip and dexterity and the elasticized cuff, an excellent and comfortable fitting like a second layer skin.
Cold weather gloves
Stretchy
Odor Resistant
7. Kryptek Highlander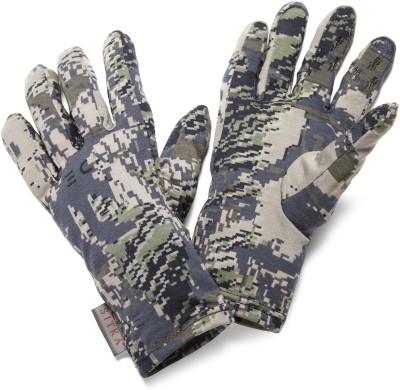 Features:
Material suitable for cold weather missions
Lightweight fabric
Breathable material
Work with touch screens
Expand to see more
This is the ideal choice for bow hunting. They are suitable for cold weather and your hands don't get sweaty on warm weather, thanks to the quality material. It goes perfectly with your touch screen devices like phones or GPS. They are very comfortable and warm. The material is thin enough so that you could have sensitivity, for instance handling
hunting rifle
and firearms.
The only disadvantage is that with below the zero temperatures, you can definitely feel the cold through them. With this product you wouldn't have a problem if you have large hands, but they would be too large for someone with small hands. There are only two sizes- large and X-large.
I am most impressed by their comfortableness, they are very light weighted and they fit perfectly on the hands. They are just the thing for cold winter hunting, but they are a bit pricey. If you are looking for a less expensive choice, click here.
Warm
Lightweight
Touch screen friendly
Available only in L and XL
8. Mossy Oak Mesh Gloves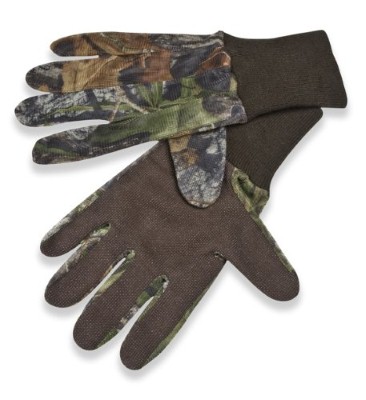 Features:
Breathable Lightweight Mesh Material
Full Camouflage Concealment
The Grip- Dot Palms Provides A Durable Non- Slip Grip
Extra Long Ribbed Cuffs Provide Concealment
Expand to see more
These are hard core hunting gloves. They are made for
handling a gun with precision
. If you love using technical equipment while hunting, in this price range, Hunter's Specialties gloves might be a better choice for you. These gloves are extremely durable and although they are thin, they are quite sturdy. The material is breathable and doesn't allow your hands to get sweaty. The design is providing a
complete camouflage
while hunting or other outdoor activities.
However, keep on mind that these are not gloves for cold weather conditions, although this always depends on the person. They are more warm weather, early archery season gloves. The long cuffs provide you full concealment of your wrists and that could come quite handy in some bird hunting.
Sturdy
Breathable
Camouflage
9. Hunters specialties Scent-A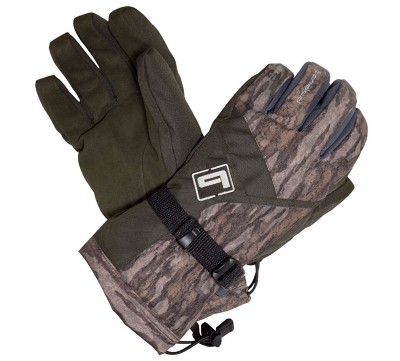 Features:
Silver particles embedded directly into the fabric
Moisture wicking system designed to keep you cool, dry and comfortable
Polyester/spandex gloves feature extra-long cuffs for comfort and concealment

Expand to see more
To start with the relatively less important characteristics of these Hunter's Specialties gloves, they are also screen touch friendly. You don't have to take your glove off to use your phone or some other touch screen device. However if this is what you are looking for in a glove, the previously reviewed Gloves, might better fit your needs. Another relative feature of this product is the size. Although they fit to pretty much everyone, if you have larger hands, move on with reading some of our other suggested reviews.

They will stretch slightly with wearing, but not too much. The quality of the material is very nice for mild cold and this is the perfect gift or a trait for an avid hunter. They don't offer much regarding insulation but they are perfect for handling a bow. Therefore, if you are looking for gloves for the early archery season, or a hunting gift for your husband, I would choose them over and over. However, for this price range, this is as good quality as it gets.
Suitable for bow hunting
Breathable
Touch screen friendly
10. Legendary Whitetails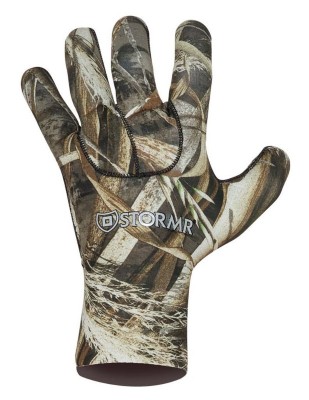 Features:
40 grams Thinsulate
Pro text finger and thumb technology
Work on touch screens
3 layers interlock Thinsulate
Odor-X antimicrobial lining
Silicone palm for sure grip

Expand to see more
This Legendary Whitetails product is the best solution for Fall hunting days. The Thinsulate material acts as a thermal isolation that keeps your hands warm and allows you to concentrate on other hunting activities. Thinsulate material has a high density of fibers which make it ideal choice for cold weather. An interesting thing to mention is that they are made specifically for the moisture to escape but reduce heat flow to the outside. These characteristics make them just right for hunting activities.

However if you need hunting gloves for cold winter days, this is not your ideal choice. The shell and lining are made from 100% polyester. On the other hand, that same conductivity that makes them unsuitable for very cold weather, allow you to use your smart phone without taking them off. The ability to use your touch screen products while wearing the gloves is amazing. For those of us who are not tech lovers, the silicone palm is more amusing characteristic.

It gives you security in handling any kind of object in your hand; like a machete knife for instance. The neoprene cuff, adjust perfectly to your hand and as an additional benefit, the signature Buck Logo on it looks very nice too.

Thermal isolation
Neoprene cuff
Smart phone usage
Not suitable for extreme temperatures
As you can see, there is something in our list for every taste. With the variety of high-performance materials and insulation technologies available today, we hope you will find the best hunting gloves for you. One that will give you the right combination of comfortableness, keep you warm and satisfy all other qualities you are looking for. Before deciding on the best hunting gloves for your needs, make sure to check our suggested products and reviews. Let us know which one you choose and whether you are satisfied with the choice in the comments bellow, we would be glad to hear your positive outcome!