Best Wakeboard Helmets Reviewed & Rated for Quality
last updated:
Feb 27, 2019
Wakeboarding is an extreme water sport. There are quite a few persons that wakeboard for recreation, however, it is also a professional sport. Whether you are a professional or a novice at some point, everyone experiences a wipeout. To escape unscathed, you need to be wearing the right gear.
Not everyone wears a helmet but it's an absolute necessity if you're a beginner to help protect you from getting a serious head injury. They are specifically designed to keep the spray out of your eyes so you can focus on completing your run. Which ones work best? Find out below.
In a Hurry? The test winner after 21 hrs of research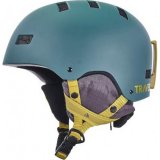 Retrospec Traverse H1
Why is it better?
10 vents
ABS exterior
Adjustable Dial
Removable ear pads
Reinforced goggle clip
In a
Hurry? Editors choice: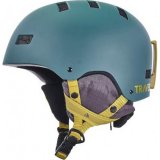 Test Winner: Retrospec Traverse H1

14
Researched Sources
19k
Total Readers
22k
Reviews Considered
21
Hours Researching
14
Products Evaluated
Adjustability
Breathability
Comfort
Materials
Style
By Default
Top 10 Wakeboard Helmets


10 vents
ABS exterior
Adjustable Dial
Removable ear pads
Reinforced goggle clip
ErgoKnob be defective
Poor construction
The Retrospec Traverse is not only a safe option it is also quite versatile. It also has multiple vents that work to regulate temperature.
This wakeboard helmet has 10 vents placed in and around the structure of the helmet to effectively regulate temperature. The external structure is crafted from a material called ABS. The interior of the shell is lined with EPS foam. It also features ear pads that can be removed to re-purpose the helmet.
Adjustability
The frame of this helmet has a unique feature called the ErgoKnob. This is a dial that is hooked up to the frame of each helmet. The dial can be adjusted to increase or decrease the circumference of the helmet to create a custom fit for each individual rider.
Breathability
This wakeboard helmet is designed with a total of 10 vents for increased ventilation. There are two vents placed at the front of the helmet with an equal number at the back. In addition, the top of the helmet holds 6 more vents.
Cost and Value
The Retrospec Traverse is highly adjustable and can be converted to suit other activities such as biking or skating by simply removing parts such as the ear pads and inner mesh. The price range is very low for such a multi-purpose item.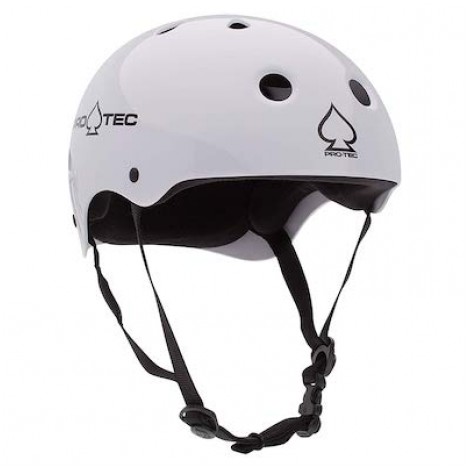 ABS Shell
2 stage foam liner
Classic design
11 vents
Adjustable straps
Maybe incorrectly packaged
Does not meet CPSC standards
The Pro-Tec Classic Helmet is classically designed with a lightweight feel and a 2 stage, soft foam interior.
This wakeboard helmet has a premium two-stage foam interior. Also, featured within is a lining made of nylon and polyester that is designed to control moisture. The structure contains a whopping 11 vents in total with adjustable straps made of nylon to secure the helmet when in use. The external shell is constructed from ABS plastic.
Materials
The inner lining of Pro-Tec Classic is made from Polyester and Nylon. These materials have sweat-wicking capabilities and are designed to pull the moisture from your skin and redirect to the back where it can easily dry.
Breathability
With 11 strategically placed vents in and around the structural shell of this wakeboard helmet. Ventilation is not a problem. This increase in airflow not only keeps you cool but assists to get you dry in a shorter space of time.
Cost and Value
This wakeboard helmet is resistant to both odor and mildew. It has a moderate price range and is designed to withstand high impact. Pro-Tec is a very reputable brand with over 40 years of experience in the industry.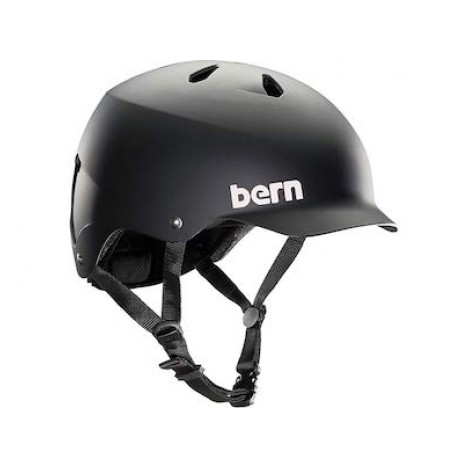 Customizable helmet
Light mount
Crank dial
Thin ABS shell
EPS foam interior
Sizes may fit smaller than indicated
Crank dial can malfunction
The Bern summer helmet is designed to be customizable. You can add or replace parts to create a season-specific style and fit.
This wakeboard helmet looks a bit like a baseball hat with the hard visor placed at the front. The external structure has a thin layer of ABS while the interior features hard foam made from EPS. It is safety certified and therefore equipped to be used under various weather and environmental conditions.

Adjustability
Bern offers consumers the ability to customize their helmets with various kit upgrades. These can then be added or used to replace existing parts to cater to changes in seasons and environmental conditions.
Style
This wakeboard helmet is equipped with a two hole mount that is located at its rear. This spec enables you to attach lights to the back of your helmet. This is a great feature that enables you to use your multi-purpose helmet anywhere and at any time.
Cost and Value
The Bern Summer helmet comes in a variety of sizes and colors and has a moderate to high price range. Although this selection comes in a variety of sizes it does contain an adjustable dial for custom fitting.
4

. Triple Eight with Sweatsaver Liner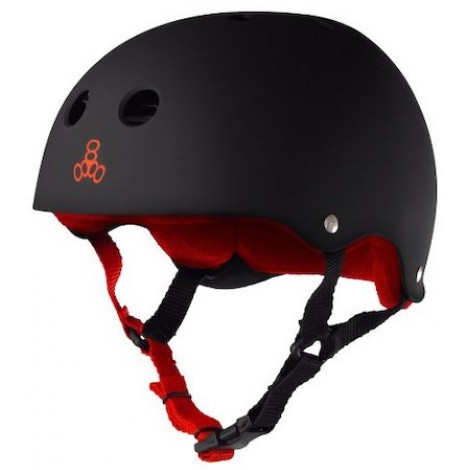 Multi-impact design
Sweat-wicking liner
Adjustable strap
Variety of sizes
Odor resistant
Poor structural design
Fit may be smaller than advertised
The Triple Eight helmet has a sweat-wicking inner liner and a sleek design that features a black exterior with a red inner lining.
This wakeboard helmet has a sleek classic design that allows consumers to choose between rubber or a gloss finish. The inner lining features sweat wicking technology and is odor resistant. Replacement liners are sold separately and come in a variety of colors that can be used to customize the look of your helmet.
Comfort
The lining of the Triple Eight helmet is made of sweat-wicking technology. It pulls moisture from your skin and keeps it away from your eyes. It is odor resistant and features an anti-bacterial treatment.
Style
This wakeboard has a multi-impact design. This opens the helmet up to multi-sport use. Not only will it be effective while wakeboarding but it can also be used for skateboards, rollerblades, and scooters.
Cost and Value
The inner lining of this wakeboard helmet can be obtained separately. Triple eight has a very low price range and offers a wide variety of sizes. Simple measuring techniques can be used to attain an accurate head size.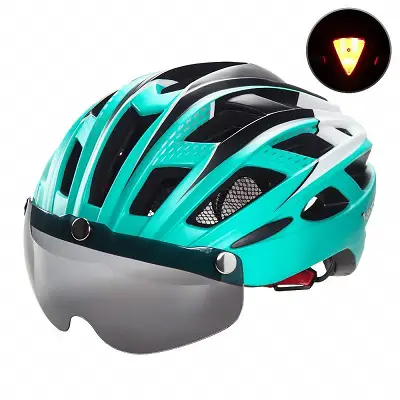 Removable lens
22 vents
Weights less than 1 lb
Mounted tail light
Certified for safety
May be incorrectly packaged
Light mount can be defective
The Victgoal helmet is adjustable and comes with a back light and detachable magnetic goggles.
This wakeboard helmet has exceptional ventilation. It is lightweight and built for comfort. It meets and exceeds safety standards. A regulator located at the back of the helmet can be used to adjust its fit. The light that is mounted at the back of this device enables it to be used at any time under various conditions.
Style
The Victgoal helmet has an internal liner that can be removed washed and replaced or interchanged with another liner with a different design. It also improves comfort while the helmet is in use.
Adjustable
The magnetic goggles located at the front of the helmet can be removed and replaced equipping the helmet to be used under multiple conditions. The fit of your helmet can also be adjusted using the built in regulator.
Cost and Value
The price range of this wakeboard helmet is extremely low. The rainbow lens of this helmet is made from high-quality PC. This makes it shatterproof, impact resistant and extremely durable.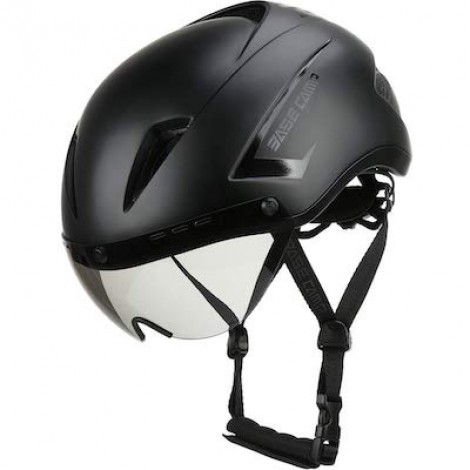 Cross air ventilation
Magnetic optical shield
Detachable padding
Anti-bacterial protection
Micro dial adjustable fit
Poor construction
Can malfunction
The Base Camp helmet can be used for multiple sports including cycling and features a detachable visor.
This wakeboard helmet meets CPSC standards. It has a polycarbonate micro shell that is supported by in-mold technology. A micro dial is used to adjust the fit of you helmet. There is a combination of 9 vents used to increase airflow and the detachable visor located at the front of the helmet is shatterproof.
Breathability
The Base Camp helmet has a cross air ventilation system made possible by the 9 vents contained in and around the helmet. It streamlines airflow to reduce drag when traveling at high speeds.
Comfort
The removable visor gives wrap around eye protection and clarity while in use. It has a convenient flip touch which allows you to engage or disengage the visor with the use of only one hand.
Cost and Value
This wakeboard helmet has a low price range but offers high returns. It has an internal liner that not only wicks moisture away from your skin but also offers anti-bacterial protection.
7

. Critical Cycles Classic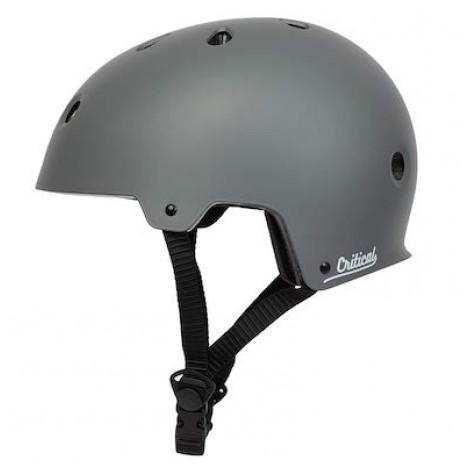 CPSC certified
Classic design
ABS exterior
Variety of colors
Foam interior
Fit may be larger than advertised
Can be uncomfortable
The Critical Cycles classic helmet is a multi-sport helmet that has exceptional breathability.
This wakeboard helmet is specifically designed to be used for a variety of sports including BMX, biking and skating. It offers a variety of sizes and has adjustable pads that can be converted to make the helmet effective under various conditions. The interior padding is specially developed not only to prevent odor but also to stop or hinder perspiration.
Breathability
There are 11 strategically placed vents throughout this helmet which increases ventilation and creates great airflow. That feature makes this helmet effective at high speeds.
Materials
Critical Cycles produced this helmet with an ABS exterior. This allows it to hold up under high impact conditions. The interior is lined with high grade EPS foam which acts as a shock absorber.
Cost and Value
Despite the low price range of this wakeboard helmet it is CPSC certified. It has a classic design and comes in a variety of colors allowing consumers to express their unique personality.
8

. Thousand Adult Anti-Theft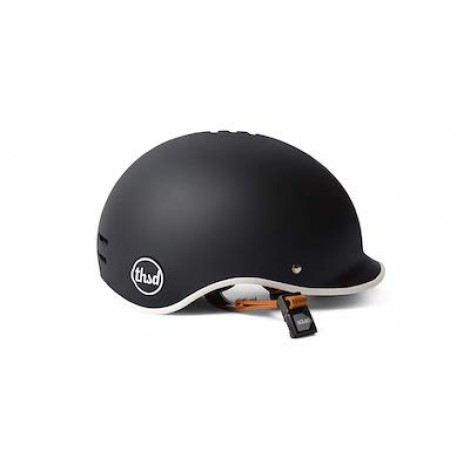 Extra fit pads
CPSC approved
2 layers of interior padding
Weights 410g
Pop lock feature
Sizes may not fit as advertised
May be uncomfortable
The Thousand adult helmet has an anti-theft feature that secures your helmet when not in use.
This wakeboard helmet features micro-fiber straps that are designed to keep you sweat and itch free. Magnetic buckles ensure your fingers are out of danger when the strap snaps shut and with the poplock engaged you can adequately secure your helmet when it is not in use. Extra fit pads are available to ensure your helmet fits ideally.
Comfort
Since some persons fall in between sizes the Thousand brand provides extra fit pads that can assist consumers to get a secure fit. Micro fiber straps also promote comfort by reducing itching and irritation.
Style
This wakeboard helmet weights only 410 grams making it lightweight and easy to use. A specially designed poplock feature ensures your helmet is secure when not in use. Magnetic buckles protect your fingers when the straps snap shut.
Cost and Value
The Thousand helmet has a moderate price range and offers a wide range of sizes and accommodates a variety of different fits. It also has a wide color range so consumers can select one that best suits their personality.
9

. Punisher Skateboards Pro Series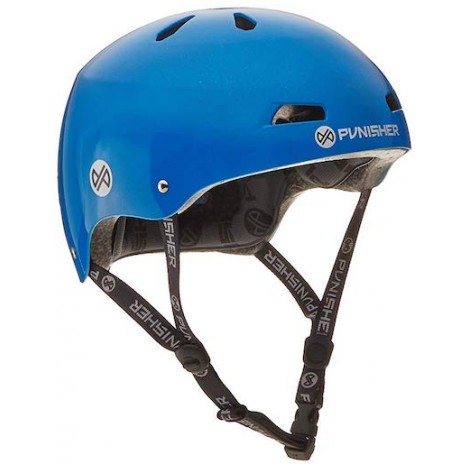 Dual certification
13 air vents
ABS Shell
EPS liner
Quick release buckle
May be incorrectly packaged
Adjustable crank can malfunction
The Punisher helmet has 13 vents in and around the shell. It also has a dual safety mechanism and is a multi sport piece of equipment.
This wakeboard helmet is certified by both ASTM CPSC. It is 13 air vents and the external shell is made of ABS. Inside the frame is lined with EPS. The helmet straps feature a quick release mechanism and the heavy-duty nylon straps add to comfort. A wide selection of sizes are available for consumers.
Breathability
The 13 vents that are located on the Punisher helmet help to increase airflow and keep the user cool while they are active. A UV strip is featured on this selection which is designed to provide added protection.
Materials
The shell of this wakeboard is constructed from ABS which adds durability and allows it to perform at high impact. The interior is lined with foam which acts as a shock absorber to protect users.
Cost and Value
This Punisher helmet has a low price range and features a quick release buckle that can snap in and out of position by simply turning the mechanism on the strap. The pads are removable which allows consumers to adjust the fit.
10

. PHZING with Adjustable System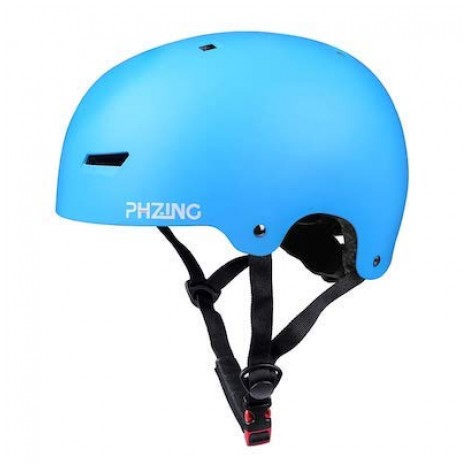 Hardshell construction
Adjustable fit
13 air vents
Certified for safety
Flexible straps
Can be incorrectly packaged
Size may not fit as advertised
The PHZ helmet is certified by CE and CPSC and built tough for high impact conditions. There are three sizes available for consumers.
This wakeboard helmet is constructed with high grade ABS. The inner shell is lined with high density foam. There are three sizes available and the device can be used for multiple sports. The regulator at the back of the helmet can be used to adjust the fit. There is a thick chin pad that adds durability and added protection to the user.
Comfort
The chinstrap of the PHZ helmet has extra padding to increase comfort while in use. The straps can be adjusted to ensure a tight fit. The chin strap can be engaged or disengaged by turning the locking mechanism.
Materials
The outer structure of the helmet is constructed from ABS for strength and durability. The inner structure is lined with EPS which acts as a shock absorber. This enables the device to function efficiently in high impact conditions.
Cost and Value
This one has a low price range. The ventilation system is high in this device with 13 vents throughout. This keeps the user cool during physical activity. It is also designed to cycle stale air out.
Criteria Used for Evaluation

Adjustability
A variety of helmets are equipped with a dial or crank that is located at the back of the wakeboarding helmet. This mechanism is designed to create a minimal increase or decrease in the circumference of the helmet. Use of this feature enables consumers to create a custom fit. This is necessary as a helmet needs to be snug to work effectively. A similar idea is applied to removable pads. Since a number of persons may fall between sizes, placing or removing pads can help to create a more comfortable fit.
Some brands offer what is called a kit upgrade. To facilitate these, helmets have removable parts that can be swapped out or included to improve the efficiency of the helmet based on season. This is a great feature for wakeboarding helmets that are used for various sports that can be played in a variety of seasons. Alternatively quite few helmets are equipped with visors that not only shield the eyes but give improved optical clarity. These can also be replaced or removed based on environmental conditions.
Straps are also adjustable. This is a necessary feature as a snug helmet is the main component of an effective helmet. Some straps can be used as a fashion statement and are equipped to be switched out for a more fashionable alternative. This is the same idea when it comes to inner linings and mesh. Colors can be alternated to reflect the unique style of each user and is a great opportunity to express individuality.

Breathability
Most wakeboard helmets have vents in and around the device. Some have as few as 9 vents while others have as much as 25. These are designed to keep the user cool while engaged in physical activity. They all operate differently and bring various unique benefits. Some simply increase the airflow to keep the user cool while others are designed to pull in fresh air and force stale air out of the helmet for an extended fresh experience.
Cross air ventilation is another feature commonly used in helmets. This feature is specifically designed to reduce drag. This results in an increase of speed which is highly beneficial in sports that require the user to move at high speeds. For this reason these types of helmets are not only effective but usually able to adapted or converted to be used for multiple sports.

Comfort
Sweat wicking liners are a common occurrence in wakeboard helmets. These are designed to pull the moisture from your skin and redistribute it elsewhere to decrease the time needed to dry. This process is beneficial as it keeps sweat and moisture from running into the eyes which can be a hindrance during both recreation and competitive events. These liners tend to have added features that promote odor resistance. As perspiration tends to stain and create a smell this improves comfort. An antibacterial compound is also used at times to reduce the chance of any itching or skin irritation during use. Micro fiber strips can also be used to reduce itching and skin irritation.
Another feature that adds to user comfort is the increased accessibility of some designs. A few, for example, feature a flip touch visor. This enables the visor to be engaged and disengaged at a touch. This is also present in helmet straps. Many can be engaged or disengaged by simply turning the lock mechanism. The effect is that a user can maneuver with the use of just one hand if necessary. This is highly effective in helmets that are multipurpose.
Some chin straps are reinforced with extra padding. This not only increases durability and protection but it also increases comfort. Helmets are most effective when worn snug and some straps can become uncomfortable at points of contact. The extra padding helps to alleviate this issue. Others employ the use of nylon straps to reduce the risk of irritation and bruising of the skin at points of contact.

Materials
ABS is a hard plastic that is very strong and can endure high levels of force. Due to its toughness it is a great material for high impact gear and is the most common material used in constructing helmets and similar protective devices. Some helmets have a thin layer of ABS with a thicker inner lining. This helps to reduce the weight of the helmet making it easy to use.
EPS foam is usually used to line the interior of the wakeboard helmet. This material is lightweight and also possess high durability characteristics. This makes it a great choice for protective gear such as helmets. It also acts as a shock absorber which is a vital feature as helmets need to be able to hold up in high impact situations. Some brands use a double layer of foam to increase the protective features of their helmet.
Polyester is a very strong synthetic fiber. It is durable and tends to be unaffected by the introduction of foreign chemicals. This feature makes polyester a great choice for a lining agent as it minimizes the risk of itching and irritation when a user perspires. It is water resistant and has sweat wicking capabilities. This helps to keep the moisture off the face of a rider and with the use of technology this moisture can be transferred to the back of the head for rapid drying. When this process is used, it helps to keep moisture out of the eyes during physical activity.
Nylon is another synthetic fiber used predominantly in the construction of helmets. In addition to having many properties similar to polyester, this fiber is also sunlight resistant. This makes it a great choice for lining the interior of helmets as well as for straps as this makes them less likely to heat up in the sunlight and create discomfort for users. It also helps to reduce itching and bruising that can occur at points of contact to the skin.

Style
Some brands have features that make them quite unique, for example, there are a few wakeboard helmets that have holes at the back where lights can be mounted. This enables the user to engage in activities under various weather and environmental conditions which is a useful feature for helmets that are multi purposed and can be adjusted to suit multiple sports.
Others have a multi impact design. No matter the sport there is always a chance whether you are a novice or a professional that you can experience a wipe out during physical activity. Different sports due to the way a user is engaged can cause injury at different points of impact. For this reason, a feature such is this is highly beneficial. Most helmets carry one or more safety certifications. This ensures the rider of protection during physical activity.
Some helmets have liners that can be removed. This is a unique feature as it enables users to wash and replace their helmet lining which promotes cleanliness and helps them to avoid skin irritation. It also creates the opportunity to express your individuality. These liners tend to come a wide variety of colors. Users can then select colors that best suit their style and personality.
Due to the lightweight materials used during construction most helmets can be kept under 1lb. This makes them easy to use and maneuver. It also increases the comfort level as it can feel as if you're not wearing anything at all. Some helmets include anti theft features. These are designed to ensure your helmet can be secured when not in use. This is a useful feature for persons using their helmets for sports such as biking.
In addition to the easy to use one touch feature used on visors and straps. Some helmets have magnetic buckles. These help to protect the fingers from being snagged or squeezed when engaging the locks on straps. This is a useful feature especially in helmets designed for children as they are the most likely to be injured when engaging or disengaging strap locks.
Expert Interviews & Opinions
Most Important Criteria
(According to our experts opinion)
Experts Opinion
Editors Opinion
Users Opinion
By Default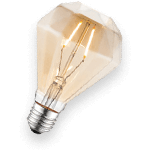 Weight Matters
For extreme sports such as wakeboarding it is preferred to have a lightweight helmet. This enables users to focus on runs and not be overly uncomfortable or top-heavy. Many use ABS on the exterior which is a strong plastic but very lightweight. The EPS that is used to line the interior also has that lightweight characteristic. By using construction materials like these, many manufacturers have been able to keep the weight down. Very few crosses the one pound mark in weight.
This feature makes it easy for users to wear the product without being overly concerned about the feel. In the past many have opted out of using this safety gear due to the weight and fit with disastrous effects. Making them more user-friendly by keeping the weight down is a great way to encourage users to continue making the safe choice in acquiring protective gear.
Finding the Right Fit
There are many techniques that can be used to measure the diameter of your head. Small, medium and large have different size ranges based on brand. These can be confirmed on the purchase site or on the manufacturer's site. When in doubt, it is always best to go up a size. There are dials or cranks that can be used to adjust the circumference as well as filler pads that can be used to ensure a comfortable fit. If you get one that is too tight, it may create a challenge to secure a comfortable fit.
Other Factors to Consider

Brand
The Pro-Tec brand is centered on innovation. They have spent over 40 in the action sport industry, and they have extensive lines that cater to a variety of needs when it comes their riders. Their helmets have been proven to protect users in high impact situations. Their design quality is unmatched and this what enables them to continue to lead the pack when it comes to protective equipment.
Bern is a privately owned company. Their focus in the manufacturing process is comfort and safety and it shows in their product line. They tend to push the limits when it comes to product design, and they have some of the more unique gear options available on the market today. They produce all seasoned, high quality helmets and can be depended upon to always bring something new to the table.
The Triple Eight brand has over 20 years of experience in this industry. Their team is made up of persons who know the industry not just in theory but from experience. This gives them a unique vantage point when it comes to producing quality products that can effectively fill the needs of their users. They are always looking for ways to improve function and utilize new trends and technology. This has helped them to build a diverse, high quality product line.
The Thousand brand is all about comfort and function. Their goal is to create products that are easy to wear. Many persons opt out of wearing protective gear because they tend to be bulky, heavy and uncomfortable. With their innovative designs helmets are not only certified for safety but are lightweight and inviting. They are also very passionate about ensuring their products are eco-friendly and doesn't produce a strain on the environment.

Features
For personal safety it is necessary to ensure that your helmet has one or more certifications. Two certifications that are generally issued is from CPSC and ASTM. CPSC is a Children's Product Certificate. It proves that products have been tested and shown to comply with product safety rules. ASTM is a private program that ensures products such as protective gear complied with the regulatory standards pertaining to safety.
Frequently Asked Questions
q:

Would size selection need to be adjusted based on the shape of your head?

a:

Size selection is based on the circumference of your head. Although there are variations based on shape, these can be catered to by utilizing the adjustable features on the helmet. Most can be adjusted using the dial or crank which can increase or decrease space at the circumference. Straps can be used to adjust for length or height. Pads can also be added or removed in most cases. These can also help to ensure the right fit for your helmet.
q:

Can it be reused for other sports?

a:

Absolutely, most helmets are designed to be multi-purposed. Many feature parts that can be replaced or removed to make it more effective under an alternative environment. The majority are also tested and certified for safety and will function well under in any high impact environment. They are heavy-duty and even come with mounted lights at the back which makes the user equipped for any and every possibility.
q:

Is the lining in wakeboard helmets machine washable?

a:

Some helmet linings that are removable can also be washed and replaced, some are not but offer wide selection of replacements that can suit the style and preference of users. Whether or not your lining is machine washable, can be confirmed in the materials you receive in your packaging. This information may also be listed on the manufacturer website.
Subscribe to our Newsletter