Best Air Purifiers Reviewed & Rated for Quality
In a Hurry? Editors choice: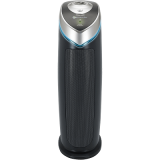 Test Winner: GermGuardian AC4825

Tired of a runny nose, itchy eyes or sneezing?
Allergy season
creeps up on us quickly without most of us realizing it. Even with all the precautions of screened windows and filtered or closed system air units, we often find that plenty of dust and pollen can creep into our homes quickly. Cleaning everything constantly just doesn't quite cover enough, and we end up with our eyes watering and our throats feeling as if someone lit a torch inside it during the night. If you're ready to fight back, you have undoubtedly begun looking into the many ways technology can help to clean what your back-breaking dusting habits just can't get rid of. Our review of the best air purifiers on the market will help you find the perfect solution to your problem!
Standout Picks
Criteria Used for Evaluation
Effectiveness
Some are simply looking for devices that clear the space of pollen and other allergens, some are more concerned with how the environment smells, and then we have a mixture- wanting the machine to do both. While these purifies usually cover both, they all use different ways to do the same job. The kinds of add-ons used can be as important as the machine itself. Some add-ons are costlier to replace, while others are easier to clean and don't need replacing as often. Some add-ons catch most but not all that can affect breathing, and others seem to do the work of an invisible gas cleaning army. Of course, the cost of this could be a type of smell that can be irritating, or maybe you just want long use and little effort due to other health reasons. We considered everything from the type of physical add-ons that needed to be changed, to those that use light and more.
Durability
This is almost always first on our list. When we put together a list we want to know that it won't just work when you get it, but in the long run as well. After all, if your merchandise can't handle the job it was meant for, you will end up needing to replace it and spend even more to keep up with the lost product, than you would if you got a great product, to begin with. With that in mind, we also take into consideration the materials the machine was made for and it's intended use. We don't expect anything that is meant to run for extended periods to do so if left on 'high' the entire time, and so we make sure we understand what settings are meant to be used and for how long.
What this means for you when you are looking at this type of equipment is that if the machine runs and does its job based on the size of the room, the types of add-ons and on the instructed settings as given by the manufacturer, it's going to last. Of course, if you buy a unit meant to be used in a small area, leave it on high all the time and never clean the filter, that isn't on the product- it's on the user. Whenever you use a space cleaner, read what it is meant to do and apply that to what you are wanting. Take into consideration all of what it uses, how to set it up and what settings to use it on.
Features
When doing this product we learned that there are many types of add-ons out there, and not all the systems offer the same kinds. Some can cause a smell, others don't catch as much of certain types of allergens, and still, others might last longer or be reusable. To help you in deciding which is the right fit we offer an explanation here for you to look at:
Ion or Ozone generators: these use O3 or negatively charged ions to quickly reduce strong odors in the space around, however, they should be used with heavy restriction as they have been proven to cause damage to your lungs. They purify quickly, so they can be used for short-term bursts that are spread out.
Hepa add-ons: These are add-ons made from glass fibers and have to undergo a very strict set of regulations to be considered Hepa add-ons. These lock most allergens and impurities in the atmosphere and reduce allergens by 99%. These are the most commonly used filters and can even get better at their job with the dirtier they get. Of course, they still need to be cleaned, but can usually be done via a vacuum cleaner.
Activated Carbon add-ons: These add-ons use carbon and its ability to attract and capture even small amounts of smell and dander. These are recommended for homes with smokers to help eliminate unwanted odors and second-hand smoke.
Antibacterial and Germicidal add-ons: These types of add-ons use natural light and nanotechnology to help kill bacteria and germs in combination with getting rid of your usual allergens like dust and pollen. These are extremely good to have if you have breathing-related health problems to help clean the room.
Value
We always want to bring you the best for your dollar. When considering the cost of any item, most people will take one look at the tag and immediately decide if they are going to get it. Others, like us, we look at what we are really spending. Even items with higher tags may in all reality be saving you more money than you know. When an item can not only do its job but go beyond the call of duty, that tag becomes less of a hassle. A smaller tag can mean less quality, and over time, can cost you even more than the bigger tags.
In this case, a cheaper tag can still run you well into the triple digits and if the item gives out after only a month or two, your back out spending the same or more on a new one. Adding up the cost of the 'cheaper' items can tell you just how much you're costing yourself in not attaching value to the item when looking it over. With the products we review, we try to give you the best and worst possibilities and weigh out whether the item is deserving of a post. If the item runs well at the level and proper use, then we put it here and let you know what we have found. This lets you know the value of the dollar matches, if not exceeds the actual cost.
Sound Quality
Some people don't mind the hum of a refrigerator, as long as the item is doing what it is supposed to it is a meaningless side effect. However, some of us need quiet to get the rest we are hoping to improve on with the cleaner atmosphere. That being said, we took a look at just how much noise could be expected with each device and its settings. Most of the systems on here are considered nearly silent when on the lowest setting but get noisy as they are turned up. Of course, given that any filtration unit is going to be using some sort of fan, noise is expected. How loud it gets is still important though. No one wants to be trying to enjoy a movie or conversation only to have to turn the volume all the way up to be heard. Only a few units seemed worth the noise, and even then, again, on their lowest settings they were considered quiet enough for most to sleep by.
If your unit is making too much sound or seems to be making more than expected, check to see what setting it is on first. If it is on the lowest, then you might want to look over the manual to see if the problem is easily handled without aide (a loose screw or add-on). If you can fix it without damaging your warranty and are using the add-ons and other items suggested by the manufacturer, you may want t call their customer service lines to see if they can help you.
BEST AIR PURIFIERS REVIEWED & RATED FOR QUALITY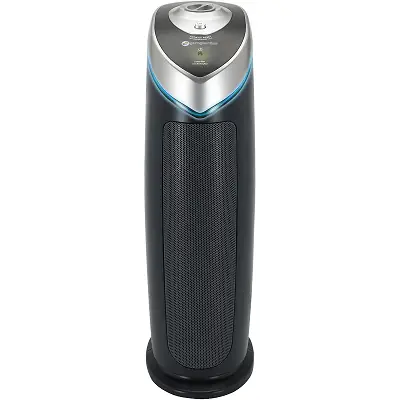 Having issues with hay fever? Is dust getting you down? Struggling with the pet fur floating around? Yeah we are too but believe it or not there are ways to help with it and the machine below is just one way to deal.
Helps with Allergies
So, the great things about purifiers are that they filter out allergens in your house and make it easier to breathe. this unit not only helps with that but it also grabs mold and odors, which anyone with a sensitive schnozzle will tell you can be a pain in the...well, nose.
Quiet
Kind of like that fan most of us grew up with filters make noise but not at the same decimal level. This gizmo leans to the quiet side so if you want one in a bedroom or the family room you don't have to worry about requiring headgear to block it out. Everyone feels better after a good nights sleep.
Cost and Value
While there are several options out there, this machine seems to be one of the better choices. It isn't ridiculously expensive as some other brands and we found it was great at getting the job done. Quiet and not overbearing or heavy it was almost like it wasn't there when used. We think this is a great machine and we think you will feel the same.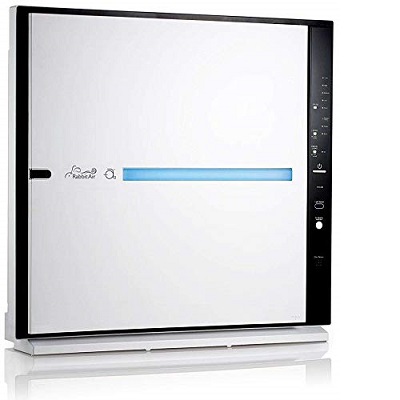 So how would you like an atmosphere purifier that is slim and can hang on the wall like a picture instead of taking up floor space? Taa Daa, welcome to the Rabbit MinusA2. We found this miracle worker to cover a large amount of space, atmosphere wise and still look good doing it.
24/7 Customer Support
That is right, any problem your having or any issue that comes your way they will have someone there to help you out 24 hours a day 7 days a week. We didn't need to use this at all but it was still nice knowing that if for some reason we had needed them there would have been someone to actually get in contact with.
Odor Reduction
Most of us at one time or another had caused or found a strange smell where we didn't expect it. Maybe in your office or even your kitchen who knows, but where ever you come across it this machine will kick its butt. We even got someone to test it in their bathroom and luckily it worked on smells in there also. Not a one was able to sneak up on us down the hall.
Cost and Value
This one most definitely falls into a rare expensive category for us. While the performance, look, and quality are above par this will put a serious dent in your wallet. Now if you can afford it then go for it, it's a high-quality product no doubt about it. It also comes in a few different look options, which is nice. For the average consumer, this one might be a little hefty price wise.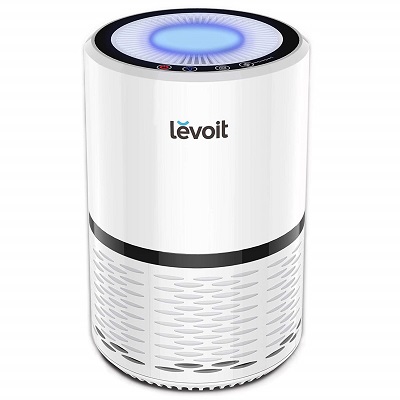 At number three on our list is this surprising little unit. This little powerhouse packs quite the punch when it comes to removing things from the atmosphere. It claims to remove 99.97% of all that pesky ick we breathe in and shed out daily. So, read below to get the facts.
3 Fan Settings
Some filters tend towards you turn it on and that's it. This filter comes with 3 fan settings, which is nice when you figure not every room requires a full blast. You can save yourself some money on filters keeping it on a lower level.
Good for Smokers
Apparently one of the worst things you can inhale is second-hand cigarette smoke. This apparatus will pull the smoke from the room, meaning you have a cleaner and safer area to breath in. Not only that it will help prevent that caked in the curtain smoke smell.
Cost and Value
Taking cost into consideration with the size of the room that this can be used in, it isn't a bad buy. The replacement filters are relatively inexpensive and the ability to breath in relative peace without the worry of nicotine is a nice touch. Quiet and unassuming this appliance was nice enough to have a few people arguing over who got to keep it.

4

. AIRMEGA 400 The Smarter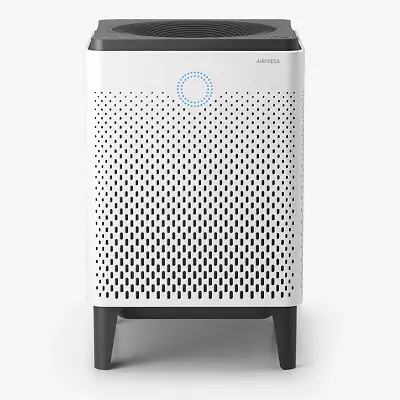 AIRMEGA has come up with the 400 series of room cleansers. From what we have seen you open it up, plug it in and watch it work. No need to worry about adjustments or positioning. It enough doodads that it will just take care of everything for you.
Smart Mode
Ok, this was pretty cool. This machine has what they call smart mode. There are sensors on the room cleaner to sense for allergens, amount of light, eco mode and sleep mode. Basically, this machine checks for space quality and will put itself into the appropriate setting for what the real-time sensor tells it. Now if that doesn't just knock your socks off.
Filter life indicator
While most cleansers let you know when your filter is getting icky, there is no way for them to tell you exactly how bad it is. Sometimes you go to the effort of buying a replacement and pulling your machine apart just to find out it was barely dirty. Well, this is no longer an issue. The AIRMEGA 400 had an indicator on it much like a rechargeable battery, meaning you can just look and see how long you have before you need to remove it.
Cost and Value
This cleanser has more bells and whistles that a brand-new firetruck. It can cover a remarkable area and it does it with quiet good looks. The downside is that you pay for the bells and whistles. It was nice to have the ability to download an app that allows us to check the filter and adjust the setting as we saw fit, not quite nice enough to take the financial hit though. Don't get us wrong if you have the funds and need the power to go for it.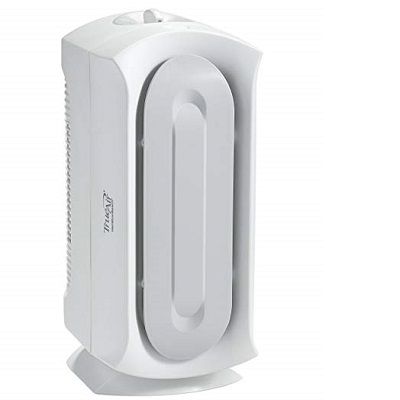 This is one of the most compact units we have seen. Its size makes it great for most rooms and we like the fact that it comes in a lighter color. It comes with filters that are specifically for pet and seasonal allergies, which means it's getting pretty much everything you can see floating in your atmosphere, out.
Light Weight
While most filters come in a quite large and heavy form - this machine is the exception. Small a white it's light enough to move from room to room as needed. An especially useful trait when you're chasing the little ones or the furbabies around.
HEPA "Grade" Filter
For those that don't know, HEPA stand for High-Efficiency Particulate Absorber. It is a standard required by hospitals and medical facilities across the world. It also means that the filter will do a really good job of getting rid of those things that make you go a-choo.
Cost and Value
We think Hamilton Beach did a good job with this model. It is small and attractive, not clunky or obvious like a lot of the filters on the market today and, it definitely gets the job done. Price wise it is mid-low range meaning you can get this and not break the bank. Overall a nice quality item to grab for the allergy sufferers in your home.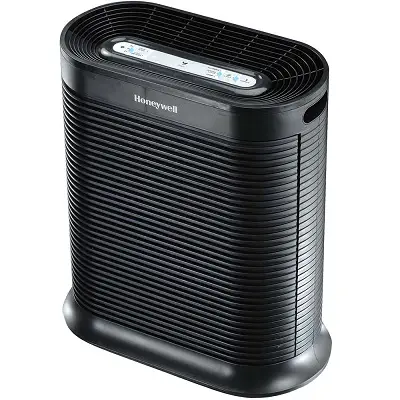 Next, on our list, we have the Honeywell True HEPA Allergen Remover. A nifty purifier that is good for bigger rooms and has some nice settings some others won't. We like the color and the fact that the replacement filters are easy to find. Read what we put below for the rest of the details.
5 year limited Warranty
That's right, for the first five years you own this contraption if anything goes wrong with it that is due to something faulty with the unit you may get it replaced. If you're really unhappy you might be able to get it refunded but that is more up to the merchant.
Auto Shut off
Oh, we acknowledge this may not be important to everyone, but we liked having the option. The timer on this has multiple settings so you can set it to turn off at your leisure and not have to worry about running back to the room in the middle of the night to turn it off. No one likes getting a stubbed toe after all.
Cost and Value
Ok…so this isn't the cheapest on our list. However, keeping in mind it covers a large room (up to 465sq ft.) we think it's well worth it. It can go into any room in your house and get the job done. It even has a night light, so you won't have to look for it in the dark, you can follow its soft glow. Overall this is a nice product and even with the replacement filter cost, we feel well worth it.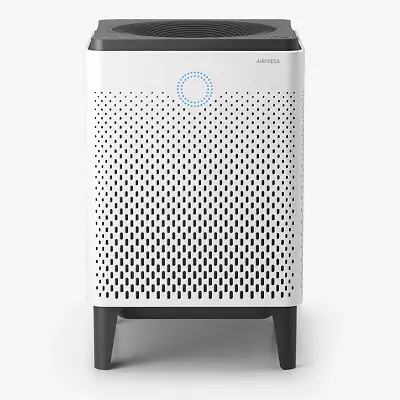 It has its own atmosphere quality indicator, a filter change indicator, able to clean rooms in a single hour, it's…. cough, oh we were just, never mind. Conway had come out with this mighty purifier and we must say, if it were any cooler it would be an A/C unit.
Auto Turn on/off
Yes, that is right. This machine right here will consistently sensor the allergen levels in the atmosphere and turn on or off accordingly. We found this to be by far one of the nicest features. You can save a lot of time and money with this little beauty only turning on as needed as opposed to just leaving it running all the time.
Small Footprint
Some of the time the filters meant to take on the slightly bigger rooms end up being bigger themselves than we want. Especially if you live in an apartment or townhouse where your overall footprint is limited. The Coway Airmega 300 doesn't take up much space so you don't have to worry about where it will fit.
Cost and Value
This unit is a nice size and has some good features. The auto turn on/off is good for people on the go and the Eco feature is nice if you're looking to conserve some energy. It comes in 2 colors which are not typical of filters as a rule and a 3-year manufacturers warranty. Although we think this is a tad on the high side for the price it always seems to be on the high side for quality. So really what else can you ask for?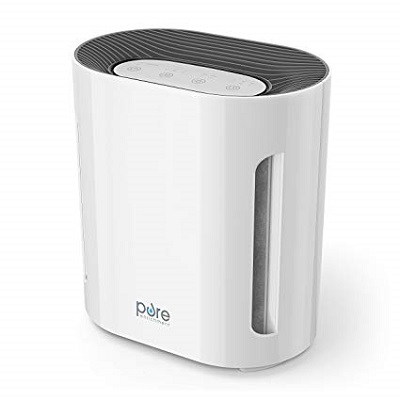 If you are looking for a nice quiet unassuming filter this may be the one for you. It comes in a nice small package and we found it to have a lack of sound to match. The PureZone 3-in-1 may just be the soft touch your looking to add to your residence.
5 Year Warranty
PureZone did great things giving this a 5-year warranty. This means if any parts break or something stops working they will fix or replace it. That said, please don't go dropping this on the floor or kicking it in a rage because your favorite team lost. They won't cover that.
Comes ready to use
Most filters come requiring some type of assembly. It's almost never mind-bending but still, it can be a pain. PureZone 3-in-1 comes already put together, just remove the protective bag from the filter and turn it on. That is it, no fuss no muss.
Cost and Value
If you live in a one bedroom apartment or a dorm room this should be right up your alley. It is not as expensive as some of its counterparts and it's not overly large either. It is extremely quiet and requires very little setup or upkeep. That said the fan on this unit does not push a lot of ventilation so be sure you're not trying to keep you bigger rooms dust free with this one.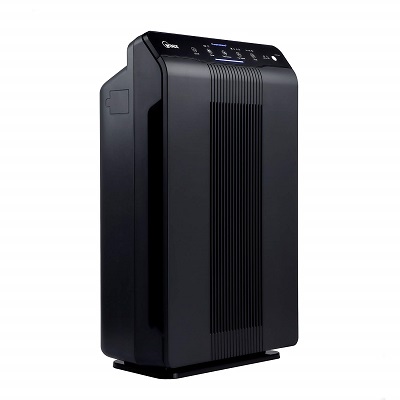 This space cleaner is a lovely box unit that does a wonderful job of living up to the motto out with the bad in with the good. It does this by taking all the horrid things we normally breathe out and replacing it with clean pollutant-free oxygen to breath.
Washable Filter
Most filters that come on units like this one are disposable, meaning after a couple of months they are filled up and not able to do an adequate job so we throw them out and buy new ones. The filter in this gadget, however, is washable, that means you can take it out and rinse the grime off as often as you want. It basically means it's a permanent filter like some people use in the central units for their house.
Good for constant use
Not all machines can stand up to the wear and tear of being used all the time. Especially in an environment known to have a lot of issues like pet hair and dander. This unit seemed to hold up just fine though, we only turned it off to clean the filter out and it was simple to do. No issues with the fan or the power bill.
Cost and Value
Taking into account the cost and the pros and cons this unit falls into the not bad category. It is less than the high-end units but some of the less expensive ones seem to do a better all-around job and have a quieter fan. In the end, it all comes down to personal preference. If you like the look of one more than the other go with that one. We think this is a nice unit, but overall balances cost with its value.



Not too large and able to handle nasty allergens and pollutants with the greatest of ease. Will it live up to the hype? Will it buckle under the pressure? Will it be able to handle the energy output? Check out the story below for all the juicy details.
Ranked High by Energy Star
We found out this means the amount of clean space delivered through the device is energy efficient for the number of watts used by the same device. In other words, you not burning electricity for no good reason. Not bad, not bad at all. You can even check it out on the website.
Medium to large Room use
Most purifiers at the size range available in this model are only good for a medium-small room at best. The Blue Pure, however, managed to do an amazing job in a pretty large floor plan with no jump from our power bill and no bad smells from the kitchen. It managed to do on medium what it takes most to do on high or turbo.
Cost and Value
Well, here we go to the final one. Overall this seems to be an exceptional little unit with a bit less fluff. That said what it lacks in fluff it seems to make up for in actual ability. Between the various color options, the high energy star rating and the overall area of coverage, this seems well worth the higher price tag. If you have a larger house or even want to be able to deal with more than one room at a time this just might get the job done. There are newer and more expensive models out there but if you're looking for the best deal in this range you could do a lot worse.

Subscribe to our Newsletter