Best Skateboards Reviewed & Rated for Quality
In a Hurry? Editors choice: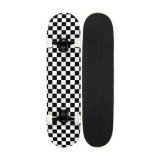 Test Winner: KPC Pro Complete

Skateboarding is a fun sport that many people of all ages can love and enjoy. Many people engage in the sport for hobbies while other people are professionals who are capable of performing some of the most amazing stunts on their boards. You can use a skateboard as an easy mode of transportation as well and it does not use any
gas
to use which makes it an
eco-friendly
form of transportation. Also, people love the culture and the are
t-shirts
,
pants
, and
shorts
that go with it. Check out our top 10 best skateboards list below.
Standout Picks
Criteria Used for Evaluation
Size
In order to fully enjoy your skateboard, you are going to need to purchase one with a deck that is properly sized based on your height and weight. When the deck is too large for your build, you are going to need to put more power on the deck in order to use it. This will make it harder for you to learn how to control the board and perform stunts. Decks that are undersized will cause the board to feel unstable and you may even break the board if you weigh too much for it.
When you are picking out the size of your deck, you should go by the width of the deck. The wheel width is determined by the trucks rather than the deck so it's not a good indicator of the deck size. The length is not relevant because it has no bearing on the strength and the stability of the board.
Micro decks are the smallest and are intended to be used by children who are under the age of five or children that are shorter than 3'4″ and have a size 3 shoe or smaller. The mini decks are built for children that are between the ages of 6 and 8, or children that have a height of 3'5″ to 4'4″ and wear size 4-6 shoes. Next is the mid-sized deck which is for children between the ages of 9-12, or have a height of 4'5″ to 5'2″ and wears shoes between size 7-8. Full-size decks are for anyone of the age of 13 or are taller than 5″3′ and wear a shoe size that is greater than 9.
Style
There are four different styles of decks that you need to pick from as well. The style of the deck determines how easy it is to ride around on or perform tricks. Some of the decks are better for performing tricks while other decks are more suitable for riding down the road. You will want to pick a deck that is conducive to the type of skateboarding that you are planning on doing.
The shortboard has the shortest deck length and is great for performing tricks. This is the ideal deck to choose if you are planning on going to the skate park or doing tricks on the street. It's less ideal for cruising down the sidewalk since the short length makes it harder to control at high speeds. If you want something that is suitable for tricks and cruising around, then you should go with a cruiser board. A cruiser board is longer so you can maneuver them easily. The ends are curved for tricks so you can still do tricks with them.
Old school decks are flat on the nose and the kick tails. They are wider in the nose area so you can use them in skate pools, ramps, or even carving around the streets. Finally, there is the longboard. This is what you want to use if your skateboard is only going to be used for transportation. A longboard sits low to the ground so that you have more stability while you are at high speeds. This makes them great for transportation but some people also use them for racing purposes as well. If you don't plan on doing any tricks, then the longboard is for you.
Effectiveness
The trucks provide the axle for the wheels and allow you to control the board while you are steering it. It is important that you match the trucks to the deck so that you get the best performance while you are skateboarding. Trucks that are too narrow will make it hard to balance on the board. You are also going to want to select trucks based on their height and match the height to your needs.
The first thing that you need to do is get trucks that are about the same width as your deck. In other words, if you have a deck that measures between 7.25″ to 7.5″ inches then you need to get a 7.5″ truck. A wider deck needs to have wider trucks to help to maintain stability, while a narrower deck needs to have narrower trucks so that the wheels don't poke out beyond the deck. This also helps with the stability of the deck.
After you have decided on a truck width, you are going to want to pick a truck height. The height of the trucks should closely match the type of skateboarding that you are planning on doing. For example, low trucks are best to use when you are doing tricks because they provide additional stability for such stunts. Tall trucks are great for cruising since they keep the board positioned above the road so that gravel stones and small rocks don't get caught in the trucks or the deck. Finally, there are the mid-sized trucks which are great to use for general purpose needs. If you are not sure what sort of trucks you will need, then you can start with the mid-sized trucks and try a different height later on.
The wheels are where the rubber meets the road, so you are going to need to look at the wheels when you are picking out a skateboard. Different sized wheels will have a different effect on how quickly the skateboard can accelerate and how fast it can go. You also need to pick out how hard the wheels are which is a scale between 0 to 100. The type of wheels that you pick out is going to make a difference on how the skateboard rides, so you are going to want to be informed about the wheels so that you can make the best choice for your needs.
The size of the wheels is the first thing that you are going to want to think about. Small wheels accelerate quickly but have a slower top speed than larger wheels. The most common sized wheels tend to measure between 52mm and 56mm as these sizes tend to provide you with a good balance between speed and acceleration. Which would be good for someone that is beginning to get into the skateboarding lifestyle!
Soft wheels which have a lower number on the hardness scale are ideally used on rough surfaces. If you are going to be skateboarding on the road, sidewalk, or anywhere that isn't smooth, then you want softer wheels. The typical range for soft wheels is 78a-87a. You can go with slightly harder wheels (88a-95a) if you are going to be on a smooth street that doesn't have a lot of cracks or pebbles. Anything over 101a is the fastest wheel but it also slides the most and is usually used by professional skateboarders in a competition. Such wheels are not normally used for casual skateboarding since they are only suitable for the smoothest surfaces.
Durability
The quality of the board is going to have a direct effect on your safety. So, it's a good idea to spend a little more in order to get a quality skateboard. For example, you are more prone to hurt yourself if you need to worry about the deck breaking in two or the wheels falling off. There are a few different things that you can look for to check on the quality so it's worth your time to make sure that you purchase a good board.
One of the things that you should start with when you are considering quality is to look at the construction of the deck. You are going to want a deck that is strong and flexible since cracking or breaking is a common failure that many skateboarders experience when a failure occurs. It's best that the deck is made of wood and has at least seven plies. It should also be glued together properly so that the plies do not separate. The higher weight the deck is rated for the better you will be as well since a deck that can hold more weight will be less prone to breaking.
Next, you are going to want to look at the trucks and the wheels. The trucks need to be attached to the deck tightly. If they are loose, it can cause the deck or the trucks to fail. Essentially, it will make it harder to control the board. You should make sure that your wheels have smooth bearings. If they aren't smooth, it will ultimately take a lot more effort to do what you want with your board. A common point of failure, in regards to the wheels, is that the bearings blow apart or seize up. To help avoid such problems and a simple way to check to avoid these issues would be to see that your wheels spin smooth and freely.
Top 10 Best Skateboards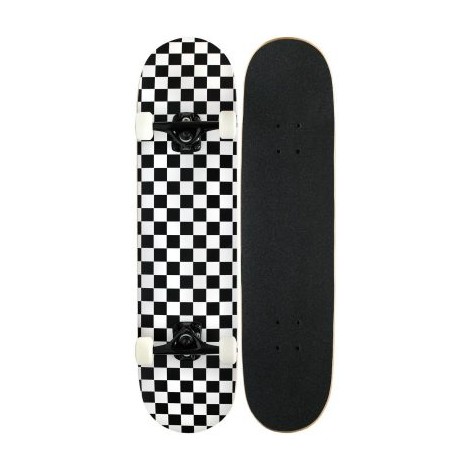 Krown Pro is perfect for anyone who is starting to getting into skateboards. The brand helps to bridge the gap between the professional grade setups that are expensive and the inexpensive setups that are found at the big box retailers. You can get a high-quality product that offers plenty of graphics choices at a mid-range price point without having to sacrifice quality.
Graphic Options
You get a choice of twelve different graphics choices. Some of the graphics include checkered patterns, the heartagram, red flame, and even Raste Peace. You will love browsing through the different options.
No Assembly Required
This is a fully assembled product. It has a deck, trucks, wheels, and grip tape all ready to go so that you can start using it as soon as you get it.
Cost and Value
You will find this item sold at an average price. This is consistent with the brand's goal of offering mid-priced setups so it's an excellent value since you get a premium product without the premium price.

2

. Punisher Cherry Blossom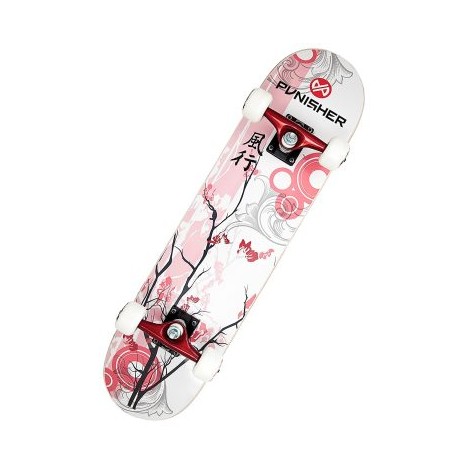 The Cherry Blossoms are known around the DC Metro area and tourists come to the area every year to see them. The Punisher has a graphic that pays homage to the cherry blossoms which makes for an awesome looking deck graphic. Additionally, the trucks and wheels are colored to match the deck which compliments the overall look of the skateboard.
Cherry Blossom Graphics
The underside of the deck features cherry blossom graphics. This gives the deck and attractive look that is fun to show off to other people. Even the trucks and the wheels match the deck.
Canadian Maple
The deck is made of Canadian Maple that provides it with plenty of strength. This allows the board to carry heavy weights and it less likely to snap or break when you land.
Cost and Value
You will see this item sold at a price that is nominally higher than the average price. The little uptick in the price is well worth it since it's a great looking board and a complete setup.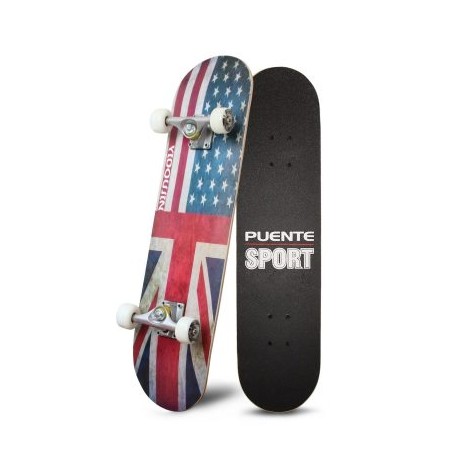 Here is a high-quality option that is ideal for people who are starting out as well as experienced skaters. The deck is made of maple wood so that it is less likely to snap and break. It also comes with 5-inch trucks that will give you plenty of air when you decide to jump with the board and provide you with a smooth ride.
Graphics
There are twelve different choices of graphics that allow you to personalize your setup. You can choose from graphics such as the American Flag, Fire Skulls, Rock Music, and even Flashman.
Double Kick Tail
It has a double kicktail that has a concave design to give you better control over the board. This makes it easier to perform tricks and stunts plus you can break more easily.
Cost and Value
You will find this item sold at a price that is slightly lower than the average price. The lower price makes it into a great value since it is a complete setup.

4

. Powell-Peralta Gold Dragon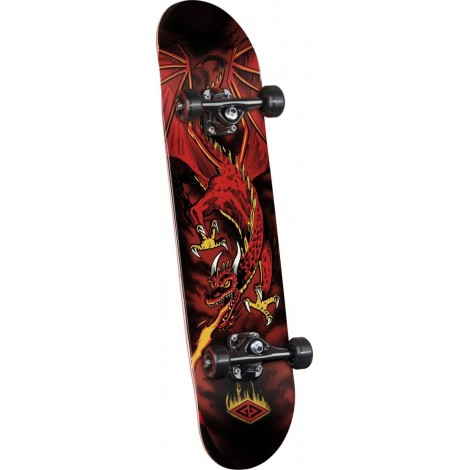 Here is a great option for when you are looking for something to show off. It features a Flying Dragon graphic on the underside of the deck which makes it attractive and awesome to look at. The setup is a complete rig that has the deck, trucks, and the grip tape already applied to it which makes it a great choice for beginners and advanced riders.
Fly Dragon Graphic
The underside of the deck has been screen printed with a flying dragon graphic that is certain to impress people. You will love how this board looks when you are carrying it around.
Complete Setup
This is a complete setup. It comes with the deck, trucks, and grip tape and everything has been fully assembled so that you can start skating as so as you get it.
Cost and Value
You will find this item sold at a price that is slightly higher than the average price. The higher price is due to it being a complete adult sized setup.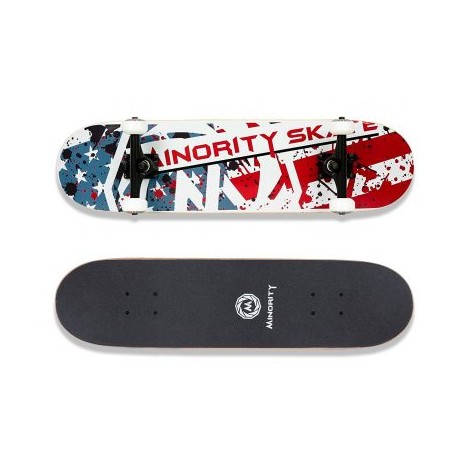 This is a high-quality setup that is made of real maple wood. It has awesome graphics on the underside of the deck so that you can grab attention and show off your rig. The trucks are regular sized 5-inch trucks that have high-quality wheels so that you can cruise down the sidewalk or show off your moves at the skate park.
Maple Deck
While cheap and inexpensive boards are made of plastic, this one is made of a 7-ply maple wood that allows it to be lightweight, strong, and durable all at the same time.
Aluminum Trucks
It has 5-inch trucks that are made of cast aluminum. This helps to keep the weight of the board down while letting you get plenty of air when you want to perform.
Cost and Value
This item is sold at around the average price. It's a great value since you get a high-quality setup that is made of real wood without having to pay a premium.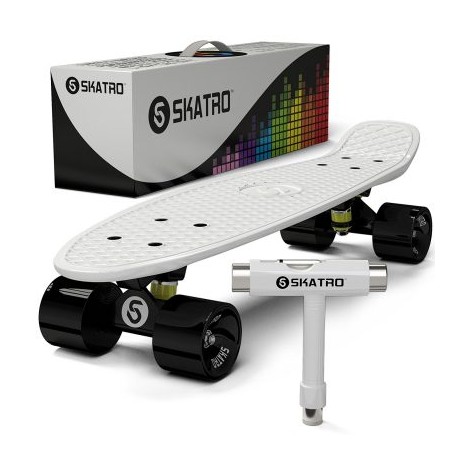 Skatro Mini Cruiser is perfect for people who want to cruise along or just do a few tricks. It has a flex technology that allows the board to flex so that it is less likely to break when you get some air on it. The board is smaller than the average board so you will be able to control it easier.
Flexy Technology
The board has been designed in a fashion that lets it achieve a maximum amount of flexibility. This will help to make sure that the board doesn't break when you are using it.
T-Tool
The T-tool is used to adjust the trucks so that you can make the board more or less stiff. This board is sold with a T-tool that matches the board.
Cost and Value
You will find this item sold at an average price which makes it into a great option. The value comes from it being a complete setup that even includes the T-tool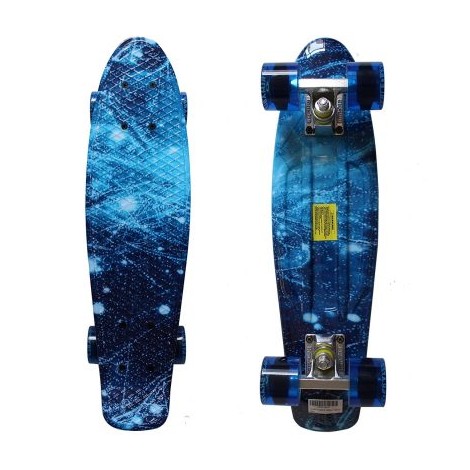 The Rimable 22" is a great choice for beginners. It's smaller size makes it weigh less than a regular sized setup. The wheels are smooth so that you can ride it at high speeds without feeling excessive vibrations. The deck itself is made of plastic so that it weighs less and is less prone to breaking than a wooden deck.
Attractive Pattern
The pattern is visible on both sides of the deck. You can pick from plenty of different designs so that you can personalize the board and make it look great.
Durable Materials
The deck, trucks, and wheels have all been designed to be strong and durable. This allows the board to last and makes it less likely to break which will help reduce injury.
Cost and Value
The Rimable is sold at an average price which makes it into an excellent value. You are getting a complete setup without having to pay a premium for it which justifies the price.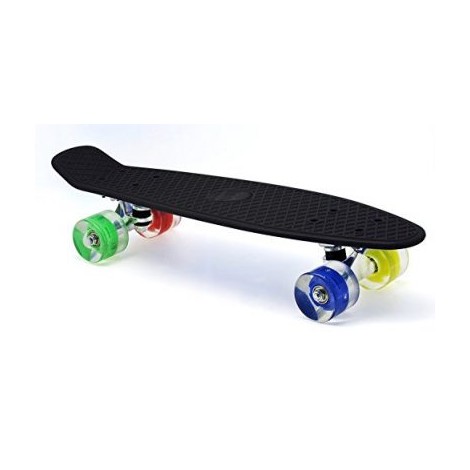 Here is a great option for beginners and children. If even features light up wheels that give is a cool effect in low light conditions. The 22-inch size is great for starting out since it makes the board nice and light so that you can practice with controlling it and performing stunts until you are ready to move up.
LED Wheels
The wheels have built-in LED lights that generate light without the use of a battery. They are powered by the motion of the wheels and make for an awesome looking effect.
Soft Wheels
The wheels are made of a softer plastic that is more forgiving when you are on a rough surface such as a sidewalk or a road. This makes it easier for beginners.
Cost and Value
This item is sold at a price that is around the average price. It makes it into a great value since you get a beginner's setup without spending a lot on it.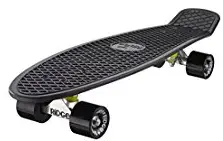 The Ridge is a great skateboard to have when you want to go cruising. It has a long length which makes it easier to ride when you are moving fast and it's also wider than previous models of the board. It features large wheels that also help to make it handle rough surfaces that are found in the road and sidewalk.
Color Options
There are 19 different combinations of colors between the deck and the wheels. This allows you to personalize the rig so that it looks the way that you want it to look.
Waffle Grip
Rather than using grip tape, this setup has a waffle grip on the deck. The waffle grip lets you grip the board but without hiding it the way that grip tape would.
Cost and Value
This is a premium item and sells for well above the average price. The higher price is from the high-quality materials used to make the skateboard which provides a better ride.

10

. Penny Australia Complete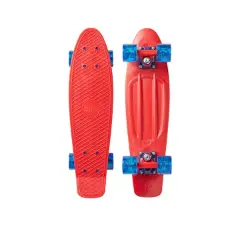 This is a great rig for people who want to cruise down the street. It's a complete setup so that you have everything that you already need without any assembly required. Once it arrives, you can just take it out of the packaging and cruise down the street or the sidewalk. Of course, you shouldn't be shy about taking it to the skatepark either.
[et_social_share_media]Cruiser Board
The wheels are large so they are designed to work well on surfaces such as roads and sidewalks. You also get a choice between a 22" or a 27" deck.
Waffle Top
Rather than using grip tape, the top of the deck has a waffle top. This allows you to grip the board without losing how it looks because of the opaque grip tape.
Cost and Value
The Penny classic complete is sold at a price that is higher than the average price due to the fact that it is a complete rig that is ready for cruising.

Subscribe to our Newsletter